These Vanilla Sprinkle Birthday Cupcakes just bring a smile to your face. Vanilla cupcakes topped with vanilla buttercream frosting and lots of sprinkles.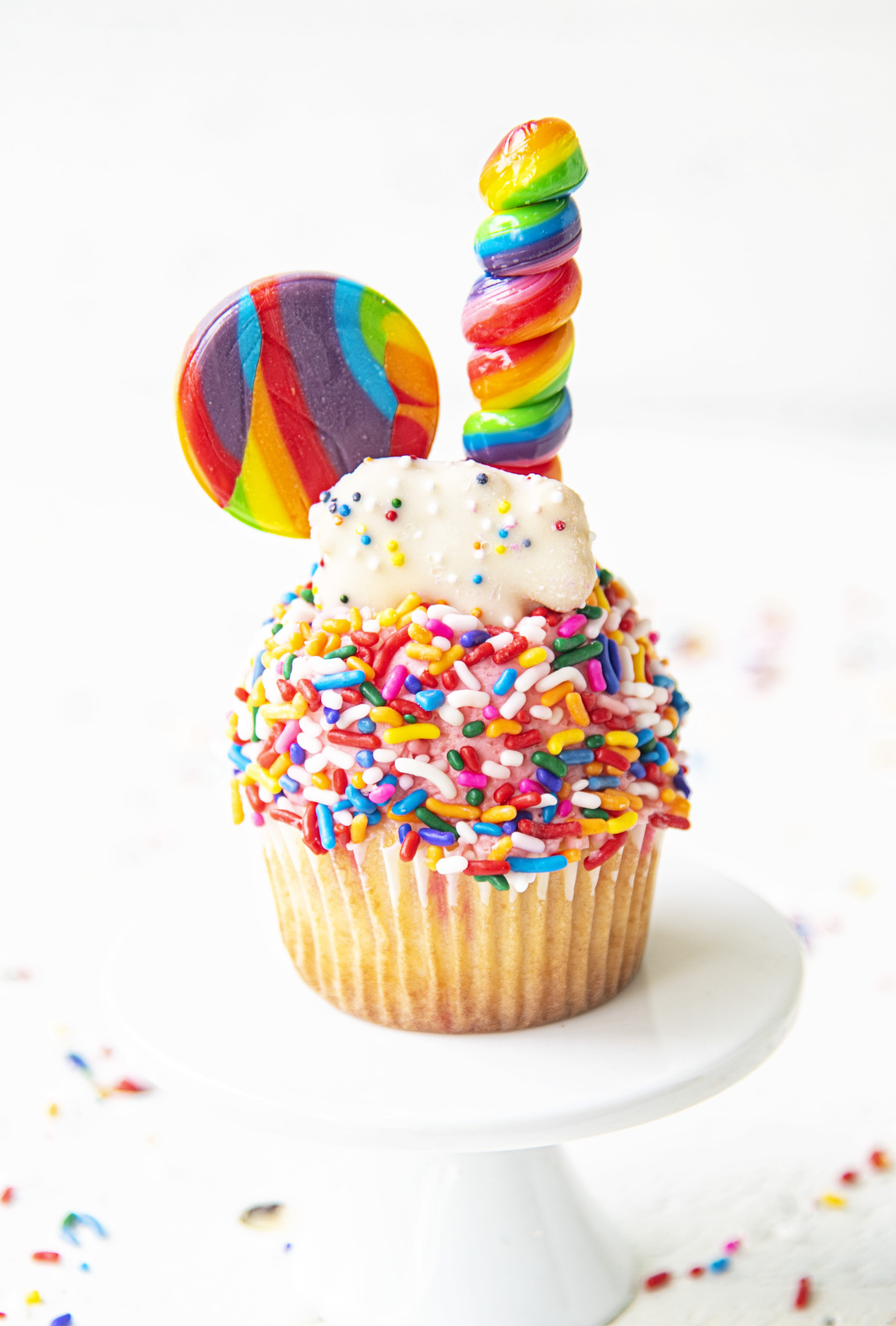 I am 48 today.
It's an odd age.
Because you're old.
But you are not old enough to get discounts on stuff old (which honestly I'm looking forward to).
I remember when I first moved to WA state I was invited to a birthday party of a hockey teammate.
I was 32 years old at the time.
When we got there we found out it was for his 50th birthday.
He didn't look 50 to me.
Certainly didn't act it.
I mean they were passing out Jell-O shots.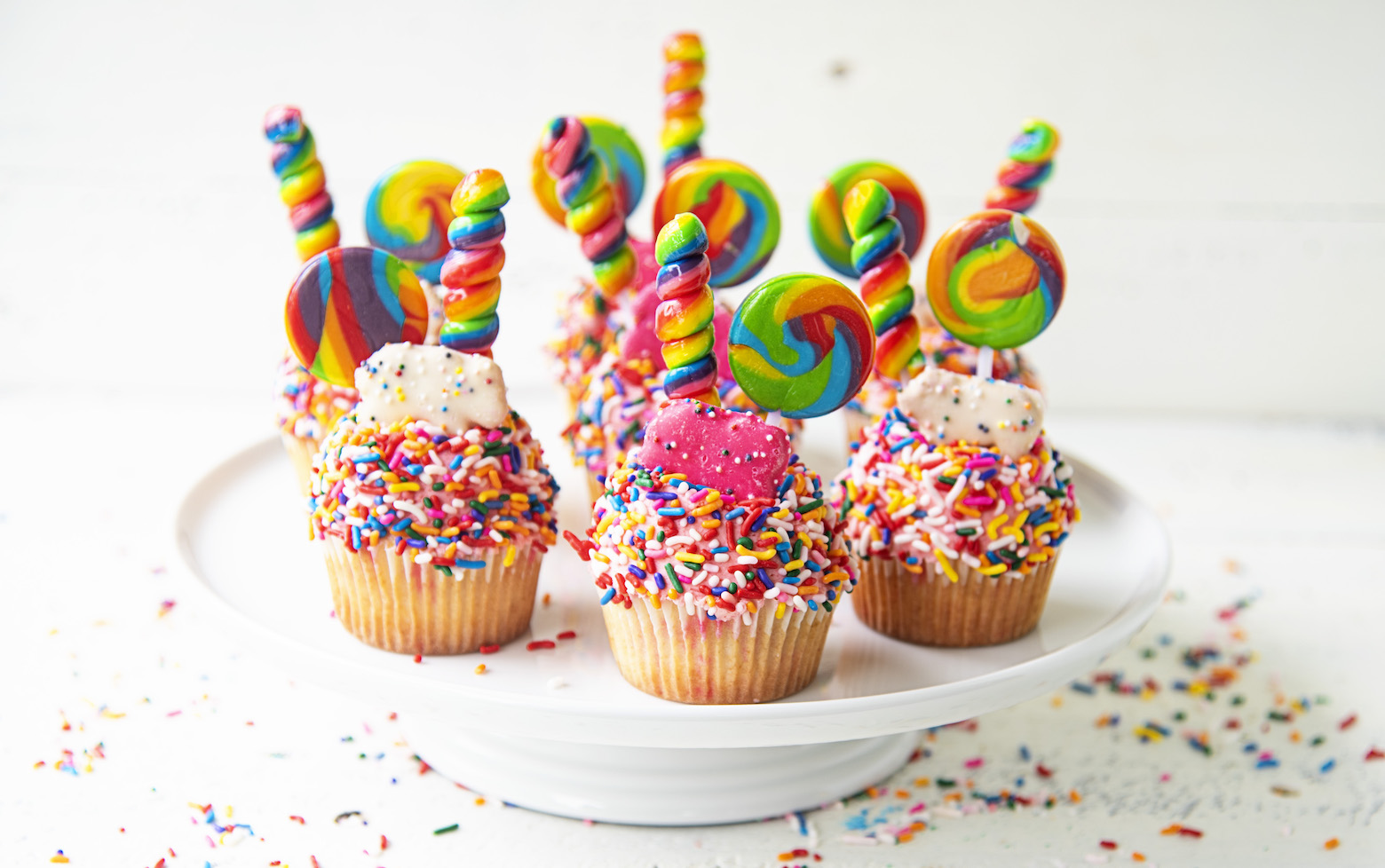 I just kept thinking I can't believe I know and hang out with someone who is 50!
Which I'm quite sure the young hockey players who hang out with my husband I think now. 🙂
I'd like to say that I don't feel 48.
But considering the fact that I bought myself a neck massager for my birthday says otherwise.
Some days I feel very much 48…or 84. 😀
And while I don't feel like I'm 48 mentally…I guess that I am mentally 48.
Because I excel at walking in a room and forgetting why I went in there. 😛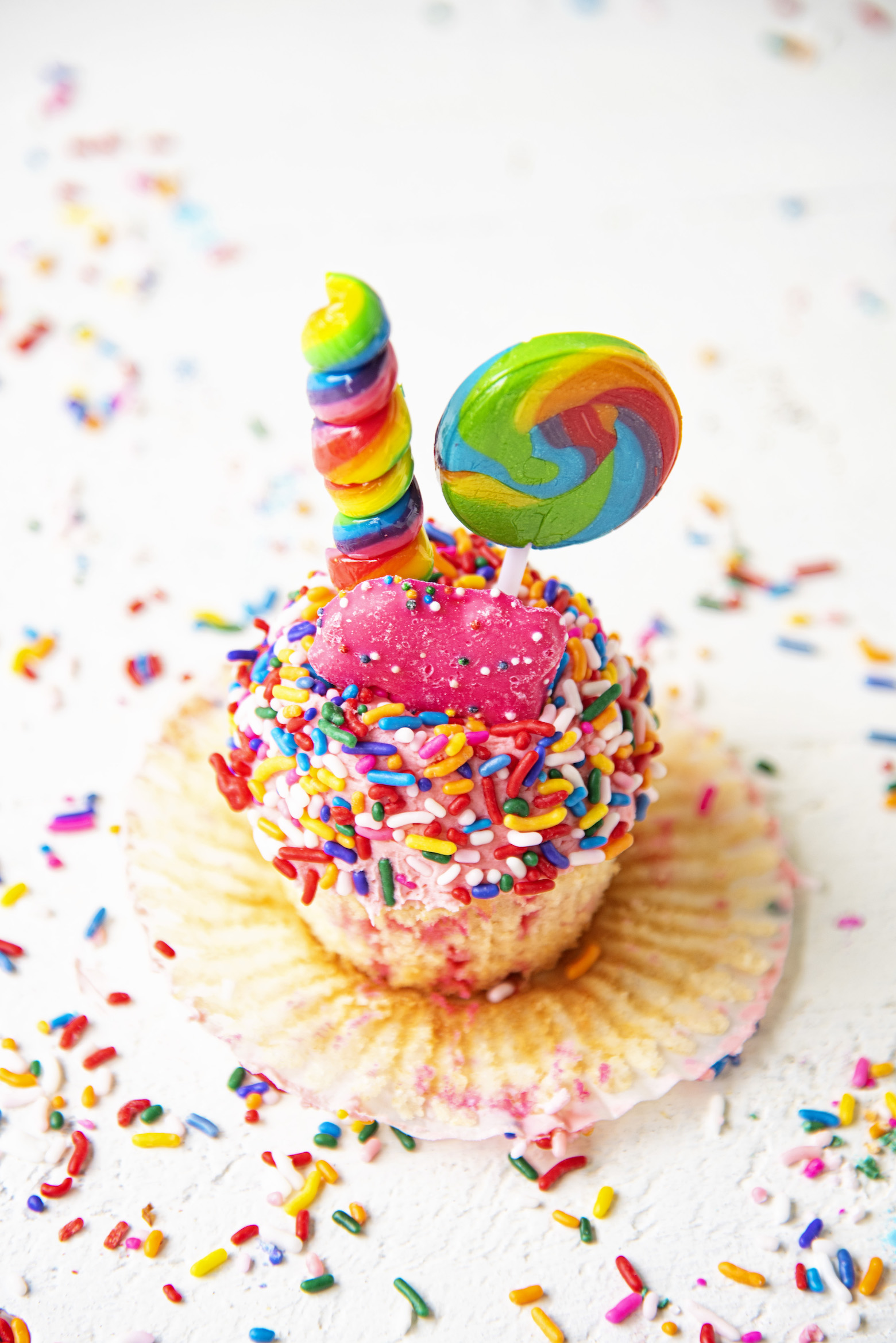 No matter what the calendar says though I will probably always be twelve.
I still collect stickers…and put them on my mail…even my bills (the post office lady likes it).
I love Hello Kitty.
When looking up discontinued Kool Aid I discovered the re-released my favorite flavor (Purplesaurus Rex) and sent my husband this morning to get some.
He bought out the store.
So I had Kool Aid for breakfast along with my yearly birthday sprinkle donut.
I like colorful happy things opposed to all the white and matte colors in people's houses these days.
And when I make myself cupcakes I put on a ton of sprinkles with Circus cookies and mini lollipops….because why not?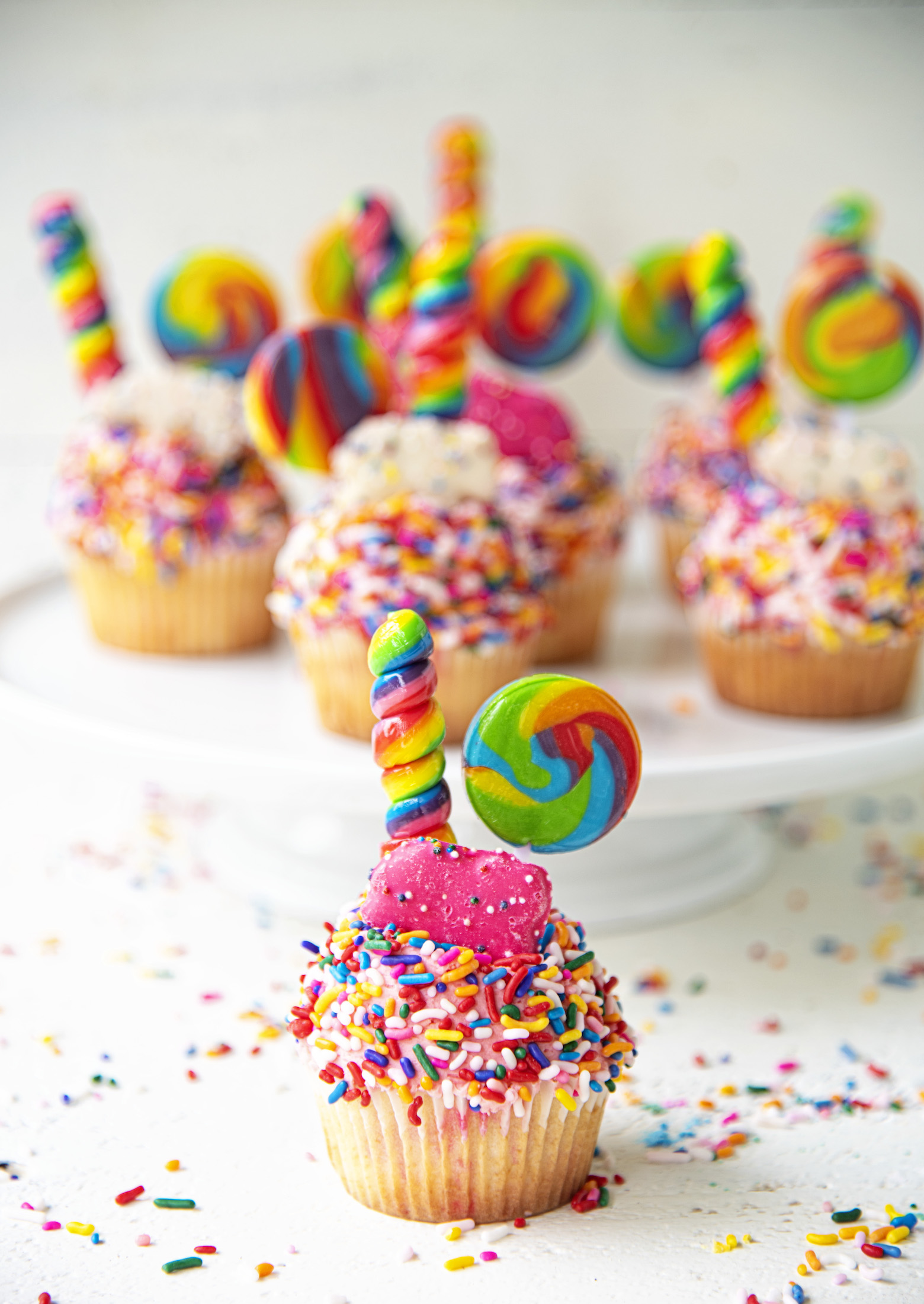 I mean if these Vanilla Sprinkle Birthday Cupcakes don't make you smile a little…you might be dead inside. 😛
These are just your basic vanilla cupcakes with some pink sprinkles thrown in.
Then covered in pink American buttercream.
While I'm a huge fan of Swiss Meringue buttercream these cupcakes needed good old fashioned sugary buttercream.
So whether it's for your kids birthday or your own.
You should make these.
Because they are fun.
And as always it's a great day to order my cookbook.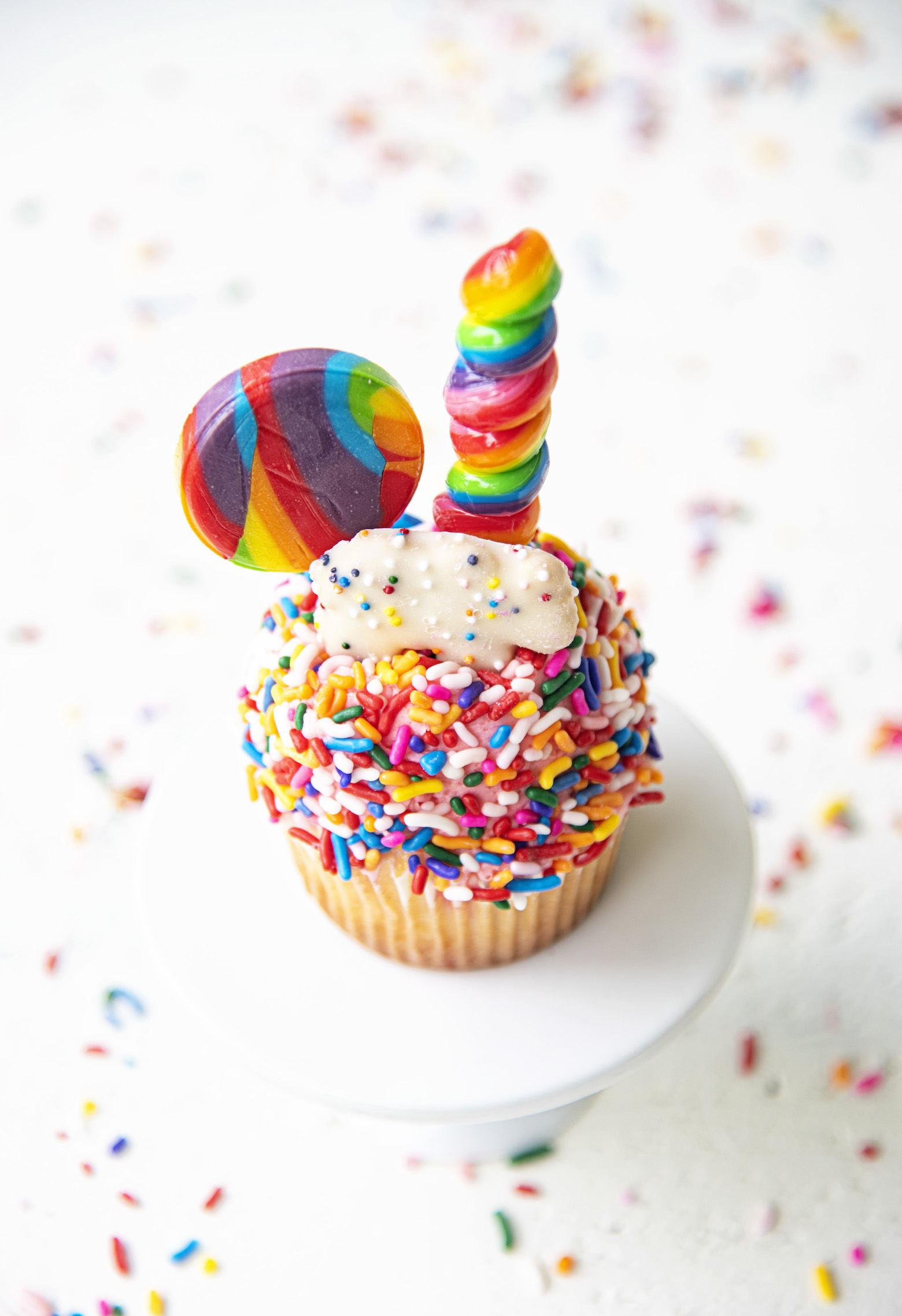 Want More Cupcake Recipes?
Chocolate Root Beer Float Cupcakes
Strawberry Pretzel Cream Cheese Cupcakes
Dark Chocolate Butterfinger Cupcakes
Strawberry Buttercream Neapolitan Cupcakes
Ingredients
For the Cupcakes:
2 ¾ cups all-purpose flour
2 ½ tsp baking powder
1 tsp salt
1 cup whole milk
1 TBSP vanilla extract
2 1/2 cups granulated sugar
1 cup vegetable oil
4 large eggs
3/4 cup sour cream
1/2 cup pink sprinkles (or color of your choice)
For the Frosting:
3 cups (6 sticks) unsalted butter, at room temperature
6 cups powdered sugar
2 tsp vanilla extract
1/4 tsp salt
food coloring if using
For the decor:
sprinkles
Circus Cookies
Instructions
For the Cupcakes:
Preheat the oven to 350 F.
Line two 12-cup muffin tins with cupcake liners and set aside. 
Sift together the flour, baking powder, and salt and set aside. 
Combine the milk and vanilla in a measuring bowl with a spout and set aside. 
Combine the sugar, oil, and eggs in the bowl of a stand mixer fitted with the paddle attachment and beat on medium speed until well combined and slightly thickened. 
Mix in the sour cream on medium speed until just combined. 
Add half the sifted dry ingredients and mix on low until halfway combined. 
Add half the milk and vanilla mixture and mix until just combined. 
Add the other half of the flour mixture, beat, then add the rest of the milk mixture, and beat until just combined. Don't overmix. 
Fold in the sprinkles. 
Fill 24 cupcake liners three-quarters full and bake for 19 to 21 minutes, or until a pick comes out almost clean and the center springs back slightly. 
Cool the cupcakes in the pan for 10 minutes and then transfer to a wire rack to cool completely before frosting. 
For the Frosting:
In a stand mixer fitted with the paddle attachment, cream the butter.
Start with the mixer at its lowest speed, then gradually increase the speed, using a rubber spatula to scrape the bowl as needed, until the butter is light in color, perfectly smooth, and makes a slapping sound as it hits the sides of the bowl.
If the butter is soft, this should take only 30 seconds, but if the butter is cool, it can take a couple of minutes.
Add the sugar, 1 cup at a time, and mix at the lowest speed until fully incorporated before adding the next cup.
When all the sugar has been added, scrape the paddle and the bottom and sides of the bowl.
Add the vanilla and salt, and beat at low speed for 15 seconds, then increase the speed to as high as you can without making a mess, and whip the buttercream until the mixture is perfectly smooth, creamy, and light, about 5 minutes.
Stop the mixer once or twice to scrape the bowl and paddle, then continue beating.
At first the buttercream will appear to soften, then it will stiffen and increase in volume.
If using food coloring add in and mix until the color is fully combined.
Use right away, or store in an airtight container in the refrigerator.
When you're ready to use it, let the buttercream come to room temperature if possible, then put it back in the stand mixer and use the paddle attachment to beat it until it is creamy and stiff again.
Frost cupcakes.
Decorate with sprinkles, cookies, and lollipops.
Notes
Recipe from Trophy Cupcakes