These Vanilla Brulee Cinnamon Rolls are topped with a vanilla bean cream cheese frosting which is sprinkled with sugar and bruleed.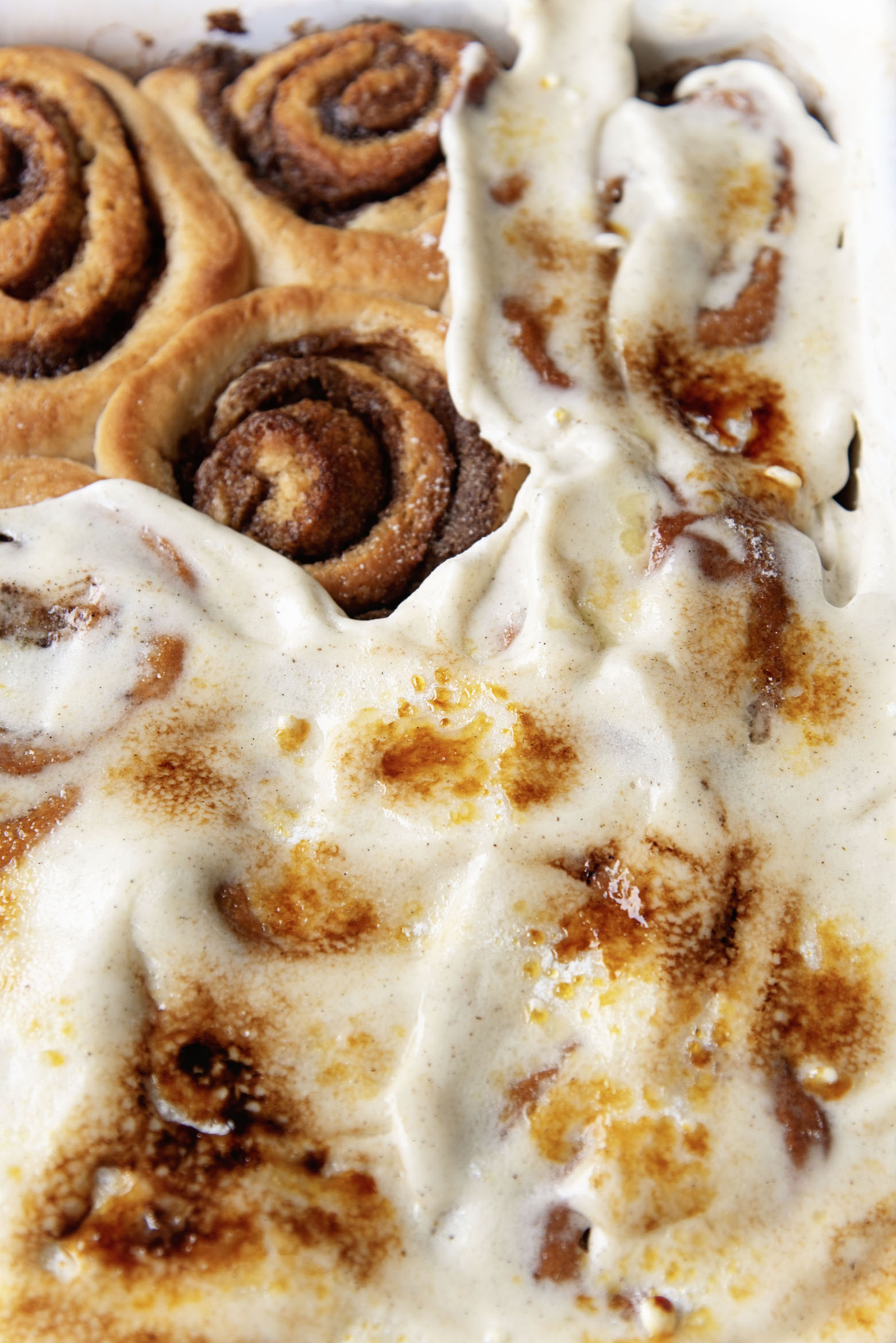 Disclaimer: I am a Rodelle Ambassador and receive free product from the company.
I was not monetarily compensated for this post.
All opinions, bad grammar, and overuse of emoji are all my own.
For this recipe I used both Rodelle's Vanilla Bean Paste and their classic Gourmet Vanilla Extract.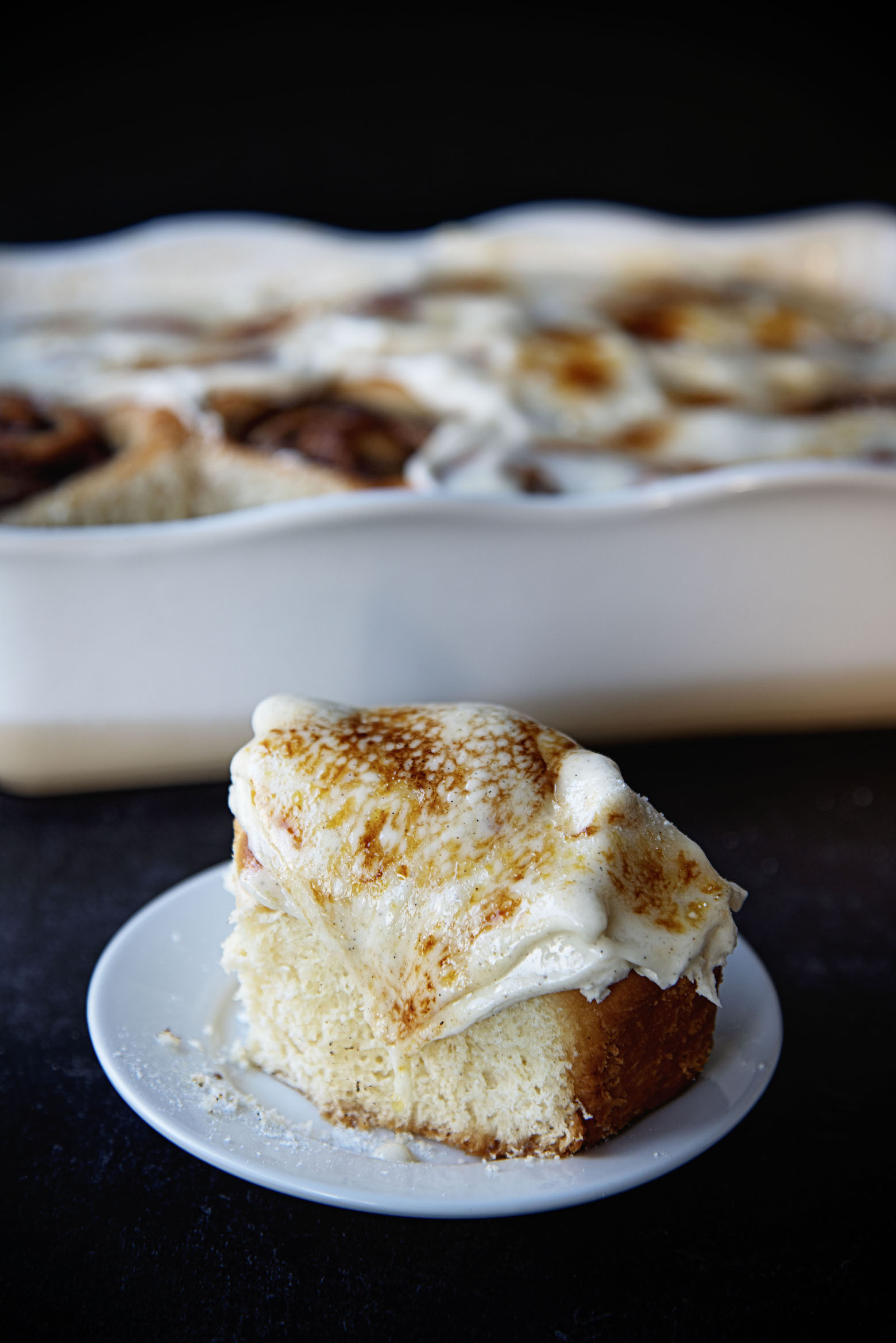 When someone asks me what is your favorite smell, depending on my mood I almost always say cinnamon rolls.
Or vanilla.
So I thought why not combine my two favorite smells?
But vanilla cinnamon rolls have been done.
A lot.
As they should be.
But that's just not my style.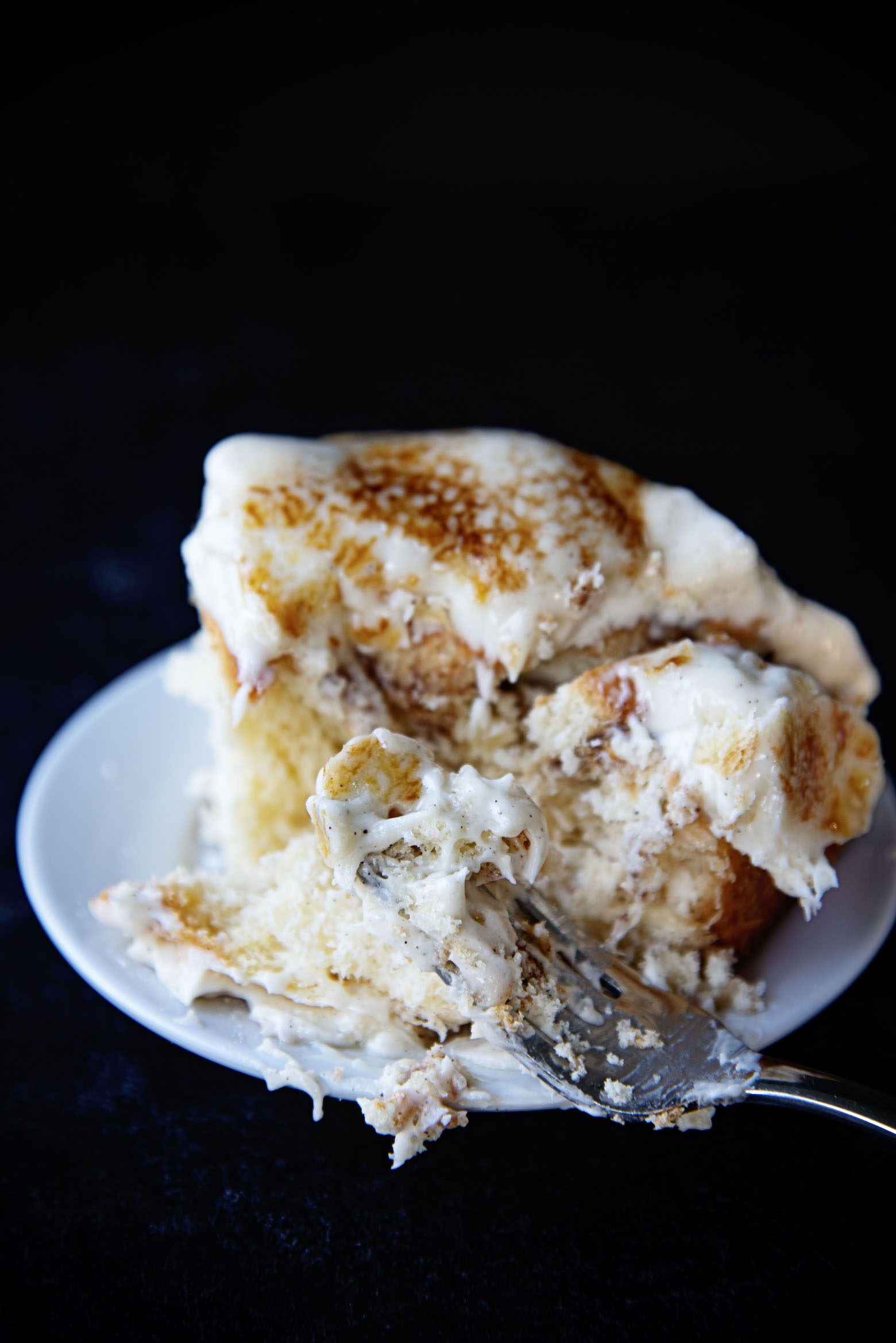 Often when I'm cleaning the house (so you know, twice a year :P) I just turn on something food related.
So that I have noise and I don't have to pay too much attention.
I was watching a show that highlights restaurants (I can't remember what it's called) and I saw them making cinnamon rolls.
Not just cinnamon rolls.
But they frosted them….and then bruleed the frosting.
It looked amazing.
Amazing. I thought, this is it.
This is what I've been waiting for.
Vanilla Brulee Cinnamon Rolls.
They did not disappoint.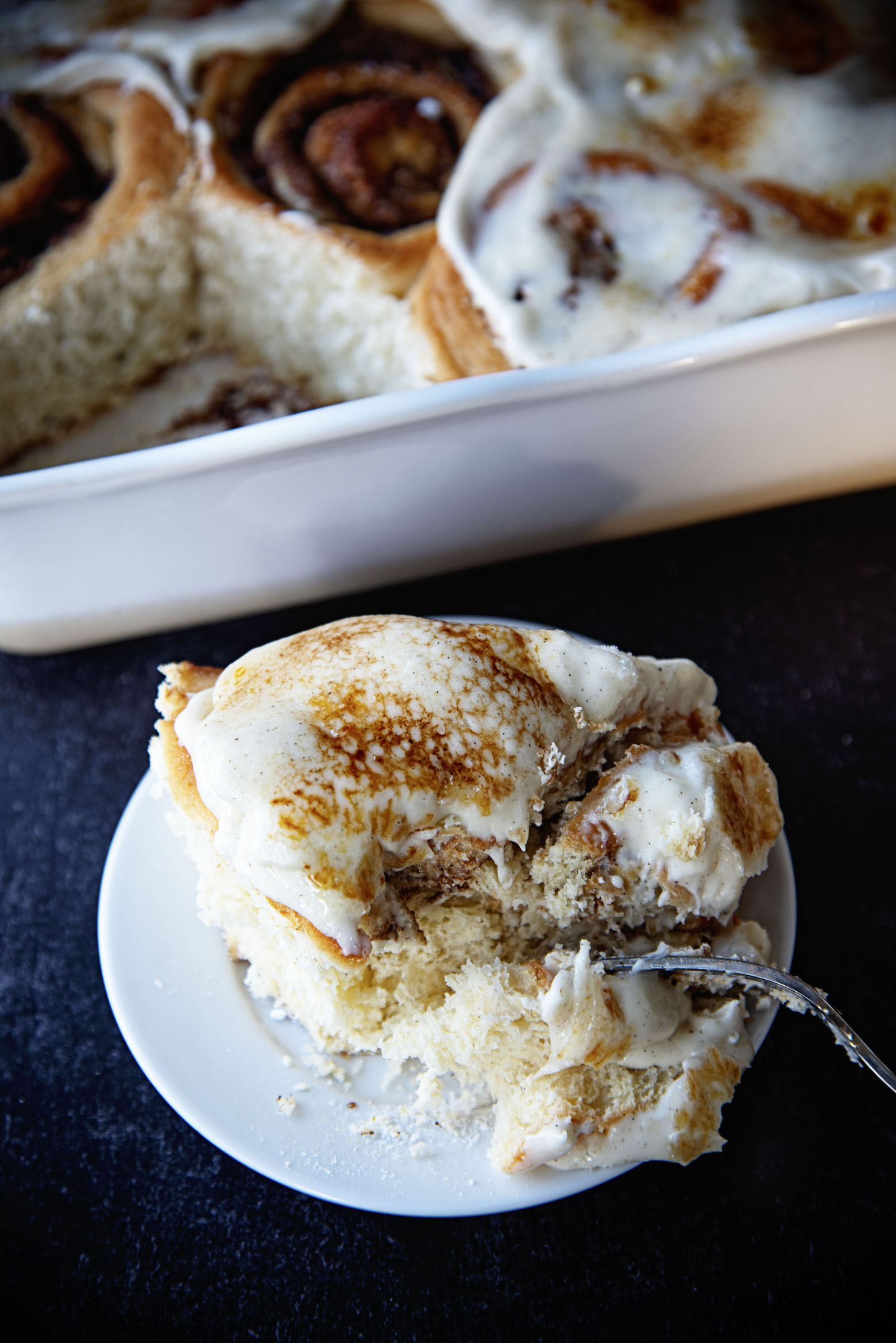 Now I want to be clear that these are NOT creme brulee cinnamon rolls.
There is no pastry cream or anything like that.
The brulee is simply the sprinkling of the sugar and caramelizing it.
But man what a difference that little touch makes.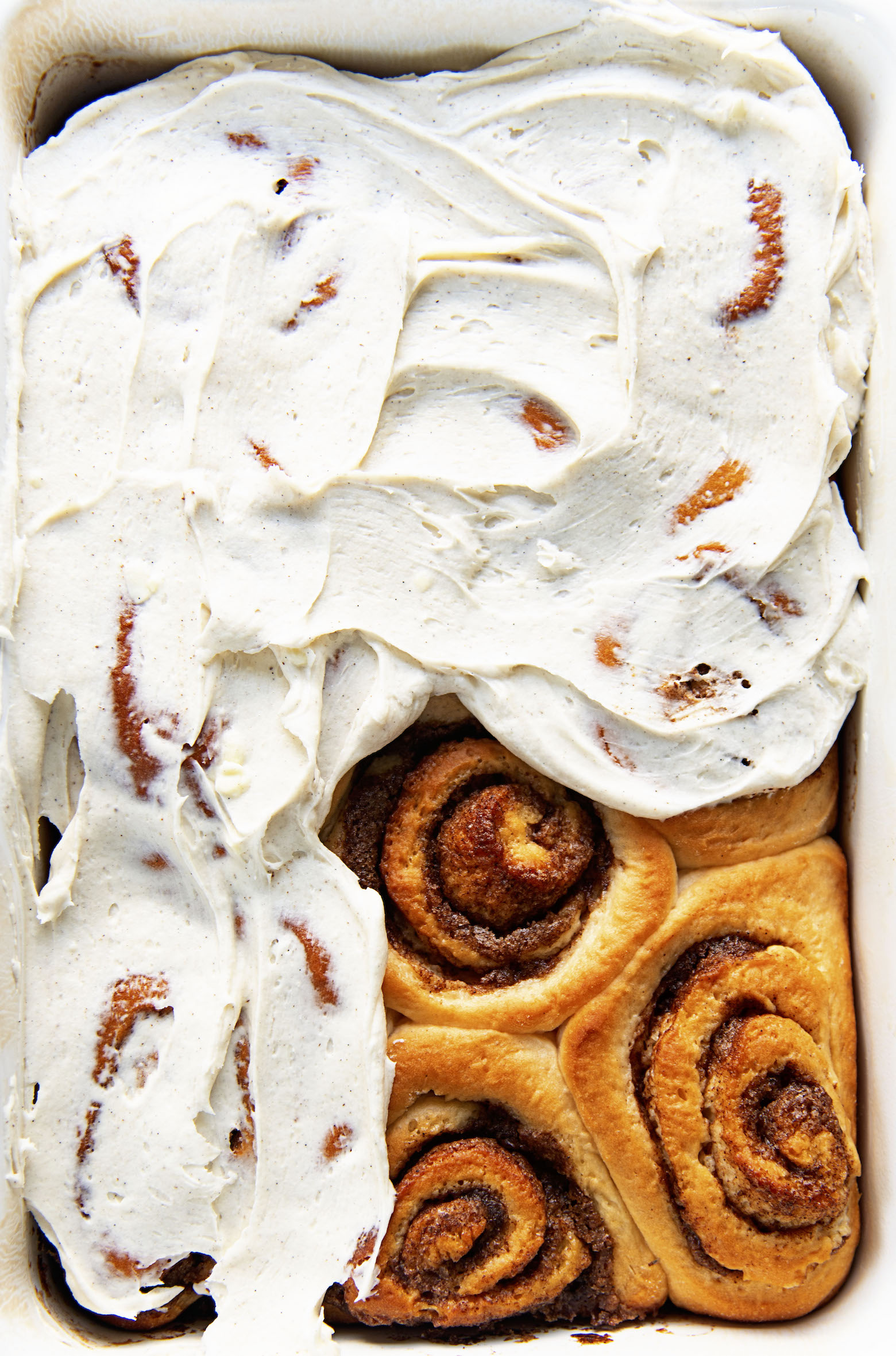 Now I can't make vanilla anything on this blog without using my favorite Rodelle Vanilla.
I've been an ambassador with them since 2013.
In fact, I've been with them so long that you have to scroll all the way to the bottom of their ambassador page to find me. 🙂
Because I'm an OG.
That's not a paid position.
Oh sure I get product but my love and use of the product is as pure as their vanilla. 😀
And I was using their products before I was their ambassador so it only made sense. 🙂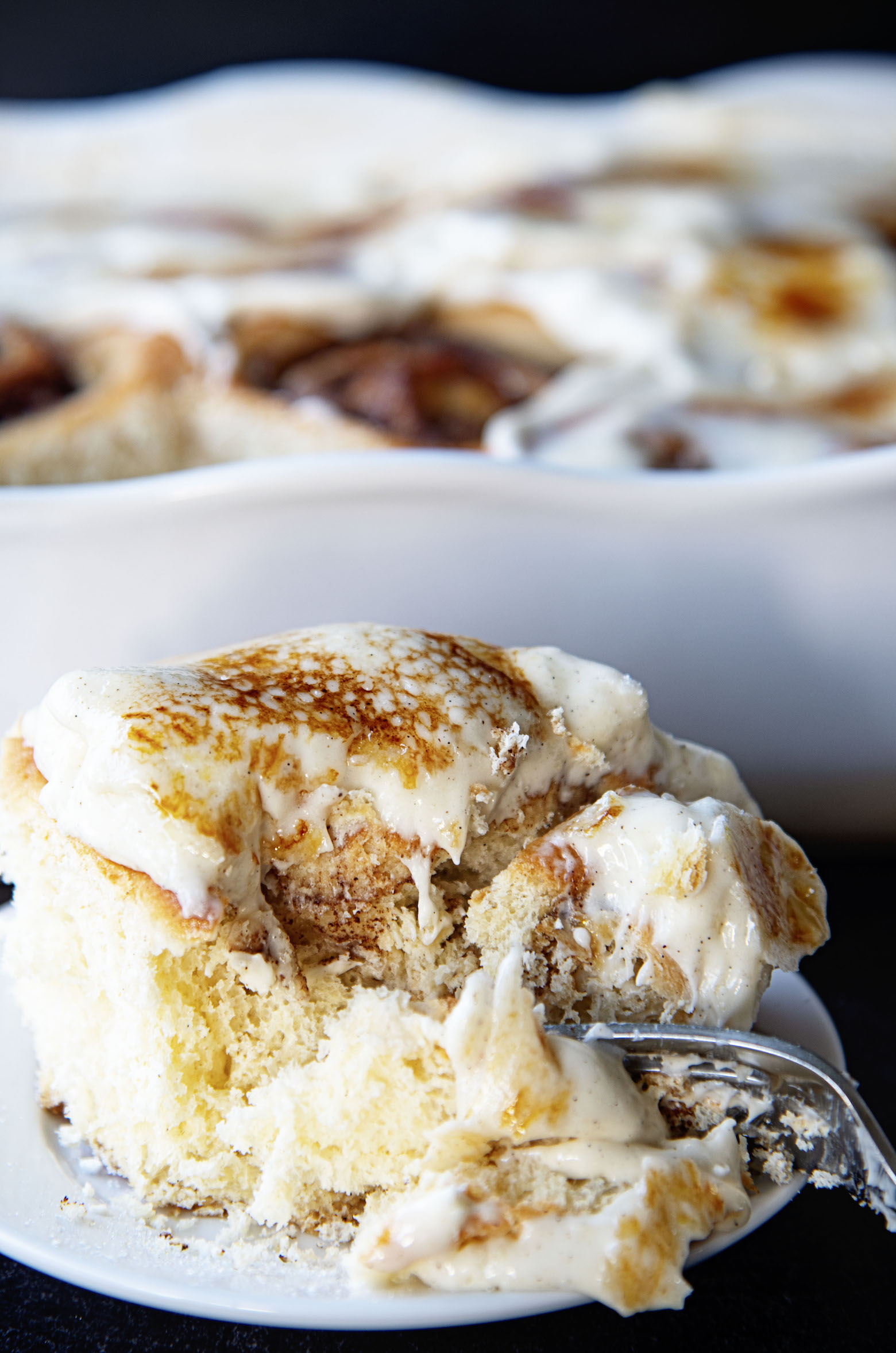 What I love about their vanilla bean paste is that you get not only great flavor but you get the little flecks of vanilla bean in your baked goods.
You can clearly see the beans in the frosting.
You get all that without having to scrape out the beans.
Which I love vanilla beans but every time I work with them my hands kind of get covered in little vanilla beans.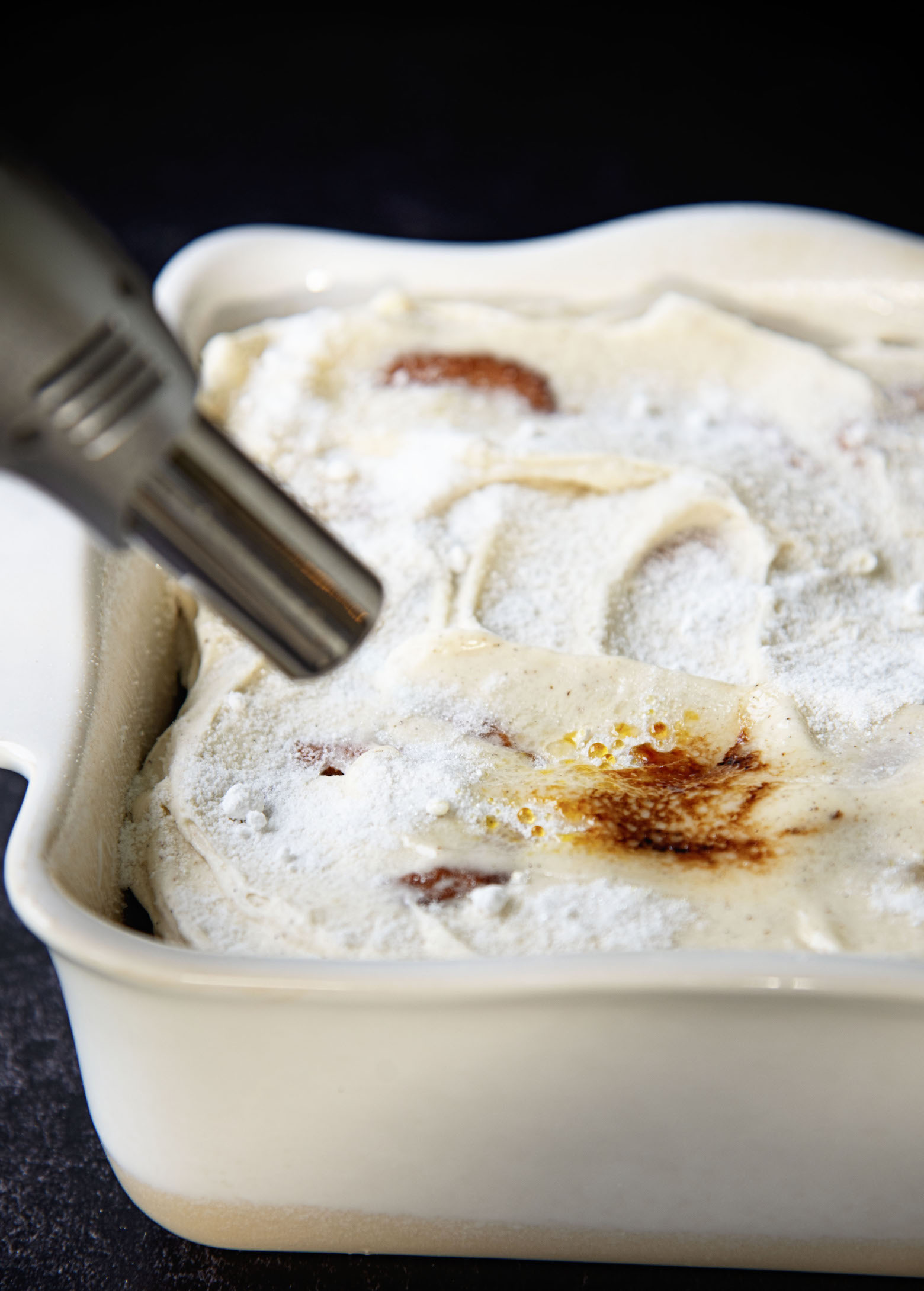 If you haven't tried Rodelle yet, you should.
I have converted many a baker to their products.
They have been very supportive of my over the years and even helped promote my cookbook Holy Sweet!
So make these.
You will love them.
Make them for the holidays and wow your mother in law.
Or just hoard them for yourself.
No judgement. 😀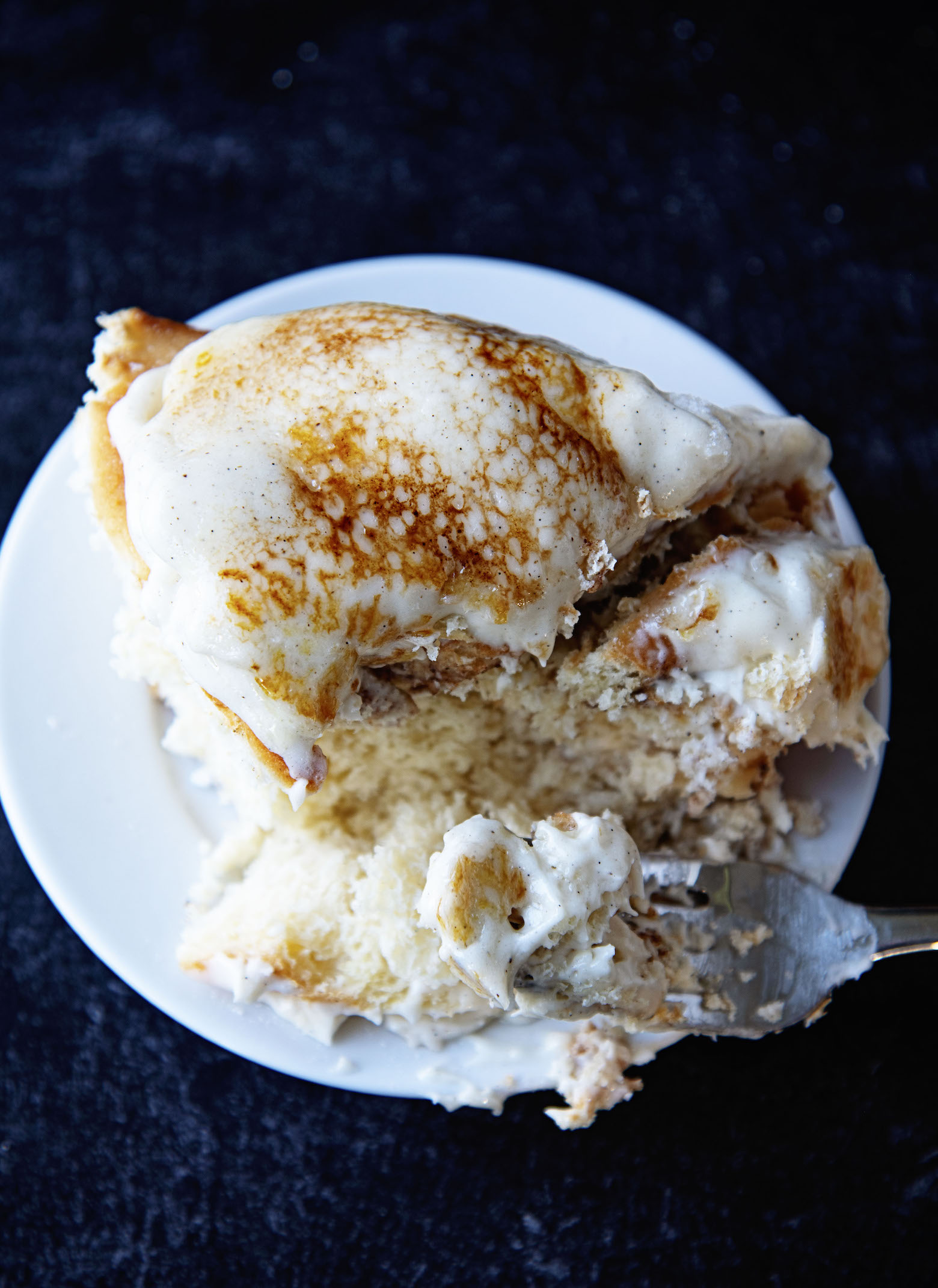 Want More Sweet Roll Recipes?
Peanut Butter and Jelly Sugared Buns
Creamsicle Crumb Topped Cinnamon Rolls
Bourbon Brown Sugar Caramel Peach Sweet Rolls
Cream Cheese Frosted Gingerbread Sweet Rolls
Ingredients
For the Dough:
1/2 cup warm whole milk, 110 – 115F
1 TBSP active dry yeast
1/2 cup whole fat buttermilk, at room temperature
2 large eggs
1/2 cup plus 1/2 tsp granulated sugar, divided
1 tsp. salt
1 tsp. vanilla extract (I used Rodelle)
1 tsp. vanilla bean paste (I used Rodelle)
6 Tbsp unsalted butter, melted and slightly cooled
3 1/2 – 4 cups bread flour
For the filling:
6 TBSP unsalted butter, super soft but not quite melted
1 cup packed brown sugar
2 TBSP cinnamon
For the Frosting:
8oz. cream cheese, at room temperature
4 oz. unsalted butter, at room temperature
4 cups powdered sugar
2 TBSP (or more if needed) milk
2 tsp vanilla bean paste (I used Rodelle)
For the Brulee:
1/3 cup superfine granulated sugar
Instructions
For the Dough:
Using a stand mixer with the paddle attachment add the yeast, warm milk, and 1/2 tsp. granulated sugar.
Let rest for 5-10 minutes to proof…the batter will puff up. If it does not then your yeast is bad and rolls won't rise so best to throw out and start again with different yeast.
Add in buttermilk, eggs, 1/2 cup granulated sugar, salt, vanilla, vanilla bean paste, and melted butter and mix until fully combined.
Add in 2 1/2 cups of the flour and mix until fully combined.
Switch to a hook attachment then add another 1 cup flour. Knead mixture until combined.
Continue to knead on low speed about 5 – 6 minutes while adding a little more flour as needed to reach a soft and moist dough (Dough shouldn't stick to the sides of the bowl but does stick to the bottom).
Transfer dough to an oiled bowl, cover with plastic wrap (I find press and seal works best)  and let rise in a warm place until doubled in volume, about 1 1/2-2 hours.
Punch dough down.
Dust a working surface lightly with flour and turn dough out onto surface.
Sprinkle top of dough with a little flour then roll dough out into an 20 by 18-inch rectangle.
Spread the 6 TBSP softened butter evenly over entire surface (hands work best).
In a small mixing bowl whisk together brown sugar and cinnamon. Sprinkle and spread brown sugar mixture evenly over butter layer (try to leave about 1/2-inch border uncovered along all edges).
Beginning on an 18-inch side tightly roll dough into a cylinder. Pinch the seam to seal (brushing a little egg white underneath helps if needed or I just use a toothpick).
Cut into 12 equal portions using a large sharp knife (they should be 1 1/2-inch each).
Arrange rolls, spacing evenly apart. Cover with plastic wrap loosely.
Let rise in a warm place until doubled in volume, about 1 1/2-2 hours.
Preheat oven to 350F near the last 20 minutes of rolls rising.
Bake rolls in preheated oven until centers are no longer doughy, about 25-30 minutes.
Remove from oven and set on a wire rack while you make frosting.
For the Frosting:
Using a stand mixer beat together the cream cheese and butter until fully combined.
Add powdered sugar, 1 cup at time.
Add milk to thin frosting to the consistency you want.
Add in the vanilla bean paste and beat until fully combined.
Frost the top of the cinnamon rolls.
To Brulee the Frosting:
Sprinkle the frosting with the sugar then heat with a kitchen torch until sugar begins to melt and caramelize.
Serve the rolls while the frosting is still warm from the kitchen torch.