Whiskey Glazed Chocolate Chip Muffins: Finally you can have booze and chocolate for breakfast with these chocolate chip studded muffins that are covered in whiskey butter glaze and a sugar-salt coating.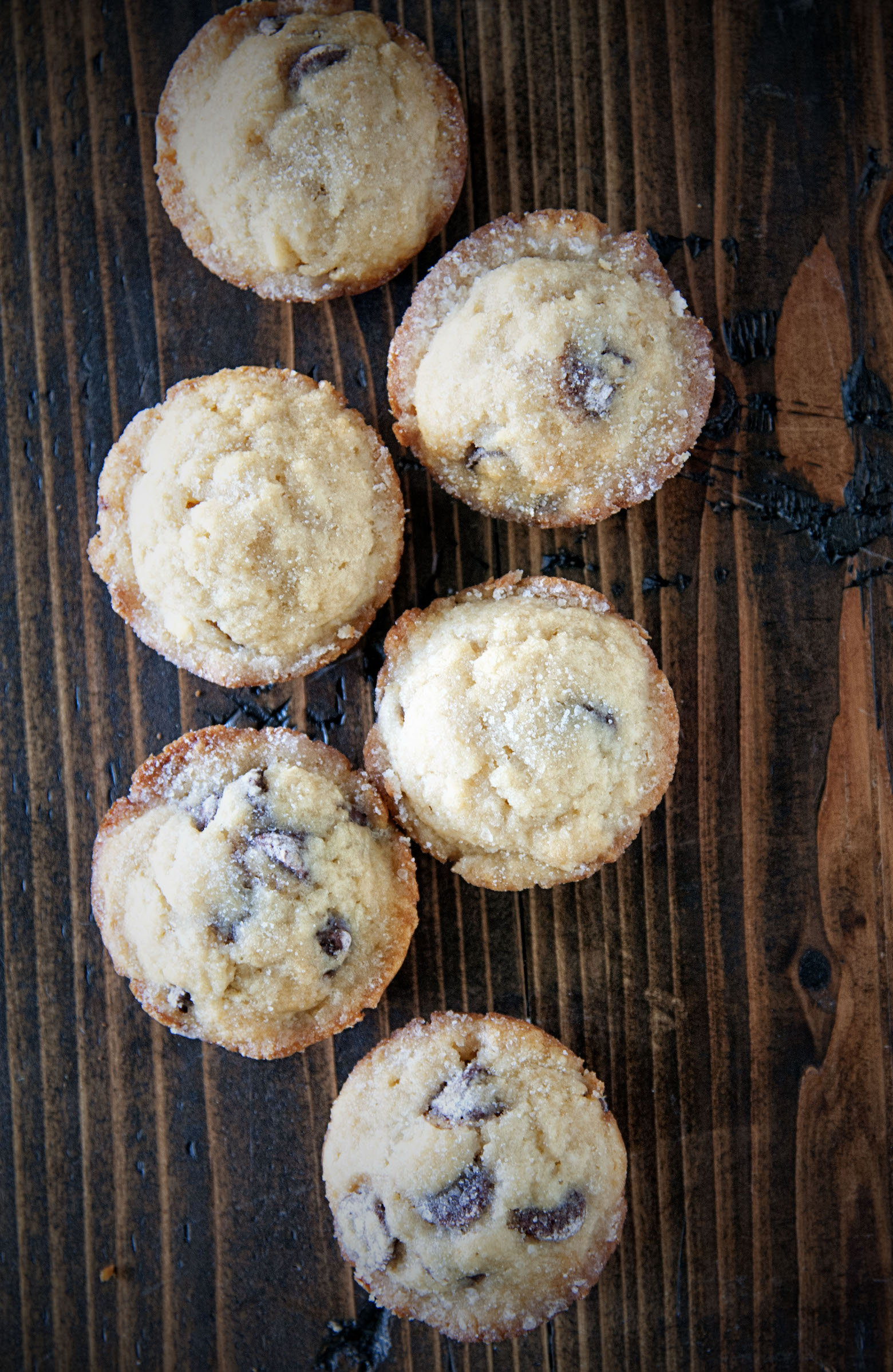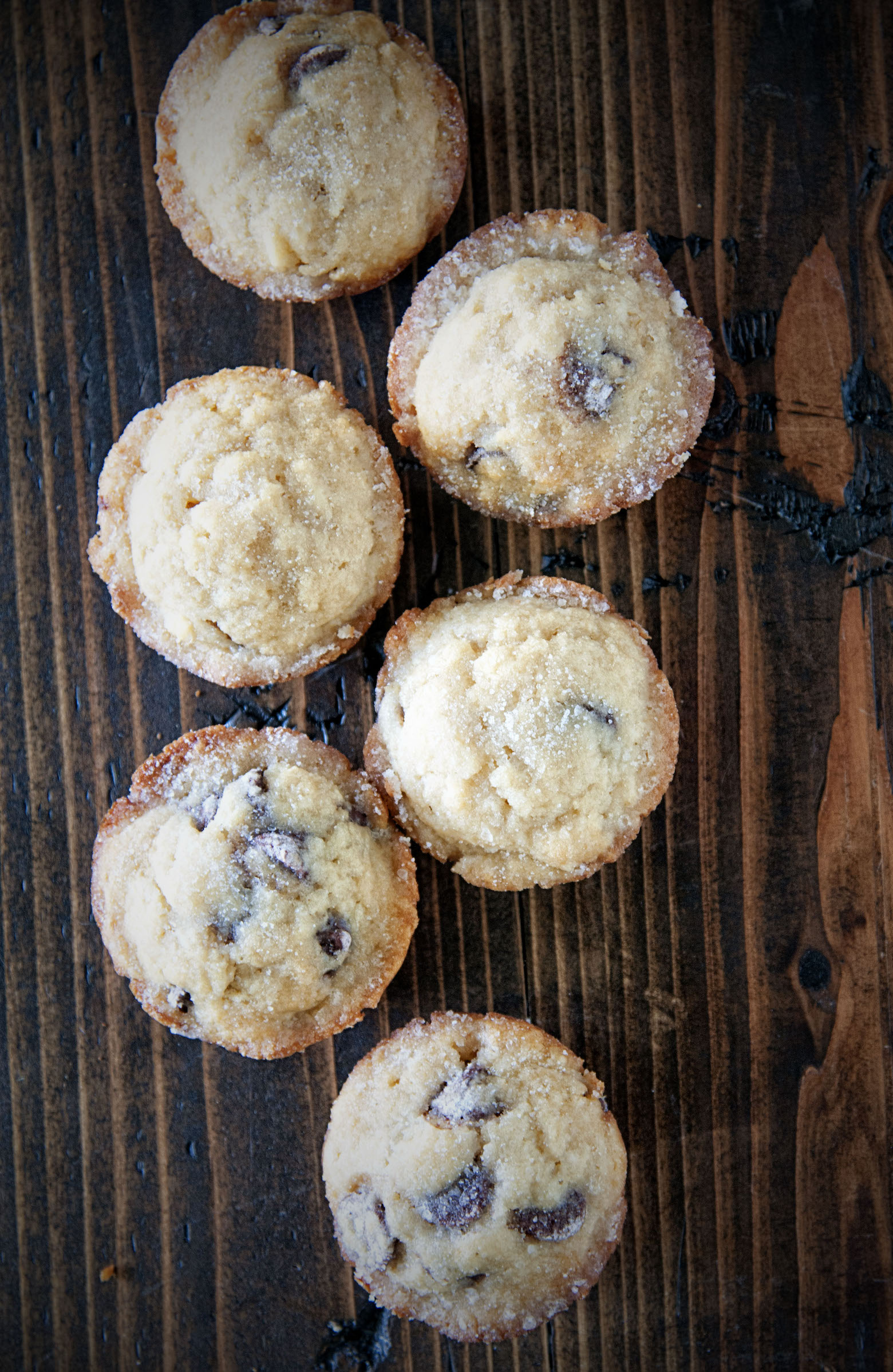 So I've been baking.
And then giving it away.
Before I photograph it.
Even these almost didn't make it on the blog because they were made for someone's birthday.
Luckily I did save a few to photograph because the hockey team loved these.
But then again I think any time you get to have booze on a breakfast item my hockey team would love it. 😛
I planned on blogging this weekend but got sucked into binge watching Ugly Delicious on Netflix.
Twice.
Because I watched it and then I started (he has a few episodes to go) made my husband watch it.
It's quite possible the best thing I have ever watched in a long time.
If you don't know what it is…it's a documentary put out by David Chang of Momofuko fame.

Be warned they do like to swear so maybe wait until the kids go to bed…or don't…give them a life lesson. 🙂
It will make you hungry and make you think. And I learned a thing or two which I always appreciate. 🙂
One thing I was reminded of is that most chefs (especially NY chefs) don't have very big kitchens.
Granted they get to cook in nice big kitchens when they work, but most come home (until the make it really big) to a pretty tiny kitchen.
It inspired me to be happy (for now) with my tiny little kitchen.
Though it also inspired me to overhaul it.
Not a makeover but I've lived in the house long enough to know what tools I am using the most and what things I am not using as much and I need to do some rearranging if you will.
Anyway do yourself a favor and watch it.
If you don't have Netflix…sign up for it for a few days and binge watch it and then cancel. 🙂
It also made me really, really want to get a pizza oven. Which my husband if finally on board for…as soon as we win the lottery. 😀
Also make these muffins.
They are a great chocolate muffin made better with a butter booze glaze and then topped with sugar and salt combo.
Surely they will make your morning better. 🙂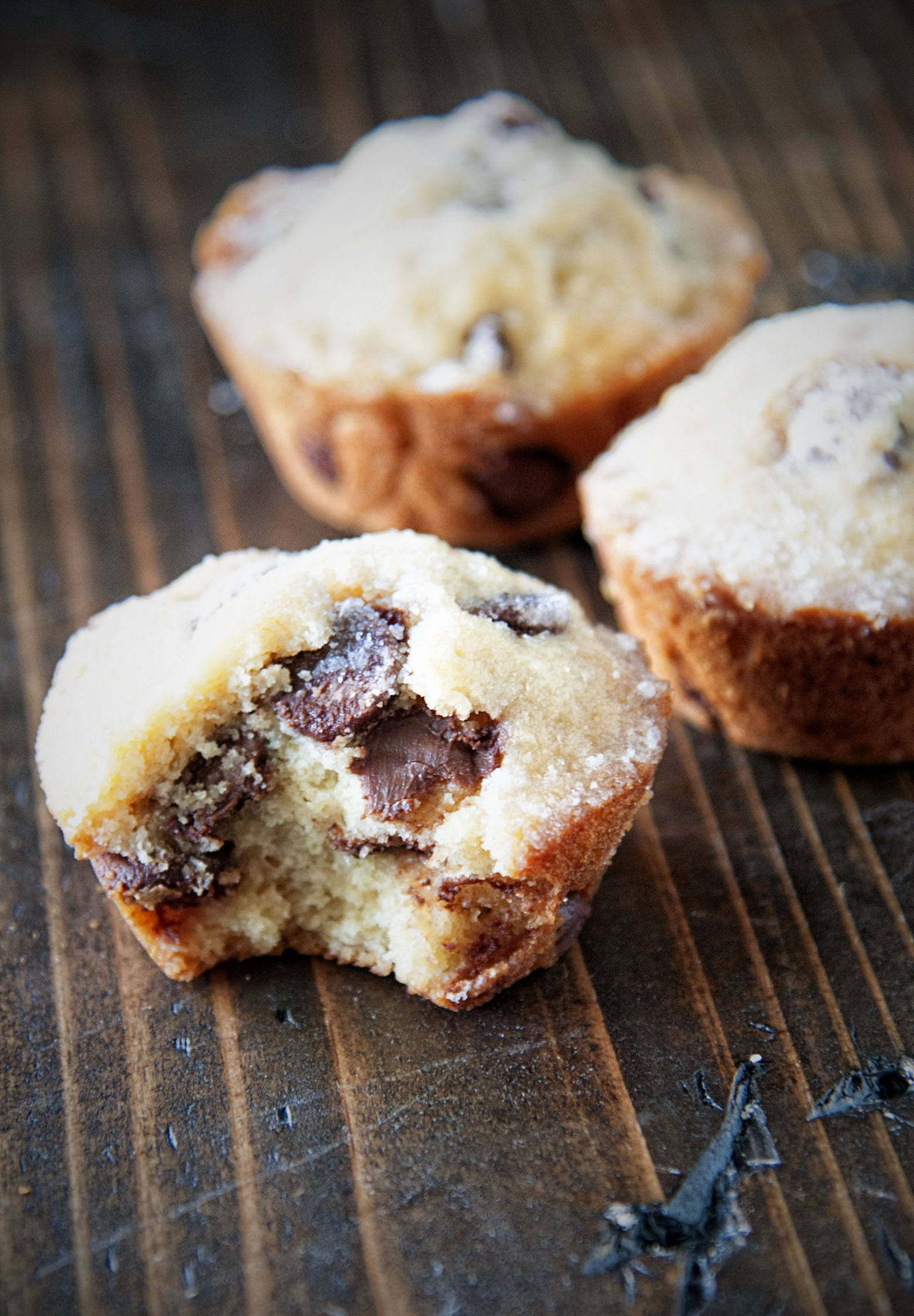 Whiskey Glazed Chocolate Chip Muffins
For the muffin:
8 oz. unsalted butter
1 cup granulated sugar
1. tsp. vanilla extract (I used Rodelle)
2 large eggs
¾ tsp. baking soda
¾ tsp. baking powder
Pinch of salt
2 and ¼ cups all-purpose flour
1 and ¼ cup full fat buttermilk or sour cream
1 1/2 cup of milk chocolate chips
Butter Whiskey Syrup:
1/3 cup granulated sugar
4 TBSP unsalted butter
1/16th tsp. fine-grain sea salt
¼ cup whiskey
Sugar-Salt coating:
¼ cup granulated sugar
1/16 tsp. fine-grain sea salt
Instructions:
Preheat oven to 350F.
Using a stand mixer with a paddle attachment, cream the butter and sugar until light and fluffy about 3 minutes.
Add in the vanilla.
Add the eggs one at a time and mix until each is incorporated.
In a separate bowl, mix together the flour, baking soda, baking powder, and salt.
Add the flour mixture and the buttermilk alternately to the egg-butter mixture in the additions.
Start with the flour and end with the flour. Scrape the bowl occasionally.
Fold the chocolate chips into the batter.
Portion the muffin batter into greased tins (I use an ice cream scoop). Depending on the size of your tins, you should get about14 muffins. Bake them for approx. 20 minutes. If making mini muffins, reduce time to 15 minutes.
Remove from oven and place on a wire rack under a baking sheet.
Let cool.
Butter Whiskey Syrup:
Combine the sugar, butter, and ¼ cup water in a small saucepan and place over medium heat.
Stir until the sugar melts, about 5 minutes.
Remove the pan from the heat and whisk in the whiskey and salt.
Brush the syrup over the surfaces of the cooled muffins liberally using a pastry brush.
Sugar-Salt Coating:
In a small bowl whisk the sugar and salt together.
Sprinkle it all over the muffins.