Toffee Apple Pie Cake: Fluffy vanilla cake with toffee pieces sits on top of a homemade apple pie spice filling, Kind of like cake meets cobbler.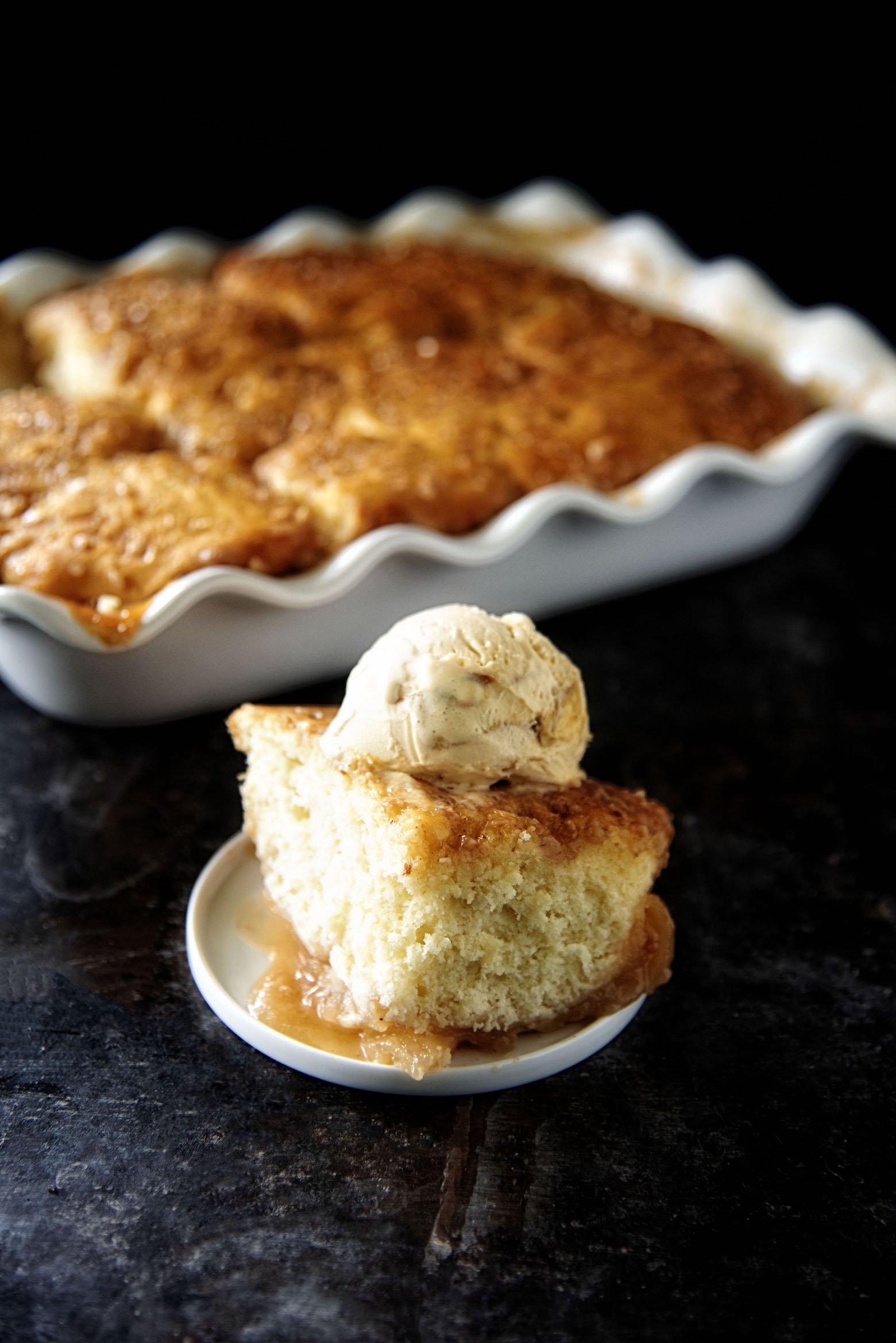 Two weekends ago I went to a Sunflower festival.
Last weekend I went apple picking.
All down the street from me actually.
Yes, I love where I live.
And this weekend is pumpkin patching.
I'm winning at my Fall Basic Girl (I'll be nice and not swear) check list.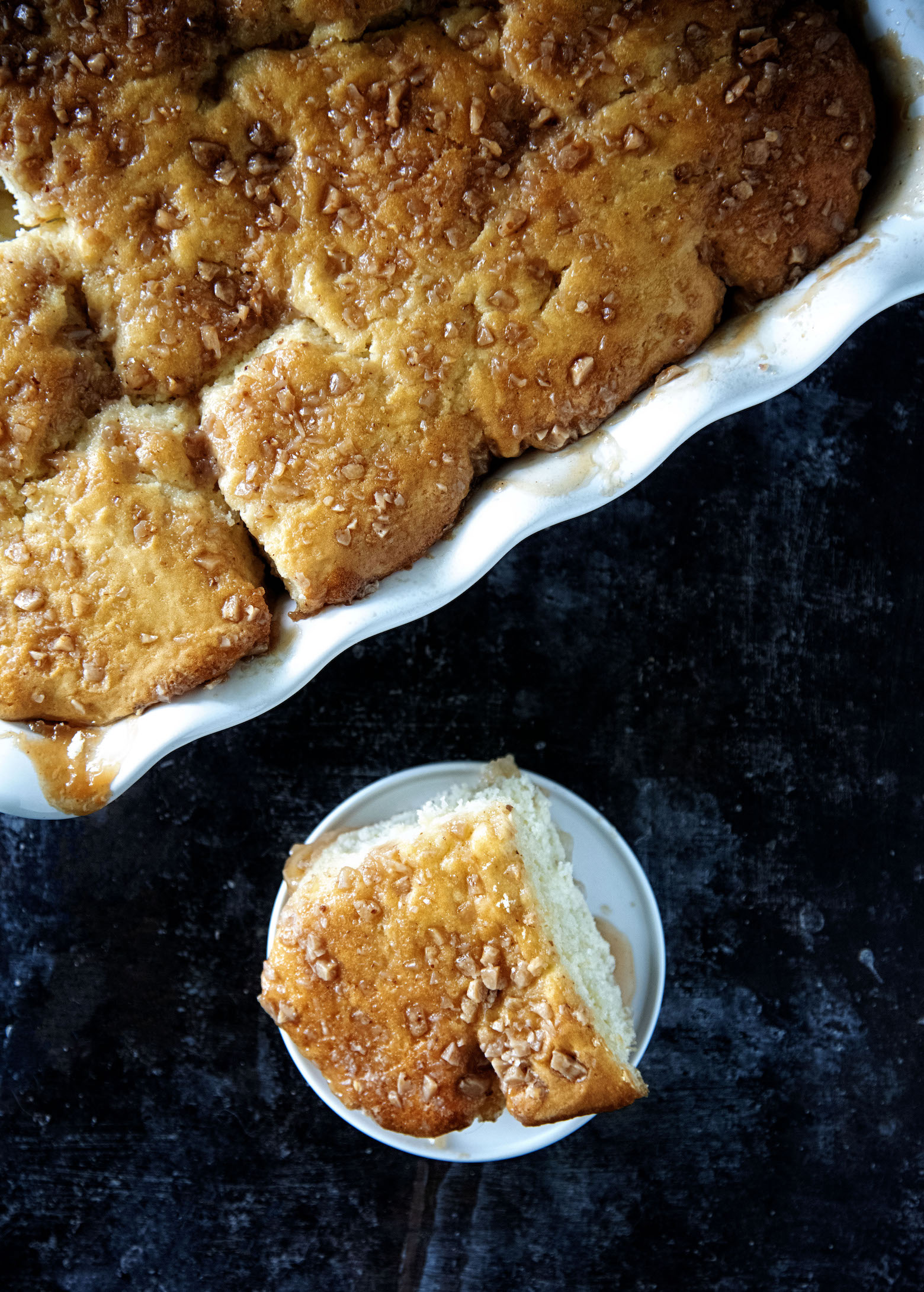 The apple picking was interesting.
I didn't realize until this year that our closest pumpkin patch had also started apples a few years ago.
Normally if I want to pick apples I have to trek a bit so I was happy that there is now apple picking literally on my street. 🙂
But it made for some interesting people watching.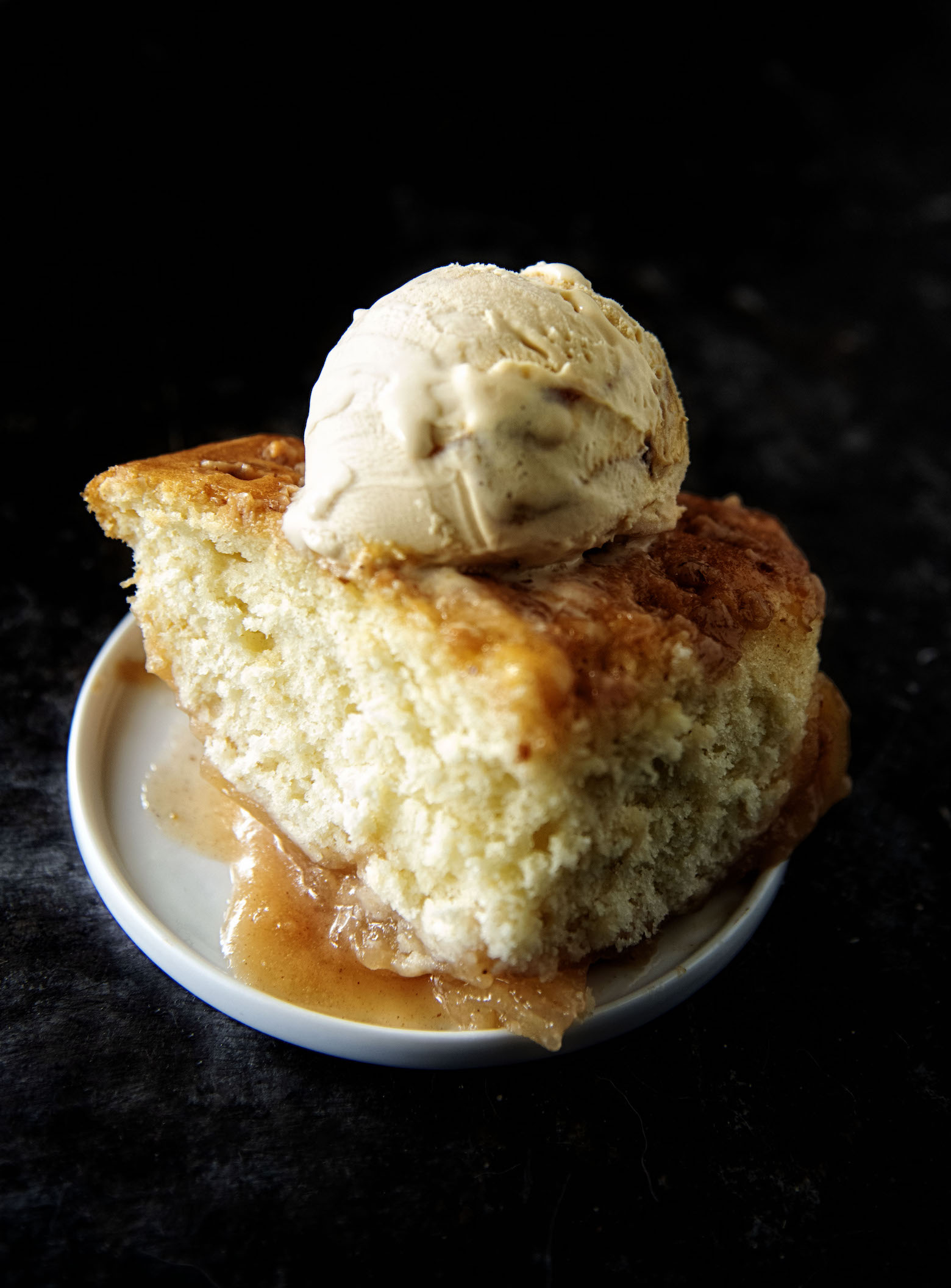 So without further ado…
Dear People Picking Apples,
Hi.
First off, did you all warn Whole Foods that no one would be shopping there today as all the Basic Barbies were apple picking today?
I sure hope so because you are all here today.
The parking lot was packed just 10 minutes after opening so you really wanted those apples.
I see you are ready in your Hunter Boots (I was in them too) and sweater with apples on it.
Your kids are dressed to match.
Some of you even brought a professional photographer out to capture the family outing.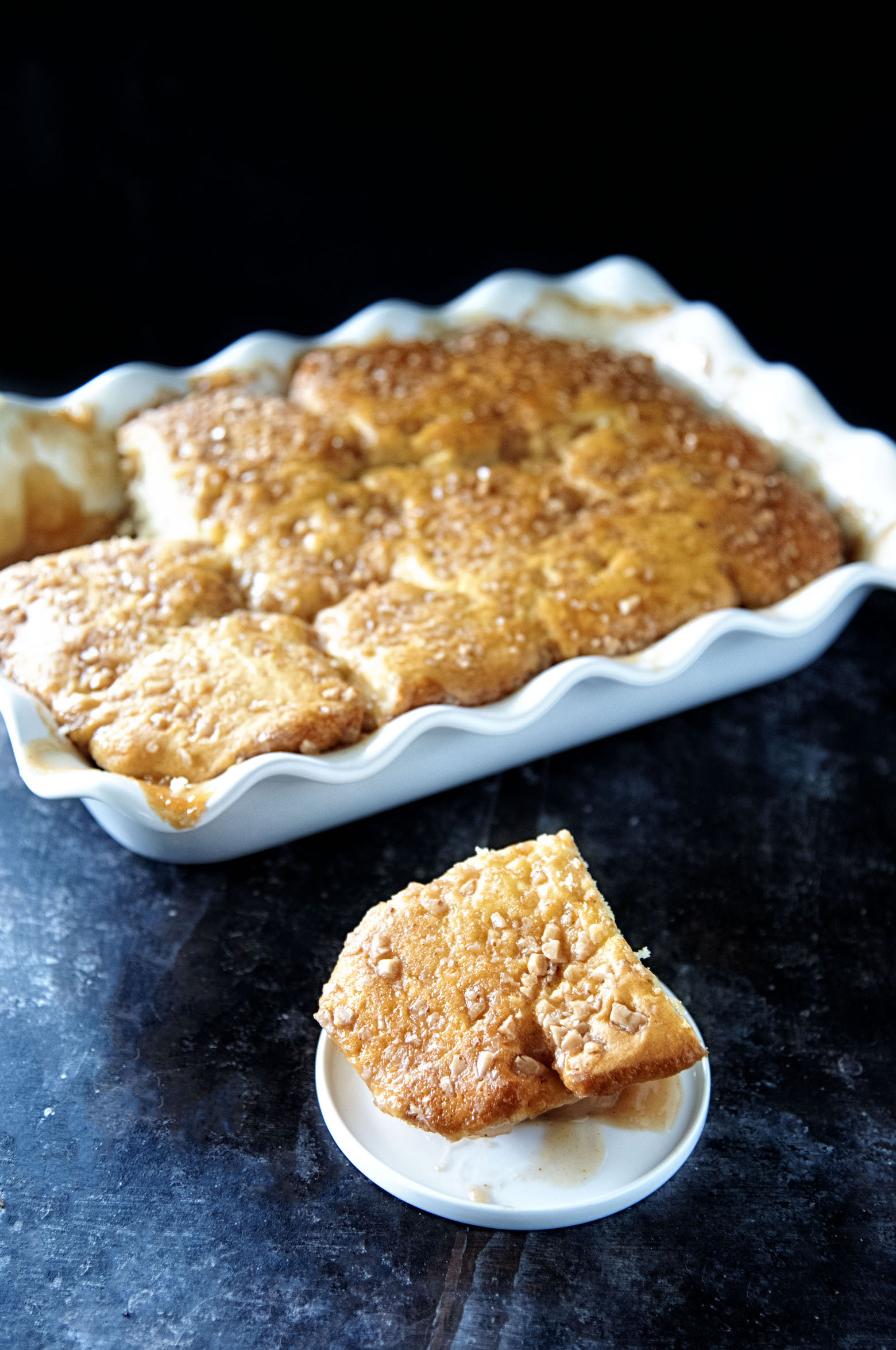 You take the little hayride out to the apple patch and immediately start to complain.
Surprised that there was mud.
Newsflash…you live in Western Washington and it's fall.
So there will be rain.
Which mixed with dirt produces mud.
That is why you have on your Hunter Boots….to trek through mud.
Also, trees grow in dirt.
And you are picking apples off of the tree.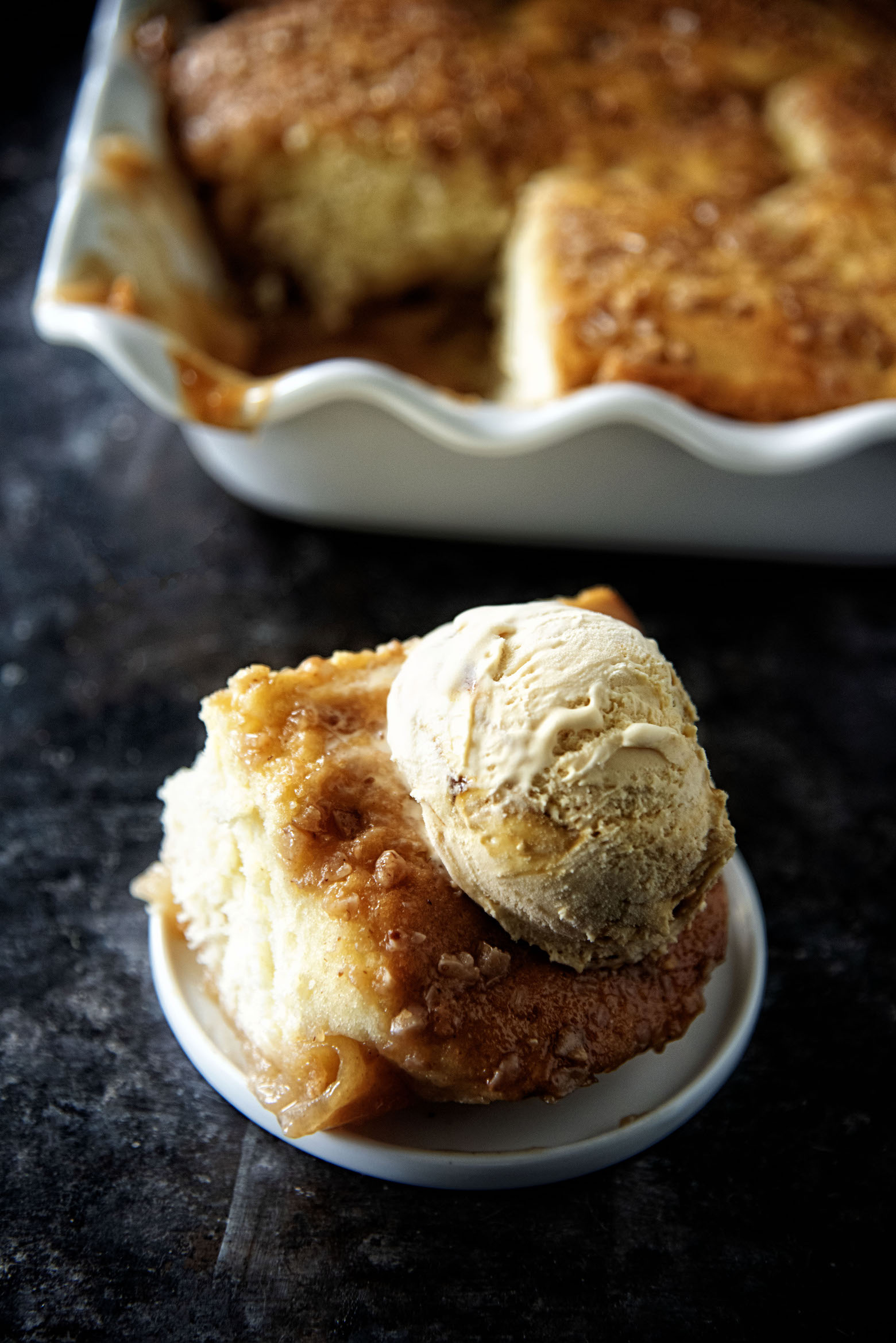 You pay for each apple you pick.
So when you give your kid an apple to eat and he takes a bite and no longer wants it you tell him to throw it on the ground.
That's stealing FYI.
Also, when your child is dripping with fresh juice that smells sweet there will be bees around your child.
Again, nature.
Which you drove out to experience.
And yes I know you are traumatized at what the goats were doing at the petting zoo.
Just tell the kids they are very close friends. 😛
Last but not least don't complain about how much the apples cost by pound.
If you actually paid attention you would see that the price is actually cheaper than what you pay at the store.
You just don't notice because you don't normally buy 20 pounds of apples at a time. 🙂
Next year, lower your expectations of what will happen at a working farm.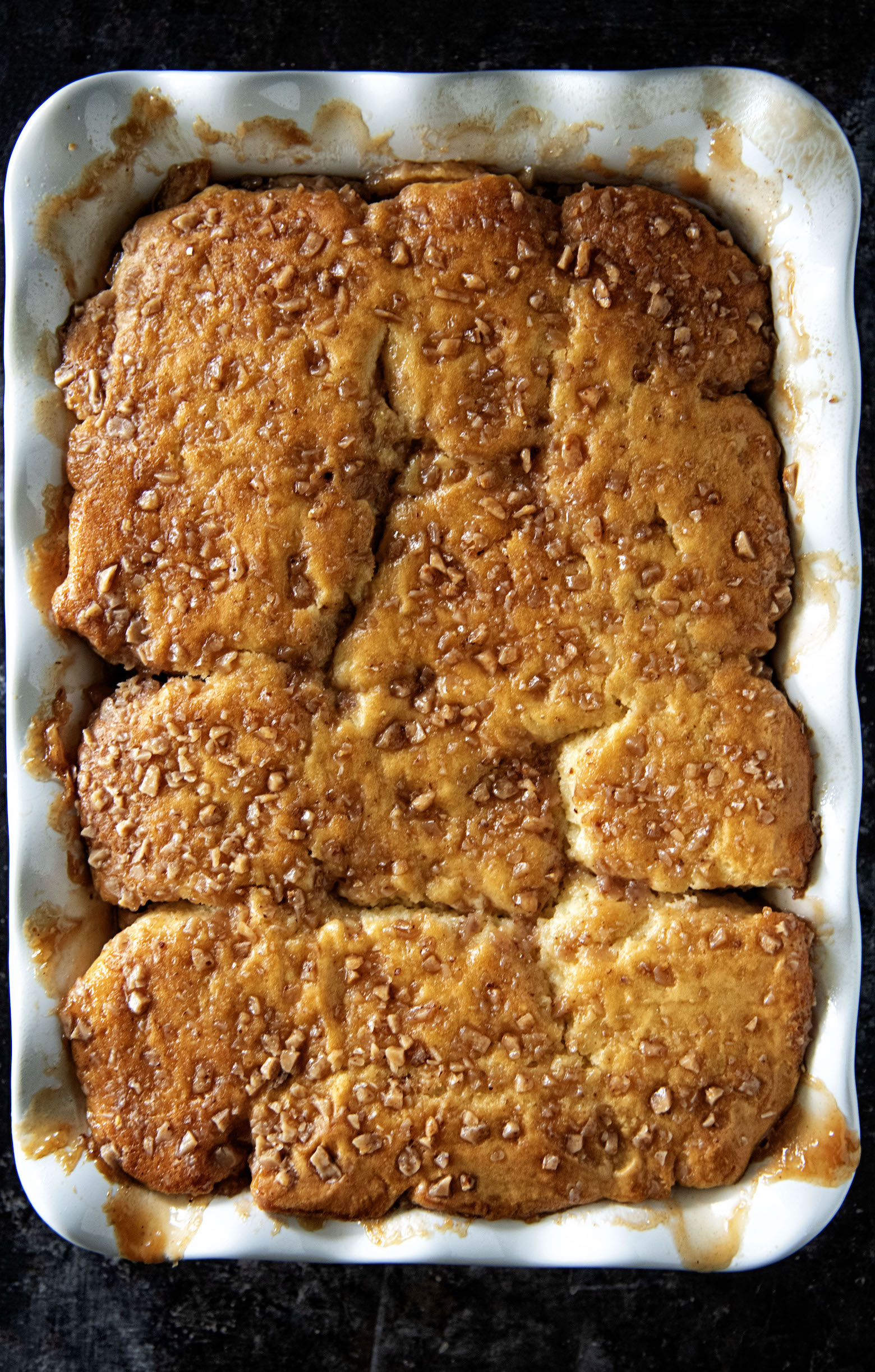 Normally when I make a version of this cake you put the apples on top and they sink to the bottom.
But this time I wanted the toffee pieces on top of my cake.
So this is kind of like a very fluffy dump cake.
Part pie.
Part cake.
Little bit of cobbler action.
All good.
And last but not least it's a great day to buy my cookbook.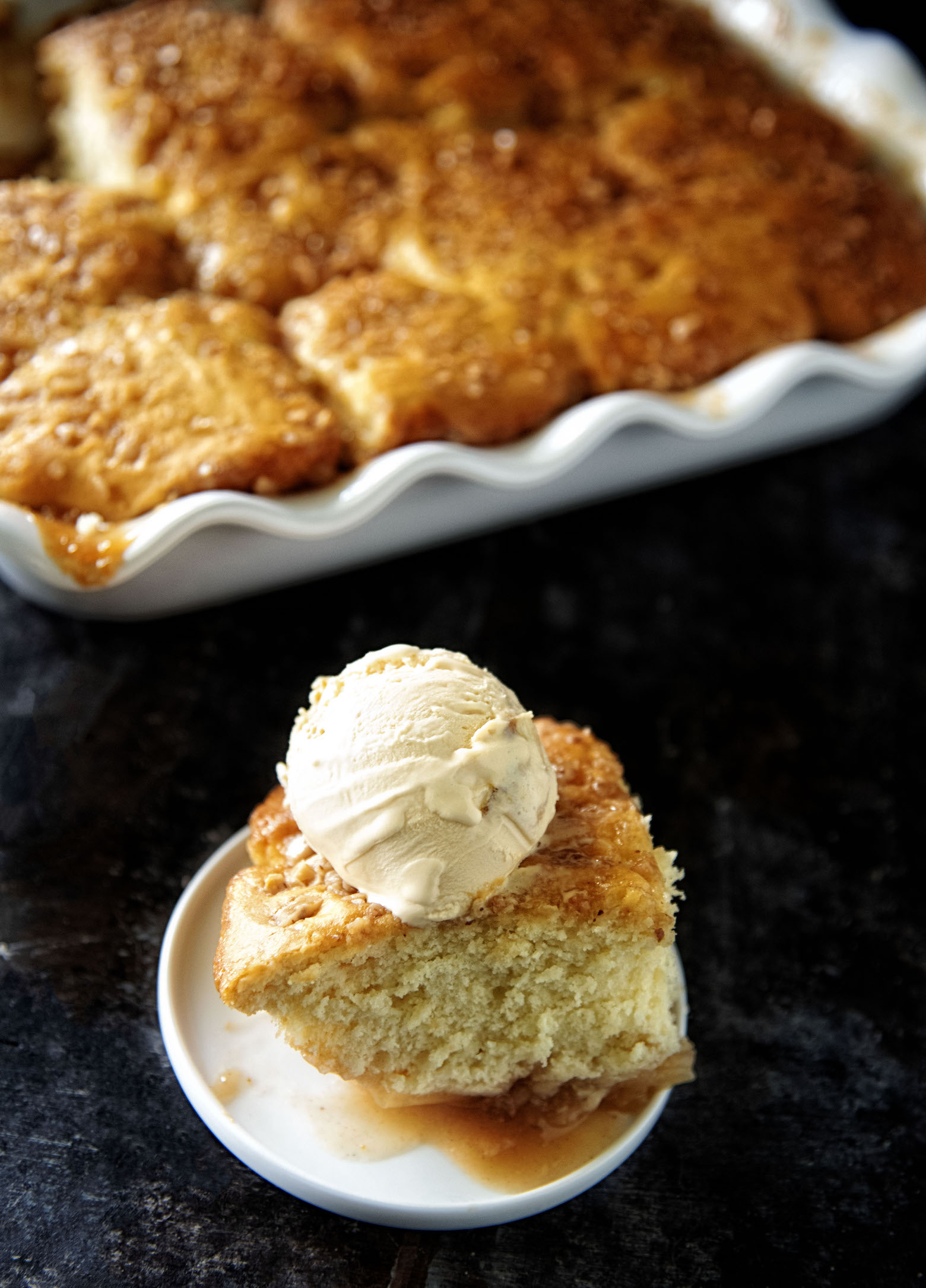 Want More Recipes? Try these:
Apple Cider Donut Bread Pudding
Brown Sugar Apple Cinnamon Babka
Oatmeal Crumble Caramel Apple Pie
Brown Sugar Spiral Biscuit Cobbler
Ingredients
Apple Pie Filing:
5 cups apples peeled, cored, and sliced
2 cups water
1 cup apple cider
1 1/3 cups granulated sugar
1/3 cup cornstarch
1 1/2 tsp. apple pie spice
1/4 tsp. salt
Cake:
3 cups flour
1/4 tsp. salt
1 cup granulated sugar
4 tsp. baking powder
1 1/2 cups whole milk
1 tsp. vanilla bean paste
1 tsp. ground cinnamon
1/2 tsp. freshly ground nutmeg
2 Eggs
1/2 cup unsalted butter, melted and cooled
2 cups Heath Bit O'Brickle (toffee pieces), divided
Apple Pie Filing:
5 cups apples peeled, cored, and sliced
2 cups water
1 cup apple cider
1 1/3 cups granulated sugar
1/4 cup cornstarch
1 1/2 tsp. apple pie spice
1/4 tsp. salt
Instructions
For the Apple Pie Filling:
Place water, apple cider, sugar, cornstarch, apple pie spice, and salt in a medium saucepan.
Stir to combine then bring to a boil over medium heat, stirring often.
Once the mixture boils, boil it for two minutes.
Add the apples, turn to a simmer, and cover.
Cook, stirring often, until the apples soften, about 5-8 minutes.
Set aside while you prepare cake.
For the cake:
Preheat oven to 350 degrees F.
Spray a 9×13 baking pan with baking spray. Set aside.
Using a stand mixer with the paddle attachment add the flour, salt, sugar, baking powder, milk, eggs, spices, and vanilla bean paste.
Once thoroughly combined, slowly stir in the melted butter.
Fold in 1 cup of the brickle (toffee).
You can either at this point add the apples to the bottom more like a cobbler and pour the batter on top. Which is what I did for this time. But you can also pour the batter first and drop spoonful's of apple pie filling on top of the batter.
Sprinkle the remaining 1 cup of Bit O'Brickle on top of the cake.
Bake at 350 for 36-40 minutes or when a toothpick inserted near the center comes out nearly clean.
Serve warm or at room temperature.