This Toffee Apple Cider Pound Cake is made with apple cider, apple pie spices, toffee bits, and apples all covered in a toffee icing.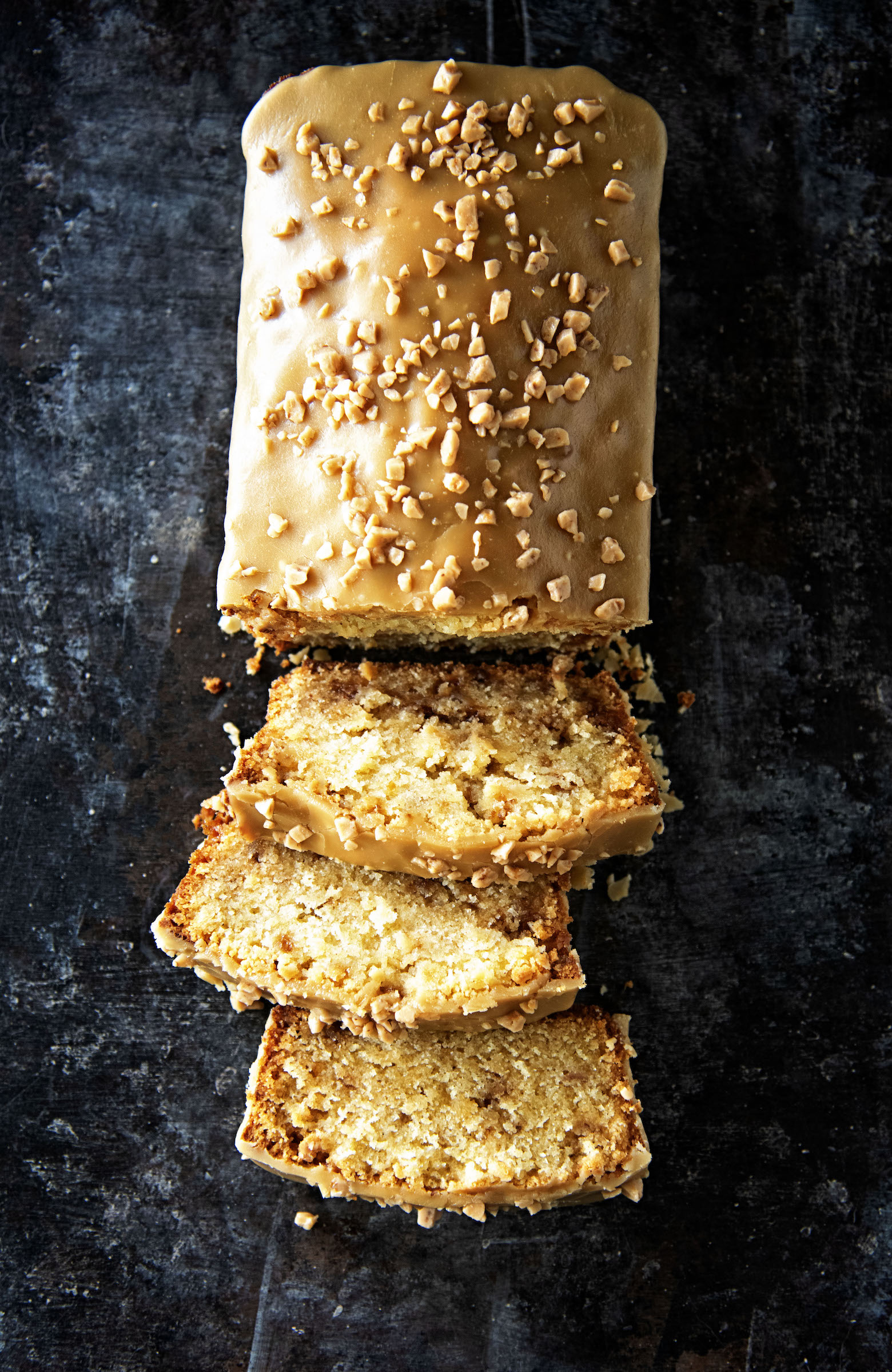 They say cooking is an art.
But baking is a science.
And it is.
Perhaps it's why I prefer it over cooking…since my degrees are all in science.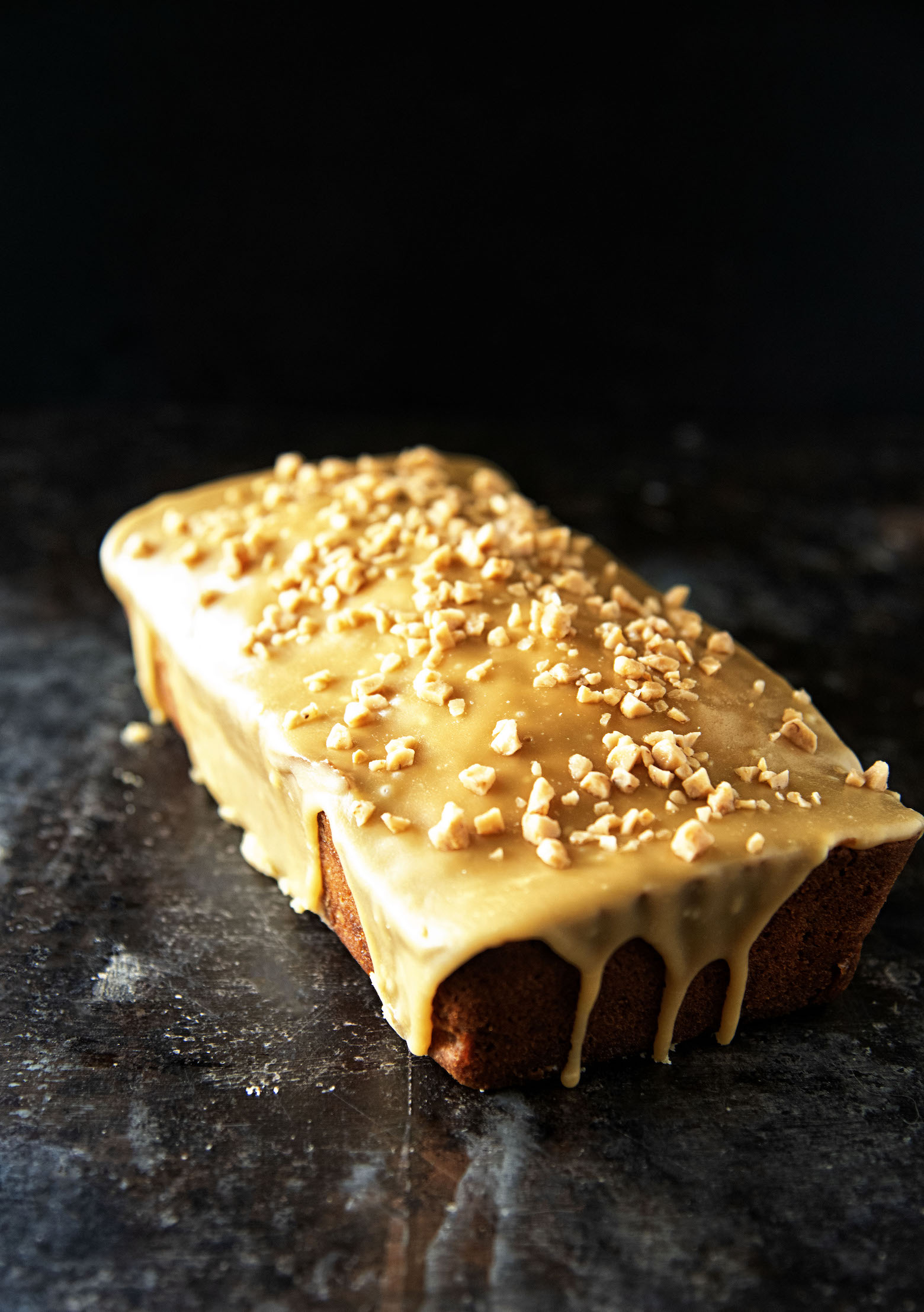 It's amazing how so many desserts all have the same ingredients but how you prepare them can change them dramatically.
I mean almost every baked good has butter and sugar in it.
And yet they don't taste like toffee.
No, to make toffee you have to heat that butter and sugar up to 285F.
Too soon and you get a different result.
Same goes for if you go too far over.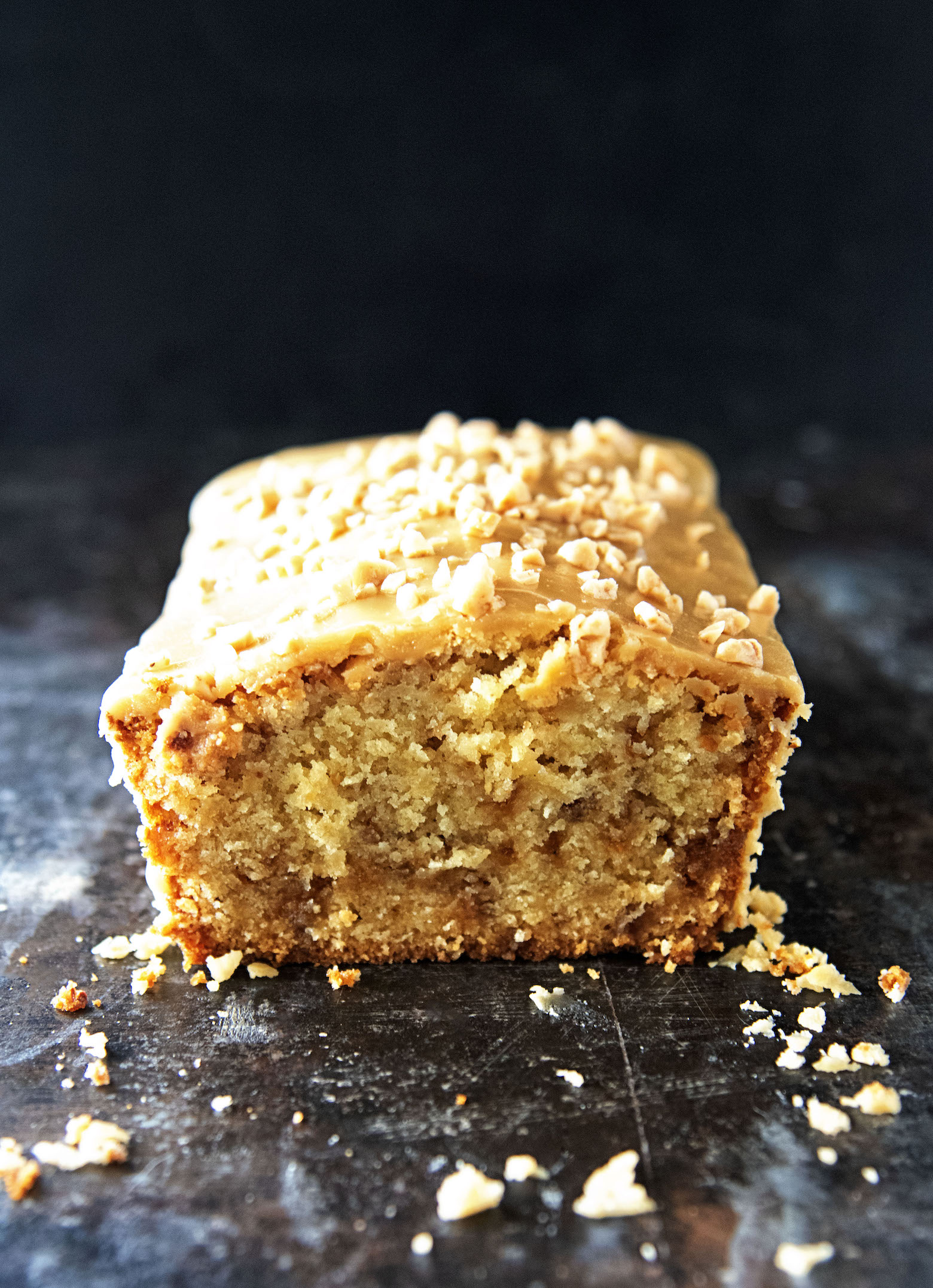 While people like to think of baking as a creative outlet it is I hate to tell you a math and science outlet too. 🙂
Your 8th grade science teacher was right…you will use it in the real world. 😛
Now if we could just get American's on board with the metric system!
It really is a lot more simple people.
Really.
Plus weighing ingredients equates to far more consistent results.
But I don't put the weight because when I do people complain and want to know how many cups.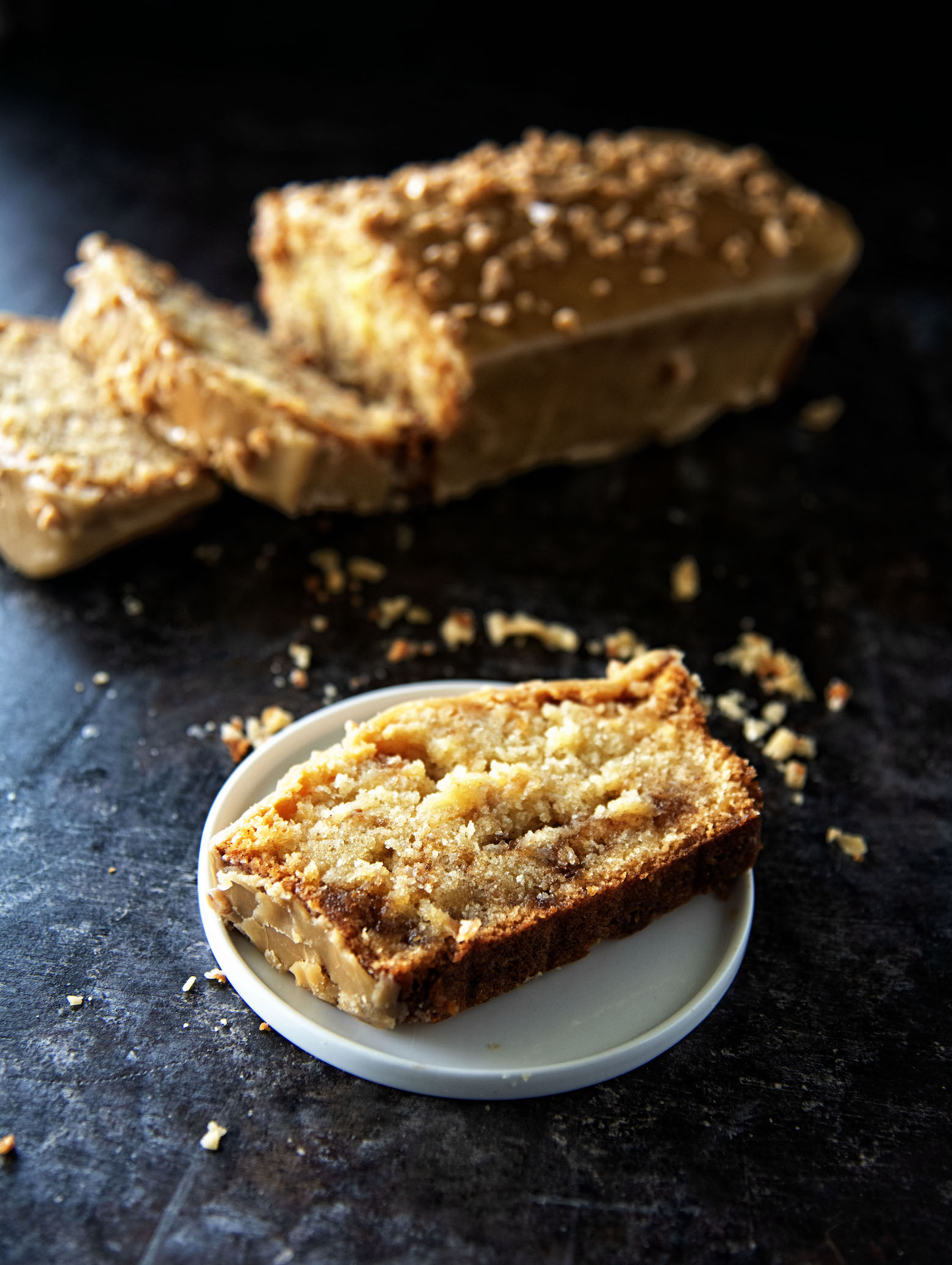 This Toffee Apple Cider Pound Cake is rather moist (I know everyone hates that word) for a pound cake.
Often pounds cakes are far too dry for my taste.
But not this one.
I can only assume it's the shredded apple that is added in and the apple cider adding some acid to the mix.
Again…science. 😀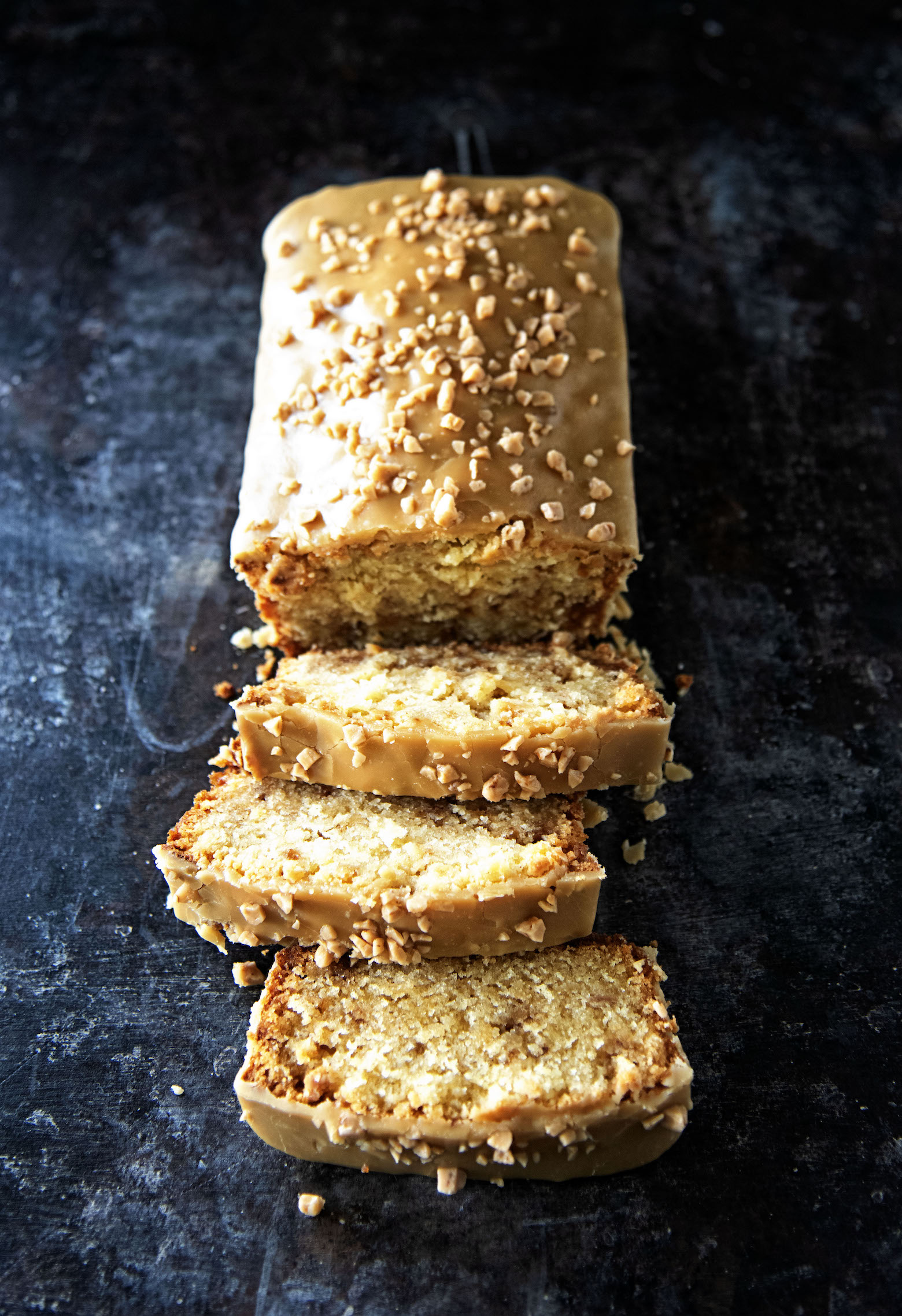 The toffee pieces in the cake will melt during baking.
You want that.
It will give the cake little burst of toffee taste.
This cake is not a super knock you down with apple flavor cake.
It's subtle since this is more apple cider cake than apple cake.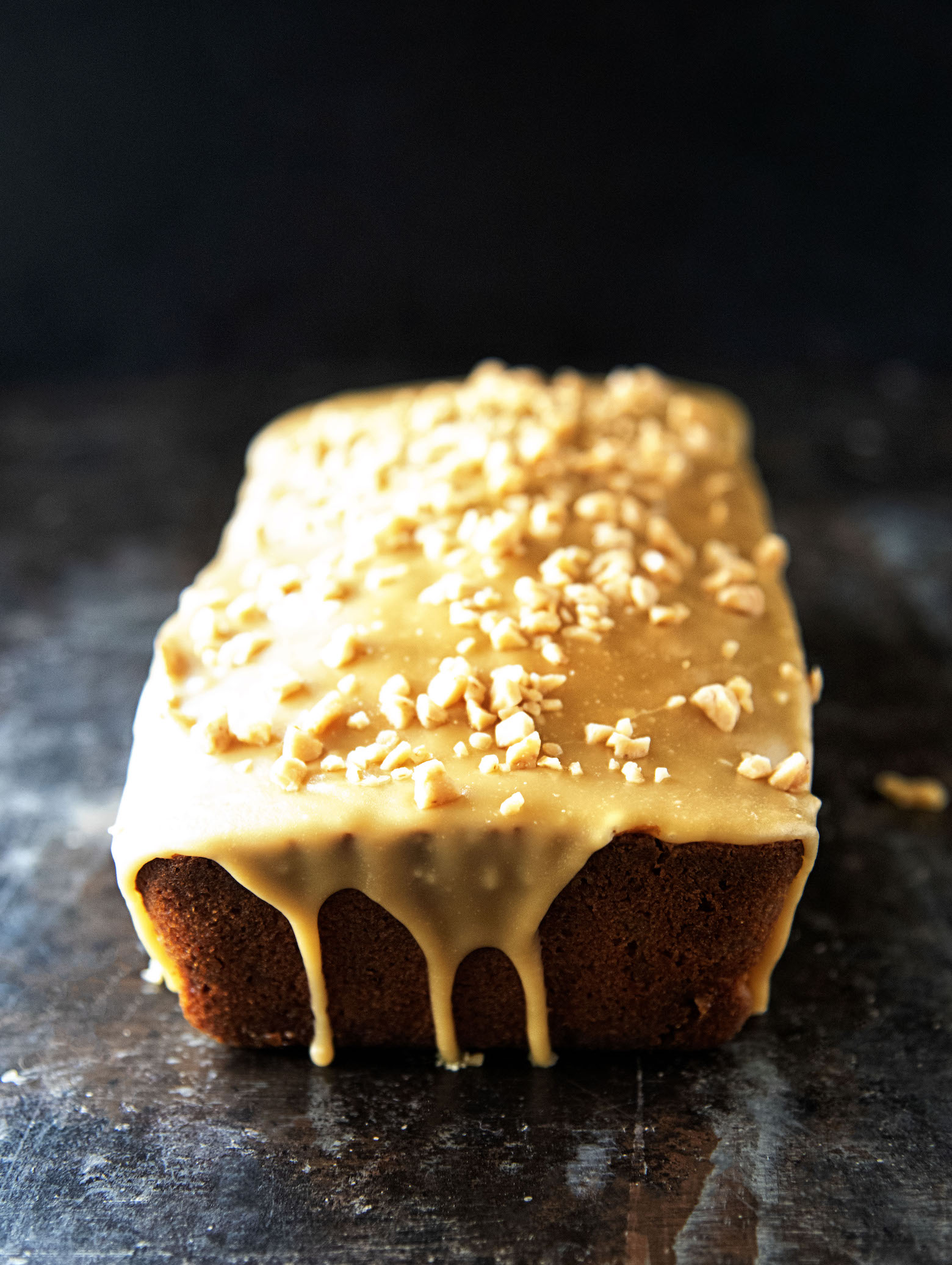 And it's all topped off with a toffee icing.
This is a boiled icing so you will need to drag out your candy thermometer.
You boil it to 220F and then take it off immediately and add the vanilla extract.
Make sure to pour the icing on right away or it will start to harden on you.
And you want it to harden on the cake and not in the pot. Don't forget to get a copy of my cookbook.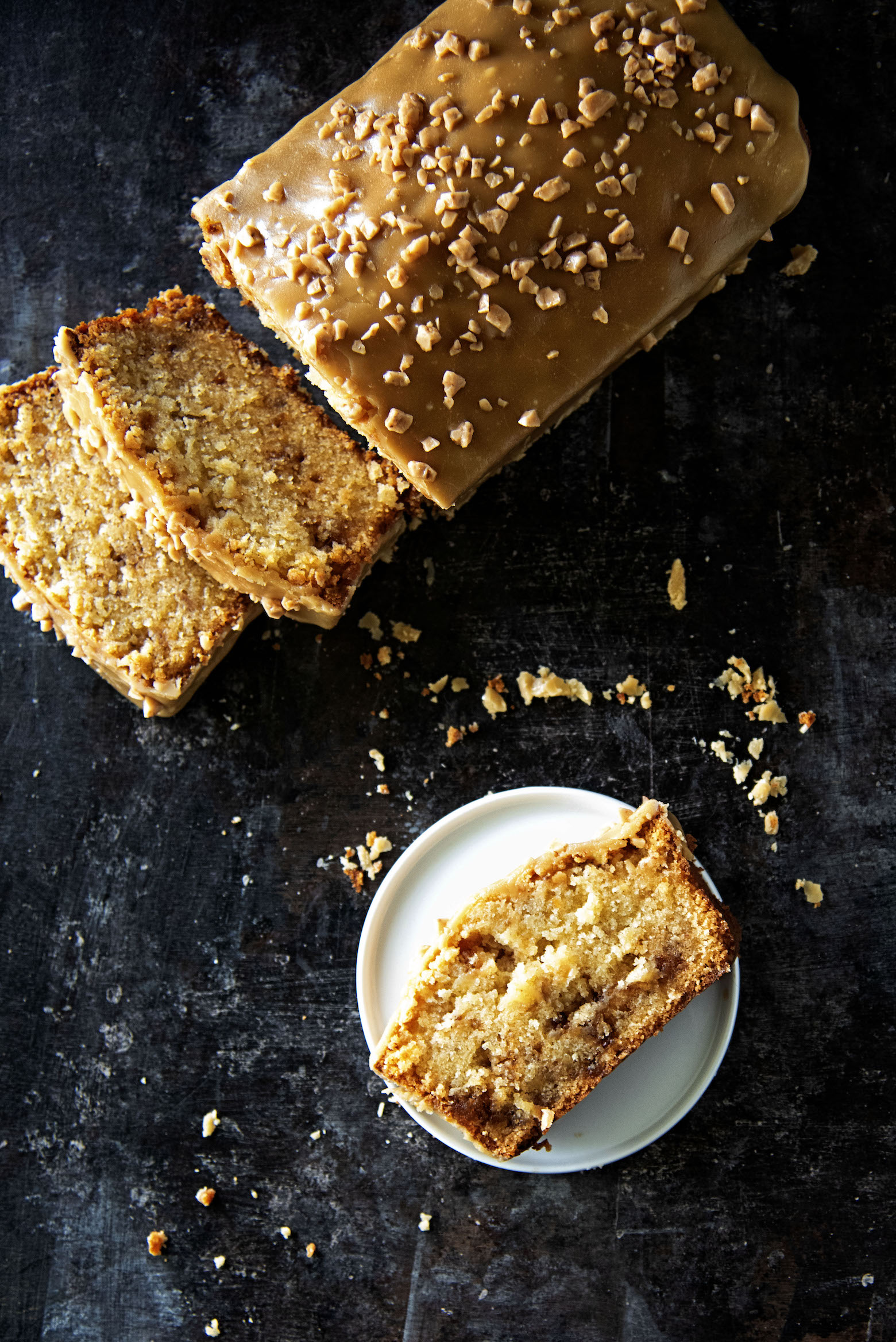 Want More Recipes? Try These:
Brown Sugar Apple Cinnamon Babka
Apple Cider Cinnamon Roll Loaf
Whiskey Glazed Apple Buttermilk Pound Cake
Vanilla Cognac Buttermilk Pound Cak5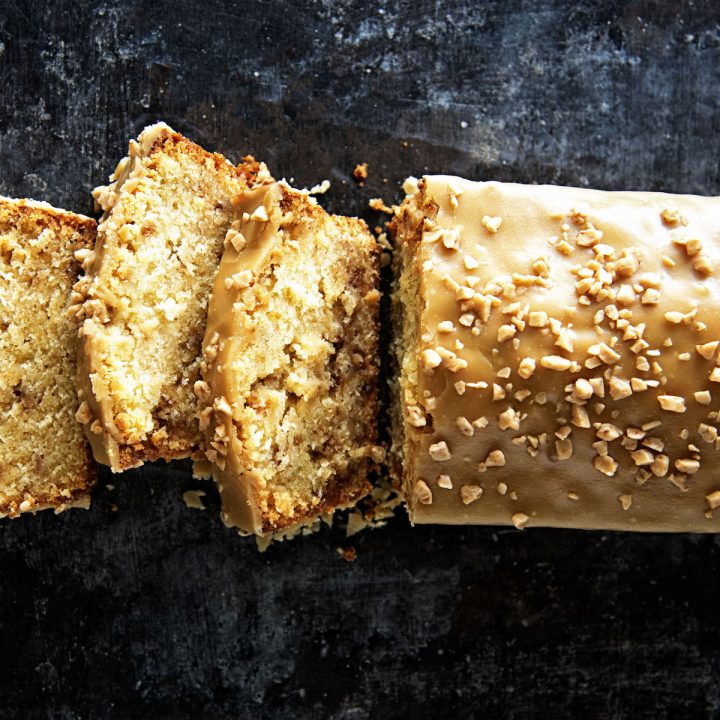 Instructions
Preheat oven to 325F.
Grease a standard sized loaf pan with baking spray.
Using a stand mixer with a paddle attachment cream together the butter and sugar ¼ of a cup at a time.
When all sugar is incorporated beat on medium-high speed for about 5 minutes.
Add eggs one at a time, scraping down the bowl after every addition.
Add the vanilla and beat another 30 seconds.
Add the shredded apple and mix for another 30 seconds.
Combine the flour, baking powder, salt, and spices in a medium bowl.
Starting with the flour mixture alternate adding the flour, then the cider, than flour, cider, and end with flour.
Beat until all the ingredients are well combined.
In a medium sized bowl toss toffee pieces in 1 TBSP flour. This will help them not sink during baking.
Discard any extra flour that did not stick to the toffee.
Fold in the toffee pieces.
Bake for 90-100 minutes. Just watch your oven to make sure a knife inserted in middle of cake comes out clean.
For the Icing:
Combine the butter, brown sugar and heavy cream in a heavy saucepan and bring the mixture to a rolling boil, stirring constantly.
Boil until it reaches 220F, stirring constantly.
Remove from heat, stir in vanilla extract.
Add about ½ cup of the powdered sugar and whisk until smooth. Continue to whisk in powdered sugar by the tablespoon until you reach your desired consistency.
Pour over cake and sprinkle toffee pieces on top of icing.