This Snickerdoodle Pumpkin Cheesecake Cheeseball is perfect for your fall party. A dessert cheeseball is unexpected but always welcomed!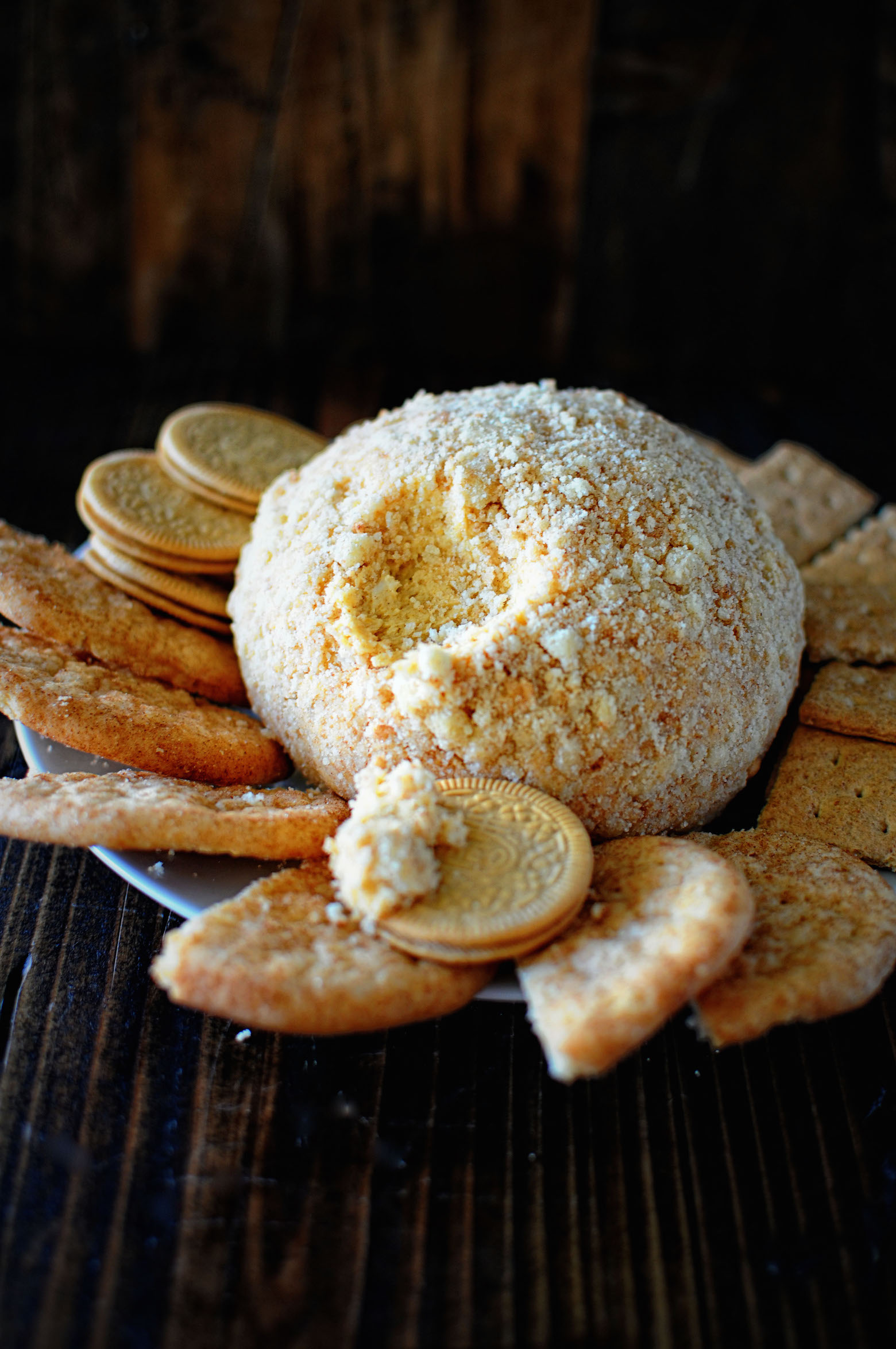 It finally happened this week.
The shift.
It's the shift from summer mornings to fall mornings.
The crisp morning air that makes me have to bundle up to take the pups out.
Yet summer was still holding on.
Yesterday my husband and I watched outdoor movies.
We had a temporary one at our old place but since we own now we have a permanent set up…we set it up just in time for summer to be over. 😀
It had been hot all day and so I figured it wouldn't be that cold at night.
Ha! I definitely need to find a outdoor heat lamp sponsor. 🙂
We had planned on watching movies until midnight but around 10 decided we were frozen and it was time to go in.
But I will take it.
We have had such a miserable hot summer here in our area that I have been counting the days until fall weather.
According to our forecast, that starts tomorrow when the rain and cooler temps roll in….you know, Seattle area weather.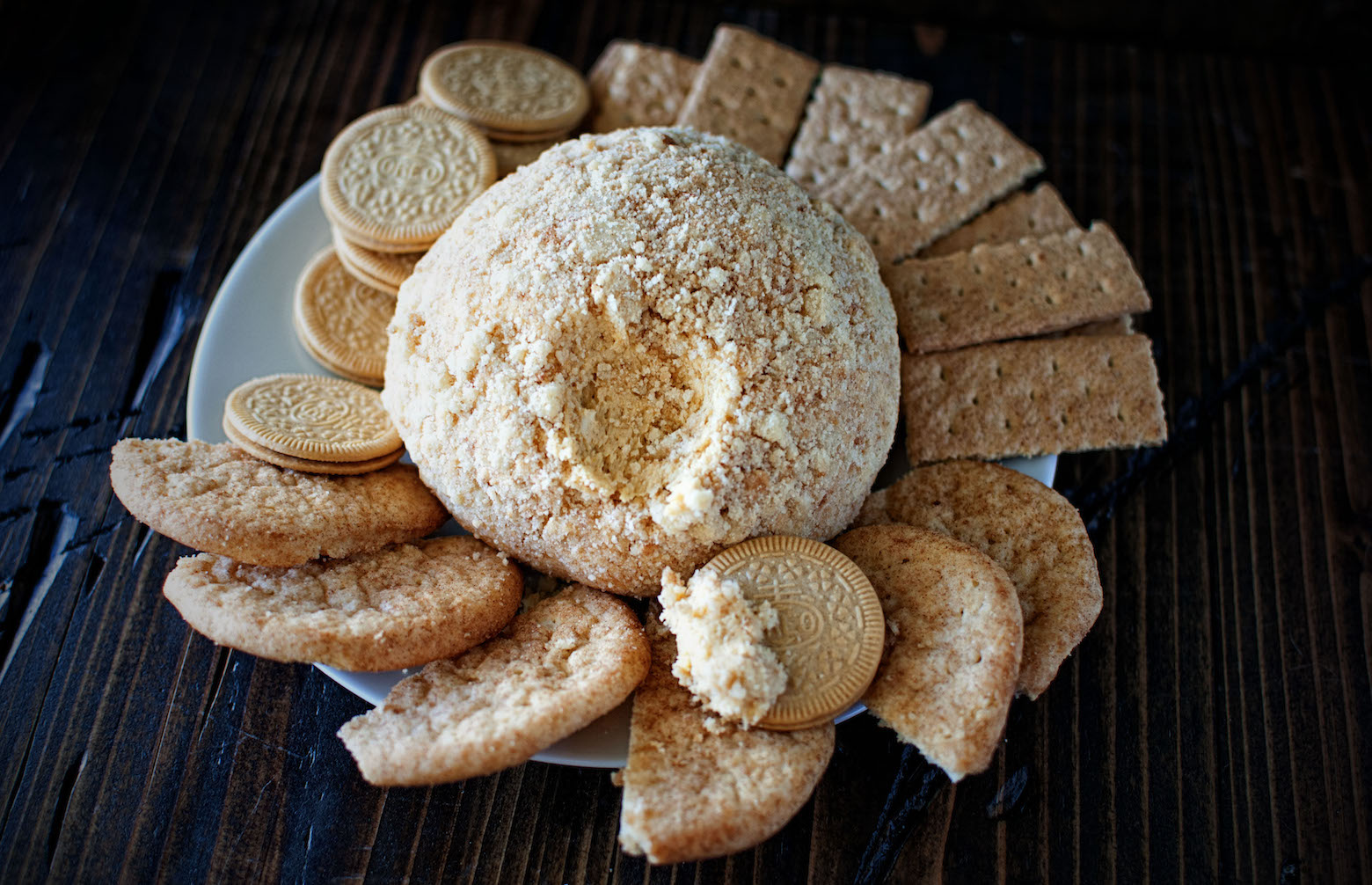 In a couple weeks my little town will be covered with pumpkin patch seekers.
So yes, all things pumpkins have been on my mind.
I've made two dessert cheesecake cheeseballs so far, both were huge hits.
I'm not sure why I haven't made more.
This one combines two of my favorites: Snickerdoodle cookies and pumpkin.
Just like the previous ones, I could not stop eating this.
I tried it with graham crackers, leftover snickerdoodles, but the cookie that surprisingly went well with it was Salted Caramel Oreo Thins.
This Snickerdoodle Pumpkin Cheesecake Cheeseball would be great for any fall party you plan on having or for sitting around in your pj's streaming Netflix*.
*Actually tested for you the reader. 🙂
P.S. It's a great day to buy my cookbook Holy Sweet!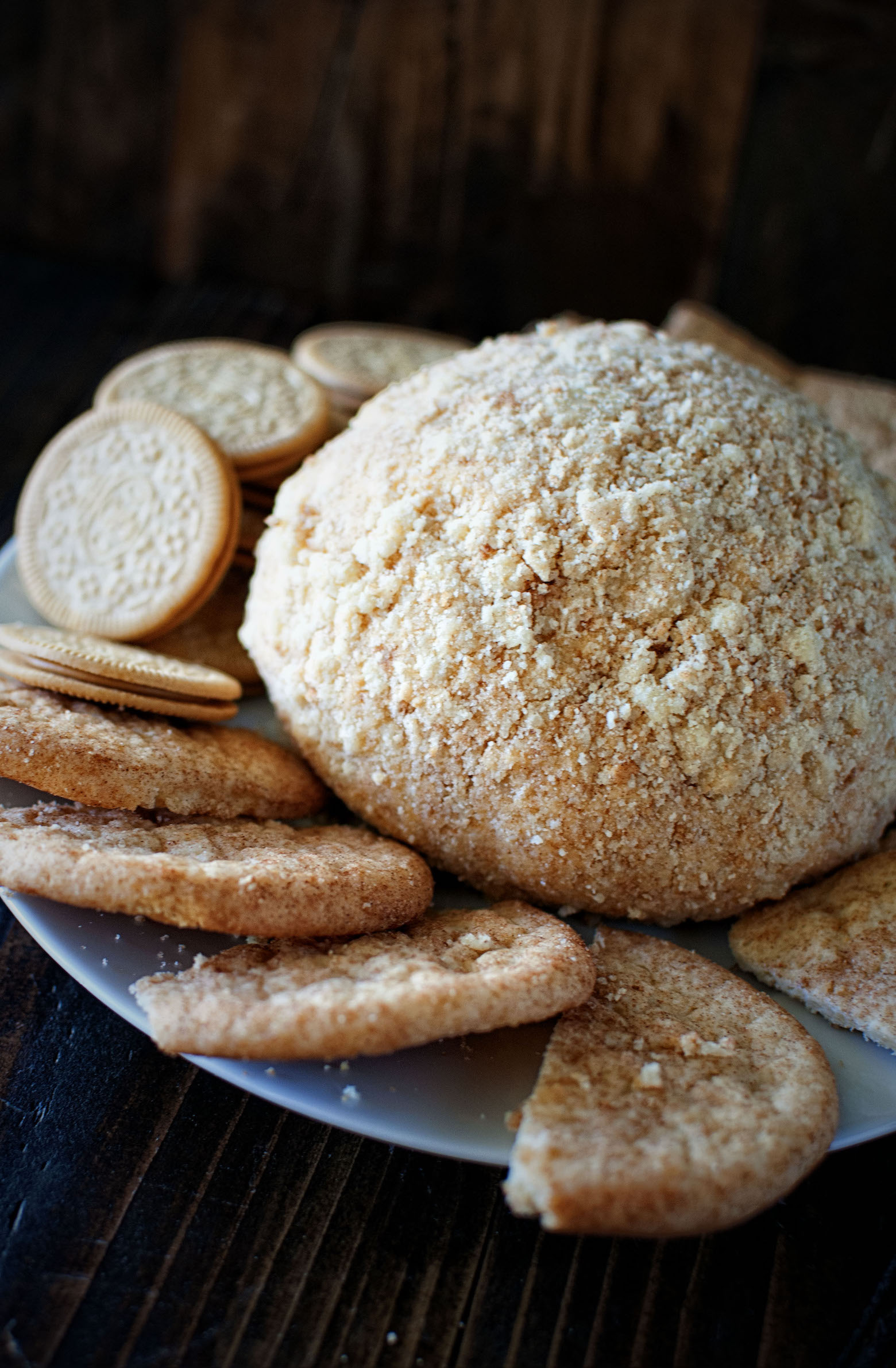 Want More Dessert Cheeseball Ideas?
Circus Animal Cookie Cheesecake Cheeseball
Gingerbread Cheesecake Cheeseball
Angel Food Cake and Strawberry Cheesecake Cheeseball
Coffee and Donuts Cheesecake Cheeseballs
Chocolate Chip Cookie Dough Cheesecake Cheeseball
Ingredients
16 oz. cream cheese, at room temperature
1 cup unsalted butter, at room temperature
1 package (about 3 cups) Snickerdoodle cookie mix (I used Krustez) including the cinnamon sugar pack
3/4 cup pumpkin puree
½ tsp. vanilla extract
1 ½ cups powdered sugar
1 ½ cups crushed Snickerdoodles
Instructions
Using a stand mixer with a paddle attachment beat together the cream cheese, and the butter until fully incorporated.
Add the pumpkin puree and mix until fully combined.
Add the cookie mix, sugar, and vanilla extract and beat until fully incorporated.
Lay out a piece of plastic wrap and scoop the cream cheese mixture onto it. You can do two smaller balls if that works better.
Do your best to form a ball, then wrap up the ball in the plastic wrap.
Do an extra layer of plastic wrap to help it keep its shape.
Freeze for about 2 hours.
Take the ball out of the freezer and unwrap.
Place the crushed cookie pieces in a low shallow baking dish or jelly roll pan (I find a plate too small).
Roll the ball in the crushed cookie making sure you cover as much of it as you can.
Wrap the ball back up into some plastic wrap and place in the fridge.
If not serving that day, place back in the freezer and then take out an hour before serving to come up to room temperature.
Serve with assorted cookies.