The Grinch Vanilla Cake Pops are a fun cake pop with a strawberry Runt heart center all made to look like an ice cream cone.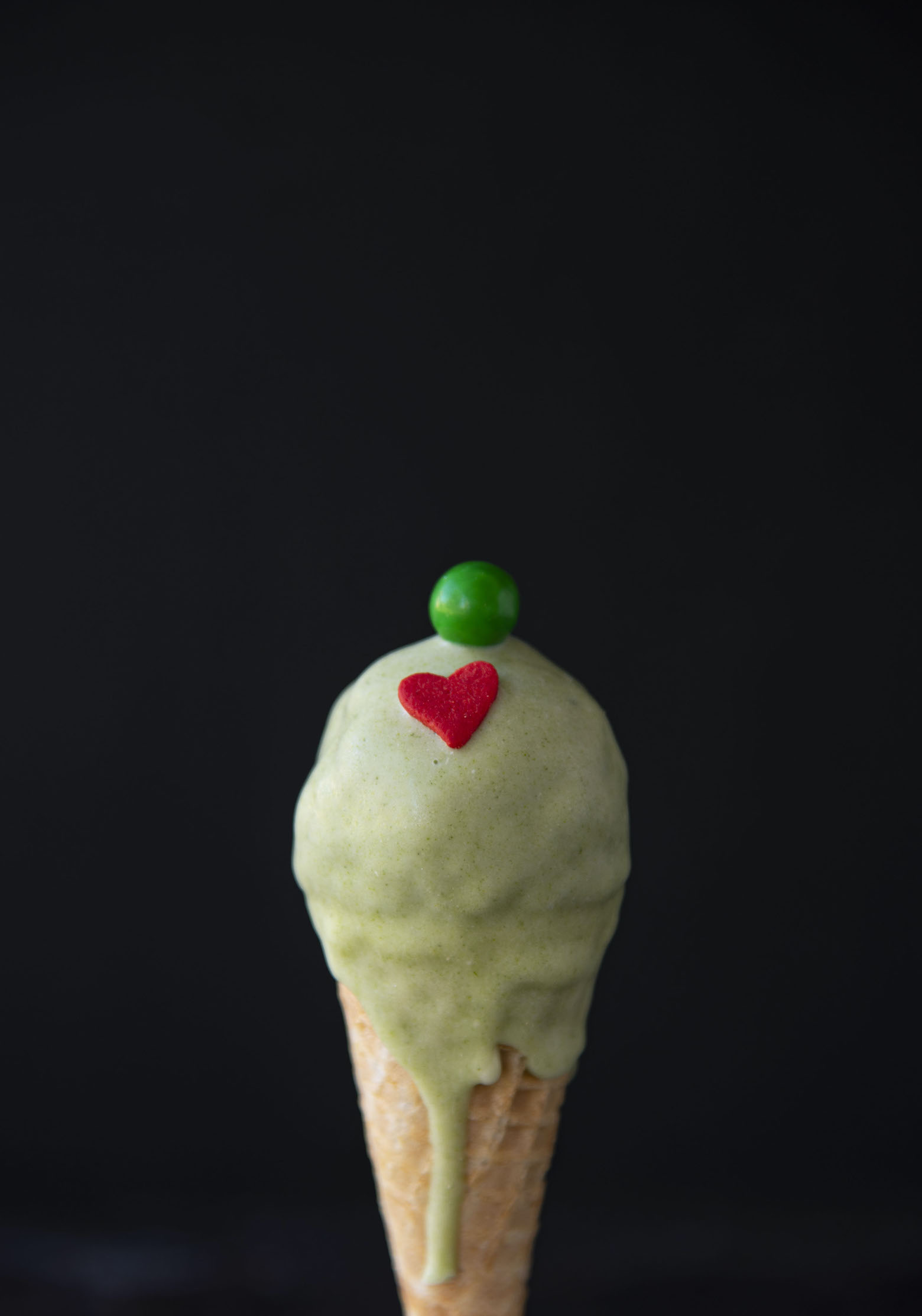 Today kicks off Grinch week for me.
This year I would have liked to see Grinch Part 2.
Where the Grinch has to go back to his anti-social Grinch ways.
Why?
Because thanks to his heart growing three sizes in one day the Grinch now has Dilated Cardiomyopathy.
Or an enlarged heart.
He takes medication for it.
Which makes him high risk and he therefore has to isolate.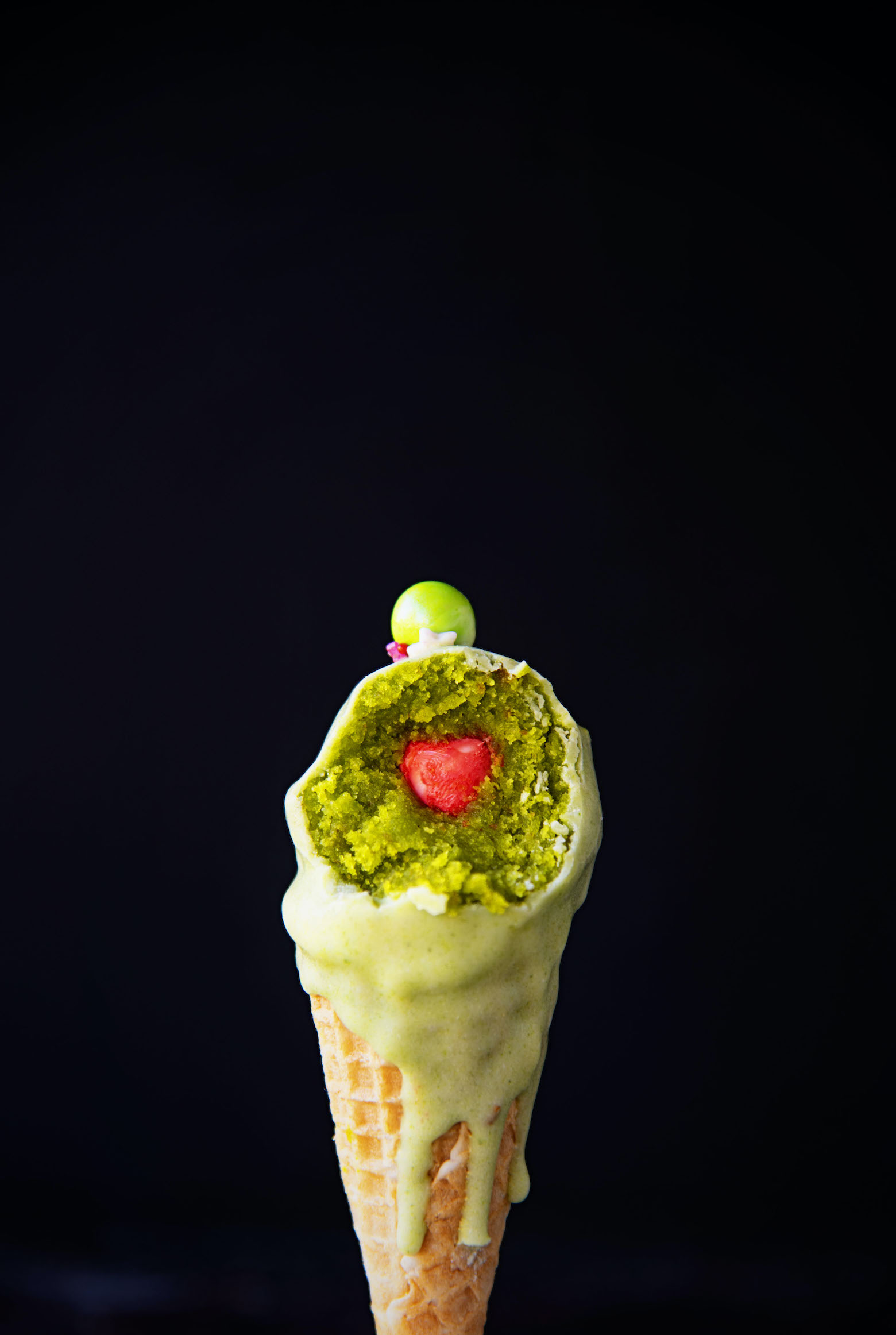 As I have brought up before when talking about the Grinch, I don't think he hated Christmas.
I still stand by it.
The same goes for this year.
The Grinch doesn't hate Christmas, he hates the Whos.
Why?
Because none of the Who's are practicing social distancing and many are not wearing a mask.
So he is stuck at home.
He can only go out late at night when all the Who's are fast asleep.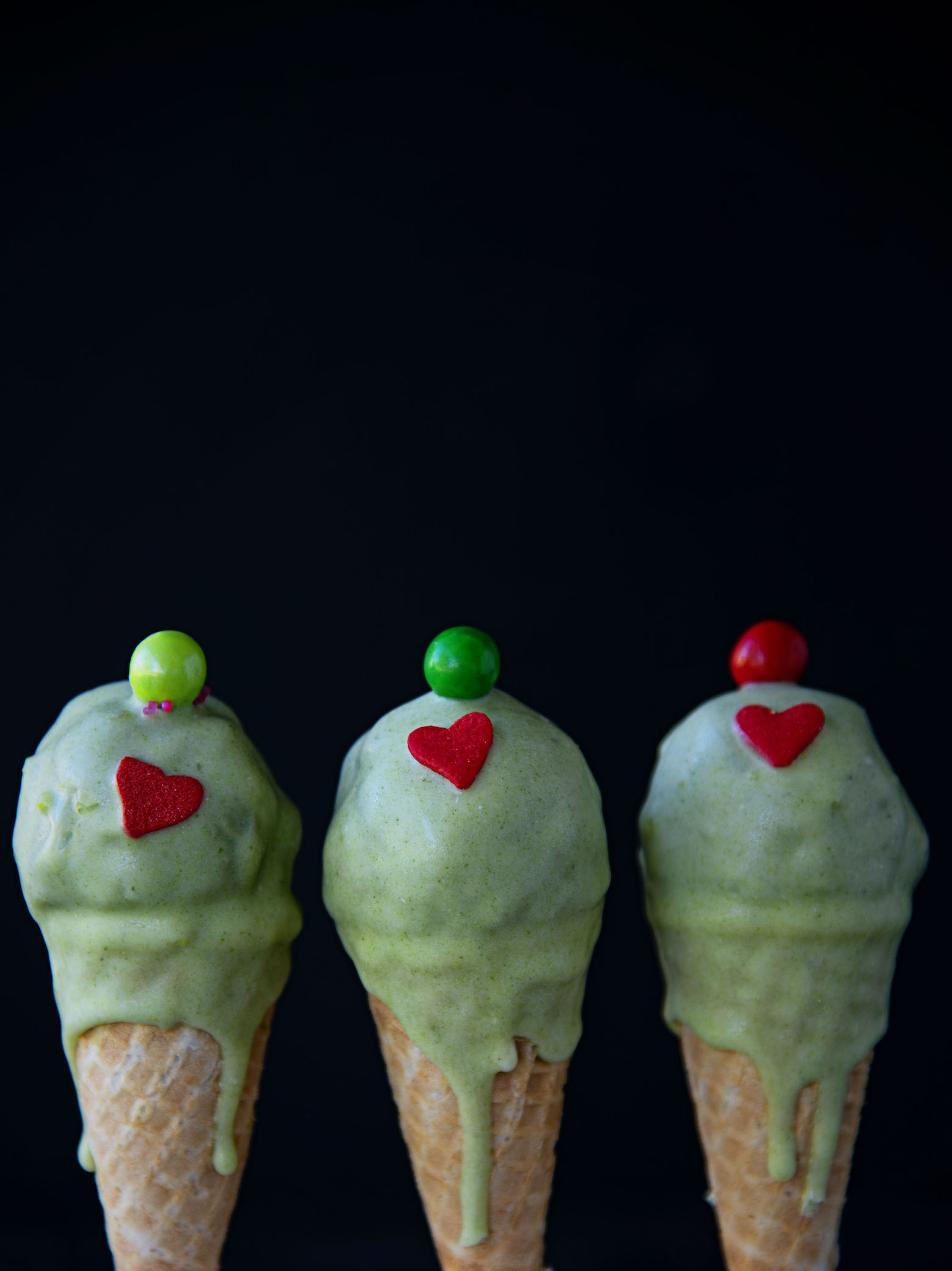 Since no stores are open the Grinch has no choice but to steal the Who's stuff.
Since the Grinch actually likes Christmas now he steals their Christmas stuff again.
But this time just to decorate his place.
And while the do gather to sing he doesn't go down there this time around.
Because they are all holding hands.
The Grinch knows for a fact that the town is out of hand sanitizer.
So he knows they are just all gathered touching each other's germy hands.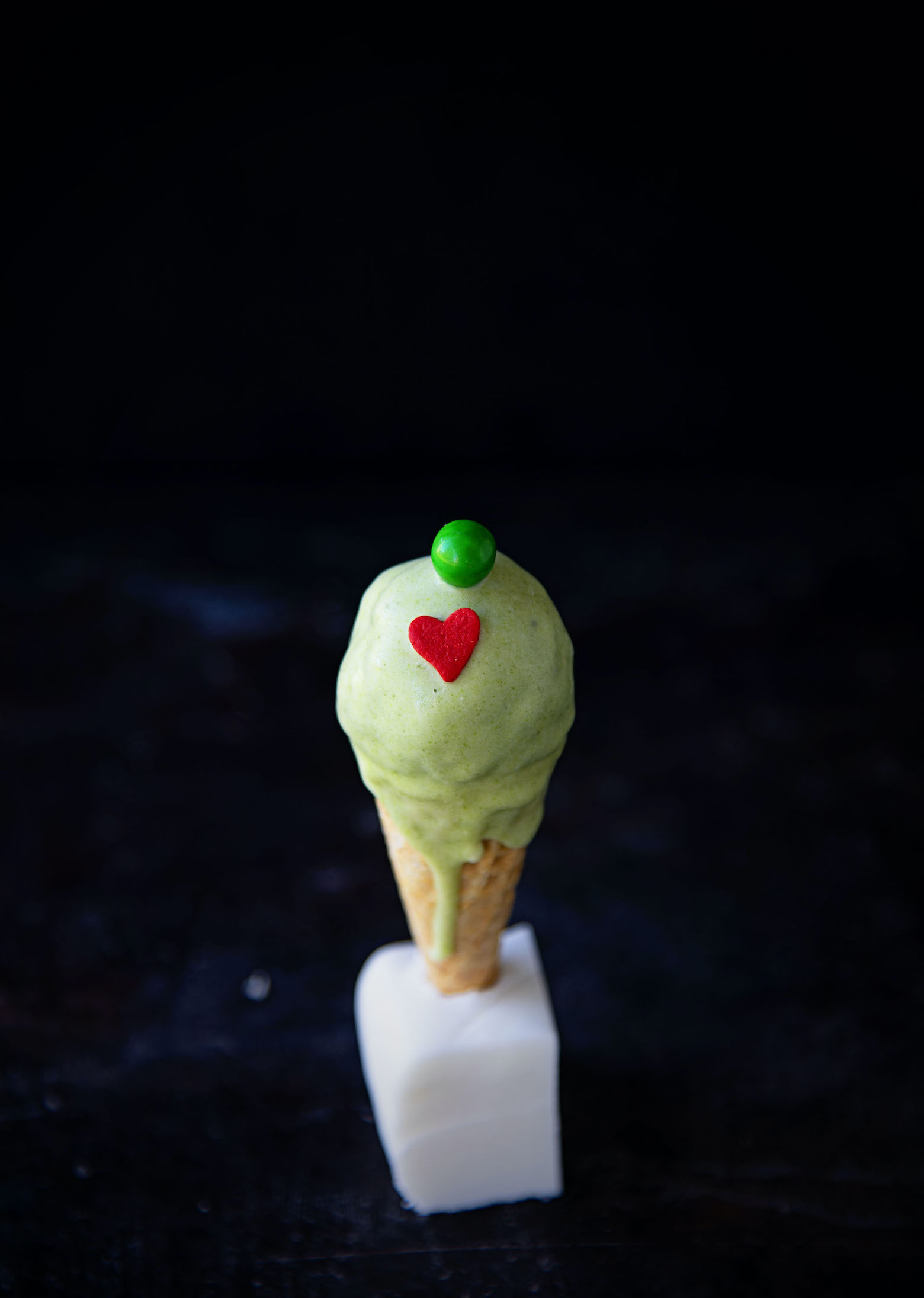 To cheer up the Grinch who is staying home this year with his dog Max, I made these The Grinch Vanilla Cake Pops.
I don't normally make these kind of things but the idea popped in my head about the strawberry Runt in the middle and I wanted to make them.
You do need a special mini cone stand to make these.
There is a link in the recipe to show you where to get it.
If you don't want to go that route you can just use mini cones that have a flat bottom .
P.S. It's a great day to buy my cookbook Holy Sweet!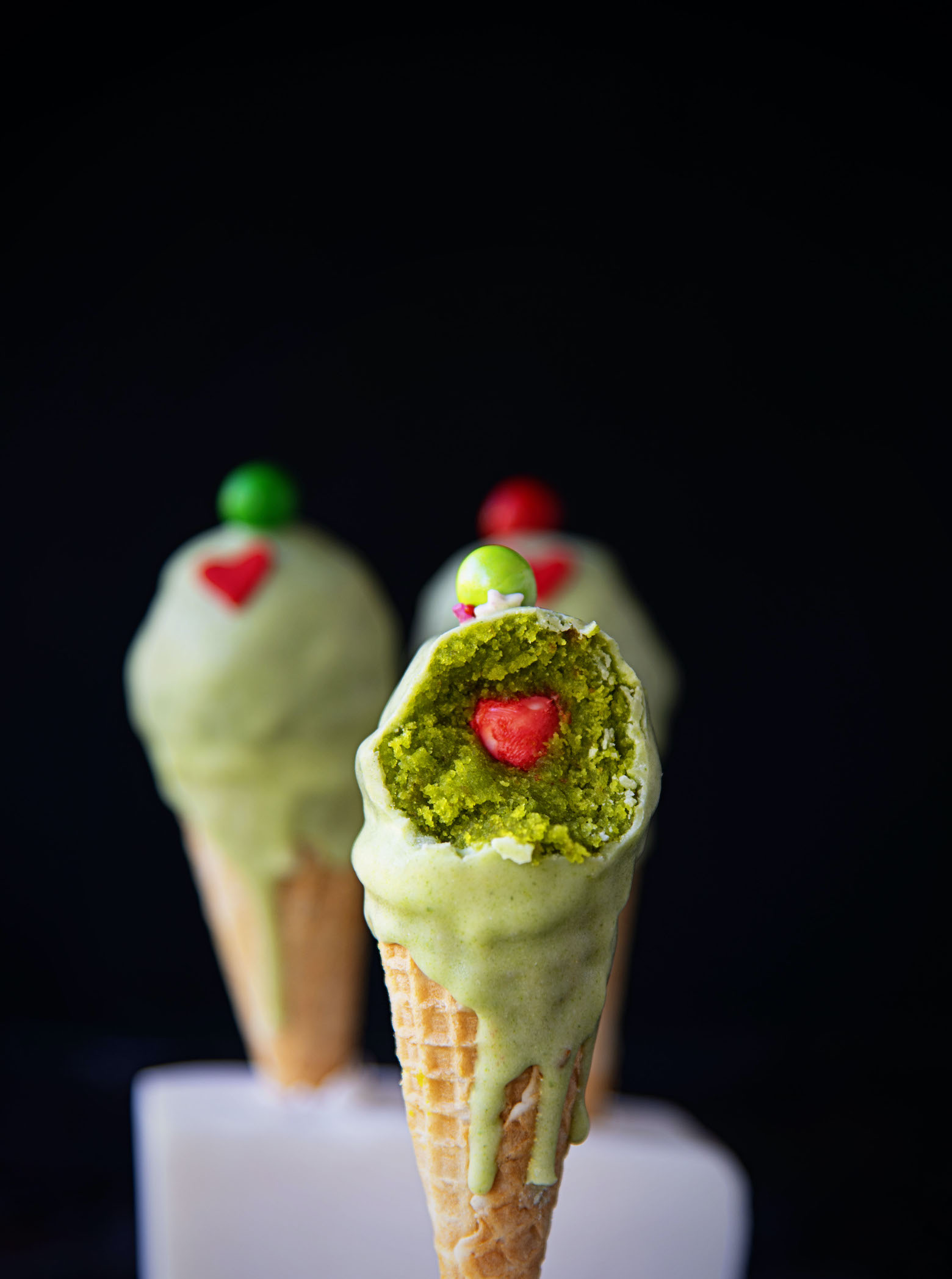 Want more Grinch recipes?
The Grinch White Chocolate Mint Fudge
Ingredients
For the Cake:
15 oz vanilla cake mix, prepared according to package instructions, cooled
½ cup vanilla frosting (I used my buttercream that I was decorating cookies with)
green food coloring
21 mini sugar cones
21 strawberry Runts
For the Coating:
12 oz green candy melts
3 TBSP vegetable oil
21 heart shaped confetti
21 large Sixlets
Instructions
Crumble the cooled cake into the bowl on top of the frosting.
Make sure there are no large lumps. Turn the mixer on low and beat the frosting and cake crumbles together until combined.
Add the green food coloring and mix until the whole batch is green.
Measure about 1 TBSP of moist cake mixture and stuff it into the mini cone, right up to the top. Do this for all 21 cones.
Then roll into cake into a ball that has the same diameter as the mini cone. Carefully split it open and place a strawberry Runt in the center of the cake ball. Then press the cake ball back together.
Place on top of the cone. Press down and shape it so that it's like an ice cream cone.
Refrigerate for 2 hours or freeze for 1 hour.
Remove from fridge and melt the candy melts and oil 30 seconds at a time until you can whisk it smooth.
Let cool for a few minutes.
Dip just the top of the cone (like you would ice cream) into the coating.
Flip them over and put it in a Mini Cone Display Stand.
Then quickly place a heart on the side and a Sixlet on top.
Let set up for about 2 hours. More if it's warm.
Store in airtight container for 3 days.