The Grinch Peppermint Cheesecake Cups have a green peppermint filling topped with a red cheesecake heart topped with peppermint whipped cream.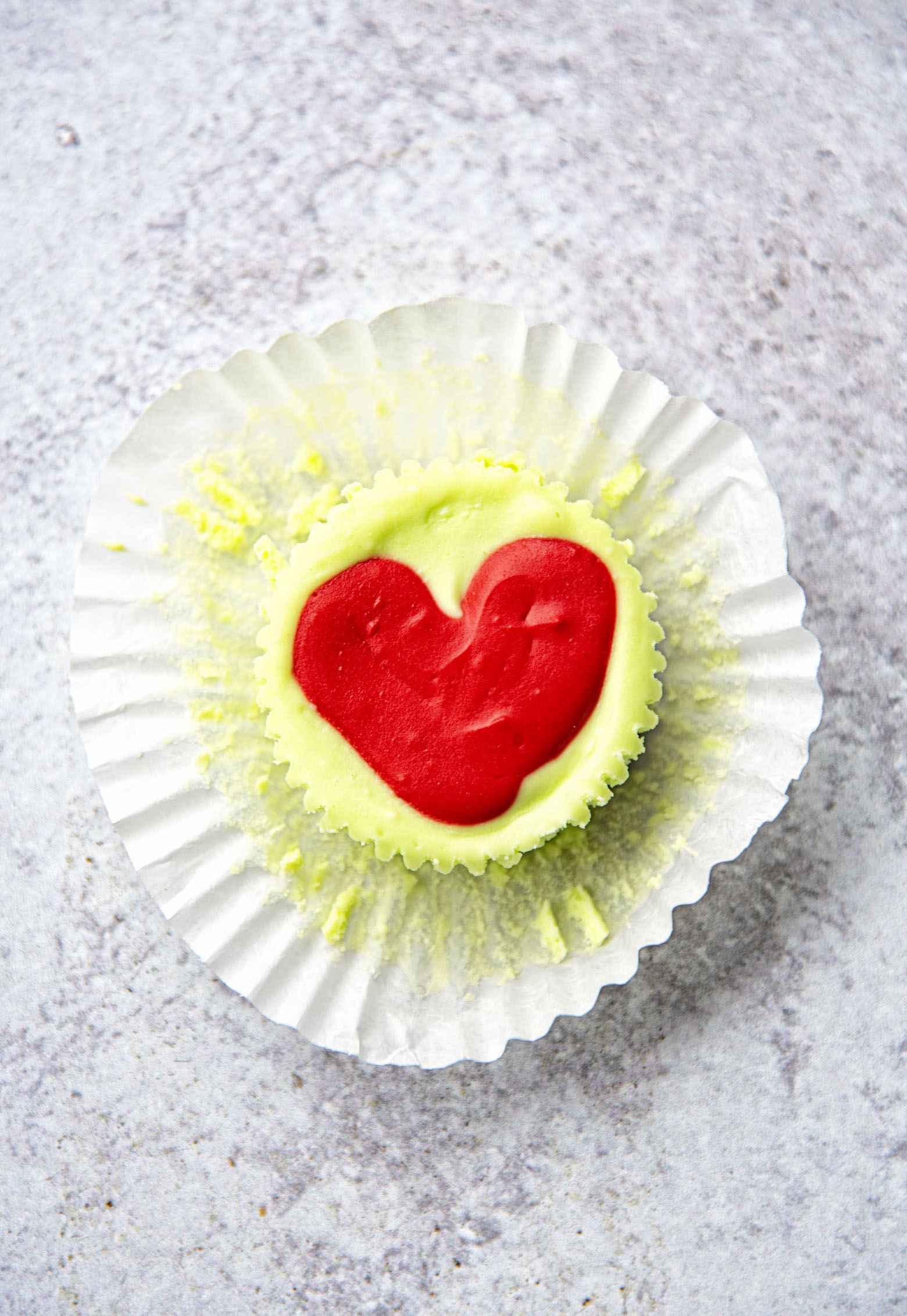 It's hard as an adult to do Christmas.
At least gifts for Christmas.
Because as an adult you tend to make your own money and can go buy what you need (within reason).
And sadly that it's things like a new dishwasher or hot water heater. 🙂
Though I would love me a new dishwasher.
*Ironically we ended up having to get a new dishwasher on Christmas Eve day after I wrote I wanted a new dishwasher. 😀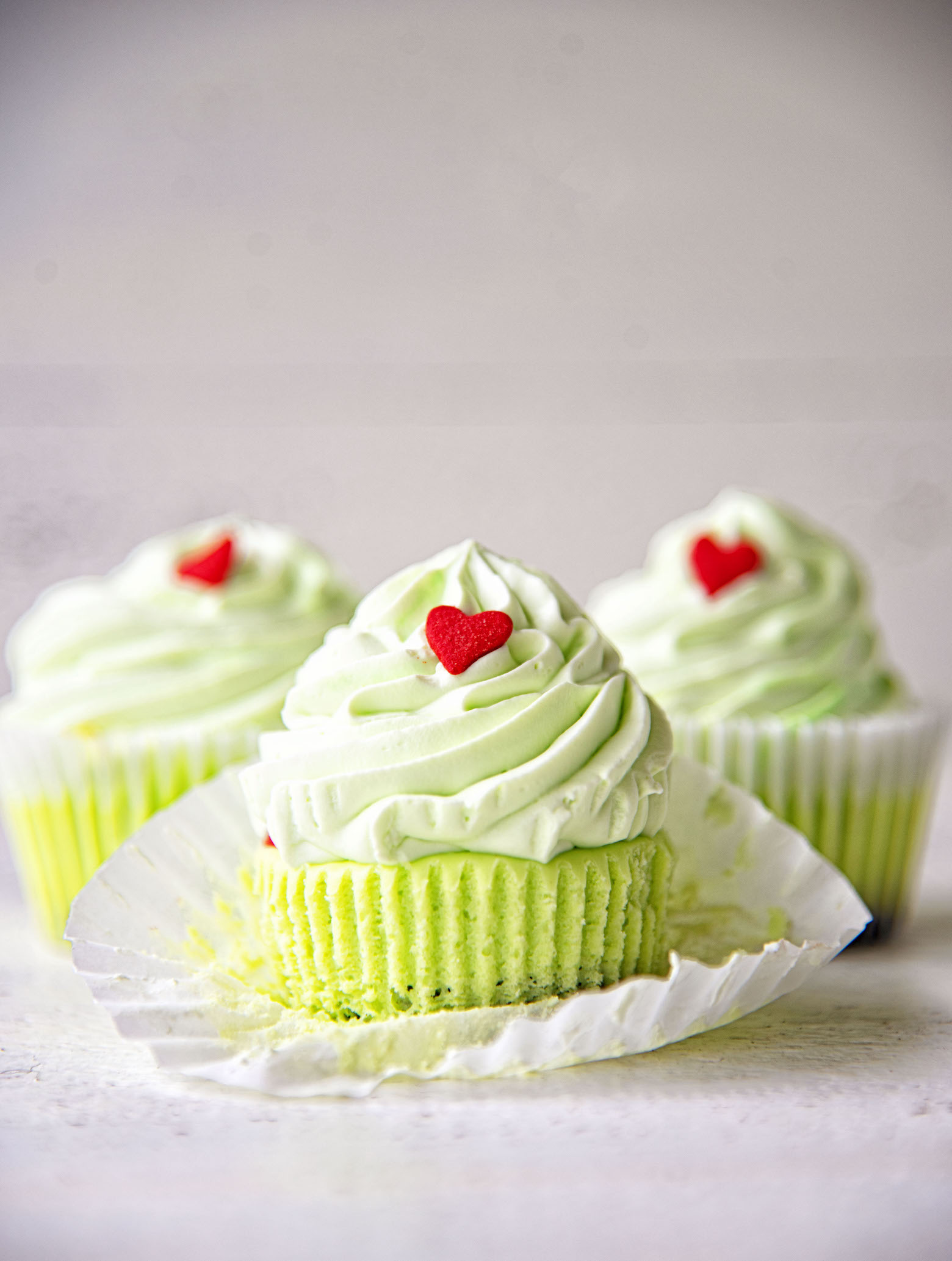 This year with being home so much I find it even worse.
Because really, I bought stuff I would have totally just asked for Christmas.
But boredom got the best of me.
The lack of flour earlier this year persuaded me to buy a flour mill.
Which I had to wait for months of backorder.
Because apparently everyone had that idea.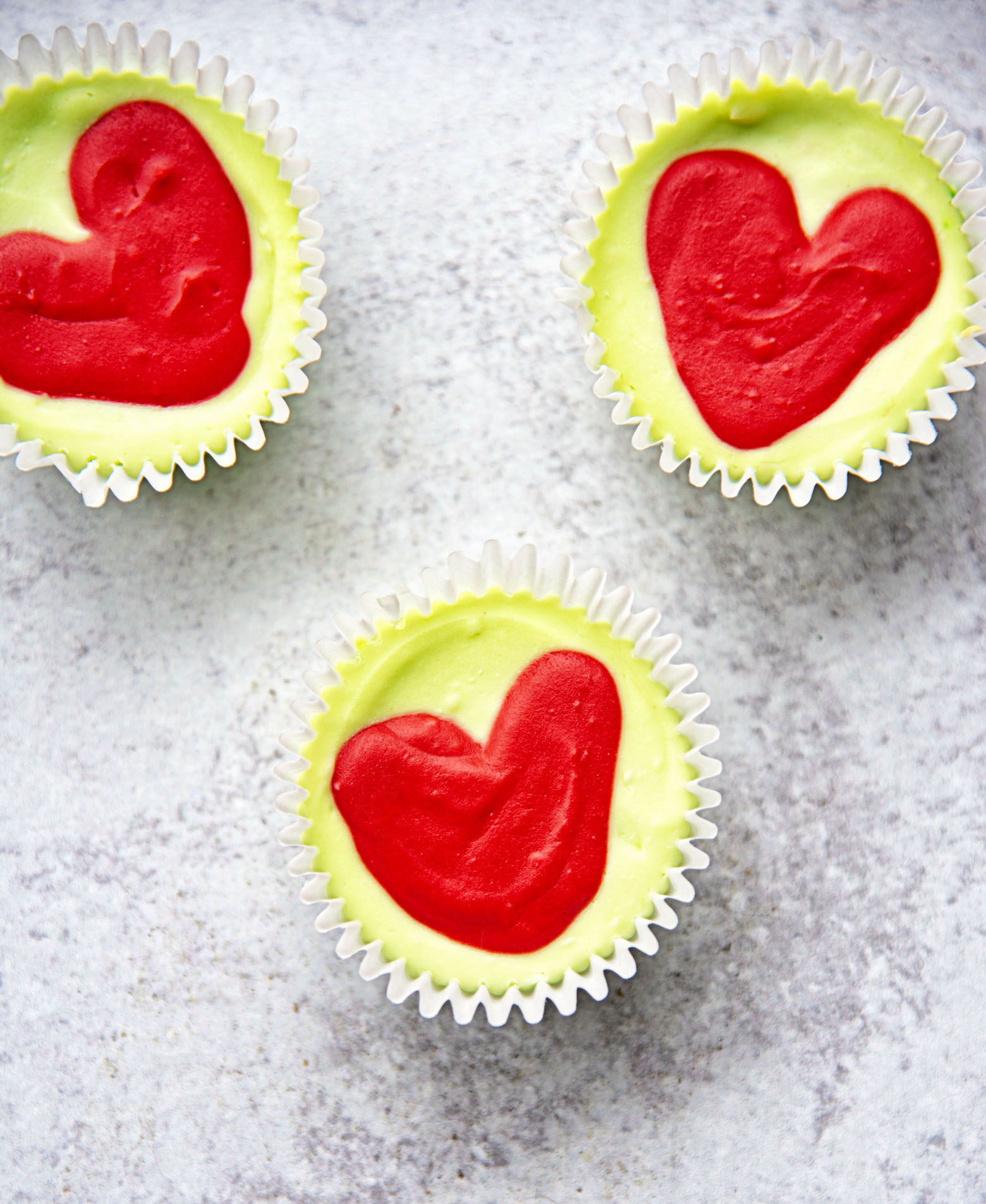 So I don't really have any idea what to ask for.
Shopping for the husband is even harder.
At least Seattle got an NHL team and so I can go that route.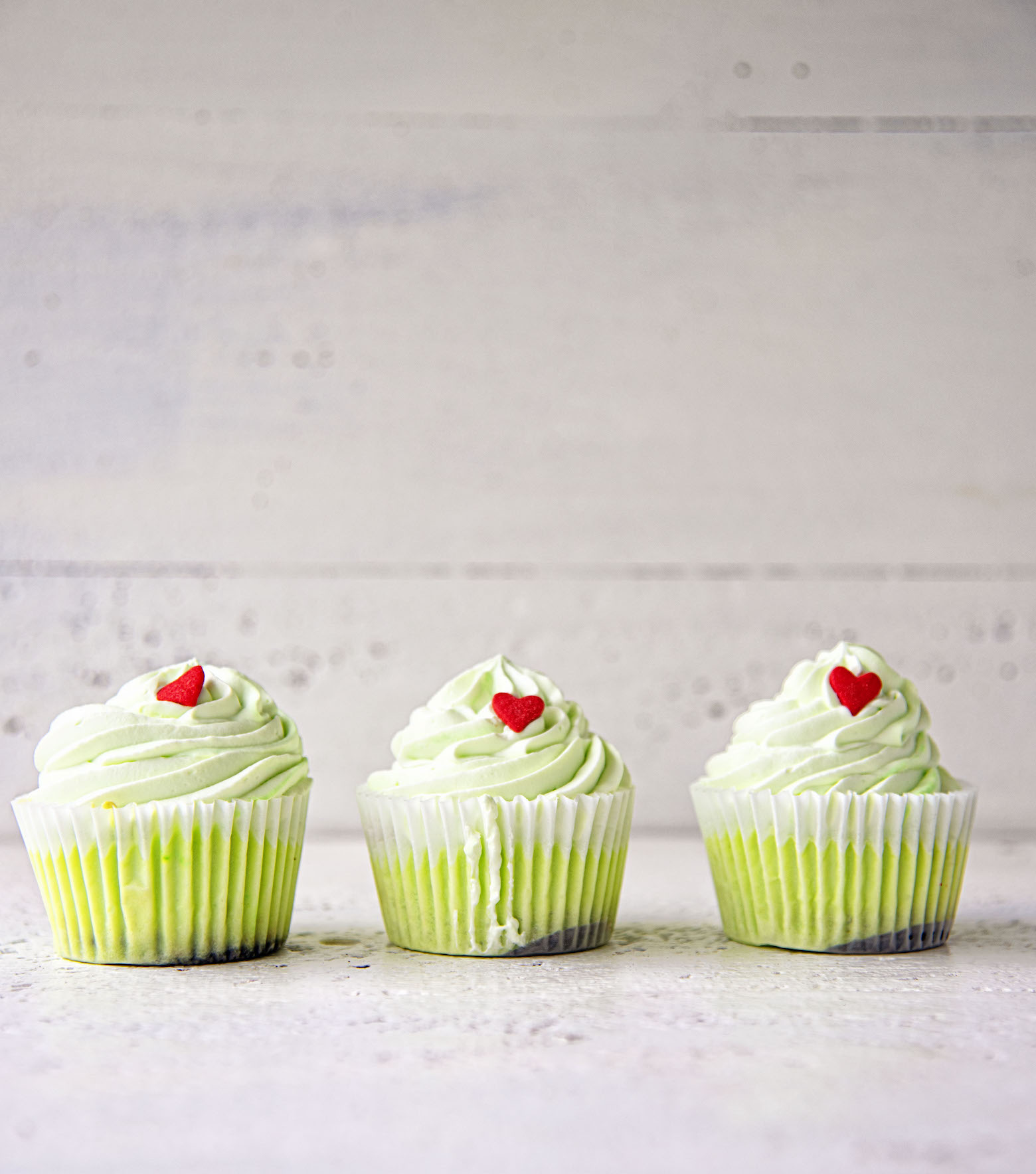 Today's recipe is The Grinch Peppermint Cheesecake Cups.
There is a Peppermint Bark Oreo base.
A green peppermint cheesecake layer.
Then you pipe on a red heart.
You can leave them just that way.
Or you can add peppermint whipped cream if you want.
If you add the peppermint whipped cream make sure to break out the heart sprinkles.
P.S. The Grinch would want you to buy my cookbook Holy Sweet!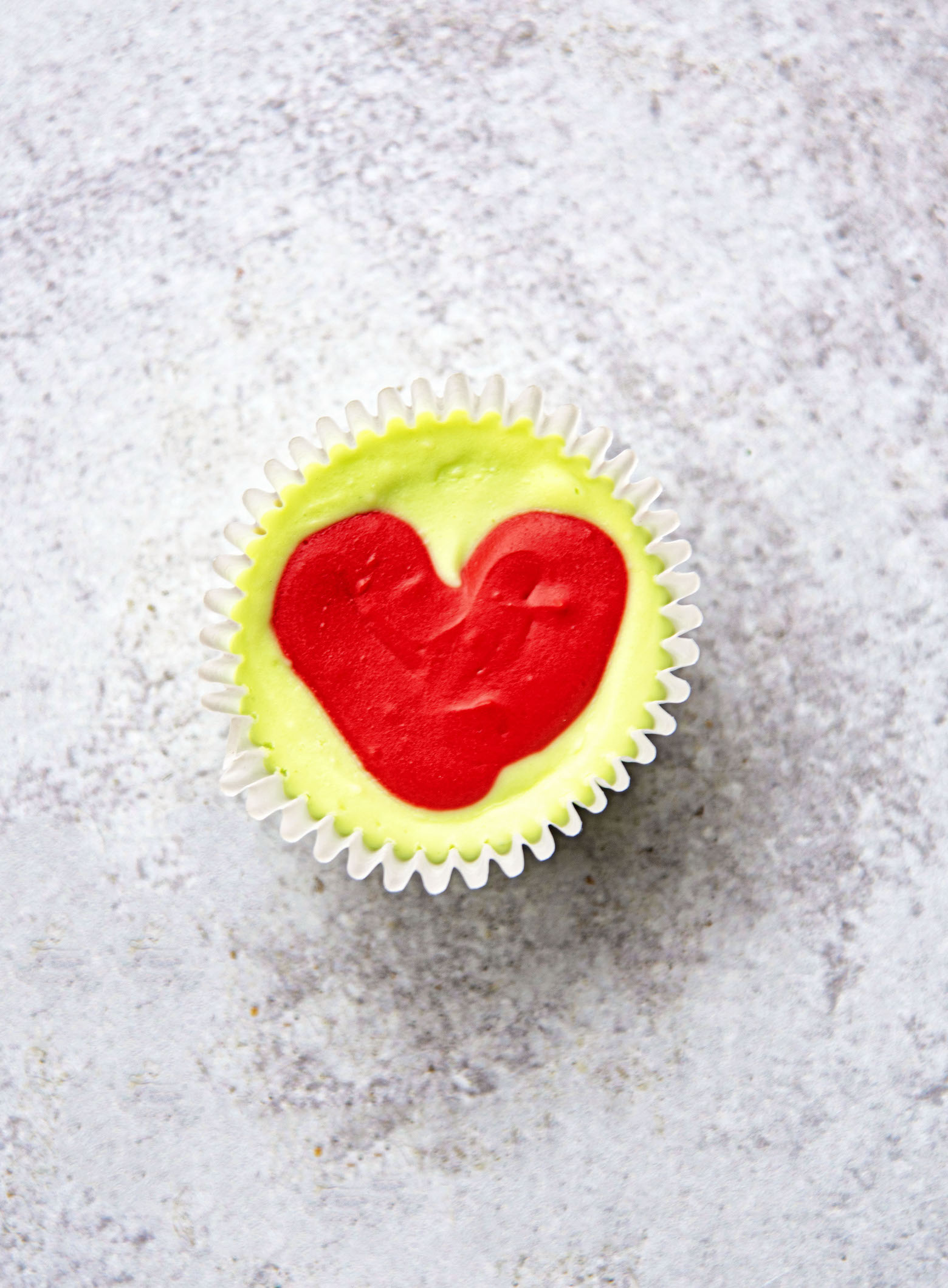 Want more Grinch recipes?
The Grinch White Chocolate Mint Fudge
Ingredients
For the Cheesecake Cups:
12 Peppermint Bark Oreos
16 ounces cream cheese, at room temperature
½ cup granulated sugar
2 eggs
½ cup sour cream
red and green food coloring
1 tsp. peppermint extract
For the Whipped Cream:
1 cup heavy cream
1/4 cup powdered sugar
1/2 tsp peppermint extract
green food coloring
heart shaped sprinkles
Instructions
For the Cheesecake Cups:
Preheat oven to 300F.
Line muffin tin with cupcake liners (preferably white).
Place Oreo at the bottom of each cupcake. Set aside.
Using a stand mixer, beat cream cheese and sugar on medium-high speed for about 5 minutes.
Add eggs, one at a time, beating for about 1 minutes. Scrape down the bowl after each addition.
Add the sour cream and beat until incorporated.
Remove 1 cup of cheesecake batter and set aside in a bowl.
Add green food coloring and peppermint extract to the remaining cheesecake batter and mix until fully combined.
Add red food coloring to the 1 cup of cheesecake batter and mix until the color if fully incorporated.
Place the red cheesecake batter into a piping bag.
Using a cookie scoop place a green scoop on top of each cookie. Even out with the back of a spoon.
Pipe a red heart onto the center of each cheesecake.
Bake for 22 minutes, rotating half way through.
Remove from oven and let cool to room temperature.
Chill in fridge in muffin tins for at least 4 hours or overnight.
For the Whipped Cream:
Using a stand mixer with the paddle attachment whip the cream until soft peaks start to form.
Add the powdered sugar, peppermint extract, and green food coloring.
Whip until stiff peaks form.
Pipe whipped cream to top of cheesecake cups.
Top with a heart sprinkle.