These The Grinch Cranberry Cinnamon Rolls are a fun way to incorporate the Grinch into your family holiday breakfast or brunch.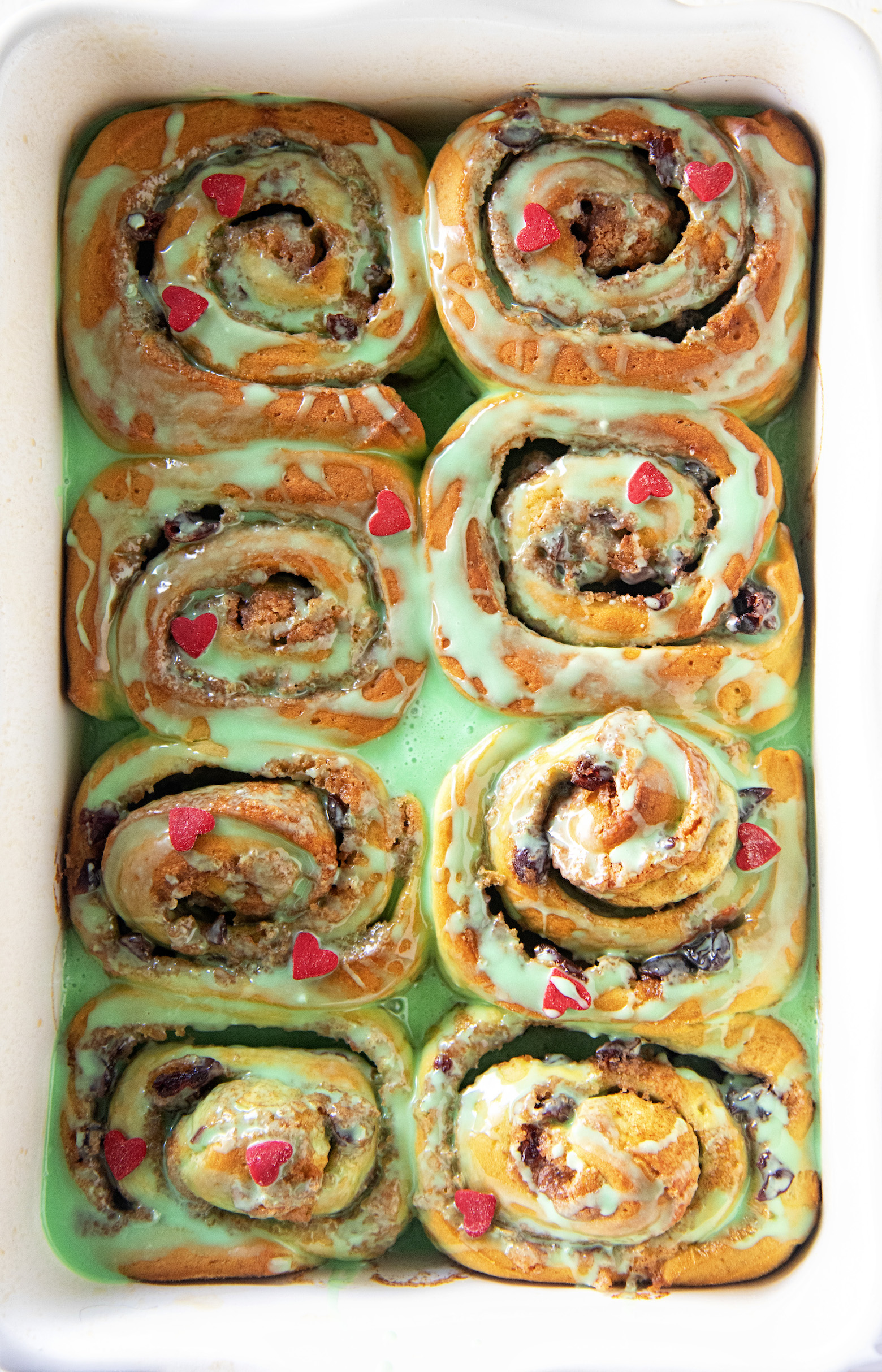 Well sadly after this weekend I am feeling full on Grinch.
What could be the worst possible scenario for a food blogger at Christmas time who is also writing a baking cookbook?
Your oven acting up is what.
It's not completely dead…it's just messing with me.
Or I should say the temperatures.
The ovens (I have a dual) heat up just fine.
But the lower main oven likes to cool down as it bakes and you have to keep upping the temperature.
Then once you do that it over bakes everything.
The upper oven is liking to bake SUPER hot.
Luckily my husband is handy and an electrician by trade and so he checked all he was supposed to check.
And everything is working fine supposedly.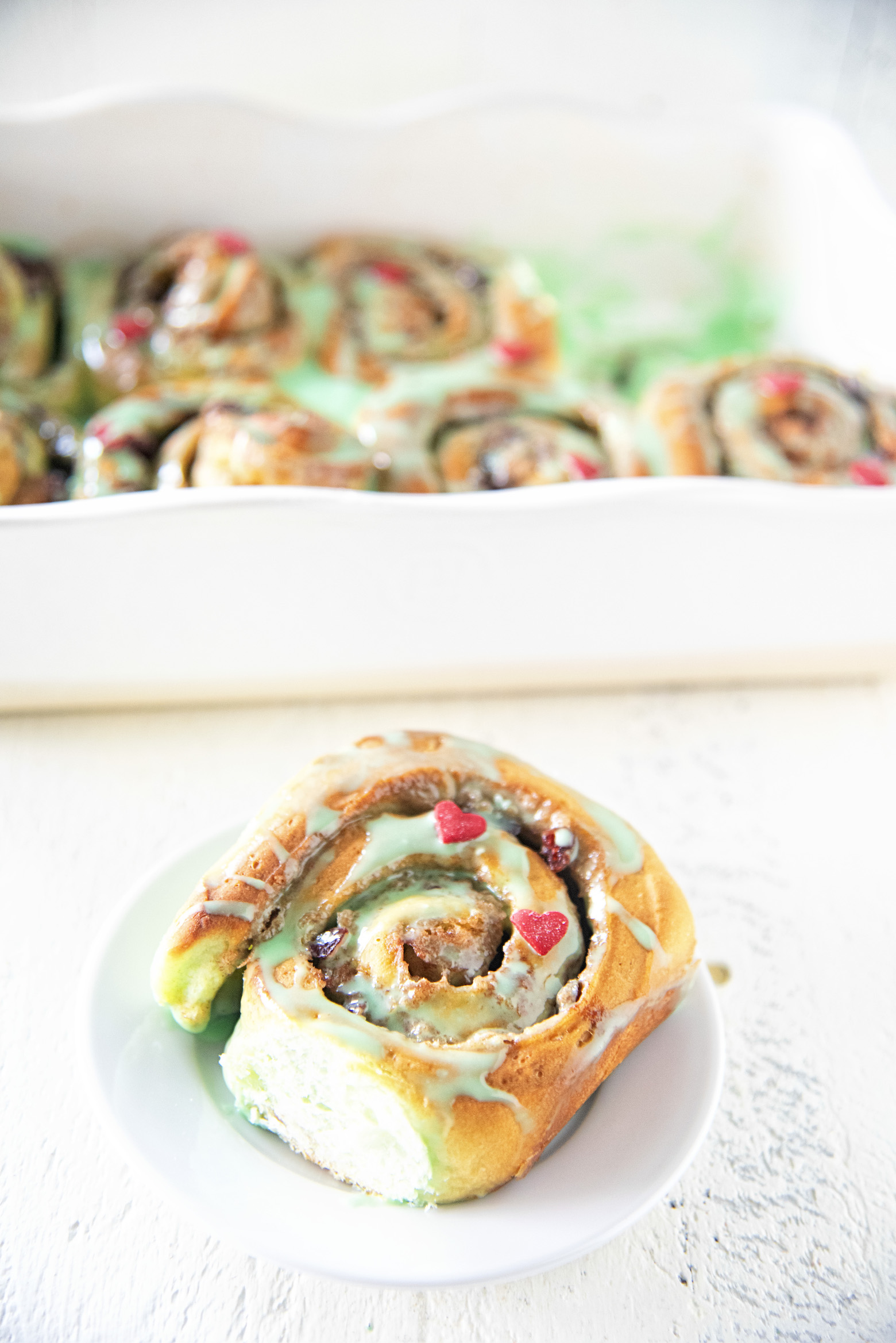 It's too old to be under warranty of course.
We figured we would replace the elements anyway and just see.
And if that didn't work then the sensor…even though it's testing fine.
Except there is not model or serial number on it.
I promise.
My husband has striped that baby down with ZERO luck.
It does have tons of extra safety stickers on it though. Goodie.
Unfortunately the Whirlpool people think we are just idiots who can't find it.
We bought it at Lowes and while they have record of my buying it there is no serial number or model number as they don't carry it anymore.
Excellent.
Four and a half hours of my day was spent on this and it got me nowhere.
And the last Lowe's customer service person put me on hold which I stupidly waited for over an hour (after being on the phone already an hour with her) on hold until I just hung up.
With no one calling me back.
So yeah.
It could be the control panel though that is supposedly still working.
But to replace that it's over $400 for the part (my husband can install it) but we have to know the model number.
Which we don't.
Plus I'm not sure if I want to fork over $400 when it might not even be the issue.
Nor am I all that excited about how little help Whirlpool has been with all this.
They basically passed me on to Lowe's.
I'm about to just go to a scratch and dent place and find a cheapy until we can figure out what is going on.
Because I have a BAKING cookbook to write.
Then the other blow for the weekend was that my parents who were going to be here next week are unable to come for Christmas now.
My dad started being in a lot of pain while standing and walking (sitting was fine) and he thought he would be able to just rest and be able to come.
However, it is now looking like he will be having hip replacement surgery.
So I'm super duper bummed about that.
Super bummed.
Still have my cold and cough.
And one of my pups puked all night.
Which makes me a little Grinchy.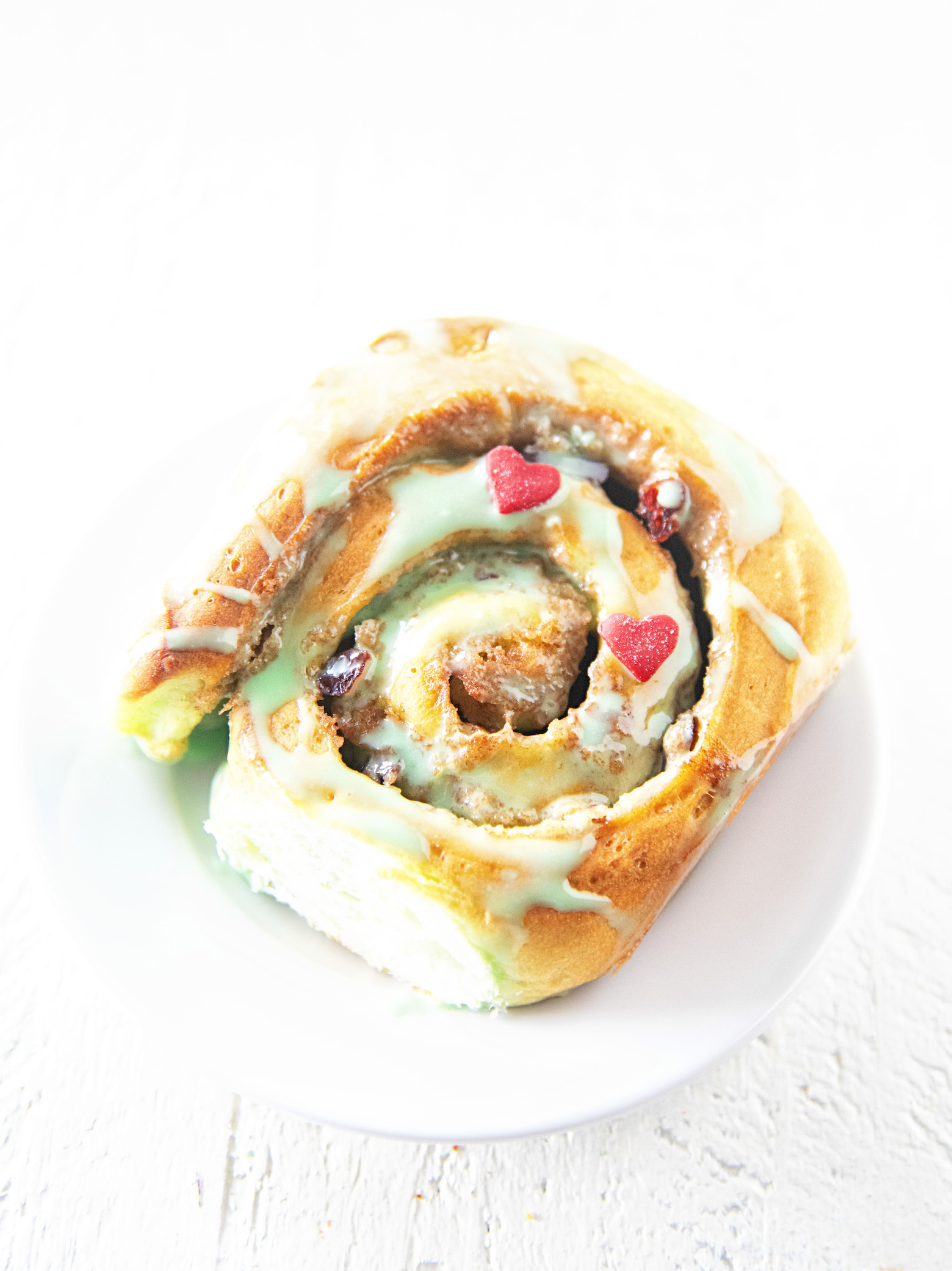 A long time reader commented the other day that her son LOVES The Grinch and so she was loving the Jell-O that I made.
She even made his teachers The Grinch fudge this holiday.
So I figured why not make another Grinch recipe for him.
Doing things to make others happy is definitely a way to cheer me up.
So I'm hoping her son will like these The Grinch Cranberry Cinnamon Rolls I made.
I stuck to pretty traditional flavors since it's most likely kids (and kids at heart) eating these.
The cranberries are there to be the little hearts in the green rolls.
A pretty plain icing as well.
These would certainly be tasty with cream cheese frosting as well.
Unfortunately I used up all my cream cheese ruining cheesecakes while baking in a crappy oven. 🙂
And as always it's a great day to order my cookbook.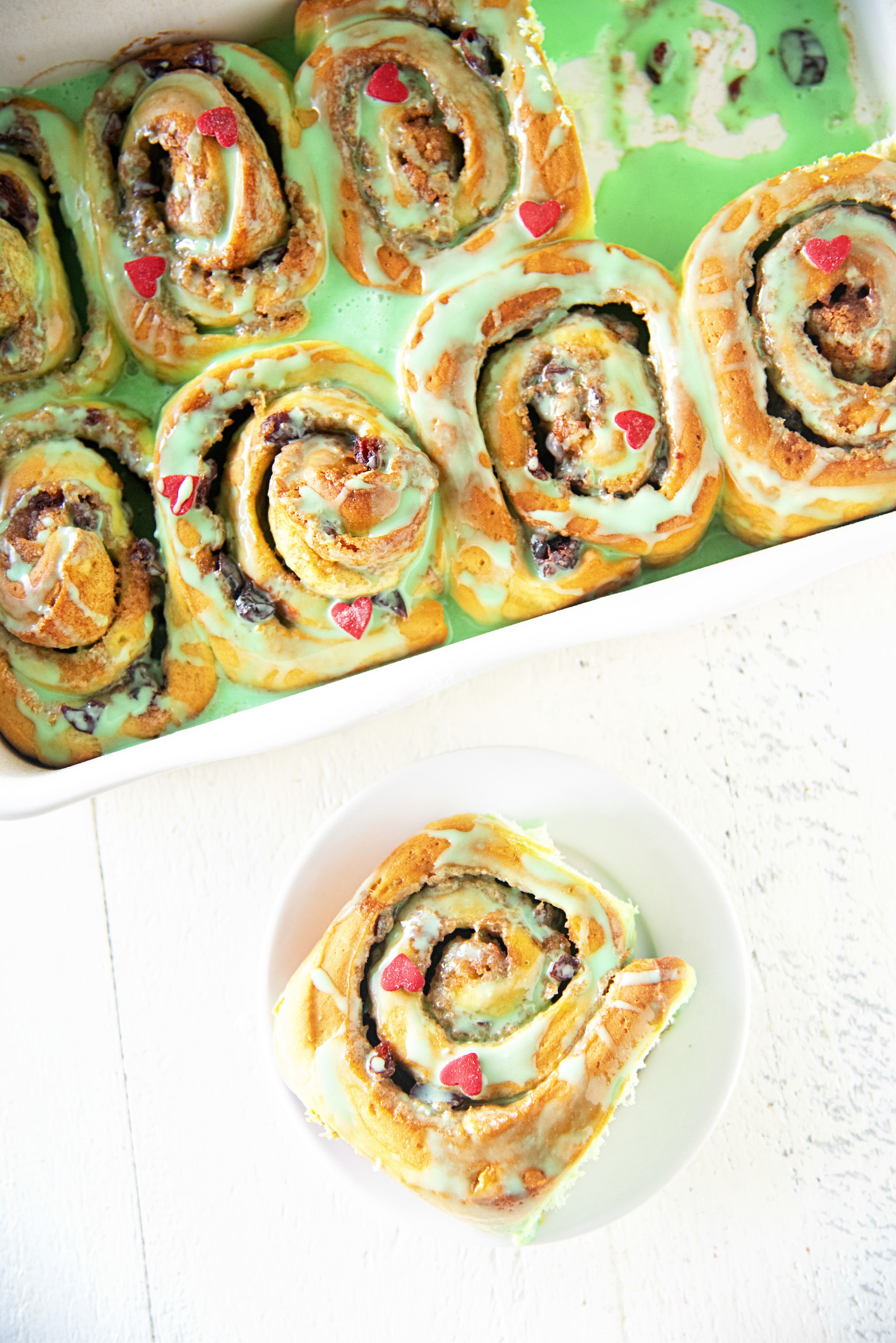 Want more Grinch recipes?
The Grinch White Chocolate Mint Fudge
Ingredients
For the rolls:
1/2 cup warm water, 110 – 115F
1 TBSP active dry yeast (I used Red Star Yeast Platinum)
1/2 cup whole fat buttermilk, at room temperature
2 large eggs
1/2 cup plus 1/2 tsp granulated sugar, divided
1 tsp. salt
1 tsp. vanilla extract
6 Tbsp unsalted butter, melted and slightly cooled
3 1/2 – 4 cups bread flour
3-4 drops green food coloring
For the filling:
6 TBSP unsalted butter, super soft but not quite melted
1 cup packed brown sugar
2 TBSP cinnamon
1 cup dried cranberries
For the icing:
2 TBSP unsalted butter
2 TBSP whole milk
1 cup powdered sugar, sifted after measuring
3-4 drops green food coloring
red candy heart sprinkles
Instructions
Using a stand mixer with the paddle attachment add the yeast, warm water, and 1/2 tsp. granulated sugar.
Let rest for 5-10 minutes to proof…the batter will puff up. If it does not then your yeast is bad and rolls won't rise so best to throw out and start again with different yeast.
Add in buttermilk, eggs, 1/2 cup granulated sugar, salt, vanilla, and melted butter and mix until fully combined.
Add in 2 1/2 cups of the flour and mix until fully combined.
Switch to a hook attachment then add another 1 cup flour and the green food coloring. Knead mixture until combined.
Continue to knead on low speed about 5 – 6 minutes while adding a little more flour as needed to reach a soft and moist dough (Dough shouldn't stick to the sides of the bowl but does stick to the bottom).
Transfer dough to an oiled bowl, cover with plastic wrap (I find press and seal works best)  and let rise in a warm place until doubled in volume, about 1 1/2 hours.
I suggest dividing the mixture up between two greased 9-x-13-inch pans.
Punch dough down.
Dust a working surface lightly with flour and turn dough out onto surface.
Sprinkle top of dough with a little flour then roll dough out into an 20 by 18-inch rectangle.
Spread the 6 TBSP softened butter evenly over entire surface (hands work best).
In a small mixing bowl whisk together brown sugar and cinnamon. Sprinkle and spread brown sugar mixture evenly over butter layer (try to leave about 1/2-inch border uncovered along all edges).
Sprinkle dried cranberries on top of that.
Beginning on an 18-inch side tightly roll dough into a cylinder. Pinch the seam to seal (brushing a little egg white underneath helps if needed or I just use a toothpick).
Cut into 12 equal portions using a large sharp knife (they should be 1 1/2-inch each).
Arrange rolls, spacing evenly apart. Cover with plastic wrap loosely.
Let rise in a warm place until doubled in volume, about 1 1/2 hours.
Preheat oven to 350F near the last 20 minutes of rolls rising.
Bake rolls in preheated oven until centers are no longer doughy, about 25-30 minutes.
Remove from oven and set on a wire rack while you make glaze.
For the glaze:
In a small saucepan over low heat, warm the butter and milk, stirring occasionally, until the butter is melted and the liquid is gently simmering.
Remove the pan from the heat, add the powdered sugar, and use a small rubber spatula to stir the icing until it's thick and creamy.
Add the food coloring in until the frosting turns green.
Using a small spoon, drizzle about a tablespoon of the icing in the center of each roll and use the back of the spoon to spread the icing over the tops of the rolls.
Sprinkle red hearts on top of the rolls…as many as you would like.
Let the icing set for about 10 minutes, then separate and serve the rolls.