The Grinch Buttercream Sandwich Cookies are made with a green shortbread roll out cookie with a cut out heart and pink buttercream frosting.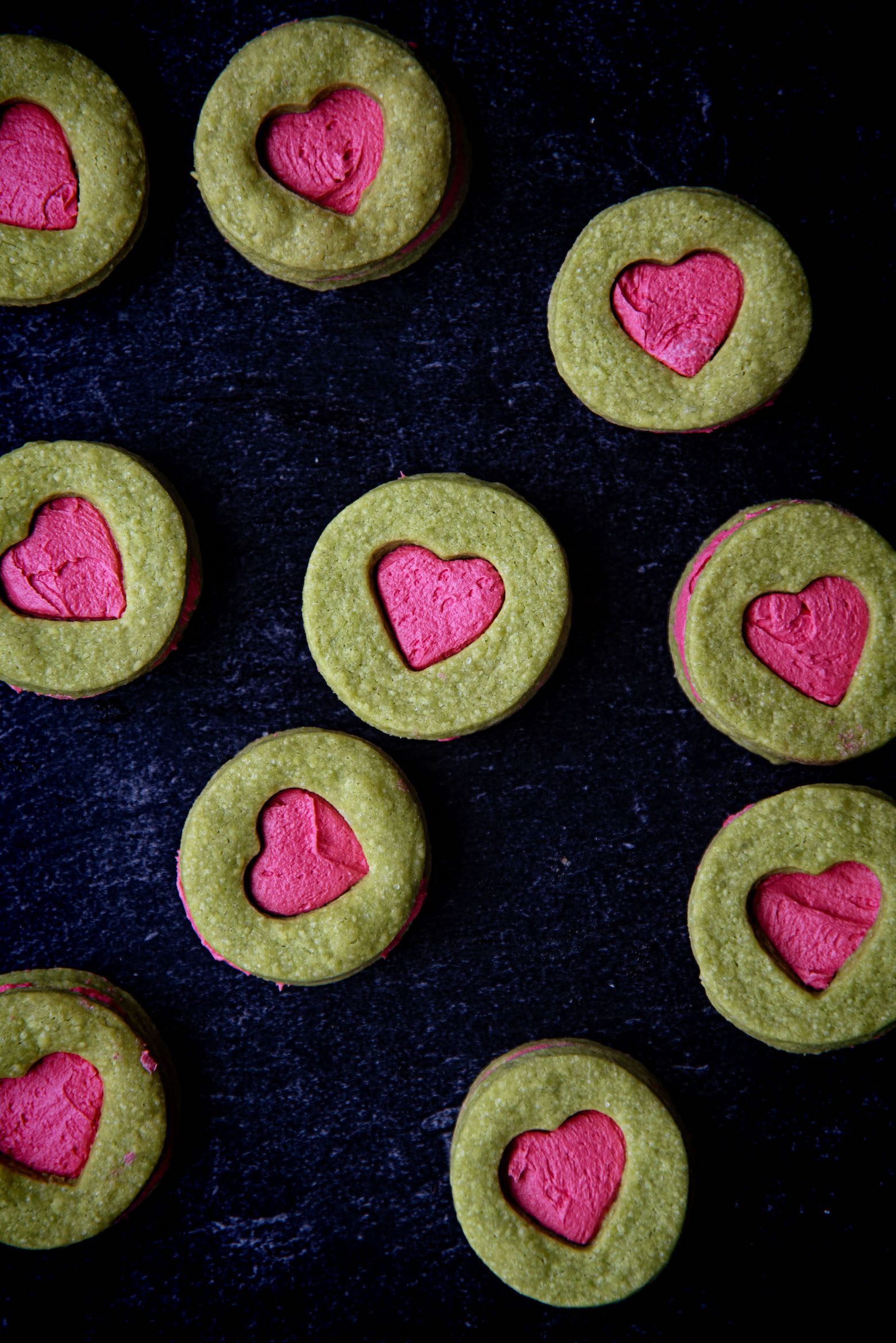 Years ago I made a Grinch recipe.
I honestly don't even remember what the first one was.
And well, I could find out but that would take effort and I no longer get sleep anymore.
Our dog Banjo went into congestive heart failure (an enlarged heart) last Monday.
Which involves him being on heart medication that makes him pee…a lot.
That means he gets up to go to the bathroom…a lot.
Therefore, I get up to take him out…a lot.
At all hours of the day and night.
Which makes me tired and now I think clearly even less than I did before. 🙂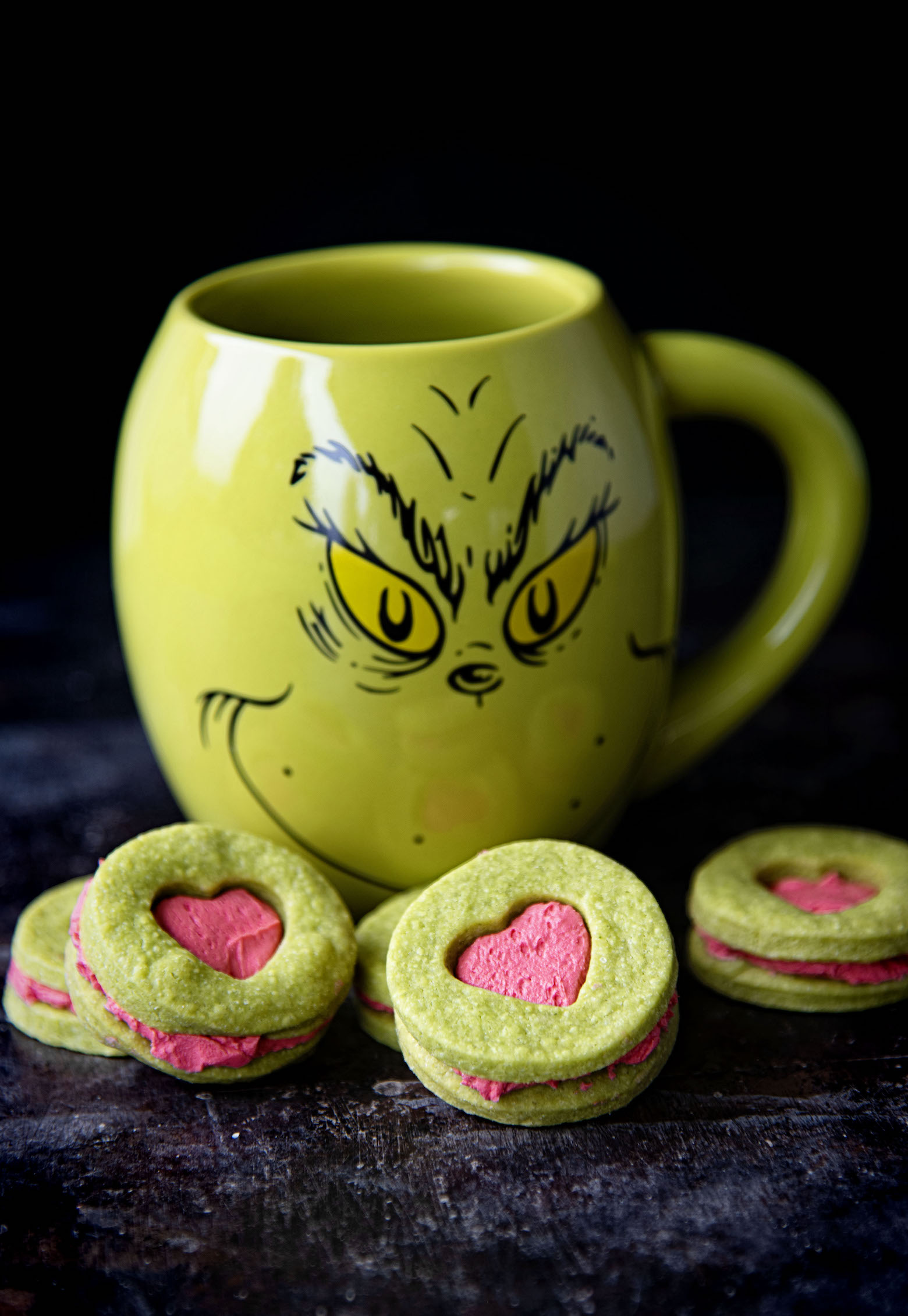 Now we take dogs in with Mitral Valve Disease which progresses to Congestive Heart Failure, so we knew it was coming.
Though he was not the dog we thought would be next in line.
I just forgot how exhausting it all is.
Anyway, when I made my first Grinch recipe a long time reader reached out and told me she was so excited about the recipe.
It turns out her special son is a super fan of the Grinch.
Year round.
Not just holiday time.
I loved hearing that and from that point on each year I made it a point to do a Grinch recipe.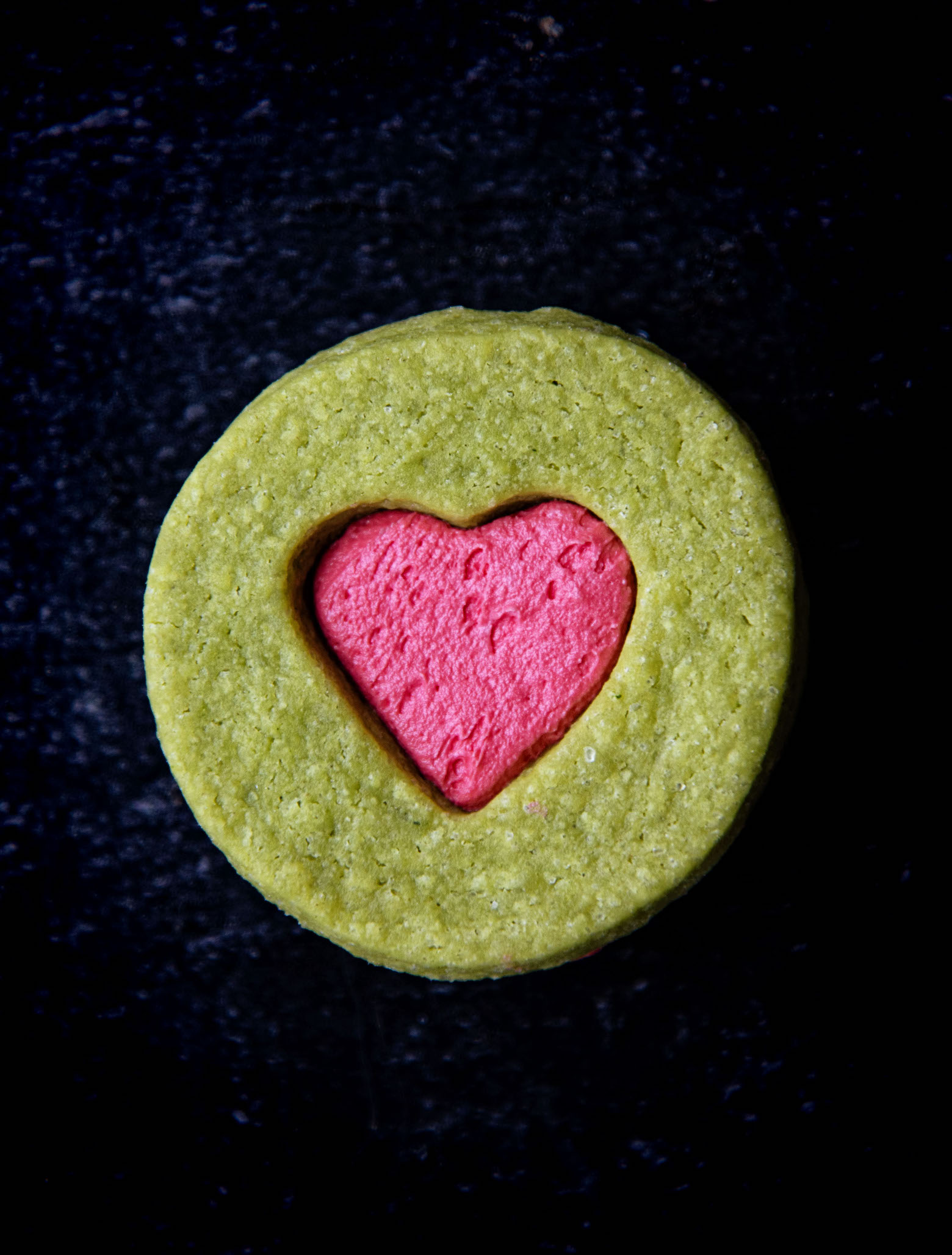 This year of course has been extra Grinch-like.
And I felt like I needed a boost to my own heart.
So I decided that instead of making him one recipe, I would do a week's worth.
Prepare to see a lot of green food this week. 😀
With a heart thrown in for good measure.
Since I lack the artistic talent to make anything look like the Grinch green food with hearts is what I have.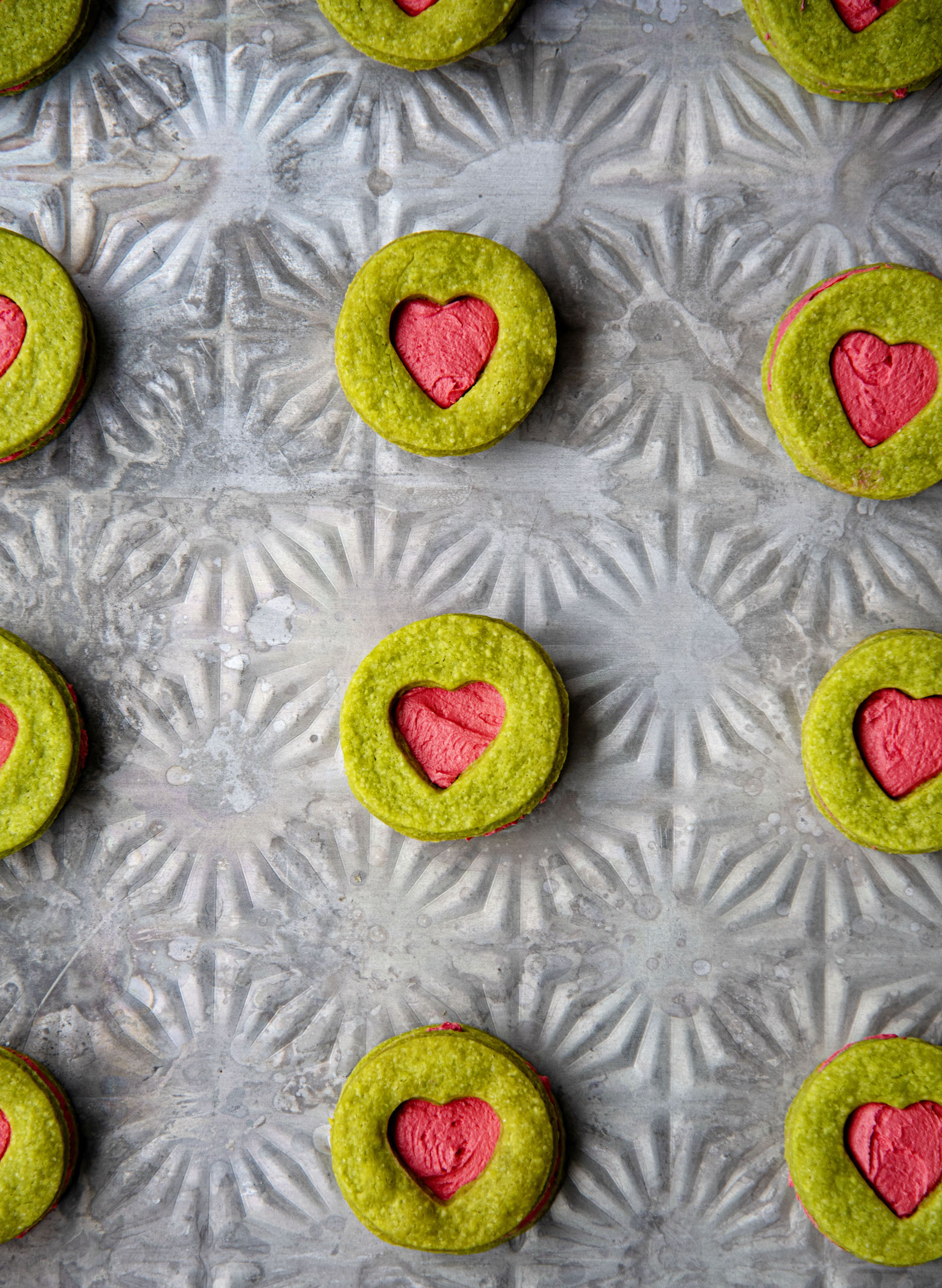 These The Grinch Buttercream Sandwich Cookies are a shortbread style cut out cookie.
They don't have to be chilled which is the nice thing about them.
You don't have to use the buttercream frosting.
If you prefer jam you can use any red colored jam you would like.
I however prefer buttercream at holiday time.
And by holiday time I mean year round. 😀
P.S. The Grinch would want you to buy my cookbook Holy Sweet!
I blog and wrote a cookbook to fund the type of special needs dogs we take in.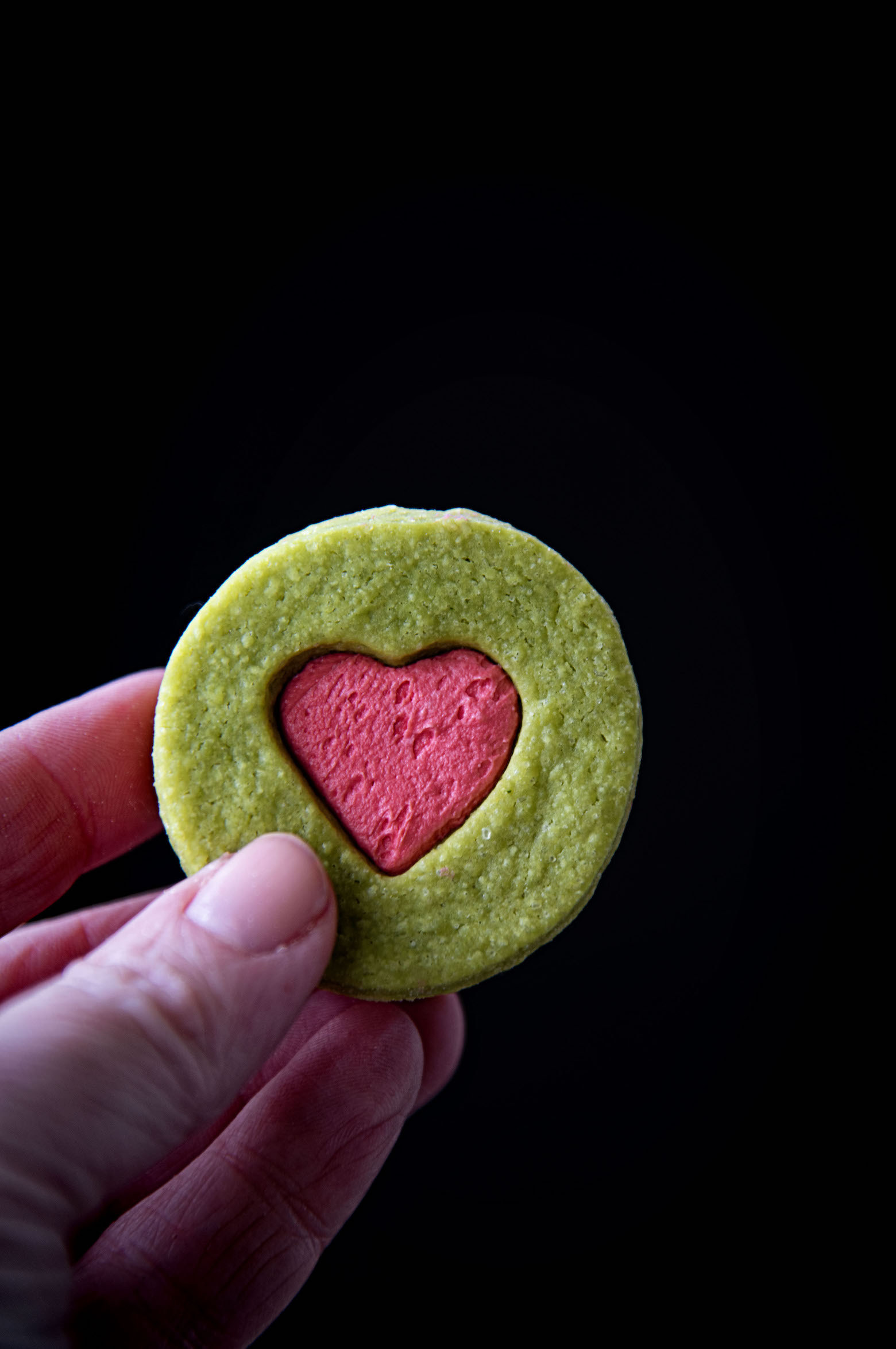 Want more Grinch recipes?
The Grinch White Chocolate Mint Fudge
Ingredients
For the Cookies:
1 cup unsalted butter, at room temperature
½ cup granulated sugar
2 tsp Vanilla Bean Paste (I used Rodelle)
green food gel
2 cups all-purpose flour
1 TBSP cornstarch
For the Buttercream:
1/2 cup unsalted butter
1/2 cup vegetable shortening
3 3/4 cup powdered sugar
1 tsp vanilla extract
1 1/2 TBSP milk
red food gel
Instructions
For the Cookies:
Preheat oven to 300° F.
Using a stand mixer with a paddle attachment cream together the butter and sugar until light and fluffy, about three minutes.
Add the vanilla bean paste and green food gel and beat for another 30 seconds.
Add in flour, ½ cup at a time with mixer on low.
Repeat until all the flour is gone.
Add cornstarch and mix until combined.
Let mixer run on low until dough forms.
Divide dough in half.
Sprinkle flat surface lightly with flour.
Roll out the cookie to ¼-inch thickness.
Use a 2″ round cookie cutter dipped in flour to cut out cookies.
Use a small heart shaped cutter to cut windows in half the cookies.
Place 1 inch apart on ungreased baking sheets.
Bake for 20-22 minutes.
For the Frosting:
Combine the butter and vegetable shortening in the bowl of an electric mixer; using a paddle attachment, beat on medium speed until smooth, about 2 minutes.
Add half of the powdered sugar and continue beating on low speed for an additional 2 minutes, or until the mixture is creamy, scraping the sides of the bowl with a rubber spatula as needed.
Add the remaining powdered sugar, vanilla and milk, and beat until the frosting is creamy and fluffy, about 2 minutes more.
Add food coloring at this time, if using, and beat on low speed until light and fluffy
To Assemble:
To assemble the cookies, spread about a TBSP of the frosting onto the flat sides of the non-cut out circles.
Place heart cut out cookie on top of the buttercream.
Push down a little to get the frosting to go into the heart shape.