These Thanksgiving Cornucopia Cake Pops are a fun treat and perfect for the kids table at your Thanksgiving celebration.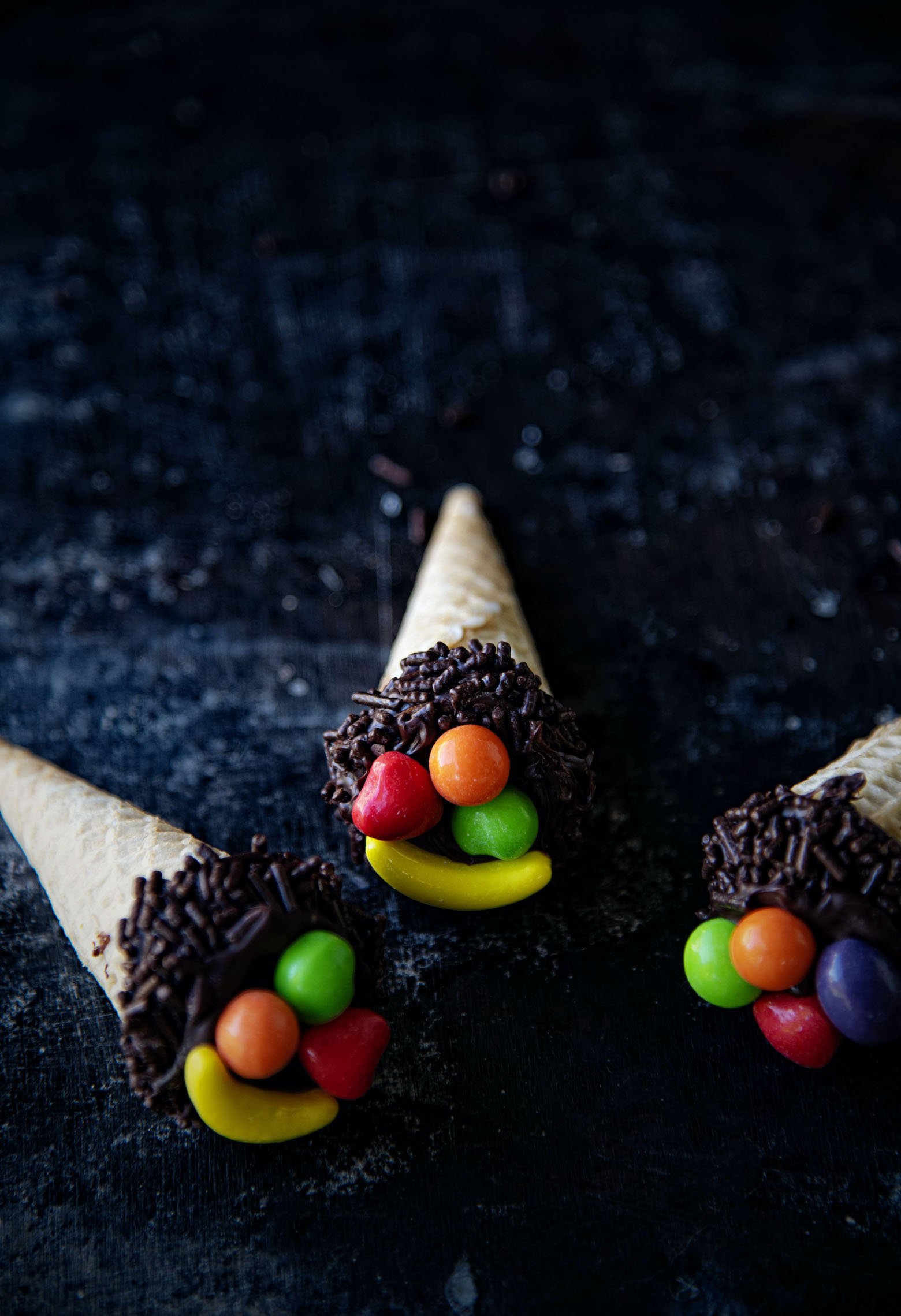 It never seemed to matter how old I got.
Come Thanksgiving I was stuck at the kids table.
You know the card table off to the side.
Shunned.
I remember so wanting to be at the grown up table for years.
Though I fully admit once I got there it wasn't as much fun.
So every year that I was stuck at the kiddie card table I made sure to make cool nameplates.
They usually were not edible.
Usually little turkeys I crafted or pilgrims.
One year I bought sugar cones and put some Runts in them and some Bugles and the table went nuts for them.
Wanted those every year.
And so I made them every year.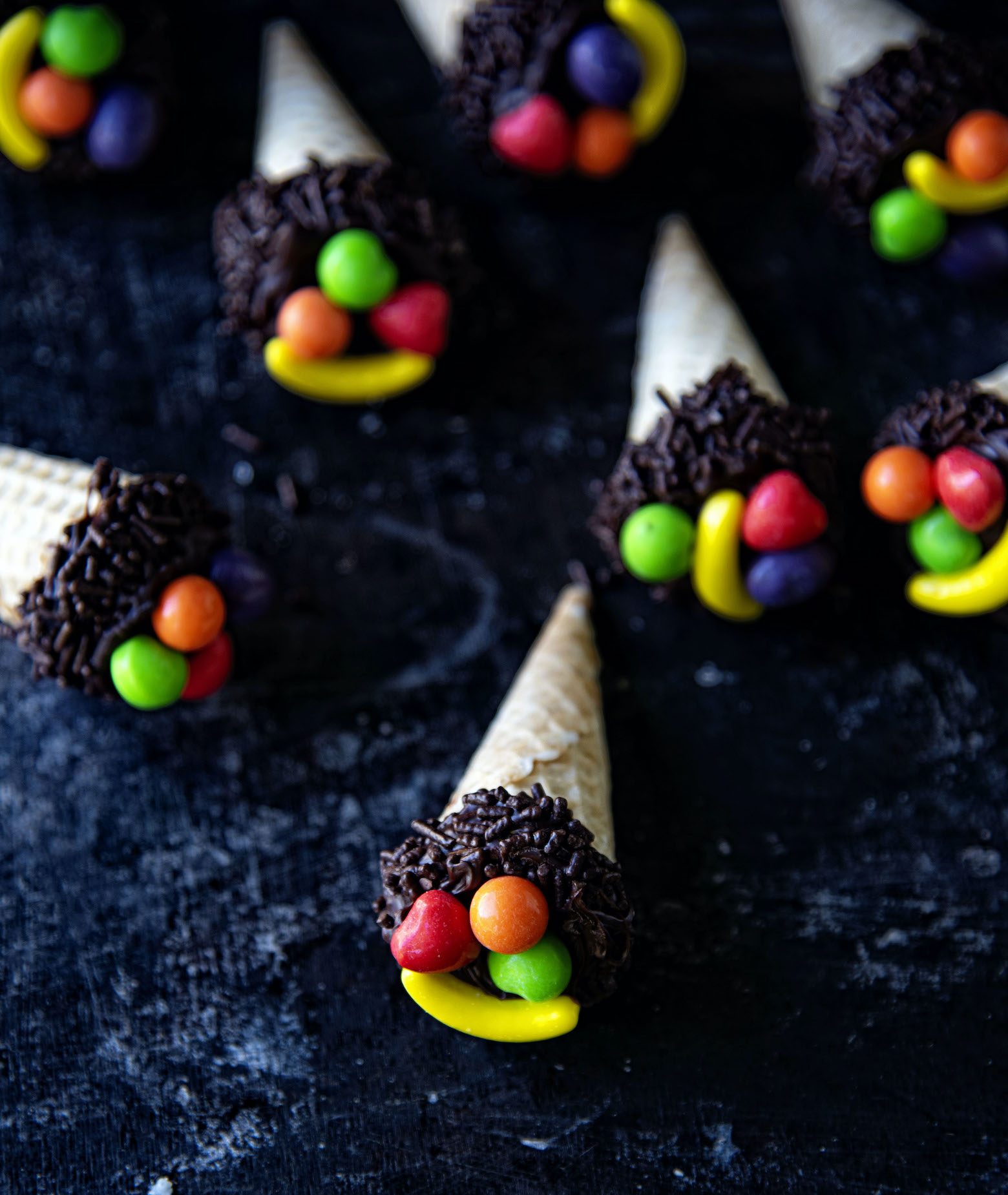 I'm not even cooking for American Thanksgiving this year.
Just not feeling it this year.
I will probably make some stuffing and some mashed potatoes.
Throw out a blob of canned jellied cranberry sauce and call it a day. 🙂
And pie of course.
There is always pie.
No matter what.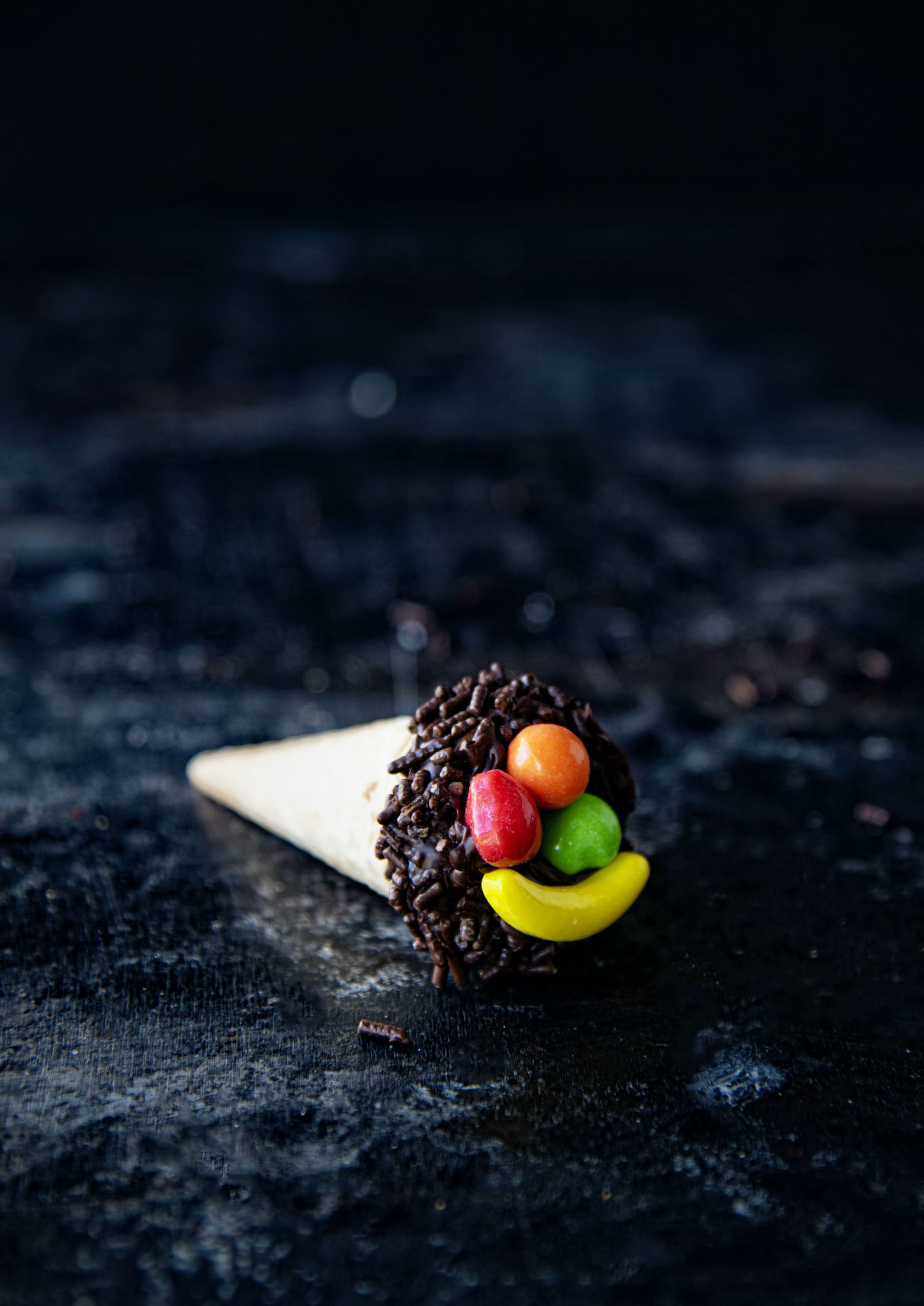 Yet, for some reason I was thinking about the kids table.
We don't have a kids table so I'm not sure why it popped in my head.
Maybe it's thinking of all the families not gathering this year. 🙁
But I decided to make a version of those little cornucopias I used to make.
But this time as Thanksgiving Cornucopia Cake Pops.
Yes, I used boxed cake.
We are sticking candy to them.
And you don't need extra work at Thanksgiving time.
If you want to make it scratch you go for it.
But these are for kids who seriously won't care.
By the way, it's a great day to buy my cookbook !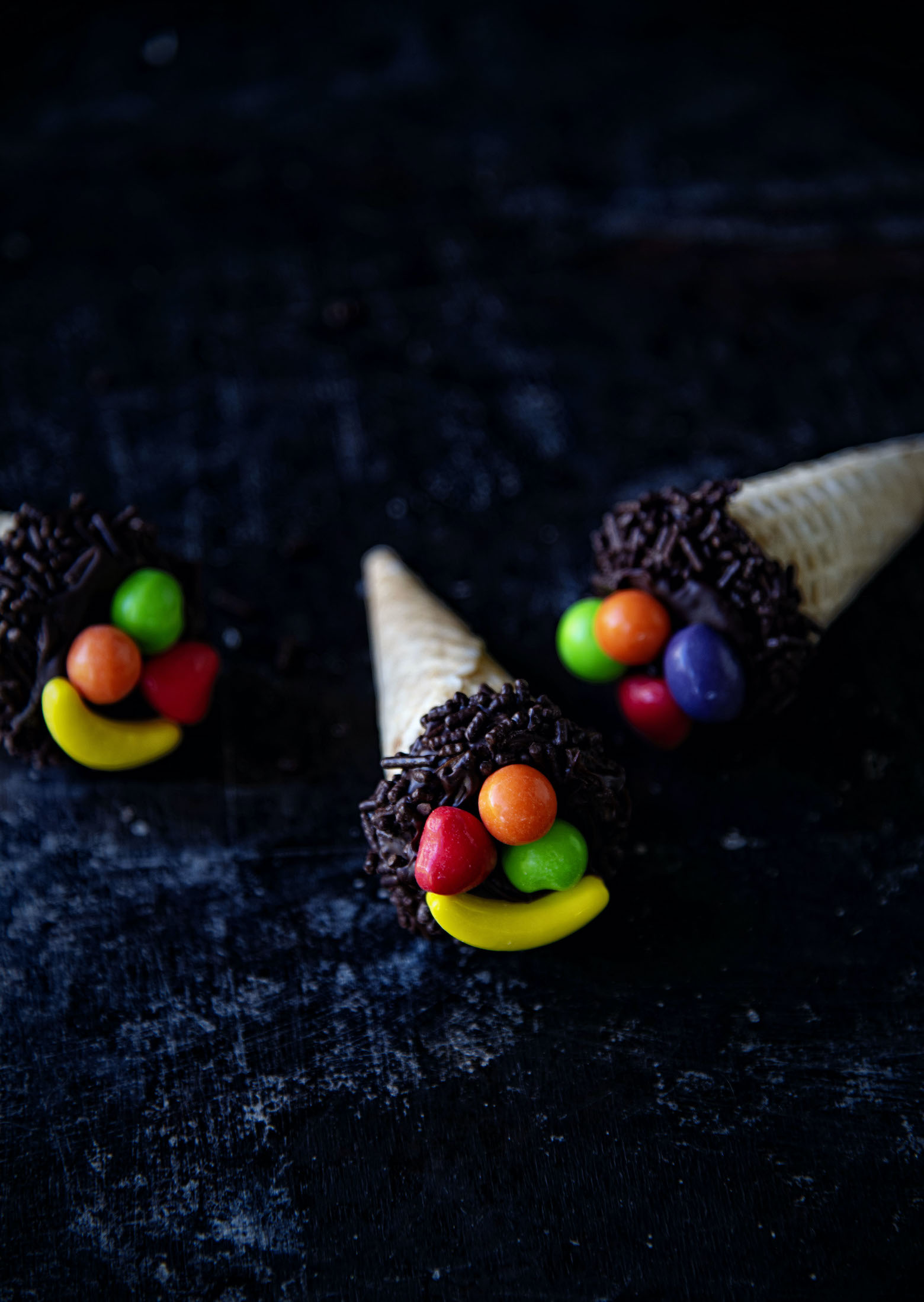 Want More Thanksgiving Ideas?
Charlie Brown Thanksgiving Caramel Corn
Butter Toffee Pecan Crumb Pumpkin Pie
Ingredients
15 oz chocolate cake mix, prepared according to package instructions, cooled
½ cup vanilla frosting (I used my buttercream that I was decorating cookies with)
1 cup chocolate melts or chocolate chips (but honestly candy melts work better)
Chocolate sprinkles
1 1/2 cups Runts Candy
Instructions
Crumble the cooled cake into the bowl on top of the frosting.
Make sure there are no large lumps. Turn the mixer on low and beat the frosting and cake crumbles together until combined.
Measure about 1 TBSP of moist cake mixture and stuff it into the mini cone, right up to the top. Do this for all 24 cones.
Refrigerate for 2 hours or freeze for 1 hour.
Remove from fridge and melt the candy melts. Let cool for a few minutes.
Dip just the top of the cone into the chocolate. You want an outer rim for the chocolate sprinkles.
Roll the cone in the sprinkles doing your best not to get sprinkles in the middle of the cones.
Once all the sprinkles are on, spread the chocolate on the center of top where the cake is exposed.
Add the Runts fruits to the cornucopia. It will hold about 4 fruits if you use the banana or 5 if you don't.
Let set up for about 2 hours. More if it's warm.
Store in airtight container for 3 days.