These Tangled Christmas Lights Cookies are a fun and festive cookie that was made for those that are not the best at decorating cookies. 🙂 Like me.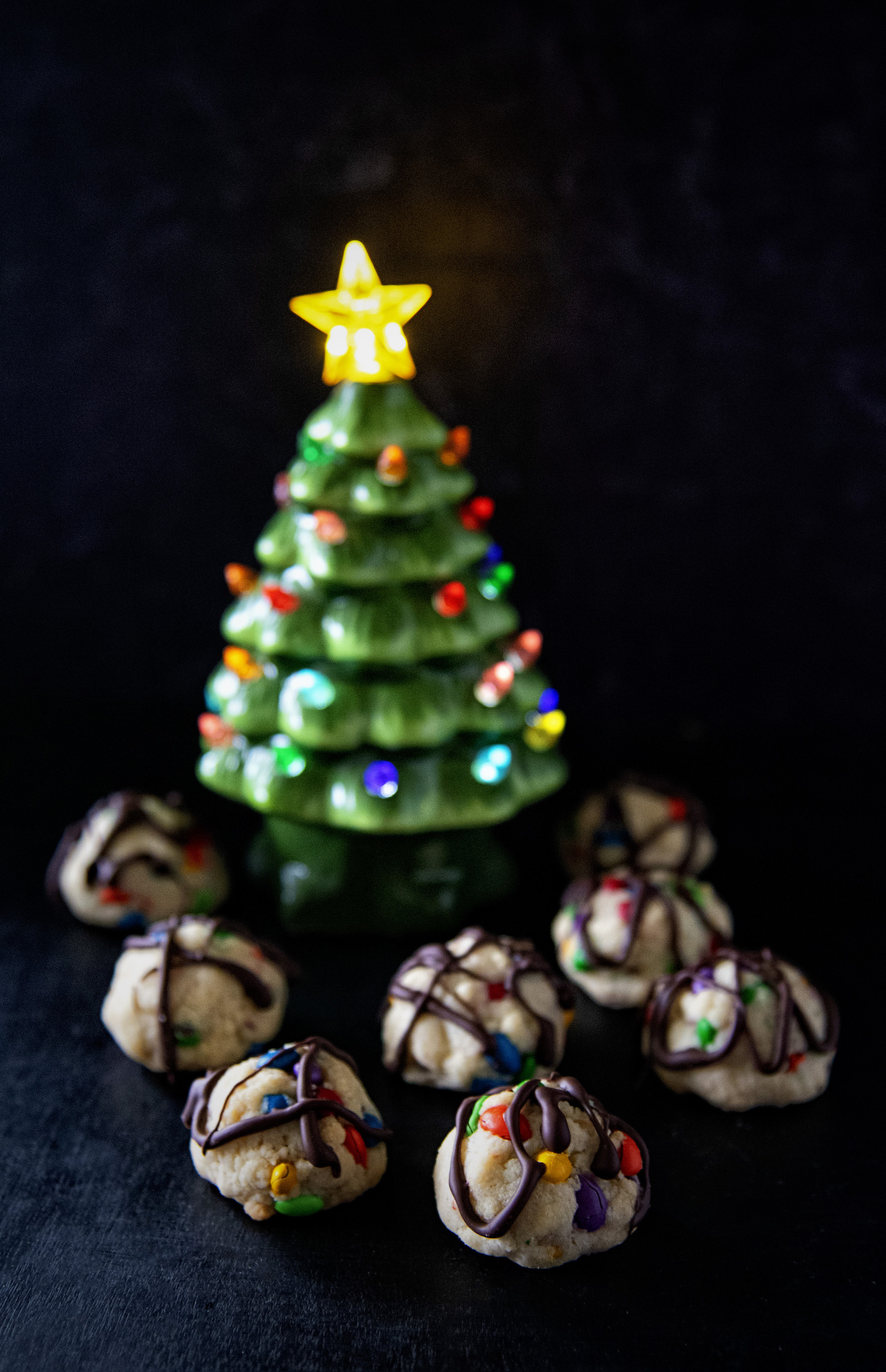 Decorating is not my thing.
I wish it was but it's not a gene I inherited.
Probably because my mom doesn't really have it either.
Sorry mom, you know it's true.
I mean sure I can spread some green frosting on a cut out tree cookie and throw some sprinkles on there.
But I see these beautifully decorated cookies some of these people do and I'm jealous and in awe.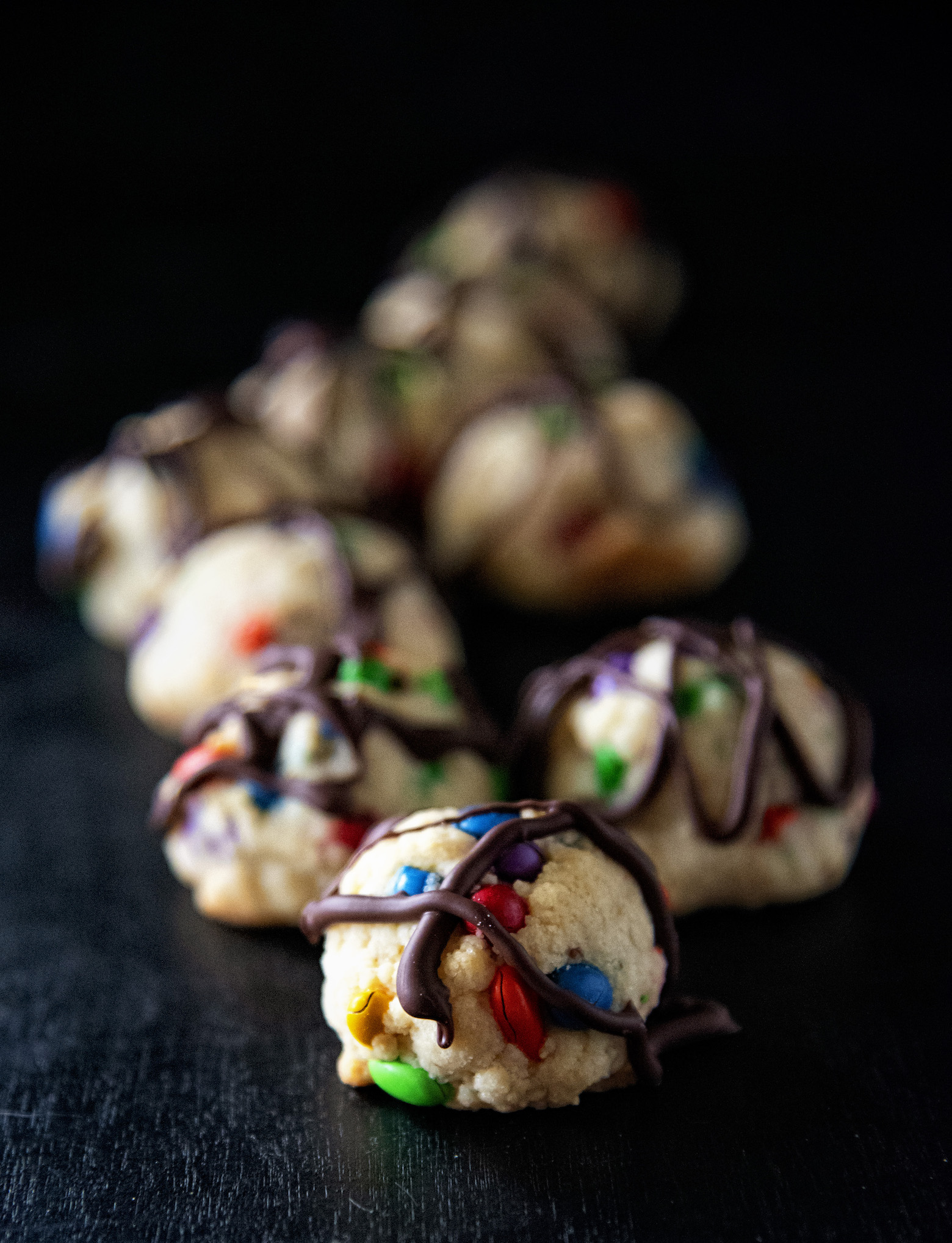 I came across chocolate covered sunflower seeds at my local grocery store.
They had them out for gingerbread house decorating.
Because they are colorful and are shaped like Christmas lights.
I bought them thinking maybe I would do a house this year but no, didn't happen.
Then while watching tv I saw some guy trying to untangle his ball of tangled Christmas lights and decided that would make for a fun cookie.
And a cookie that you were supposed to get sloppy with.
These Tangled Christmas Lights Cookies are a win-win.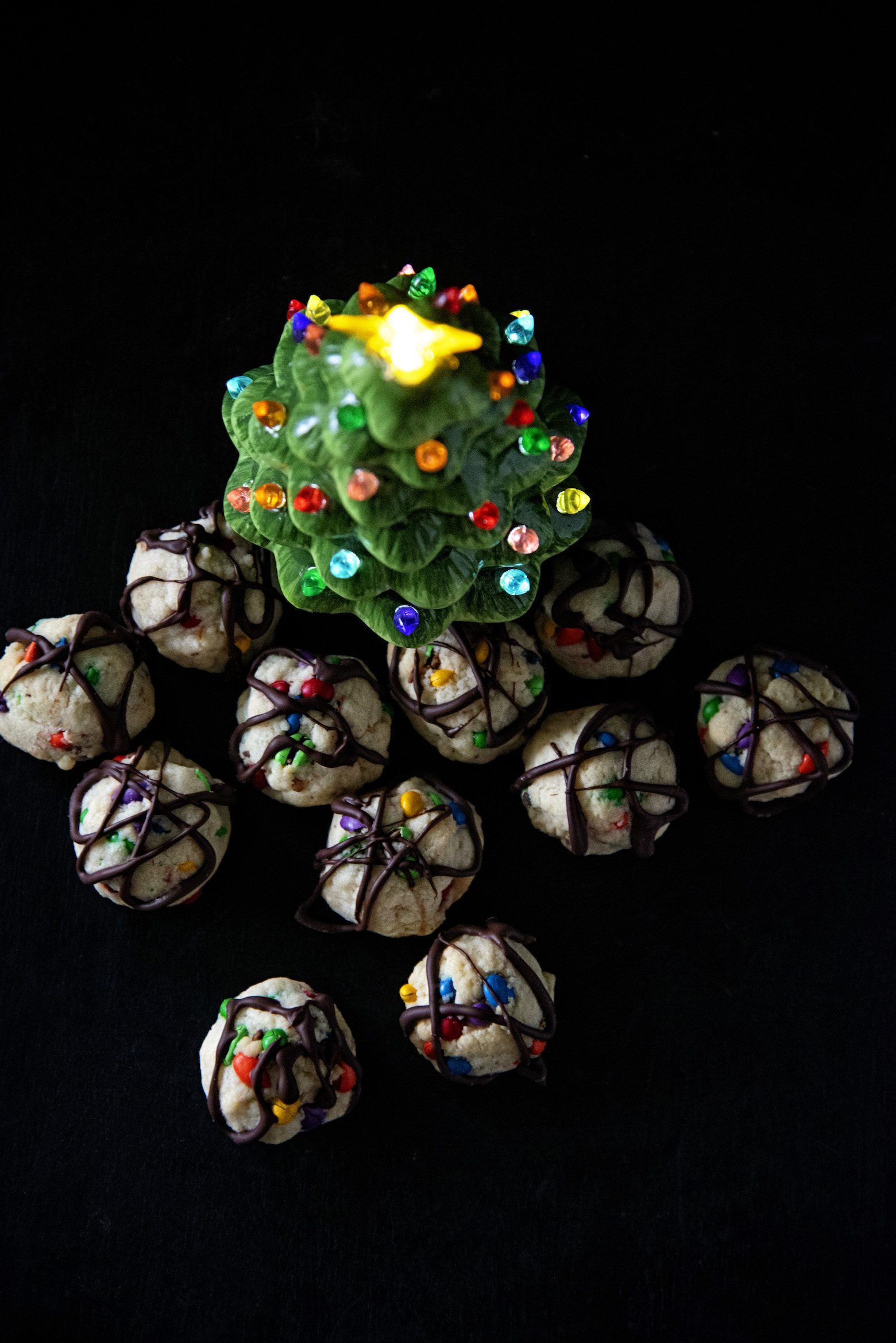 I will admit that I was one of those that ended up with balls of tangled Christmas lights.
Taking down the tree is no fun and I usually just give up and just toss them into the box.
Somehow they find each other.
While sitting in a box.
And tangle up.
I like to a least think they are all balled up because they fell in love with another string of lights in the box and are hugging.
I'll say hugging since I'm not sure how Christmas light sex would go over.
Though I am sure if I made the poor choice of typing in Christmas Light Sex into Google search I would be horrified at what I would find. 😛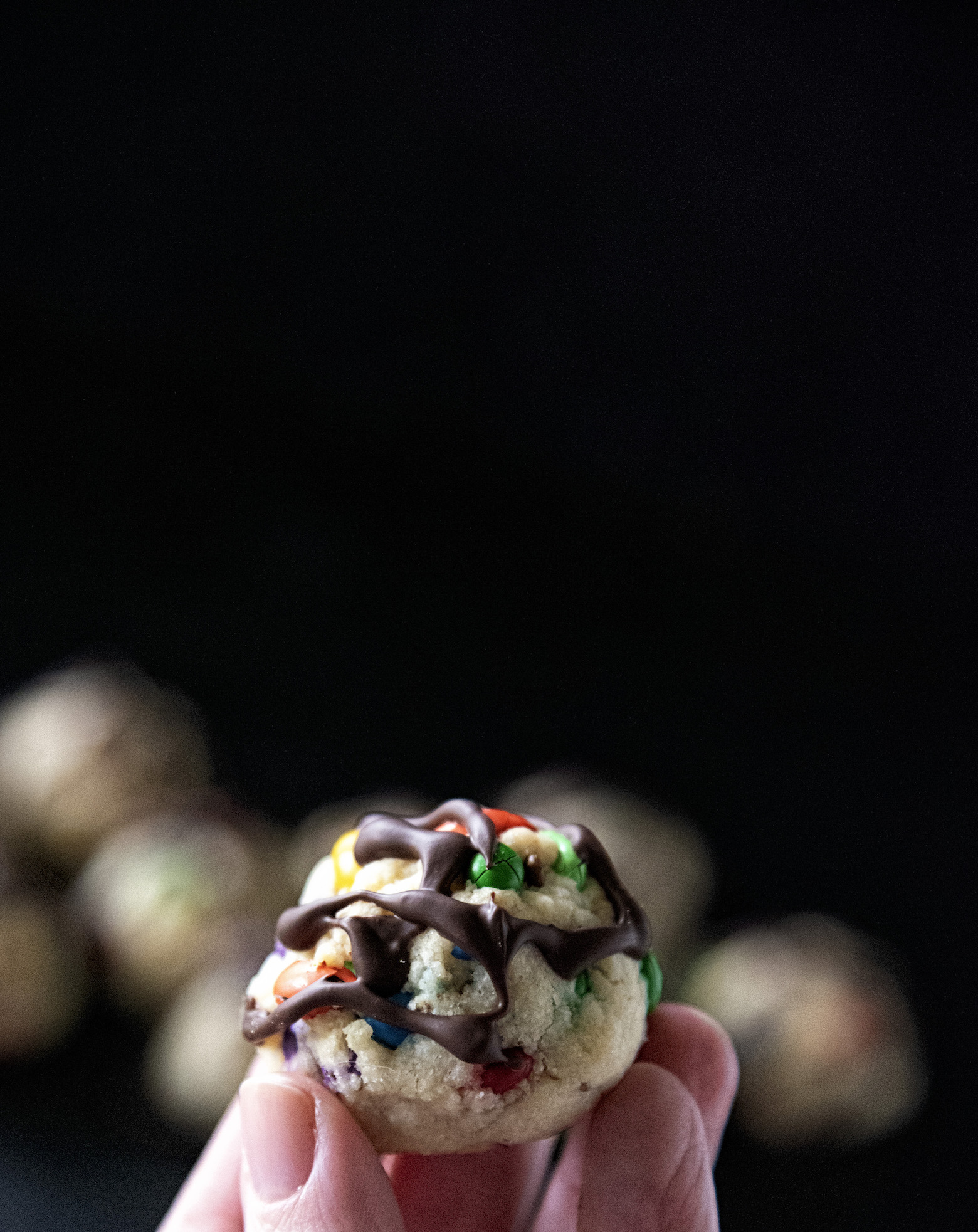 These cookies are similar to a shortbread in that they do no have any eggs.
It's really the butter holding them together.
The dough is rather crumbly but once you squish them into a ball they stay.
They also don't spread out so that is what keeps them they shape they are and why this dough works so well for this type of cookie.
The sunflower seeds I use are salted sunflower seeds so it adds a nice salty sweet aspect to the cookie that I enjoy.
If you can't find the colored sunflower seeds, mini M&M's can also work just fine.
P.S. It's a great day to buy my cookbook Holy Sweet!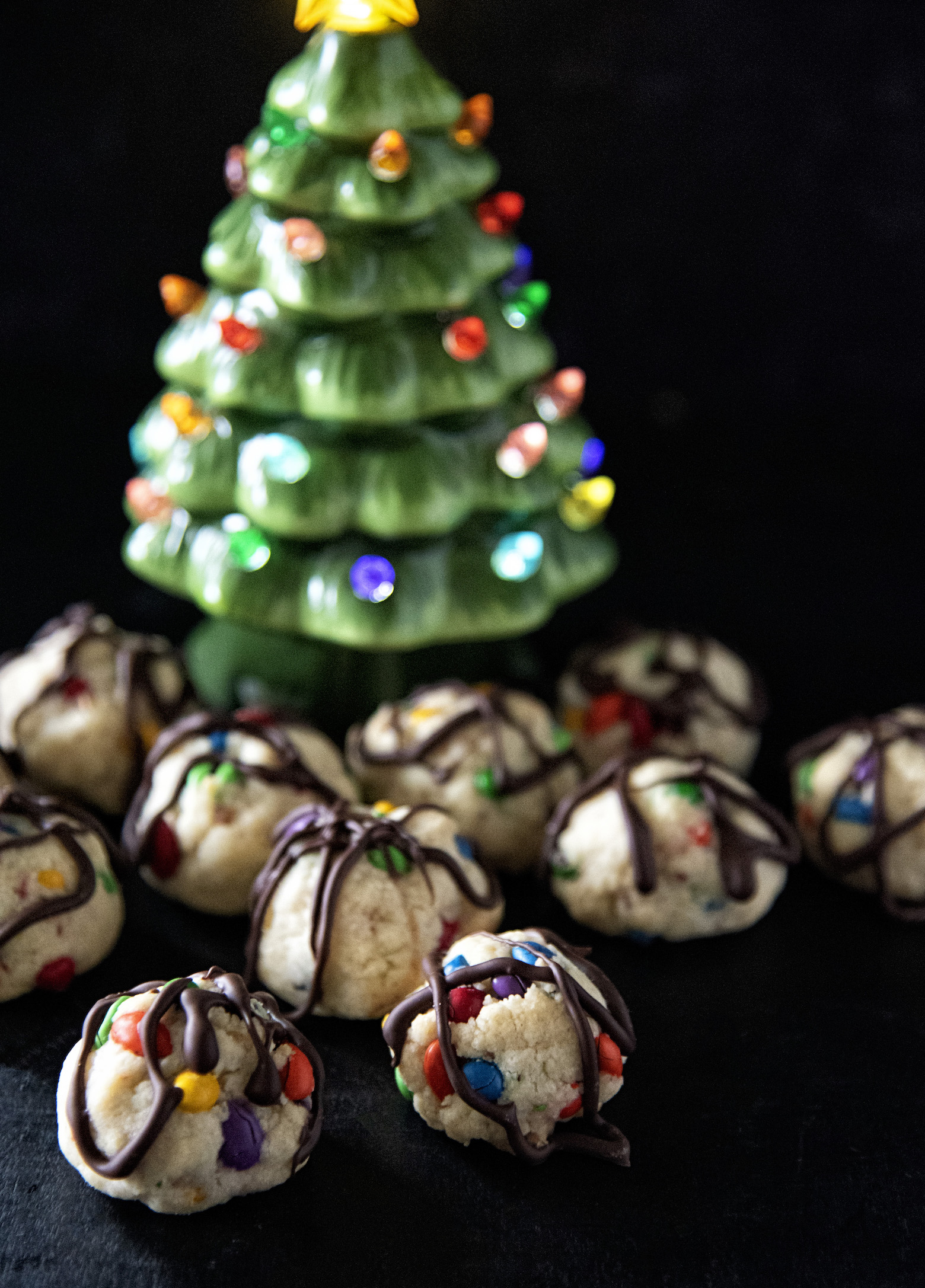 Want More Cookie Recipes?
Gingerbread Lemon Cream Cheese Cookies
White Chocolate Topped Gingerbread Cookies
Cranberry Orange Pistachio Cookies
Ingredients
For the Cookies:
4 ounces of white chocolate, chopped into ¼ inch pieces
¾ pound unsalted butter, cut into 1 ounce pieces
1 cup granulated sugar
2 tsp. vanilla extract
4 cups all-purpose flour
½ tsp salt
2 cups chocolate covered sunflower seeds
For Decor:
12 oz semisweet chocolate, melted
Instructions
Preheat the oven to 350F.
Melt chocolate in a double boiler over medium heat. Use a rubber spatula to stir the chocolate until completely smooth, about 2 minutes.
Place the butter and sugar in the bowl of an electric mixer fitted with a paddle.
Beat on medium for 4 minutes until light (but not fluffy).
Add the vanilla extract and the melted white chocolate.
Beat on medium for 1 minute. Operate the mixer on low while gradually adding the flour and salt. Mix for 1 minute.
Scrape down the sides of the bowl.
Add the chocolate covered sunflower seeds and mix on low for 30 seconds. Remove the bowl from the mixer and use a spatula to finish mixing the ingredients until thoroughly combined.
Portion the dough into 48 (I got 44) slightly heaping tablespoons-sized pieces (approximately 1 ounce per piece).
Roll each portion into a ball.
Place the dough balls onto a non-stick baking sheet, fitting 12 to a sheet.
Place the baking sheets in the center rack.
Bake for 14-16 minutes, rotating the sheets halfway through the baking time.
Remove the cookies from the oven and cool at room temperature.
Place melted chocolate into a piping bag and pipe "strings" to the lights to recreate a ball of tangled Christmas lights.