This Sweet Tea Glazed Lemon Babka is a soft yeasty sweet braided bread filled with lemon sugar and coated in sugary sweet tea glaze.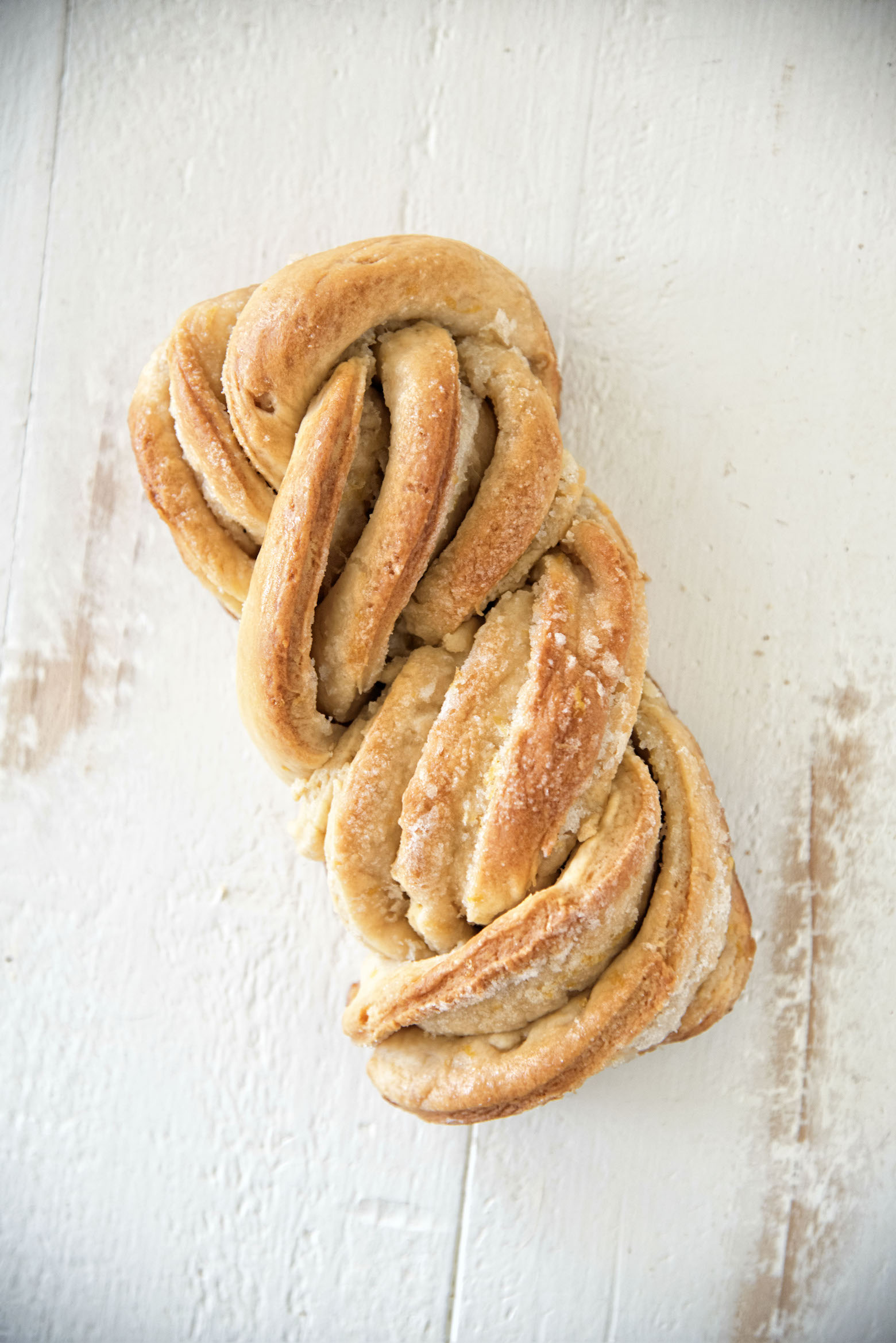 So I've been paring down cookbooks as of late.
Which is hard to do.
But reality is that I'm just not cooking the way I used to and won't be going back.
My husband's heart attack cannot be undone and we are pretty much adapted to our way of eating now.
So that means cookbooks on braising meats, smoking meats, BBQing meats…all had to go.
Scaled back on all my super fancy high end chef cookbooks that even if I had a dinner party I would not make anymore.
Exception being local chefs and David Chang.
I have had to try and be harsh and really ask myself am I ever going to cook from this book?
Or when was the last time I did?
There were some that even though I never cook from them anymore (or ever did) I could not part with them.
Because they have served as a source of inspiration over the years.
One of those was Martha Stewart Menus for Entertaining.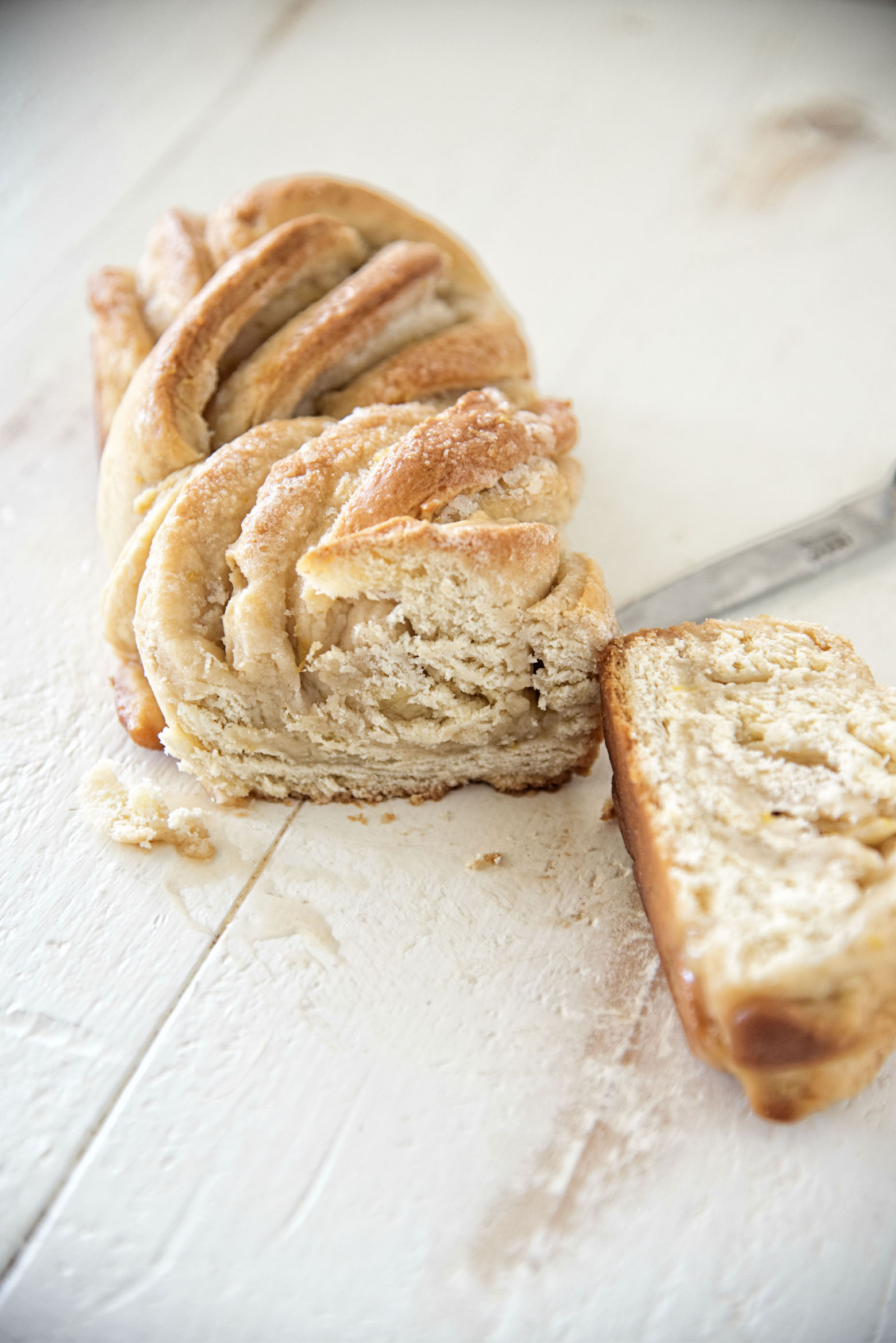 It came out in 1994.
I was 22 years old.
Grandiose ideas filled my head that when I was a grown up these were the parties I was going to throw.
At 31 when I first married the picky eater I registered for a full lobster and crab set of dishes, butter warmers, etc…
Because I was certain I was going to throw a version of Martha's Crabs and Corn at the Beach Party.
Age 46.
Still hasn't happened. 😀
But I can't get rid of it.
It inspired me so much.
Still does.
I went through it for a good 30 minutes when I was going through my cookbooks again.
Do you have a book like this?
One that you don't really cook from but can't stand to let go?
I've been obsessed with babka for awhile.
You tend to only see them around the holidays and well, that is not acceptable. 🙂
I'm a year round babka gal.
So bring summer to the babka I present to you: Sweet Tea Glazed Lemon Babka.
This one does have a little bourbon in it but you can omit that if you like.
I'm a lush so I always add booze where I can.
It's a great day to buy my cookbook Holy Sweet!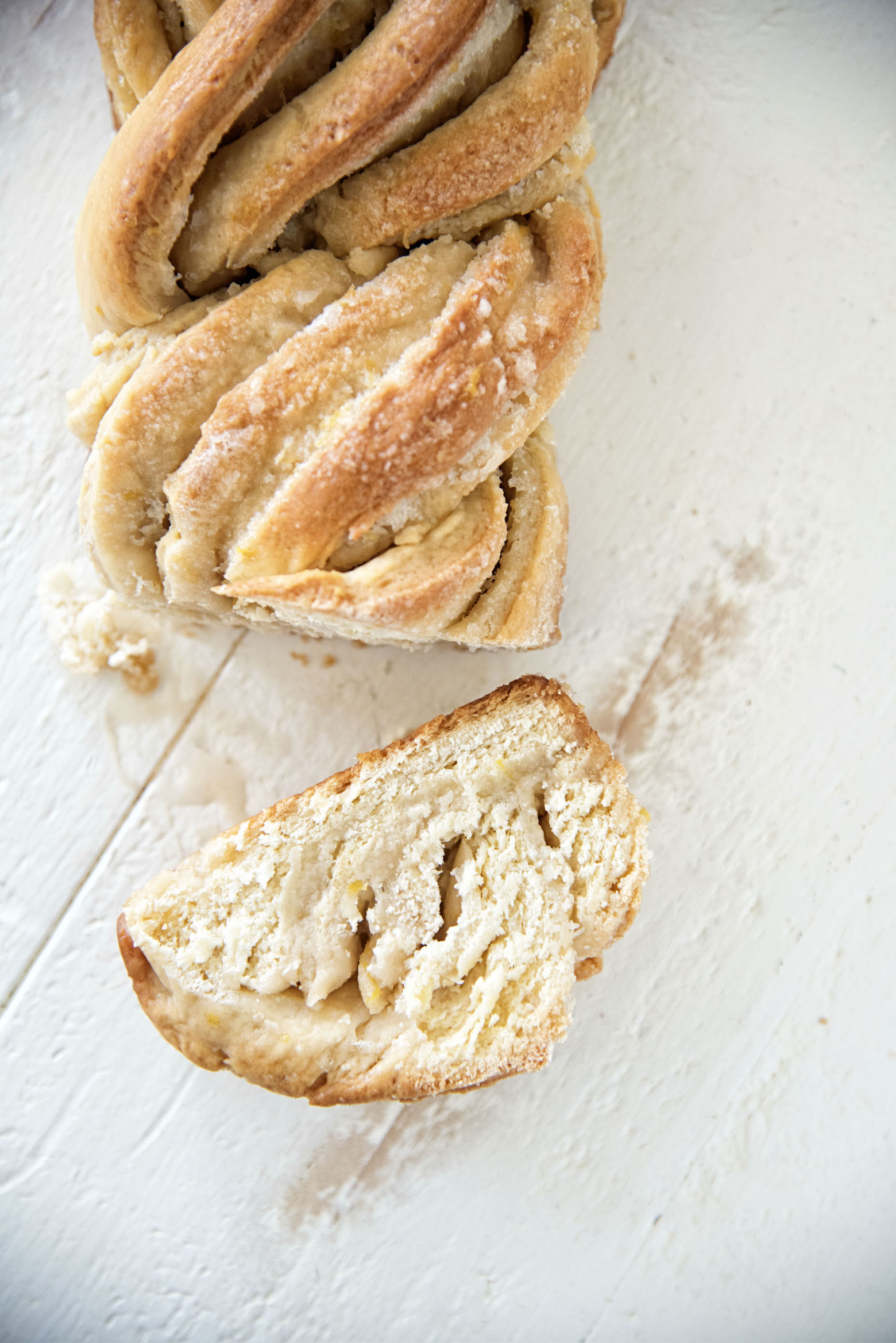 Want More Babka Recipes?
Oatmeal Chocolate Chip Cookie Babka
Ingredients
For the dough:
1 TBSP dry active yeast (I used Red Star Yeast)
1/2 cup + ½ tsp. Granulated sugar
½ cup lukewarm water (105-110F)
4 ½ cups all-purpose flour
1 tsp. vanilla extract (I used Rodelle)
1 TBSP lemon juice
Zest of one lemon
½ cup whole milk
¾ cup (1 ½ sticks) unsalted butter, melted
2 eggs
For the filling:
3/4 cup unsalted butter, melted
1 1/2 cups granulated sugar
Zest of one lemon
For the Glaze:
2/3 cup unsweetened ice tea
1 cup granulated sugar
2 TBSP Bourbon (optional)
Instructions
To make the dough:
Place the yeast and ½ teaspoon sugar in a small bowl.
Add the lukewarm water and stir gently to mix.
Set aside until foamy, 5 to 10 minutes.
In a stand mixer fitted with a dough hook, mix together the flour, 1/2 cup sugar, lemon juice, and vanilla.
In a medium saucepan, scald the milk (bring almost to a boil, until milk is just simmering).
Allow to sit for 1 minute to cool just slightly.
With mixer on low, add the water-yeast mixture, lemon zest, milk, and melted butter.
Add eggs one at a time.
When the dough begins to come together, after 2 to 3 minutes, turn off mixer and scrape down the sides.
Raise the speed to high and mix for another 5 to 10 minutes until the dough is shiny and elastic. Place dough in a greased bowl with a damp towel on top.
Allow to rise until it has doubled, about 1 to 2 hours.
While dough is rising, make the filling and the glaze.
For the filling:
Rub the zest and sugar together with your hands over a medium bowl.
Add the butter and mix all the ingredients until fully combined.
Set aside until needed.
For the glaze:
Combine tea and sugar in a medium saucepan.
Bring to a low boil until the sugar has dissolved.
Add the bourbon and whisk until fully combined.
Set aside to cool.
Making the babka:
Cut the dough into two equal parts.
Roll out one part into a rectangle.
Spread 1/2 of the lemon sugar filling onto the rolled out dough.
Roll dough up like a cinnamon roll and cut it straight down the middle so the filling is exposed.
Cut ½ inch off each end.
Layer each cut piece on top of one another and twist.
Place in a greased loaf pan.
Repeat with other babka dough.
Lightly drape a kitchen towel over the top of pans.
Allow to rise another 30 minutes.
Preheat oven to 350°F while the dough rises.
Bake for 20 minutes with aluminum foil lightly tenting the bread.
Remove foil and brush with two layers of the sweet tea glaze.
Put back in oven and bake another 15-20 minutes.
The edges should be slightly brown and the middle should be slightly doughy.
Immediately brush with another 3 layers of sweet tea glaze.
Allow to cool for 5 to 10 minutes.
Using a butter knife, loosen sides of the babkas from the pans and place on top of parchment wire rack to cool.