These Sweet Potato Pecan Crumb Muffins are a buttery cinnamon pecan crumble topped muffin that embraces the fall season flavors.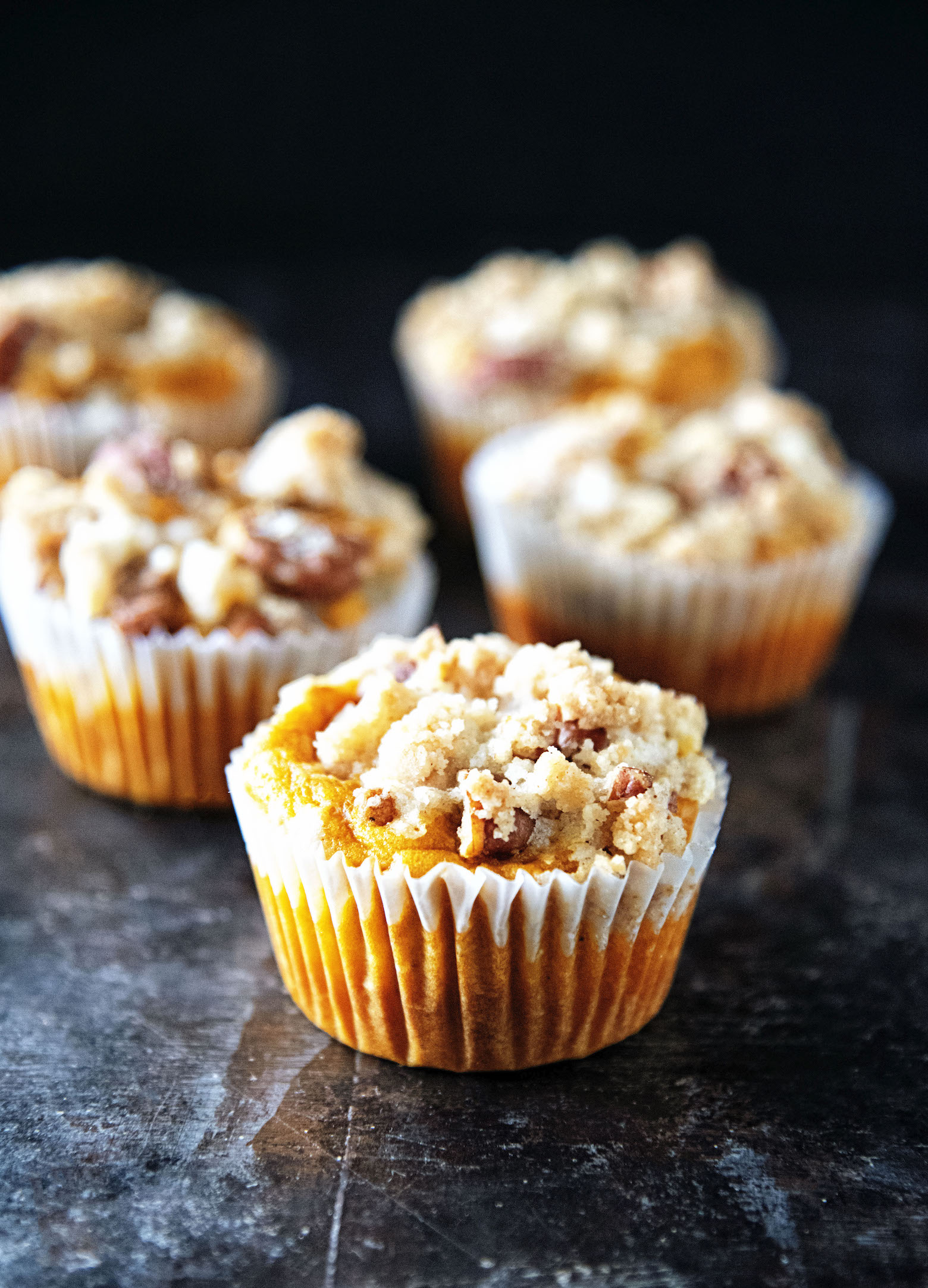 Sweet potatoes.
We don't use them enough in my opinion.
Oh, sure they became popular when people started choosing them over regular potatoes because they were "healthier" but they still are not used much in baking.
Or at least the baking I am seeing…and the baking I am doing.
But I'm working on fixing that.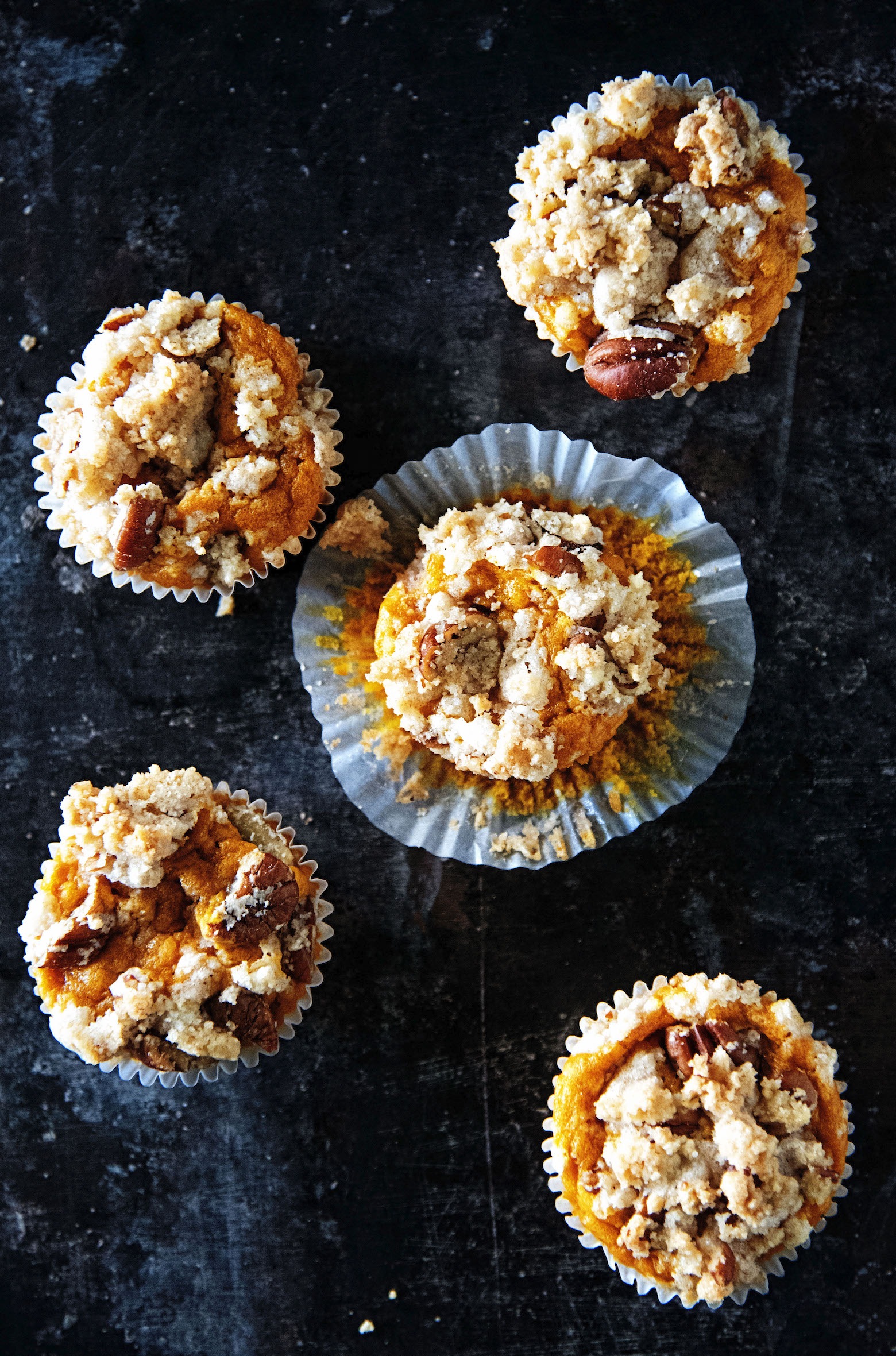 Pumpkin tends to be the star of the two but how are sweet potatoes and pumpkin different?
Sweet potatoes as the name implies are sweeter than pumpkin.
Pumpkin is lower in calories, sugar, and carbs.
Both have lots of vitamins but sweet potatoes have more vitamin D.
But sweet potatoes have more fiber and protein in them.
So depending what you are after depends on which is better.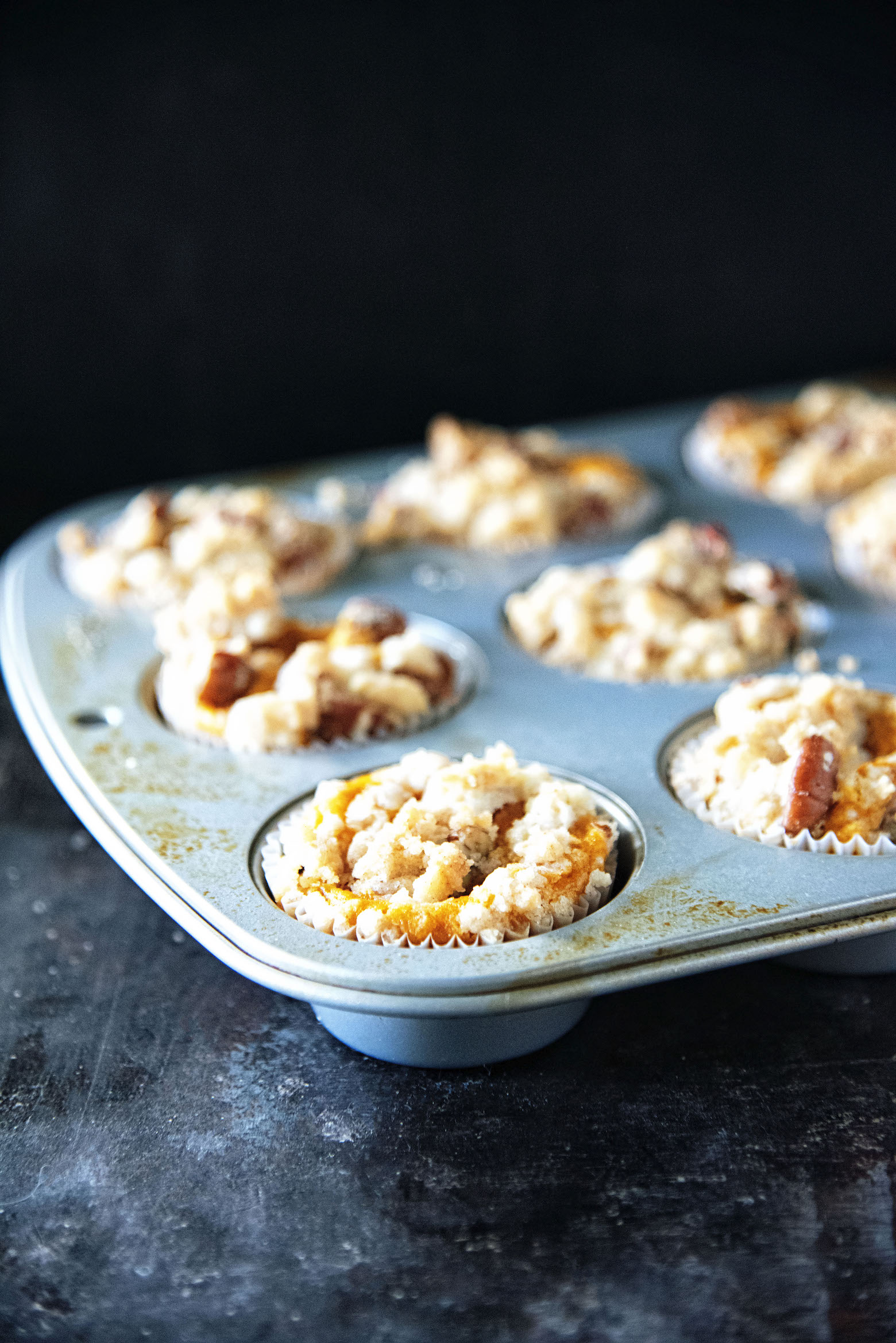 While most of us are using pumpkin in everything for baking we probably should be going sweet potato.
Because as in all baked goods as something bakes, the longer it bakes the sweetness or flavor intensifies.
And well, sweet potatoes have more sugar and are therefore more sweet.
Honestly, I think pumpkin gets used more because you can get it canned.
You can get canned sweet potato puree at some stores and always on line.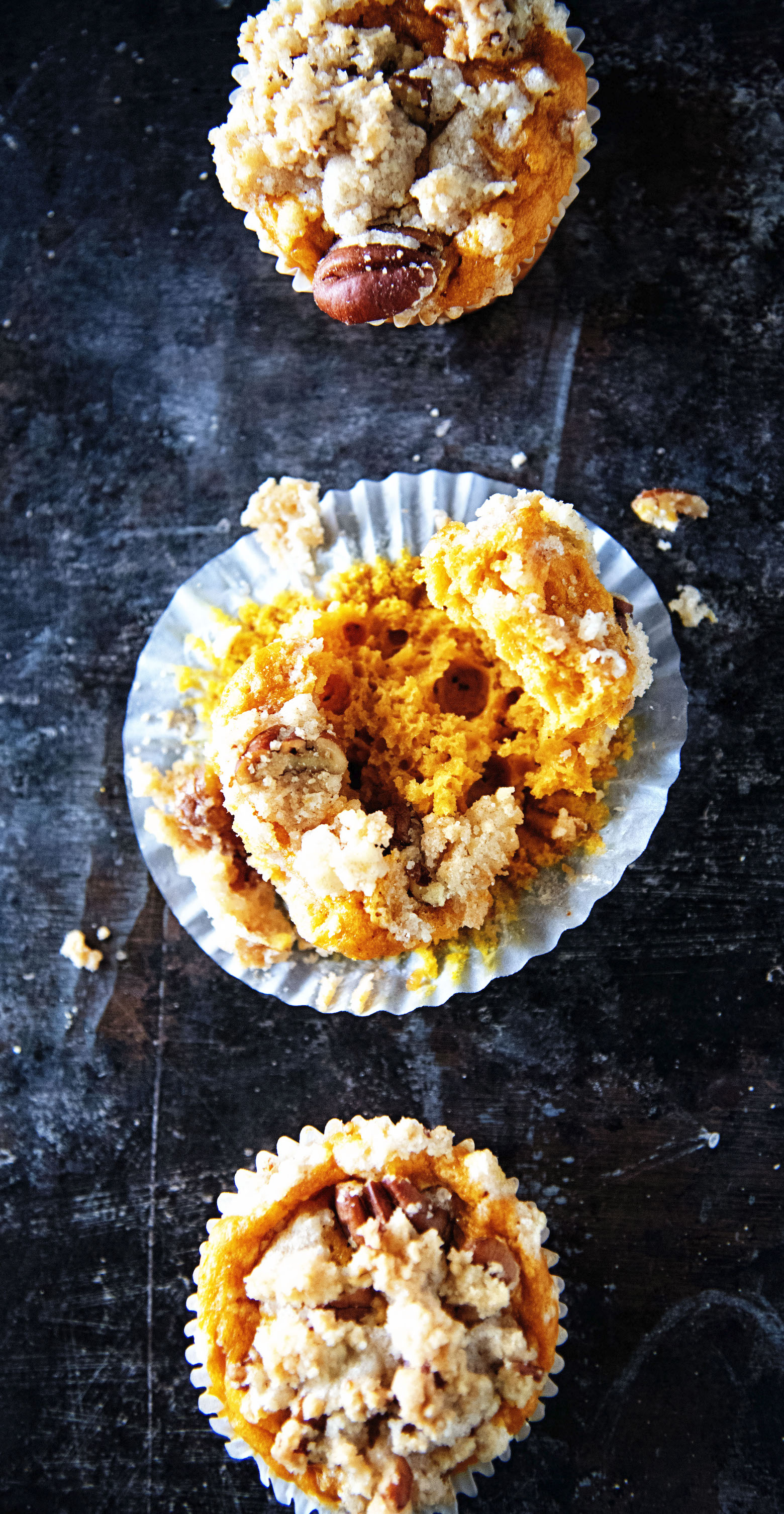 This recipe does not call for canned, it calls for fresh.
That being said you can use canned sweet potato puree if you want.
Two cups of sweet potatoes mashed is the same as two cups of sweet potato puree.
So the choice is yours.
I just happened to have a bunch of sweet potatoes because I bought them at Costco.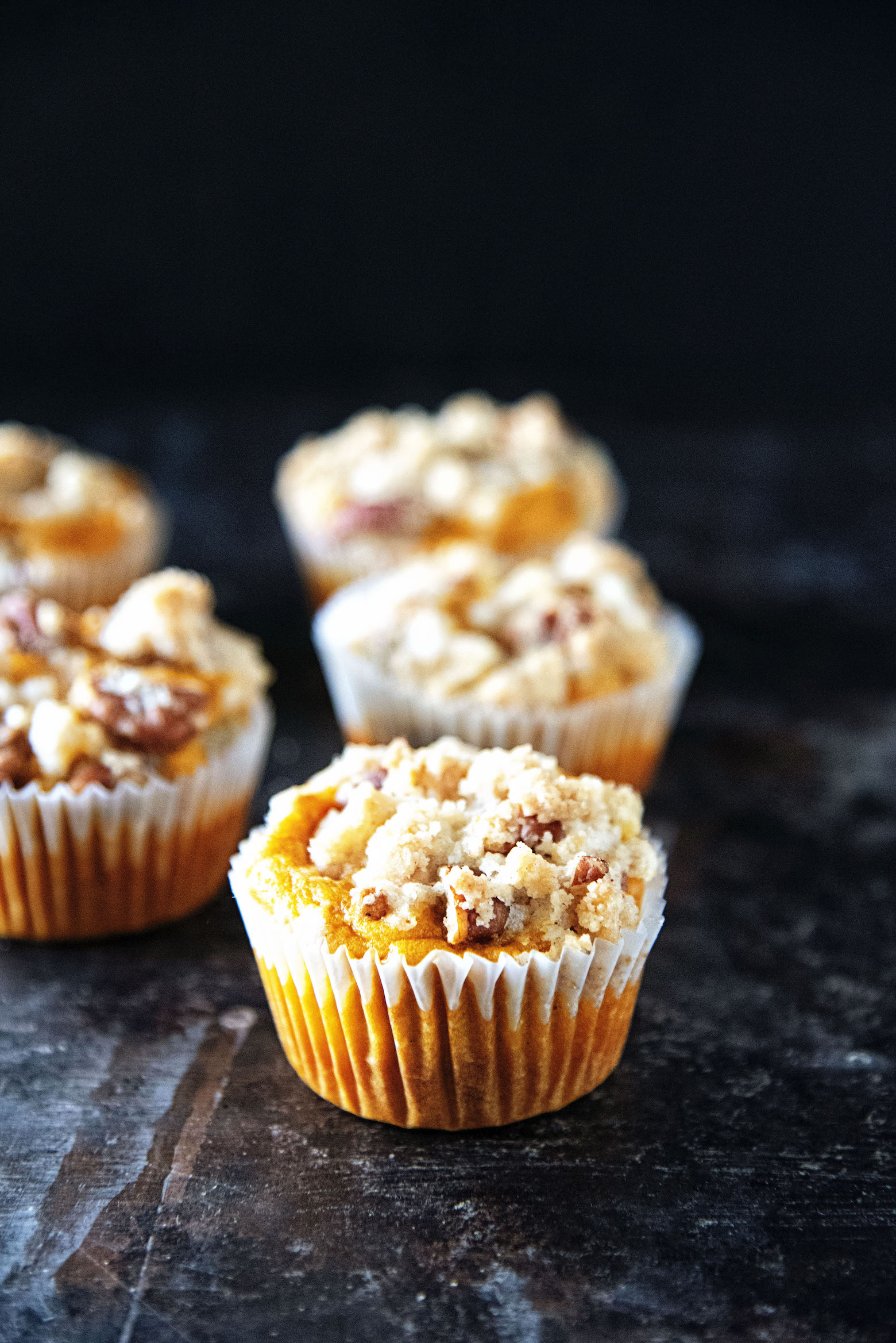 Because I am obsessed with putting crumb top on everything…surprise these Sweet Potato Pecan Crumb Muffins have a crumb topping.
I was lazy and did not chop my pecans very small.
Do yourself a favor and chop your pecans smaller than what you see in the photos.
You will have way better pecan distribution that way.
P.S. It's a great day to buy my cookbook Holy Sweet!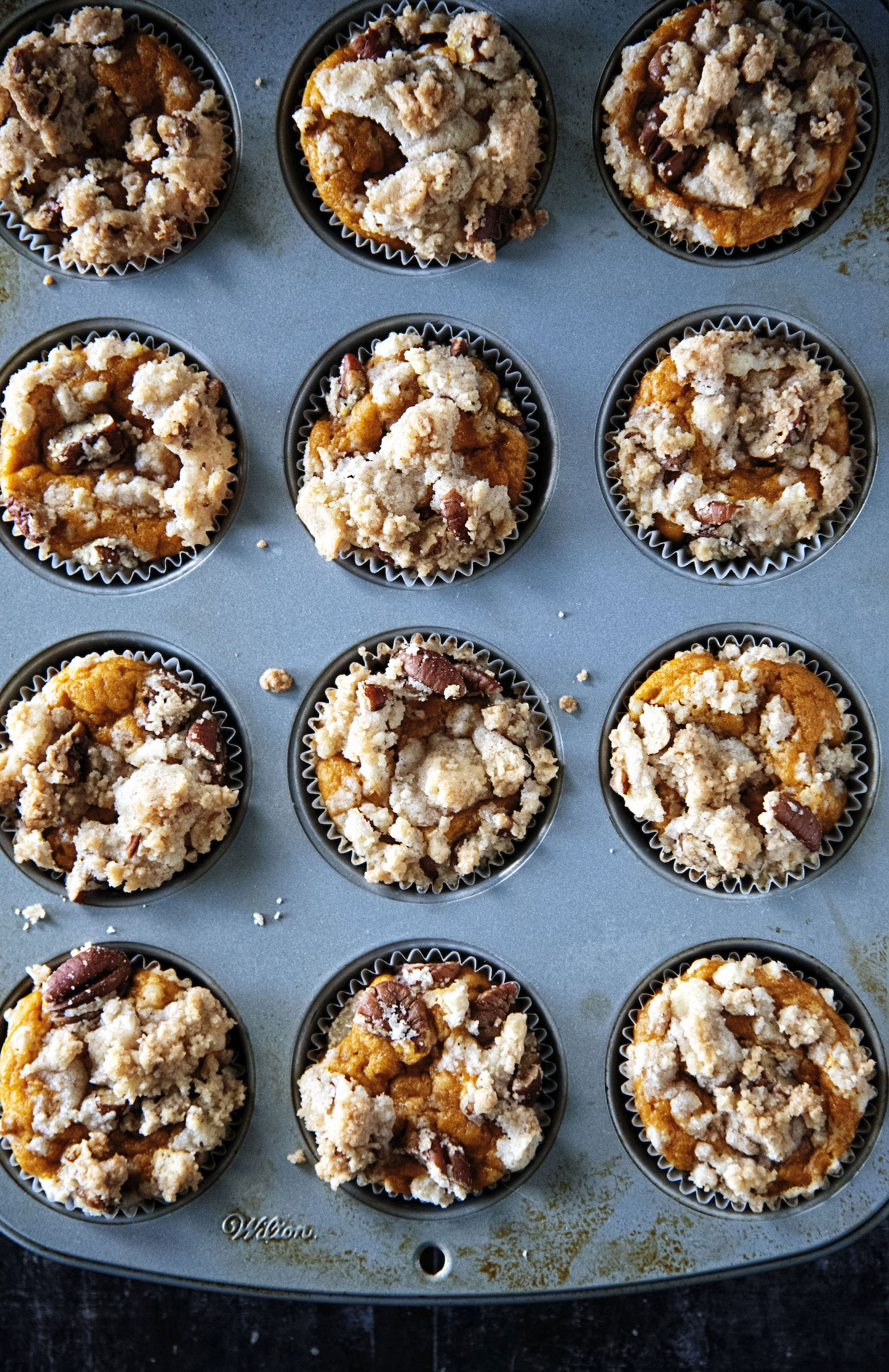 Want more sweet potato recipes?
Brown Sugar Balsamic Roasted Sweet Potatoes
Vegan Sweet Potato Salsa Chili
Sweet Potato Pound Cake with Cranberry Walnut Streusel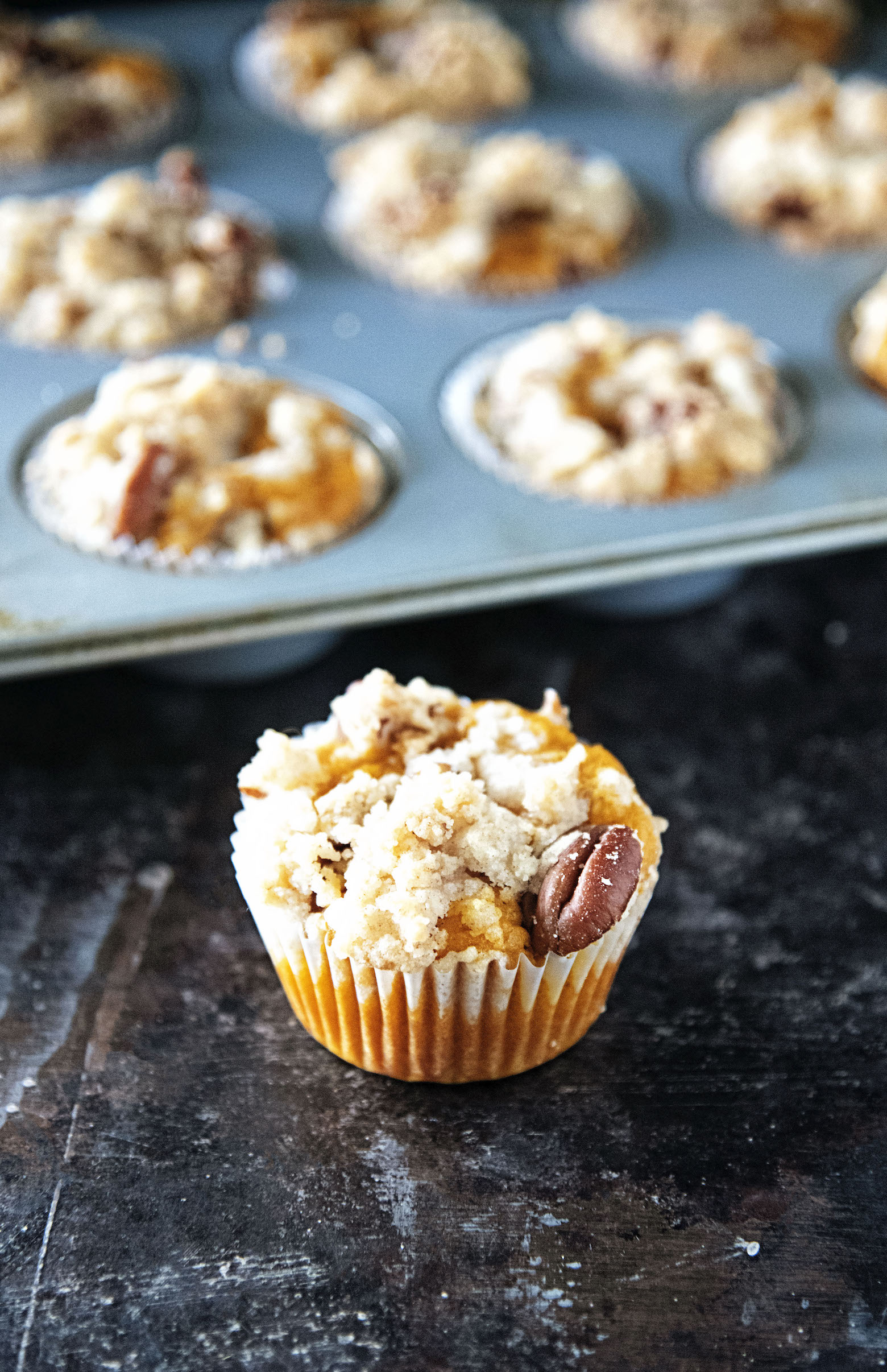 Want more muffin recipes?
Chocolate Covered Strawberry Muffins
Apple Banana Butterscotch Pecan Muffins
Pumpkin Gingersnap Nutella Muffins
Whiskey Glazed Chocolate Chip Muffins
Ingredients
For the Pecan Crumb Topping:
1/3 cup all-purpose flour
1/4 cup granulated sugar
1/4 cup light brown sugar
1/2 tsp. ground cinnamon
Pinch of salt
1/4 cup unsalted butter, cold
1/2 cup pecans, chopped
For the Muffin Batter:
2 cups self-rising flour
2 cups sugar
2 tsp. ground cinnamon
1 egg
2 cups cold mashed sweet potatoes (without added butter or milk)
1 cup canola oil
Instructions
For the Pecan Crumb Topping:
In a medium bowl, whisk together the flour, sugar, cinnamon, and salt.
Cut the cold butter into the mixture until crumbly using a pastry blender or a fork.
Add in the chopped pecans.
Set aside.
For the Muffin Batter:
Preheat oven to 375F.
In a small bowl, combine flour, sugar and cinnamon.
In another bowl, whisk egg, sweet potatoes and oil.
Stir into dry ingredients just until moistened.
Fill greased muffin cups two-thirds full.
Sprinkle about 2 teaspoons of the mixture evenly over each muffin.
Avoid piling the streusel in the middles of the muffins or they will sink in the middle during baking.
Bake 18-20 minutes or until a toothpick inserted in muffin comes out clean.