Sweet Corn Strawberry Cornbread Shortcake: Twist on classic strawberry shortcake using cornbread, sweet corn ice cream, honey caramel sauce, and of course plenty of strawberries.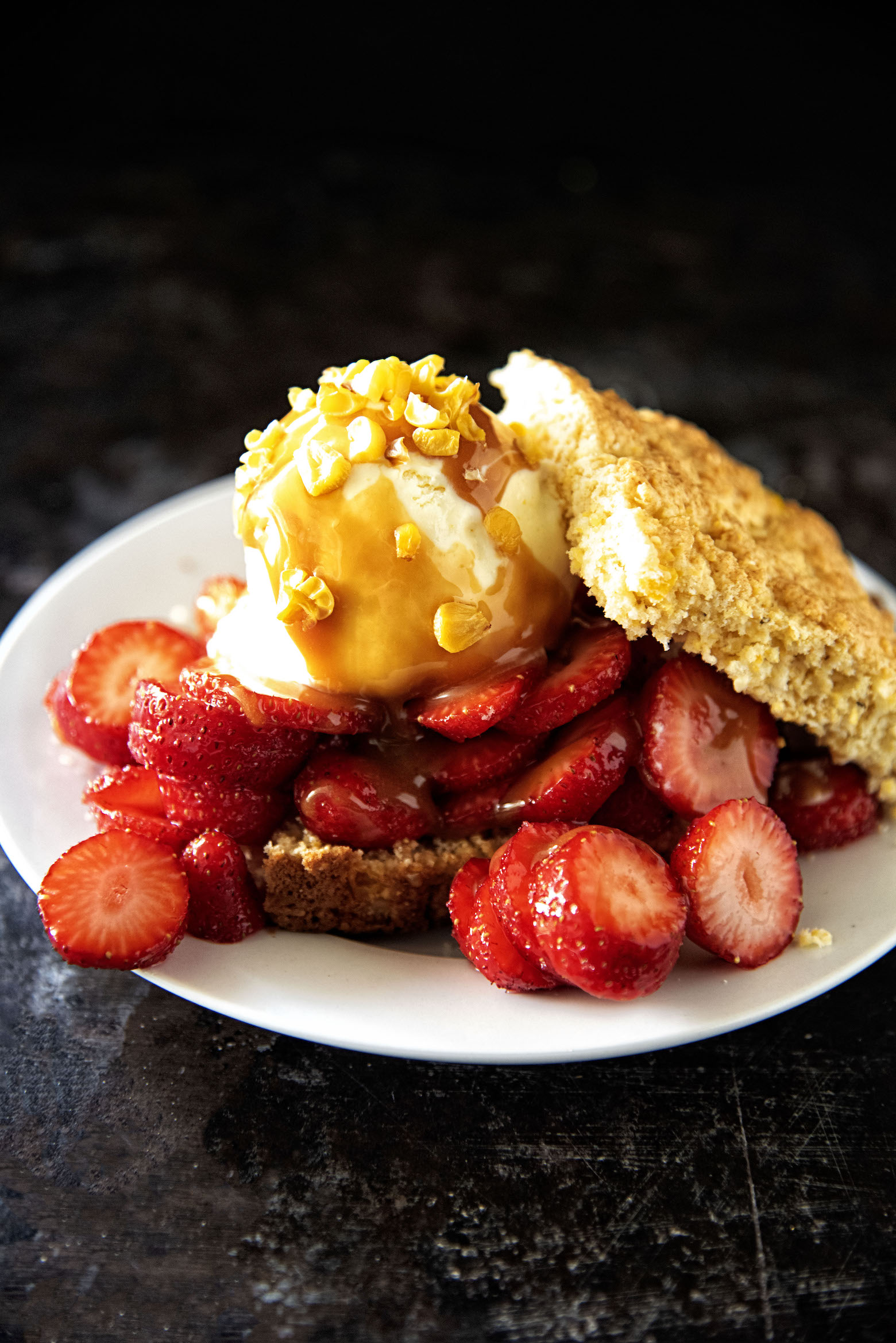 I have a notebook of the random things I think of when I'm not at home.
I also keep one by my nightstand at night.
So I won't forget.
Because I'm at that age where I forget.
Most everything in those notebooks are recipes or ideas for recipes.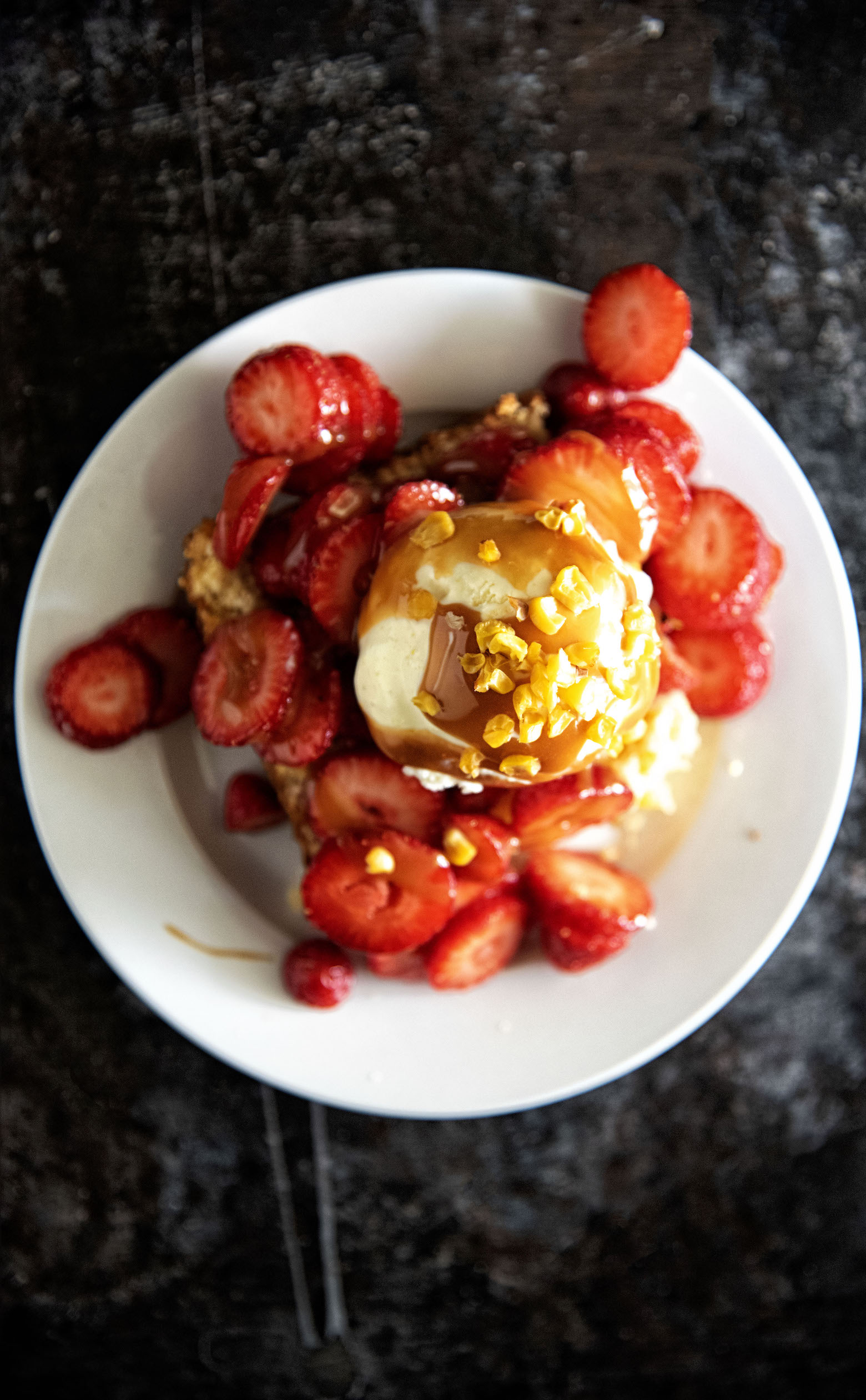 Years ago I got the idea to make a peach shortcake using cornbread.
I got the idea while we were in Nashville.
And then I didn't make it.
Ran across the idea while going through a cookbook.
It wasn't a shortcake but a sundae and it used green chili cornbread (yuck) and sweet corn ice cream.
While I did not want to make that it did inspire me to want to make the shortcake.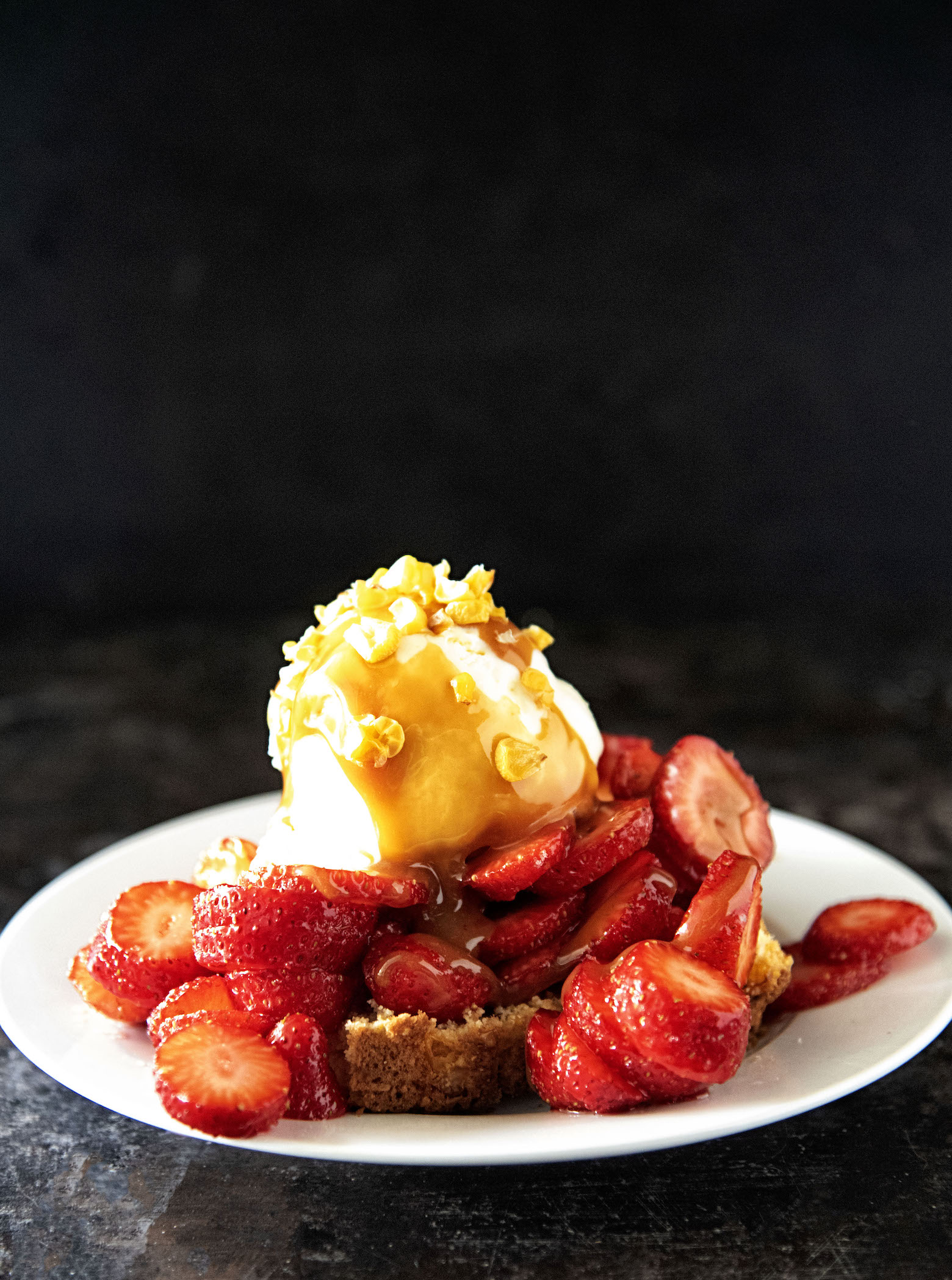 Luckily I'm surrounded by sweet corn this time of year.
You can't go less than a 1/2 mile around these parts without seeing CORN on a sign somewhere.
But when I went to get the peaches they only looked so-so and the strawberries looked amazing.
So the recipe changed right then and there.
And it became Sweet Corn Strawberry Cornbread Shortcake.
I have no doubt this could go great with peaches or other berries.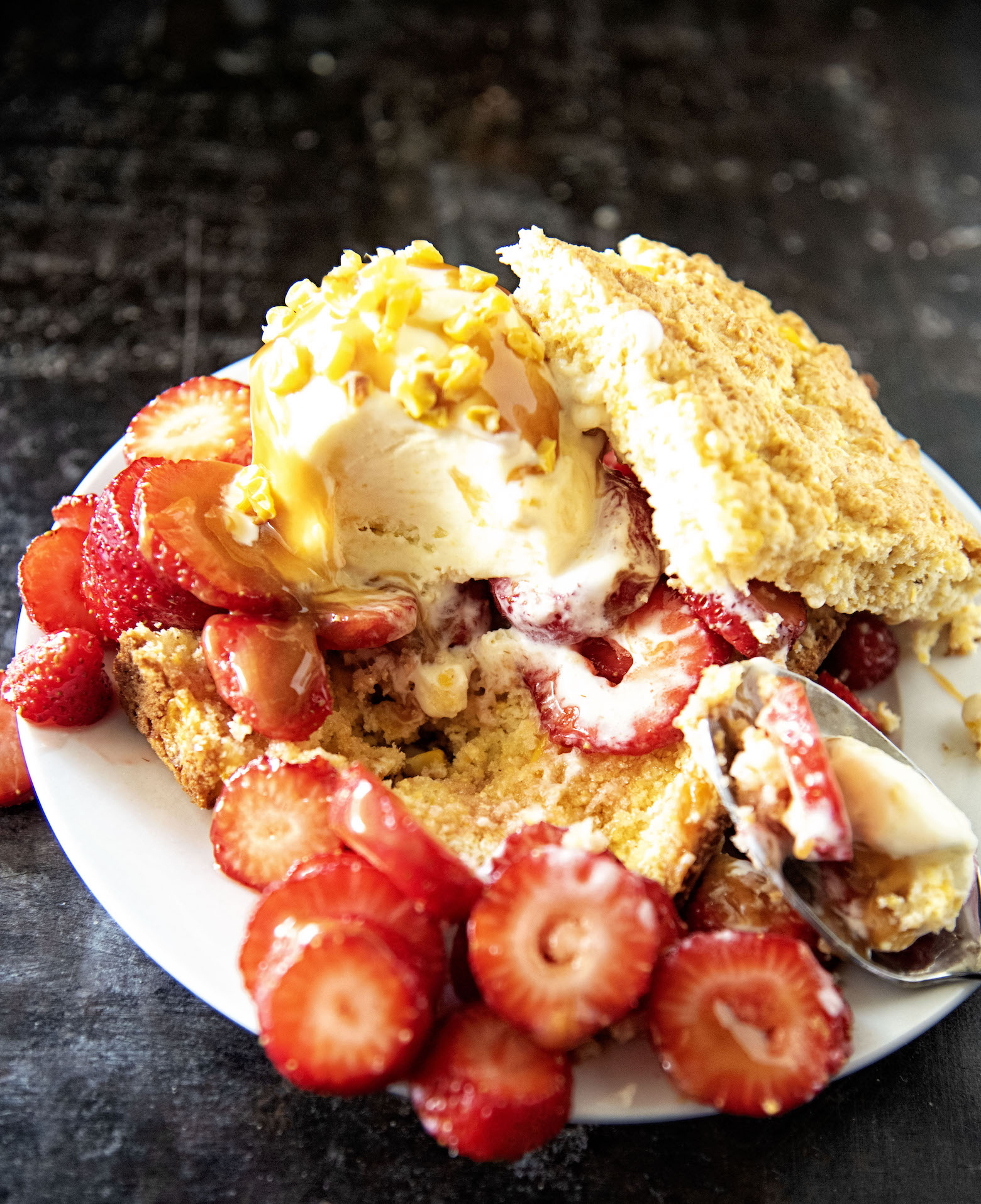 I've made sweet corn ice cream before.
Love it.
If you have never had it you are missing out.
This is not a quick recipe.
No sponge cakes from the store that they have by the strawberries.
There is some time investment in these.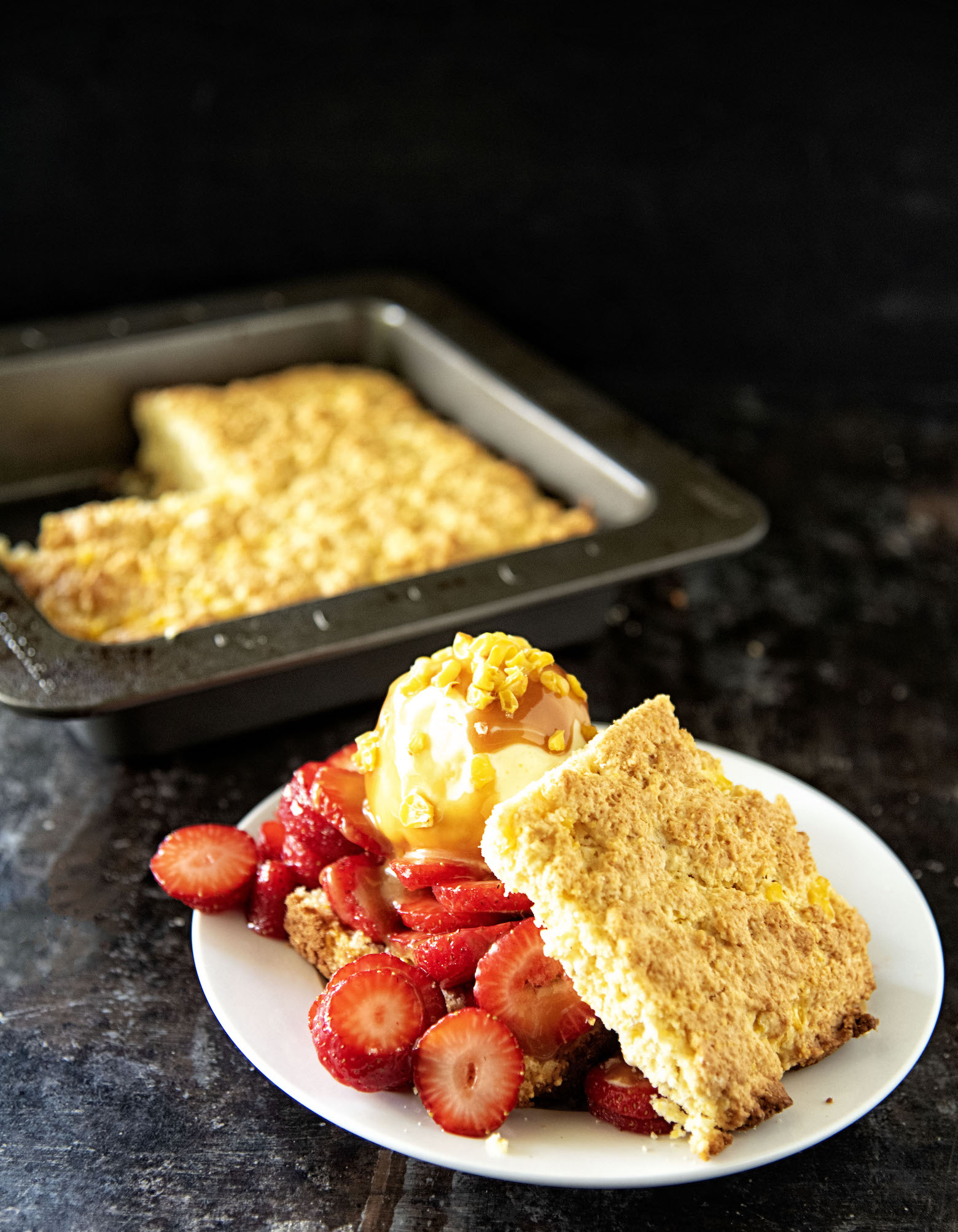 The cornbread recipe is not my usual one.
It's a little drier than mine but once it is topped with all the juicy berries and ice cream it works great.
I like to make a big batch of the sweet corn ice cream as it's a great way to keep fresh corn flavor around well past when corn season is over.
Some people can corn…I make it into ice cream. 😀
If you've got the time I HIGHLY suggest making this.
And as always it's a great day to order my cookbook.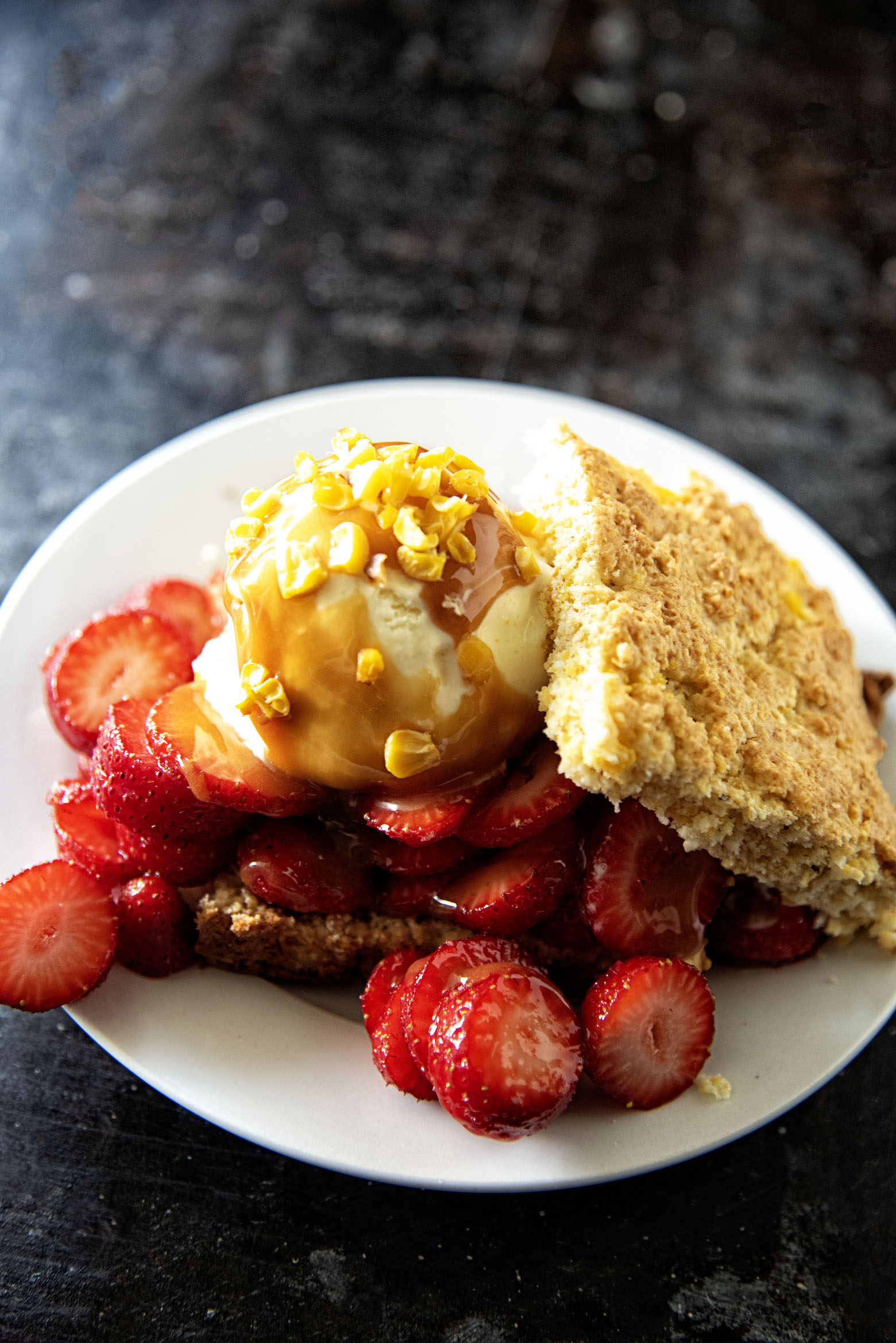 Want More Strawberry Shortcake Recipes?
Glazed Donut Strawberry Shortcake Boozy Milkshake
Strawberry Shortcake Layer Cake
Glazed Donut Strawberry Shortcake
Strawberry Shortcake using Cinnamon Scented Biscuits and Mascarpone Cheese
Pound Cake Strawberry Shortcake Tower
Ingredients
Roasted Sweet Corn Ice Cream:
3 ears sweet corn, shucked and cleaned
2 cups whole milk
1 1/4 cups heavy cream
2 TBSP corn syrup
1/2 cup granulated sugar
1/4 tsp. salt
4 tsp. cornstarch
3 TBSP cream cheese
For the Cornbread:
2 TBSP butter, melted
1 1/4 cups of unbleached all purpose flour
3/4 cup fine cornmeal
1/4 cup granulated sugar
1 TBSP +2 tsp. baking powder
1 tsp. kosher salt
1 large egg
1/2 cup whole milk
1/4 cup buttermilk
1/2 cup roasted corn (you can use what was leftover from the ice cream)
For the Honey Caramel Sauce:
2 TBSP honey
1/2 cup heavy cream
1/2 cup granulated sugar
1/4 tsp. salt
2 TBSP unsalted butter
1/2 tsp. vanilla extract
For the Strawberries:
6 cups sliced strawberries
1/4 cup granulated sugar
Instructions
For the Sweet Corn Ice Cream:
Preheat the oven to 350°F.
Cut off the corn kernels. 
Spread them out on a parchment lined baking sheet and roast them for 15 to 20 minutes or until they begin to turn golden brown in parts.
In a medium sauce pan, heat 1 1/2 and a half cups of the milk with the cream over heavy heat, until scalded.
Add the roasted corn kernels and turn off the heat.
Let the corn infuse into the liquid for 30 to 40 minutes.
Strain out the corn.
Whisk the sugar, corn syrup, and salt into the infused milk.
Bring them to a boil over medium high heat.
Whisk together the remaining 1/2 cup of the milk and the cornstarch in a small bowl and then add them to the infused milk.
Stir constantly until mixture thickens and coats the back of a spoon, about two minutes.
Pouring liquid into a blender.
Add a half a cup of corn leftover from the infused milk.
Add the cream cheese.
Blend together until mixture is smooth.
Place the ice cream base in an airtight container and refrigerate for at least eight hours before turning into ice cream following the manufactures directions for your machine.
For the Cornbread:
Preheat to 375°F.
Spray an 8 inch square baking dish with baking spray and set aside. 
In a large bowl, whisk together the flour, cornmeal, sugar, baking powder, and salt.
In a separate small bowl, beat the egg, buttermilk, and milk together, then add them to the dry ingredients along with a two 2 tablespoons melted butter and the corn kernels.
Stir well, then spread the batter into the prepared baking dish.
Bake for 30 to 35 minutes or until browned around the edges.
For the Honey Caramel Sauce:

Combine honey, 2 tablespoons water, and sugar in a medium saucepan. 

Heat over medium, swirling until sugar is dissolved. 

Bring to a boil; cook until mixture is deep golden brown, 5 to 6 minutes. 

Remove from heat and carefully whisk in cream, butter, salt, and vanilla (mixture will spatter); let cool completely. 

Sauce can be refrigerated in an airtight container up to 2 weeks; gently reheat before serving.

For the strawberries:
Mix well and let sit in bowl for at least 10 minutes. 
To prepare the shortcakes:
Cut cornbread into 6 pieces. 
Slice them hamburger style (aka horizontally)
Place bottom half on a plate.
Top with strawberries. 
Then add a scoop of sweet corn ice cream. 
Drizzle with caramel sauce. 
Top with the other half of the cornbread.