This Sweet Corn and Raspberry Babka is swirled with fresh raspberries and fresh sweet corn. A true taste of summer's bounty.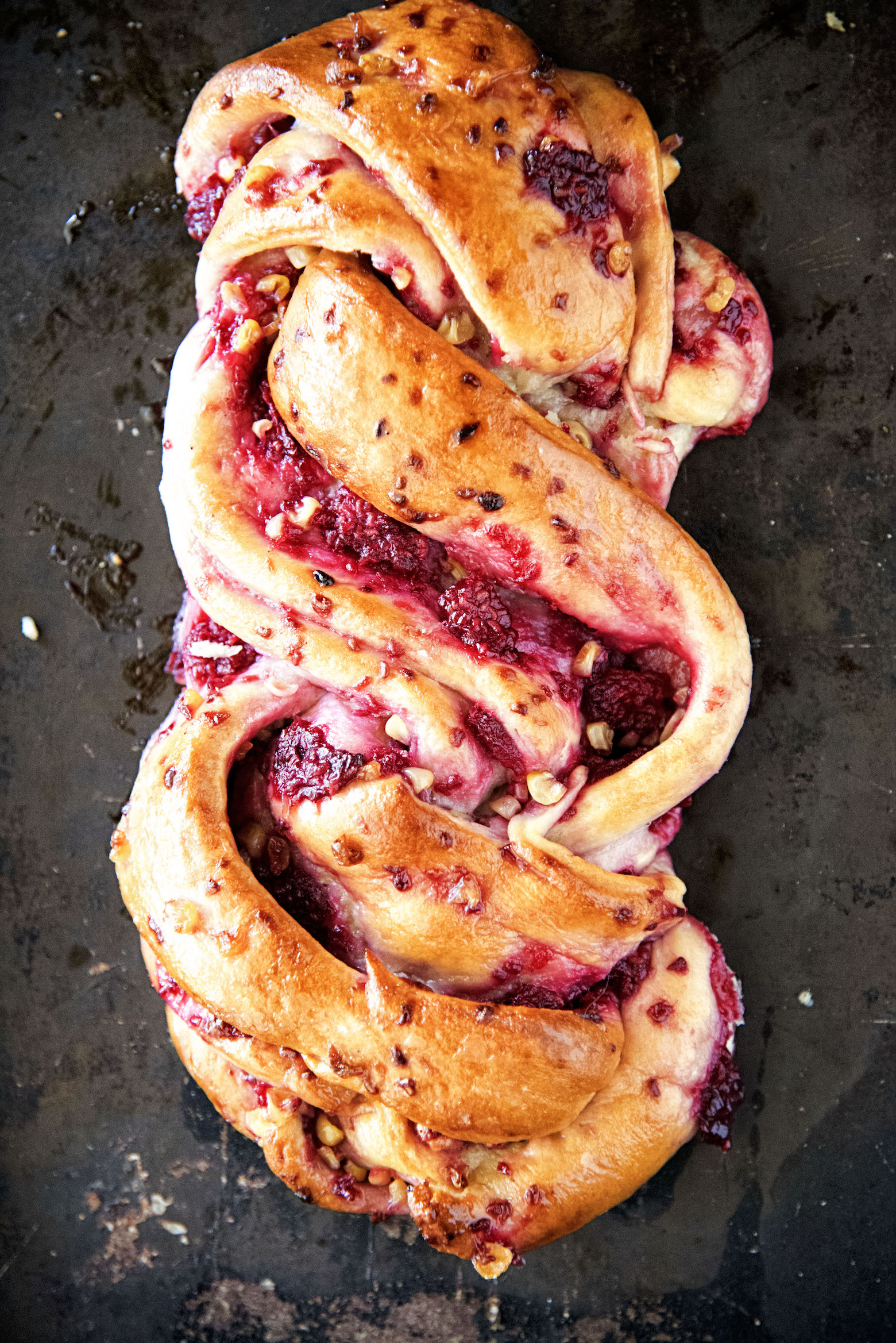 More than a few of my friends have been asking if I'm having a midlife crisis.
Probably. 🙂
I call it more of a midlife clarification.
For about five years my husband and I talked about getting an travel trailer.
But we didn't even own a house so it was very much the someday maybe when we retire talk.
Then we started collecting spaniels with special needs.
And the reality was if we wanted to go on a vacation, or even over to my parents, that we needed something that the dogs could stay in with us.
It's not so much a travel trailer as it is a hotel on wheels. 😀
Enter my husband's heart attack, his second stent, our dog passing, and my health scare (which didn't even happen until after we got the trailer).
When that all happened the realization of we don't know how long we have on this Earth and we have a lot of putting off until someday came about.
The hubby and I had been looking and looking online for a floor plan that suited us.
Much harder than we thought it would be.
We didn't want bunks.
Just wanted one bed.
Didn't want a dinette but a couch instead.
Were not keen on the bathrooms that had the shower OVER the toilet.
Found one we liked and went and looked at it.
The RV sales guy wasn't super gung ho on selling one to us so we asked a friend who recently bought and RV where they go theirs.
Pasco. Which is quite a few hours away from where we live.
It's a large dealership but they did not carry the brand we had liked the floor plan we liked best.
But we asked for the name of the salesman they went through and the next thing you know my husband is calling me on a Wednesday afternoon telling me that he was driving to Pasco (so MUCH cheaper over in Eastern WA) on Friday to buy a trailer.
Umm. What?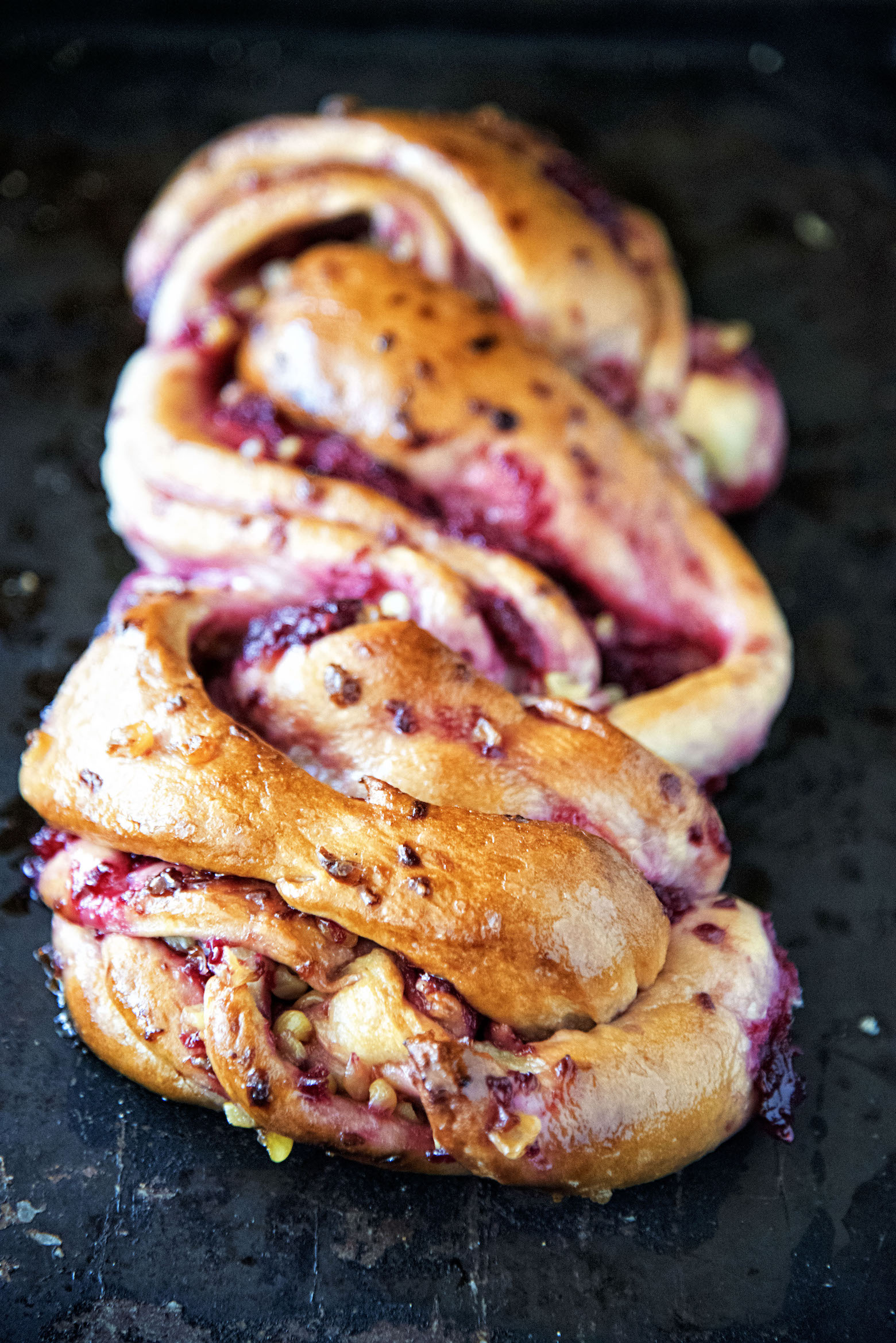 This is not something we do.
We are the type of people who buy our cars for cash (much older cars).
So signing up to own a want not a need and a payment was a tad crazy for us.
That being said, it's the perfect trailer for us and the dogs.
And I look forward to our no doubt chaotic but fun adventures in it.
If you follow my dogs on IG there will probably be way more photos of our adventures on that account than my bakerpeabody one.
So if you have interest in seeing the trailer it will be there with the hashtag #campingwithspaniels
On to this Sweet Corn and Raspberry Babka.
One of the few things I love about summer…and there are so very few…is sweet corn and berries.
I feel people don't use sweet corn as much as they should be in desserts or breads.
This bread is a result of again watching British Bake Off. 🙂
While I ended up free forming my babka, you should totally put it in a loaf pan.
Also, I used Tayberries in mine and not raspberries but those are not widely available and are only in season for a few weeks a year.
So go with raspberries.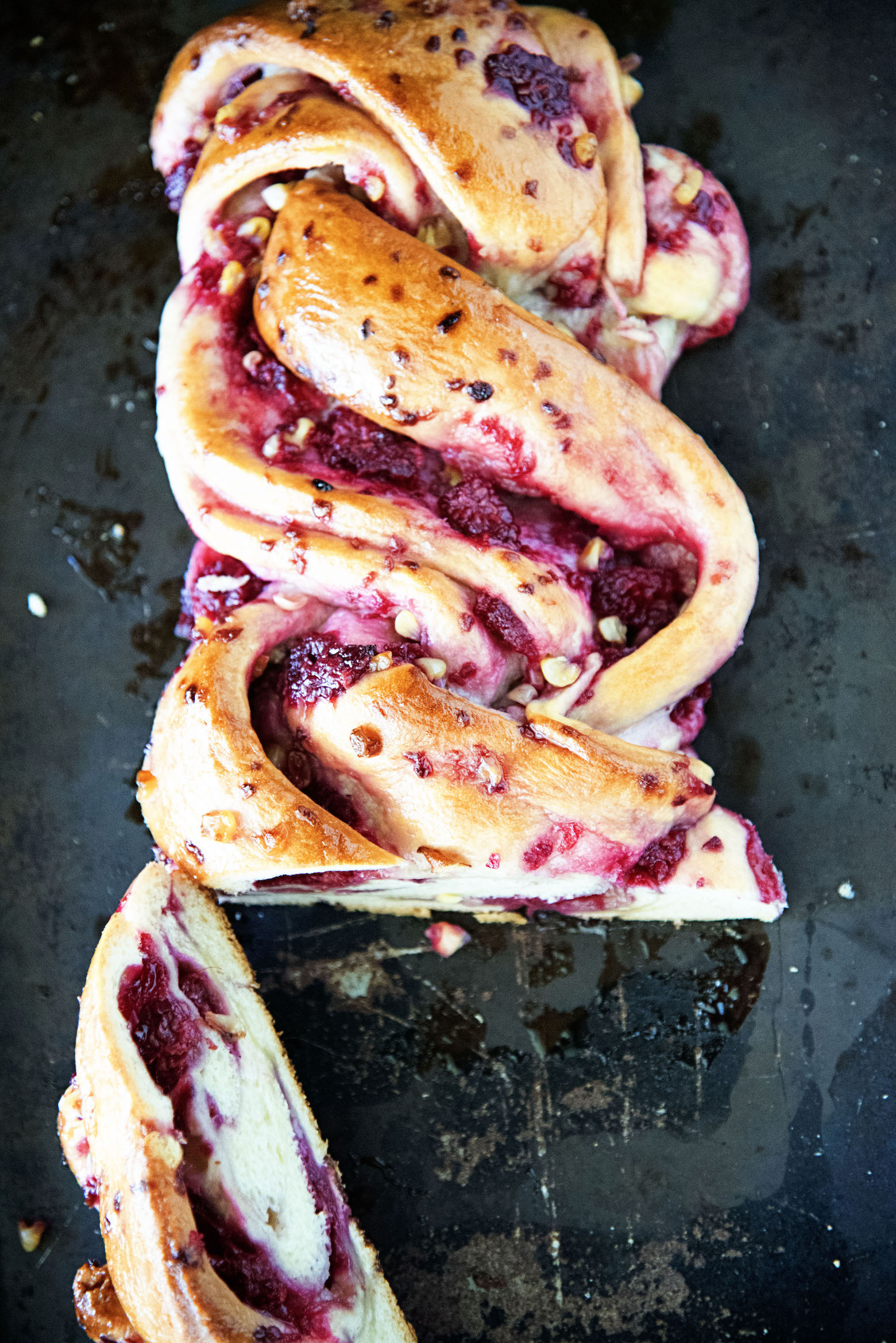 Want More Babka Recipes?
Oatmeal Chocolate Chip Cookie Babka
Ingredients
For the dough:
1 TBSP dry active yeast (I used Red Star Yeast)
1/2 cup + ½ tsp. sugar
½ cup lukewarm water (105-110F)
4 ½ cups all-purpose flour
2 tsp. vanilla extract (I used Rodelle)
½ cup whole milk
¾ cup (1 ½ sticks) unsalted butter, melted
2 eggs
For the filling:
1 cup sweet corn, sautéed in 2 tsp. unsalted butter
2 cups raspberries or tayberries (if in season and you can find them)
3 TBSP granulated sugar
For the Sugar Syrup:
2/3 cup water
1 cup granulated sugar
1 tsp. vanilla extract
Instructions
To make the dough:
Place the yeast and ½ teaspoon sugar in a small bowl.
Add the lukewarm water and stir gently to mix.
Set aside until foamy, 5 to 10 minutes.
In a stand mixer fitted with a dough hook, mix together the flour, 1/2 cup sugar, and 2 teaspoons vanilla.
In a medium saucepan, scald the milk (bring almost to a boil, until milk is just simmering).
Allow to sit for 1 minute to cool just slightly.
With mixer on low, add the water-yeast mixture, milk, and melted butter.
Add eggs one at a time.
When the dough begins to come together, after 2 to 3 minutes, turn off mixer and scrape down the sides.
Raise the speed to high and mix for another 5 to 10 minutes until the dough is shiny and elastic. Place dough in a greased bowl with a damp towel on top.
Allow to rise until it has doubled, about 1 to 2 hours.
While dough is rising, make the filling and the topping.
 For the filling:
In a medium sized bowl toss the berries in the sugar. Mash them slightly with a fork.Fold in corn to the berry/sugar mixture
Making the Sugar Syrup:
 Combine water and sugar in a medium saucepan.
Bring to a low boil until the sugar has dissolved.
Add the vanilla and whisk until fully combined.
Set aside to cool.
Making the babka:
Cut the dough into two equal parts.
Roll out one part into a rectangle.
Sprinkle half of the mixed candied fruit onto the rolled out dough.
Press the fruit down into the dough so as to help keep it in place.
Roll dough up like a cinnamon roll and cut it straight down the middle so the filling is exposed.
The fruit and corn will come out. Just shove it back in. Show it who's boss. 🙂
Cut ½ inch off each end.
Layer each cut piece on top of one another and twist.
Place in a greased loaf pan.* I did free form ones because my loaf pans were in the dishwasher. Use a pan.
Repeat with other babka dough.
Lightly drape a kitchen towel over the top of pans.
Allow to rise another 30 minutes.
Preheat oven to 350°F while the dough rises.
Bake for 20 minutes with aluminum foil lightly tenting the bread.
Remove foil and brush on sugar syrup.
Return to oven and bake another 15-20 minutes.
The edges should be slightly brown and the middle should be slightly doughy.
Allow to cool for 5 to 10 minutes.
Using a butter knife, loosen sides of the babkas from the pans and place on top of parchment wire rack to cool.
Brush the babkas a few more times with the sugar syrup.
Let glaze harden up a little, about 30 minutes.