This Sweet Corn and Berry Sugared Donut Cake is scented with sweet corn and swirled with homemade berry jam all coated in butter and sugar.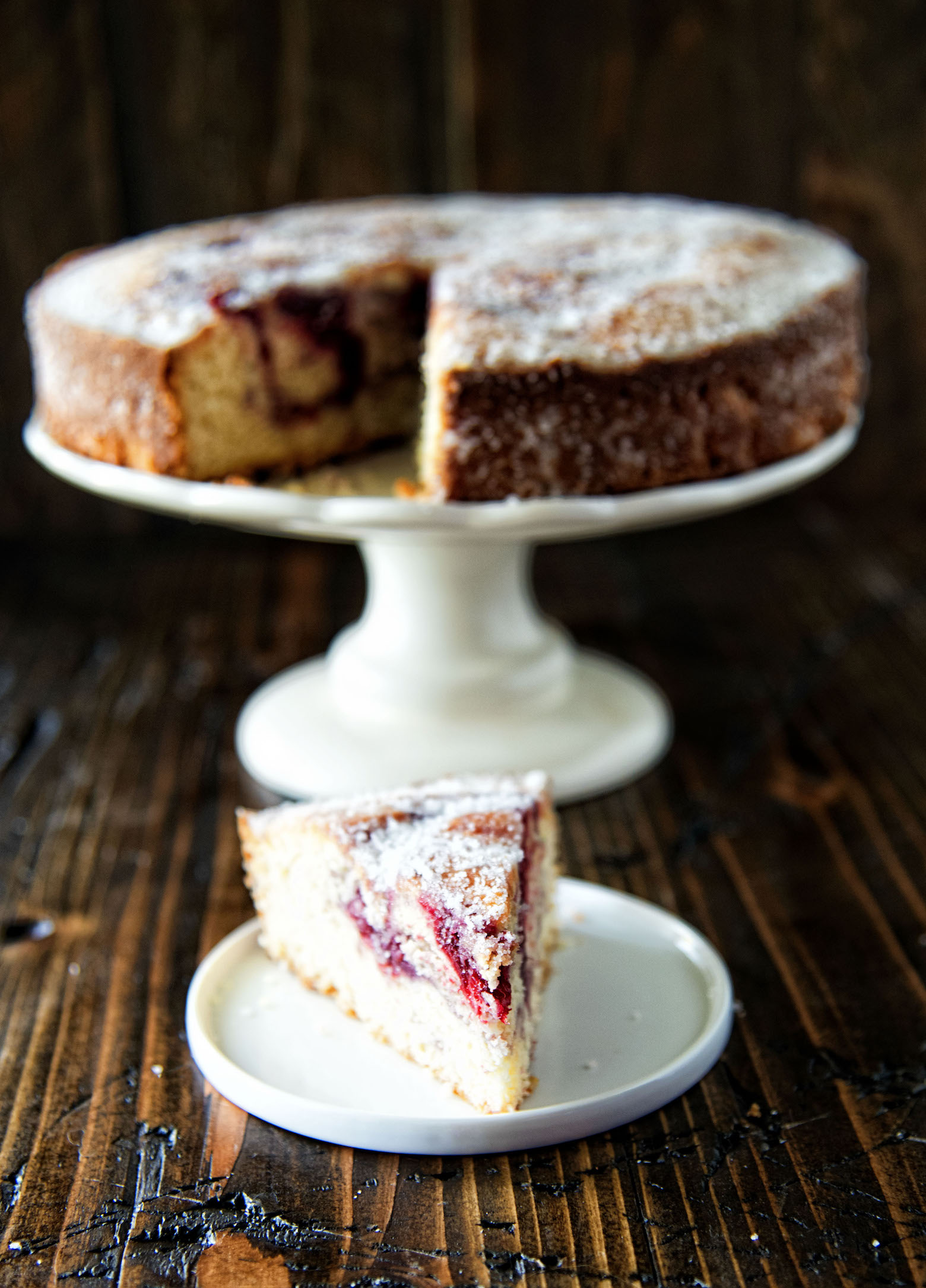 The Internet gets a lot of hate.
Social media gets a lot of hate.
It gets a ton of hate as of late in it role in our political climate.
I might point out that the people writing and sharing these things articles are the issue but whatever.
But I want to talk about the good the Internet can do.
Today I reached $8000 raised for Old Dog Haven.
Most of my donations did not come from friends and family.
No, most of my donations, a good 3/4 came from strangers.
Strangers who follow my dog's Instagram account, follow this blog, and follow me on Twitter.
And it's amazing.
Sure the amount is amazing but what is amazing is no one asked if the dogs were Democrat or Republican.
They just saw dogs in need and gave.
Some gave $500. And some gave $5.
Each donation means the same thing to me.
These dogs matter and my efforts to help them matter.
There are other teams who are close to our number of money raised.
But what I love best about the money I have raised for these dogs is the variety of people it came from.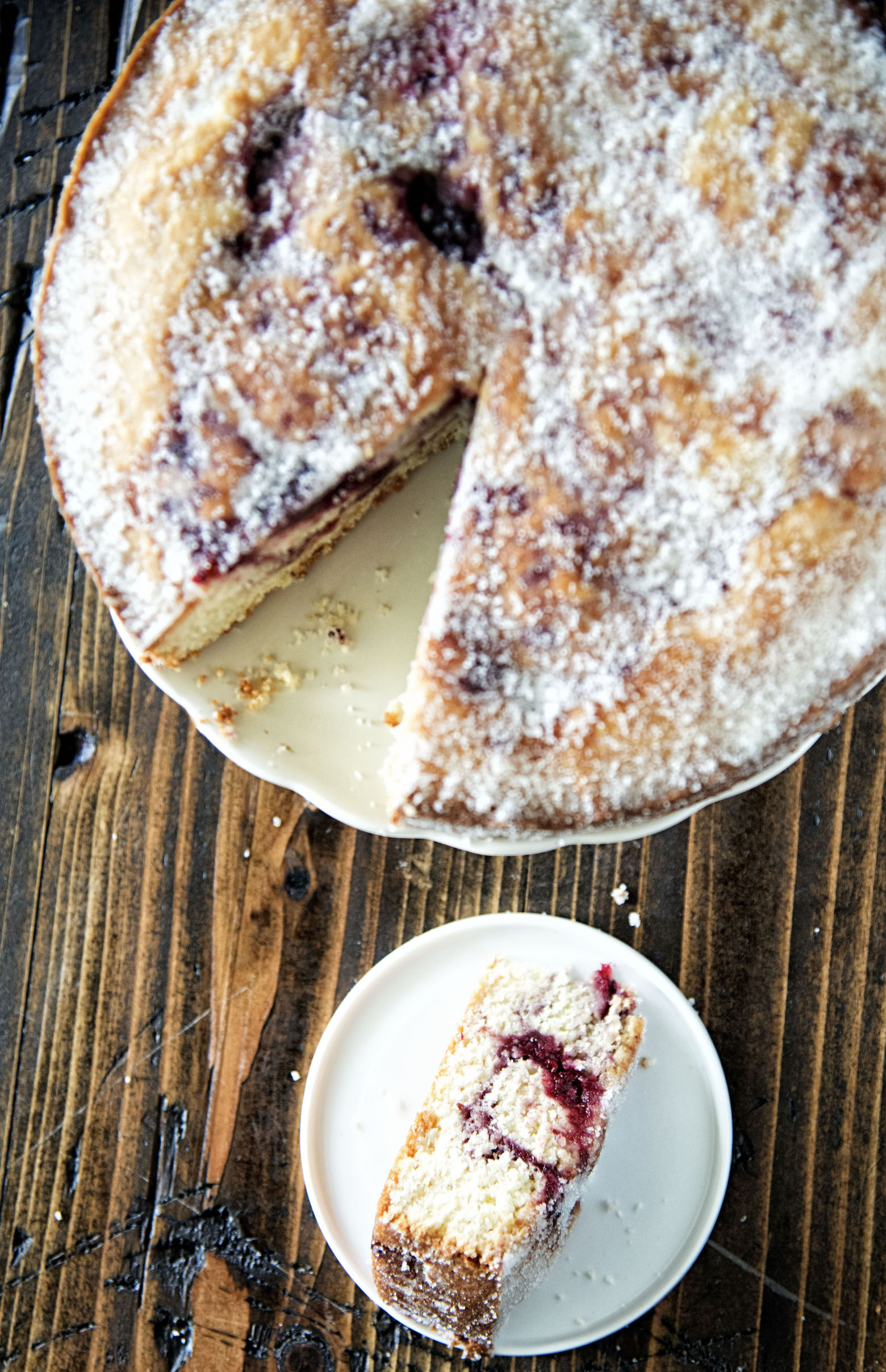 Every year at a hockey tournament they throw for my birthday I make Jell-O shots for free but suggest they make a donation.
Fifty plus guys (and gals) play in this tournament.
While not all donate (or drink) a good solid amount of them do.
Former students of mine have chipped in.
My ex-husband, who also does the walk in honor of Crazy Cocker Spaniel, does.
Hockey players from my team.
Friends from high school.
A good chunk of my dog Mickey's Instagram followers.
Amazingly Twitter.
I saw that because that really is strangers.
From a tennis star's wife to the dog (who is a Cavalier as well) of a very, very well known actor.
It's all heartwarming and gives hope that people are a lot more awesome than we give them credit for…however dogs are always better. 😀
Now, on to this Sweet Corn and Berry Sugared Donut Cake.
We all know I have an obsession with sweet corn.
And this year with all the berries I keep getting from my friend I could not help but make a dessert combining the two.
Sweet Corn and Raspberry Ice Cream is still my favorite ice cream of all time.
So I figured I needed a cake to go with it.
This cake is like a cake donut in texture…that's why it's called a donut cake.
The piping of the batter half way through may seem like a step you want to skip…don't.
I have make this both ways and you need the piping to stop the jam from escaping.
P.S. It's a great day to buy my cookbook Holy Sweet!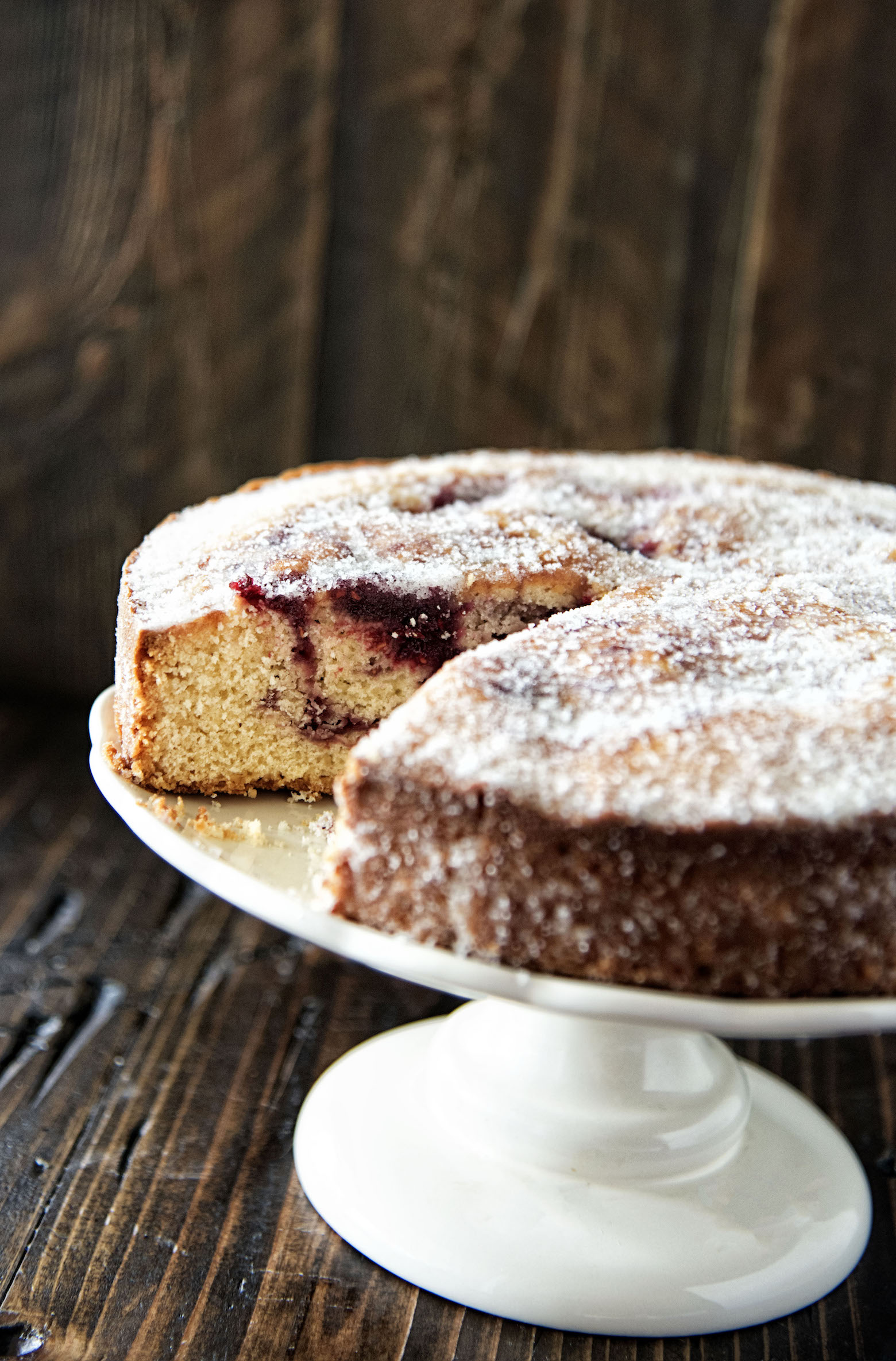 Want More Cake Recipes?
Chocolate Salted Caramel Popcorn Cake
Chocolate Peanut Butter Stout Layer Cake
Vanilla Cheesecake Funfetti Pink Ombre Layer Cake
Ingredients
For the Quick Berry Jam:
1 pound fresh berries (I used blackberries and tayberries)
2 cups granulated sugar
Juice of 1 lemon
For the Cake Batter:
2½ cups all-purpose flour
1¼ cups granulated sugar
1½ tsp.baking powder
3/4 tsp. salt
1/2 tsp. grated fresh nutmeg
1 cup whole milk
2 ears of corn, corn removed
½ cup plus 2 TBSP unsalted butter, melted
2 large eggs
½ tsp. vanilla bean paste
¾ cup Quick Berry Jam
For the Sugared Topping:
½ cup granulated sugar
¼ cup unsalted butter, melted
Instructions
For the Jam:
In a large saucepan, combine all ingredients.
Stir with a wooden spoon, and let stand for 2 hours.
Bring mixture to a boil over medium-high heat.
Cook, stirring frequently, for 5 minutes.Reduce heat to medium, and cook, stirring frequently and mashing berries with a potato masher, until mixture thickens, 20 to 45 minutes.
Remove from heat, and let cool for 1 hour before transferring to a clean jar.
This makes more jam than what is needed for the cake. But it's tasty on everything.Jam will keep refrigerated for up to 2 weeks.
For the cake:
In a large saucepan add the milk and sweet corn, both cob and pieces.
Bring to a boil and once boiling turn off heat and cover.
Let sit for 10 minutes. Remove cobs.
Strain corn pieces out of milk.Reserve 3/4 cup sweet corn milk for recipe.
Preheat oven to 350°F.
Spray an 8-inch round cake pan with baking spray with flour, and line pan with parchment paper.In a medium bowl, whisk together flour, sugar, baking powder, salt, and nutmeg.In a large bowl, whisk together 3/4 cup sweet corn milk, melted butter, eggs, and vanilla bean paste.
Add sweet corn milk mixture to flour mixture, stirring just until combined.Pour half of batter into prepared pan.
Spoon remaining batter into a large piping bag.
Pipe a ring of batter around the inside edge of the pan.
Spoon Quick Berry Jam into center of the ring.
Pipe remaining batter on top of jam, and smooth with an offset spatula.
Bake until a wooden pick inserted in center comes out clean, 55 minutes to 1 hour, covering with foil during last 30 minutes of baking to prevent excess browning, if necessary.Let cool in pan for 10 minutes.
For the topping:
Run an offset spatula around edge of pan to loosen cake before turning out.
Turn cake back over (so dome is on top).
Brush top and sides of cake with melted butter.
Sprinkle top with sugar and press into sides of cake.