This Sugar Cookie Sprinkle Pie is perfect for the sugar cookie lover in your life. Topped with Buttercream frosting and lots of sprinkles.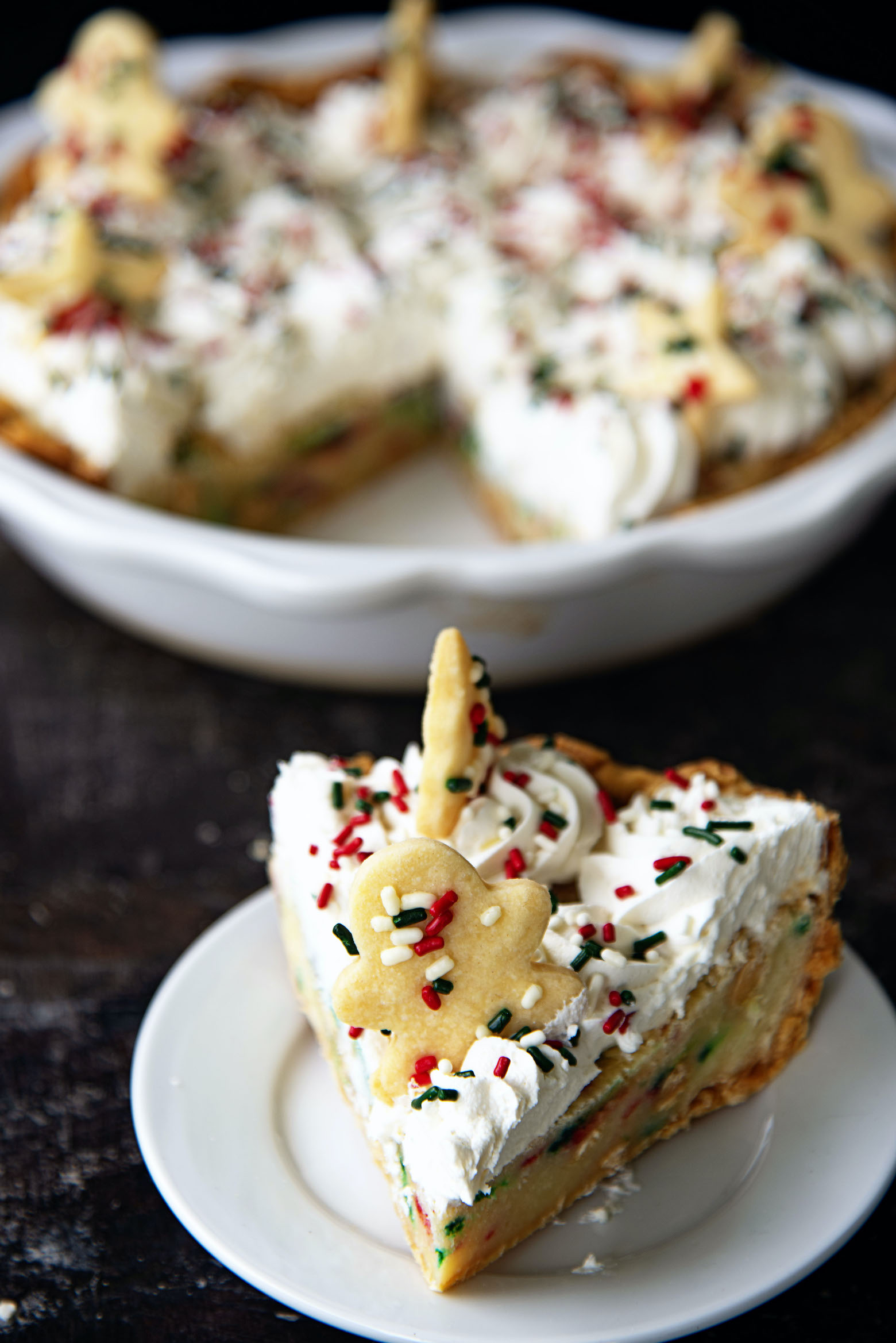 So yeah.
It's a holiday recipe.
You were warned.
Though in reality you can make this Sugar Cookie Sprinkle Pie year round…just throw in different seasonal sprinkles.
But you have to admit this is one happy pie.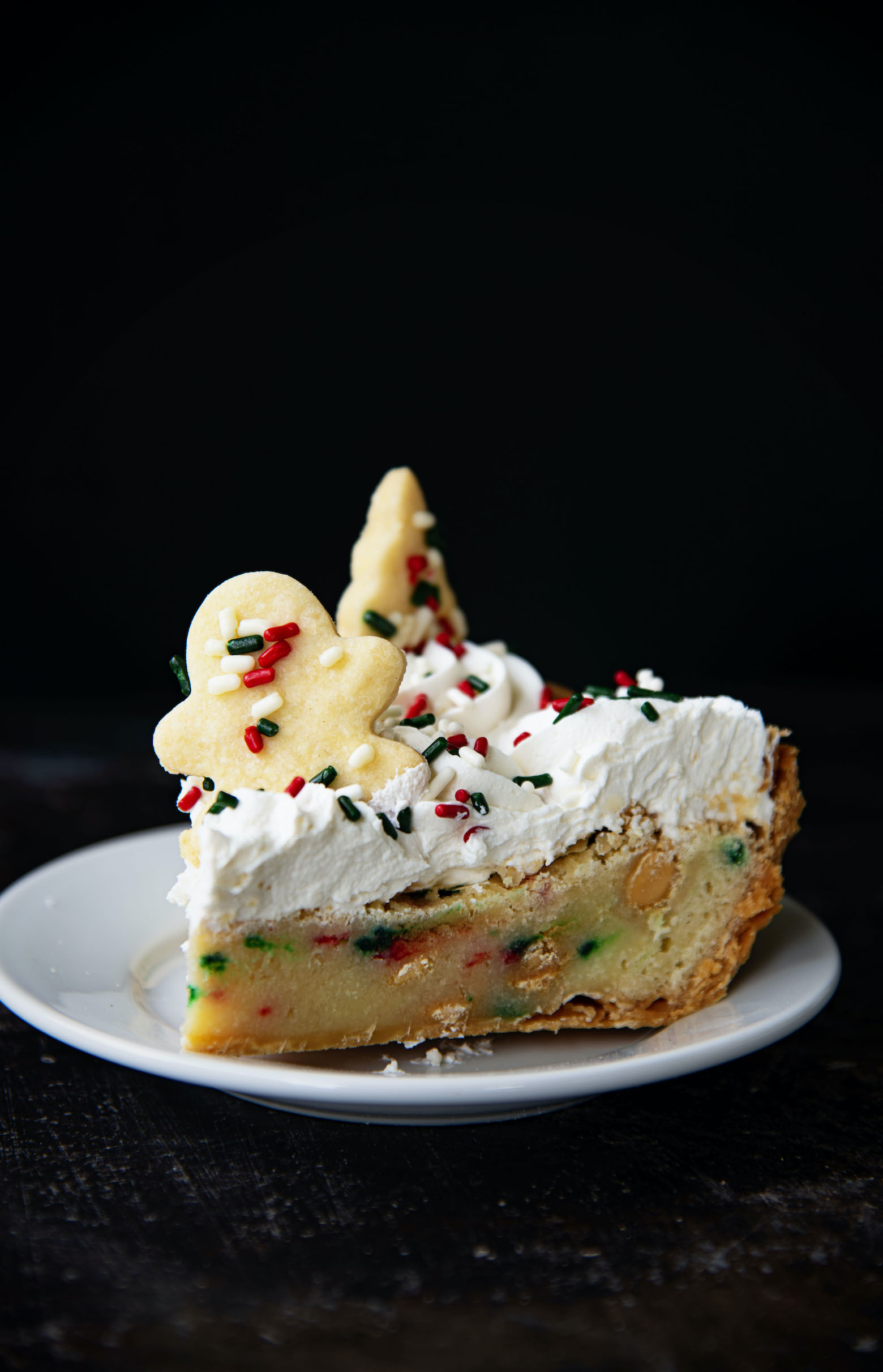 Which is what I was going for.
Just tired of all the election stuff I started baking Thursday night.
And bake I did.
A lot.
It carried over to Friday where I baked all day with the Christmas music on.
My husband was good and didn't say a word. 🙂
Even though I know he was not ready for Mariah belting out All I Want For Christmas. 😀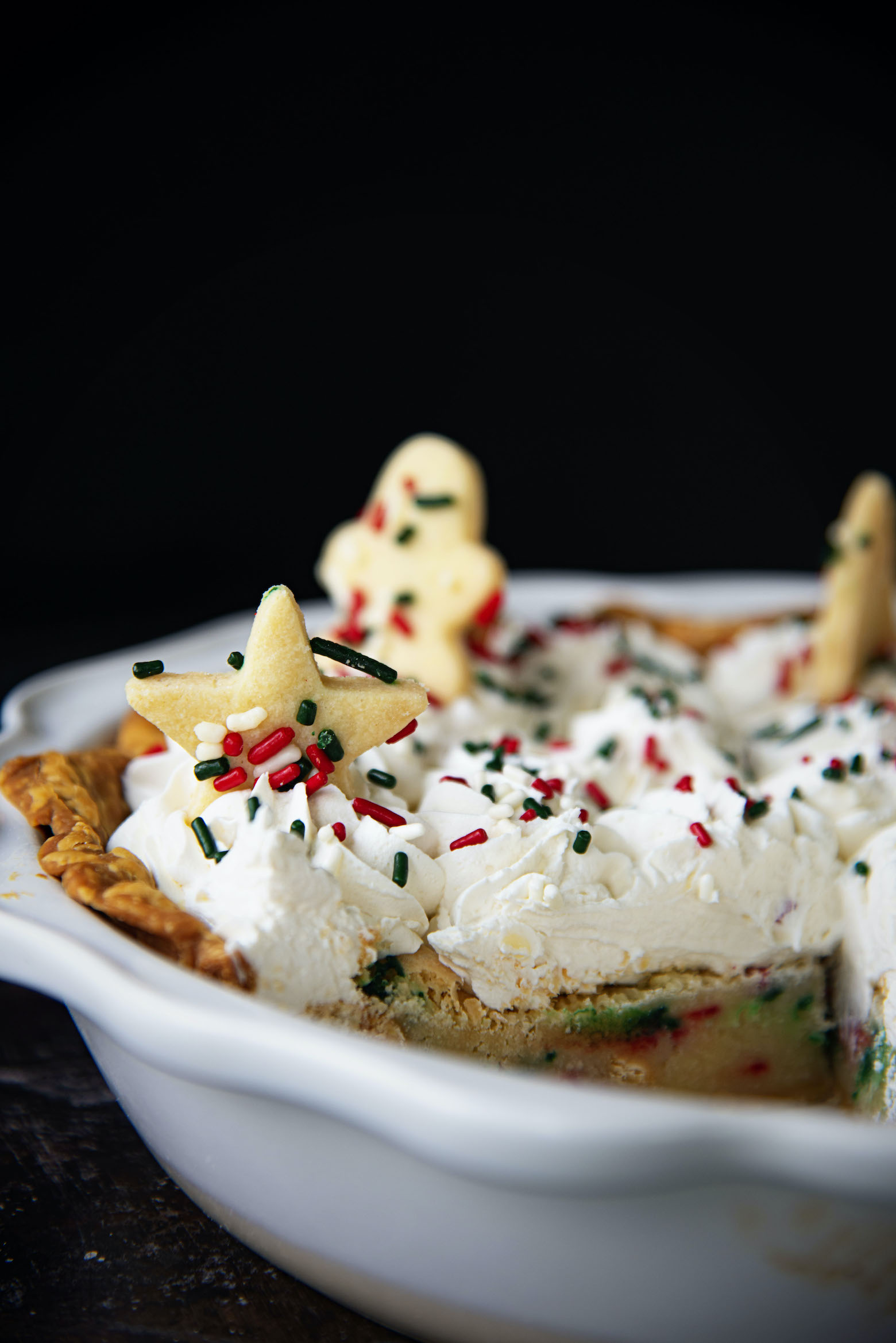 If you aren't quite ready for holiday cheer yet you can always use Thanksgiving sprinkles.
And cut out little turkey or leaf sugar cookies.
Or just make my Charlie Brown Thanksgiving Caramel Corn and call it good.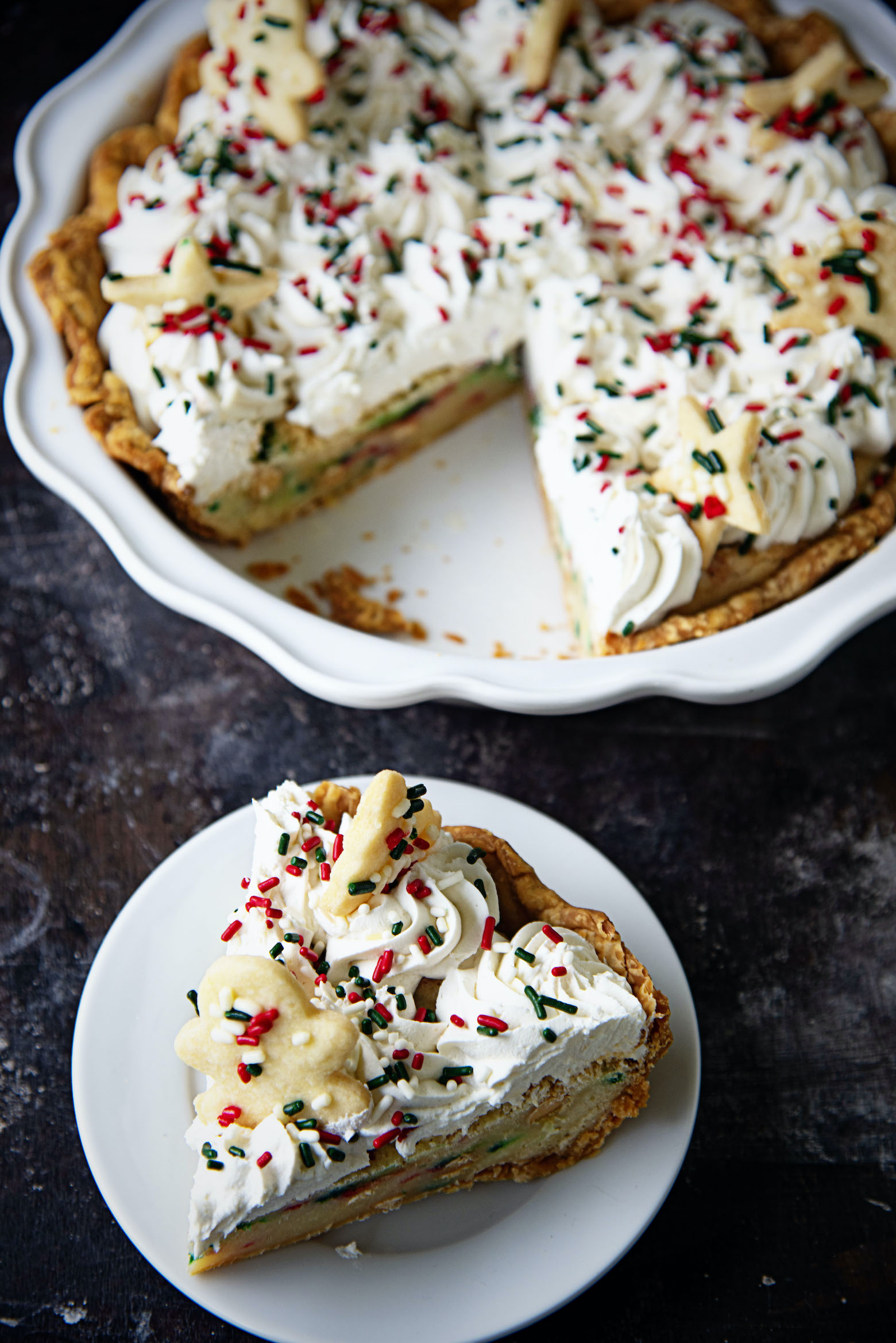 Someone asked on Instagram if this pie was sweet.
Of course it is.
It's a giant gooey sugar cookie.
That is then topped with buttercream frosting.
And I put more sugar cookies on top of it.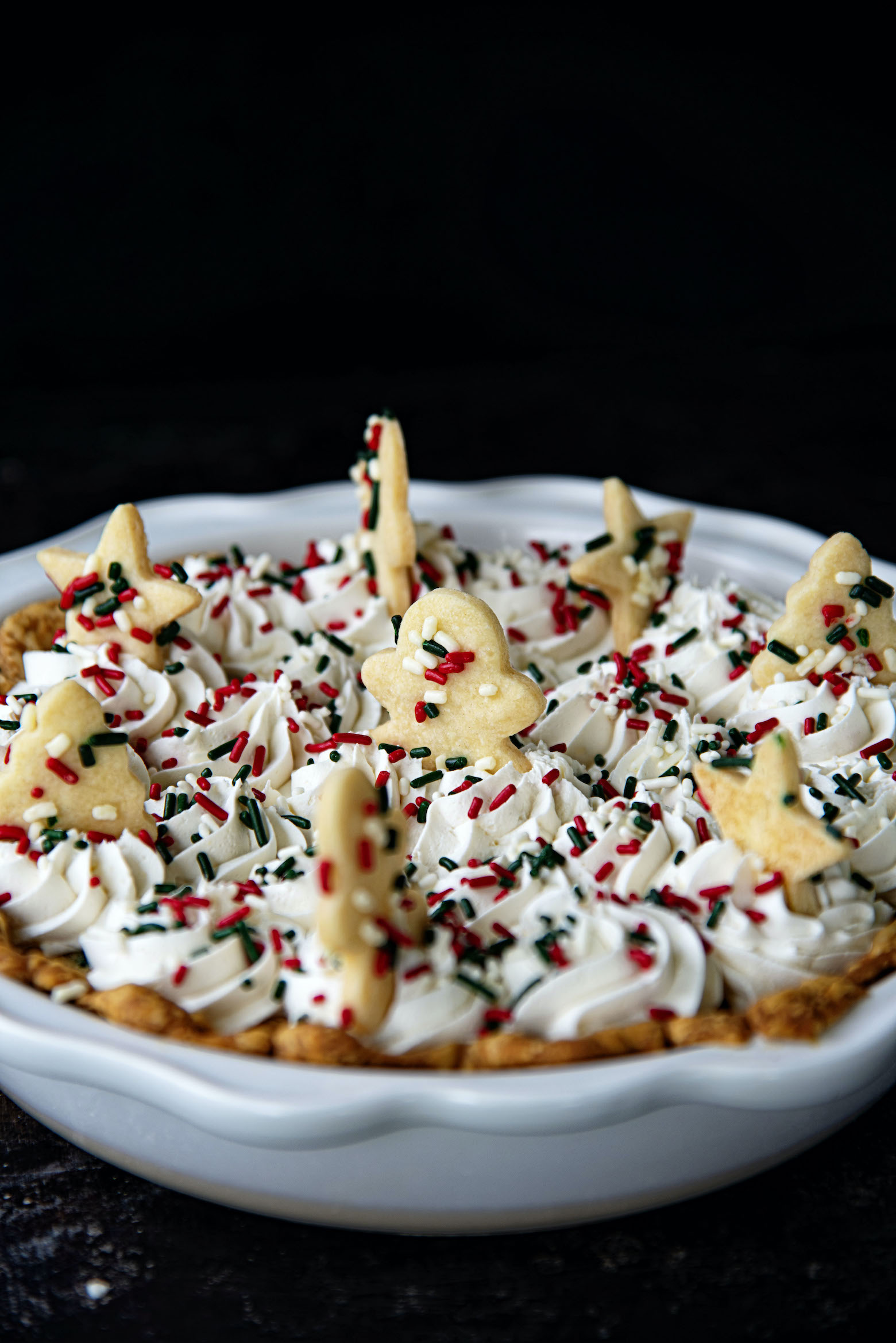 Notice I said gooey.
This pie is not like a cookie in that it will be dry all the way through.
This will taste more like cookie dough with a cookie crust.
It's supposed to be that way.
Don't worry with 45 minutes in the oven it's more than cooked through.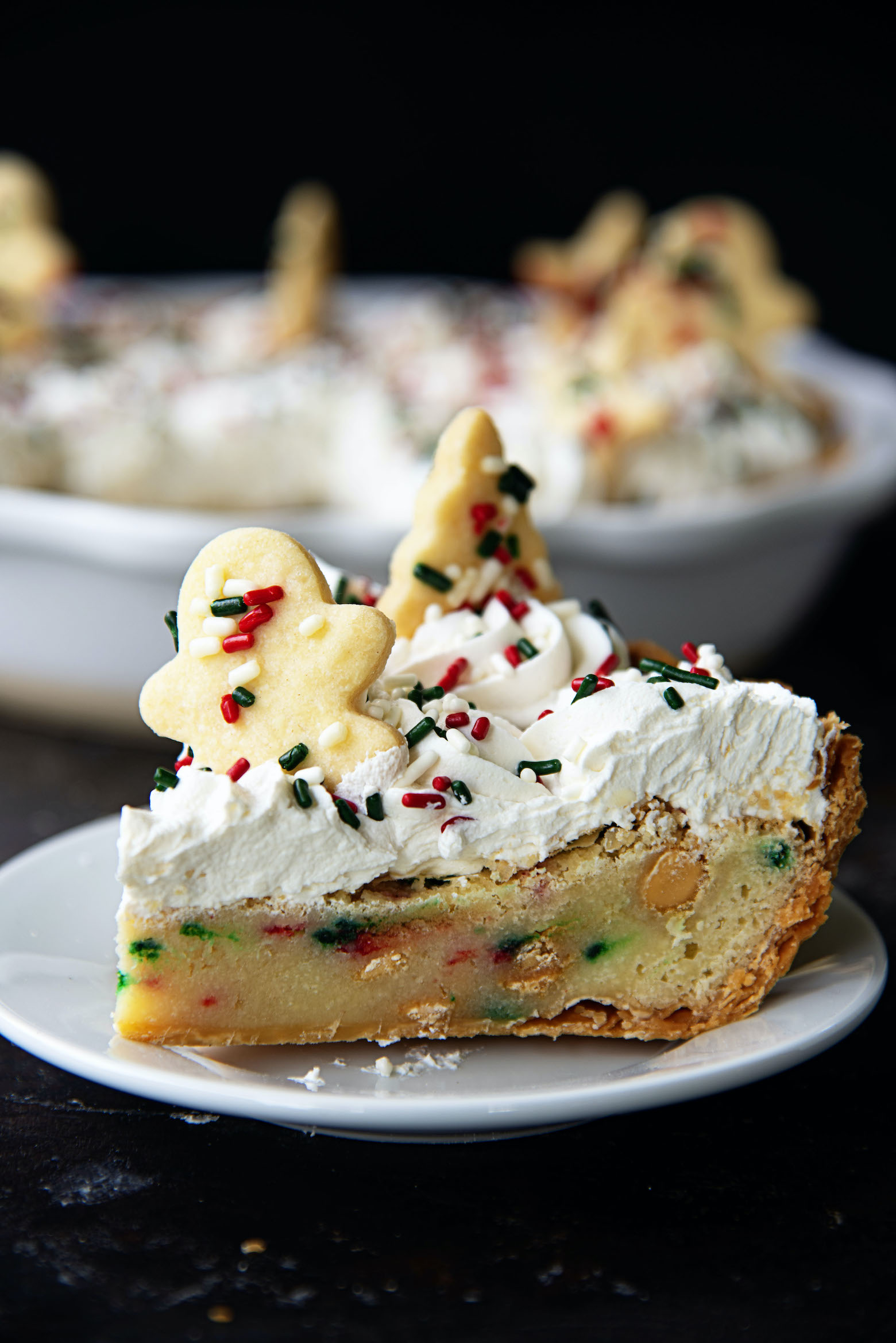 Do you have to make the buttercream frosting?
No.
But why would you not?
Buttercream frosting is your friend.
Well, it's my friend.
You could skip the frosting and just top with ice cream.
By the way, it's a great day to buy my cookbook !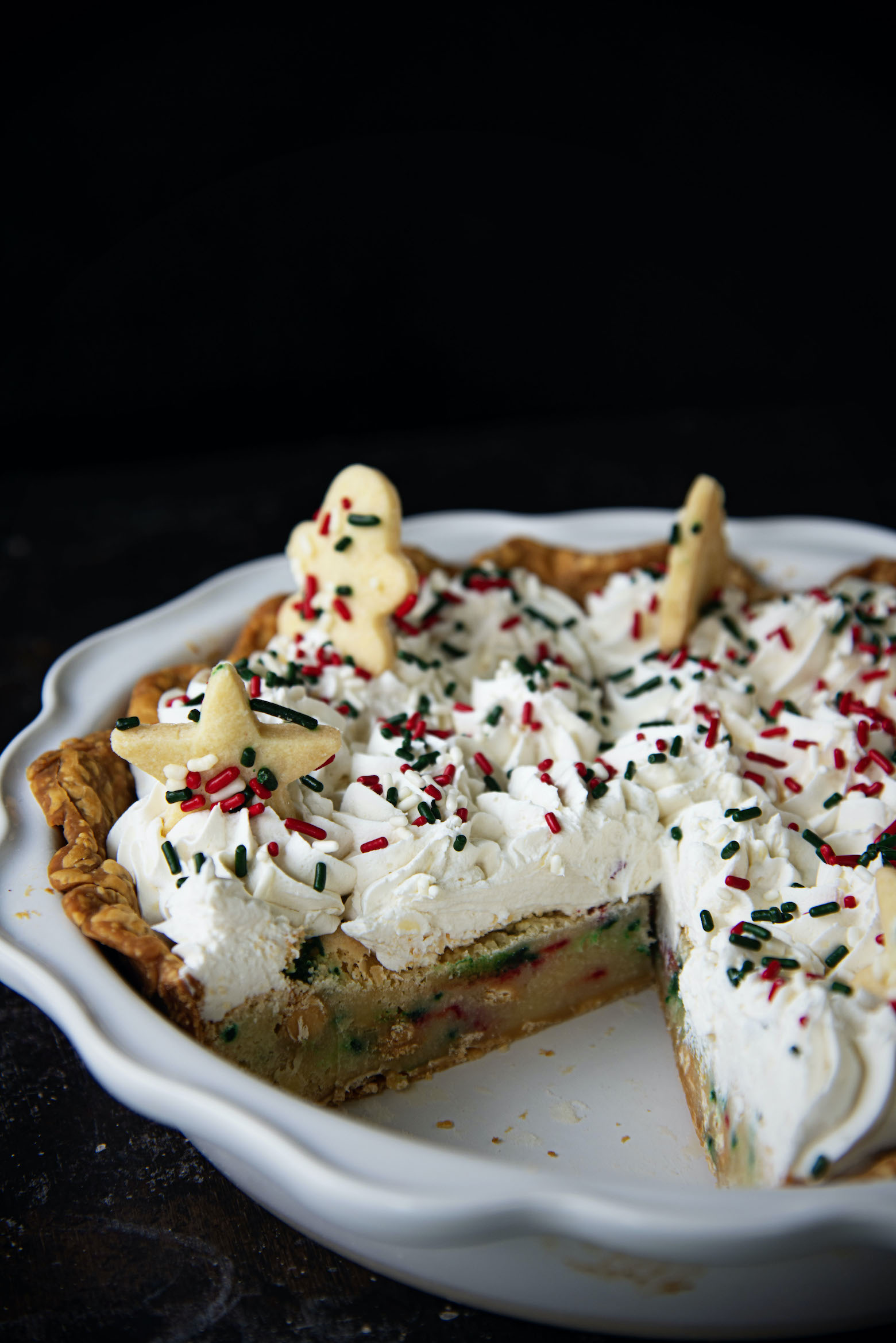 Want More Sugar Cookie Recipes?
Sugar Cookie Cheesecake Cheeseball
Sprinkle Sugar Cookie Cheesecake Bars
Ingredients
For the Pie:
1 recipe single pie crust (of your choice or store bought)
8 TBSP unsalted butter, melted
1 1/2 cups granulated sugar
3/4 cup all-purpose flour
½ tsp. salt
2 large eggs
½ cup festive sprinkles
1 cup white chocolate chips
For the Buttercream Frosting:
1/2 cup unsalted butter
1/2 cup vegetable shortening
3 3/4 cup powdered sugar
1 tsp vanilla extract
1 1/2 TBSP milk
For Garnish: more sprinkles and mini sugar cookies
Instructions
Grease a 9-inch pie plate with butter.
Roll out pie crust.
Use your fingers to pinch the dough, crimping the edges evenly.
Place in fridge while you mix the filling.
Preheat oven to 350F.
In a large bowl mix the granulated sugar, flour, and salt.
Add the eggs.
Slowly pour melted butter into the sugar mixture and whisk until smooth.
Fold in the sprinkles and white chocolate chips.
Pour into chilled pie crust.
Bake until the filling is slightly puffed and center is set, about 40-45 minutes.
Let cool completely before frosting.
Pie will keep covered in fridge for up to 3 days.
For the Buttercream Frosting:
Combine the butter and vegetable shortening in the bowl of an electric mixer; using a paddle attachment, beat on medium speed until smooth, about 2 minutes.
Add half of the powdered sugar and continue beating on low speed for an additional 2 minutes, or until the mixture is creamy, scraping the sides of the bowl with a rubber spatula as needed.
Add the remaining powdered sugar, vanilla and milk, and beat until the frosting is creamy and fluffy, about 2 minutes more.
Place in piping bag and pipe frosting on top of the cooled pie.
Add more sprinkles and mini sugar cookies if desired.