This Sugar Cookie Crumb Cake is made with sugar cookie milk and topped with a generous amount of sugar crumb topping all topped with a sugar cookie glaze.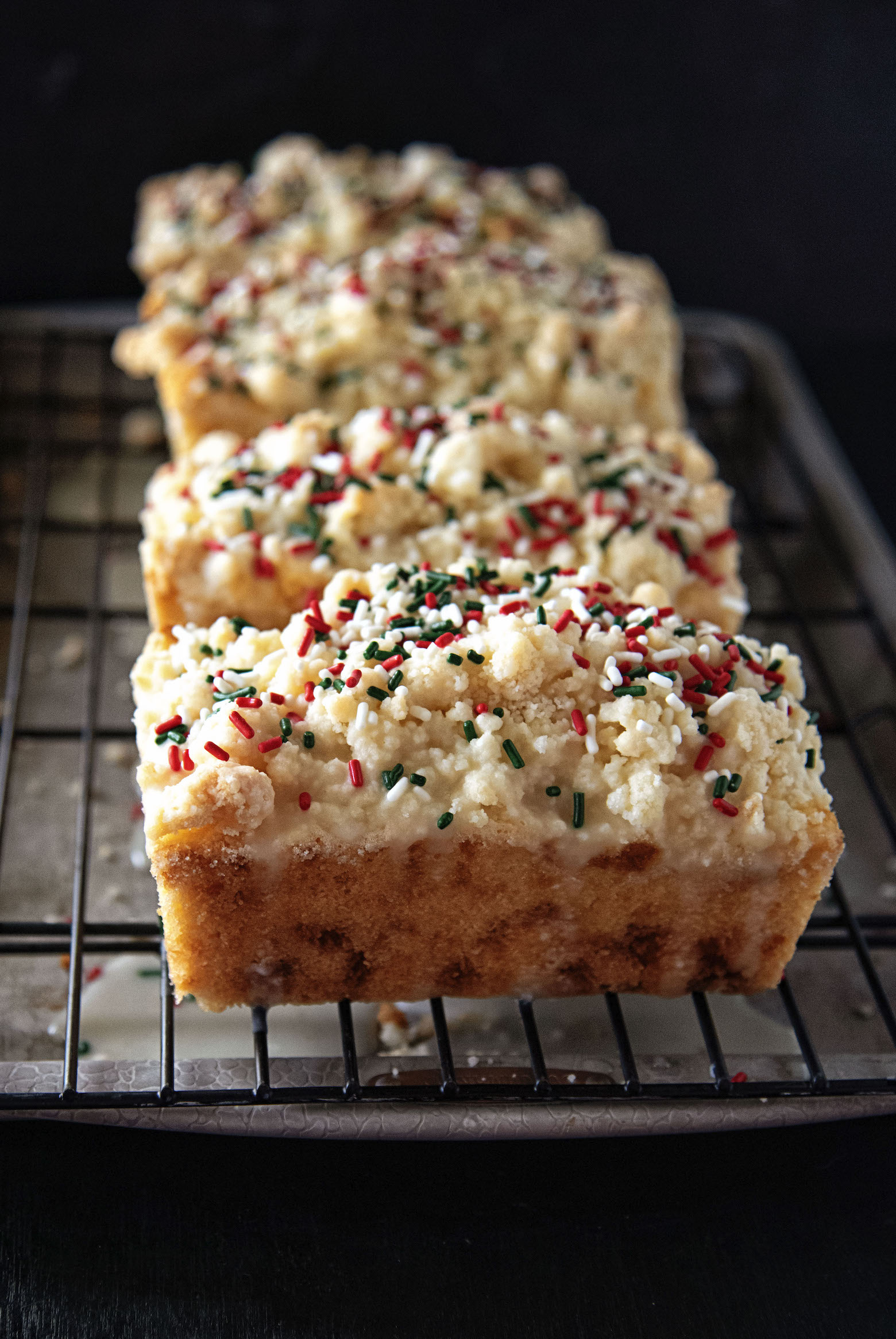 Read this blog enough and you know that I am a sugar cookie lover.
LOVER.
Some may find it boring but I absolutely adore them.
And yes, I would take them over a chocolate chip cookie.
So when I saw that Target had Sugar Cookie Milk I was all over it.
I'm quite sure the lady at the check out stand thought I was crazy buying up a bunch of it but it sells out fast.
How fast?
The next day they were out and I never saw it again.
So I don't feel so crazy buying it all up.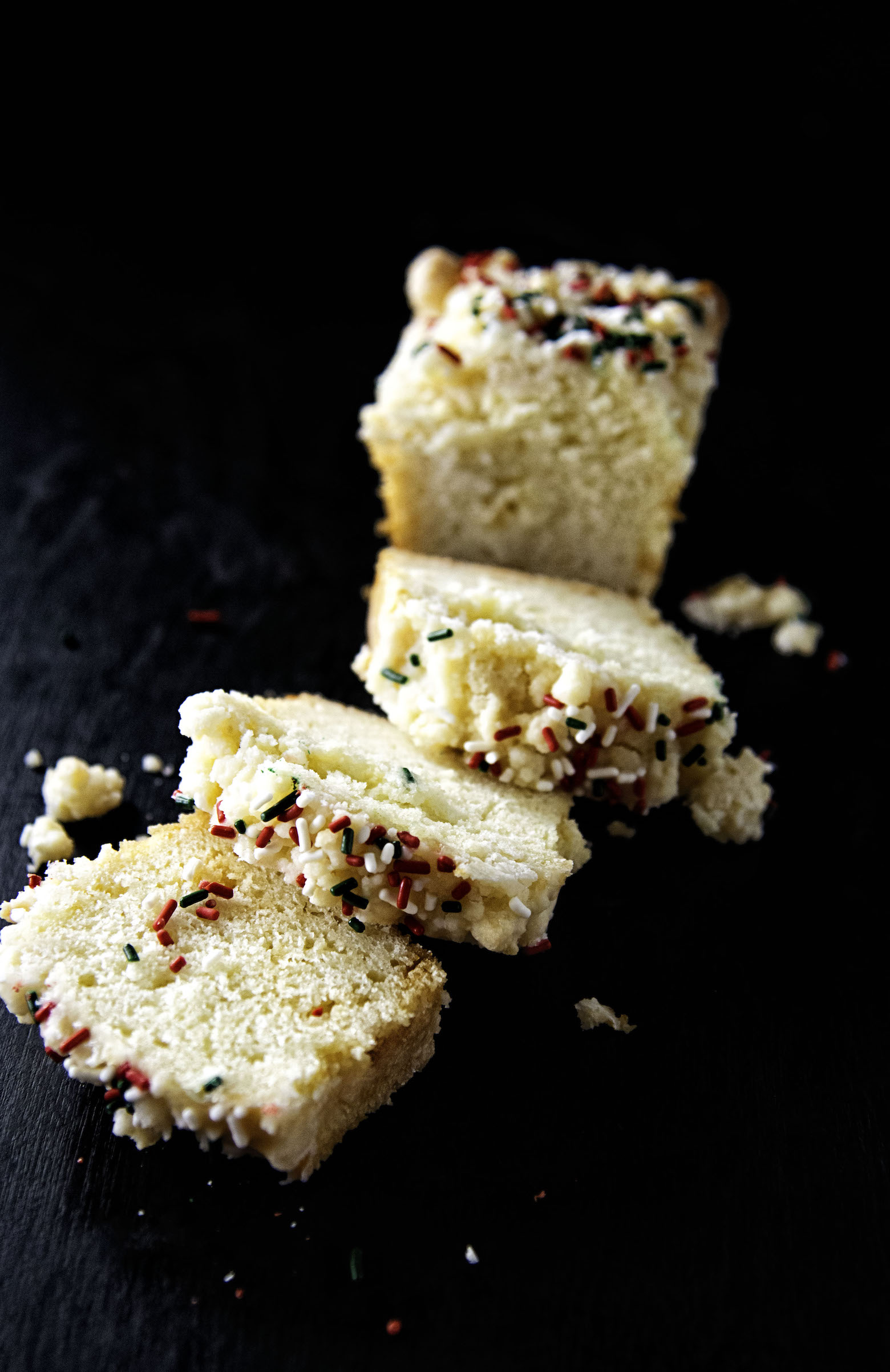 The first time I made this Sugar Cookie Crumb Cake it was with the sugar cookie milk.
I wanted to refine it a little more and while making it I realized I probably should not be making it with the sugar cookie milk.
Why you ask?
Because if they are already sold out of it at my Target it probably is at your Target.
Or you might not even have a Target.
So then I had to figure out how to make my own sugar cookie milk.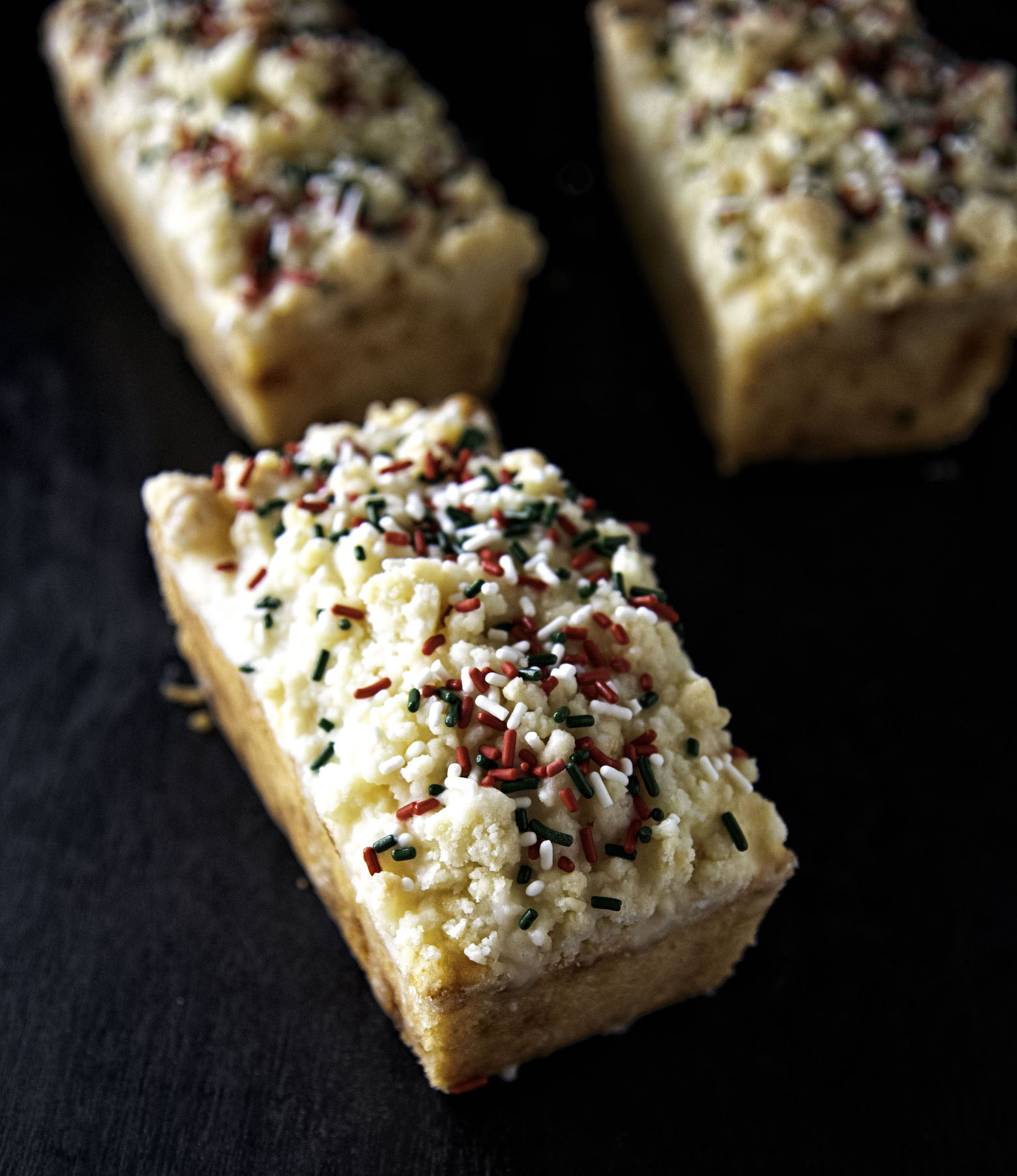 Which the sugar and the milk part were easy. 😛
It was getting the sugar cookie flavor right.
Enter Buttery Sweet Dough Emulsion Extract.
Years ago the extract was recommended to me by a reader when I was looking for homemade funfetti to taste more like box funfetti.
While I love vanilla cake with sprinkles it is not funfetti.
Doesn't have that certain taste.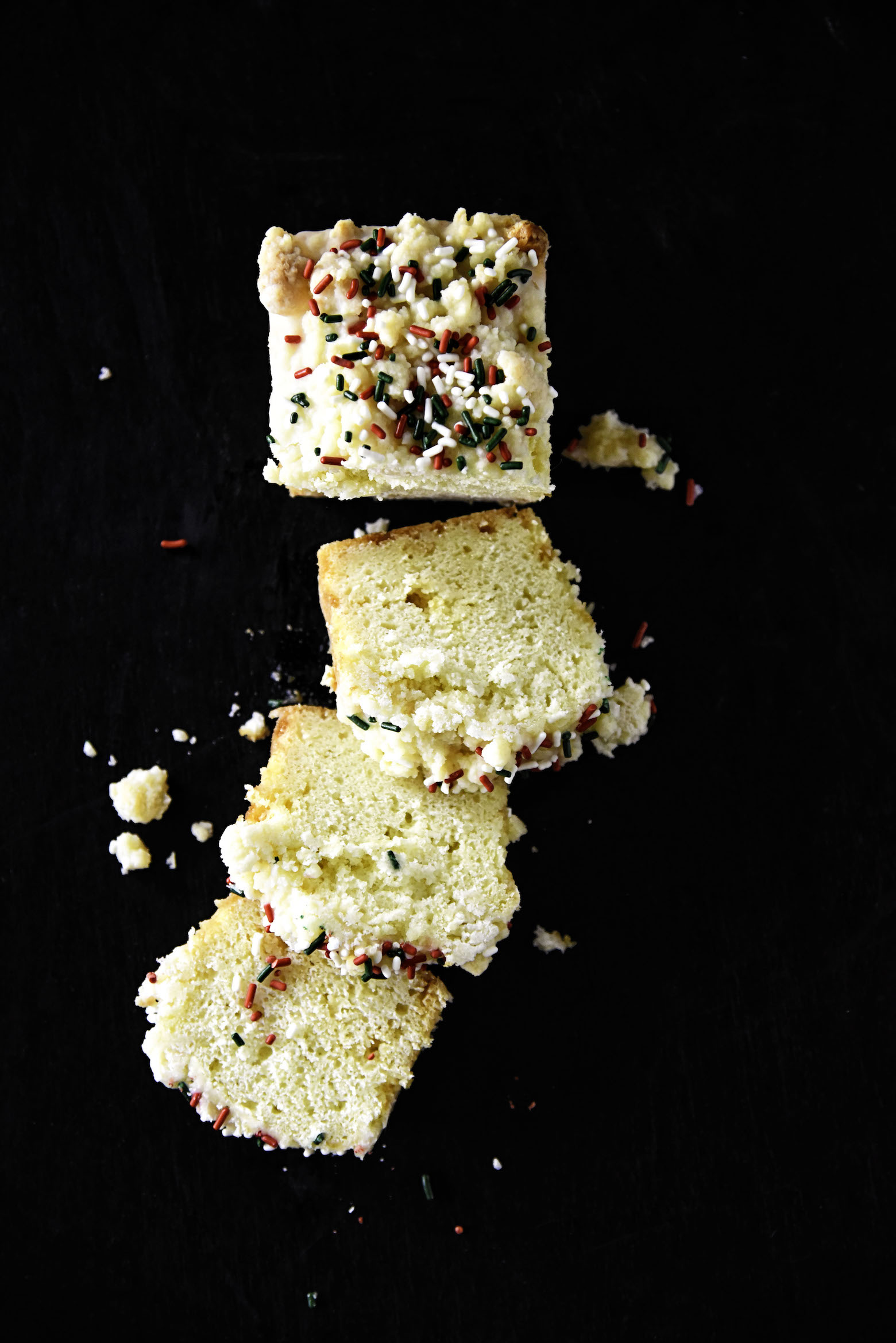 I used to only buy the small bottle of it but now I buy the giant one because I add it to a lot of my baked goods.
It's also what made sugar milk turn into sugar cookie milk.
BTW- totally off subject but if you can get the sugar cookie milk it is awesome to make hot chocolate with. 🙂
The crumb cakes are baked in the pans that are lined with sugar.
You can skip that if you want but in the words of Elle Woods "I think it gives it a little something, don't you think?
I do, Elle, I do.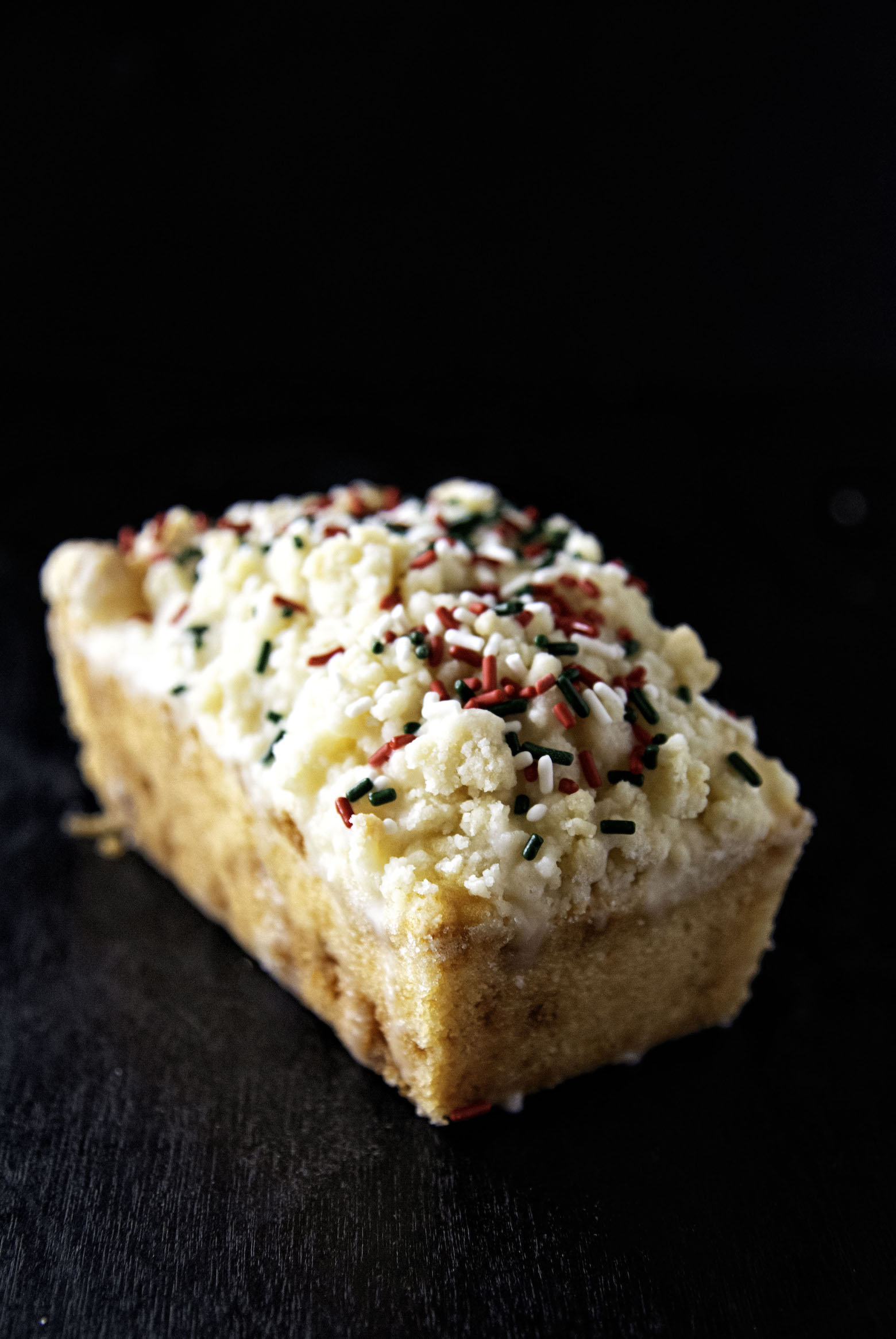 These are mini loaves.
It's holiday time.
More now than ever you should be sharing the baked goods love.
Can you make it in one large loaf?
Sure, but I never have and you would definitely have to bake it way longer than the 30-35 minutes.
Plus the smaller loaves allow for the crumb topping to not sink into the cake.
Do you best to make the crumbs the same size.
Smaller ones work best.
It's also best to have more crumb around the edge of the pan to help prevent sinking of the crumb.
Also…do you need the sprinkles?
Technically no.
But I think we all need sprinkles in our lives.
And since everyone always asks what pans I use and I use Chicago Metallic Commercial II Non-Stick Mini Loaf Pans.
It's a great day to order my cookbook.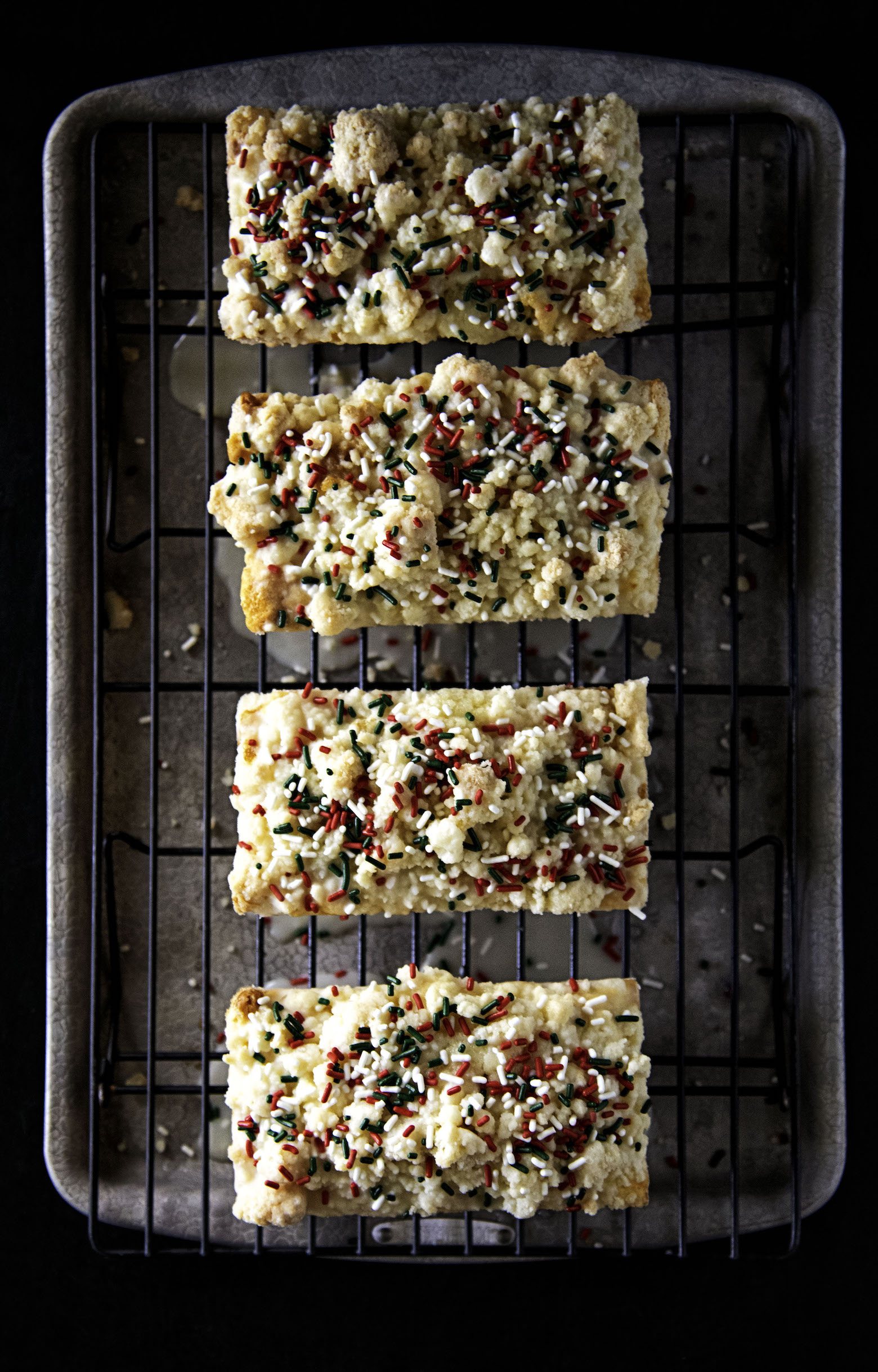 Want more Sugar Cookie recipes?
Sprinkle Sugar Cookie Cheesecake Bars
Shortbread Roll Out Sugar Cookies
Ingredients
Crumb Topping:
2/3 cup granulated sugar
¼ tsp. salt
8 TBSP unsalted butter, melted and then slightly cooled
1 ¾ cup cake flour
Cake:
½ cup unsalted butter, at room temperature
1 cup granulated sugar
2 large eggs
1 cup whole milk
1 cup sour cream
1 tsp. vanilla extract
2 tsp. sweet dough emulsion extract
2 ½ cups cake flour
2 tsp. baking powder
½ tsp. baking soda
Pinch of salt
Sugar to coat pans with
Icing:
6 TBSP milk
1 tsp. sweet dough emulsion extract
2 TBSP melted butter
1 1/2 cups powdered sugar
sprinkles if desired
Instructions
For the Crumb Topping:
In a medium sized bowl, sugar, and salt, and stir until combined.
Add the melted butter and then cake flour and mix (hands work best for this). Set aside.
For the Cake:
Preheat oven to 325F.
Spray baking spray 4 mini loaf pans and sprinkle sugar in each one. Coat both the sides and bottom of each pan with sugar. Set aside.
Using a stand mixer with a paddle attachment cream together the butter and sugar until light and fluffy, about 3 minutes.
In a separate bowl add the milk, sour cream, vanilla extract, sweet dough emulsion extract, and eggs and whisk until fully combined.
In another bowl add flour, baking powder, baking soda, and salt.
Alternate adding dry ingredients, then wet, then dry, then wet, and finish with dry.
Mix on low until fully combined. Be careful to not over-mix.
Using a regular size ice cream scoop evenly distribute the batter among the four pans.
Evenly divide crumb topping (as evenly as you can) into pieces over top of the batter.
Bake for 30-35 minutes depending on your oven.
Check by using a wooden skewer or knife to see if it comes out clean.
Let cool on wire rack.
While cooling make glaze.
For the Glaze:
Simply whisk together the milk, sweet dough emulsion extract, butter, and powdered sugar in a medium bowl.
When cakes are cool pour glaze over the top of them.
Top with sprinkles if desired.
Let glaze firm up.