This Sugar Cookie Caramel Corn is a festive twist on classic caramel corn with the addition of sugar cookie mix, white chocolate, and sprinkles!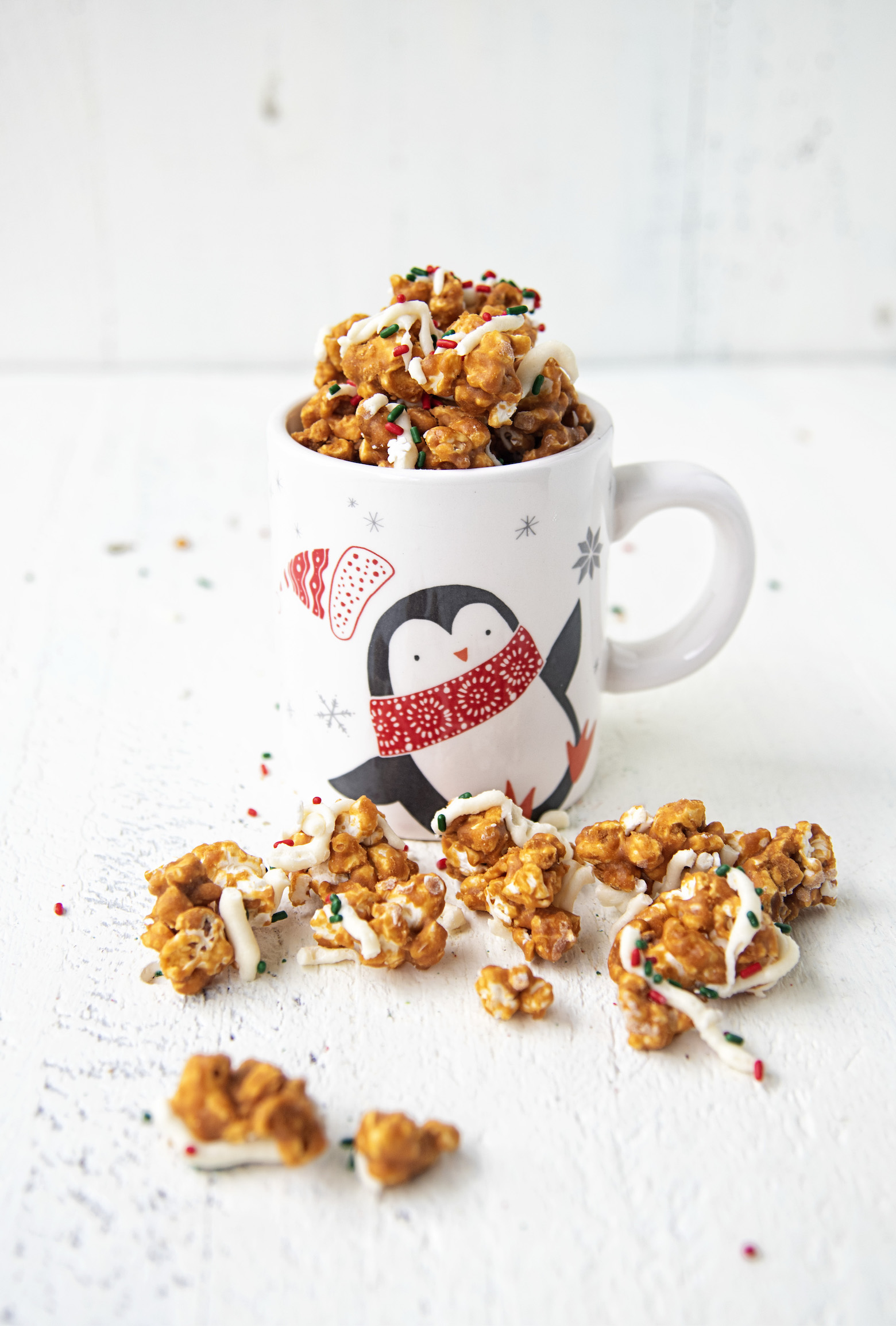 My husband's work holiday potluck is today.
Every year I fret about what to make.
I feel pressure to send something really great because they all know at this point what I do for a living.
They get treats year round…heck, they just got Stroopwafel Cupcakes and Kringle Crumb Cake sent to them on Monday.
But for some reason I really do worry about what to send for the potlucks.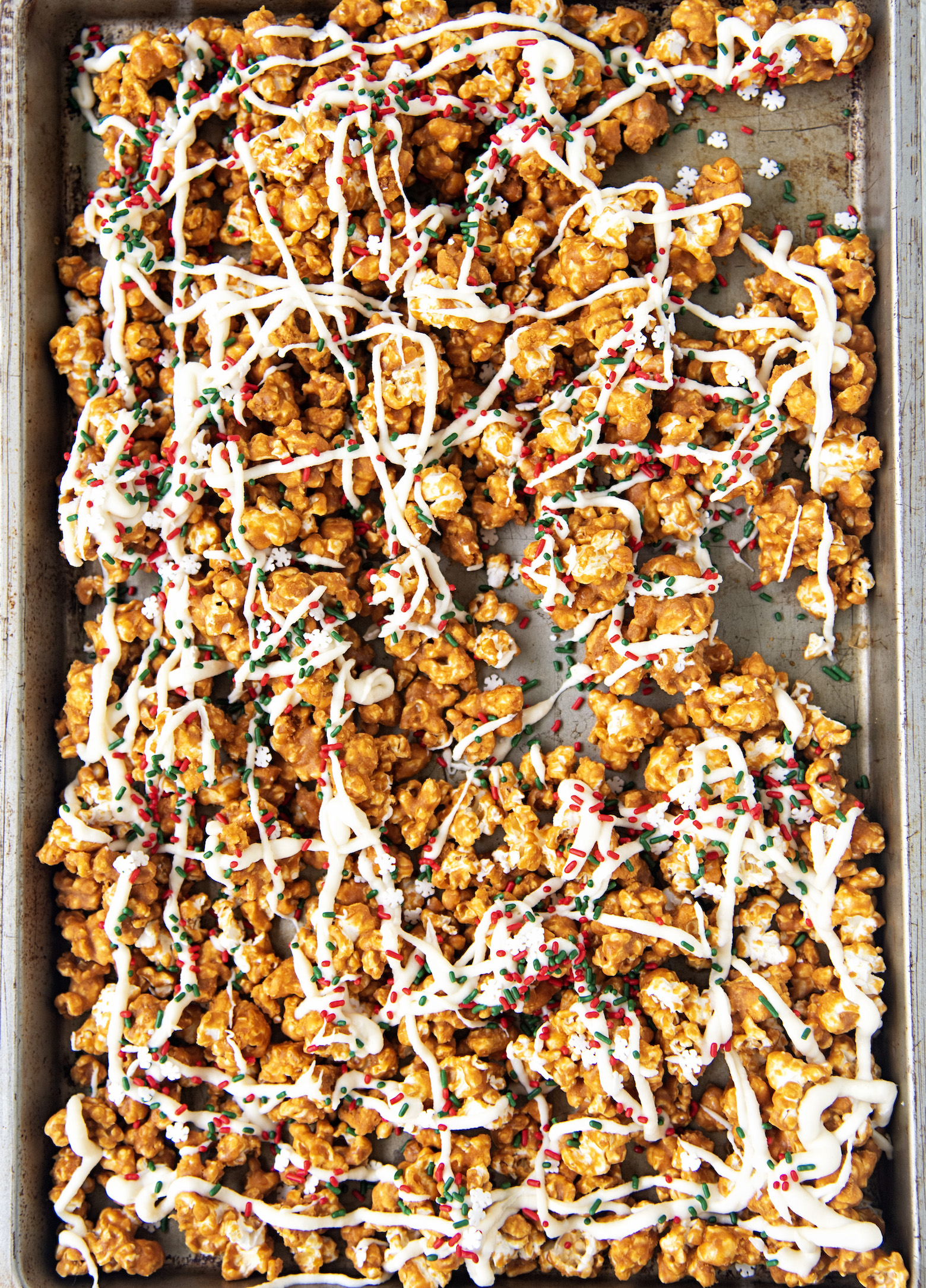 Maybe it's because people come up to my husband and ask him which one is mine.
Or ones is more like it because I tend to over send.
The year that I was crazy into fudge making I sent a platter of 9 different types of fudge.
And so now they always expect there to be some fudge.
So I sent fudge.
Plus this Sugar Cookie Caramel Corn.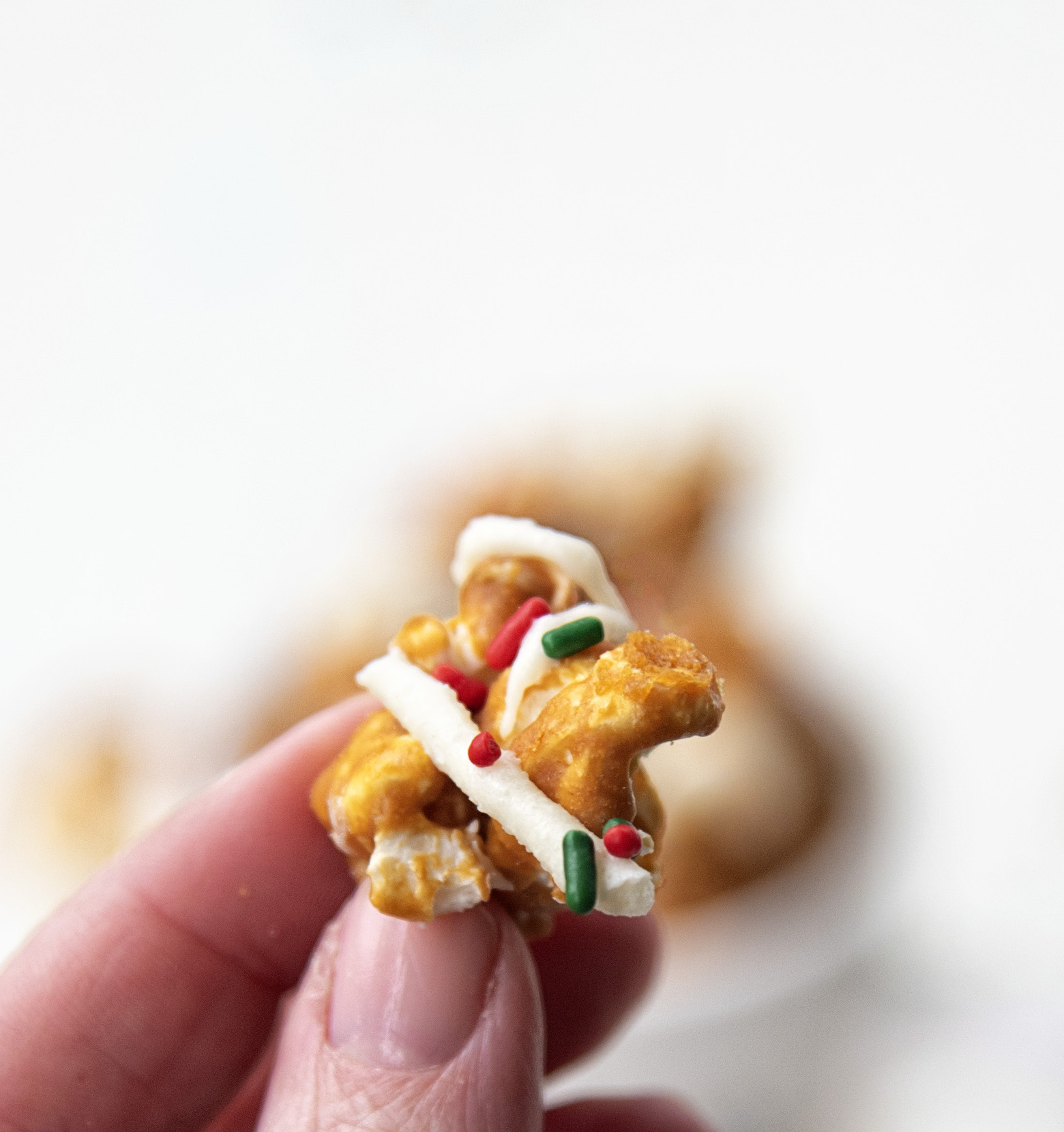 I had to make items that lasted for a bit as I had to make everything on Monday.
Tuesday I was sedated for my dental procedure and didn't think baking and high powered sedation meds mixed.
Caramel corn lasts for about a week…theoretically.
Theoretically because in this house it lasts about a day.
I make it.
Put it in to bags.
And then basically every time you enter the kitchen you grab a handful and the next thing you know its all gone.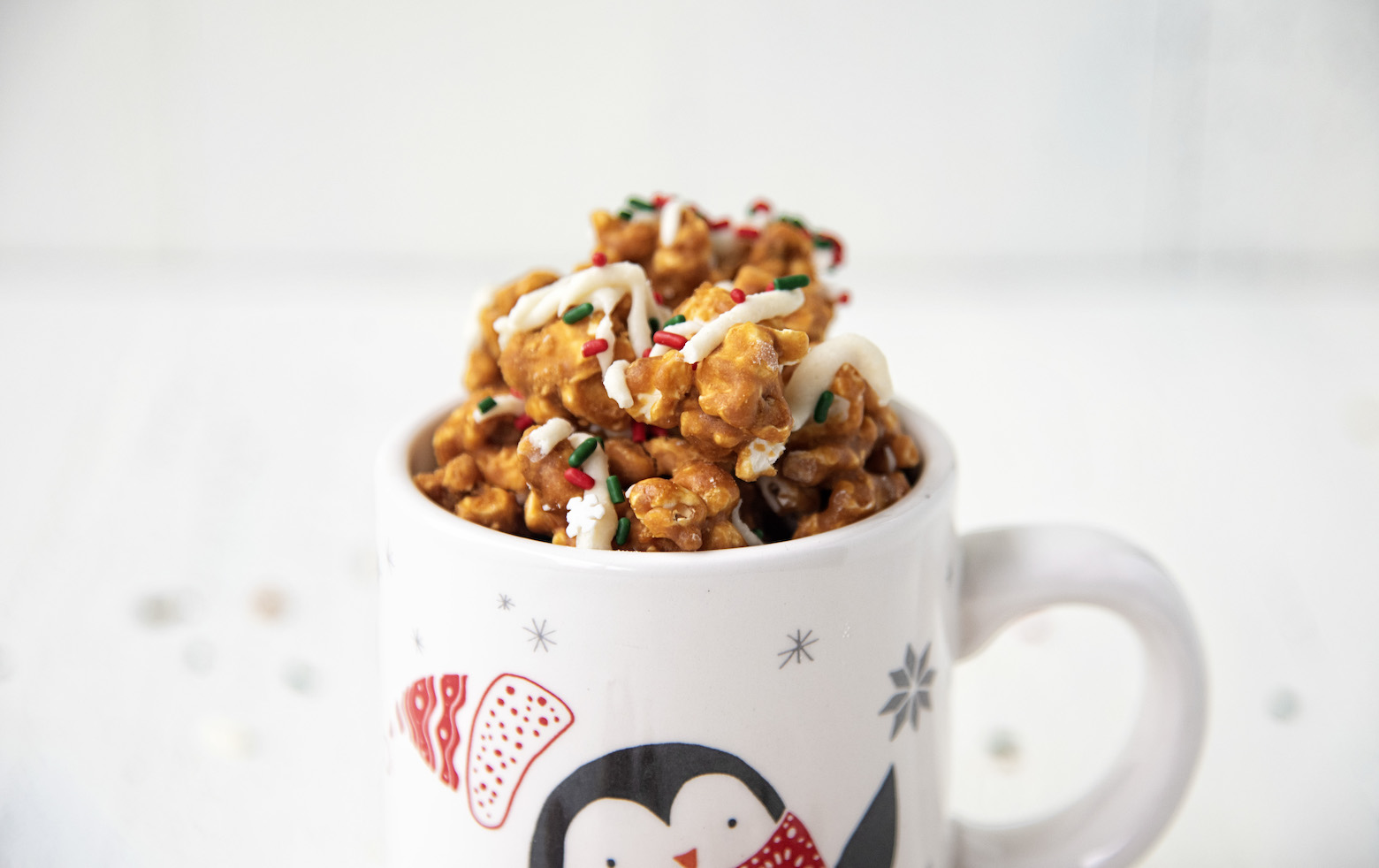 This recipe uses both dry cookie mix and Buttery Sweet Dough Emulsion to help with the cookie flavor.
Make sure to use plain popcorn…no microwave butter blast popcorn.
Though you can make it in the microwave.
Lekue USA sent me a Microwave Popcorn Popper/ Popcorn Maker which I absolutely love.
It makes great popcorn and it's dishwasher safe.
I thought about adding some crushed up sugar cookies and I think I will the next time I make it.
There were just no sugar cookies around for me to crush up. 🙂
Make sure you have a SUPER big bowl to mix the popcorn in.
I always realize way too late the I need a larger bowl than the one I use.
The dog likes it though because he just waits for all the popcorn to spill out of the sides.
P.S. It's a great day to buy my cookbook Holy Sweet!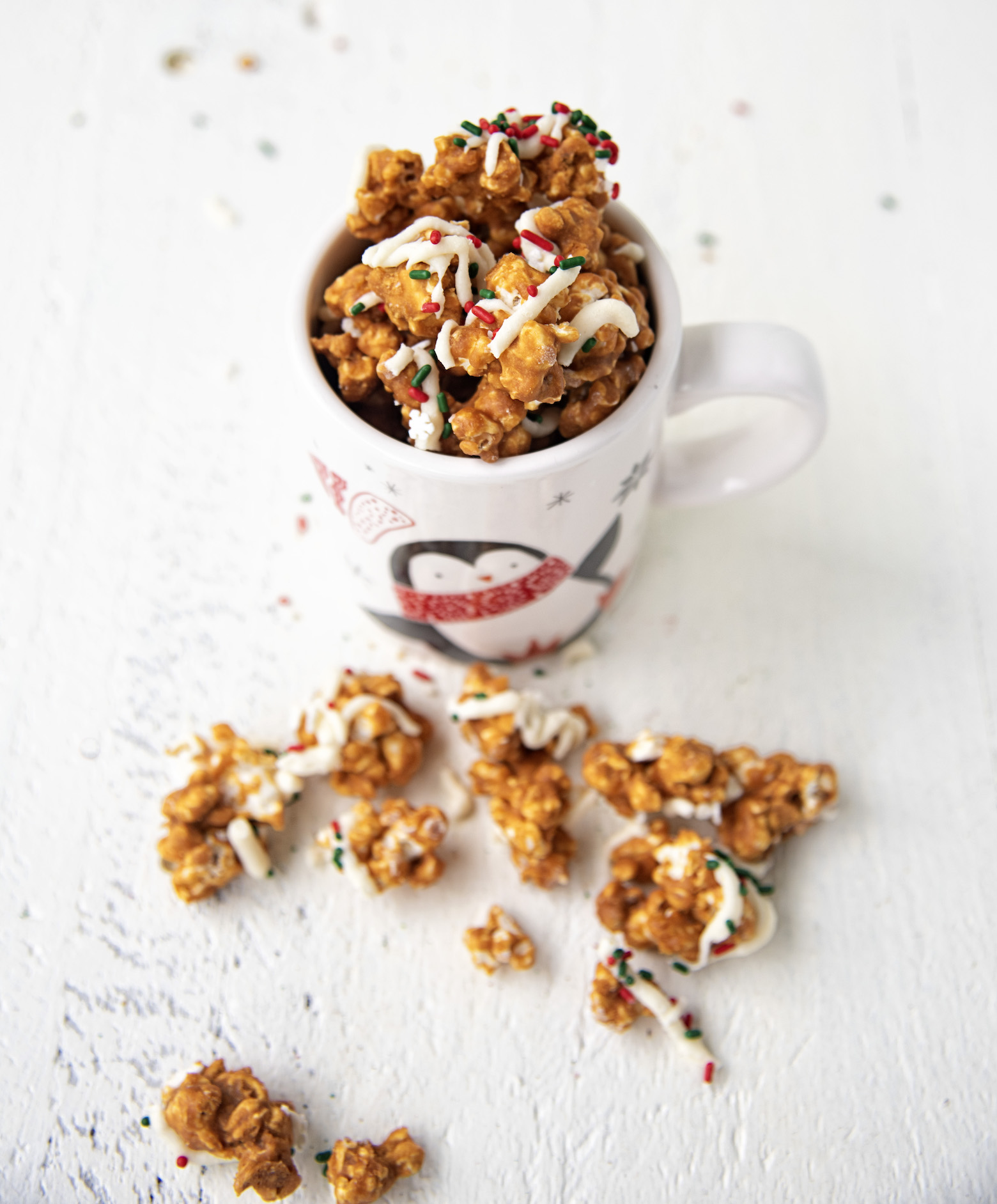 Want more Caramel Corn Recipes?
Oatmeal Raisin Cookie Caramel Corn
Peppermint Hot Chocolate Caramel Corn
Ingredients
For the caramel corn:
16 cups popped plain popcorn (unsalted)
1 cup unsalted butter
1 cup granulated sugar
1 ½ cups brown sugar
½ cup Lyle's Golden Syrup (if can't find use corn syrup)
1 tsp. lemon juice
2 tsp. sweet dough emulsion extract
1 tsp. salt
1/2 cup dry sugar cookie mix
½ tsp. baking soda
For the Topping:
12 oz. white chocolate, finely chopped
2 tsp. vegetable oil
1/3 cup dry sugar cookie mix
festive sprinkles
Instructions
Preheat oven to 250F.
Spray two baking sheets with nonstick baking spray and set aside.
Put popcorn into a large heat proof bowl….the biggest one I got. Set aside.
In a large saucepan over medium-high heat, combine the butter, sugars, golden syrup, lemon juice and salt.
Cook, stirring occasionally, until the butter and sugars melt together.
Increase the heat to high and bring the mixture to a boil.
Boil gently until the mixture reaches the hard crack stage (300F on a candy thermometer) 6-9 minutes.
Remove from the heat and stir in sugar cookie mix, sweet dough emulsion extract, and the baking soda.
The syrup will bubble and foam with the baking soda is added, simply stir until it subsides. Immediately pour the caramel over the popcorn mixture and stir with a large wooden spoon until a caramel glaze completely coat all the popped corn and mix until all the popcorn is covered.
Divide the caramel corn between the prepared baking sheets. 
Bake for 20 minutes.
Remove from oven and stir and flip (I use a heat proof spatula) the caramel corn.
Bake for another 20 minutes. Do the same again.
Let caramel corn cool completely.
Using a double boiler, melt the white chocolate and oil until smooth and glossy.
Add the sugar cookie mix and stir until fully incorporated.
Pipe over the caramel corn and add sprinkles to stick to the white chocolate.
Store in a tightly covered container for up to a week.