This Strawberry Shortcake Charlotte Russe has a layer of Chiffon cake, strawberry cream cheese Bavarian, vanilla Bavarian, ladyfingers, and tons of fresh strawberries.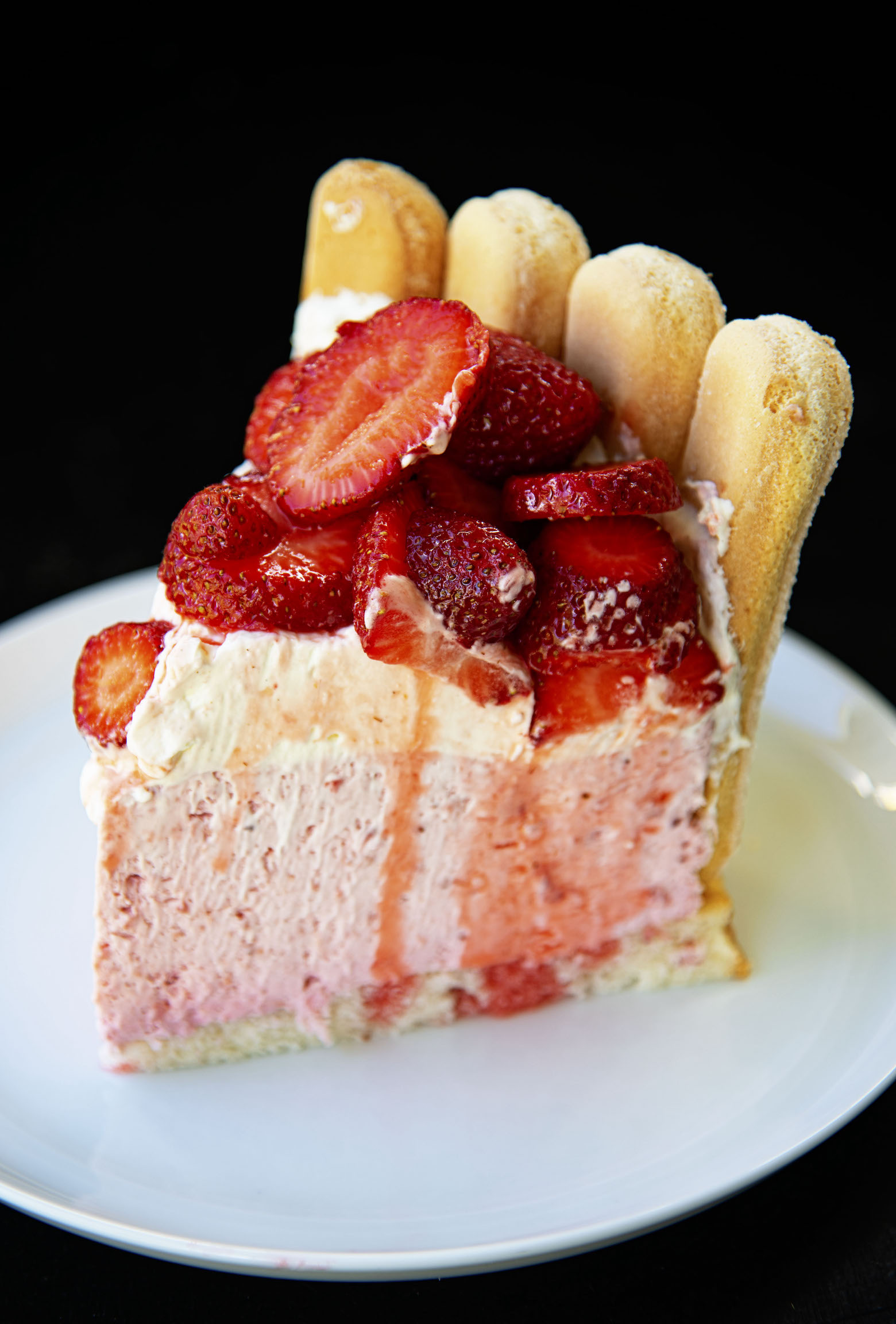 Being a teenager of the 80's when I would see Charlotte Russe I thought of the clothing store and not the dessert.
That's because I had never had the dessert.
Mostly because they were not very popular here in the US.
But they are in Europe where they originated.
They sort of had a resurgence thanks to British Bake Off.
As they should have a resurgence.
Because they are awesome.
Mostly because they have a large amount of Bavarian which makes them awesome.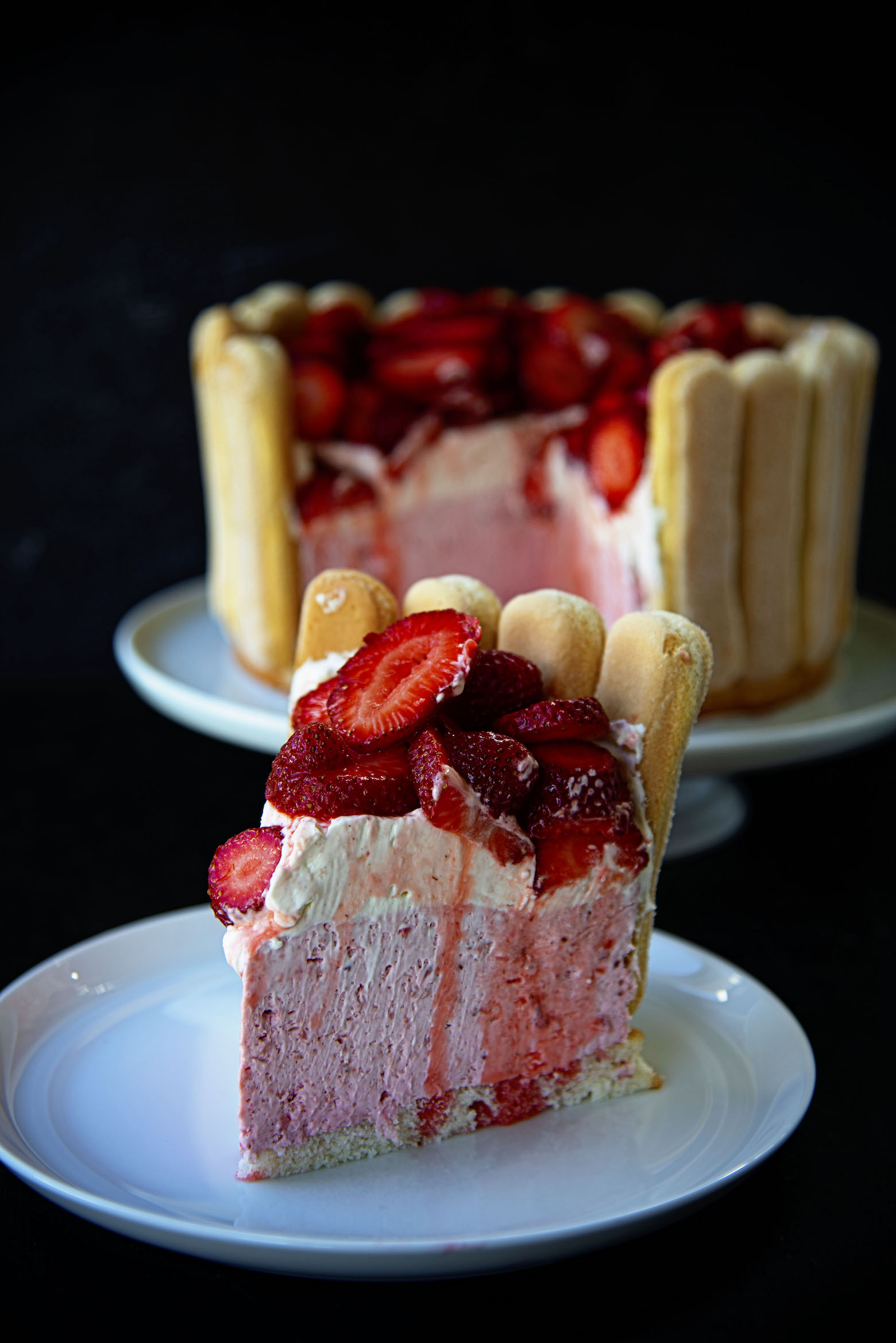 I made my first Charlotte Russe in a pastry class and I have one here on the blog back in 2008.
But I use Bavarian cream quite often on this blog and even in my cookbook.
The one I use in this recipe has cream cheese in it.
Which just adds more creaminess.
I doesn't really give it a cheesecake flavor if that is what you are thinking.
I'm calling this a Strawberry Shortcake Charlotte Russe because I originally thought I was going to just make shortcake.
But then I was watching British Bake Off reruns for the millionth time and they were making Bavarian.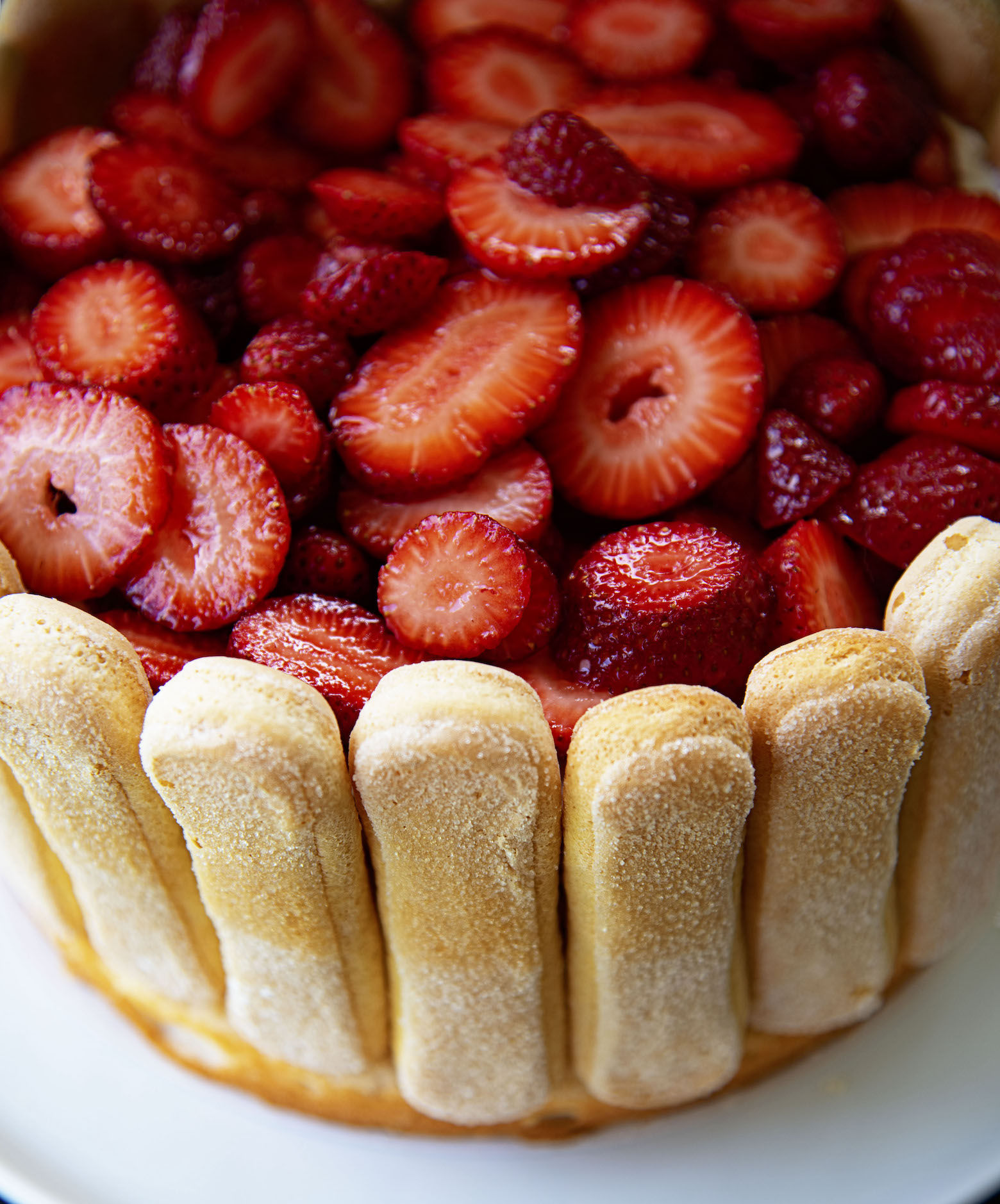 This takes quite a few steps.
I buy the ladyfingers.
Now, I do make the Chiffon cake but you honestly could just use a white or yellow cake mix.
It's not super key to this recipe.
The cake simple serves as a thin base for the dessert.
Some people soak ladyfingers in a simple syrup.
I don't because as time goes on the Bavarian softens them us and honestly I like the crunch for a contrast.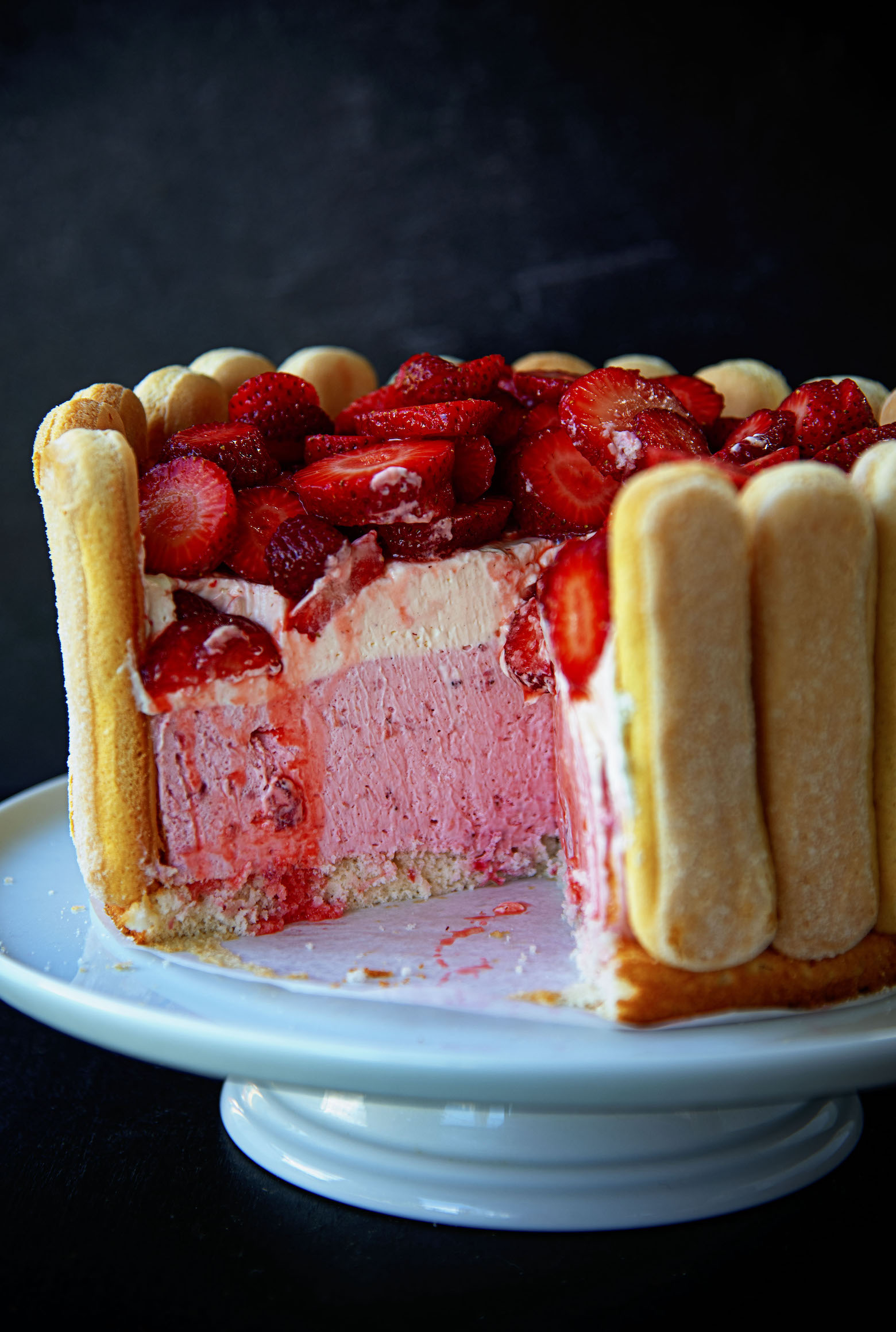 If you want to make even easier you can just make all strawberry Bavarian.
But I like the extra layer of the vanilla bean.
The fresh berries only last a couple of days.
And are really best the first day.
So keep that in mind when planning on serving this dessert.
It's a great day to buy my cookbook.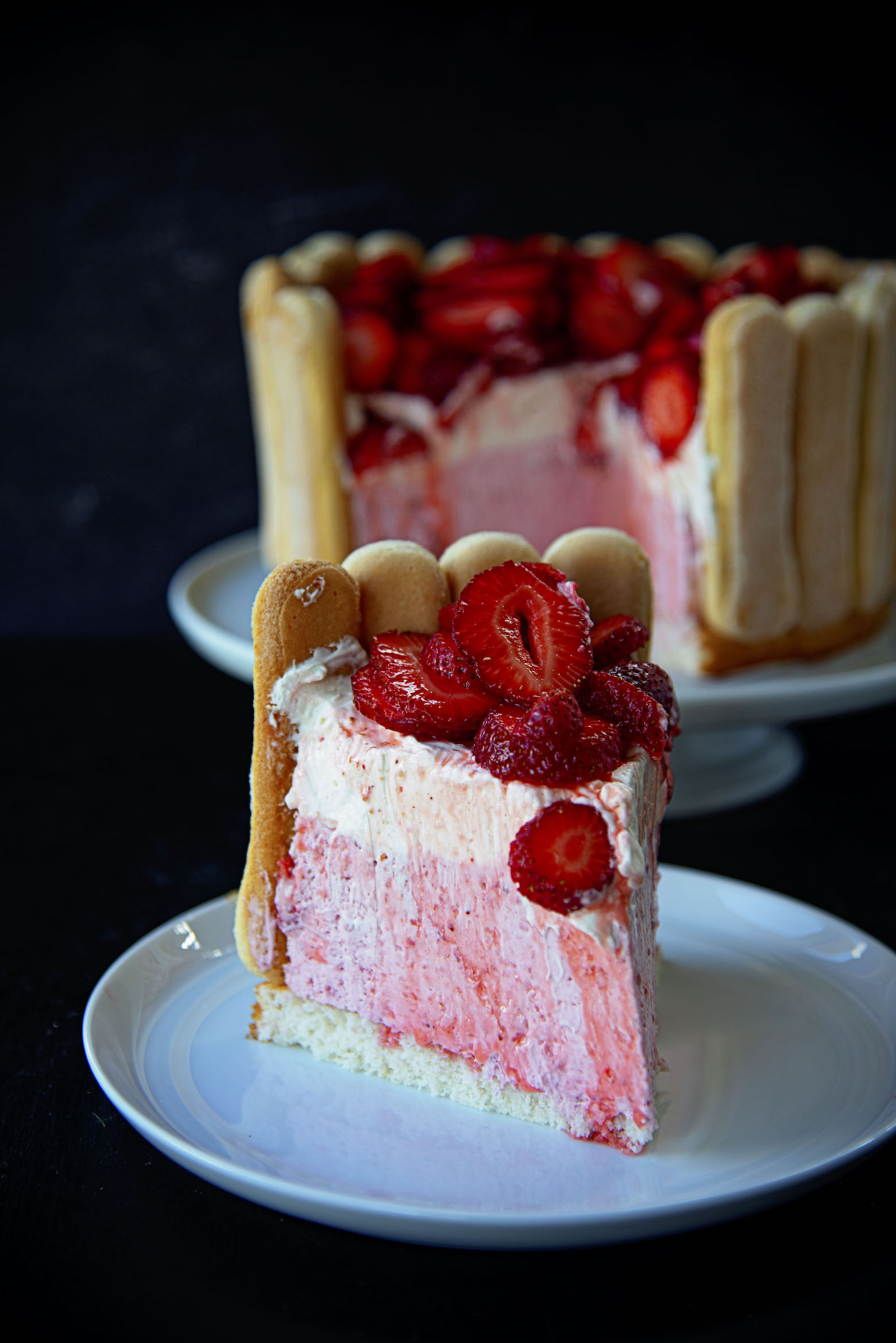 Want More Strawberry Shortcake Recipes?
Sweet Corn Strawberry Cornbread Shortcake
Strawberry Shortcake Layer Cake
Glazed Donut Strawberry Shortcake
Strawberry Shortcake using Cinnamon Scented Biscuits and Mascarpone Cheese
Ingredients
Approximately 20-25 ladyfingers
For the Chiffon Cake:
4 large egg whites, room temperature
1/4 tsp  cream of tartar
1 cups cake flour
3/4 cups granulated sugar
1 1/ tsp baking powder
1/2 tsp salt
3 large egg yolks, room temperature
1/4 cup vegetable oil
3/4 cup cold water
1 1/2 tsp vanilla extract
For the Bavarian:
2 cups cream cheese
1 cup granulated sugar
Pinch of salt
1 tsp vanilla extract
4 1/4 tsp unflavored gelatin
1/3 cup water, cool
2 1/2 cups heavy cream
2 cups pureed fresh or frozen strawberries
1 vanilla bean, seeds removed, pod discarded
For the Strawberries:
1 pint fresh strawberries, cleaned and sliced
1/4 cup powdered sugar
2 TBSP lemon or lime juice
Instructions
For the Cake:
Preheat oven to 325F.
Using a stand mixer with the whisk attachment, beat the egg whites until foamy. 
Add in the cream of tartar and continue beating until stiff peaks form. Set aside.
Without cleaning the bowl sift the flour, sugar, baking powder, and salt into the bowl. 
Make a well in the middle of the and add the egg yolks, vegetable oil, cold water, and vanilla extract. 
Using the whisk attachment, beat the egg yolk batter. Scrape the bowl as needed. Beat until combined and smooth.
Fold in 1/4 of the egg whites into the egg yolk batter to lighten it up. 
Then gently fold in the rest of the egg whites in two equal parts until no white streaks remain.
Pour into an ungreased 9″ cake pan. 
Bake for 35-40 minutes or until a toothpick inserted into the center comes out clean. The top should be golden brown and spring back when lightly pressed. Baking time can very greatly so keep an eye on the cake.
Let cool completely upside down. 
Slice a thin layer off of the cake to use for the bottom of the Charlotte Russe. 
For the Bavarians:
Using a paddle attachment, blend the cream cheese, sugar, salt, and vanilla until smooth.
In a small bowl sprinkle gelatin over the 1/3 cup cold water. Let the gelatin bloom in the cold water for a few minutes. 
Heat water once gelatin is soft until dissolved.
Whip heavy cream to soft peaks.
Fold gelatin mix into cheese mix.
Fold whipped cream into mix.
Remove 1 cup one the mixture and place it in a medium bowl. Add the vanilla bean seeds and mix until fully combined. Set aside. 
Add the pureed strawberries into the to remaining Bavarian. Mix until fully combined. Set aside.
For the Strawberries:
Add the strawberries, powdered sugar, and juice into a large bowl. 
Cover with plastic wrap and place in fridge until ready to serve. 
To assemble the Charlotte Russe:
Using a 9-inch springform pan place the thinly sliced piece of Chiffon cake to the bottom of the pan.
Line the sides of the springform with the ladyfingers. Place them tightly together. (You will probably need 20-25 ladyfingers) You may even need to cut one in half (lengthwise) to make them fit tightly.
Carefully scoop the strawberry Bavarian into the pan that is lined with the cake and the ladyfingers. 
Using a spatula even out the strawberry Bavarian. 
Carefully scoop the vanilla bean Bavarian on top of the strawberry Bavarian. Spread with a spatula to even out. 
Place in fridge for at least two hours. I didn't cover mine but you can if you want with plastic wrap. 
When ready to serve scoop the strawberries on top.
While the dessert will last a couple of days, it's best eaten the first day due to the fresh strawberries.