These Strawberry Pretzel Cream Cheese Cupcakes were inspired by the Strawberry Jell-O Pretzel Salad that you often see at summer potlucks.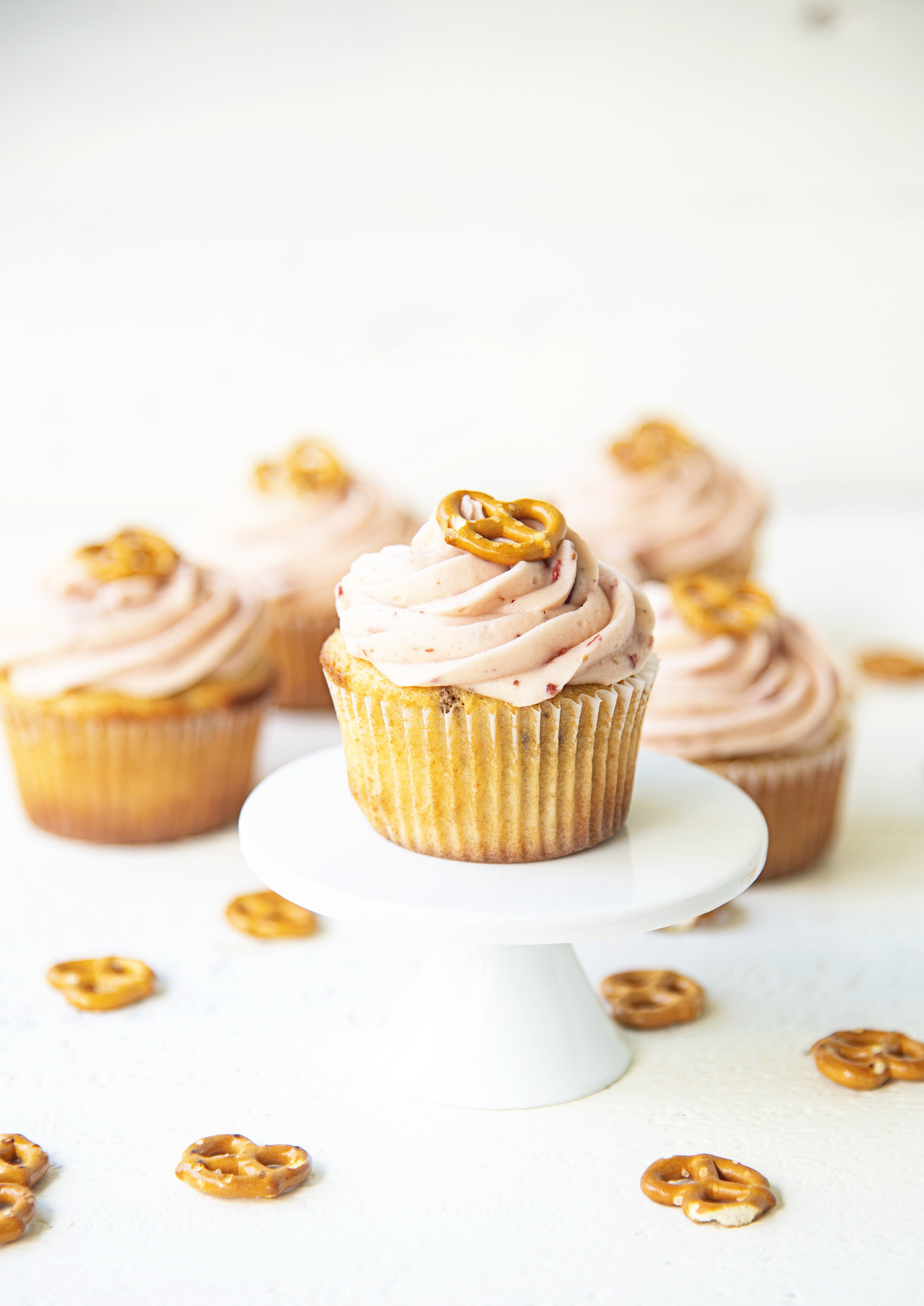 Normally we would be having BBQ's and 4th of July parties right about now.
But of course we are not.
Or if you are hopefully you are doing so safely since we are on the rise again.
And clearly warm weather is not making the virus go away.
I have no real big plans this year other than just hoping neighbors don't accidently burn anything of ours while blowing stuff up.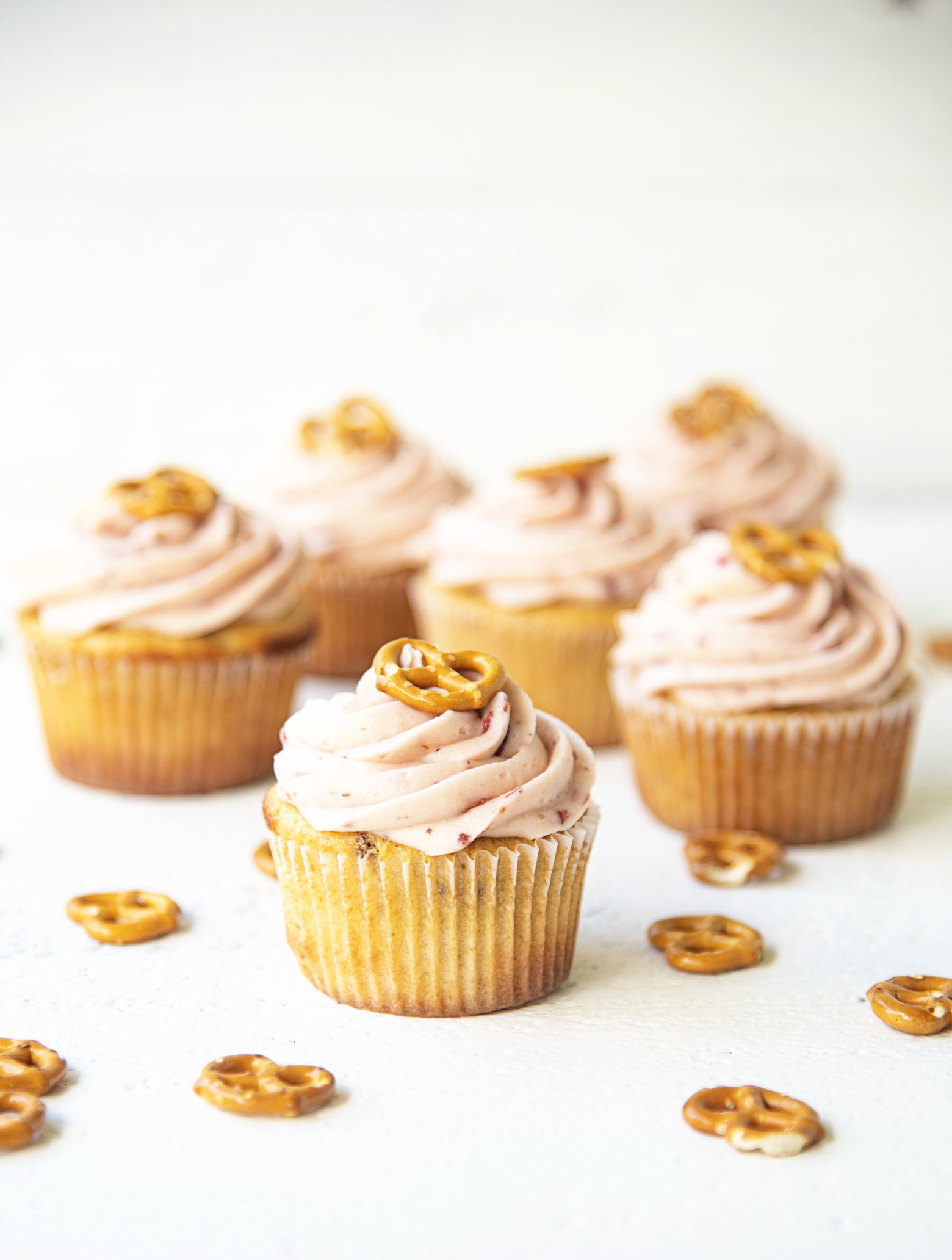 When I was younger we went to a potluck and someone had made a dish called Strawberry Pretzel Salad.
It was a pretzel bottom, cream cheese middle, and then covered in Strawberry Jell-O with strawberries in it.
And like all things Jell-O it was somehow called a salad.
I remember thinking how incredibly odd that was.
But it had sugar in it so of course I was going to try it.
I think this dish is one of the first mainstream salty sweet desserts to come around.
Last year I made it into pie form.
This time around I made it into Strawberry Pretzel Cream Cheese Cupcakes.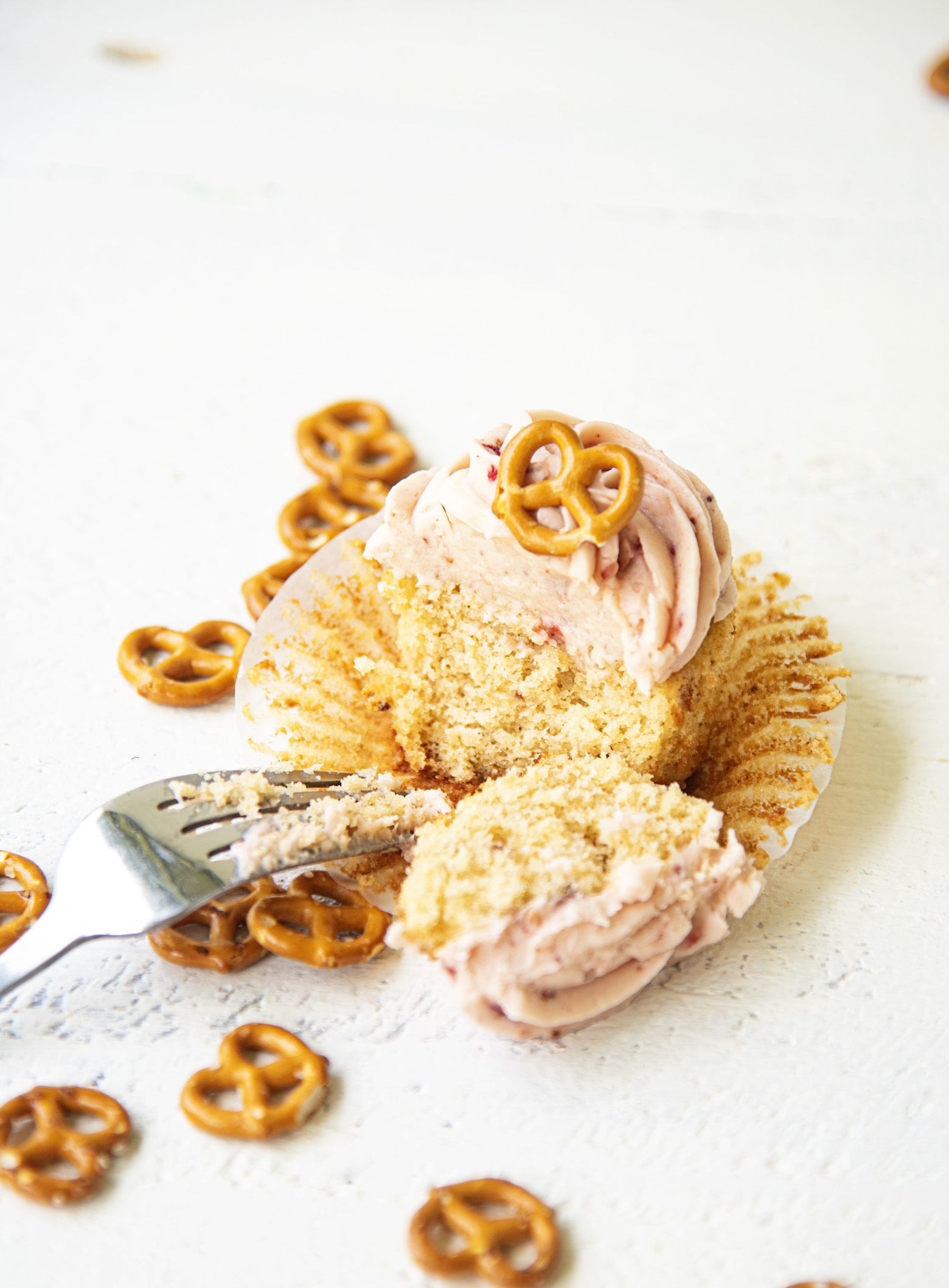 Unlike the "salad" these cupcakes don't have Jell-O in them.
I really thought about poking holes and filling it with strawberry Jell-O like a poke cake but went in a different direction.
So these are more inspired by than like the actual salad.
Still good though.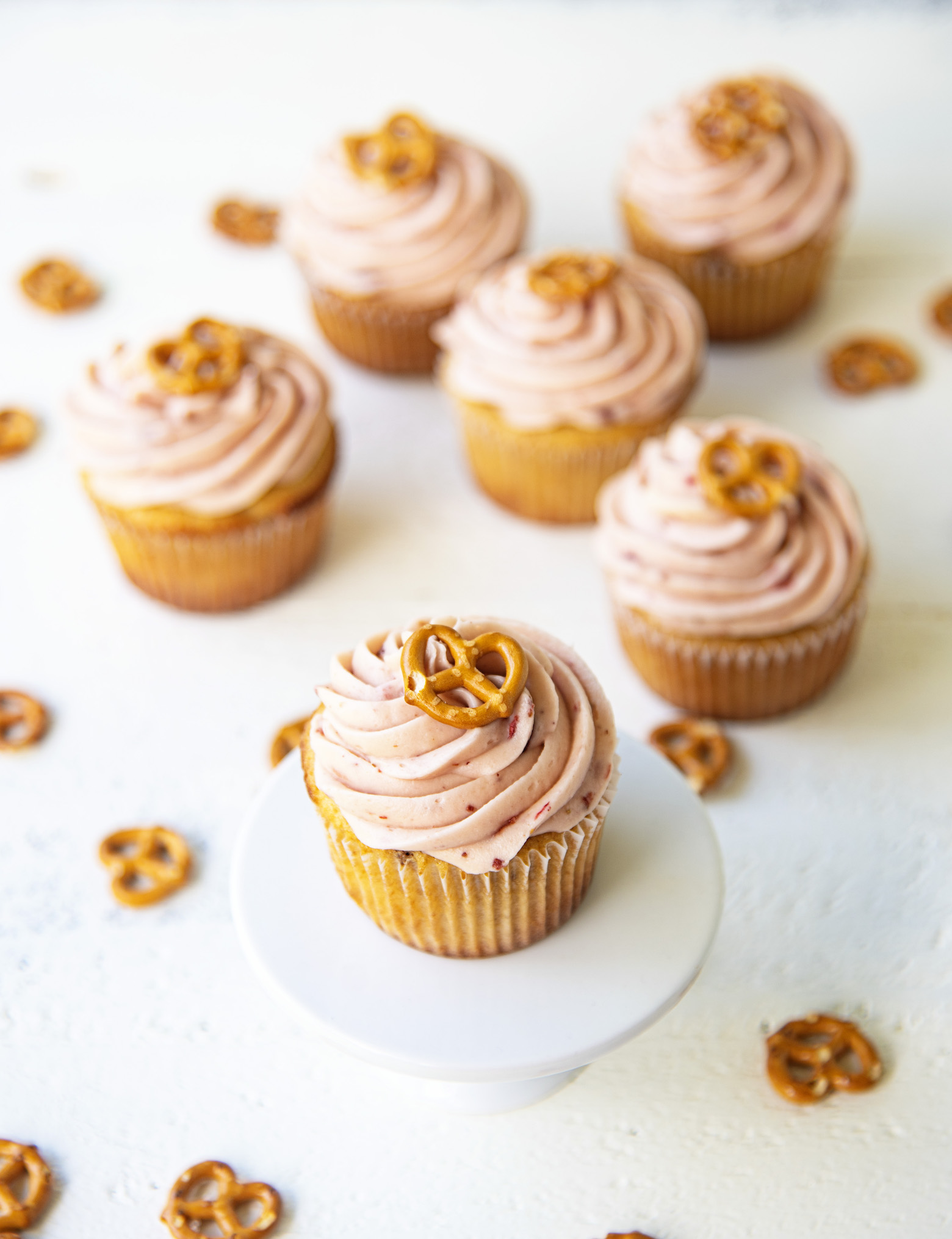 The cupcake base has crushed pretzels in it along with freeze dried strawberries.
It's then topped with a cream cheese frosting that also has freeze dried strawberries in it.
And then topped with a cute little mini pretzel.
If you are a fan of the flavors of the "salad" then you will love these.
Be safe this coming holiday (both Canada Day and 4th of July).
And as always it's a great day to order my cookbook.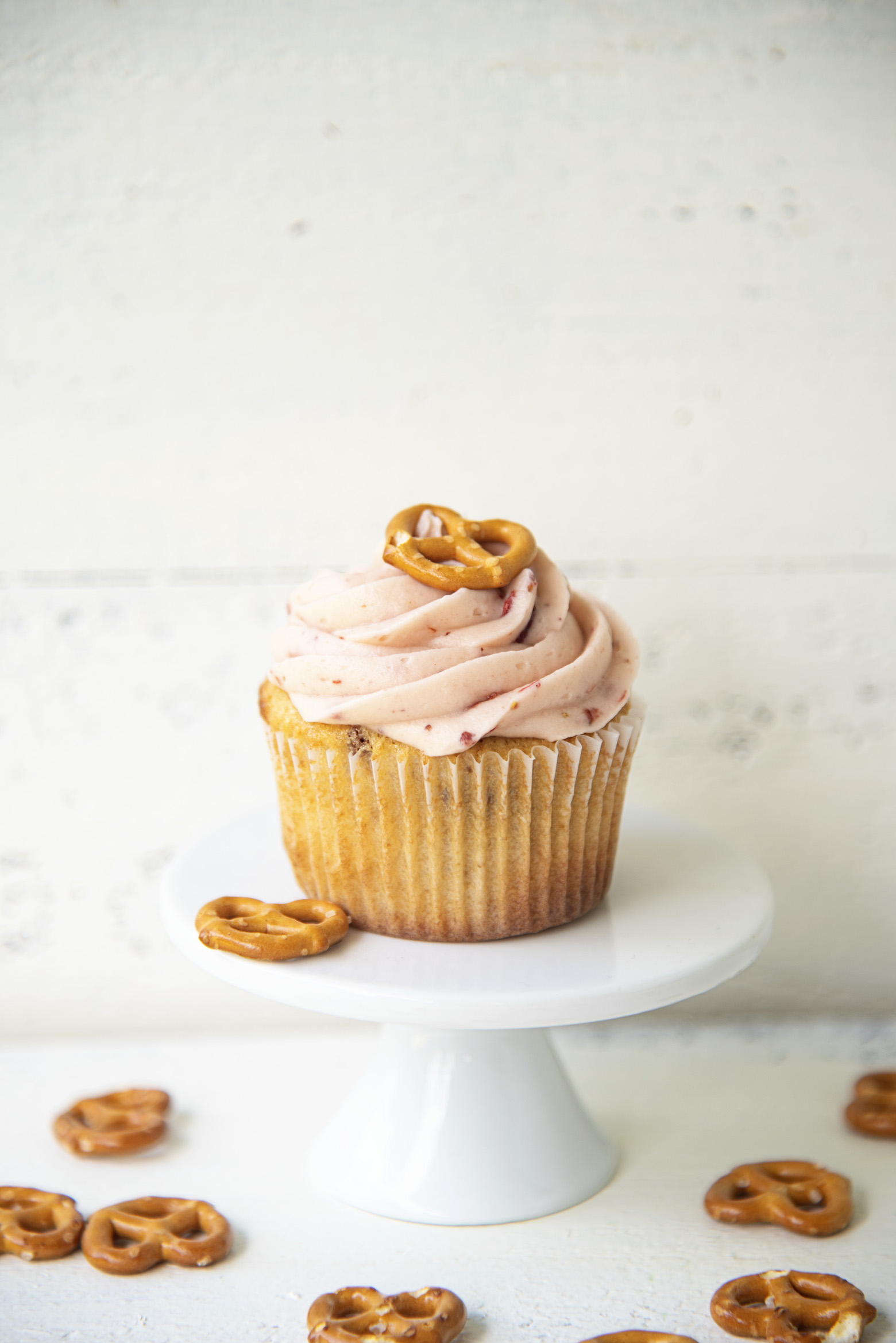 Want More Cupcakes Recipes?
Chocolate Root Beer Float Cupcakes
Dark Chocolate Butterfinger Cupcakes
Strawberry Buttercream Neapolitan Cupcakes
Key Lime Toasted Coconut Cupcakes
Ingredients
For the Cupcakes:
1/2 cup crushed pretzels
1 cup brown sugar
1 1/2 cups all-purpose flour
1 cup granulated sugar
2 tsp baking powder
12 TBSP unsalted butter
4 large eggs
1/2 cup buttermilk
1/2 cup sour cream
2 tsp vanilla extract
1 tsp salt
For the Frosting:
1/2 cup unsalted butter, at room temperature
8 oz cream cheese, at room temperature
1 tsp vanilla extract
1/4 tsp salt
4 cups powdered sugar
Instructions
For the Cupcakes:
Preheat oven to 350°F.
Line cupcake pans with 24 baking cups.
Place the pretzels pieces and brown sugar in a food processor and grind until fine.
Add the flour, granulated sugar, and baking powder and pulse to combine.
Melt the butter in the microwave at 60% power for one and a half to two minutes. Set aside.
Using a stand mixer with a paddle attachment beat together the eggs for two minutes.
Add in the buttermilk, sour cream, vanilla, and salt and mix for one minute until well combined.
Add the pretzel/flour mixture and mix on medium until just combined, 10 to 20 seconds.
Add the melted butter and mix for another 30 seconds.
Fold in the freeze dried strawberries and do your best to evenly distribute them throughout the batter.
Scoop batter into the prepared baking cups, filling them two thirds of the way full.
Bake for 20-25 minutes, rotating the pan halfway through.
The cupcakes are done when the centers spring back when you touch them.
Let cool for 5 minutes and then remove cupcakes from pan and place on a baking rack.
For the Frosting:
Combine butter and cream cheese in the bowl of a stand mixer (or you may use an electric mixer) and beat until creamy, well-combined, and lump-free.
Add vanilla extract, freeze dried strawberries, and salt and stir well to combine.
With mixer on low, gradually add powdered sugar until completely combined.
Use to frost completely cooled cake or cupcakes.
Top with mini pretzels if desired.