Strawberry Lemonade Lemon Bars: My favorite summertime drink in portable form. These are a twist on the classic lemon bar using lemonade and freeze dried strawberries.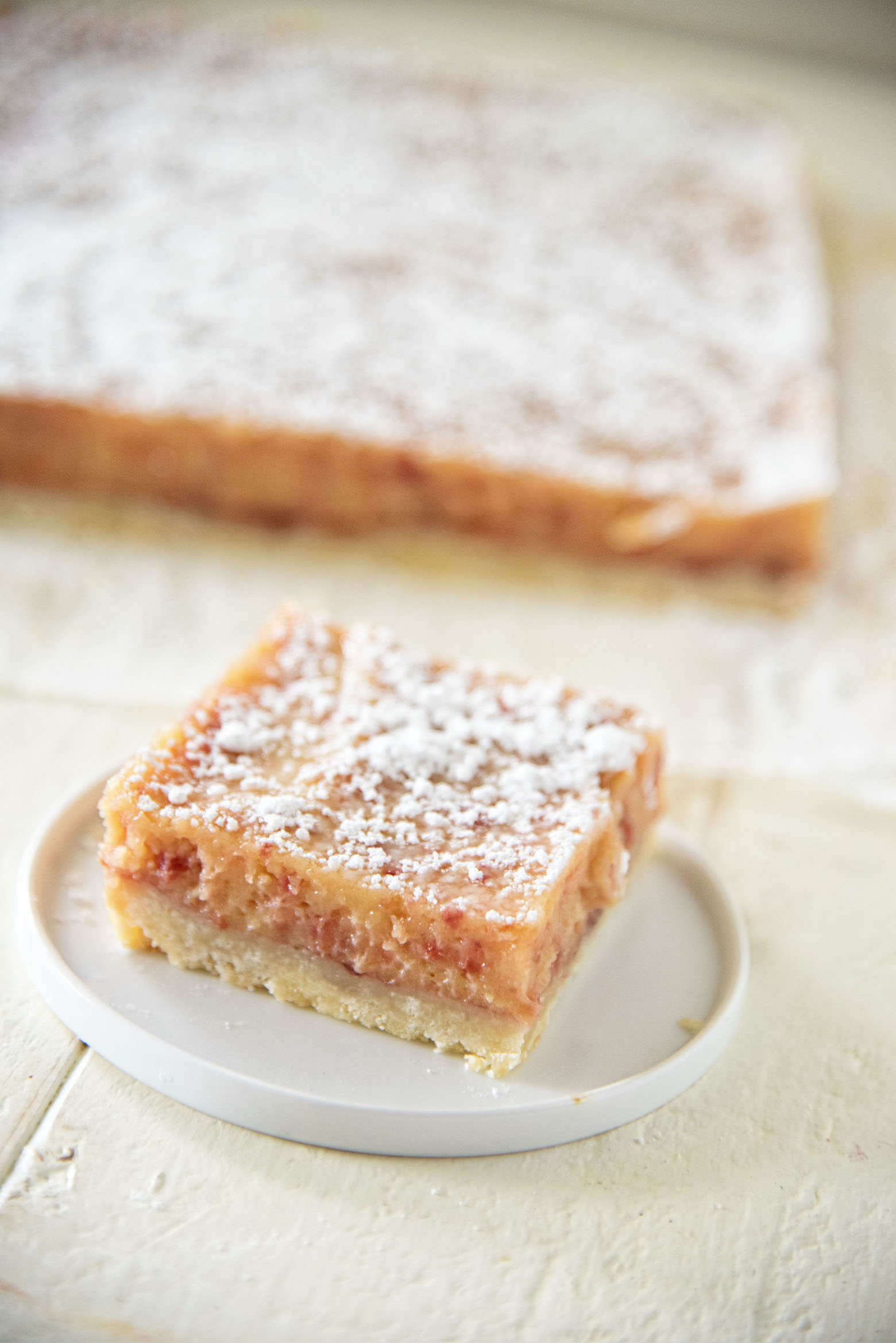 This post and recipe was created for #SummerDessertWeek!
I was sent samples by some of the sponsor companies but as always opinions, bad grammar, and overuse of emojis are 100% mine.
In this post I used Dixie Crystals Sugar granulated sugar as well as their powdered sugar that I got from participating in the last dessert week in my recipe.
I got great results with the product that they sent me.
Well we are full on in summer now. It's starting to heat up (my least favorite) and I will be hiding out in the house with all the portable a/c's cranked up.
And I will be sipping on Strawberry Lemonade.
I am a sucker for flavored lemonades.
Heck, I even used to love the powdered raspberry lemonade I drank as a kid.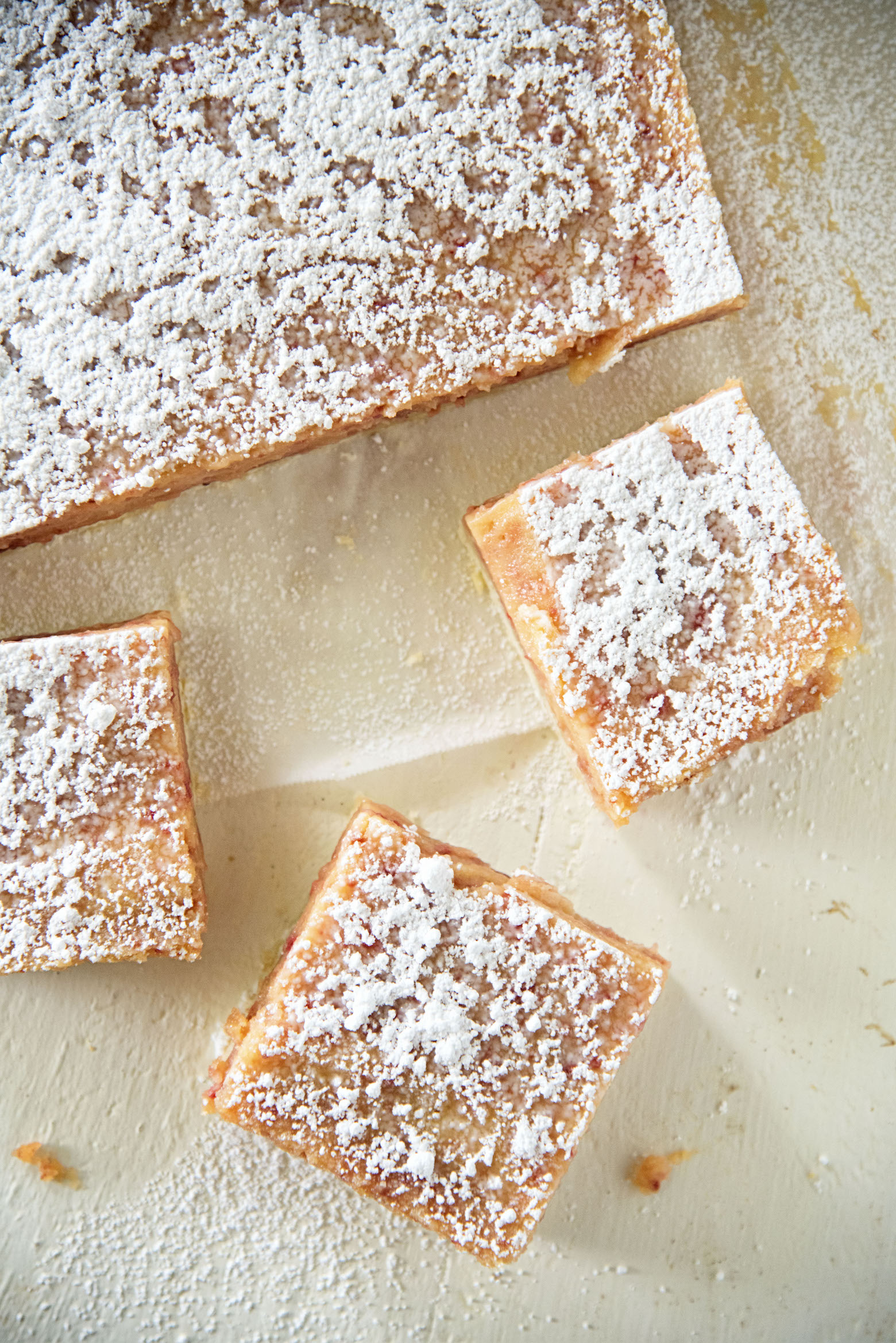 Now huckleberry lemonade is my favorite of all time but those are both pricey and hard to come by.
These Strawberry Lemonade Lemon Bars are made with freeze dried strawberries because I prefer those to fresh ini desserts like these.
Why? Because with fresh fruit you sometimes have no idea how juicy the fruit is when they bake.
Lemon bars can sometimes be risky when adding fruit other than lemon because they can make them get too soft.
I think using the freeze dried helps avoid that.
They are however more tart than fresh strawberries so I highly suggest you powder the heck out of these with powdered sugar. 🙂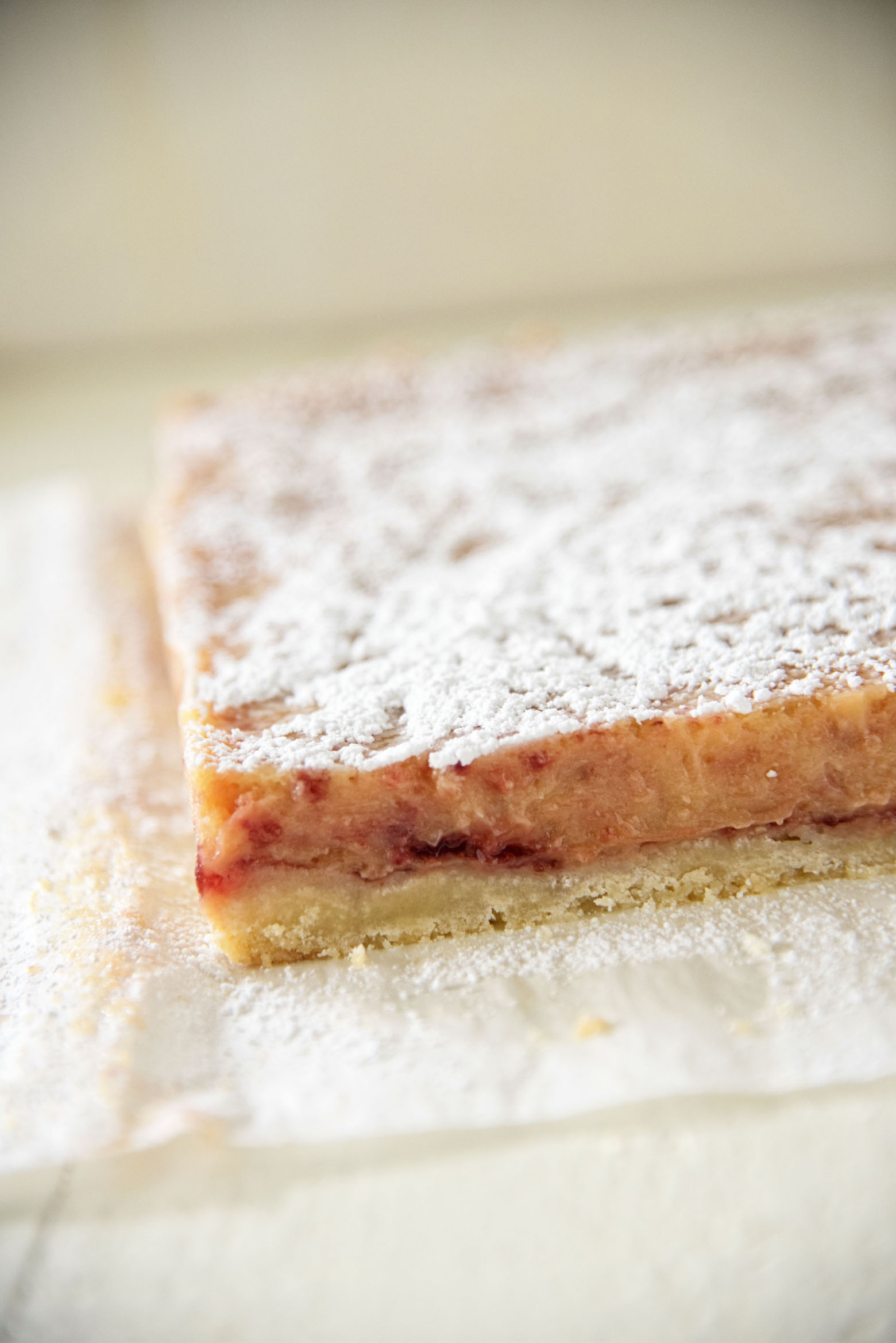 Want more Bar recipes?
Chocolate Chunk Churro Cookie Bars
Butterscotch Walnut Meringue Bars
Ingredients
For the Crust:
1/4 cup granulated sugar
1/2 cup (1 stick) unsalted butter, at room temperature
1 1/2 cup all-purpose flour
1/4 tsp salt
zest of one lemon
For the Filling:
3/4 cup lemon juice
4 TBSP frozen lemonade concentrate
1/2 cup freeze dried strawberries, roughly crushed
1 3/4 cup granulated sugar
3 large eggs
1/3 cup all-purpose flour
1/2 tsp baking powder
1/4 tsp salt
Powdered Sugar for Dusting
Instructions
For the Crust:
Preheat oven to 350F.
Using a stand mixer with the paddle attachment, beat together sugar and butter until light and creamy.
Gradually mix in flour, lemon zest, and salt until the mixture is crumbly.
Press mixture into a 9 in. x 13 in. pan and prick several times with a fork.
Bake for 15-17 minutes.
Set aside while you make filling. Keep oven on.
For the Filling:
Using a large bowl whisk together the eggs and sugar until fully combined.Add the lemon juice and lemonade concentrate and whisk until combined.
Pour in the flour, baking powder, and salt and again whisk until fully combined.
Fold in the freeze dried strawberries.
With crust still warm, pour the filling over the crust and smooth even with a spatula.
Bake for an additional 25 minutes or until the middle is set.Sprinkle with powdered sugar.
Place into fridge and let set up for 2 hours.
Remove from fridge and sprinkle more powdered sugar on top.
Disclaimer: These posts and recipes are part of the week-long event, #SummerDessertWeek but all opinions are 100% mine! We would like to Thank our amazing sponsors: Dixie Crystals, Adam's Extract, Red Star Yeast, Susquehanna Glass Co. and Lodge Cast Iron!