These Strawberry Lemonade Glazed Cupcakes are lemon scented cupcakes with freeze dried strawberries all topped with a tangy lemonade glaze.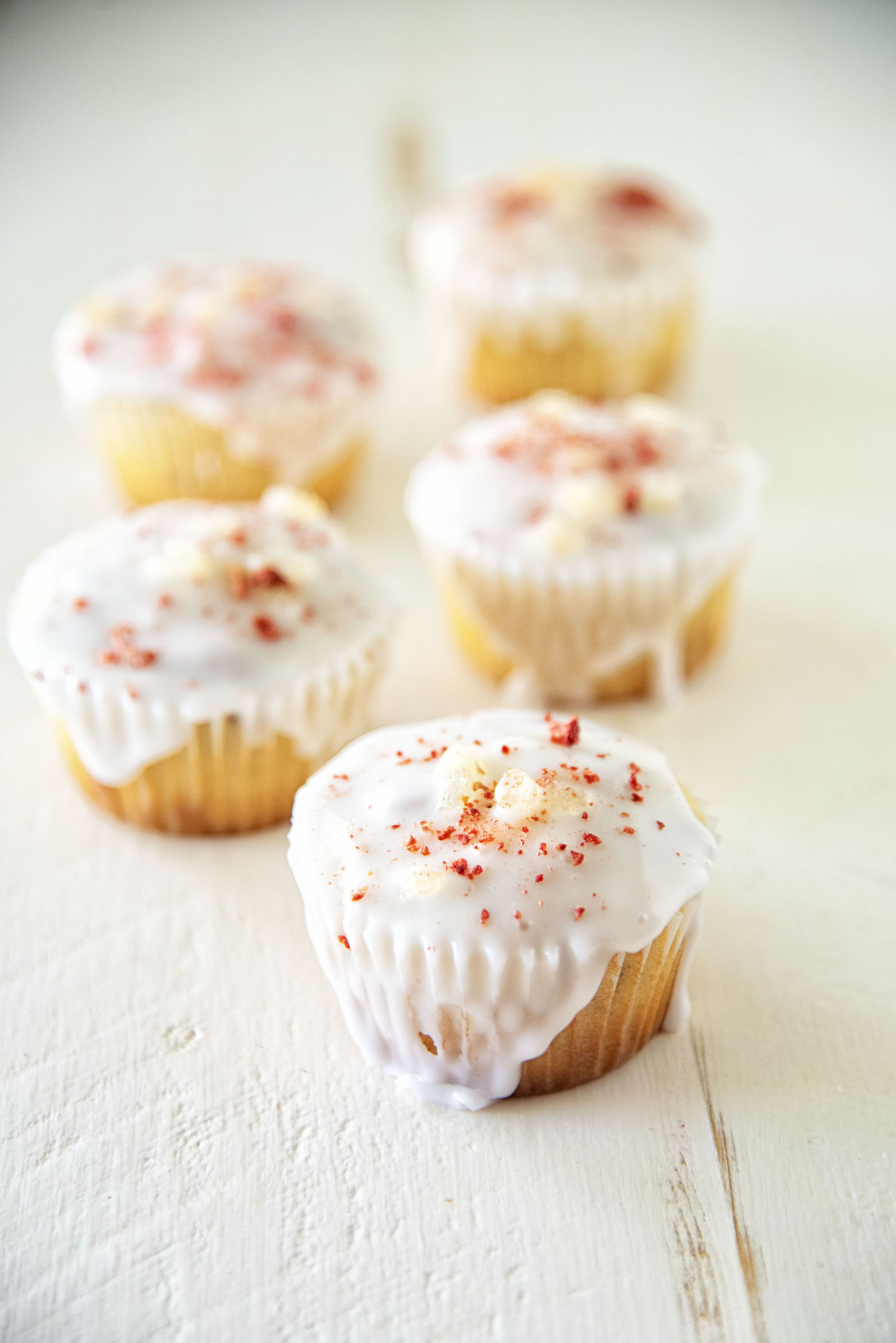 See, I told you I was on a lemonade kick as of late. 🙂
These were actually up for debate at our household.
I call them Strawberry Lemonade Glazed Cupcakes.
My husband feels because they are glazed and not frosted that they are muffins.
I think he is just saying that because he wants to eat them for breakfast.
Which at our house it's perfectly acceptable to eat a frosted cupcake for breakfast but maybe muffin sounds better.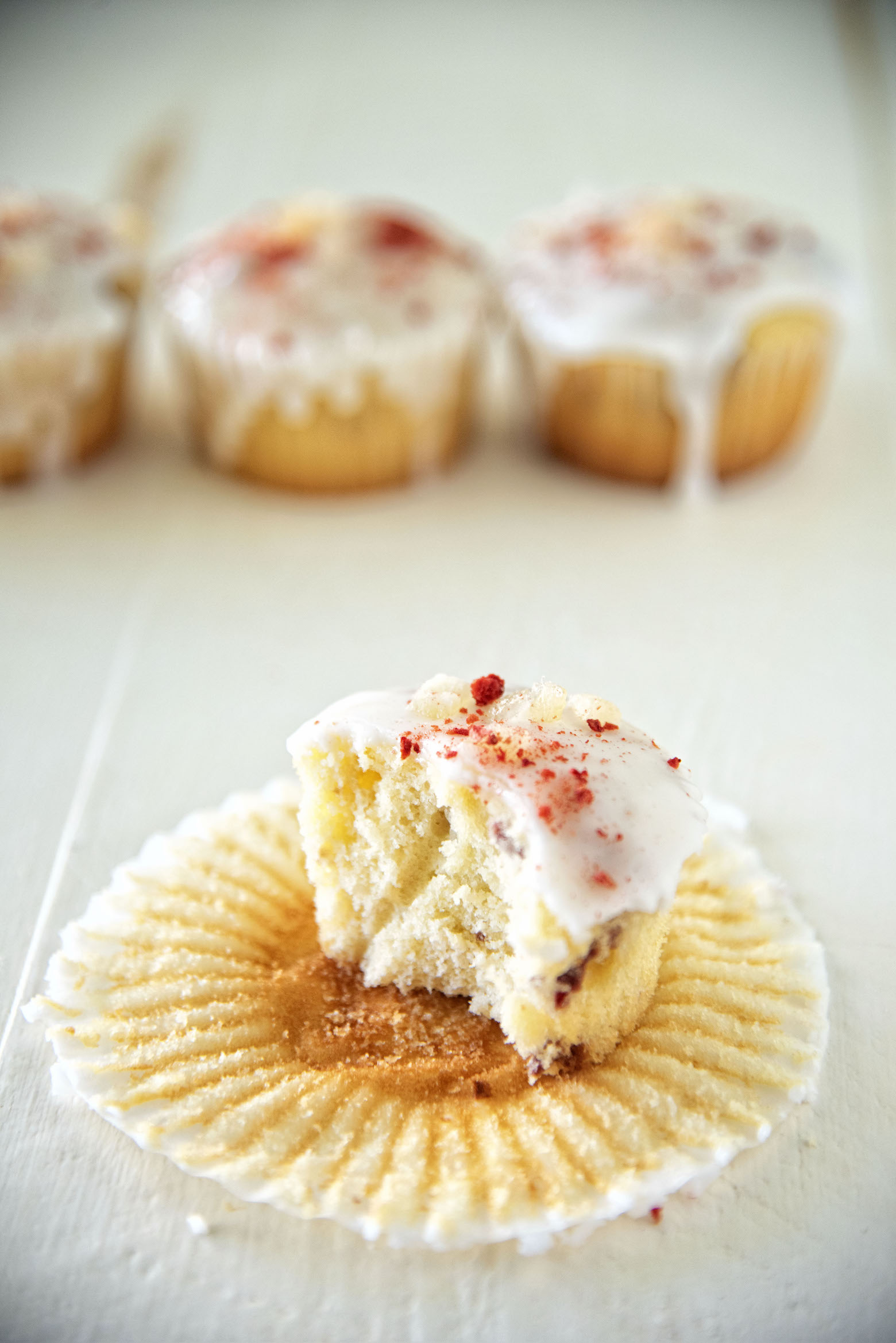 It is a common debate on if something has glaze is is muffin or cupcake.
I mean if it doesn't have frosting it's for sure a muffin.
Because a cupcake with no icing or frosting is just sad.
And no one wants a sad cupcake.
But sometimes muffins are indeed glazed.
Then again so are cupcakes.
Where do you stand?
Do you think these are cupcakes or are they muffins?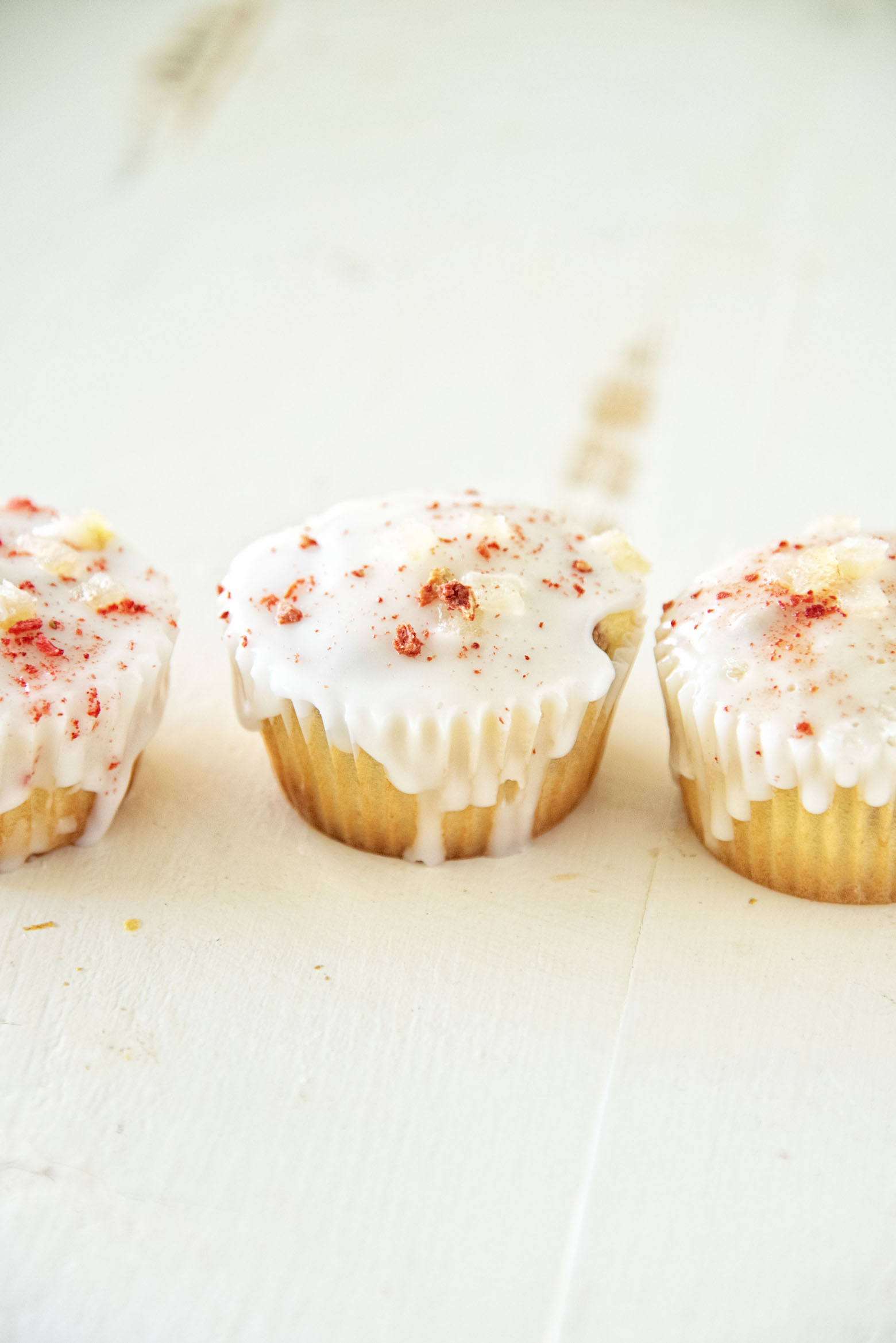 These are rather interesting in that they aren't the usually cream the sugar and butter together method.
You actually start with the eggs and then add the other wet ingredients.
Which I found odd but they do produce a good crumb and so they may be on to something.
If you can use fresh squeeze lemonade that is going to work best but if not use frozen concentrate or store bought.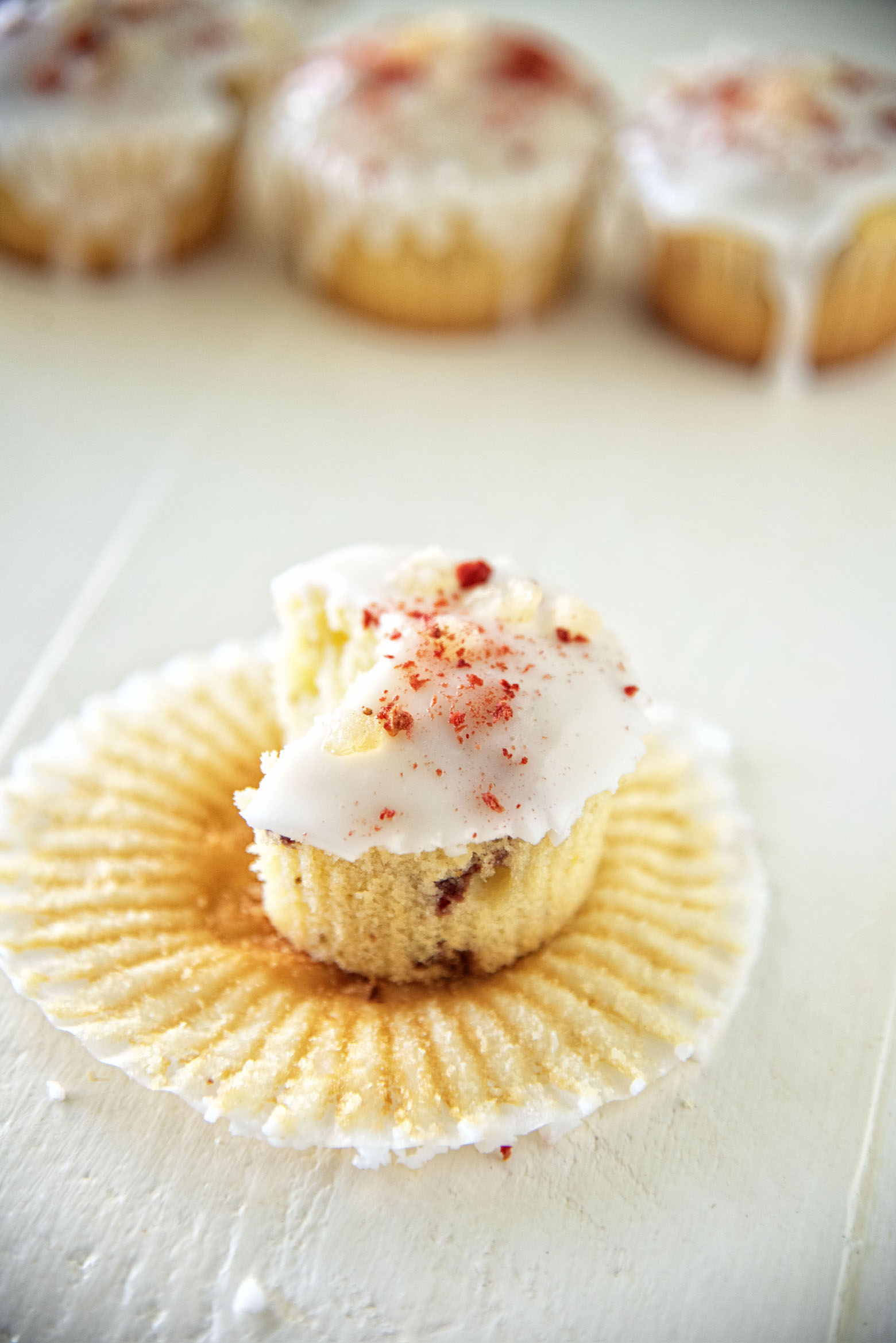 Once again I use freeze dried fruit.
If you still haven't crossed over to the world of freeze dried fruit in your baking, I HIGHLY suggest it.
Very intense flavor and none of the moisture to possibly ruin your out come.
P.S. It's a great day to buy my cookbook Holy Sweet!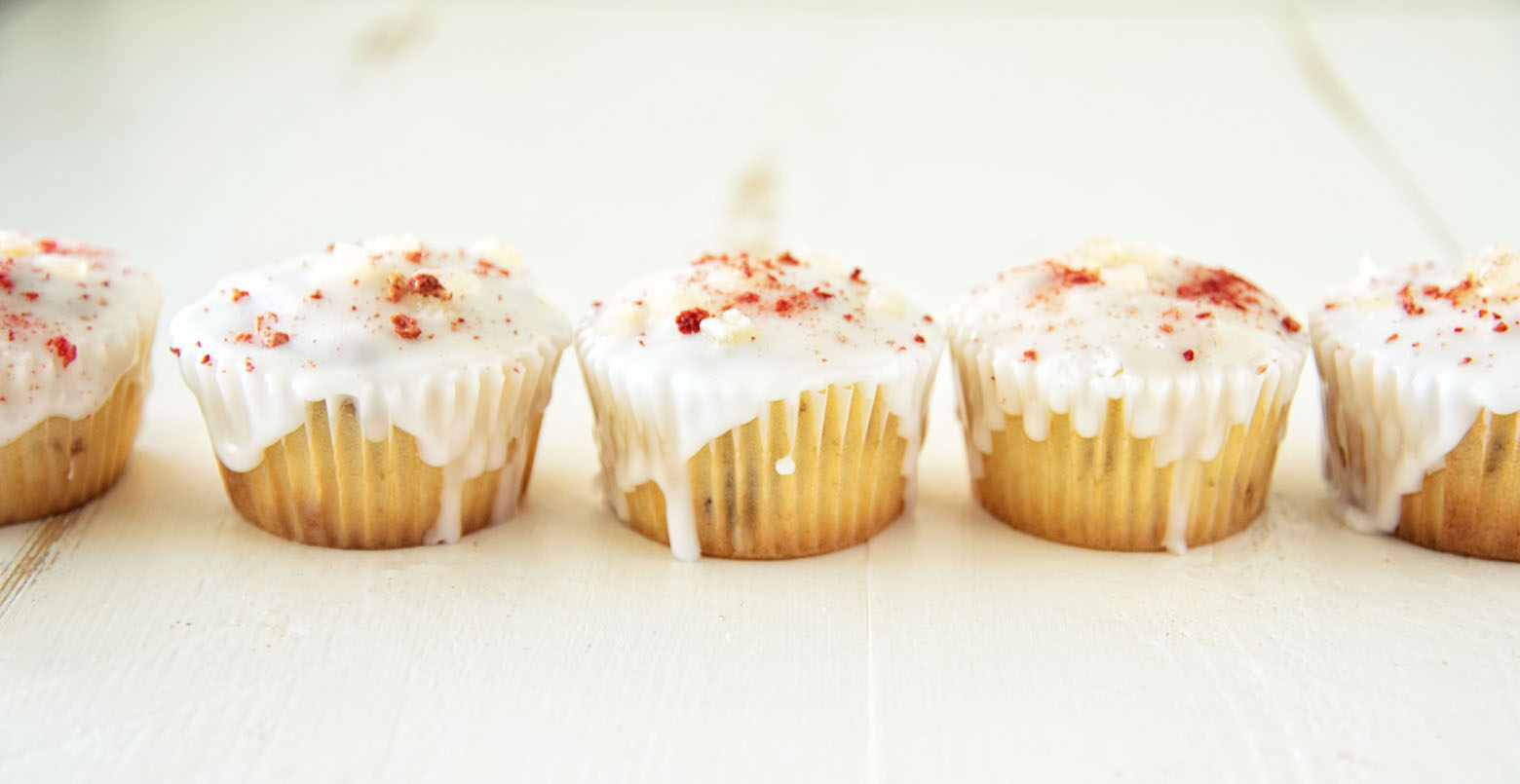 Want More Strawberry Lemonade Recipes?
Strawberry Lemonade Bundt Cake
Strawberry Lemonade Lemon Bars
Ingredients
For the Cupcakes:
12 TBSP unsalted butter
4 large eggs
1 cup whole milk
zest of two lemons
2 TBSP lemon juice
1 tsp. Salt
2 cups all-purpose flour
1 1/2 cups sugar
2 tsp. Baking powder
For the Fondant Icing:
5 cups powdered sugar
1/2 cup fresh squeezed lemonade
Instructions
For the Cupcakes:
Preheat the oven to 350°F.
Line cupcake pans with 24 baking cups.
Melt the butter in a microwave at 60% power for 1 1/2 to two minutes.
Keep the butter warm do not allow it to sit and cool off.
In a stand mixer with a paddle attachment, beat the eggs on medium low speed for two minutes until light And fluffy and lightly foamy.
Increase the mixer speed to medium high.
Pour the warm butter into the egg slowly so that the mixture tempers the eggs, do not scramble.
Once the butter is added, reduced the speed back to medium-low.
With the mixer running, add the milk, lemon zest, lemon juice, and salt.
Mix for one minute until well combined.
Sift together the flour, sugar, and baking powder and add to the batter.
Mix on medium until just combined, 10 to 20 seconds.
Remove the bowl and paddle from the mixer and use the paddle to scrape the bottom and sides of the ball ensuring that everything is well mixed.
Add the freeze dried strawberries to the batter. 
Fold in the freeze dried strawberries and do your best to evenly distribute the fruit. 
Scooped the batter into the prepared baking cups, filling them two thirds of the way.
Thinking the middle of the oven for 20 to 25 minutes, rotating the pan halfway through.
The cupcakes are done with the center spring back when you touch them.
Remove the cupcakes from the oven. Let cool for five minutes, then remove from the pan and place on a baking sheet.
For the Icing:
Whisk together the powdered sugar and lemonade. 
Pour icing on top of each cupcake.
For thicker glaze add more powdered sugar.
For thinner glaze add more lemonade.
Top with candied lemon and freeze dried strawberry dust if desired.