This striking Strawberry Key Lime Tart is a twist on traditional key lime pie by the addition of freeze dried strawberries.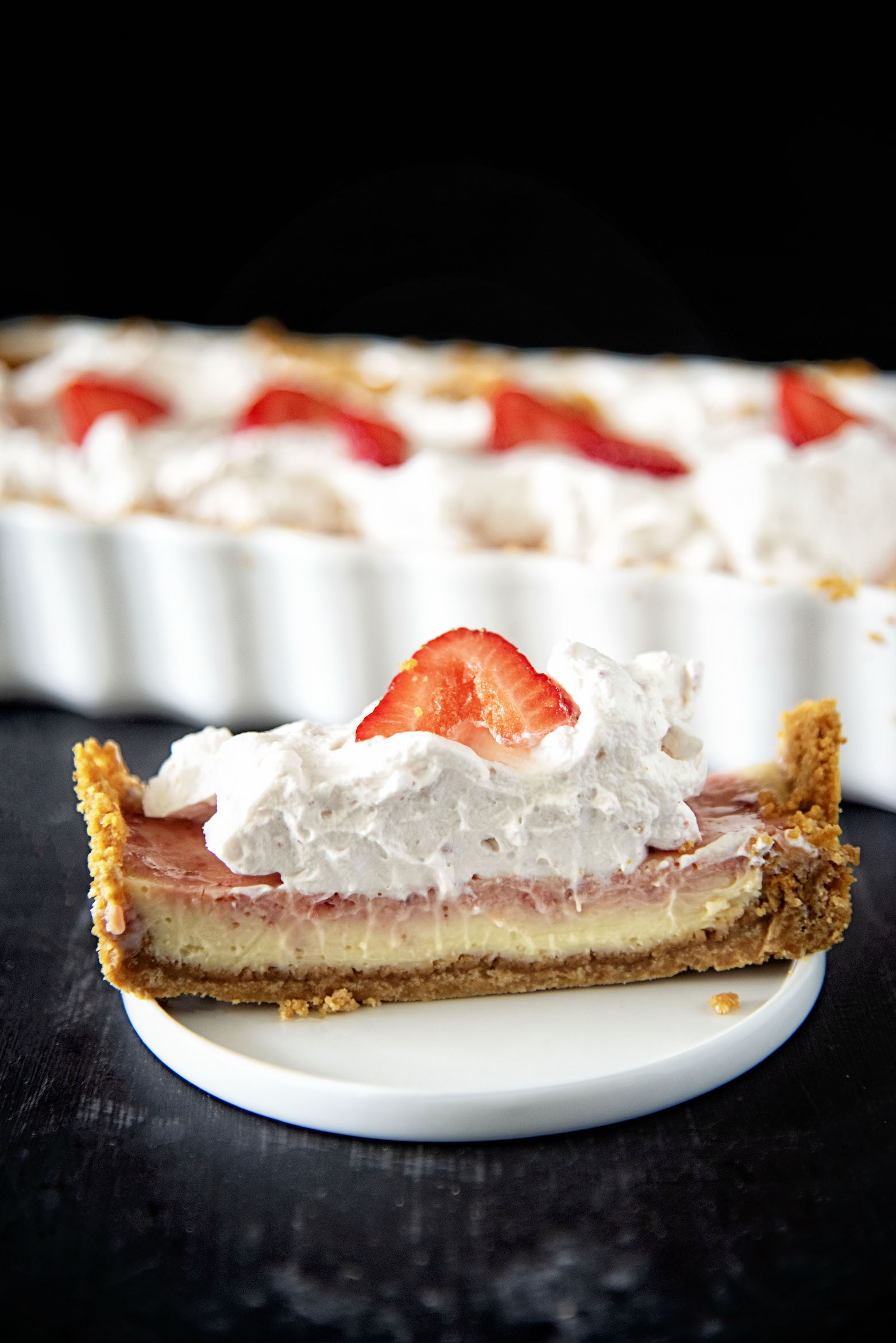 First off, in case you were wondering, yes…this does make for an excellent breakfast. 😀
I would know.
I mean it has fruit.
It has eggs.
It has cream.
Graham crackers with browned butter could totally pass as toast with butter.
So see it's just eggs, toast, and some fruit.
Seriously, if you can have a donut for breakfast surely you can have Strawberry Key Lime Tart.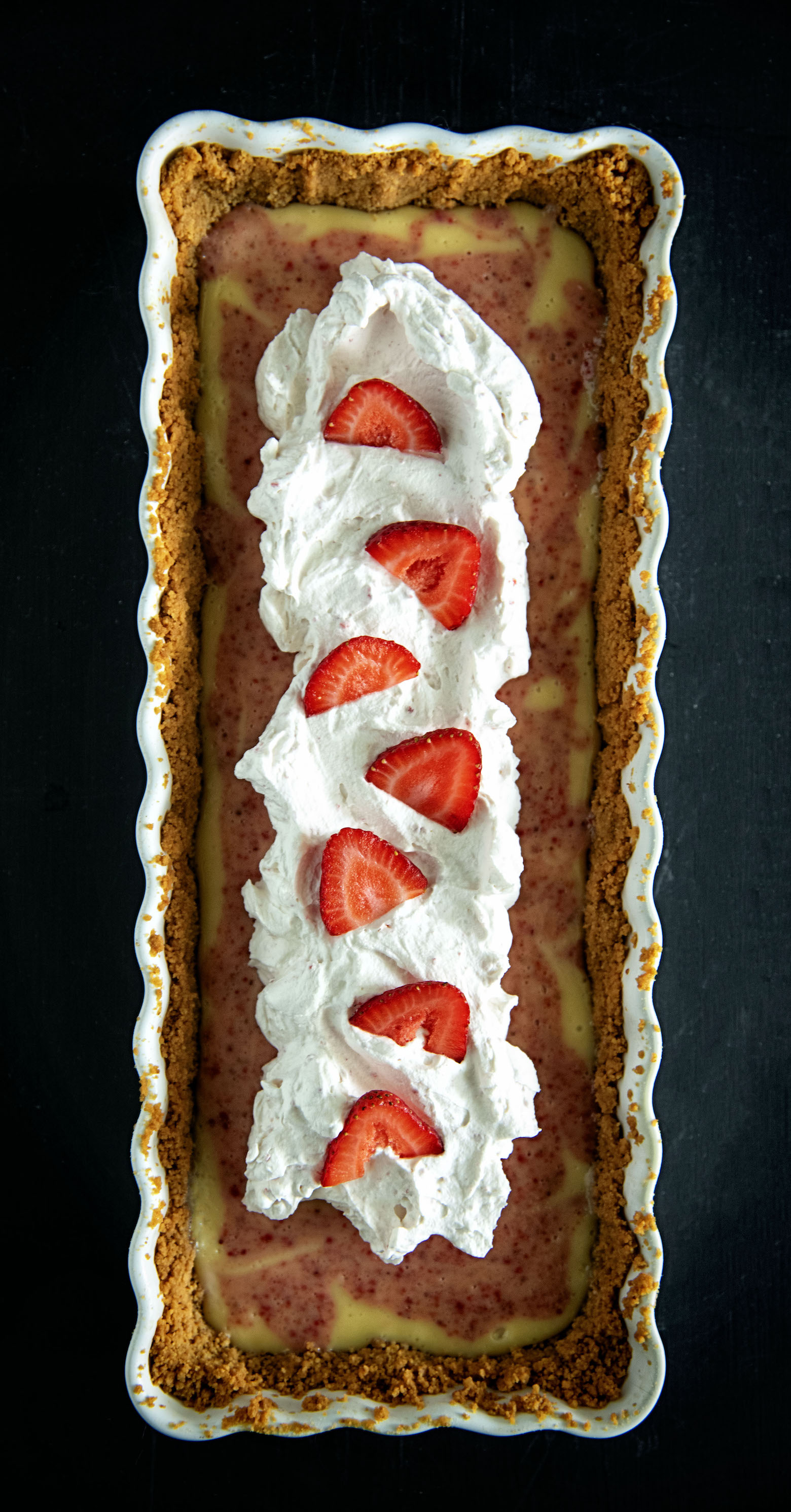 While strawberries are currently in season this is made with my favorite freeze dried strawberries.
This is good because you can make it all year long.
Though I fully admit I do think of this as more of a summer dessert.
And enjoy them while you can.
Because I already have that I want fall-itis coming on.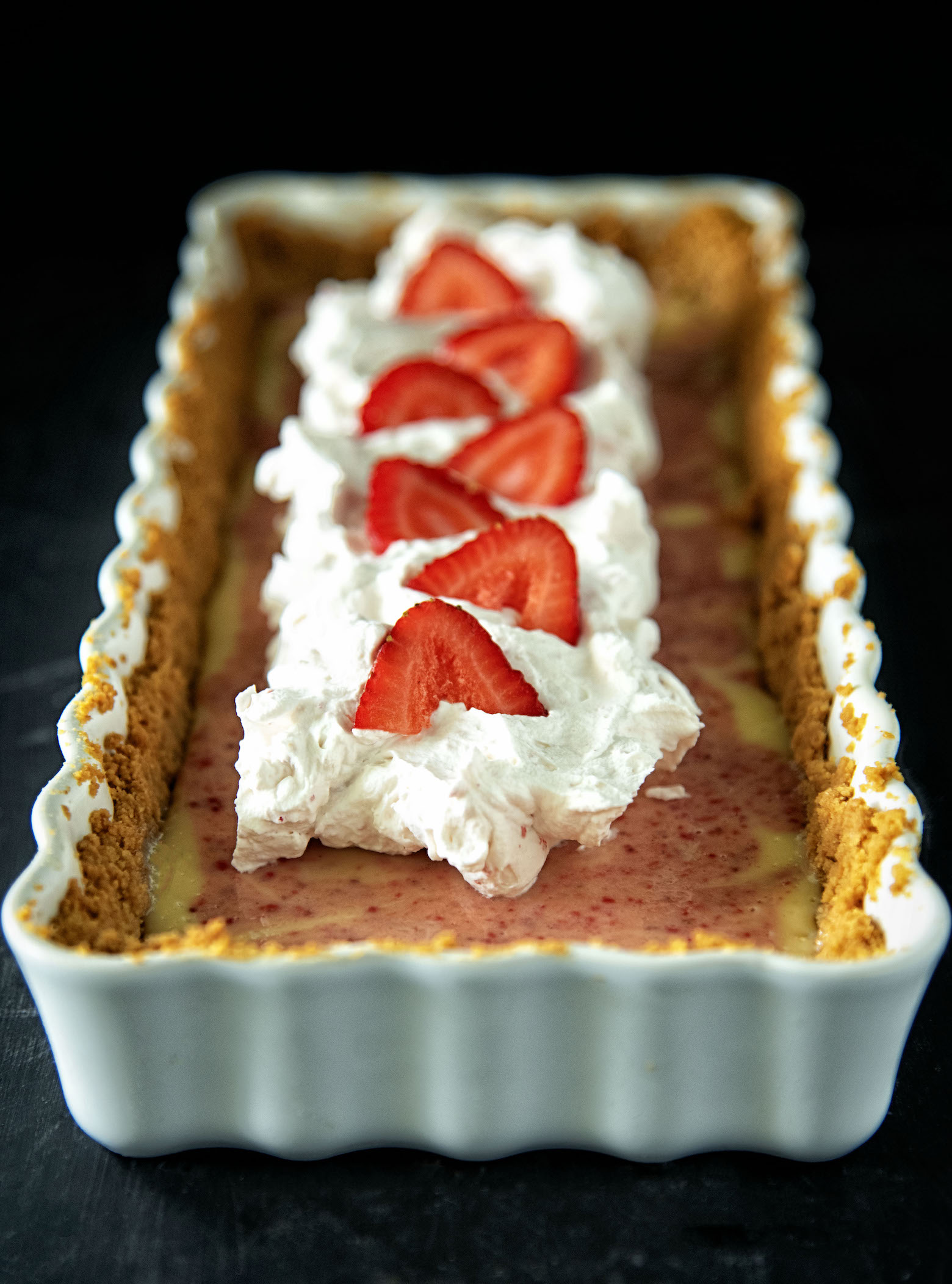 I was at the grocery store yesterday and looking at the magazine.
And there it was.
A thick glossy cover with a fall wreath on it that said AUTUMN.
I grabbed it and made a little squeal.
The woman next to me gave me a look.
I tried to justify my crazy by saying, oh I'm a food blogger, we have to make recipes months in advance so I'm happy to see this.
I don't think she bought it.
She knows I'm crazy. 😛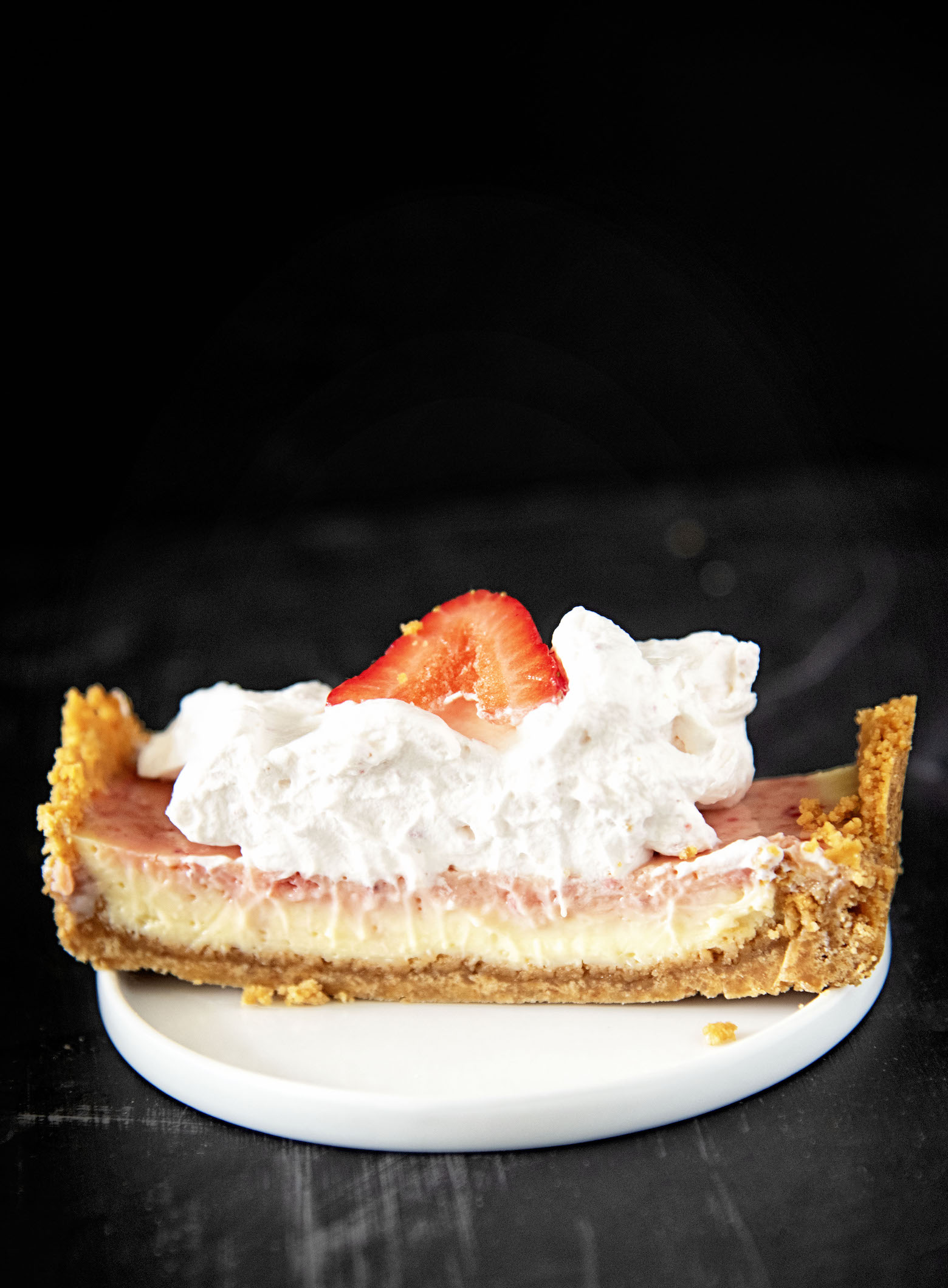 So enjoy this summer Strawberry Key Lime Tart while you can.
Even though you can totally make it year round. 🙂
There is a touch of fall in this already as I made the crust with brown butter.
You don't have to if you don't want to but it really adds some depth.
Also, a round tart pan will work just as easily as a rectangular pan, I just like the look of the long tart.
P.S. It's a great day to buy my cookbook Holy Sweet!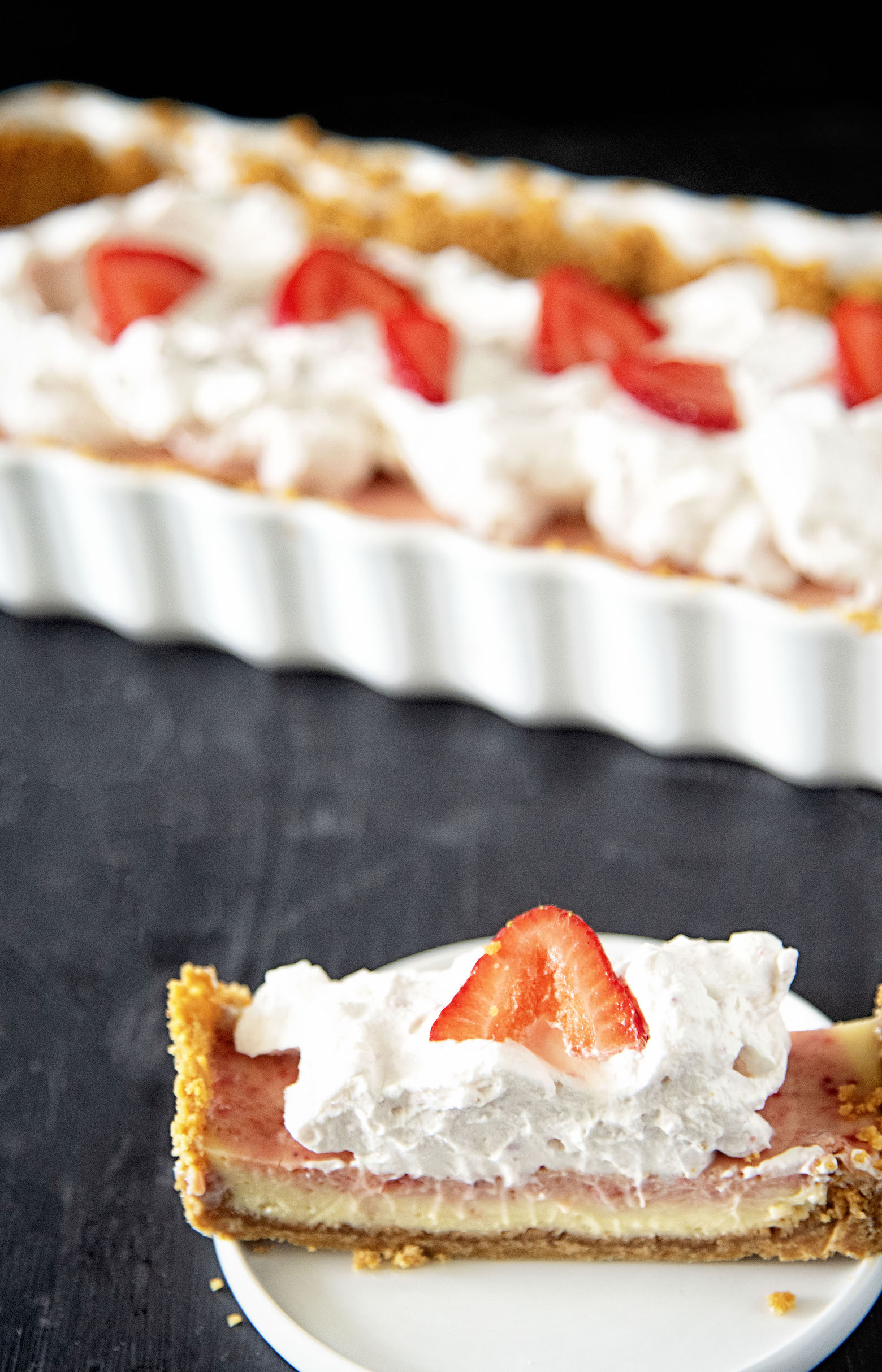 Want more recipes? Try these:
Mini Key Lime Ice Cream Pies with Raspberry Sorbet Middles
Ingredients
Brown Butter Graham Cracker Crust:
1 ¾ cups crushed graham cracker crumbs
1/3 cup powdered sugar
7-8 TBSP brown butter
1/8 tsp. Salt
For the Filling:
2/3 cup key lime juice, fresh if possible
1/4 cup heavy whipping cream
1/3 cup cream cheese, at room temperature
1 can (14 ounces) sweetened condensed milk
1 to 2 teaspoons finely grated lime or key lime zest, divided
4 egg yolks
For the whipped cream:
1 cup heavy whipping cream
2 TBSP powdered sugar
Instructions
For the crust:
In a large bowl add the graham cracker crumbs, powdered sugar, and salt.
Add about 7 TBSP melted butter.
Mix until combined.
If it seems like it needs more butter add the remaining TBSP (mine too the full 8 TBSP).
Pour contents into a tart or pie pan and press to form a shell.
Bake crust for 15 minutes at 325F.
For the filling:
Whisk sweetened condensed milk with the egg yolks.
Whisk in cream cheese.
Stir in heavy whipping cream and lime juice.
Stir in 1 to 1 1/2 teaspoons lime zest.
If it seems too clumpy due to cream cheese you can put it in a blender or food processor and blend until smooth.
Divide filling in half and place into separate bowls.
Add 3 TBSP powdered freeze dried strawberries into one of the key lime fillings and mix until combined.
Alternating with 1/3 cup strawberry filling and 1/3 regular key lime filling pour the filling into the prepared tart pan.
Swirl with a knife.
Bake at 325° for 15 to 20 minutes.
Refrigerate for at least 8 hours or overnight.
For the whipped cream:
Using a stand mixer with the whisk attachment, beat heavy cream until soft peaks form.
Add the powdered sugar and powdered freeze dried strawberries and beat until stiff peaks form.
Add to top of tart.