These Strawberry Buttercream Neapolitan Cupcakes are vanilla and chocolate cupcakes all topped with a strawberry Swiss meringue buttercream.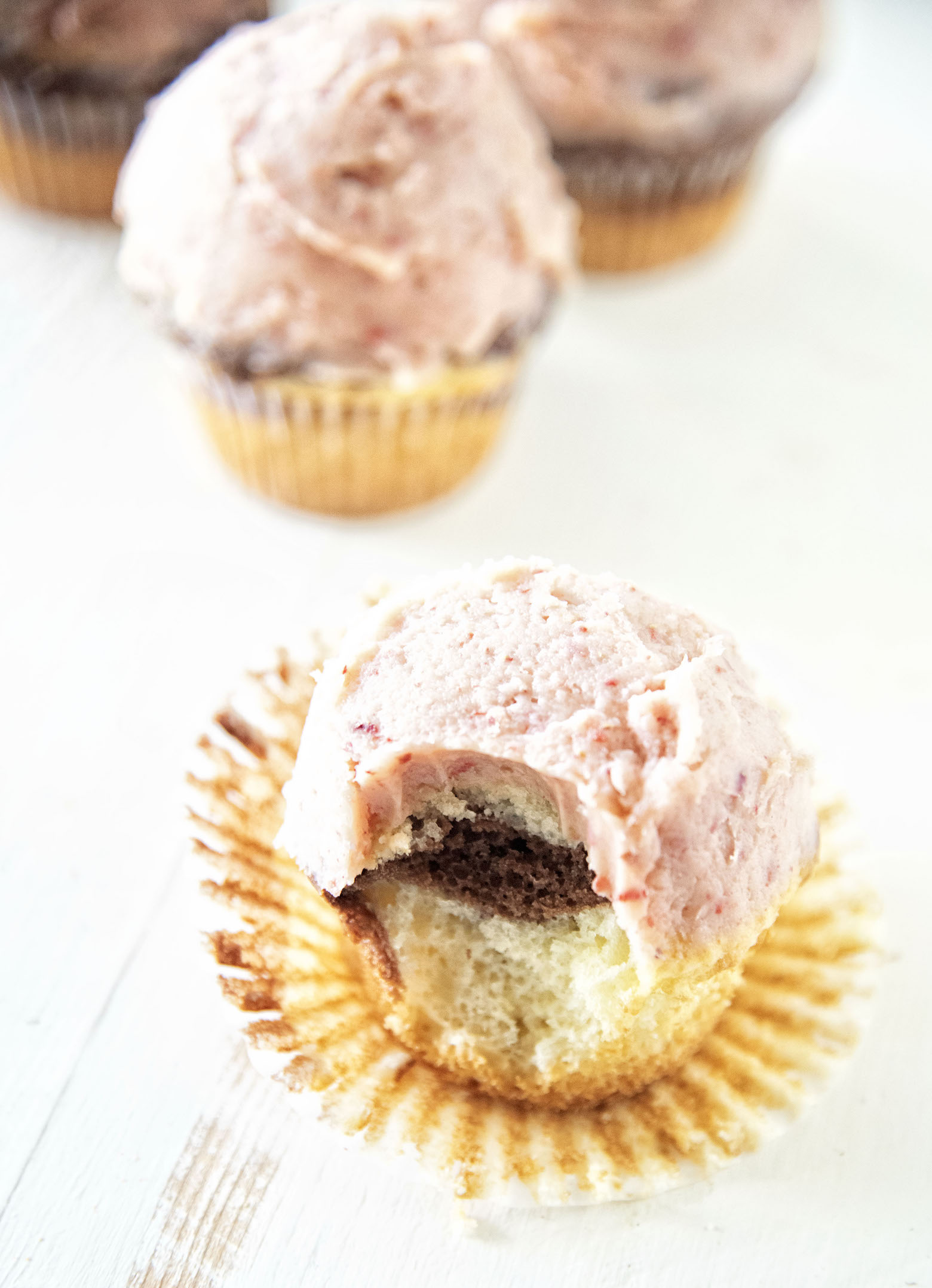 In early June this blog will turn 14.
Yes, 14.
There are rarely any bloggers around from when I started.
Some stopped because they got bored.
Others stopped because their lives got hectic with kids and whatnot.
A few have stopped because they don't like what food blogging has become.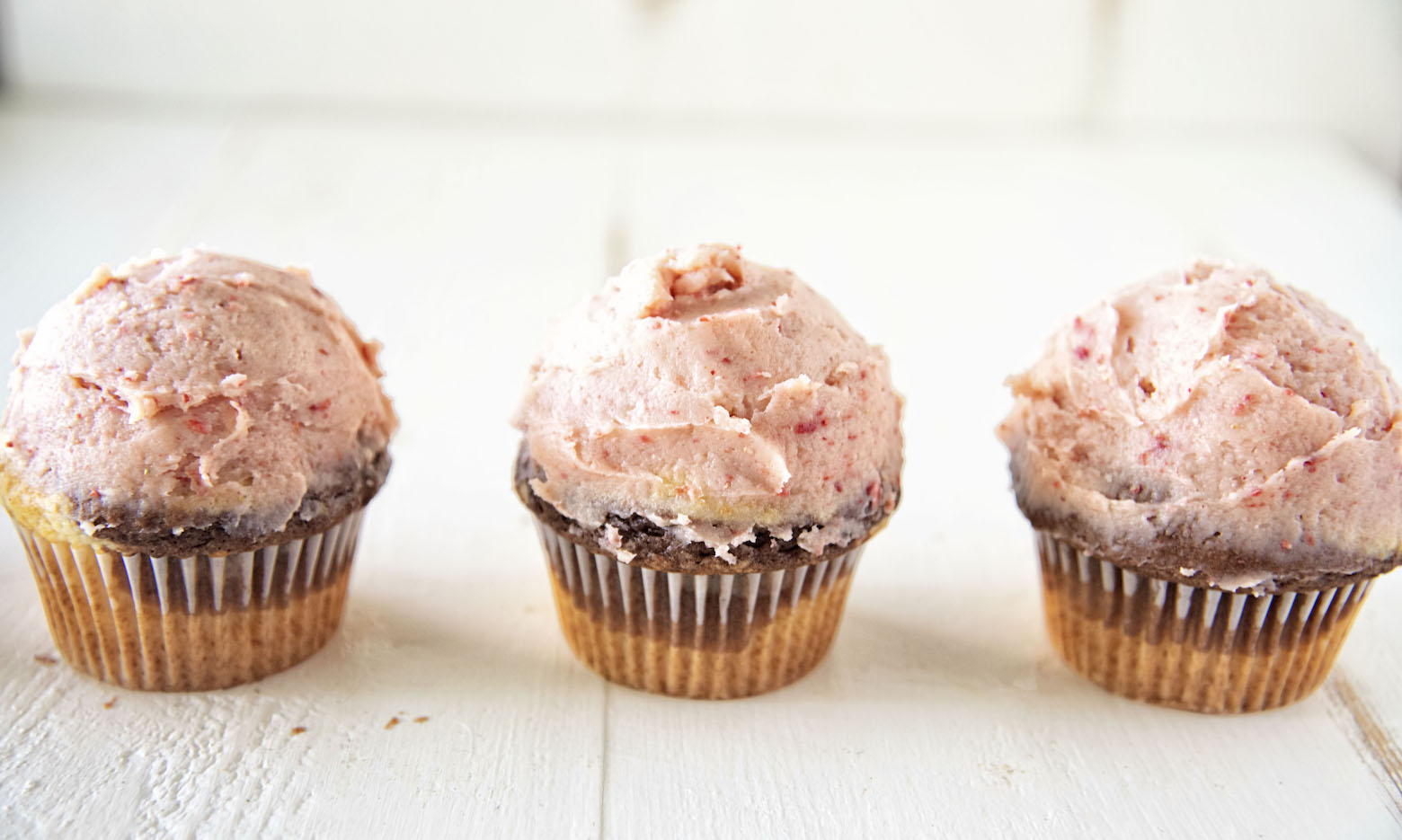 These cupcakes kind of represent the old days of blogging.
The days when we really didn't care that much about what the food looked like.
We just wanted to make some cupcakes and then eat them. 🙂
It was funny because in frosting these with just a knife I realized I had not actually frosted a cupcake that way in a long, long time.
Felt totally weird.
My husband even asked if I ran out of piping bags.
I said no, just throwing back to the old days.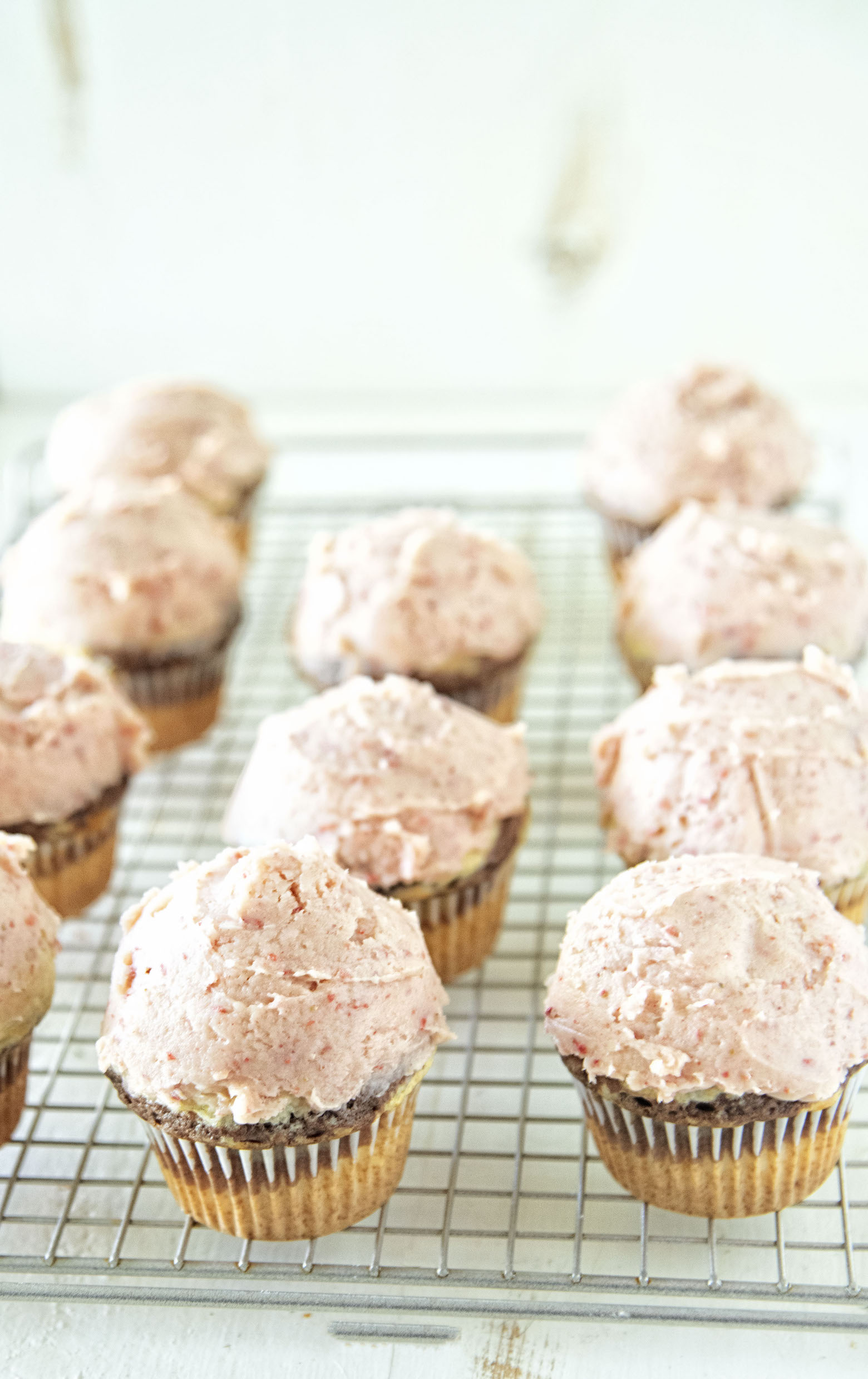 These Strawberry Buttercream Neapolitan Cupcakes are very straight forward.
A vanilla based cupcake that you add unsweetened cocoa powder to.
Then top with a yummy Strawberry Swiss Meringue Buttercream.
Simple.
Yummy.
No fuss.
All good.
P.S. It's a great day to buy my cookbook Holy Sweet!
Want more Cupcake recipes?
Strawberry Lemonade Glazed Cupcakes
Key Lime Toasted Coconut Cupcakes
Chocolate Glazed Rocky Road Cupcakes
Strawberries and Cream Cupcakes
Vanilla Bean Rice Krispie Treat Cupcakes
Ingredients
For the Cupcakes:
12 TBSP unsalted butter
4 large eggs
1 cup whole milk
1 tsp. Vanilla extract
1 tsp. Salt
2 cups all-purpose flour
1 1/2 cups sugar
2 tsp. Baking powder
1/3 cup unsweetened cocoa powder
For the frosting:
3/4 cup egg whites
1 1/2 cup granulated sugar
2 (4 sticks) cups unsalted butter, cubed and at room temperature
pinch of salt
Instructions
For the cupcakes:
Preheat the oven to 350°F.
Line cupcake pans with 24 baking cups.
Melt the butter in a microwave at 60% power for 1 1/2 to two minutes.
Keep the butter warm do not allow it to sit and cool off.
In a stand mixer with a paddle attachment, beat the eggs on medium low speed for two minutes until light And fluffy and lightly foamy.
Increase the mixer speed to medium high.
Pour the warm butter into the egg slowly so that the mixture tempers the eggs, do not scramble.
Once the butter is added, reduced the speed back to medium-low.
With the mixer running, add the milk, vanilla, and salt.
Mix for one minute until well combined.
Sift together the flour, sugar, and baking powder and add to the batter.
Mix on medium until just combined, 10 to 20 seconds.
Remove the bowl and paddle from the mixer and use the paddle to scrape the bottom and sides of the ball ensuring that everything is well mixed.
Scooped half the batter into another bowl.
Add the unsweetened chocolate to the bowl and mix until combined.
Alternating with vanilla and then chocolate batter fill cupcakes liners up 2/3 of the way full.
Bake in the middle of the oven for 20 to 25 minutes, rotating the pan halfway through.
The cupcakes are done with the center spring back when you touch them.
Remove the cupcakes from the oven.
Let cool for five minutes, then remove from the pan and place on a baking sheet.
Let cool completely before frosting.
For the frosting:
Place the egg whites and sugar in the metal bowl of a stand mixer and set over a small pot of simmering water (the bowl should not touch the water).
Heat, stirring occasionally, until mixture is 160F or hot to the touch.
Transfer bowl to stand mixer and beat on high speed with a whisk attachment to medium stiff peaks, about 8 minutes.
Reduce mixer speed to medium low and add butter a tablespoon at a time, letting it incorporate into the meringue for few moments before adding more.
Add the freeze dried strawberry powder and salt and beat on high for 1-2 minutes until smooth and creamy.
Frost the cupcakes.