This Strawberries and Cream Bundt Cake is a mix of vanilla bean (cream) and strawberries all covered in a strawberries and cream glaze.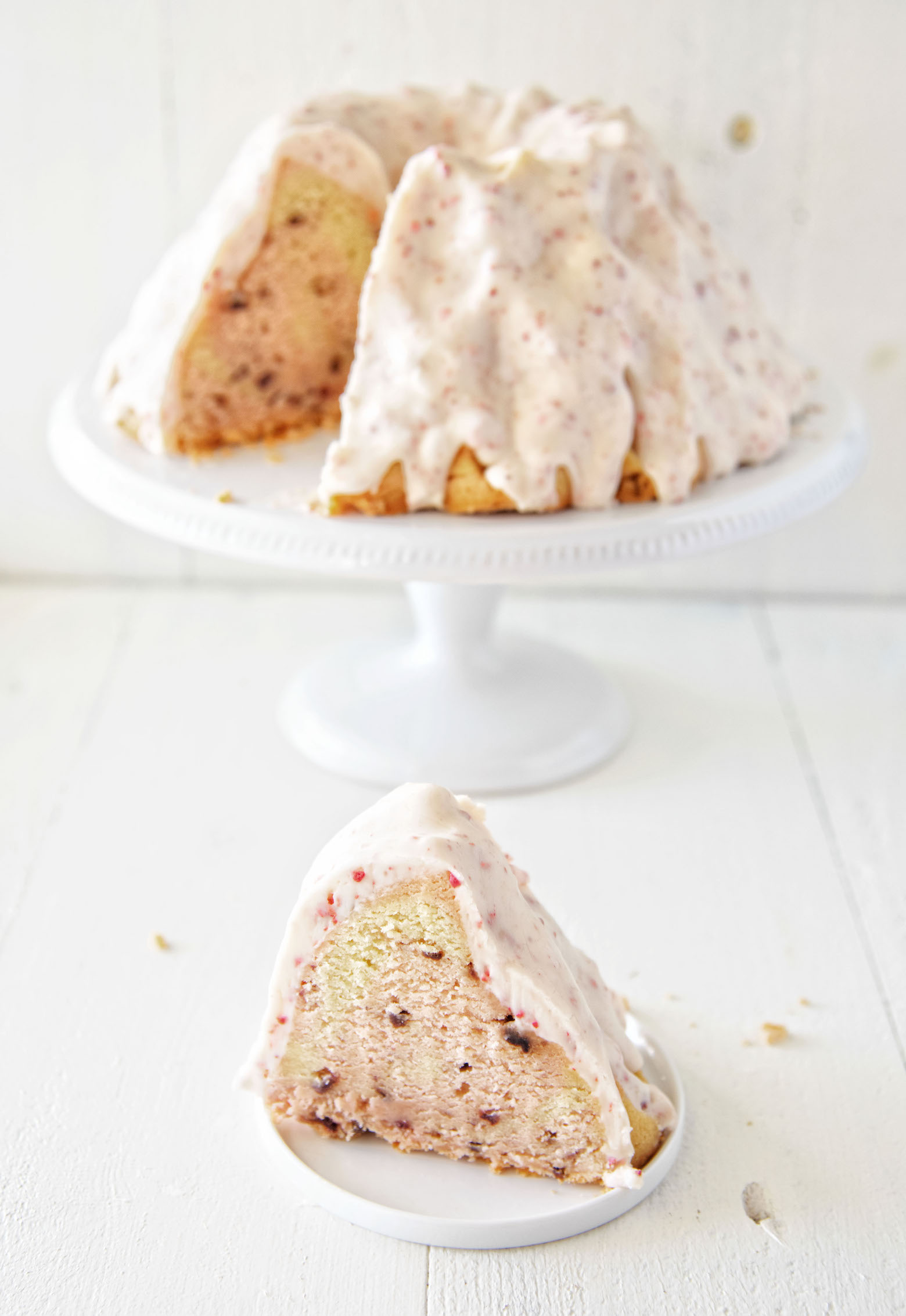 I hadn't cut into the cake yet (because I hadn't taken photos of it yet) when my husband asked me if it was some sort of volcano cake.
No.
Though I must admit it does look like a 4th graders entry into the Science Fair.
It's because of the glaze being thick and the pan I chose. 🙂
Oh well, it's tasty all the same.
Spring is in the air, well pollen is in the air, and that makes me think of strawberries.
We tend to get our strawberries a little later here in the Pacific Northwest but I've already seen some good ones from California coming in.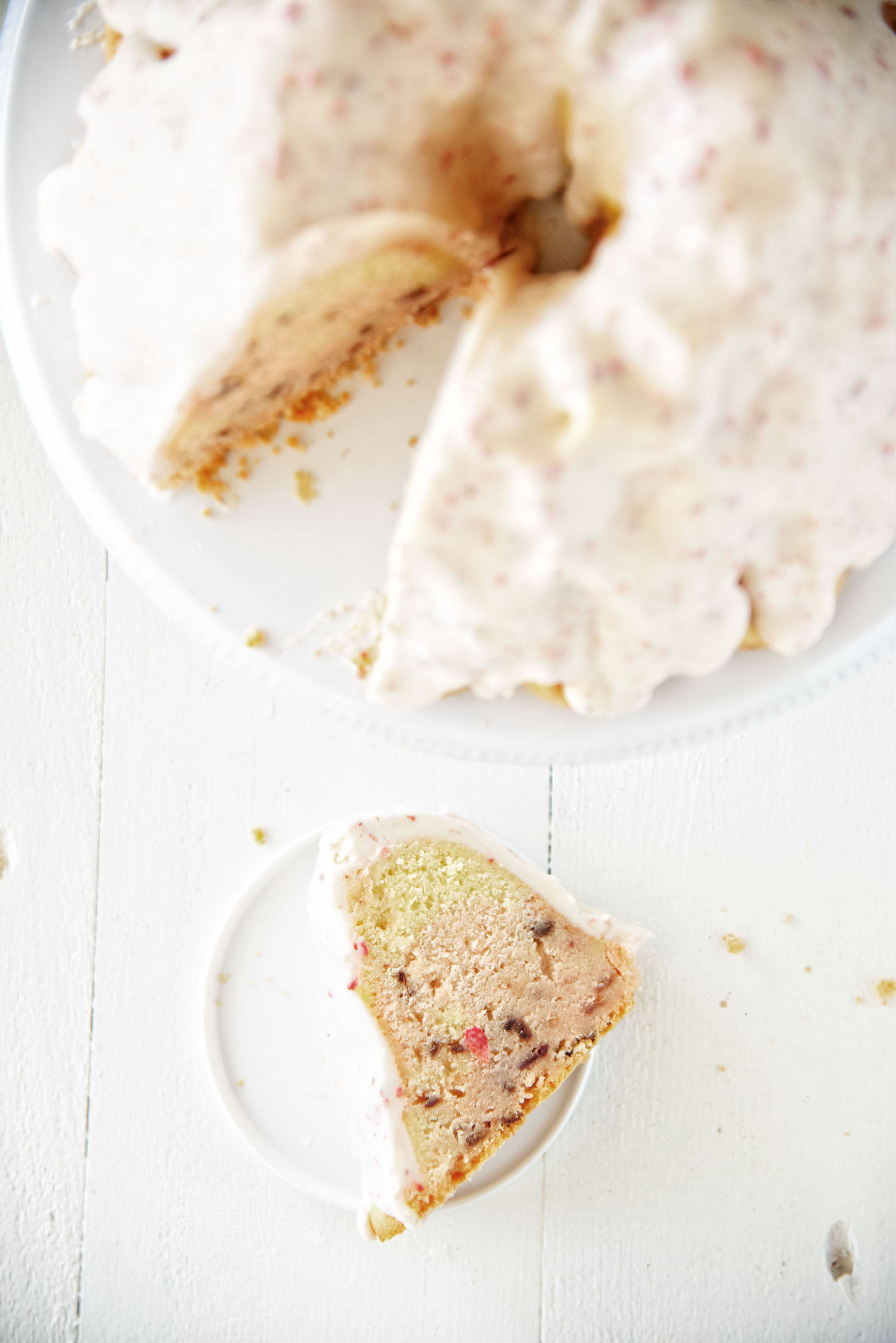 This Strawberries and Cream Bundt Cake doesn't use any fresh strawberries.
I stopped working with fresh strawberries in cakes awhile back.
I save them for strawberry shortcake.
Why not use fresh?
Because you can't control the water content and I find that can mess with the recipe and I find they tend to spoil the cake quickly.
Freeze dried strawberries on the other hand are wonderful.
They have a lot of intense flavor without really affecting the texture of the cake.
This is a thick glaze due to using cream but I don't suggest milk.
The cream flavor really does add a richness I like with the tart of the freeze dried strawberries.
P.S. It's a great day to buy my cookbook Holy Sweet!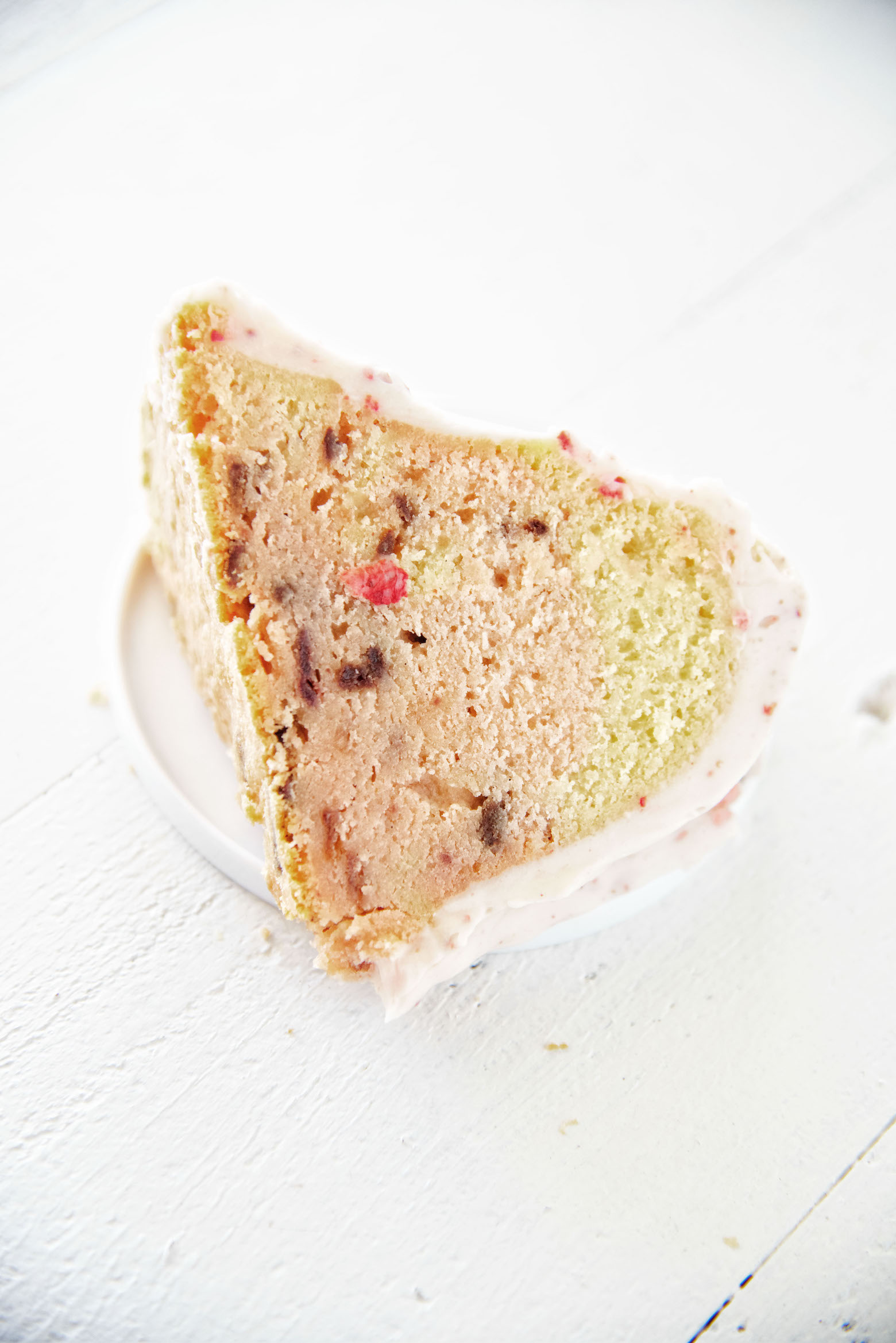 Want More Strawberry Recipes?
Strawberry Cream Cheese Pretzel Pie
Chocolate Covered Strawberry Muffin
Strawberry Shortcake Layer Cake
Glazed Donut Strawberry Shortcake
Ingredients
For the Cake:
2 cups unsalted butter, at room temperature
3 cups granulated sugar
1 tsp. kosher salt
7 large eggs, at room temperature
2 teaspoons vanilla extract
1 tsp. vanilla extract
1 vanilla bean, seeds removed, pod discarded
3 1/2 cups all-purpose flour
1/3 cup full fat buttermilk or sour cream
8 drops of liquid red food coloring
For the Glaze:
2 cups powdered sugar
1/4 cup heavy cream (possibly more to thin)
1 tsp. vanilla bean paste or vanilla extract
Instructions
For the Cake:
Preheat oven to 300°F.
Butter and flour a 10 inch bunt pan.
Wrap the exterior of the pan in foil with shiny side facing out.
In a bowl of a stand mixer fitted with the paddle attachment, beat butter, sugar, and salt at medium speed until light and fluffy, about 6 to 7 minutes.
Scrape down the sides of the bowl.
Add eggs, one at a time, beating well after each addition.
Scrape down the sides and bottom of the bowl.
Beat in the vanilla and vanilla beans.
With the mixer on slow at the flour and buttermilk.
Beat on low until full combined.
Place freeze driedStrawberries into a Ziploc bagAnd using a rolling pin, crush the freeze dried strawberries into a powder.
Divide the batter between two bowls.
Add the freeze dried strawberries and eight drops of food coloring to the one bowl.
Mix until the batter is pink in color and the crushed freeze dried berries are evenly distributed.
Using an ice cream scoop, alternate between the vanilla flavor and the strawberry flavor filling the prepared Bundt pan to the top.
Bake for 2 hours and 15 minutes to 2 hours and 30 minutes or until a wooden skewer inserted comes out clean.
Let cool for 15 minutes and then invert onto a plate and then place on top of a wire rack.
For the Glaze:
In a medium bowl, whisk all the ingredients together. If too thick add more cream. Pour glaze over cake.
Notes
Adapted from Bake From Scratch Cake
Pan used in this recipe can be found here.