These Sticky Toffee Pudding Sticky Buns have dates, brown sugar, and toffee sauce are flavors in this dessert turned breakfast treat.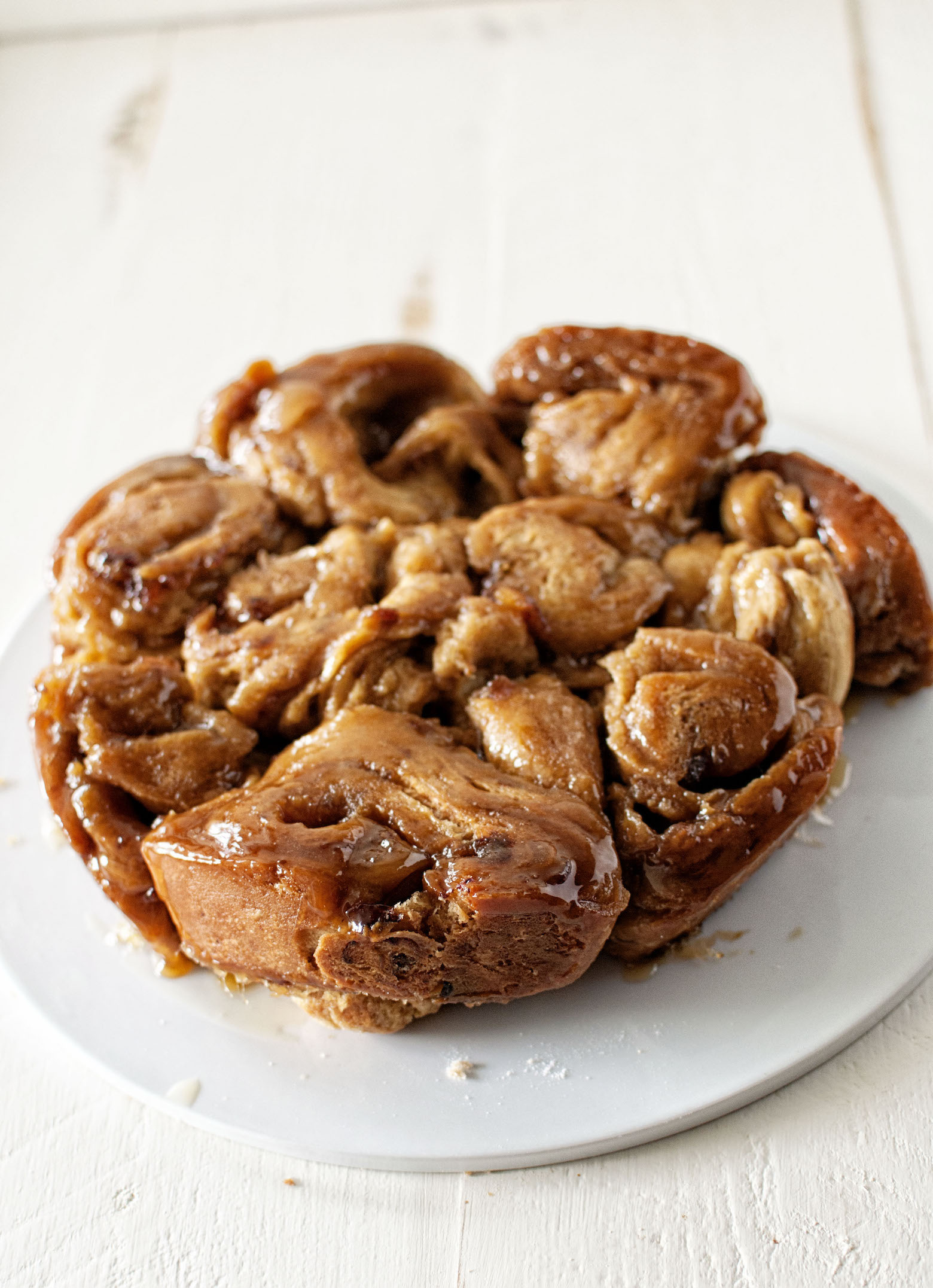 My mom and I are different in a lot of ways and very similar in others.
We both excel on being able to start a conversation with just about anyone.
We both love to entertain and feed people.
And we both love to cook.
Goes without saying that we both love to eat.
Love to talk about food.
And we definitely have similar taste in food.
Growing up we really were not a big chocolate family.
My dad was more the chocolate lover with Mint Chocolate Chip being his favorite ice cream and his birthday cake every year being German Chocolate Cake.
But my mom and I always leaned towards vanilla and cinnamon…Snickerdoodles being our favorite.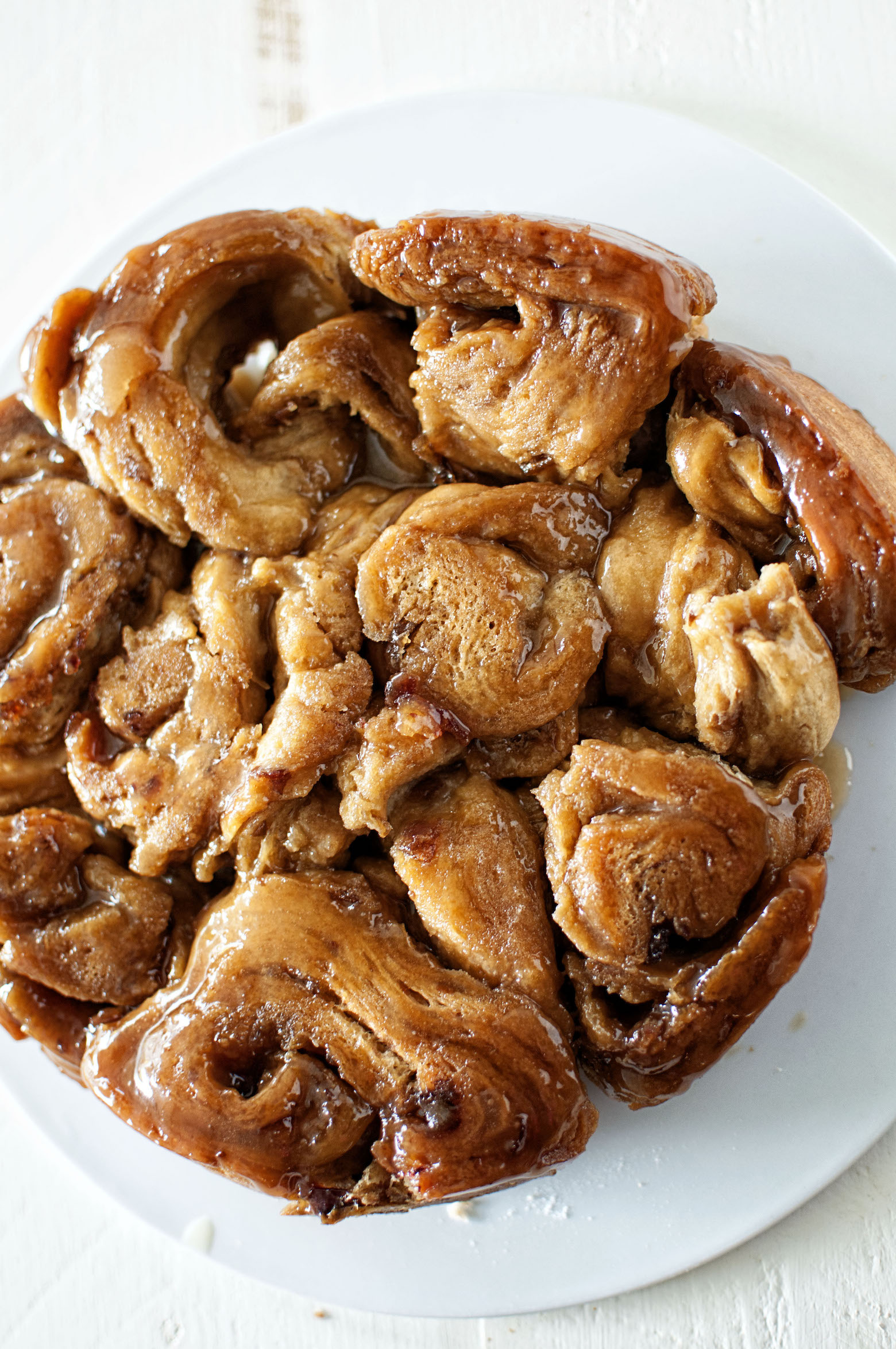 When it came to dessert both my mom and I will choose bread pudding every time on the menu.
But right up there next to bread pudding is the Scottish favorite of Sticky Toffee Pudding.
I have been thinking about it for awhile that it would be fun to make Sticky Toffee Pudding Sticky Buns.
So I created a brioche. It took three tries but I finally got it to the profile flavor I wanted.
The brioche technically a double batch in that you will only use half the recipe for the buns.
But later this week I will give you the recipe to use for the other half of the recipe.
Did these turn out how I thought they would?
No.
They turned out even better.  
Things to Remember when Baking with Yeast:
Don't be afraid of it.
A lot of people are intimidated by yeast and end up not making yummy recipes because of it.
If your yeast baked goods are not rising it is most likely two culprits.
You didn't check the expiration date.
Or the water was too hot.
The expiration date is important and not a guideline.
Yeast is a living thing and it does expire.
So always check the date.
The other big killer of yeast is water way too hot.
If it's too hot for you to touch, then it's too hot for the yeast.
Dough not rising and you checked the date and you didn't use too hot of water/milk?
Most likely it's just cooler in your house then you realize.
My yeast bakes always take longer to rise if I don't use my proofer.
Yes, I own a proofer and I love it. But if I do room temperature it's never the 75F when I bake…unless of course it's summer.
But I most bake with yeast in the fall and winter.
Great day to go buy my cookbook!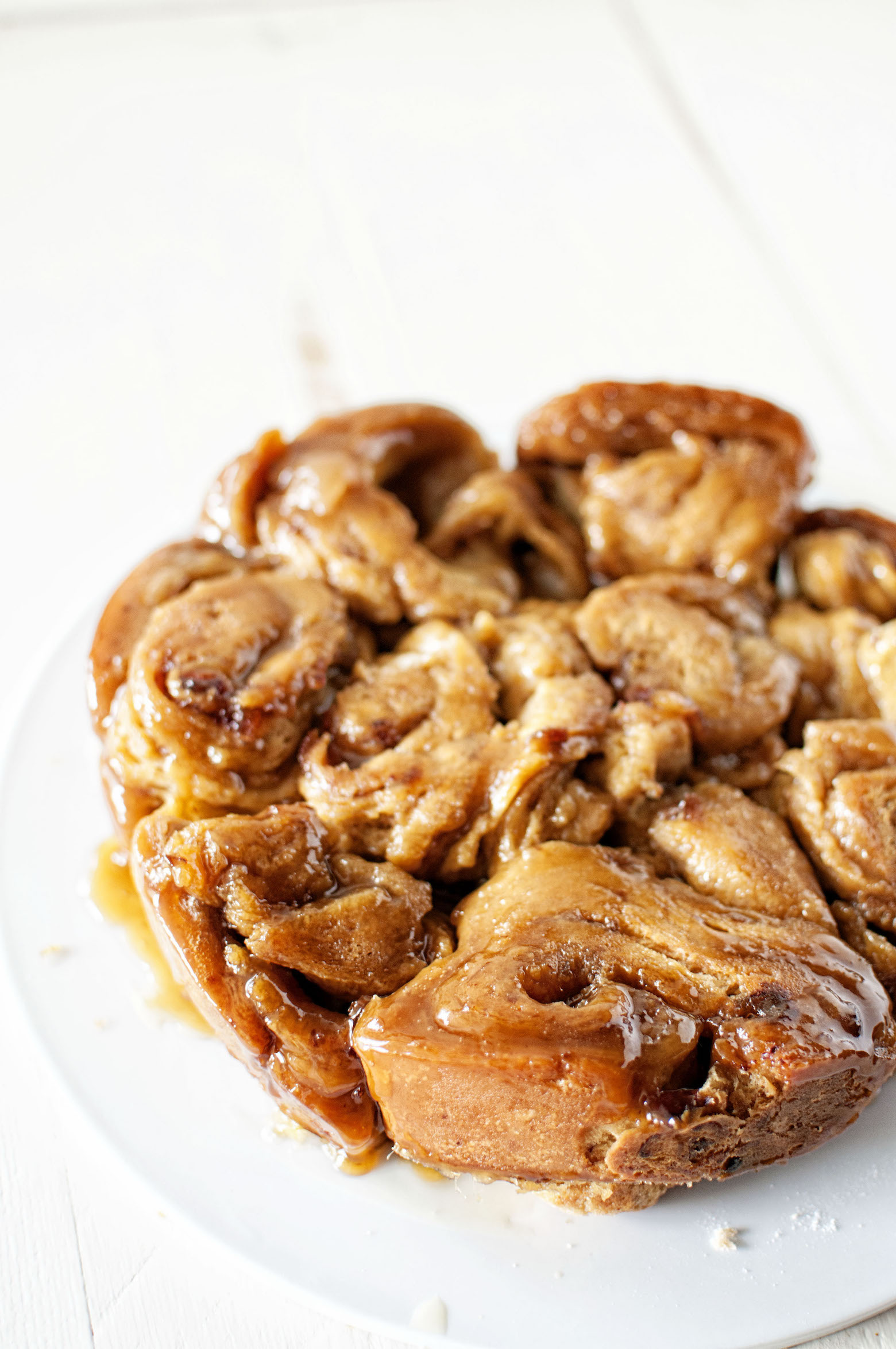 Want More Sticky Bun Recipes?
Whiskey Butterscotch Pecan Sticky Buns
Pineapple Upside Down Sticky Buns
Cinnamon Toast Crunch Sticky Buns
Ingredients
Sticky Toffee Pudding Brioche:
For the sponge:
½ cup whole milk, room temperature
1 TBSP dry active yeast
2 TBSP sugar
½ cup bread flour
For the dough:
1/3 cup unsulfured blackstrap molasses
3 TBSP packed light brown sugar
3 ½ -4 cups bread flour
2 tsp. salt
6 large eggs, slightly beaten
9 ounces unsalted butter, softened but still cool
1 cup chopped dates
For the filling:
3 TBSP. unsalted butter
3/4 cup brown sugar, loosely packed
For the glaze:
1 cup packed light brown sugar
1 stick unsalted butter, cut into 4 pieces
1/4 cup honey
For the Toffee Sauce:
¾ cup brown sugar, tightly packed
⅓ cup unsalted butter
⅓ cup heavy whipping cream
1 tsp. vanilla extract
Instructions
For the sponge:
Combine milk and yeast in the mixing bowl of a standing mixer.
Whisk and let sit for 5 minutes.
Add flour and sugar, mix to form a thick batter.
Cover with plastic wrap and let rest at room temperature for 30-45 minutes, until bubbles form.
For the Dough:
Add the molasses, brown sugar, flour, and salt to the sponge.
Add the eggs.
Beat with the paddle attachment on low speed for 2 minutes, until the eggs are absorbed. Increase the speed to medium and knead the dough for 5 minutes.(It doesn't say to do it, but I switch to the dough hook at this point).
The dough will be sticky. Hold the mixer when necessary if it starts to dance on you.
Turn the machine down to medium low speed and add the butter, 2 TBSP at a time.
Knead for another 5 minutes, until the dough is shiny.
Add the dates and mix until fully combined.
Scrape out the dough and clean and lightly oil the bowl. Don't worry if the dough is difficult to work with(it will be).
Place the dough in the bowl then turn it over so that the top is oiled. Cover with plastic wrap and let rise at room temperature for 2 hours, until doubled.
When dough is has doubled in volume, punch it down by folding it two or three times.
Cover and refrigerate for 4 hours or overnight.
For the Sticky Buns:
Butter a 9-x-13-inch pan. I used a 10-inch round cake pan which can also work.
In a heavy-bottomed saucepan, bring the brown sugar, butter and honey to a boil over medium-low heat, stirring frequently to dissolve the sugar.
Pour the glaze into the buttered pan, evening it out as best you can by tilting the pan or spreading the glaze with a heatproof spatula.
After the second rise, the dough is ready to be shaped.
Turn the dough out onto a lightly floured surface.
Using a rolling pin, roll it into a rectangle approximately 12 by 16 inches.
Use a pastry brush (or your hands if you like to get messy) to spread 3 TBSP of butter around the rolled out dough, leaving an 1-inch margin at the top edge with no butter.
Sprinkle brown sugar evenly over the surface, again leaving the 1-inch margin.
Starting from the long side closest to you, roll up the dough like a jellyroll. Transfer the log to a baking sheet, cover with plastic wrap and freeze for 10 minutes. This will make cutting the buns clean and even.
Remove from freezer, cut buns into 1 ½-inch pieces, you should get around 12.
Place them into the glaze filled pan, cut side down.
Spread out so they are not touching. Wrap with plastic wrap and let rise at room temperature for 1 ½ to 2 hours.
Preheat the oven to 400F.
Bake buns for 10 minutes and reduce heat to 350F.
Bake for another 10-15 minutes depending on the size of your buns.
Allow to cool for 10 minutes.
For the toffee sauce:
Stir brown sugar and butter in a heavy medium saucepan over medium heat until melted and smooth, about 2 minutes.
Add cream and bring to a simmer.
Simmer for about 5 minutes.
Pour toffee sauce over buns and serve warm.