This Spiced Rum Pumpkin Pecan Cake is super easy to make using a cake mix and canned pumpkin but you would never know it's not from scratch.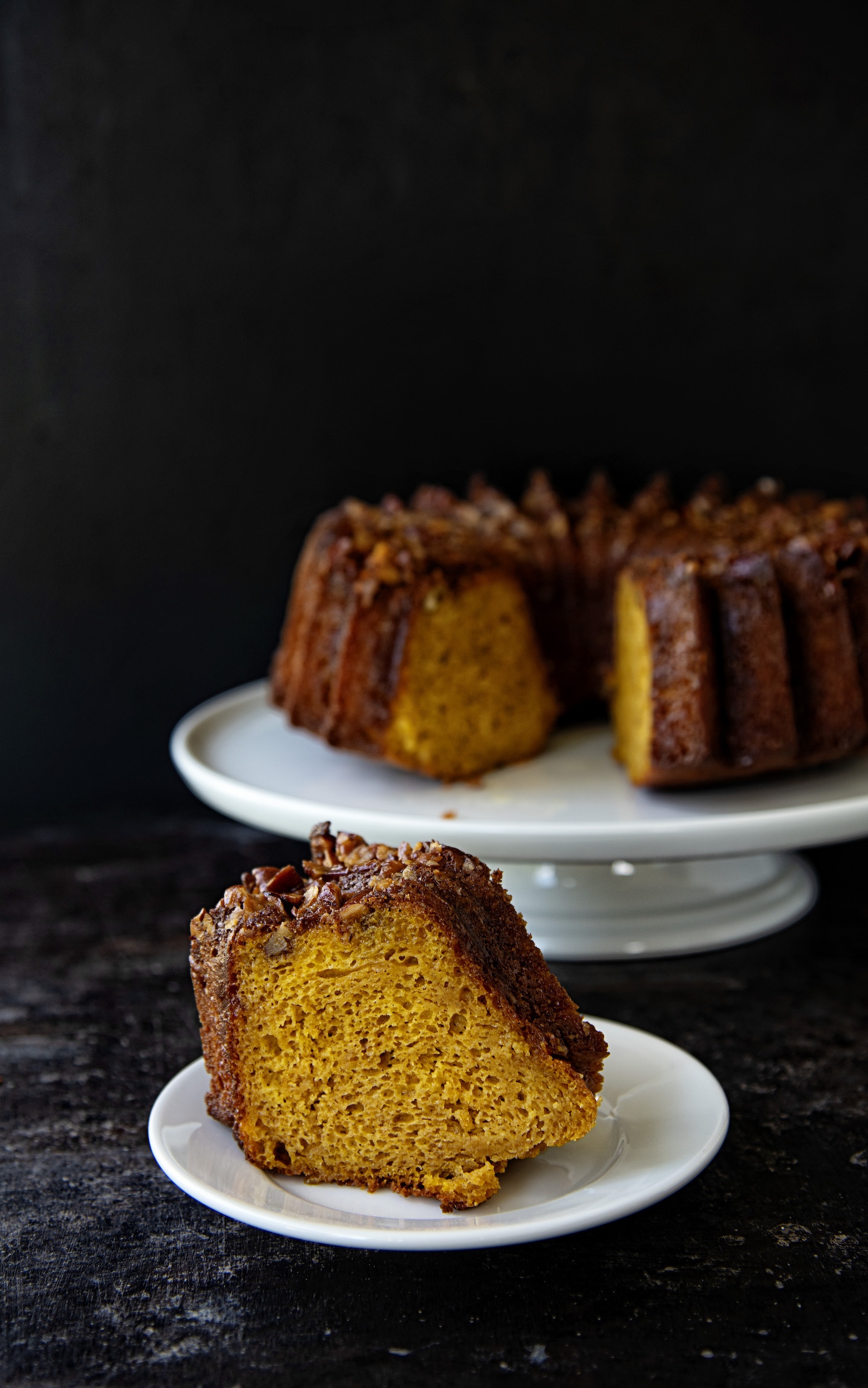 Boxed cake mix gets a bad reputation if you ask me.
Are from scratch ones better?
In most cases, yes.
But they have their place in the baking world.
Number one you cannot get the flavor of funfetti in a scratch cake.
I have tried and tried and you can get close but you can't quite get it.
And well, truth be told I prefer box cake Funfetti to scratch homemade.
There I said it.
Rake me over the coals now. 😀
Dump cakes don't taste right to me either if you aren't using a box cake mix.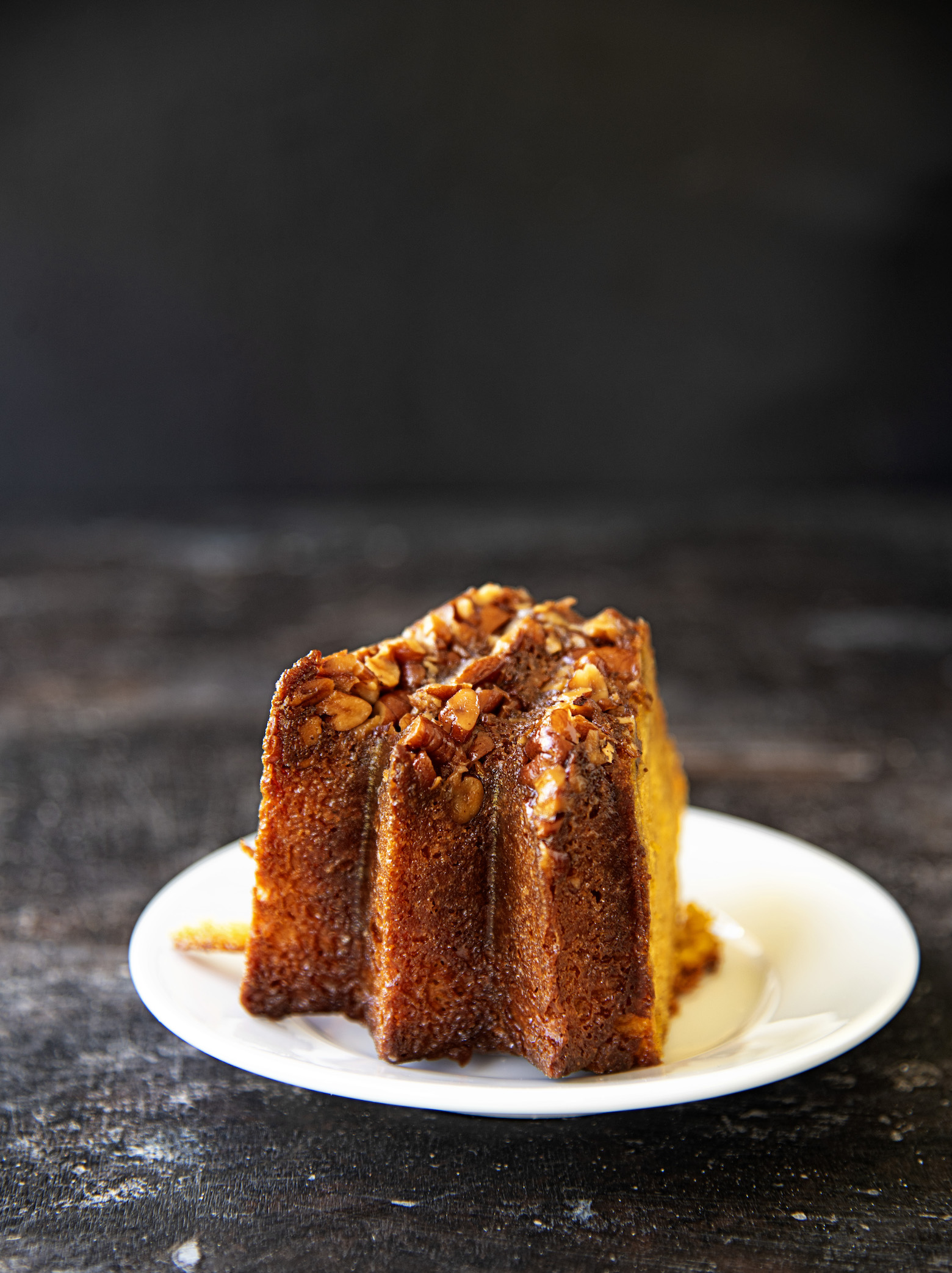 Number two reason is that they are cheap.
I have been known to find boxes for $.89.
You can't buy all the ingredients that are in there for that.
I used box cake a lot when my husband's kids were younger and were with us.
Because they could not tell the difference.
And a teen boy will plow through a whole cake in a matter of hours.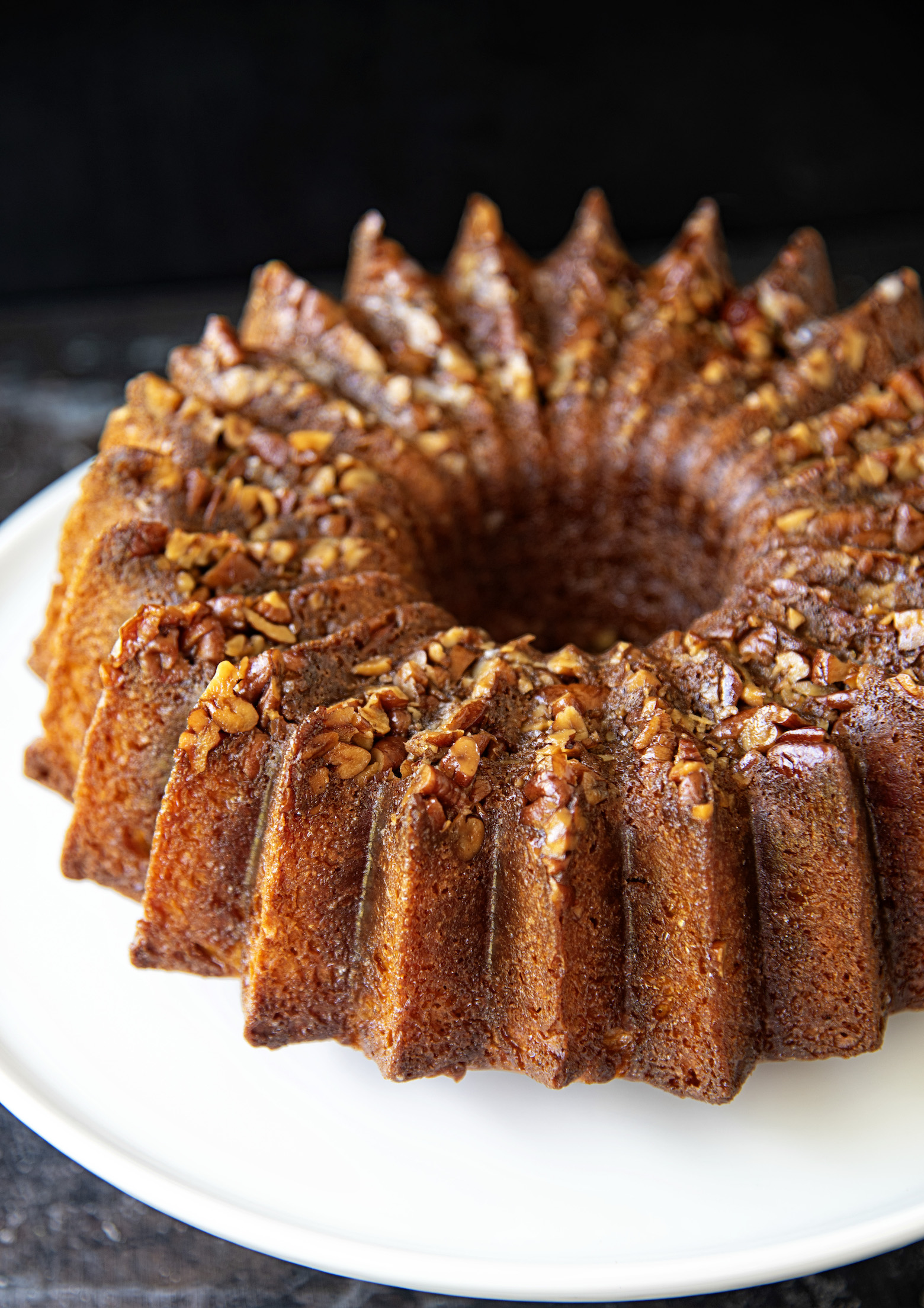 How you prepare the box mix cake makes a very big difference as well.
I find what helps them the most is adding some sour cream to the mix.
Sour cream is added to this Spiced Rum Pumpkin Pecan Cake.
And between the sour cream and the canned pumpkin you end up with a very moist cake.
Which I know people hate that word but it's a good word in baking.
Especially when describing a cake.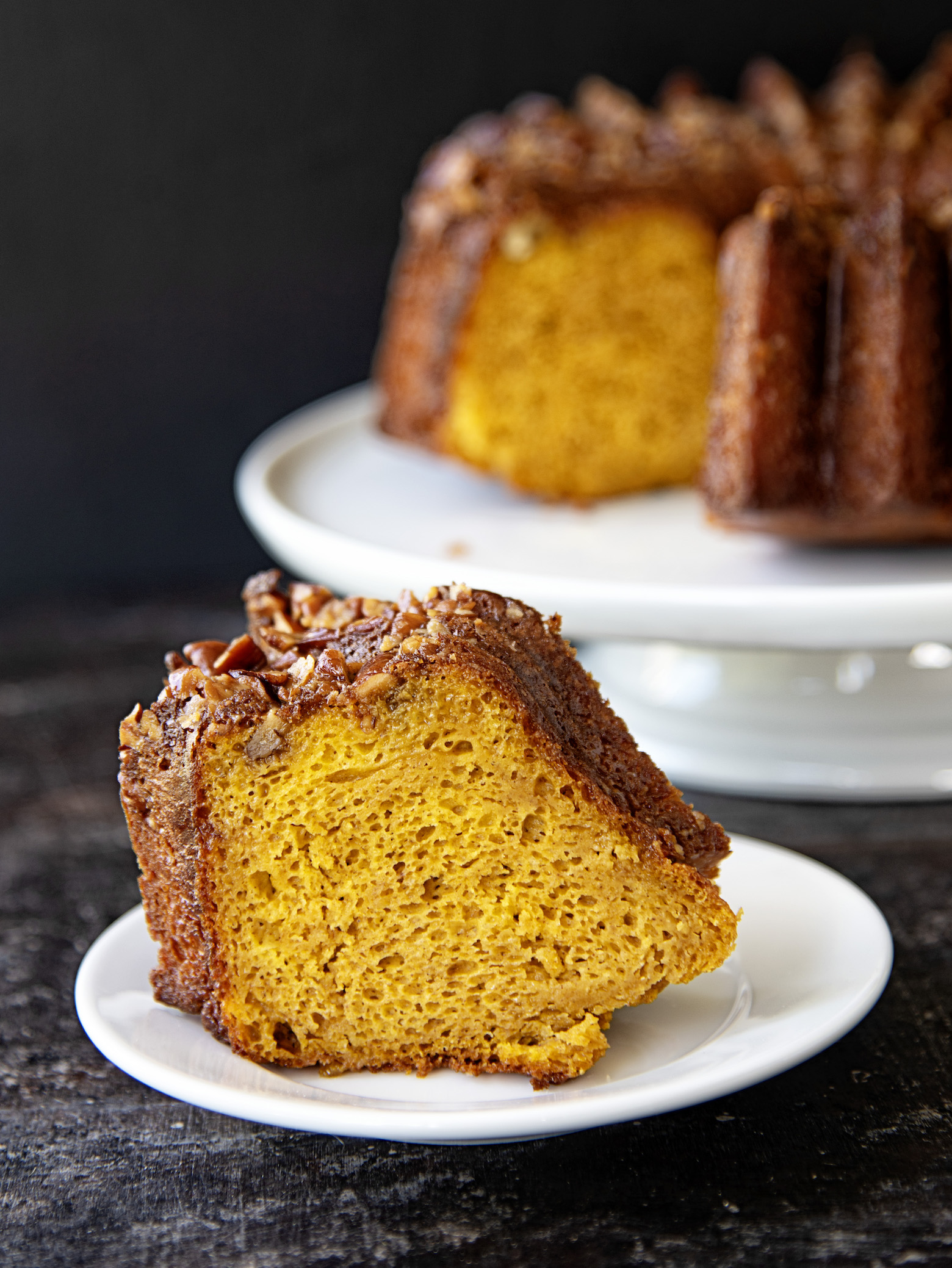 This cake has the pecans on top of the cake instead of in the cake.
And I love that.
It adds a great texture layer to the cake.
I was worried when I poured it into this particular Bundt pan that it would not work.
But I was pleasantly surprised at how clean it came out.
Plus when you top a cake with a spiced rum glaze that has butter in it, you can't go wrong.
And last but not least, it's a great day to order my cookbook.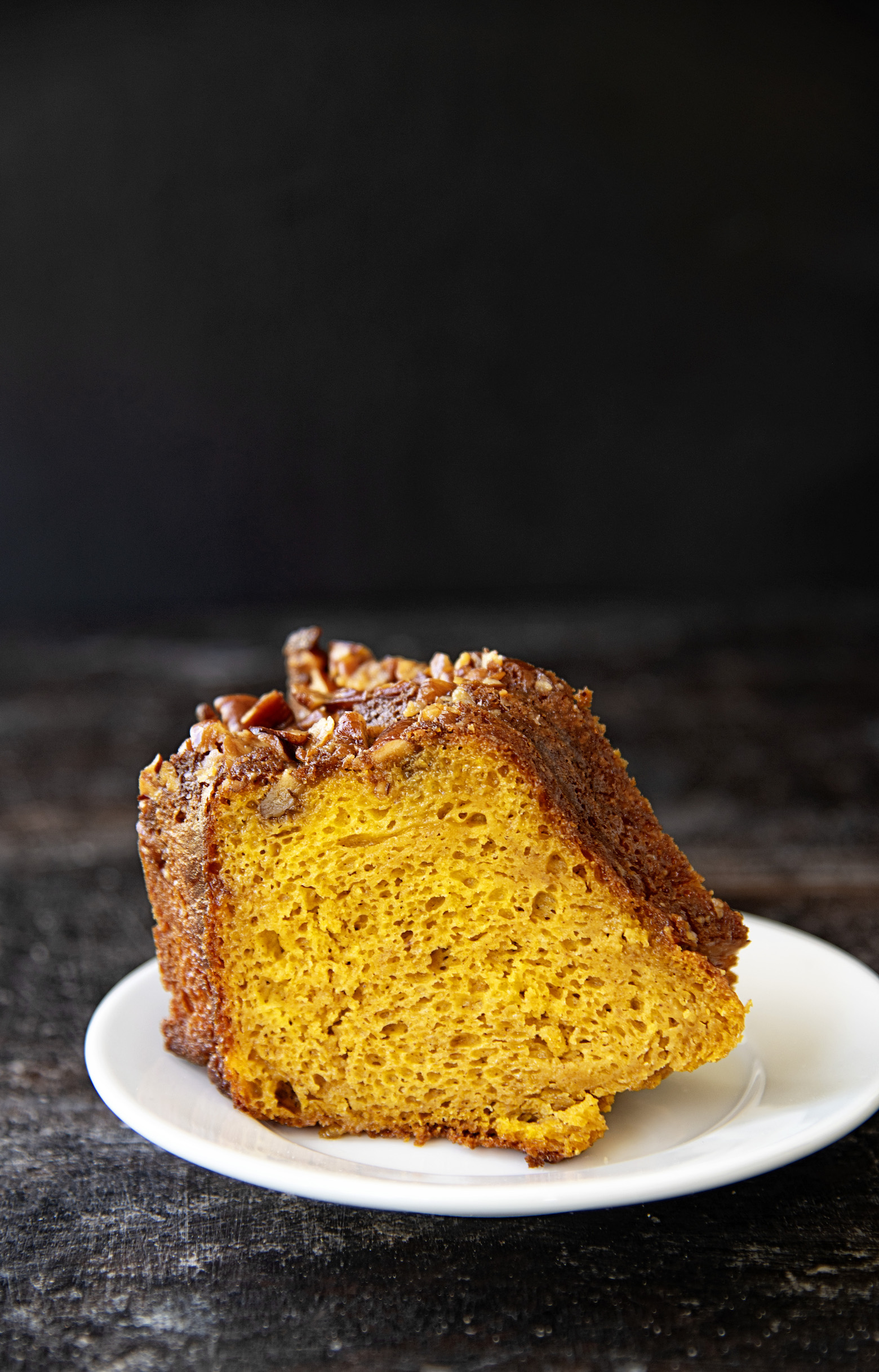 Want More Pumpkin Recipes?
Pumpkin Spice Latte Russian Tea Cake Cookies
Salted Caramel Frosted Pumpkin Cupcakes
Chocolate Cinnamon Frosted Pumpkin Cupcakes
Mini Pumpkin Toffee Bundt Cake
Ingredients
For the Pumpkin Pecan Cake:
1 cup coarsely chopped pecans
1 package (18.25 oz)yellow cake mix
1 cup pumpkin puree (not pumpkin pie mix)
1 cup Sour Cream
3 eggs
1 TBSP pumpkin pie spice
1 tsp vanilla extract
For the Spiced Rum Glaze:
1/2 cup unsalted butter
1/2 cup granulated sugar
1/4 cup water
1/2 cup spiced rum
Instructions
For the Pumpkin Pecan Cake:
Grease or spray with non-stick cooking spray a 12-cup Bundt pan; evenly sprinkle nuts over bottom; set aside.
In large mixing bowl, combine cake mix, pumpkin, sour cream, eggs, pie spice and vanilla extract; beat with electric mixer on low until blended. Increase speed to high and beat 2 minutes or until light and fluffy. 
Pour batter into prepared pan.
Bake at 350°F for 35 to 45 minutes or until wooden pick inserted into center comes out clean.
While cake is baking, prepare the glaze.
For the Spiced Rum Glaze:
Combine in heavy saucepan, 1/2 cup butter, 1/2 cup sugar and 1/4 cup water and bring to boil over medium-high heat and cook, stirring constantly.
Remove from heat and add 1/2 cup spiced rum.
Set aside to cool.
Once cake is removed from the oven, allow the cake to cool in pan 10 minutes.
Poke holes into cake (while still in pan) with long pick.
Pour half of Spiced Rum Glaze over cake and let stand 5 minutes, then invert cake onto serving plate.
Poke additional holes on top of cake with pick.
Pour the remaining Spiced Rum Glaze over cake. Cool.