These Sourdough Everything Bagel Spiral Rolls are made with Platinum Instant Sourdough and filled with cream cheese and everything bagel seasoning.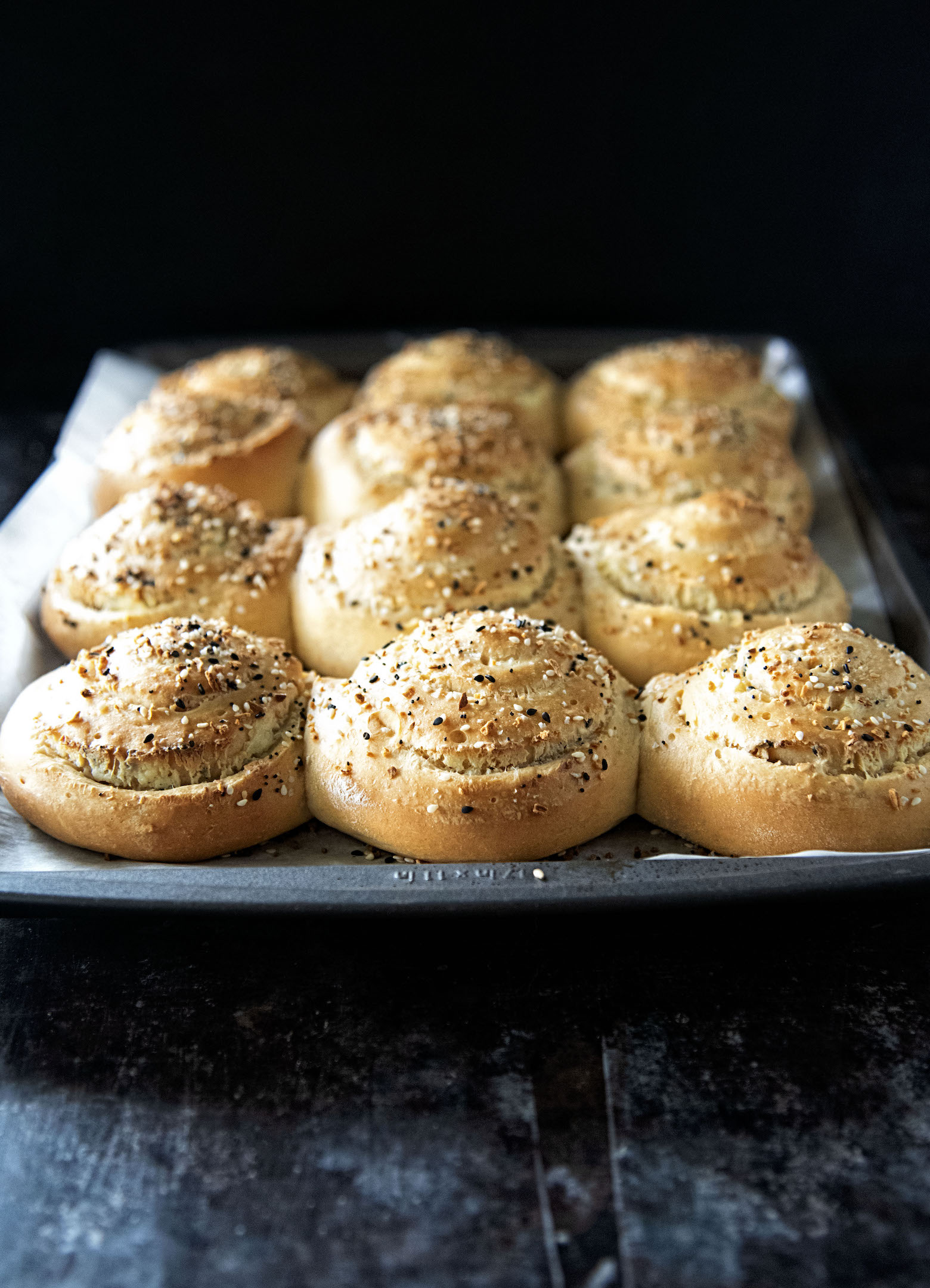 I've once again teamed up with Red Star Yeast to bring you this post.
I was compensated for this post but the thoughts, bad grammar, overuse of emoji's are all mine.
Please support companies that support this blog!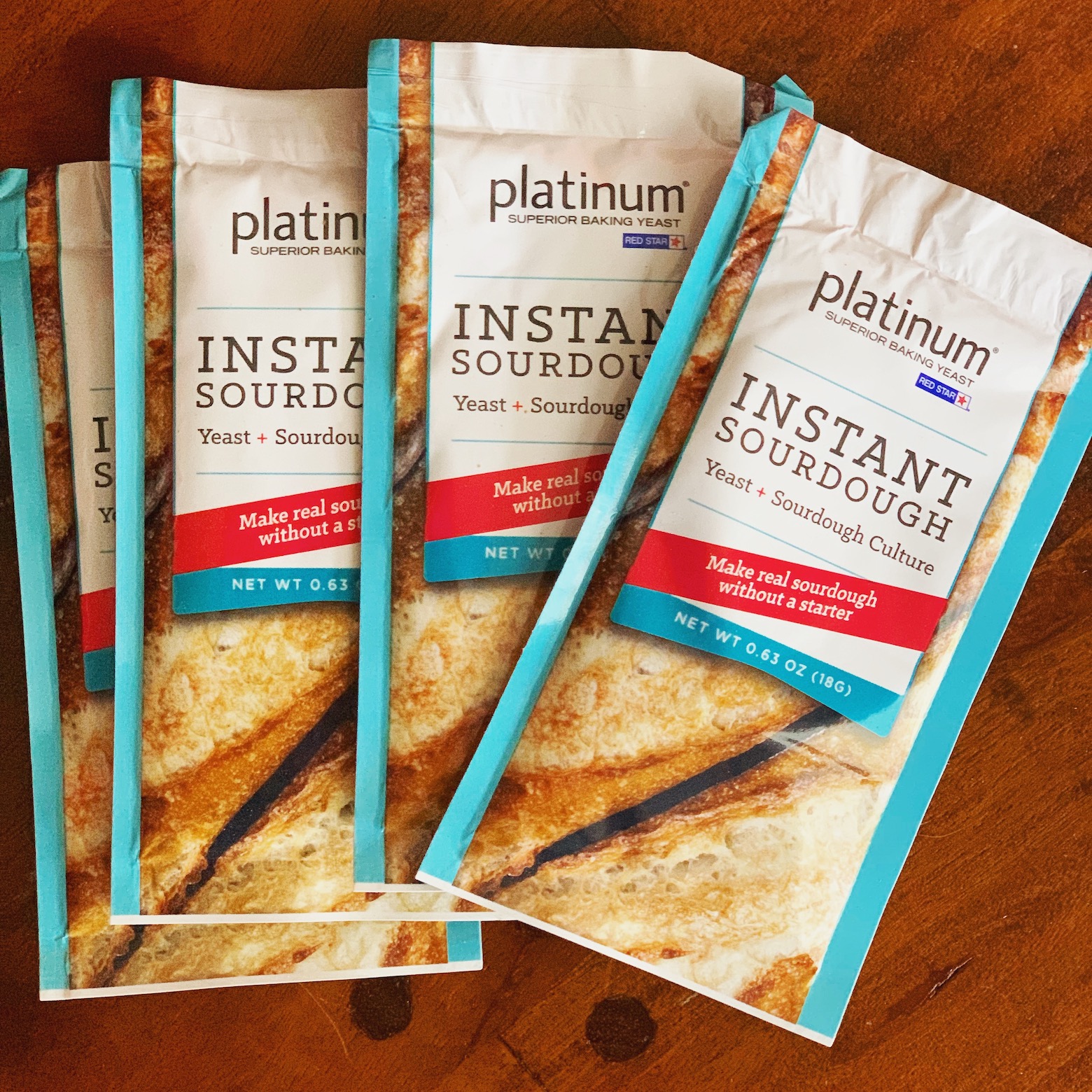 Anyone who reads this blog knows that when it comes to baking with yeast knows that I am obsessed with Red Star Yeast Platinum Superior Baking Yeast.
Imagine my excitement when I learned that they had come out with a Platinum Instant Sourdough.
Yes, you read that right, the sourdough is in the yeast. 
How awesome is that?
So many people are afraid of baking with yeast. 
Even more people are afraid of baking with a sourdough starter. 
Red Star Yeast is here to make that easier for you with their breakthrough product Platinum Instant Sourdough Yeast. 
Now you can add real sourdough culture to any recipe that uses yeast without having to use a finicky starter. 
You simply substitute one packet of Platinum Instant Sourdough in place of a 1/4-ounce packet of dry yeast. 
It's that easy. 🙂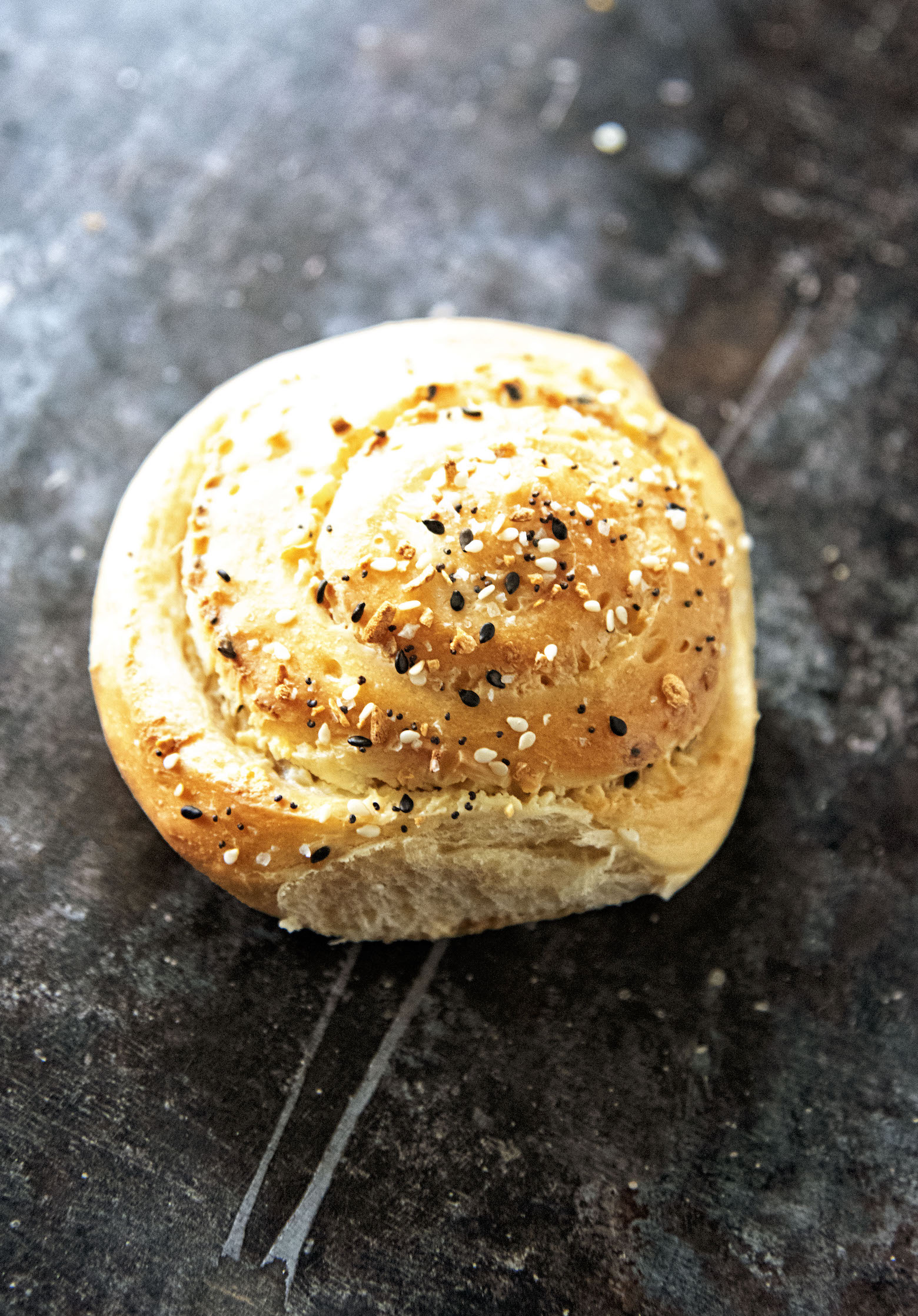 You are going to want to get your hands on the Platinum Instant Sourdough because Red Star Yeast is having a fantastic Sourdough It Up! Sweepstakes.
To find a store near you carrying the product simply go to the Red Star Yeast home page and in the top right hand corner you will see Find a Store.
The challenge has now ended.
So how did I Sourdough It Up?
With these Sourdough Everything Bagel Spiral Rolls.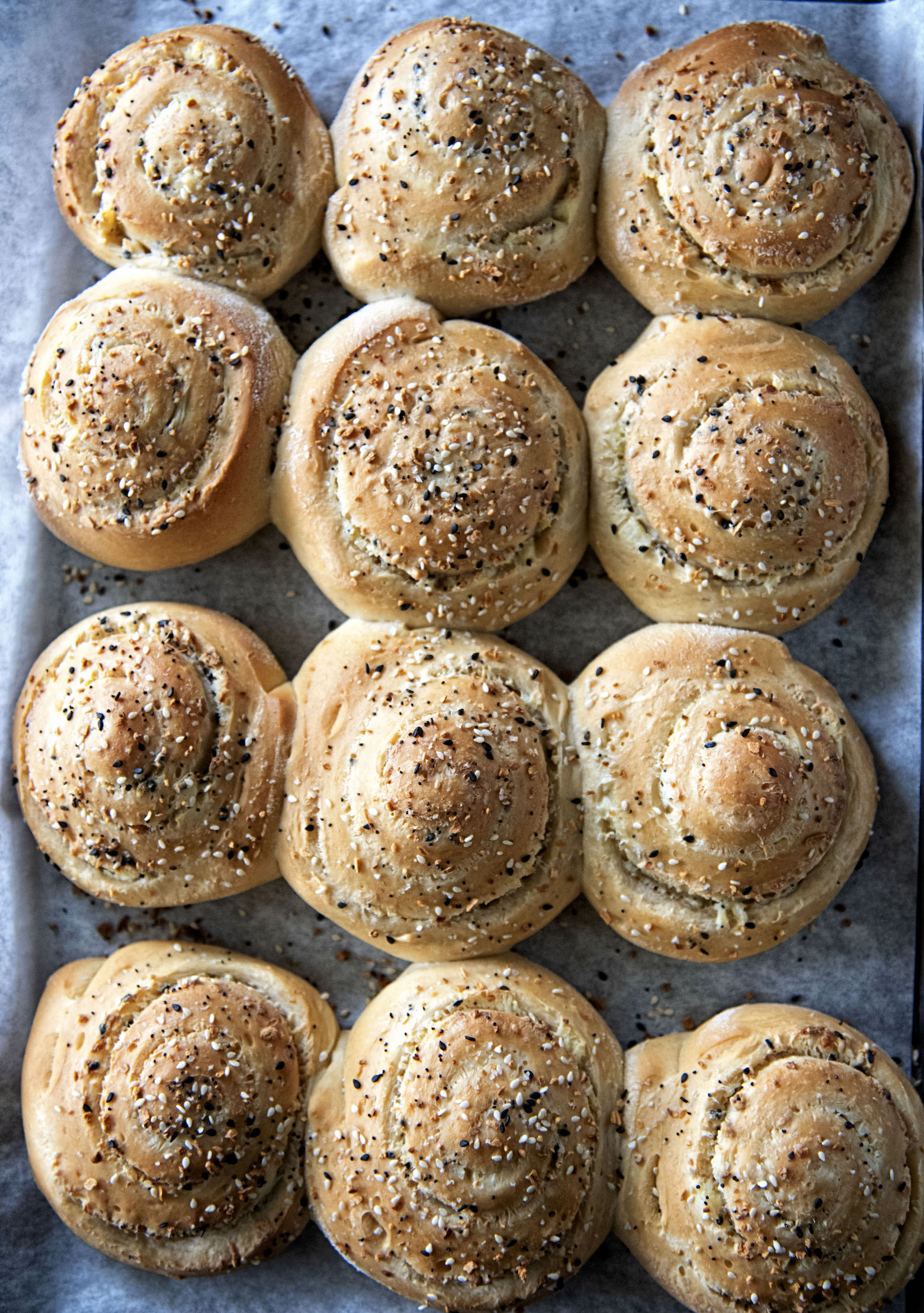 A savory roll that is filled with cream cheese and everything bagel seasoning.
All rolled up and topped with more everything bagel seasoning.
If you are an everything bagel fan you will LOVE these.
They are good alone but my husband found that splitting them like a hamburger bun and filling them with fried egg and cheese makes for a killer breakfast sandwich.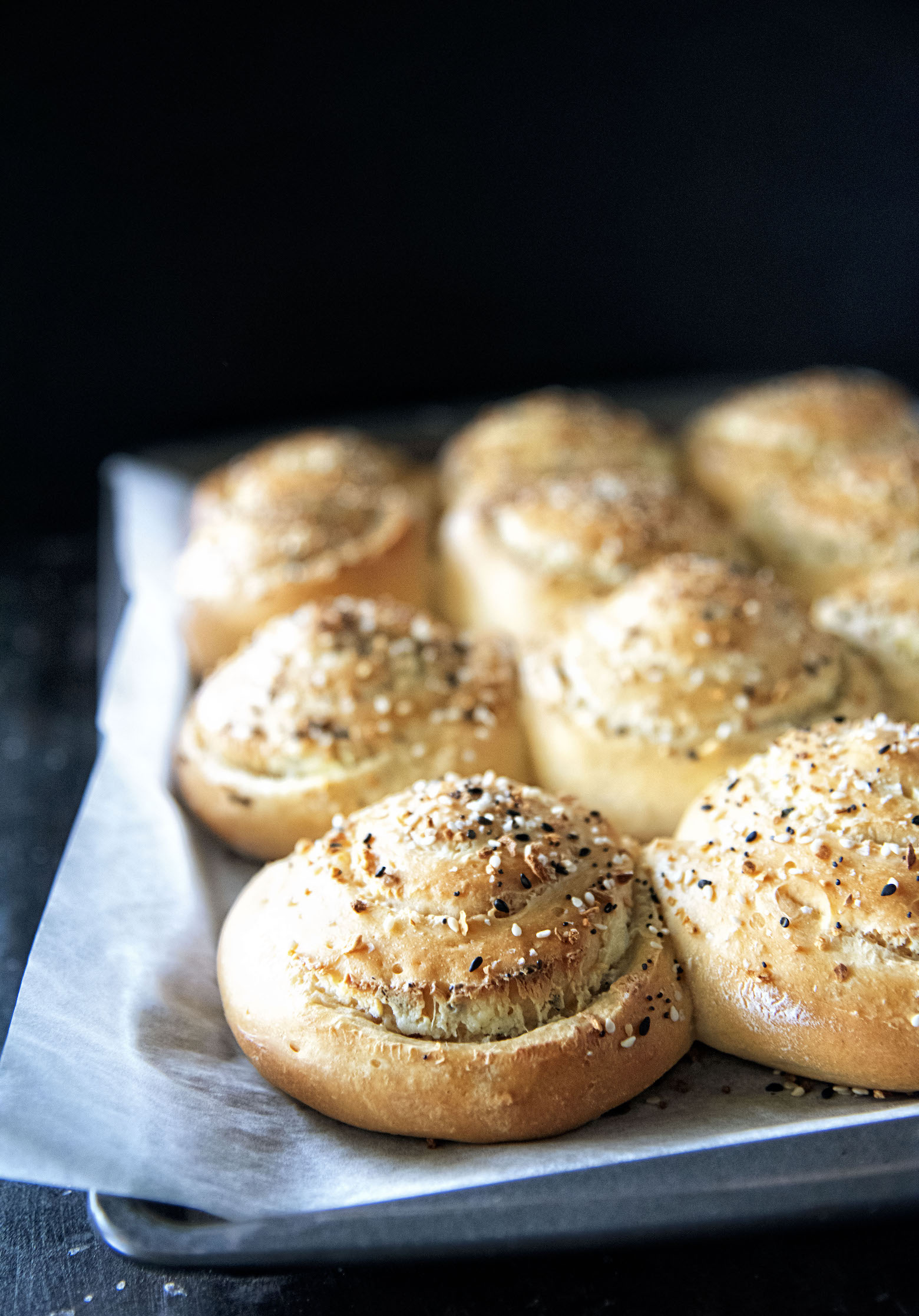 I can't wait to see what you create with your Platinum Instant Sourdough.
If you enter the sweepstakes I hope you will tag me (@bakerpeabody) as well so I can see what you created.
I hope that those of you who are a tad scared of a sourdough starter get your feet wet with these fantastic new yeast.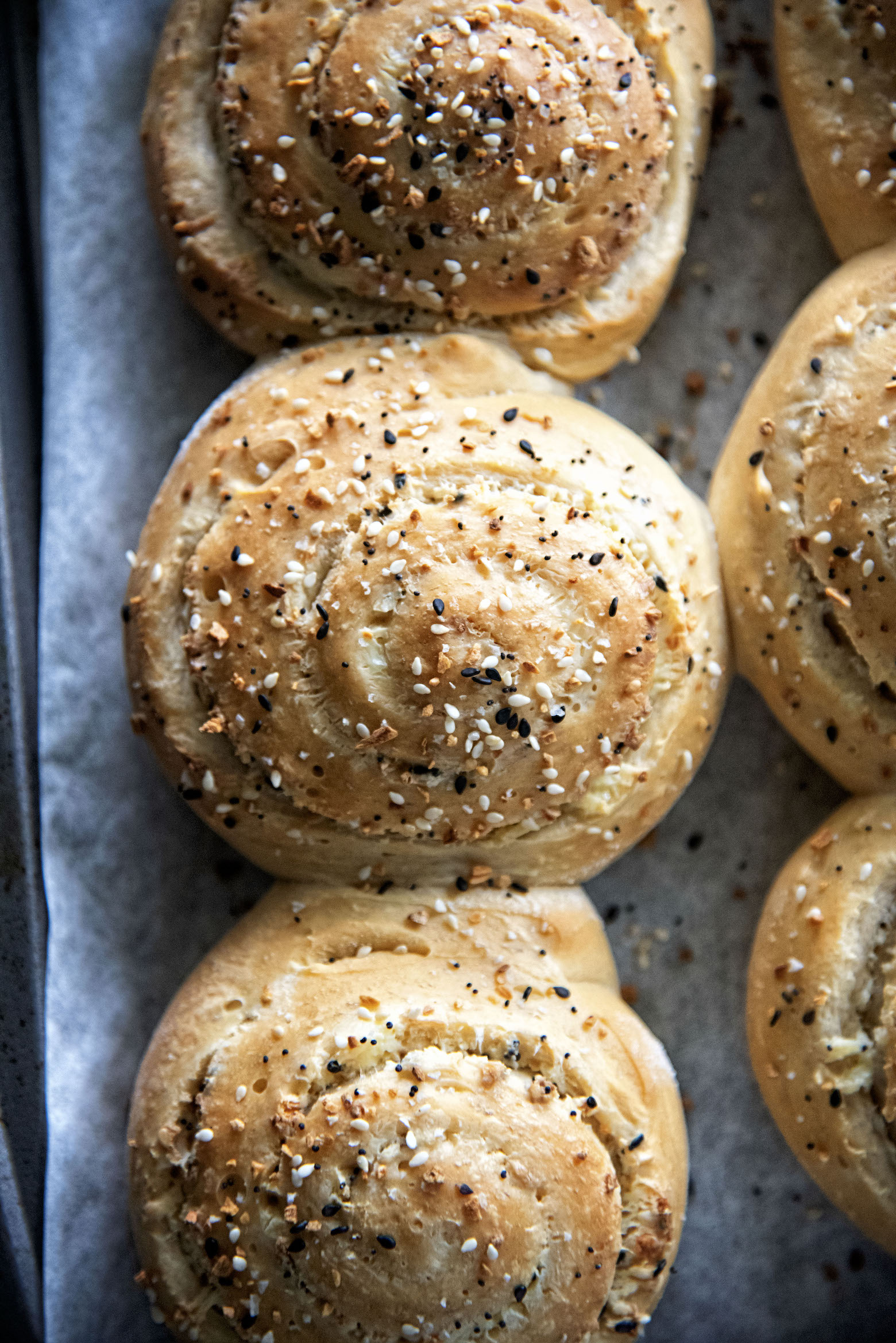 Want more recipes using Red Star Yeast? Try these:
Blue-Raspberry Laminated Brioche Buns
Bulgar Wheat Apple Cider Walnut Bread
Gingerbread Orange Brioche Buns
Chocolate-Cinnamon Cinnamon Rolls
Malted Yeast Waffles with Apple Cranberry Compote
Ingredients
For the Dough:
1 cup warm whole milk (105-110F)
1 packet Red Star Yeast Platinum® Instant Sourdough
4 1/2 cups all-purposes flour
3 TBSP granulated sugar
1 1/4 tsp. salt
2 large eggs
1/3 cup unsalted butter , cut into cubes
For the Filling:
6 TBSP unsalted butter, at room temperature
8 oz. cream cheese, at room temperature
1/2 tsp. salt
3 TBSP Everything Bagel seasoning
Topping:
3 TBSP Everything Bagel seasoning
Instructions
For the dough:
Using a small bowl, combine the warm milk, yeast and one tsp. sugar.
Set aside in a warm spot and let sit until foamy and frothy, about 10 minutes.
Using the bowl of a stand mixer fitted with the dough hook, combine the flour, milk mixture, sugar, salt, eggs and butter and mix on medium until it comes together.
Knead on high for about 8 to 10 minutes, until smooth and somewhat soft.
Transfer the bowl to a well-oiled bowl and cover with plastic wrap. Let rest in a warm spot until doubled in size, about 1½ hours.
Punch dough down and then transfer the dough to a lightly floured work surface.
Roll out into a large rectangle about ¼-inch thick.
Mix together the butter, salt, and cream cheese until fully incorporated.
Spread evenly with the butter/cream cheese mixture.
Sprinkle the everything bagel seasoning over the cream cheese mixture.
Roll into a tight long, length wise, and then cut into 12 even pieces.
Place on a well greased 9 by 13-inch baking pan.
Cover loosely with plastic wrap and allow rest in a warm spot until doubled in size, about 1 hour.
Sprinkle the remaining 3 TBSP of the Everything Bagel seasoning on top of the rolls.
Preheat oven to 350F.
Bake the rolls until golden brown, about 30 to 35 minutes. Remove from the oven and let cool slightly.
Enjoy.