This Snickers Apple Jello Salad Pie is a twist on the Midwest favorite dessert salad turned into a fluffy jello salad pie.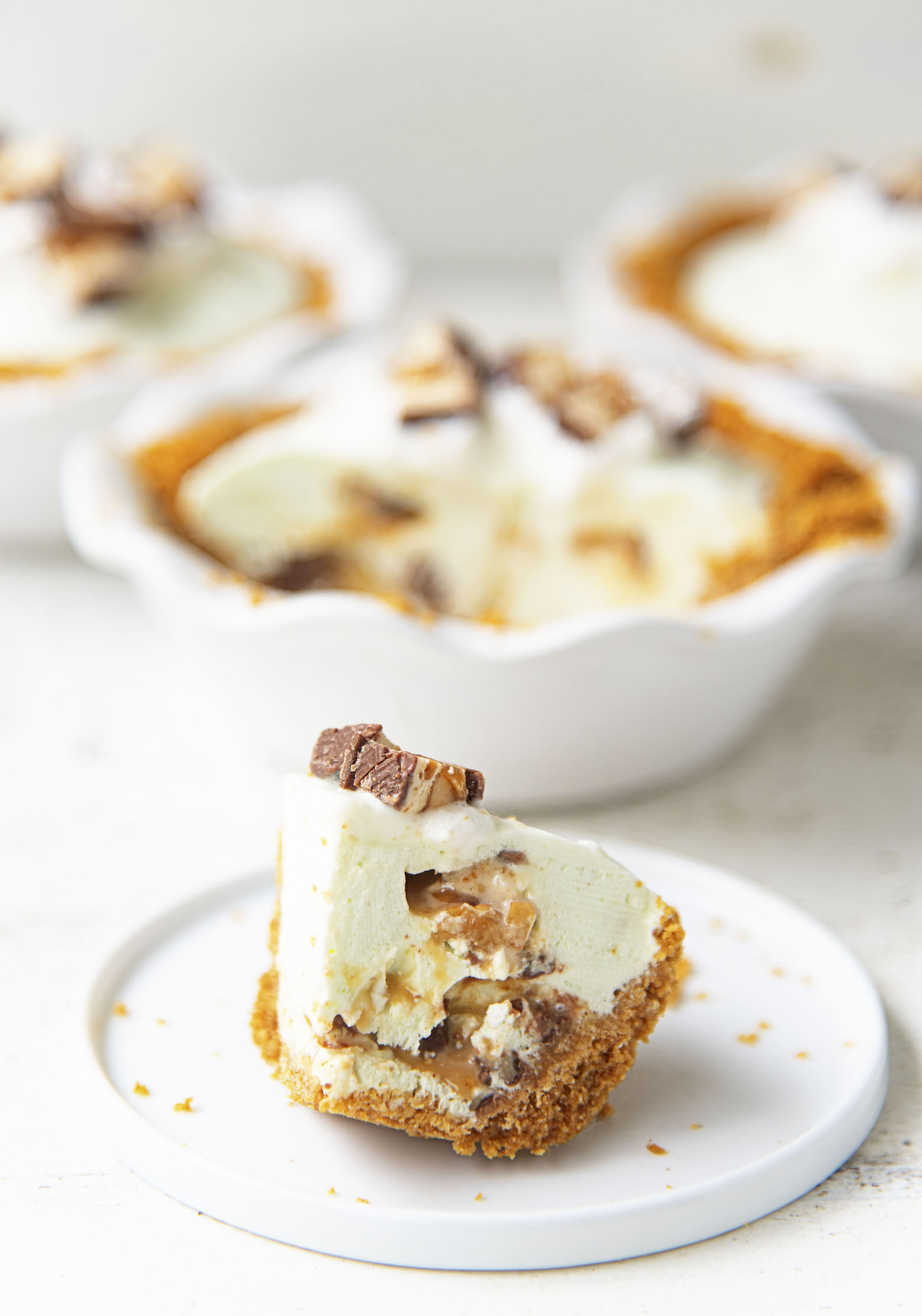 I remember the first time I saw a recipe for Snickers Apple Salad.
It was in Taste of Home Magazine in their potluck section.
Snickers in a salad?
Sign me up. 😀
I love when they call things like that salad.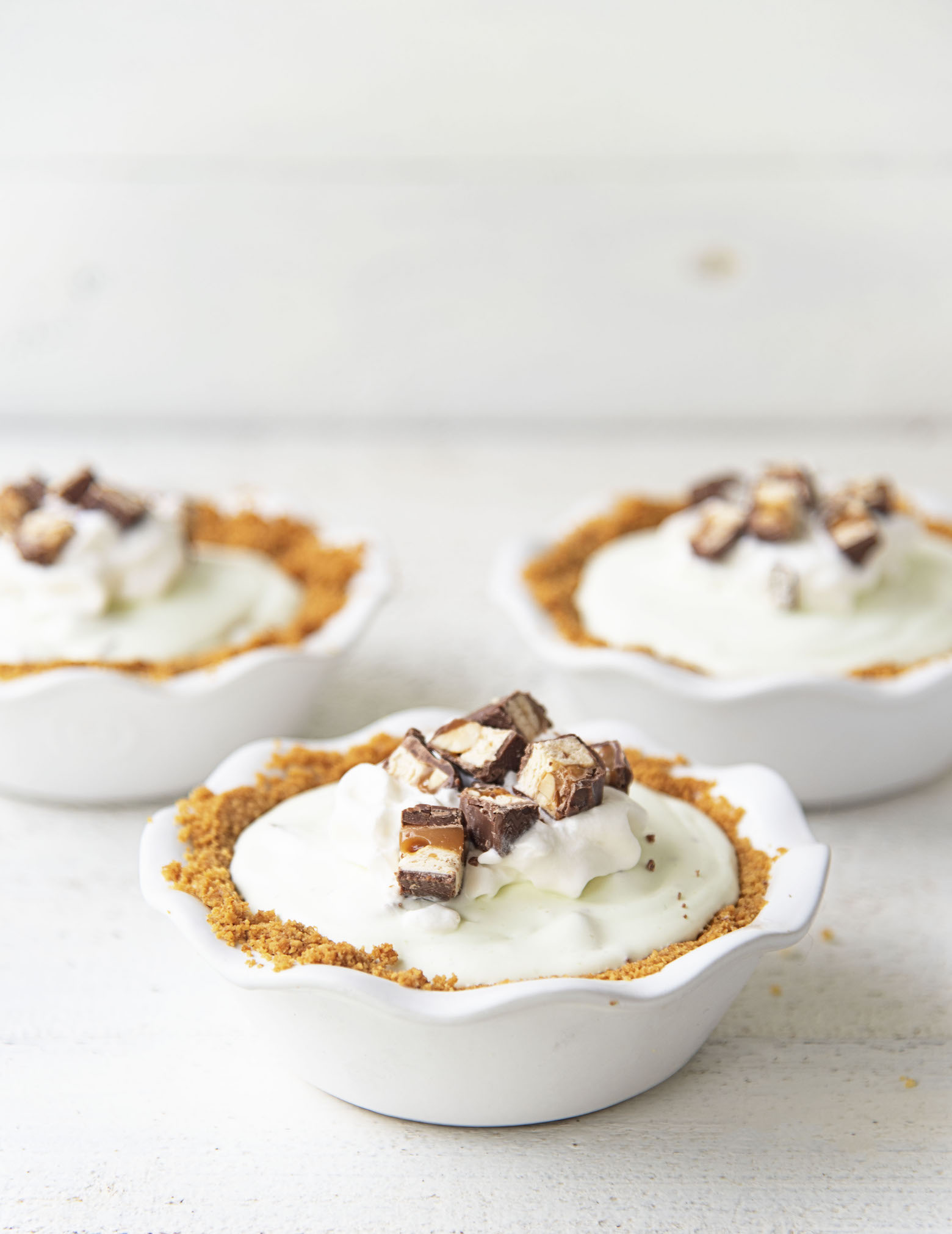 The salad originated in Minnesota or so that's the rumor.
The Midwest is great at inventing salads that aren't really salads.
And I love them for it.
Snickers Apple Salad is a combo of Granny Smith Apples, vanilla pudding mix, whipped cream, and Snickers.
There of course are a variety of variations.
Some don't use the pudding mix.
Others add cream cheese.
Or in my case…you make it into a jello mold and put it into pie and call it Snickers Apple Jello Salad Pie.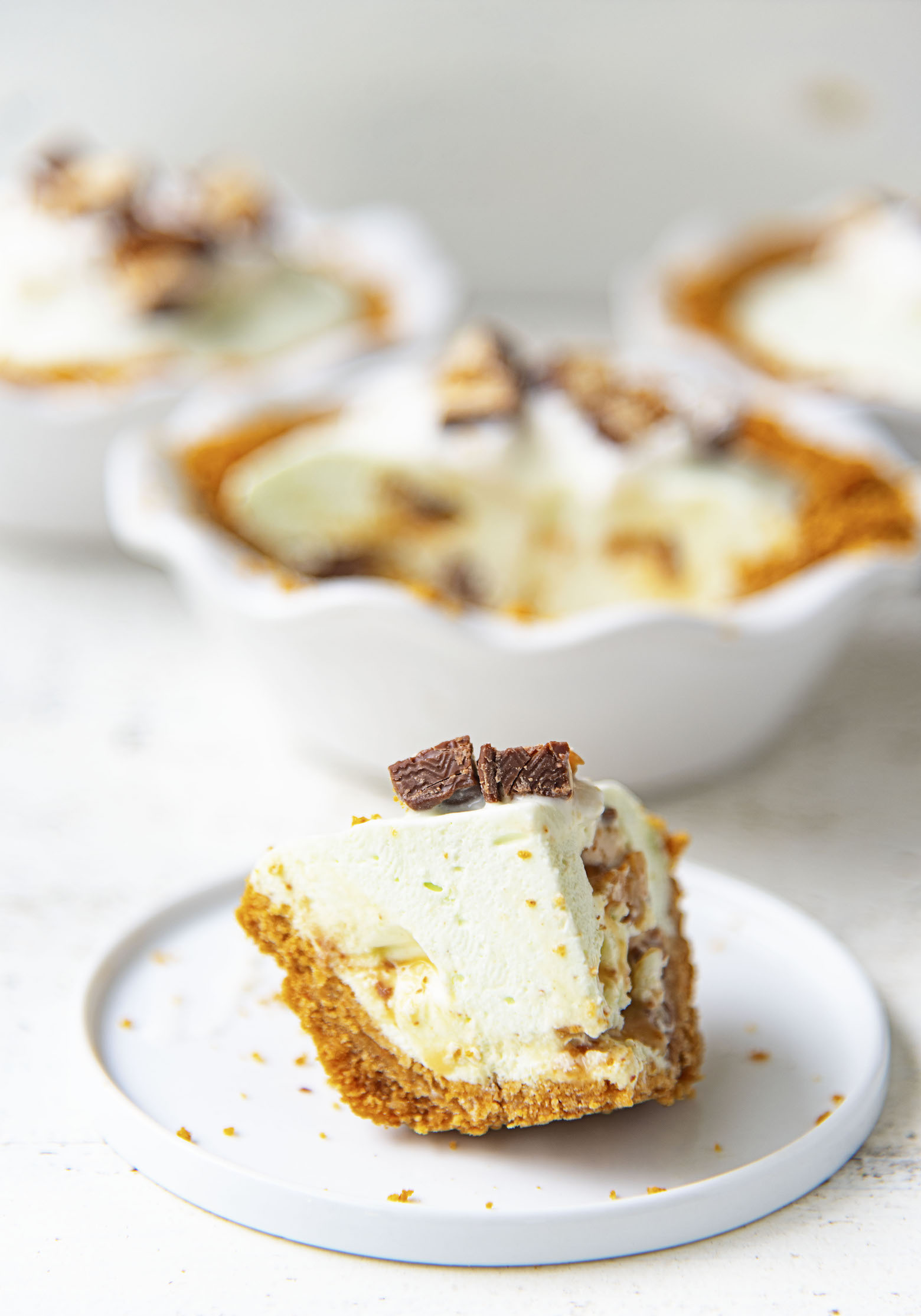 Now, I made this into a pie.
But really you can just make this as a jello salad or jello mold no problem.
I was just going for something a little different this time.
And while I have a piece cut out for the photos, I would honestly just serve these with a fork and tell people to have at it (if making the minis).
If you are making a full size one then yes, you will want to cut it.
Or not.
Maybe still give everyone a fork and tell them to go for it. 😀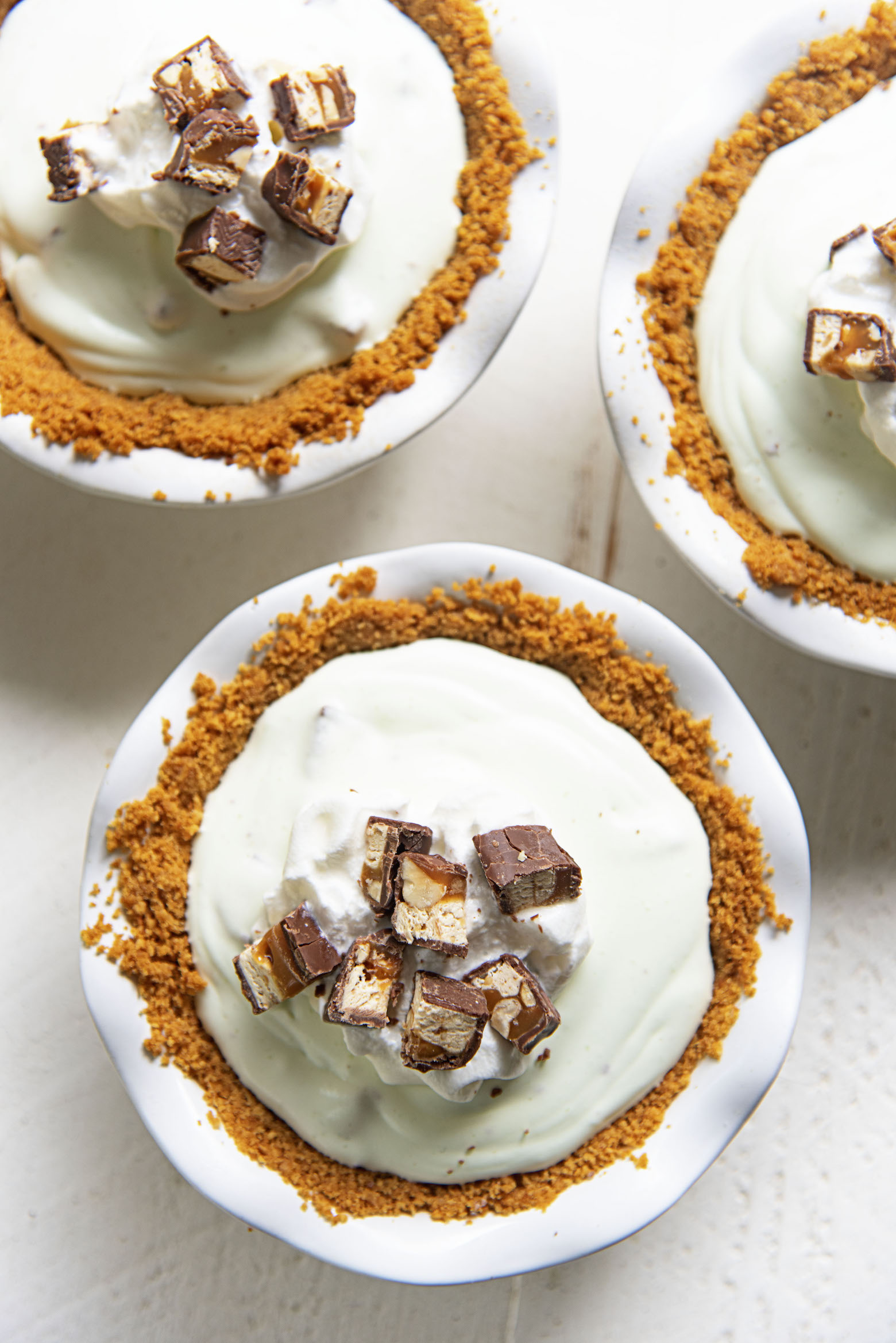 I thought about adding fresh apples to the pie but chose not to.
The Jolly Rancher Apple Gelatin has a good strong sour apple flavor all on it's own.
Plus there is enough texture in the pie with the addition of the Snickers candy bar pieces.
Last but not least…it's a great time to order my cookbook. 😀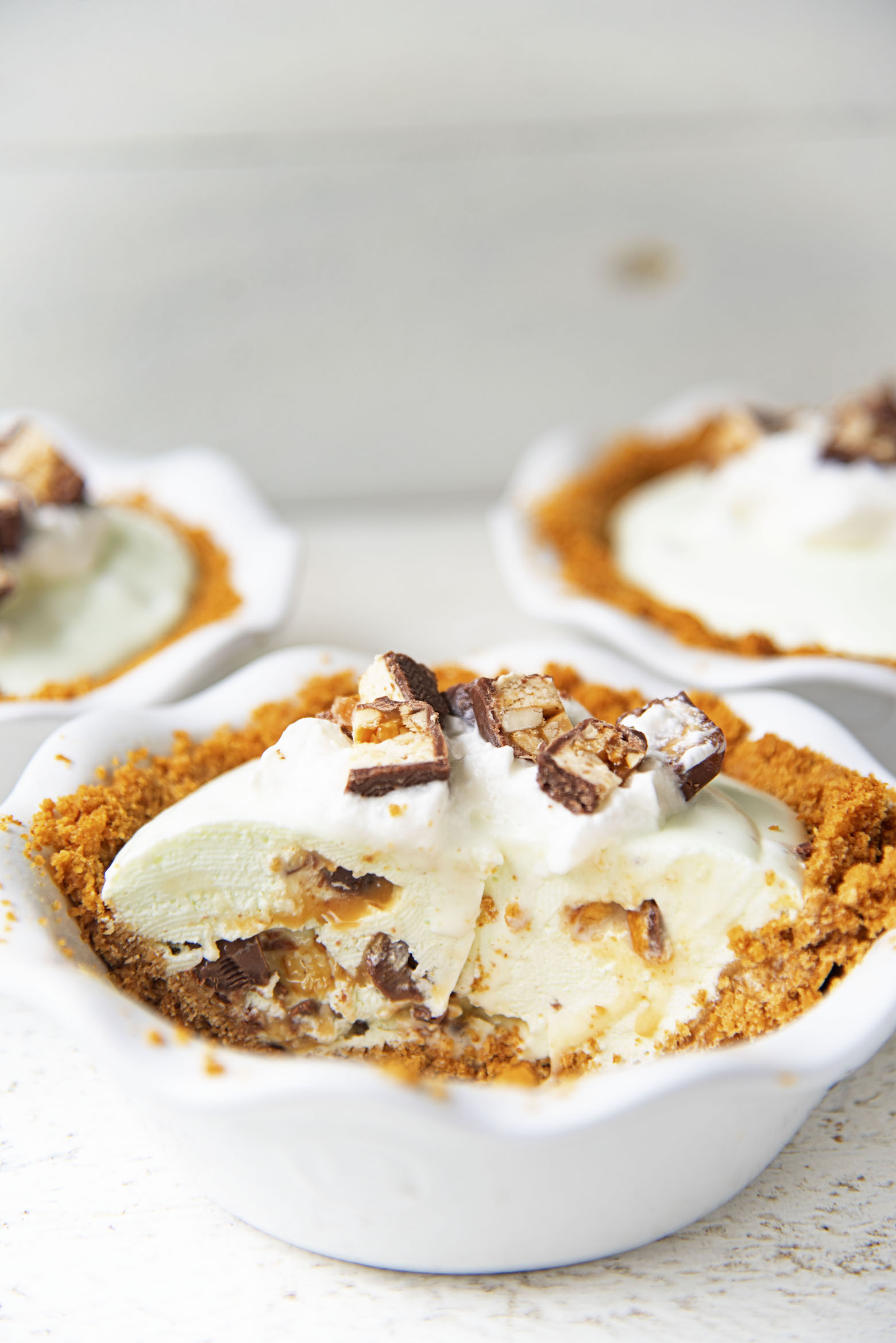 Want More Jello Recipes?
Creamsicle Marshmallow Jell-O Salad
Cherry Coke Float Jell-O Salad
Cranberry Marshmallow Jell-O Salad
Ingredients
For the Graham Cracker Crust:
1 ¾ cups crushed graham cracker crumbs
1/3 cup powdered sugar
7-8 TBSP melted unsalted butter
1/8 tsp. salt
For the Jello:
1 (6 ounce) package Jolly Rancher Apple Gelatin
1 cup boiling water
1 (8 ounce) package cream cheese, at room temperature
1/4 cup vanilla pudding mix
1 cup Sprite(or other lemon-lime soda) or Cream Soda
1 (8 ounce) carton of Cool Whip, thawed
1 1/2 cups chopped Snickers candy bars
For the Whipped Cream:
1 cup heavy cream
3 TBSP powdered sugar
Chopped Snickers for garnish
Instructions
For the crust:
In a large bowl add the graham cracker crumbs, powdered sugar, and salt.
Add about 7 TBSP melted butter.
Mix until combined.
If it seems like it needs more butter add the remaining TBSP (mine too the full 8 TBSP).
Divide contents into five 4 inch pie pans or one 9 inch pie pan.
Press the contents to form a shell making sure to go up the sides.
Bake crust/s for 15 minutes at 325F. Set aside.
For the Jello:
Dissolve Jello in water.
In a mixing bowl, beat the cream cheese and vanilla pudding mix until fluffy.
Stir in Jello and beat until smooth. If it's not looking smooth I often run it through the blender to make sure all the ingredients are fully combined.
Add the soda. Mix until incorporated.
Chill the mixture in refrigerator for about 30-40 minutes, so that when you lift it with a spoon it is clumpy.
Fold in the Cool Whip.
Fold in the Snickers pieces.
Pour into the prepared crust/s.
Refrigerate for 3-4 hours or until firm.
For the Whipped Cream:
Using a stand mixer (or hand mixer) beat the cream on high for two minutes.
Add the powdered sugar and beat until stiff peaks form.
Garnish with more Snickers pieces if desired.