This Snickerdoodle Pumpkin Cream Cheese Pie is made with pumpkin and a cream cheese topped with mile high snickerdoodle cookie whipped cream.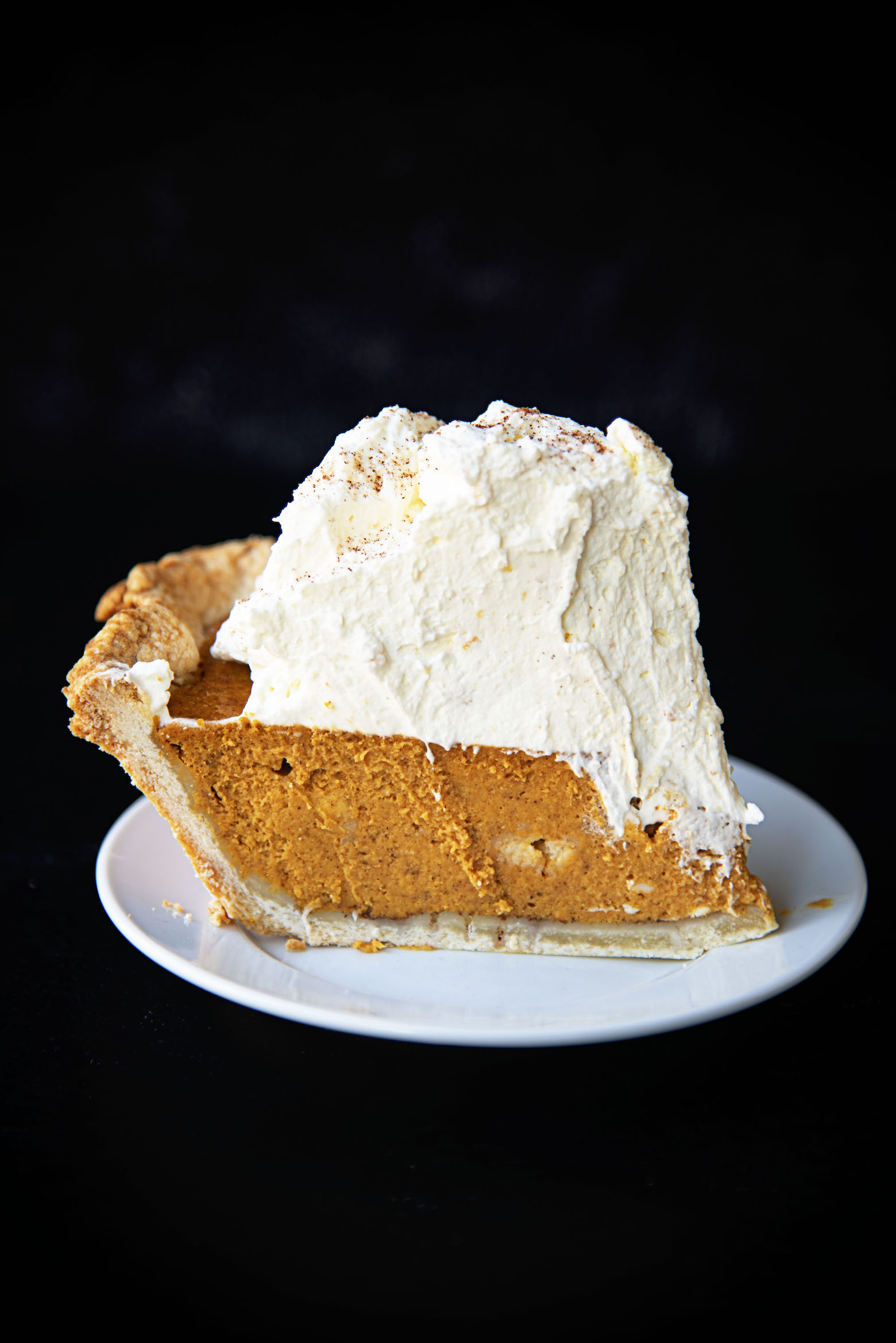 This Snickerdoodle Pumpkin Cream Cheese Pie is the latest in my obsession with cookies crushed into pumpkin pie.
And putting cookies in the whipped cream.
If you don't read this blog then you don't know that, like Parks and Rec character Leslie Knope, I can never have enough whipped cream.
And a few years back I started piling it on high for my pumpkin pies.
As a kid, and well an adult, I cover my entire piece of pumpkin pie with whipped cream.
This way you get to see some of the pie.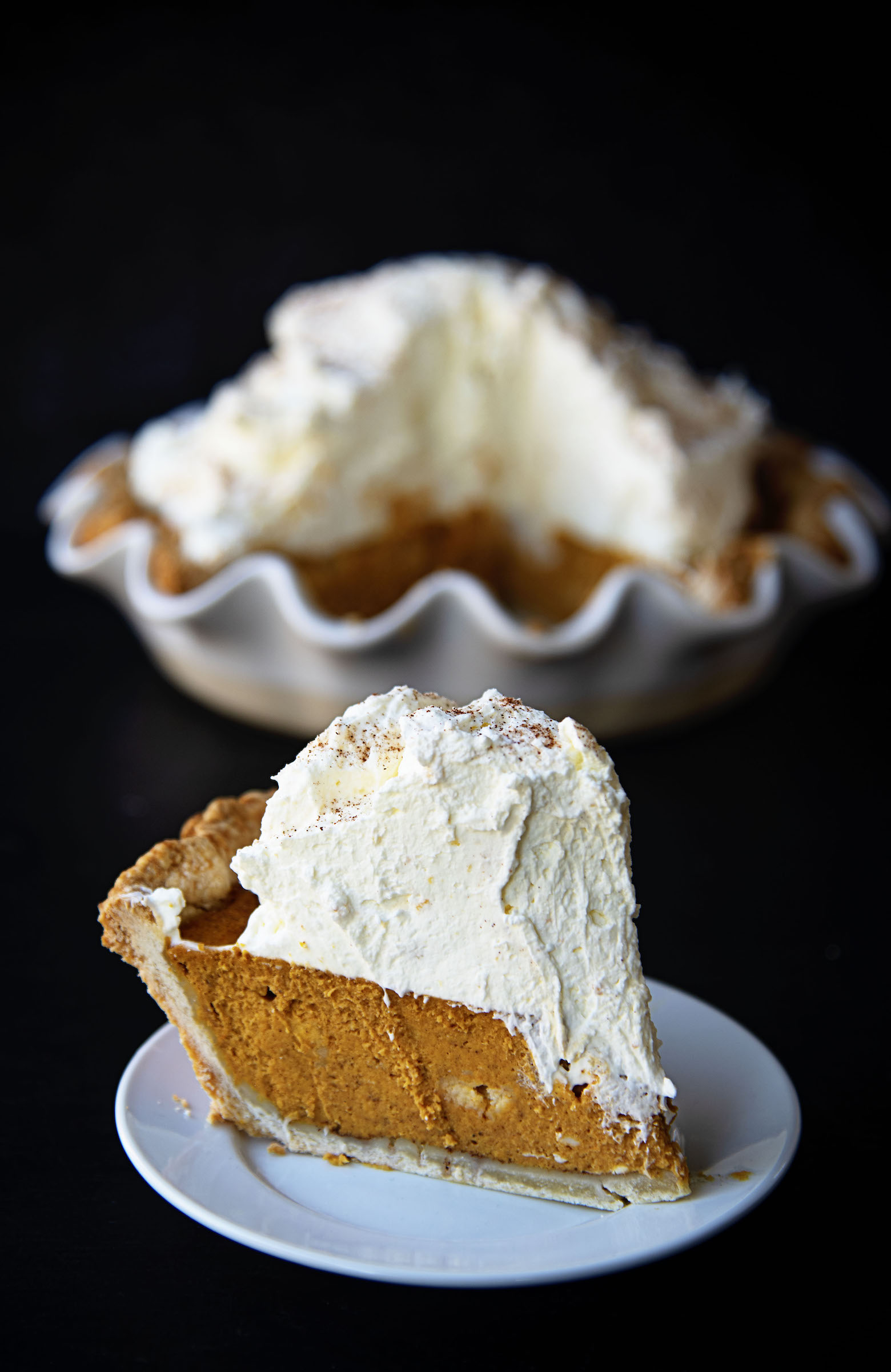 This is also a cream cheese based pie.
Which makes it kind of pumpkin pie and kind of cheesecake.
But really, at least to me, it's more pumpkin pie than cheesecake.
Pumpkin pie purest won't be a fan but I do like to mix it up.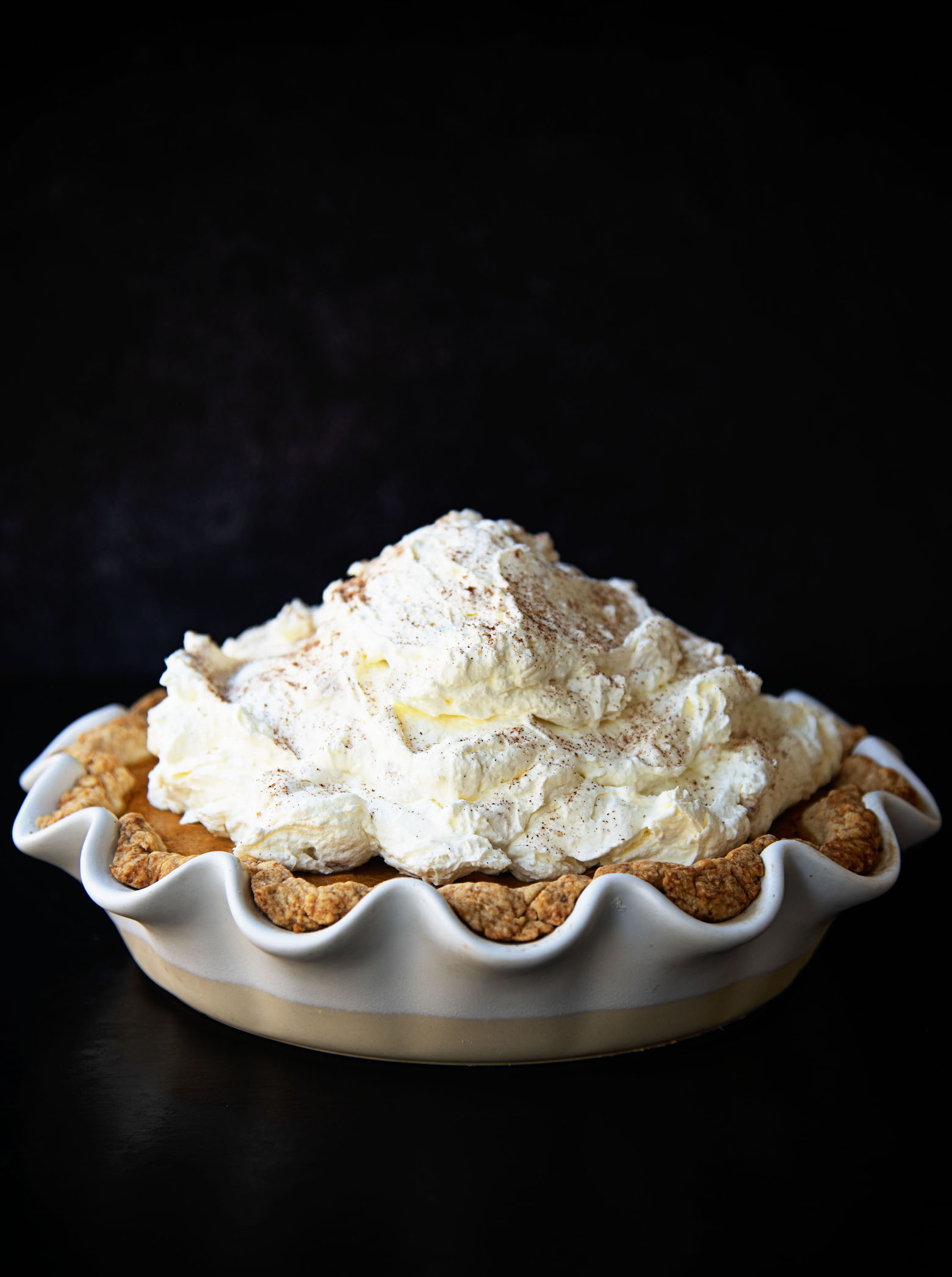 So far I have put Oreo's and Gingersnaps in the pie.
Snickerdoodles are one of my absolute favorites and I'm surprised it took me this long to shove them in pie.
The cookies are used in both the pie and the whipped cream.
People always ask if they cookies get soggy.
Yes.
That's totally fine.
You are getting a nugget of snickerdoodle goodness in your pie and whipped cream.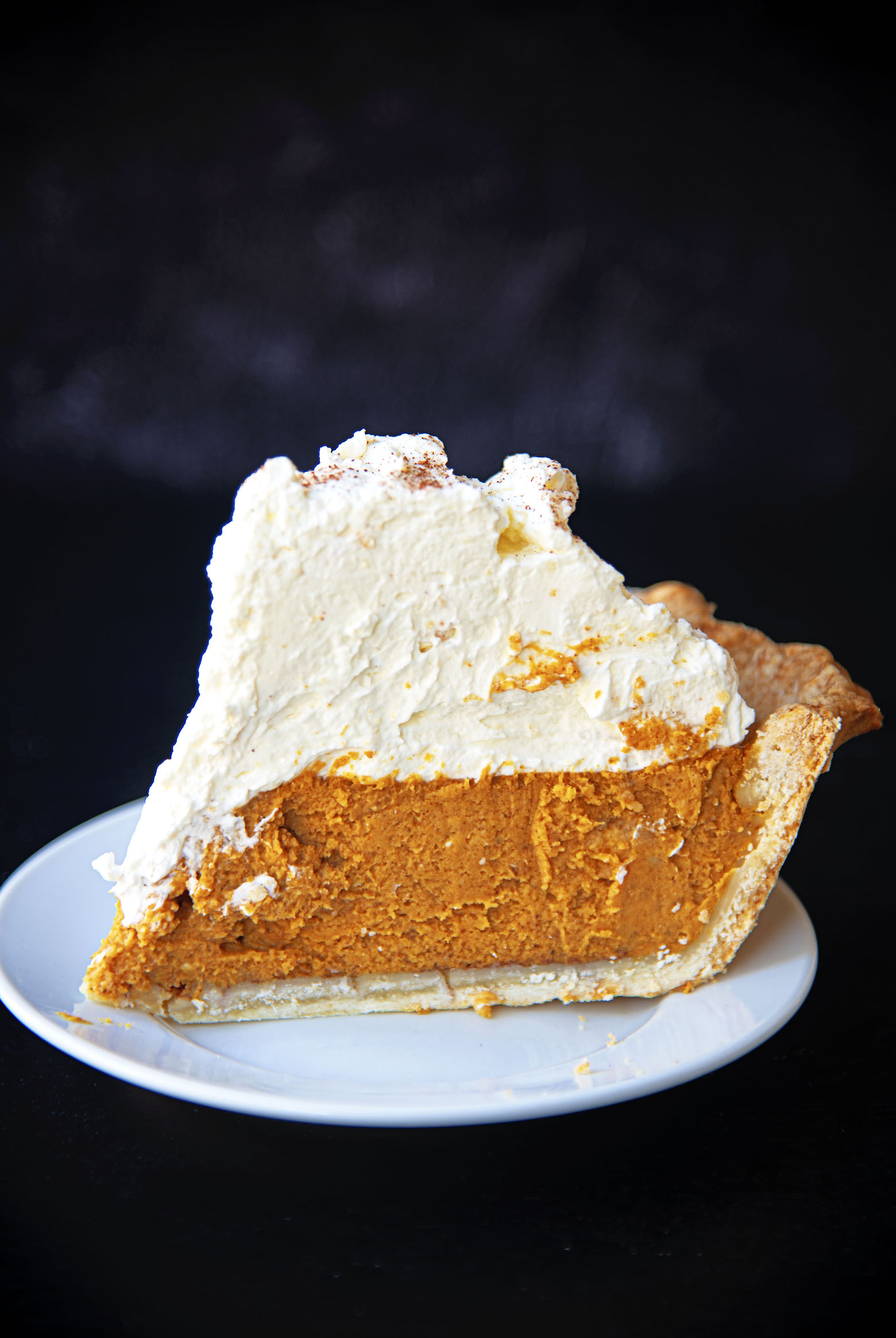 Can you use store bought pie crust?
You totally can.
And I have.
But over the years I have learned that this is a heavy pie.
And it, in my opinion, needs a heartier crust.
But if you want a shortcut you can totally buy a refrigerated pie crust at the store.
Haha, I totally sound like Ina Garten there. 🙂
Store bought is fine.
P.S. It's a great day to buy my cookbook.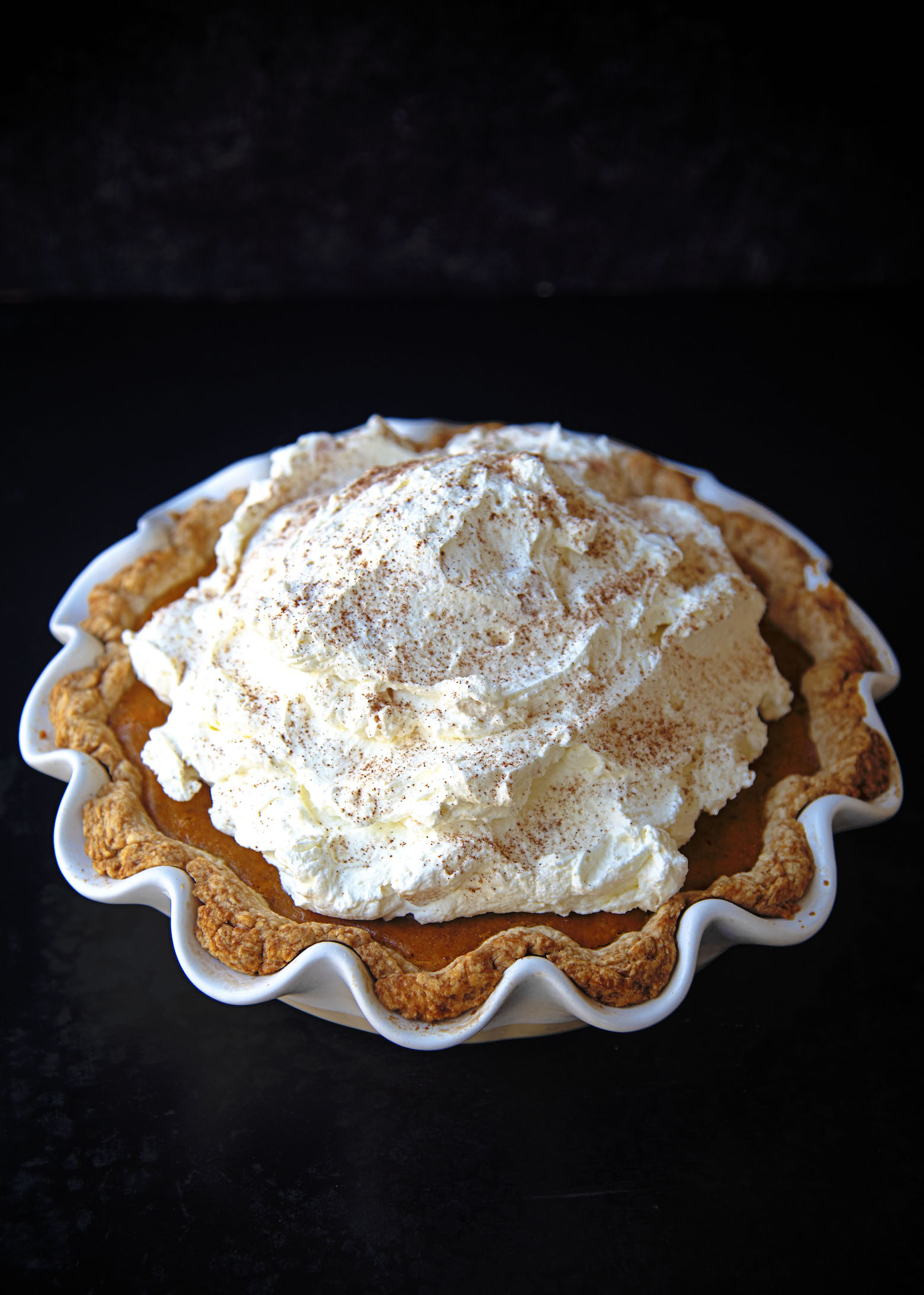 Want More Pumpkin Recipes?
Pumpkin Creme Brûlée Tartlets with Chocolate Ginger Crust
White Chocolate-Pumpkin Topped Blondies
Pumpkin Pecan Pie Gingerbread Bars
Brown Butter Pumpkin Pie Layer Cake
Ingredients
For the Crust:
2 cups all-purpose flour
1/2 tsp.salt
2 TBSP granulated sugar
2/3 cup chilled unsalted butter
4 to 5 TBSP ice water
1 TBSP cinnamon sugar
For the Filling:
1 cup granulated sugar
3 TBSP all-purpose flour
11 oz cream cheese, at room temperature
1 TBSP pumpkin pie spice
3 eggs
1 can (15 oz) pumpkin puree (not pumpkin pie mix)
1 TBSP whole milk
1 cup diced snickerdoodle cookies
For the Snickerdoodle Whipped Cream:
2 cups heavy cream
1/3 cup granulated sugar
1 cup crushed snickerdoodle cookies
cinnamon sugar for garnish
Instructions
For the Crust:
Using a food processor combine flour, salt, and sugar on and pulse for 30 seconds.
Cut butter into 1/2-inch cubes and add to flour mixture and pulse until mixture looks crumbly, with bits of dough the size of peas, about 1 minute.
Add 4 tablespoons ice water, 1 tablespoon at a time, mixing on low speed for 10 seconds after each addition.
After final addition, dough should begin to clump together in a ball. If it doesn't, continue mixing for about 10 seconds longer. (If it still looks too dry, add 1 more tablespoon ice water.) Gently mold dough into a disk, cover in plastic wrap, and refrigerate for at least 1 hour.
Transfer unwrapped dough to a lightly floured surface.
Roll into a 1/8-inch-thick circle large enough to cover bottom and sides of a 9-inch-diameter deep-dish pie pan; do not use a regular (shallow) pan. Transfer dough to pie pan, crimping edges with your fingers or a fork. Prick bottom with a fork. Place in pie pan in refrigerator until ready to use.
For the Pie:
Heat oven to 375°F.
Pre-bake the pie shell about 8 minutes or until light golden brown.
Remove from oven and sprinkle 1 TBSP cinnamon sugar evenly over the bottom of the pie crust. Set aside.
Using a stand mixer with a paddle attachment beat together the sugar, flour and cream cheese on low speed until smooth.
Add the pumpkin pie spice, egg, and pumpkin puree to cream cheese mixture.
Beat on medium speed, scraping bowl constantly, until smooth. Pour into crust.
Stir milk into reserved cream cheese mixture to thin.
Add the diced snickerdoodle cookies and mix until fully combined.
Pour mixture into the pre-baked crust.
Cover edge of crust with 2- to 3-inch strip of foil to prevent excessive browning; remove foil for last 15 minutes of baking.
Bake 40-50 minutes or until knife inserted in center comes out clean.
Cool 30 minutes.
Cover loosely and refrigerate at least 4 hours before serving.
For the Snickerdoodle Whipped Cream:
Place the sugar into a mixing bowl and add the whipping cream.
Whisk just until the cream reaches stiff peaks.
Add the crushed snickerdoodles and whip until fully combined.
Place whipped cream on top of the fully chilled pie. Sprinkle with cinnamon sugar if desired.
Store covered in refrigerator.