This Snickerdoodle Apple Fritter Bread has a crunchy cookie top and is filled with cinnamon sugar and apples covered in apple cider glaze.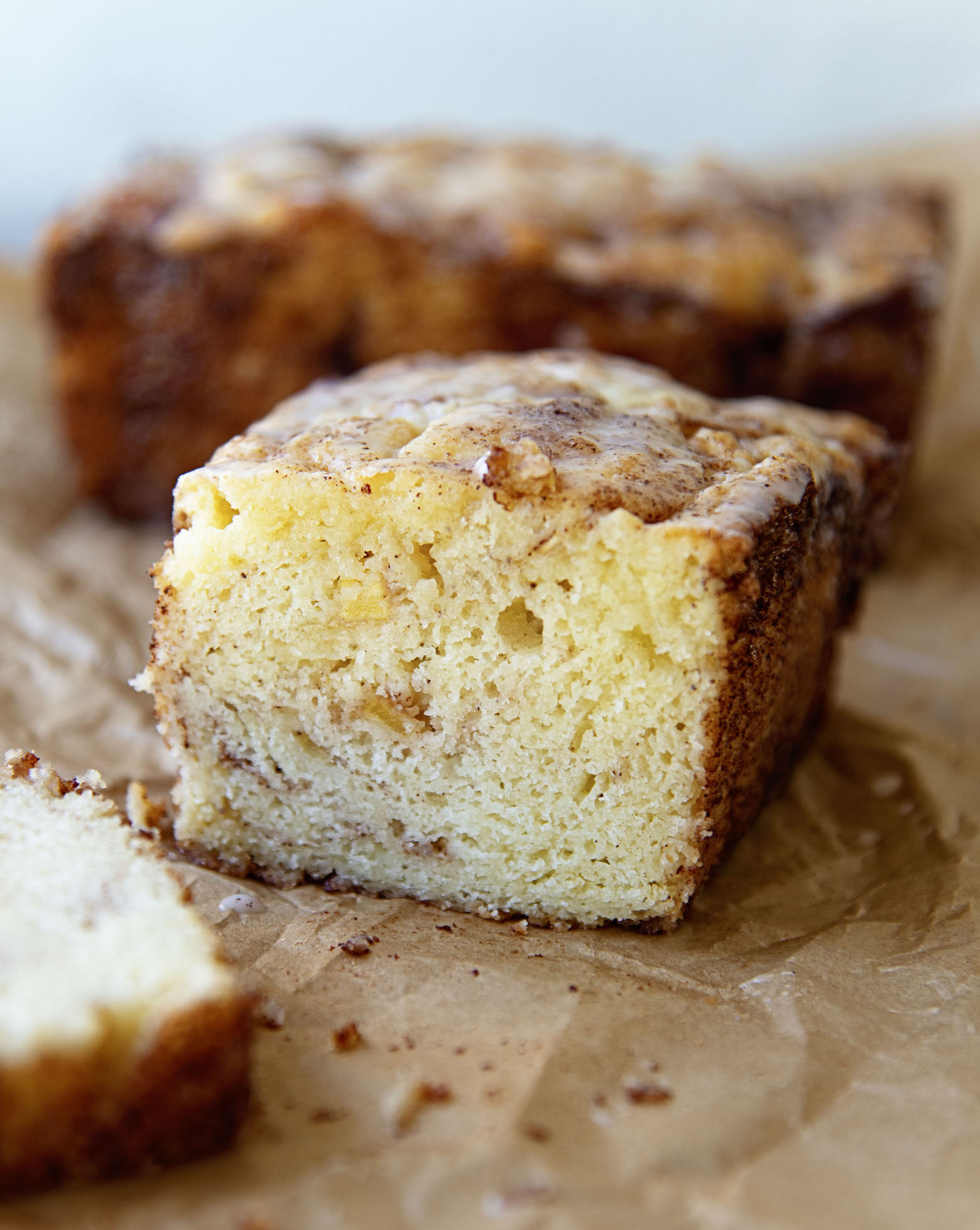 I've been blogging a long time.
Well over 16 years now.
Which means there are a TON of recipes on here.
People are amazed I can still come up with new stuff.
I am too. 😀
Sometimes the new is a remake of an oldie but a goodie.
Today, this Snickerdoodle Apple Fritter Bread is a combo of two oldies but goodies.
How good?
Well, both my Snickerdoodle Muffins and my Salted Caramel Apple Fritter Bread are always in my top 10 most searched recipes all year long.
Year after year.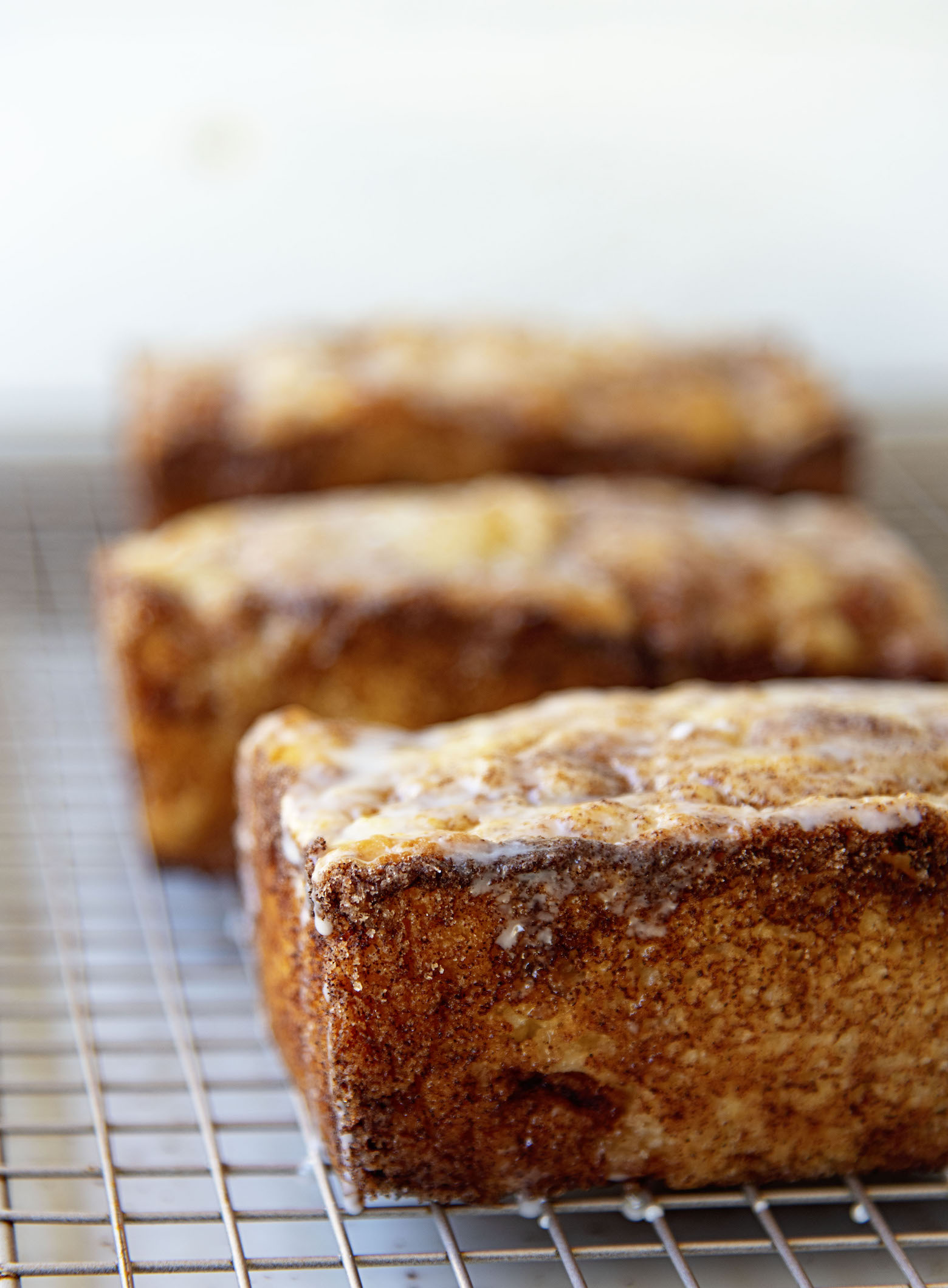 So I figured why not combine the two?
With changes of course.
This has an apple cider glaze instead of salted caramel.
But I'm sure that the salted caramel glaze would be just as good.
If you wanted to go that route.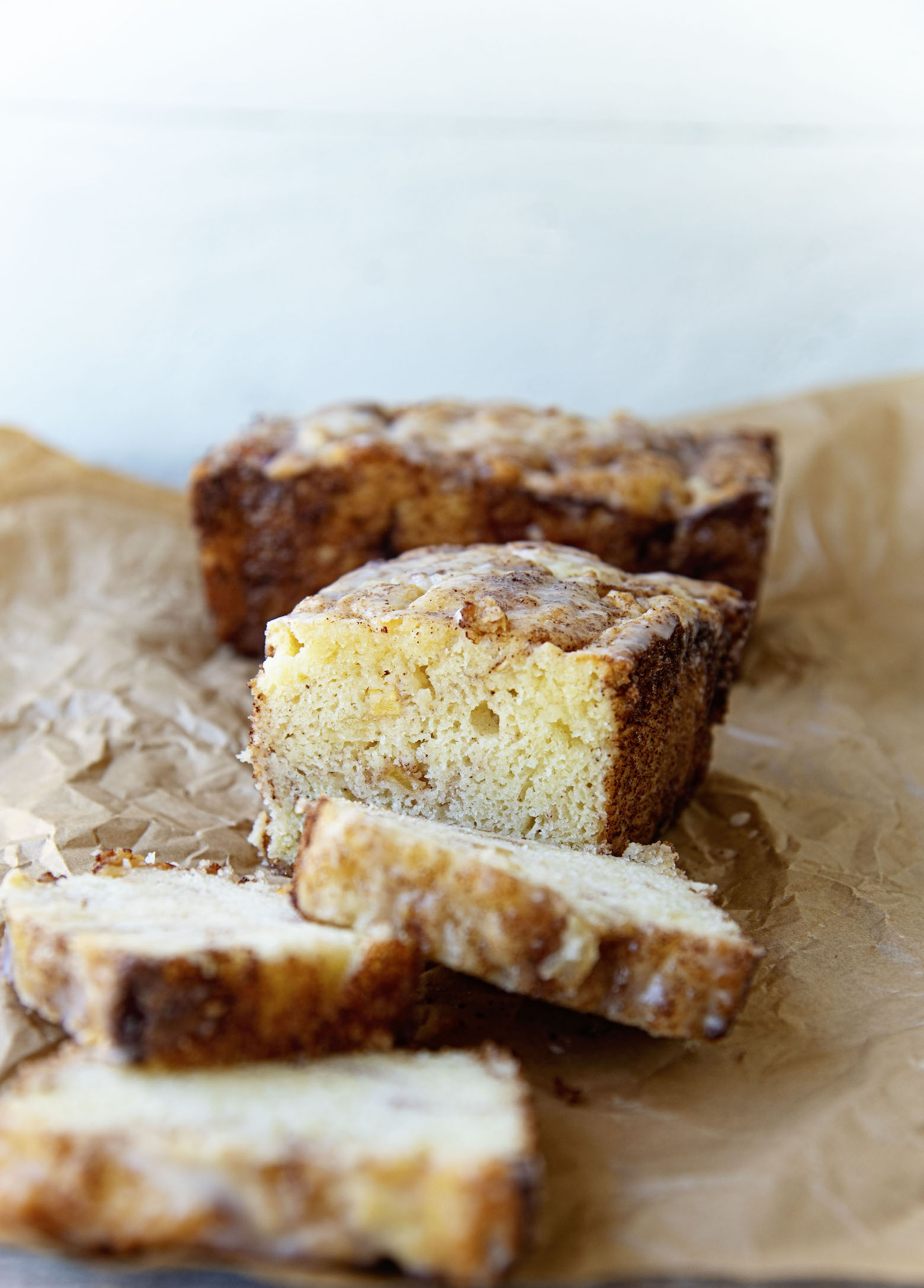 I couldn't decide if I wanted to use the apple fritter bread as a base or the snickerdoodle muffin recipe as a base.
In the end I went with the snickerdoodle base and just add apples to it.
I may try it the other way around one day as well.
But this was a big hit with the hubby.
Not surprised since it's based of a beloved recipe on this site.
Happy it turned out all the same though. 😀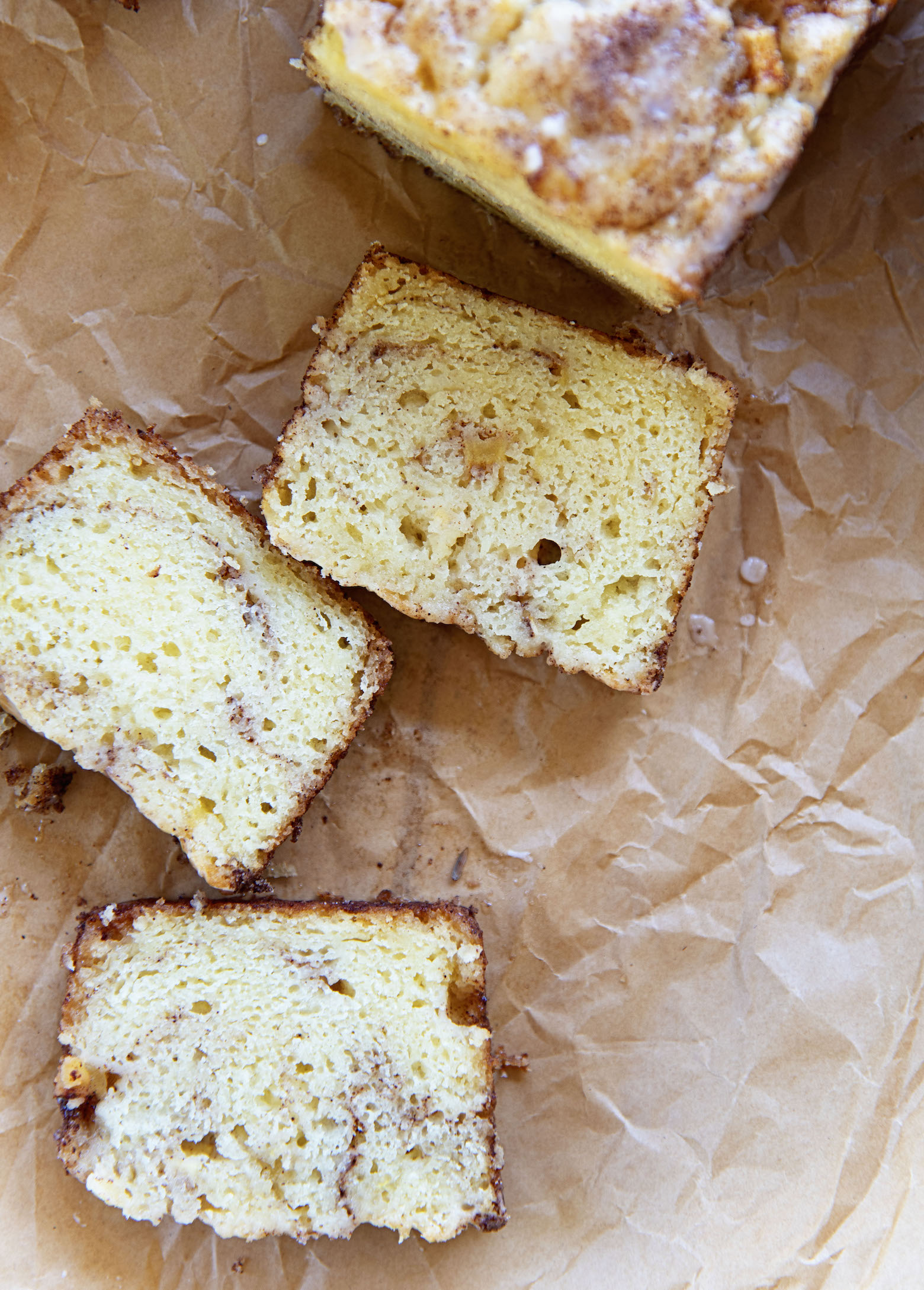 Feel free to use whatever apple is your favorite.
I chose to use the apples off my tree.
And since I didn't plant the apple trees in my yard and they have several varieties on one tree, I never know what kind I have. 🙂
I think these were honeycrisp but I'm not totally sure.
Last but not least…it's a great time to order my cookbook. 😀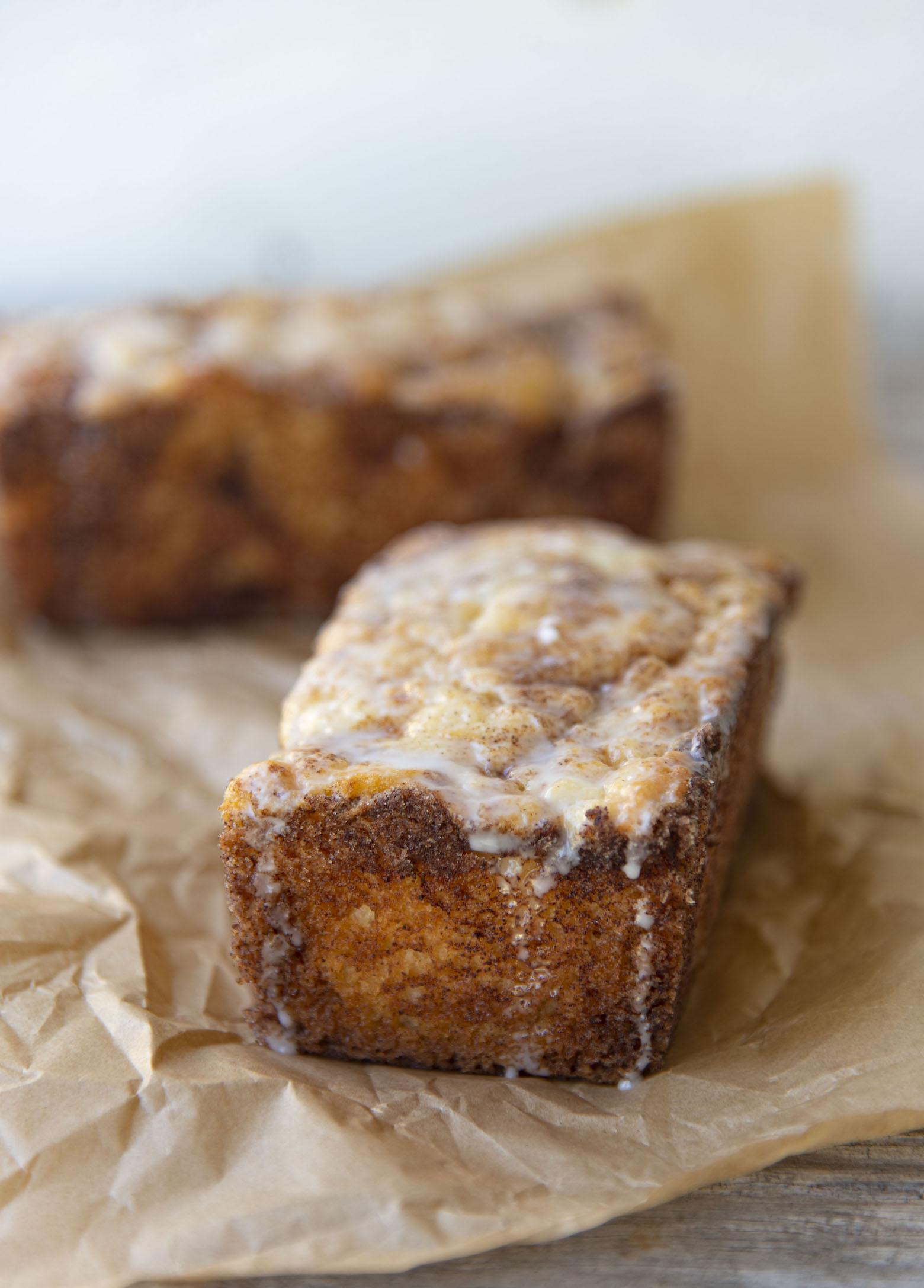 Want More Apple Recipes?
Oatmeal Crumble Caramel Apple Pie
Ingredients
For Cinnamon sugar:
1 cup granulated sugar
2 TBSP cinnamon
For the Quick Bread:
2 (8 ounces) sticks unsalted butter, at room temperature
1 cup granulated sugar
2 tsp. vanilla extract
2 large eggs
¾ tsp. baking soda
¾ tsp. baking powder
¾ tsp. cream of tartar
¾ tsp. freshly grated nutmeg
1 and ¼ cup sour cream
2 and ¼ cups all-purpose flour
2 apples, peeled and finely diced
For the Glaze:
3 TBSP apple cider (more if you want to thin)
½ cup of powdered sugar
Instructions
For the Cinnamon Sugar:
Take the 1 cup sugar and 2 TBSP cinnamon and mix together in a bowl.
Set aside:
For the Bread:
Butter a standard loaf pan and sprinkle ¼ cup of the cinnamon sugar mixture into the pan. You can also make four mini loaves which is what I did. You can divided the 1/4 cup cinnamon sugar among the four loaf pans.
Move the pan/s around so that the cinnamon sugar adheres to the butter on the pan.
Put the remaining cinnamon sugar back into the bowl.
Using a stand mixer with the paddle attachment, cream the butter and sugar until soft about 3 to 5 minutes.
Add in the vanilla.
Add in the eggs one at a time and mix until each is incorporated.
In a separate, mix together the flour, baking soda, and baking powder and cream of tartar.
Add the flour mixture and the sour cream alternately to the egg-butter mixture in the additions.
Start with the flour and end with the flour. Scrape the bowl occasionally.
Fold in the diced apple pieces.
Let batter sit in fridge for 30 minutes covered in plastic wrap, this will help it to roll in cinnamon sugar easier.
Using an ice cream scoop, scoop out batter forming a ball and drop into a shallow bowl filled with the cinnamon sugar mixture.
Place the batter ball into the prepared loaf pan or mini loaves if using.
Repeat until all the batter is gone.
Sprinkle top with cinnamon sugar.
Bake for approx. 45-50 minutes in a 350F oven or until they are golden brown crunchy top if making a large one and 35-40 minutes for the minis.
For the Glaze:
Whisk together the powdered sugar and apple cider together until smooth and there are no visible powdered sugar lumps.
Drizzle glaze over the loaf or loaves.