These S'mores Thumbprint Cookies have a graham flour cookie rolled in graham cracker crumbs filled with chocolate and covered in fresh made marshmallow.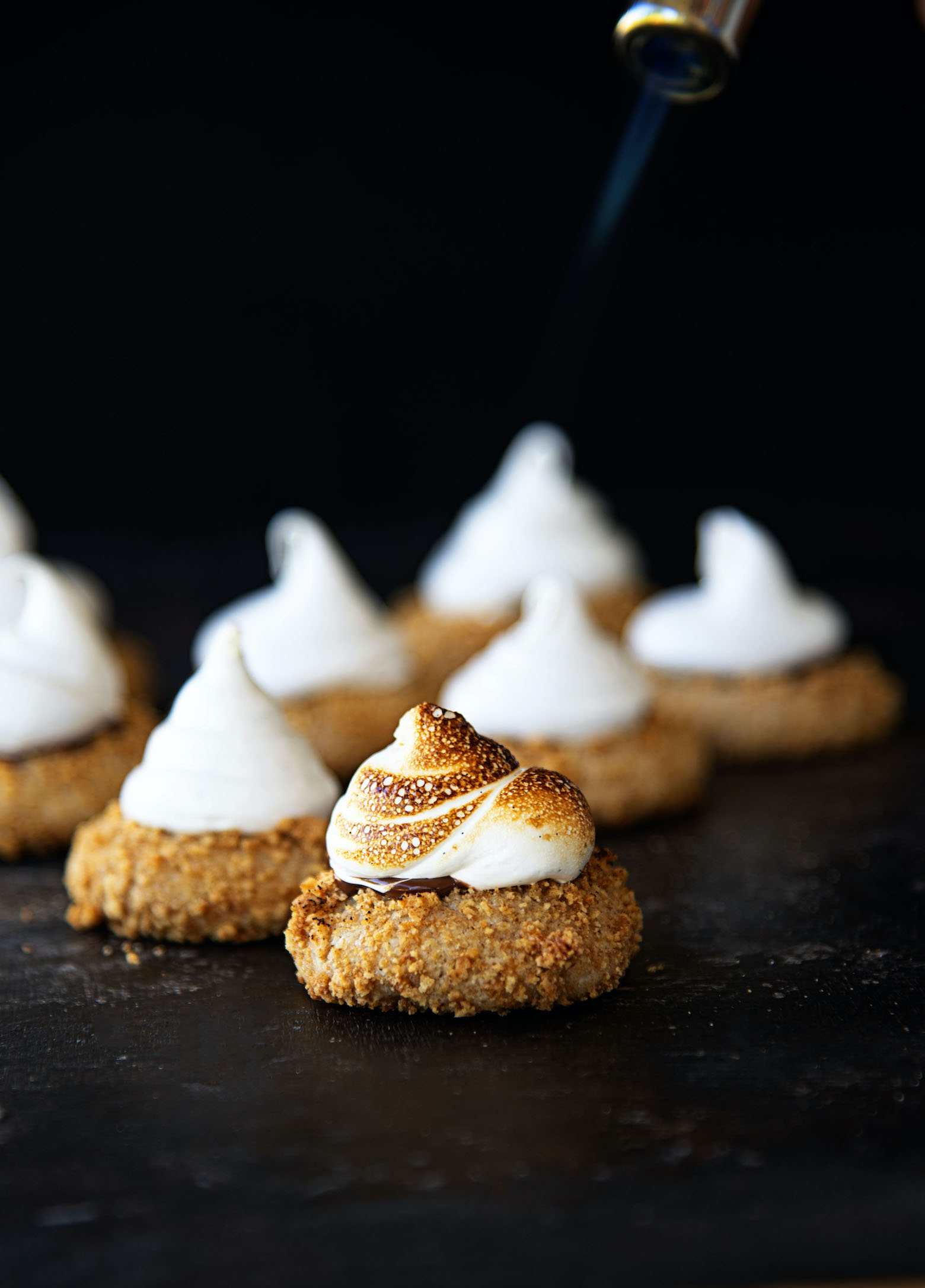 I get that S'mores are a camping food because of a campfire.
But S'mores are sticky and camping is dirty.
And so when I was little there always seemed to be marshmallow stuck to me…which meant dirt was stuck to me.
And of course, if you are really camping, not in a trailer like I do now, there is not a lot opportunity to get clean.
So with marshmallow stuck on you the other joy of camping would come along….bugs.
Can you tell I don't quite love camping?
Hard to believe I was a Girl Scout or that my original major in college was Forestry. 😀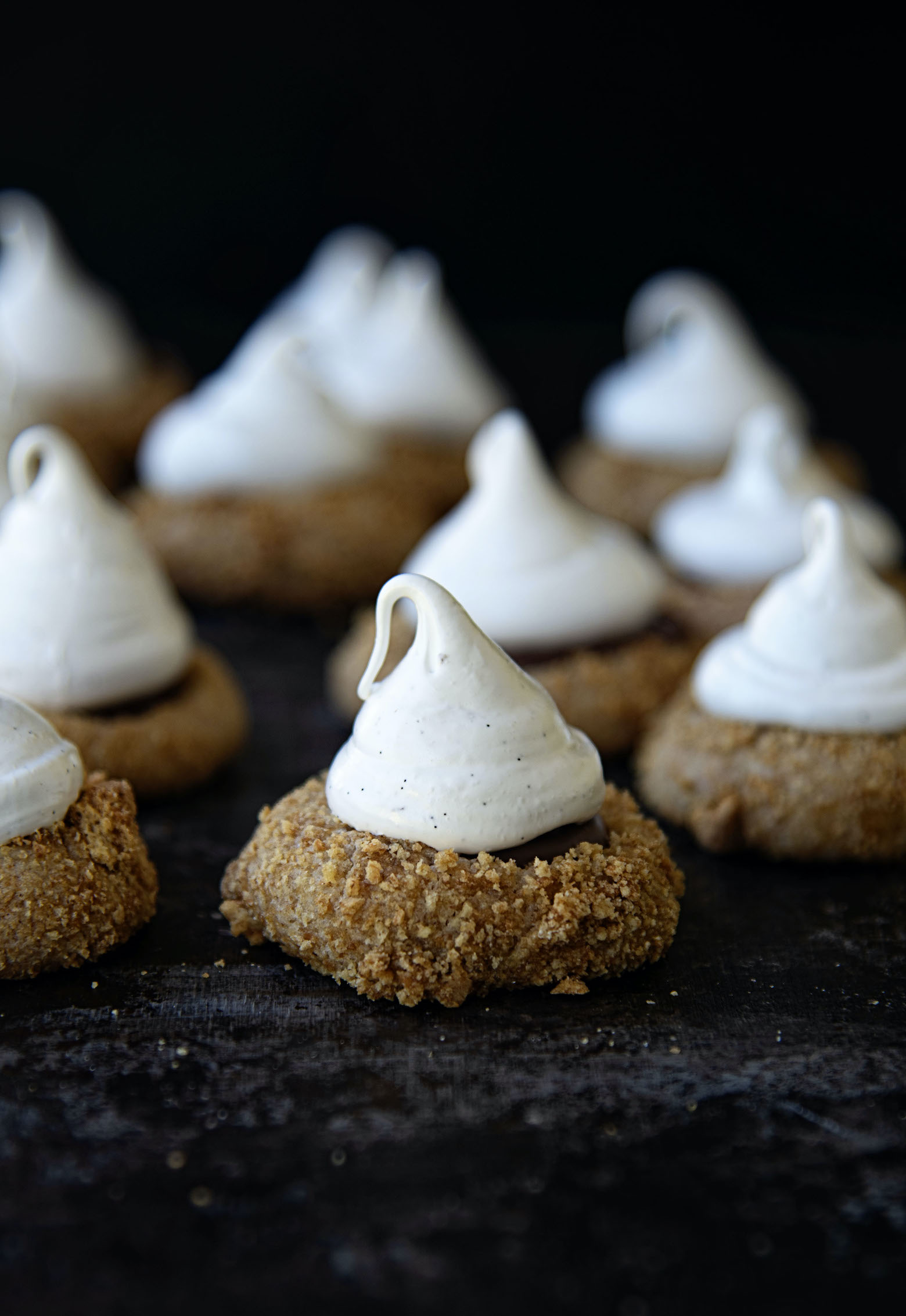 I get the joy of being in the forest.
That I love.
Trying to find a place to pee where people can't see you is not fun especially if you are female.
Sleeping on hard dirt and rocks in your sleeping bag also not fun.
Waking up usually freezing and knowing you have to go out and pee.
And you really don't want to.
Tying food a tree so animals don't get it…also no fun.
Stay away from my gummy bears!
No bathing for a few days also not fun.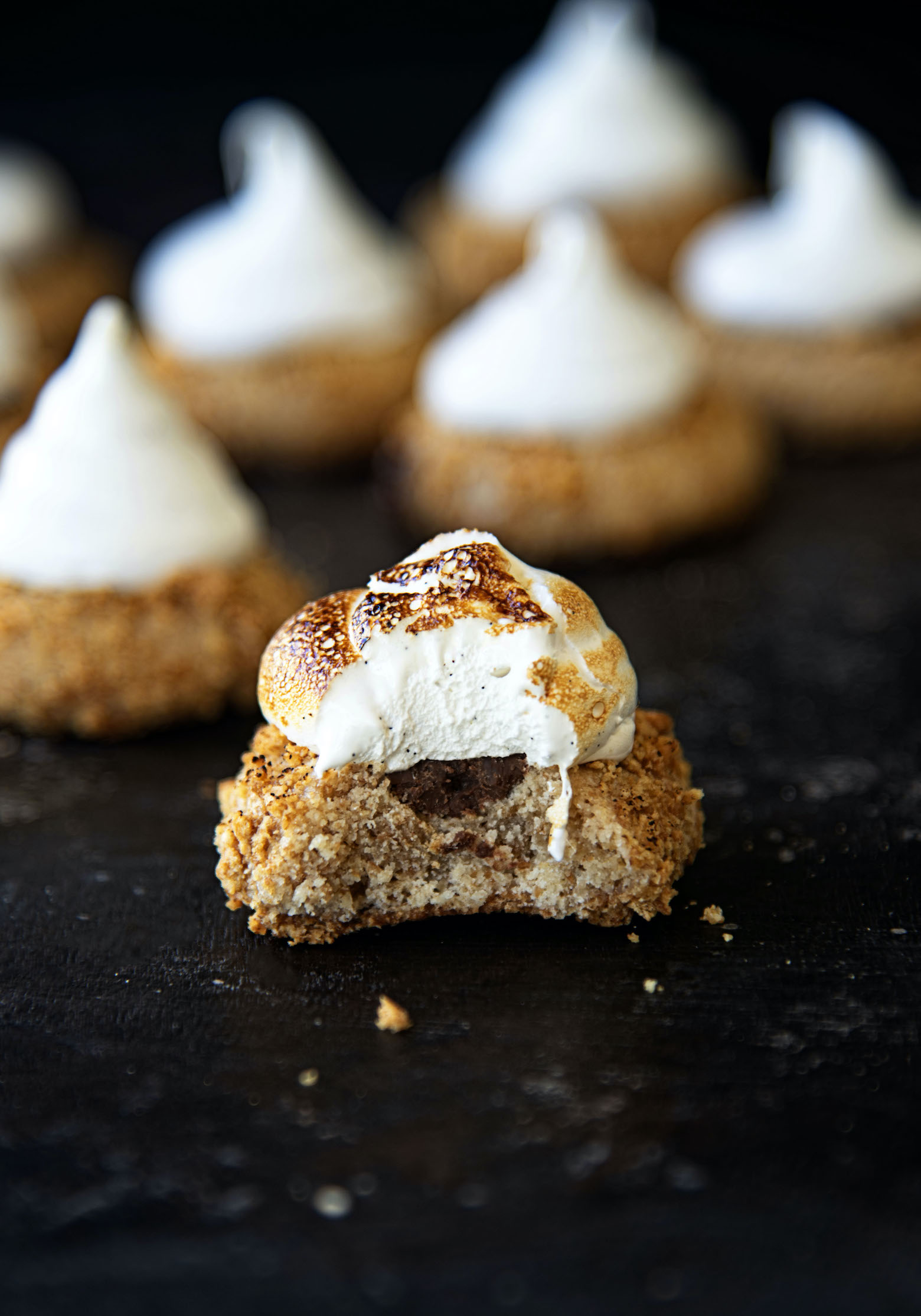 So when my husband told me when we were dating that he wasn't really into camping I was so very happy.
Even happier when he admitted that if he was ever to camp again it would be in a travel trailer.
When my husband had his heart attack he decided we shouldn't wait to get a trailer.
And so we got one.
This year however, there has been no camping.
The trailer has been used as a home office for him on the days he works from home.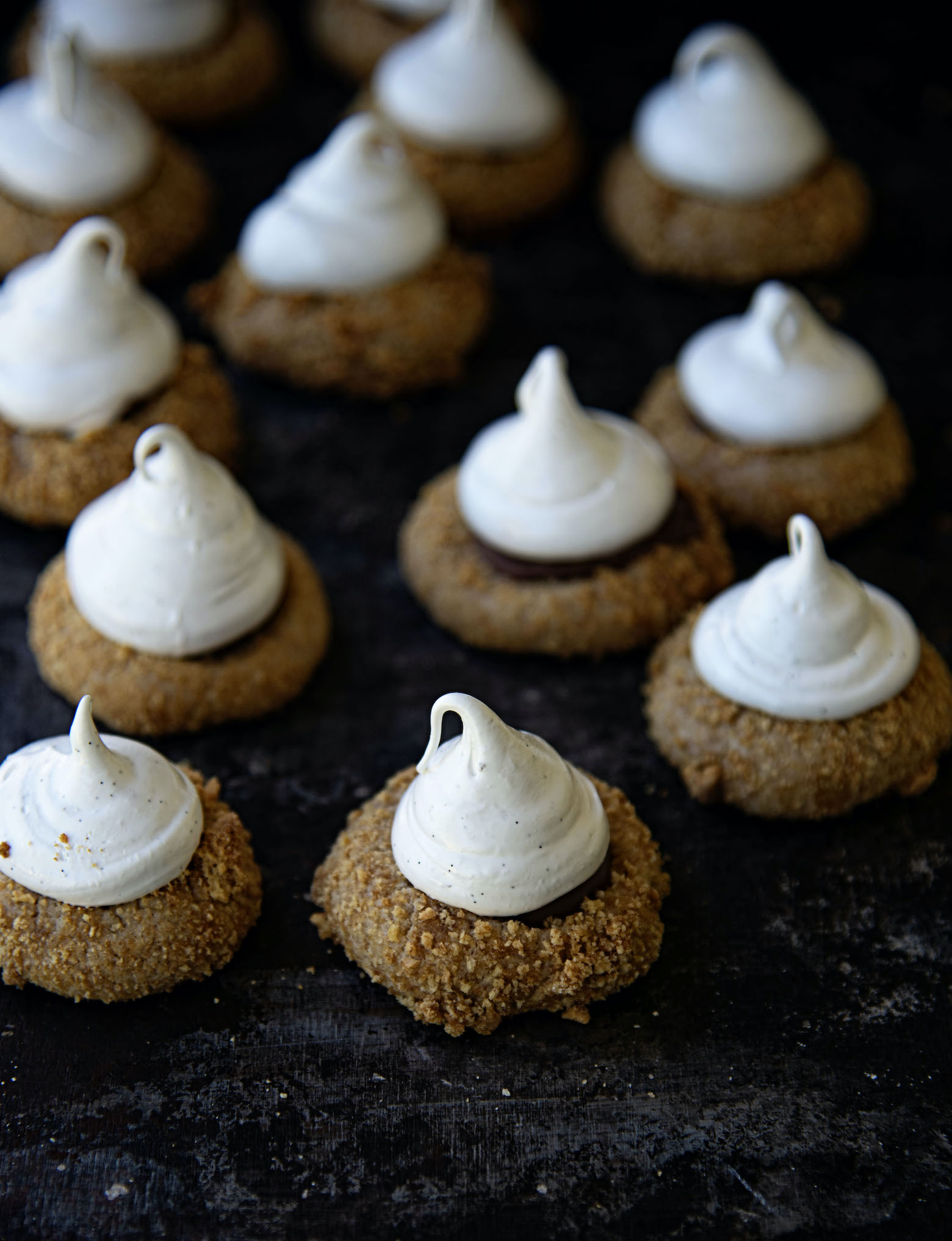 Since no camping my opportunity for S'mores goes down. 🙂 So I made these S'mores Thumbprint Cookies instead.
Which I have to admit I might like more than regular S'mores.
These are made with a graham flour (type of flour they use to make graham crackers) and then rolled in graham crackers.
Filled with a milk chocolate filling.
Then covered in freshly made vanilla bean marshmallow.
All toasted up with a culinary torch.
So yummy!
If you are home and not camping…it's a great time to order my cookbook. 😀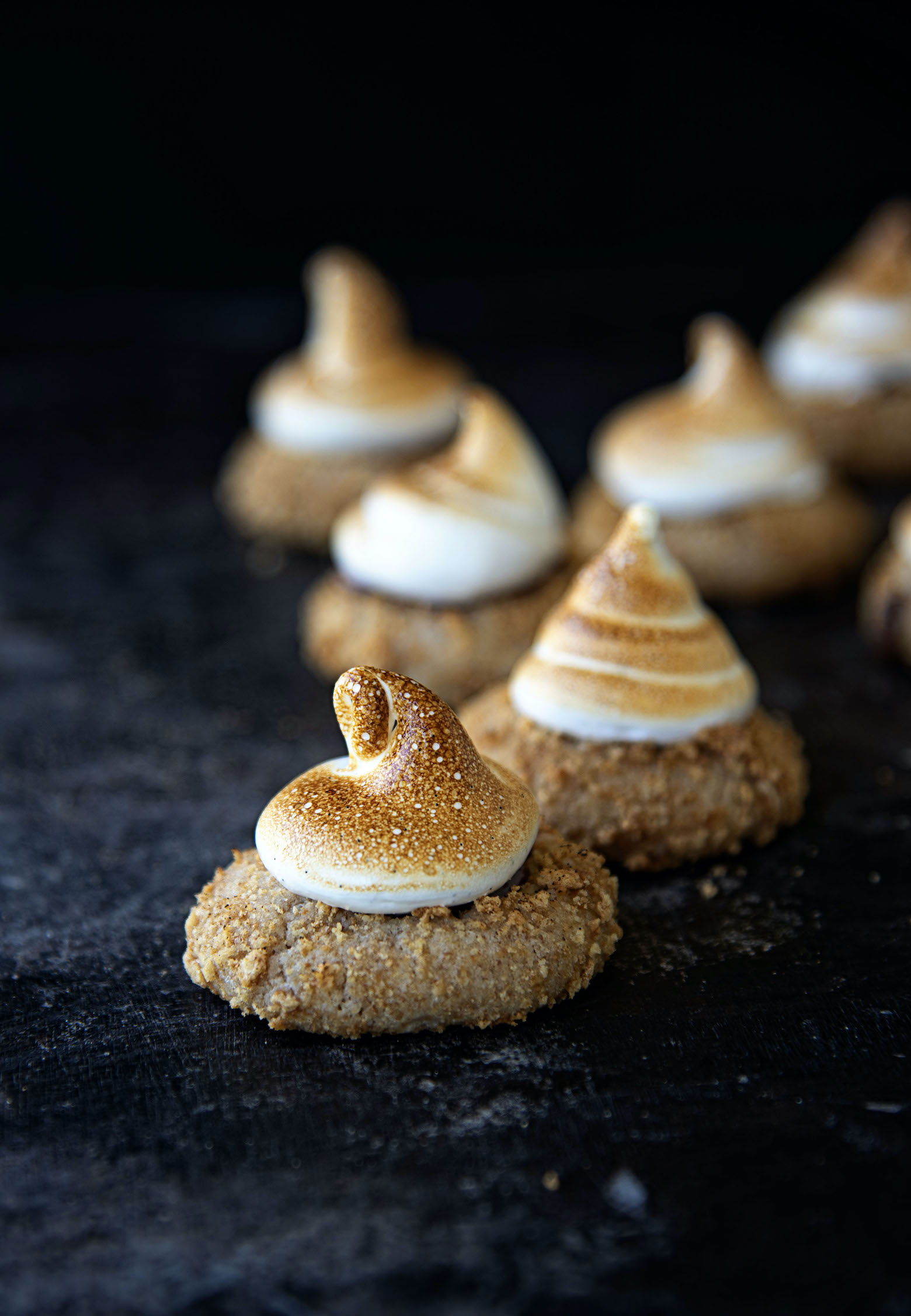 Want More S'mores Recipes?
Ingredients
For the cookies:
½ cup unsalted butter, at room temperature
2/3 cup granulated sugar
1 egg
½ tsp. vanilla extract
¼ tsp salt
2/3 cups all-purpose flour
2/3 cup graham flour
1 egg white
1 tsp. water
1 cup graham cracker crumbs
For the Chocolate Filling:
6 oz milk chocolate, finely chopped
1 1/2 TBSP vegetable oil
For the Vanilla Bean Marshmallow:
3/4 cup granulated sugar
1/3 cup light corn syrup
pinch of salt
6 TBSP cool water
1 packet (2 1/2 teaspoons) unflavored gelatin powder
2 vanilla beans, cut open, seeds scraped out for recipe, pods discarded
Instructions
For the Cookies:
Using a stand mixer with the paddle attachment or a hand mixer, cream the butter and sugar until light and fluffy, about 3 minutes.
Add egg, vanilla extract, and salt to creamed mixture.
Beat on low speed until fully combined.Add in flour, beat on low until fully combined.
Wrap dough in plastic wrap and chill in the fridge for 1 hour.
Preheat oven to 350F.
Line baking sheets with parchment paper.
Using a fork, beat together egg white and water in a small bowl.
Place graham cracker crumbs in a separate bowl.
Remove dough from fridge and shape into 1-inch balls.
Dip balls in egg white, allowing excess to drip off.
Roll dough balls in graham cracker crumbs to coat.
Transfer cookies to the prepared baking sheets, spacing cookies 2-inches apart.Using a 1-tsp measure, or your thumb, make an indentation in each cookie.
Bake cookies, one sheet at a time, until the edges are set, 12-13 minutes.I like to at this time repress my thumb or tsp measure to make the indentation really big in the cookie when the cookies come out of the oven. Transfer the cookies to a cooling rack.
When cookies are cool, prepare the chocolate filling.
For the Chocolate Filling:
Combine chocolate and oil in a medium heat-proof bowl set over a medium saucepan of barely simmering water; stir until melted and smooth.
Transfer to a small bowl, and let cool about 15 minutes.
Place into a piping bag (or a spoon) and pipe chocolate into the thumbprint imprint.
For the Vanilla Bean Marshmallow:
In a medium saucepan, stir together the granulated sugar, corn syrup, salt, and 3 tablespoons of the water.
Turn the heat to high and bring to a boil without stirring. Clip a candy thermometer to the edge of the pan, and boil until it reaches 238-degrees Fahrenheit.
Meanwhile, add the remaining 3 tablespoons of water to a large bowl and sprinkle the gelatin on top. Let sit for a few minutes without stirring.
When the sugar syrup reaches 238, slowly begin to stream it into the gelatin mixture while constantly beating with a hand mixer (not a stand mixer). Do not splash the syrup on the edges of the bowl, or it will harden immediately. Go slow, and take your time.
Beat the mixture for a full 10 minutes.
Stir in the vanilla extract or vanilla bean seeds and mix until combined.
Place marshmallow into a piping bag and pipe marshmallow on top of the chocolate center.
When ready to eat, use a culinary torch to toast the marshmallow top.