This Shamrock Shake Babka was made for all the Shamrock Shake fans out there. Made with vanilla ice cream in the batter and glaze and plenty of mint.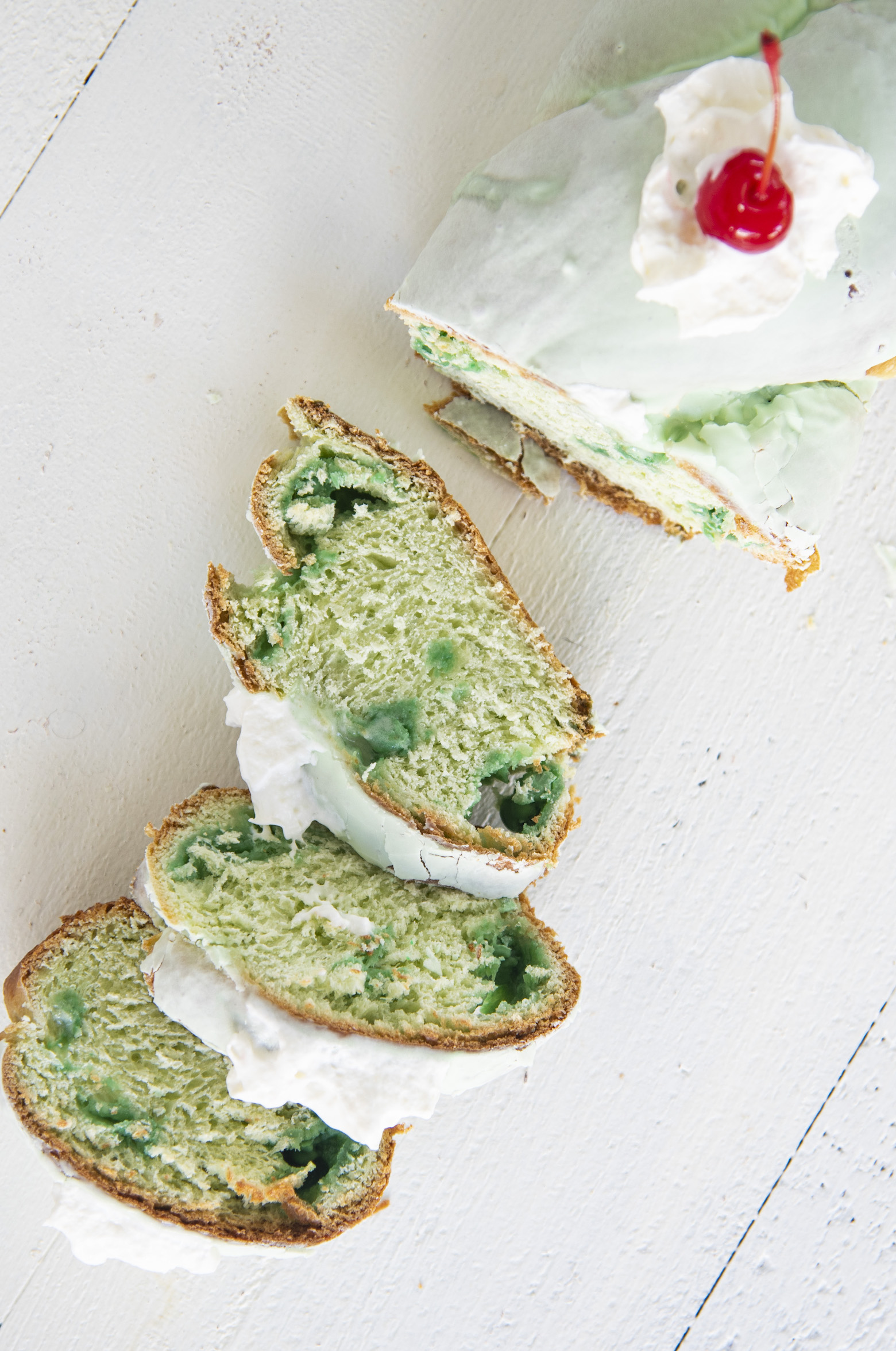 It's that time of year where we turn our food green.
Every year for the last 50 years (it's an anniversary year apparently) McDonald's has served the Shamrock Shake.
And people love it.
Ironically I have never had one.
I'm not the biggest fan of McDonald's shakes, I'm more of a Flurry kind of gal or their good old hot fudge sundae.
That does not however stop me from making food that I think tastes like one. 🙂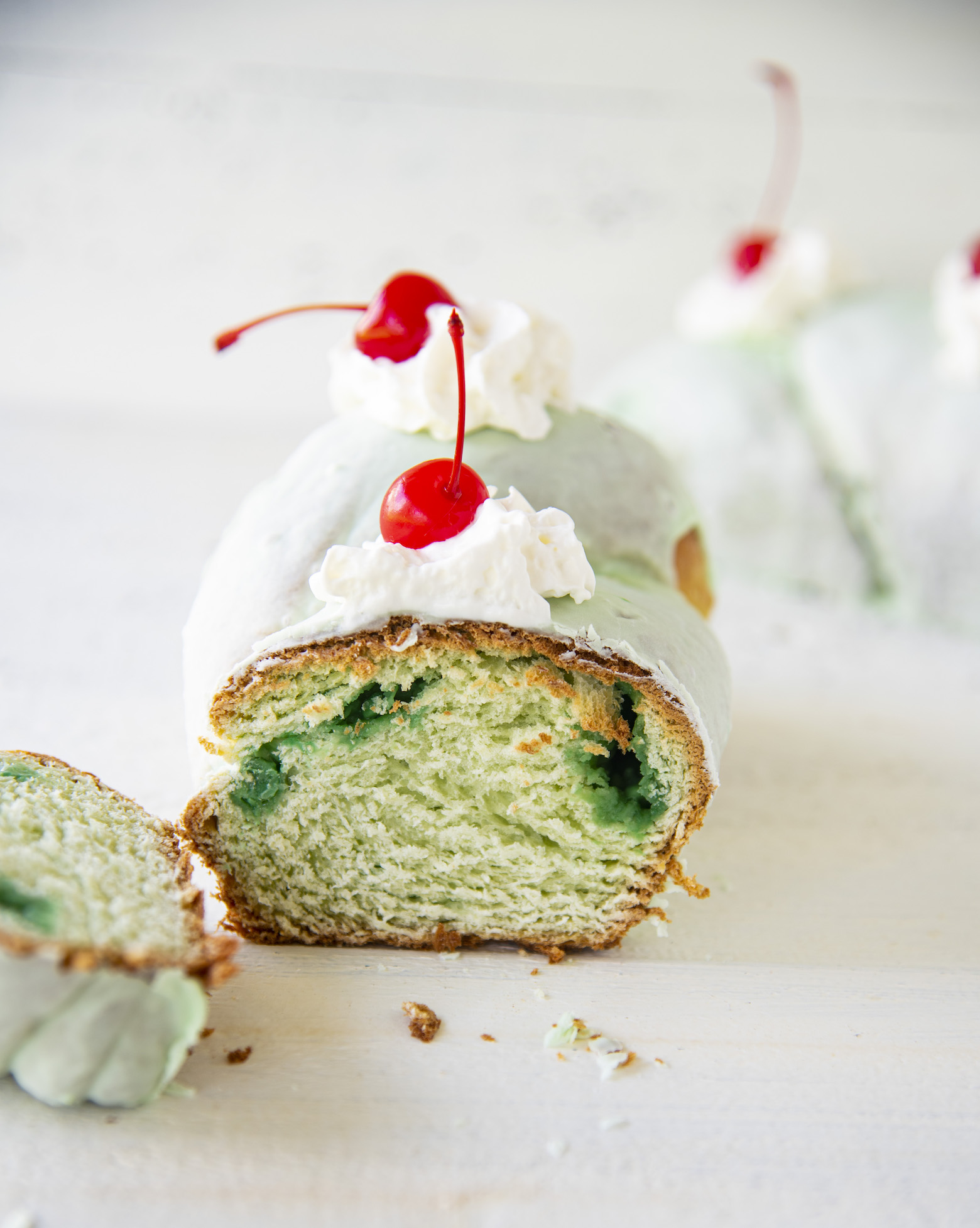 Since I never miss the opportunity to make a babka I thought it would be fun to pay tribute to the Shamrock Shake with Shamrock Shake Babka.
In fact, this whole weekend will be Shamrock Shake weekend, because why not?
If you are not familiar with the Shamrock Shake it is soft serve vanilla ice cream with a green mint syrup they add and then top with whipped cream.
Pretty simple.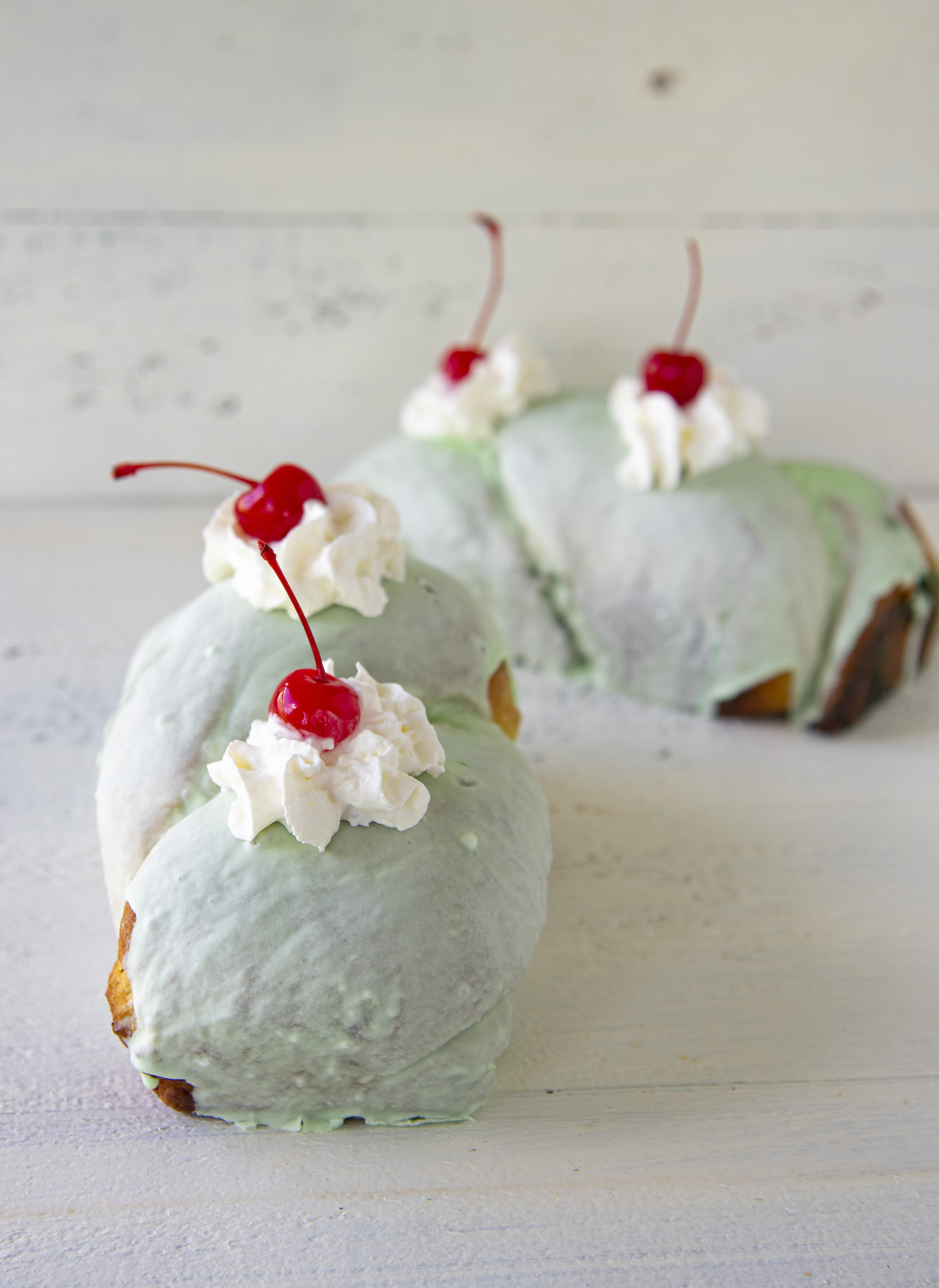 My babka does contain a booze called Shamrock Mint.
Guess what it tastes like?
If you cannot find it at your local liquor store you can use Creme de Mente which you can find in most grocery store liquor sections.
But I do hope you hunt down the Shamrock Mint flavor. It's so good.
All the flavors Tippy Cow (the company that makes it) has come out with have been yummy.
If you don't want any booze in your babka you can just use a couple of drops of peppermint extract.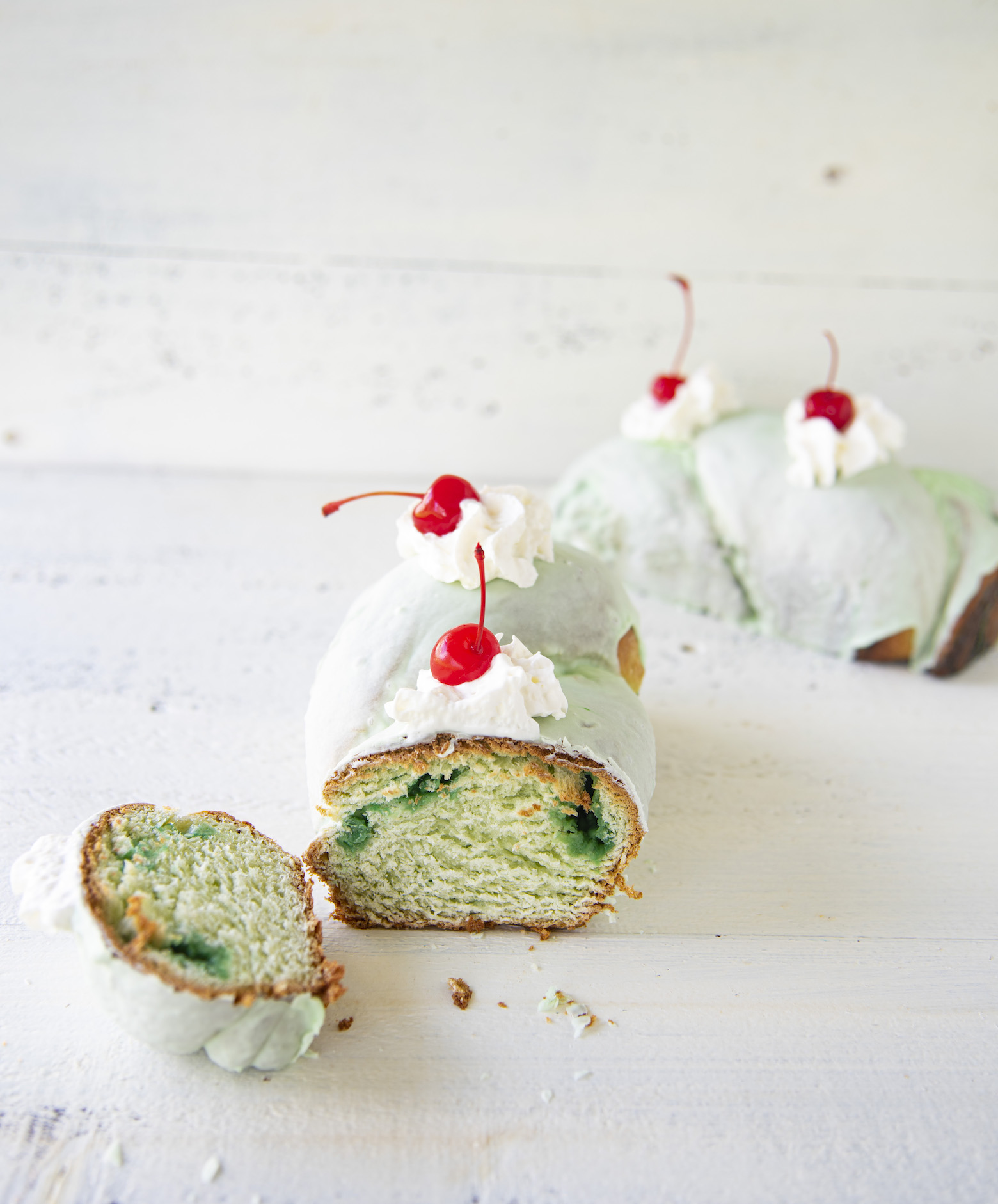 Want More Babka Recipes?
Oatmeal Chocolate Chip Cookie Babka
Ingredients
For the dough:
⅓ cup plus 1 TBSP granulated sugar
2 1/2 tsp. active dry yeast
2 TBSP warm water (100-110F)
2 cups all-purpose flour
¾ cup cake flour
⅛ tsp. salt
½ cup melted vanilla ice cream, at room temperature
½ cup eggs (2-3 eggs depending on how large they run)
1 tsp vanilla extract
8 TBSP unsalted butter
2-3 drops green food coloring
For the Filling:
4 TBSP unsalted butter, melted
2/3 cup granulated sugar
For the Icing:
1 1/2 cups powdered sugar
2 TBSP melted vanilla ice cream
3 TBSP Tippy Cow Shamrock Mint Liqueur
1-2 drops food coloring
whipped cream for garnish
maraschino cherries for garnish
Instructions
For the Dough:
Using a stand mixer with the dough hook attached stir in the yeast with one tablespoon warm water and 1 TBSP granulated sugar just until sugar and yeast have dissolved. Let sit for 5 minutes.
Combine the flours, salt and 1/3 cup granulated sugar and mix on medium speed. Reduce mixer speed to low and add the melted ice cream, eggs, vanilla, and mint liqueur. Beat until dough is shiny and elastic, 10 to 15 minutes.
Add 8 TBSP unsalted butter one TBSP at a time until all the butter is fully incorporated, then beat on low speed for about 5 minutes. Add the food coloring and mix until the dough is green throughout.
The dough will look more like a batter than a yeasted dough. Remember that babka is a cake and not technically a bread. So you will not get a shiny round ball of dough. It will be sticky. Transfer to a large bowl, cover with plastic wrap and set aside. When dough has doubled in size, after 2 hours, flour a cutting board and your hands. Then push dough down on board, cover well with plastic wrap and refrigerate for 1 to 2 hours or overnight. I prefer overnight but everyone has their preference.
Line two 8 1/2 by 4 1/2-inch loaf pans with parchment paper, not letting paper come more than 1 inch above top of pans. Remove dough from refrigerator and divide it in half. On a lightly floured surface, roll one piece of dough into a 12 x 8-inch rectangle.
Brush 2 TBSP melted butter on the rolled out dough. Add 1/3 cup granulated sugar evenly distributed over the butter. Then add 3/4 cup mint chips over the sugar.
Beginning with long side, roll dough up tightly and fold in ends. Twist babka lengthwise to create a spiral, holding one end of babka in each hand. Place twisted babka in the prepared loaf pan, pressing dough firmly into pan.
Repeat with second half of babka dough. Cover loosely with plastic wrap. Let loaves rise at room temperature until they reach top of pan or about doubled in volume, about 2 hours.
Heat oven to 350 degrees and bake for about 45 minutes, or until a cake tester inserted in center comes out clean. Allow babka to cool for 30 minutes before icing.
For the icing:
Whisk all the ingredients together and drizzle over the two babkas.
Top with whipped cream and cherries if desired.