Angel Food Cake and Strawberry Cheesecake Cheeseball: Cream cheese, butter, and powdered sugar all mixed with angel food cake mix, dehydrated strawberries, white chocolate chips, and angel food cake pieces make up this delightful cheesecake cheeseball.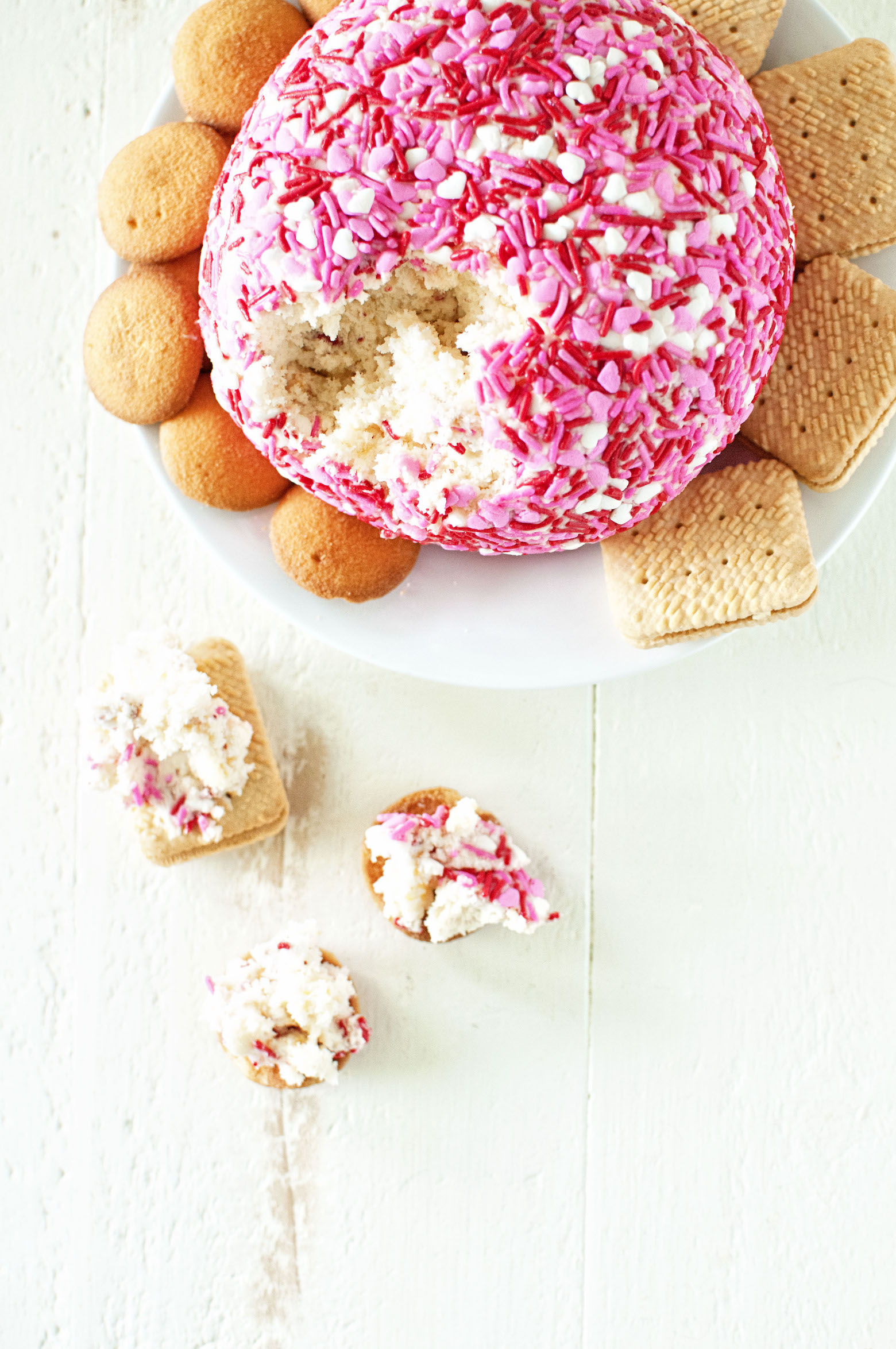 You were given fair warning that I was on a cheesecake cheeseball kick. 🙂
And boy am I.
I carry around a little notebook with me almost everywhere I go.
It's for ideas.
Things that inspire me…mostly about food.
I have twenty-seven…yes, twenty-seven ideas for cheesecake cheeseballs.
And yes, I will probably make all of them.
They are easy and tasty and festive!
Also, no bake.
So this summer will be ice cream and cheesecake cheeseballs galore!
Let's take this one.
Angel food cake.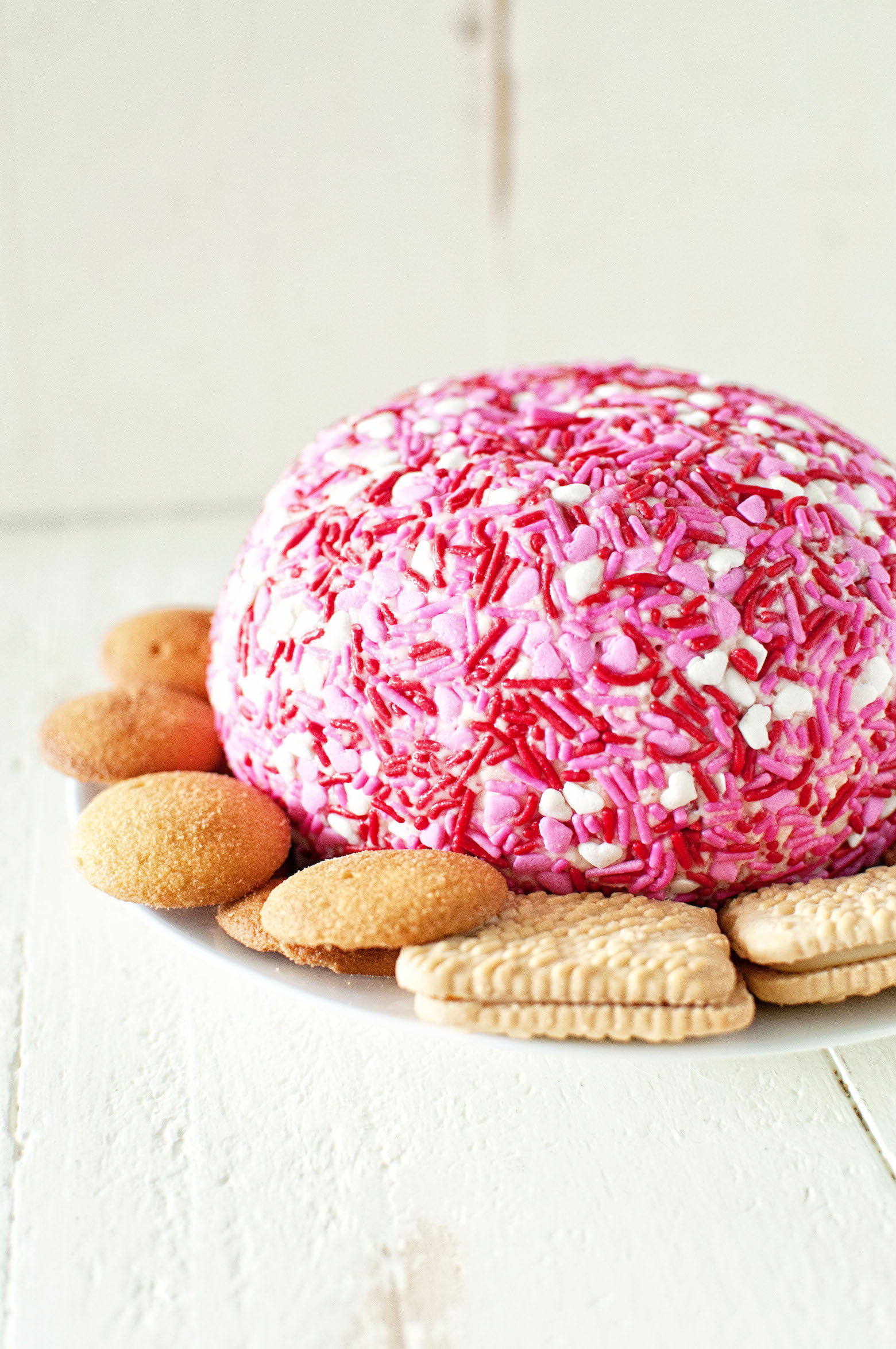 Growing up whenever my mother was on a diet we had Angel Food cake.
Because it was healthier because of less fat…or at least that was the big push.
We would get a slice of Angel Food cake with sliced strawberries and a blob of Cool Whip on top.
This Angel Food Cake and Strawberry Cheesecake Cheeseball is a nod to that.
Clearly not a health food though. 😛
I usually buy my freeze dried strawberries at Trader Joe's but apparently all the dieters hoarded them as I could not find them the last two times.
So I had to order online.
Since I use them all the time I decided to buy a big tub of them.
Turns out the site I bought it from are for like survivalist types.
But it's all good because I liked their product and they had some really cool freeze dried food that I'm totally going to explore a little more.
I decided to roll this cheeseball in valentine colored sprinkles because I hardly have any valentine stuff on my blog which is odd because I love Valentine's day…well, I like valentine decor.
Also, you maybe saying Valentine's already?
Yep, it's like a month away.
So yeah, start planning.
It's a great day to buy my cookbook Holy Sweet!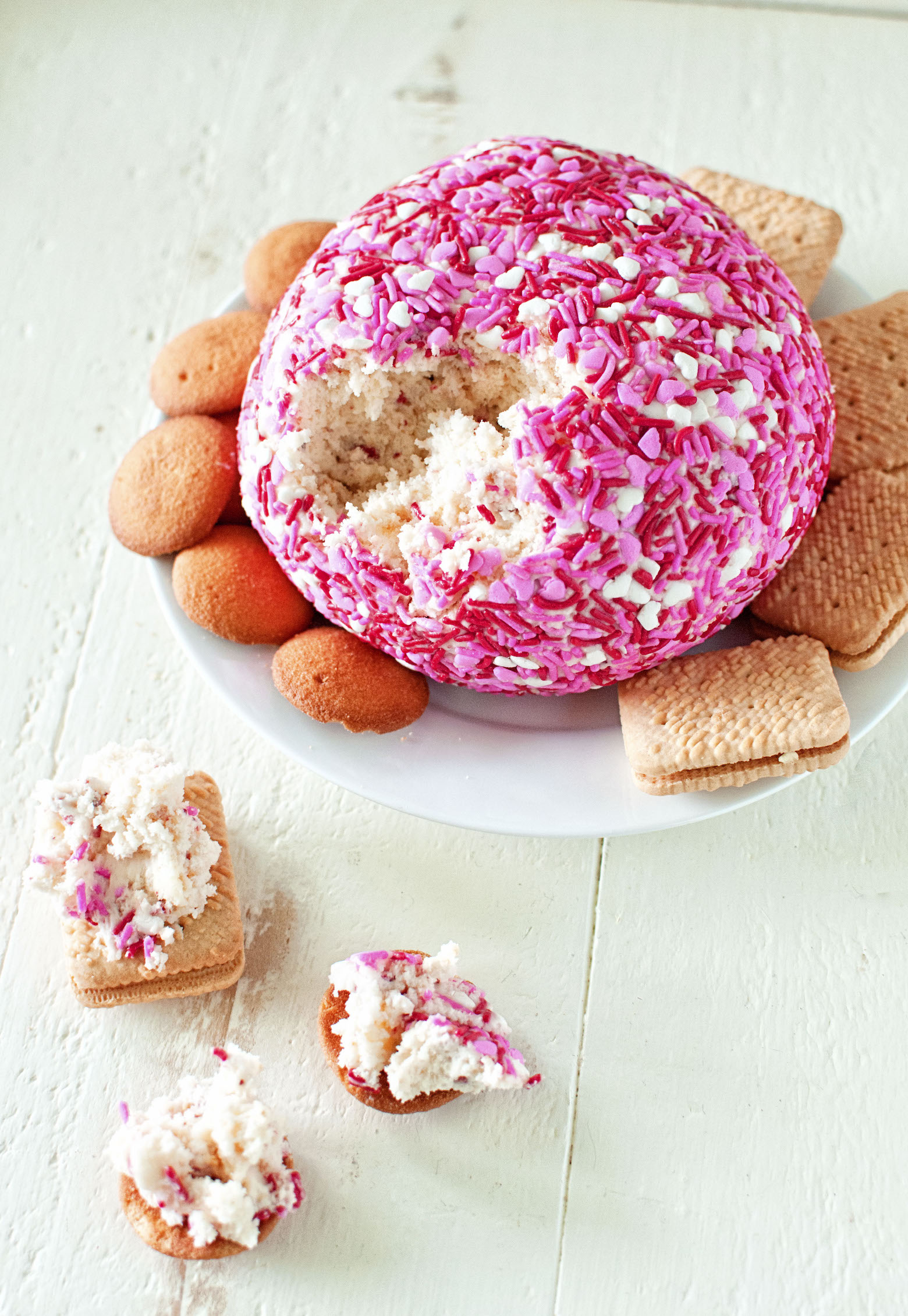 Want More Cheesecake Cheeseball Recipes?
Cake Batter Cheesecake Cheeseball
Banana Split Cheesecake Cheeseball
Sugar Cookie Cheesecake Cheeseball
Gingerbread Cheesecake Cheeseball
Circus Animal Cookie Cheesecake Cheeseball
Ingredients
16 oz. cream cheese, at room temperature
1 cup unsalted butter, at room temperature
1 package (about 3 cups) Angel Food cake mix
½ tsp. vanilla extract
1 ½ cups powdered sugar
1 cup freeze dried strawberries
3/4 cup white chocolate chips
1 1/2 cups Angel Food cake pieces
Sprinkles to roll cheeseball in
Instructions
Using a stand mixer with a paddle attachment beat together the cream cheese and the butter until fully incorporated.
Add the cake mix, sugar, and vanilla extract and beat until fully incorporated.
Fold in the chopped strawberries, white chocolate chips, and Angel Food cake pieces.
Lay out a piece of plastic wrap and scoop the cream cheese mixture onto it.
Do your best to form a ball, then wrap up the ball in the plastic wrap. Do an extra layer of plastic wrap to help it keep its shape.
Freeze for about 2 hours.
Take the ball out of the freezer and unwrap.
Place the sprinkles in a low shallow baking dish or jelly roll pan (I find a plate too small).
Roll the ball in the sprinkles making sure you cover as much of it as you can.
Wrap the ball back up into some plastic wrap and place in the fridge.
If not serving that day, place back in the freezer and then take out an hour before serving to come up to room temperature.
Serve with assorted cookies.