These Peanut Pretzel Chocolate Chip Cookies are filled with pretzels, dry roasted peanuts, peanut butter chips, and chocolate chips.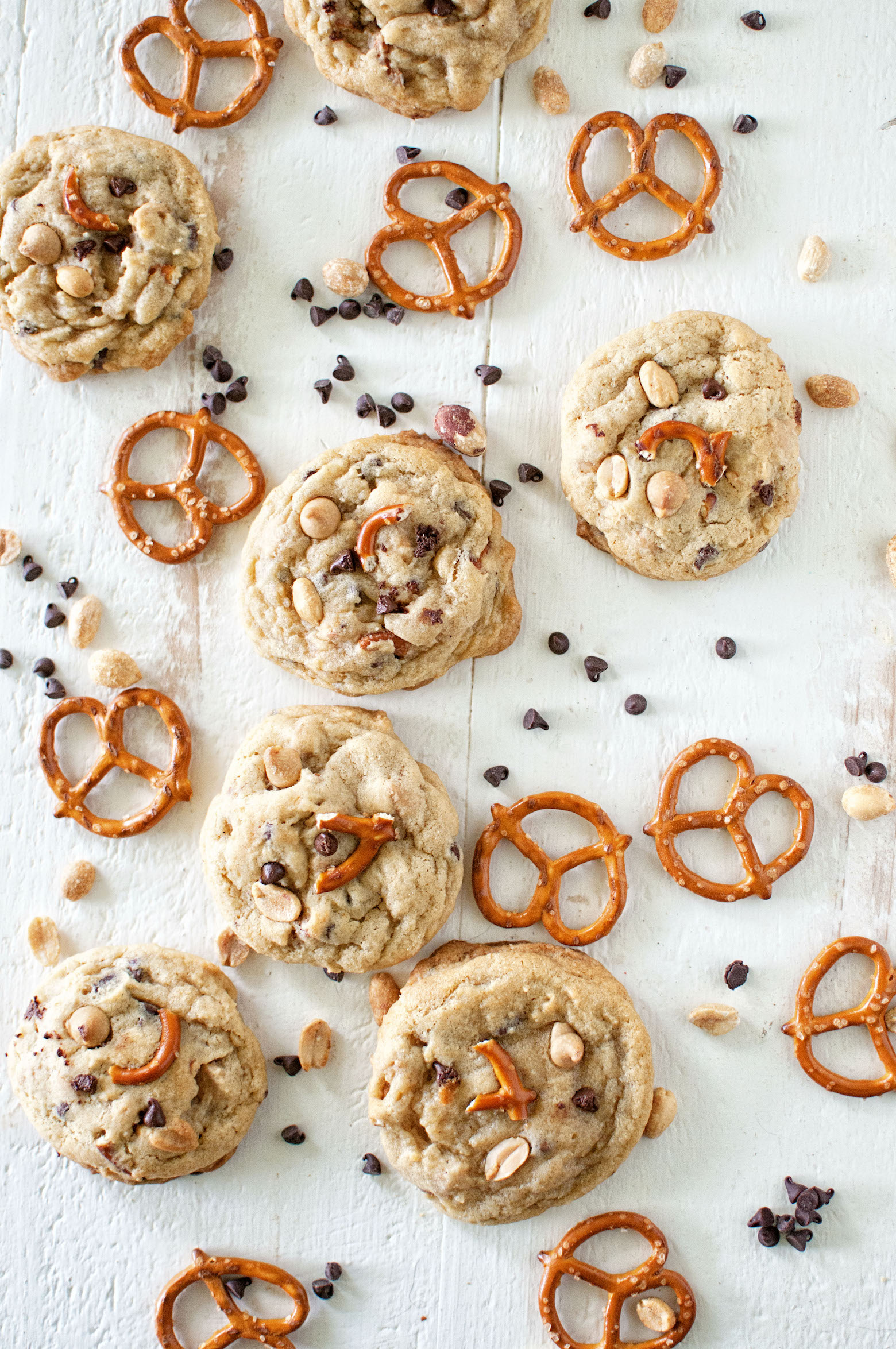 For the first time in awhile we won't be spending Super Bowl Sunday skating.
We traditionally play hockey before the game and then we have a few people over to watch the game/Puppy Bowl.
This year however, since my husband can't play, it's just not the same so I won't be going.
And no people over this time because #1 we will be at the gym getting his cardio in since we figure it will be empty. 🙂
Number two because we're kinda on the poor side right now due to all his medical stuff and all the dogs meds (and vet visits) so hosting a party/gathering isn't in the cards.
That's okay.
We need a touch of down time.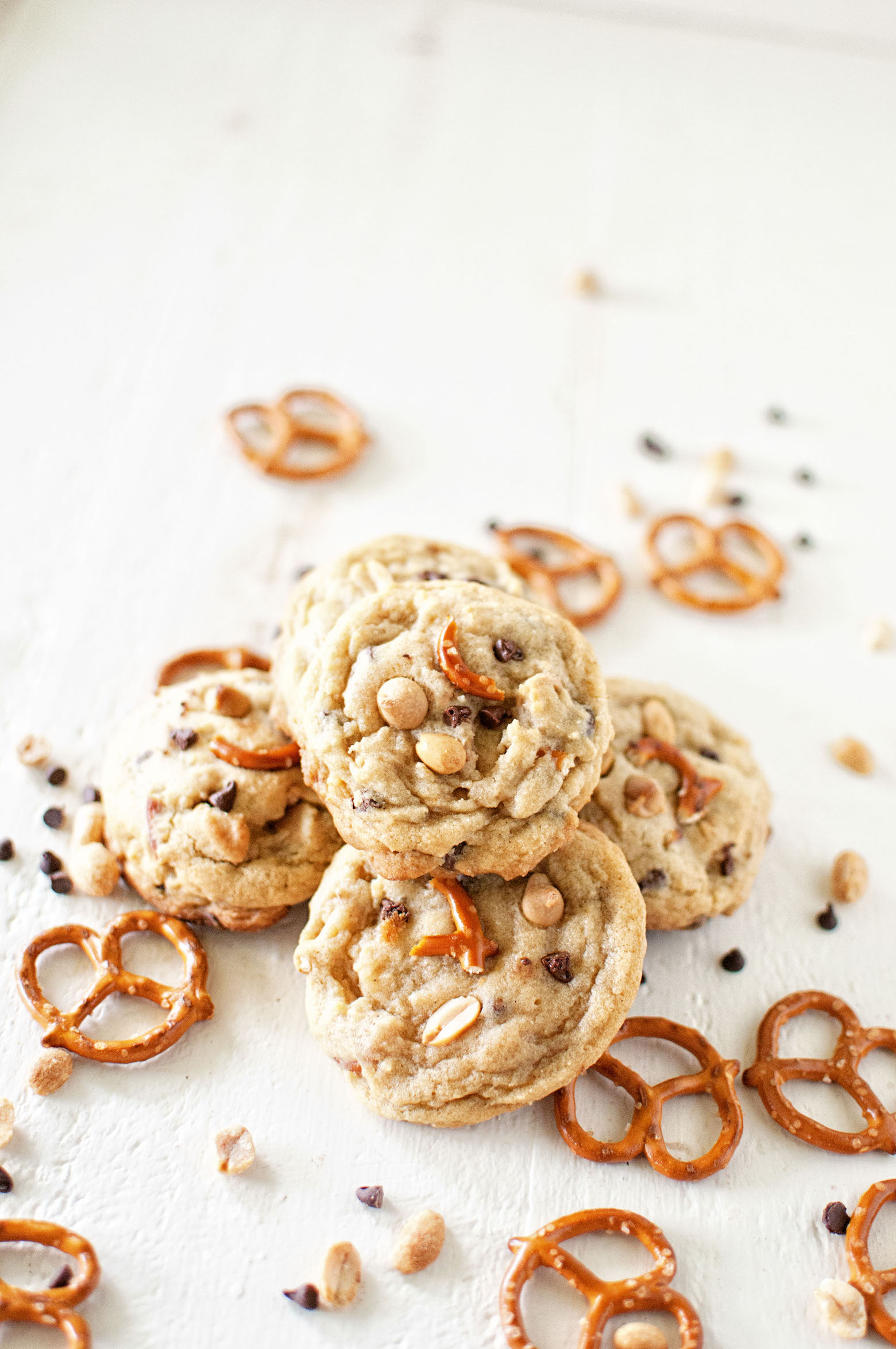 We have pretty much been on the go with little downtime since well, forever.
I mean I'm a HUGE Star Wars fan…and we have yet to find the time to go see the movie. 
Plus with the addition of getting in daily cardio (the most stressed thing to do by his cardiologist) we have even less down time.
But there are many people going to watch the game, we realize this. So I like to offer up some treat ideas for those going to a party or hosting one.
People don't think much of cookies and yet they are pretty much the first thing to go at parties…that and Rice Krispie Treats.
I've been kind of obsessed with the new Hersey's Gold candy bar which has pretzels and peanuts in it and decided to make a cookie with those flavors.
Peanut Pretzel Chocolate Chip Cookies.
I did not use an actual Gold bar and I wanted chocolate added to mine as well.
These work great for those that love a salty sweet combo in their cookie.
I thought about using mini peanut butter cups but I felt the peanut butter chips worked better.
If you try them with the peanut butter cups let me know how that tastes!
Last but not least…it's a great time to order my cookbook. 😀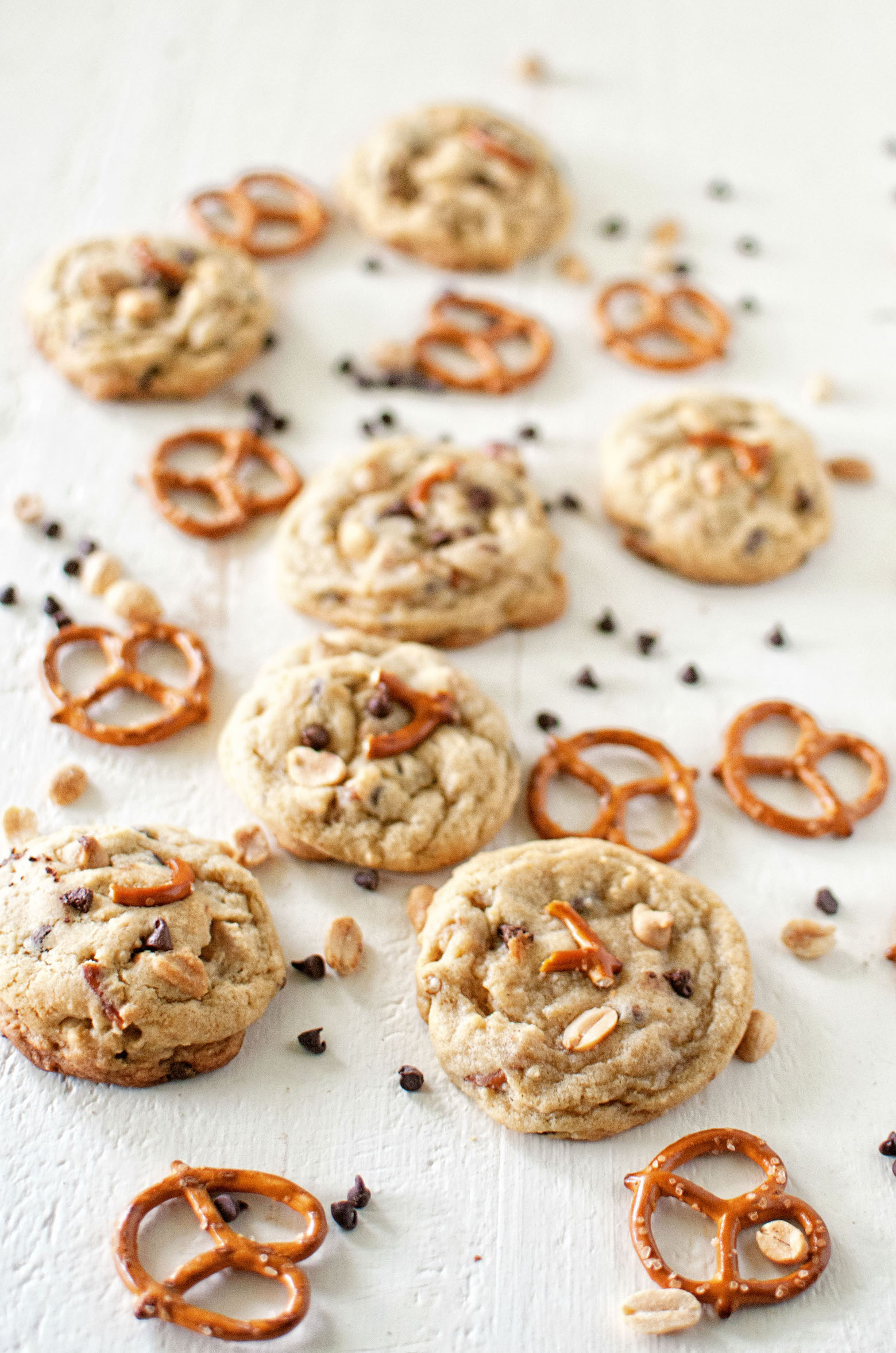 Want More Cookie Recipes?
Vanilla Bean Caramel Thumbprint Cookies
White Chocolate Dried Pineapple Salted Macadamia Nut Cookie
Caramel Cream Filled Snickerdoodles
Strawberry Cheesecake Chocolate Chip Cookies
White Chocolate Chip Creamsicle Cookies
Ingredients
8 oz. unsalted butter, at room temperature
1/2 cup granulated sugar
1 3/4 cup light brown sugar, packed
2 eggs
2 tsp. vanilla bean paste (or extract)
3 1/2 cup All Purpose flour
1 1/2 tsp. Baking soda
1/4 tsp. salt
6 oz. peanut butter chips
6 oz. semisweet chocolate chips (mini)
20 mini pretzels
1/2 cup dry roasted peanuts
Instructions
Using a stand mixer with the paddle attachment cream together the butter and the sugars until very light and fluffy, about 3 minutes on medium high.
Scrape down the side of the bowl. Continue mixing while adding the eggs one at time. Make sure each egg is incorporated before adding the next.
Add the vanilla bean paste and scrape down the bowl with a spatula.
In a small bowl combine the flour, soda and salt and mix to combine.
With the machine on low, slowly add the flour. Mix until just combined, taking care not to over mix.
With a spatula fold in the chocolate, peanuts, pretzels, and peanuts.
Using a cookie scoop, scoop out the cookie dough. Place them 2 inches apart as they will spread.
Bake at 360* for 12 minutes. They should be lightly golden on the outside but still look gooey on the inside.
*Please note that yes that reads 360 and not 350. If you oven does not go to that I would stay with 350 and bake an extra minute.