These Salted Pretzel Sticky Buns is made from a pretzel dough, filled with cinnamon, then boiled like pretzels, and made into sticky buns.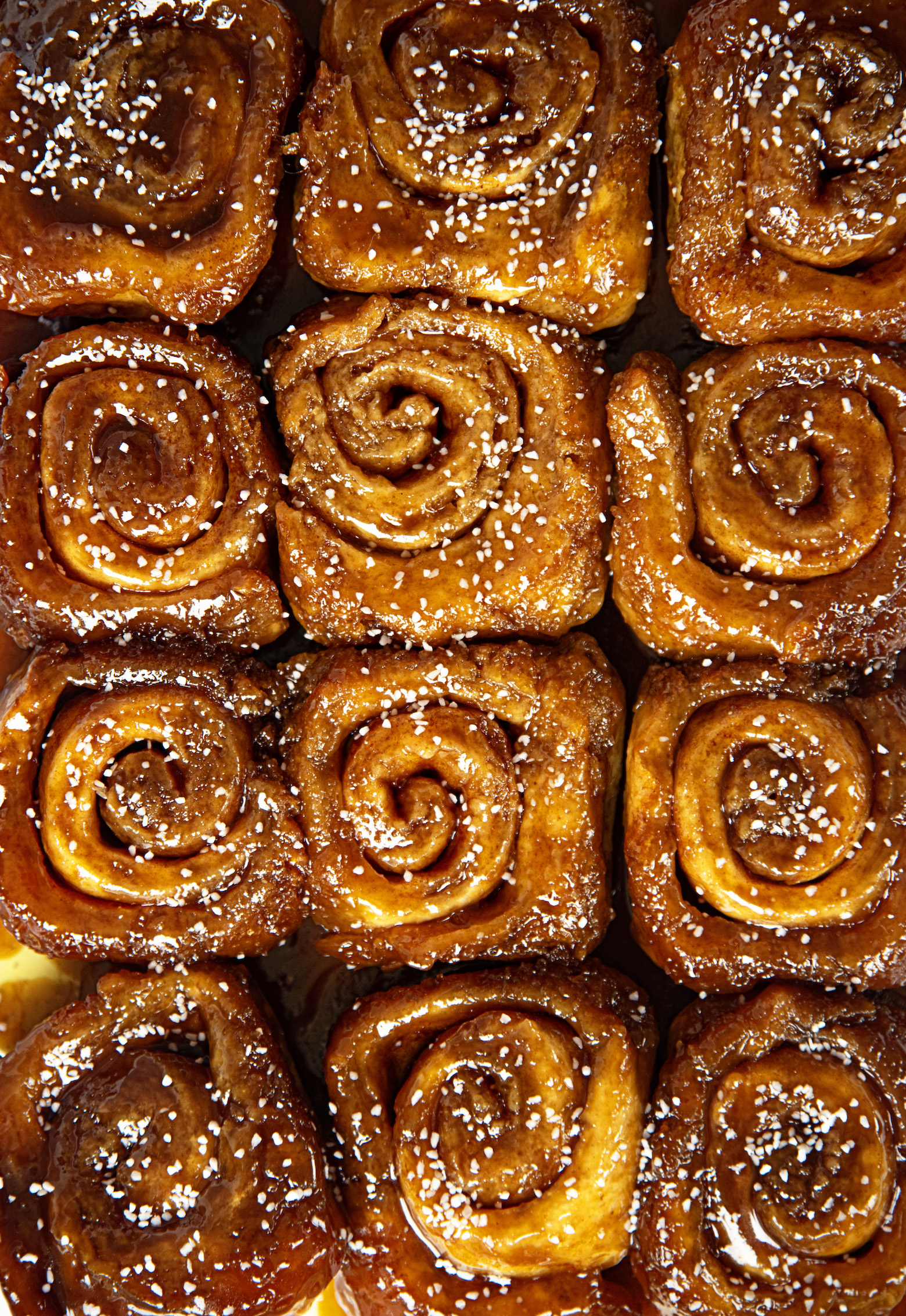 Whenever I have one of my ideas for a recipe I always hope someone else has already made it.
I fully admit I'm a lazy blogger.
Adapting recipes is way easier than having to come up with your own.
When I decided I wanted to make sticky buns using pretzel dough I didn't know if I was just going to make pretzels (in pretzel shape) and just put them in sticky bun sauce.
Or try to make them into cinnamon rolls and then put them into sticky bun sauce.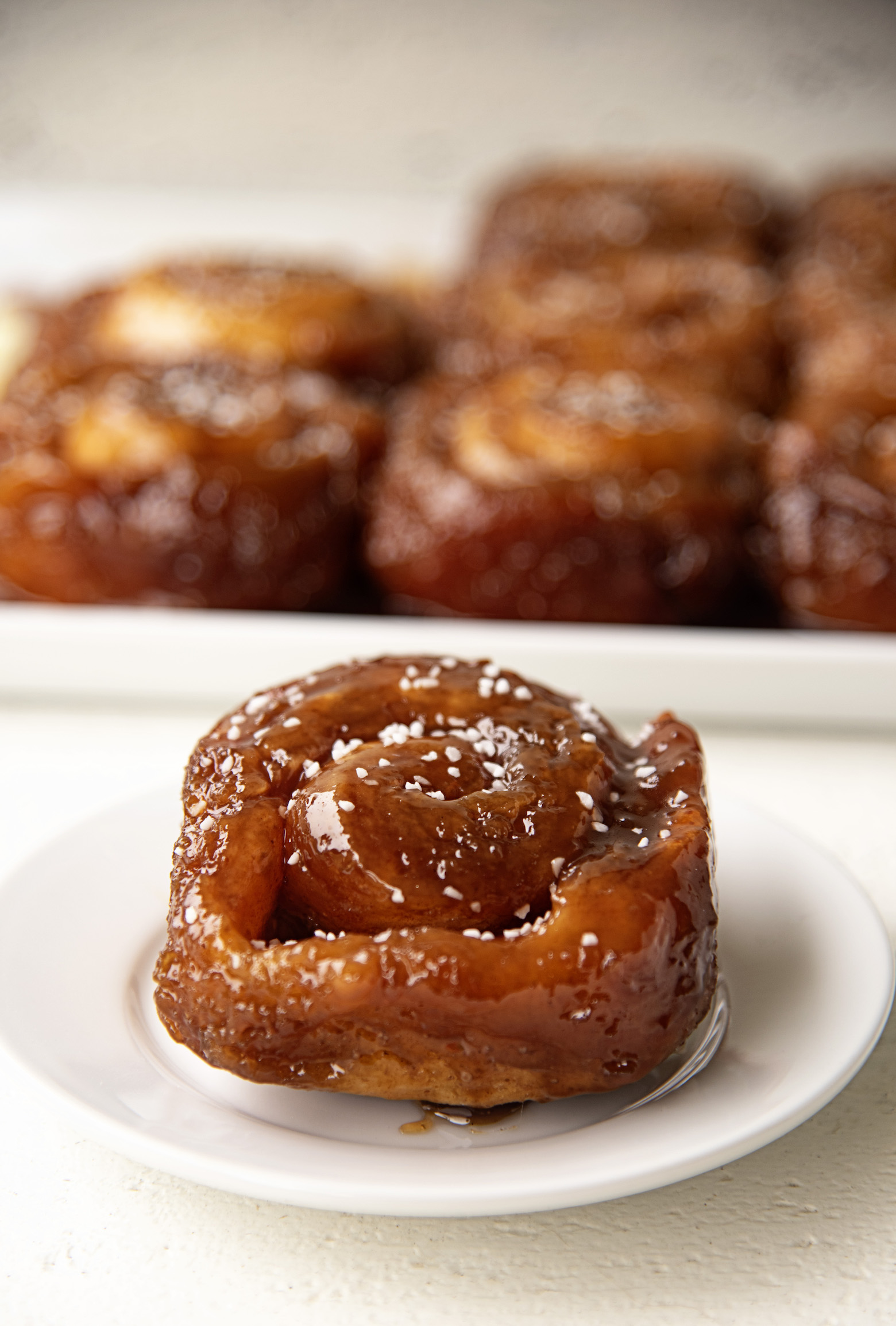 If I wanted them as cinnamon rolls first I had NO idea how I was going to boil them individually as all of the filing would have come out.
I thought about individually sealing each one and then cutting them.
But that seems like a waste of some dough and a time suck.
Luckily when I googled pretzel sticky bun a site called FMITK.
While I read the recipe and knew that is not what I was looking to make the technique used to boil the cinnamon rolls was.
To see a more visual step by step head over to that blog to see how to boil the rolls.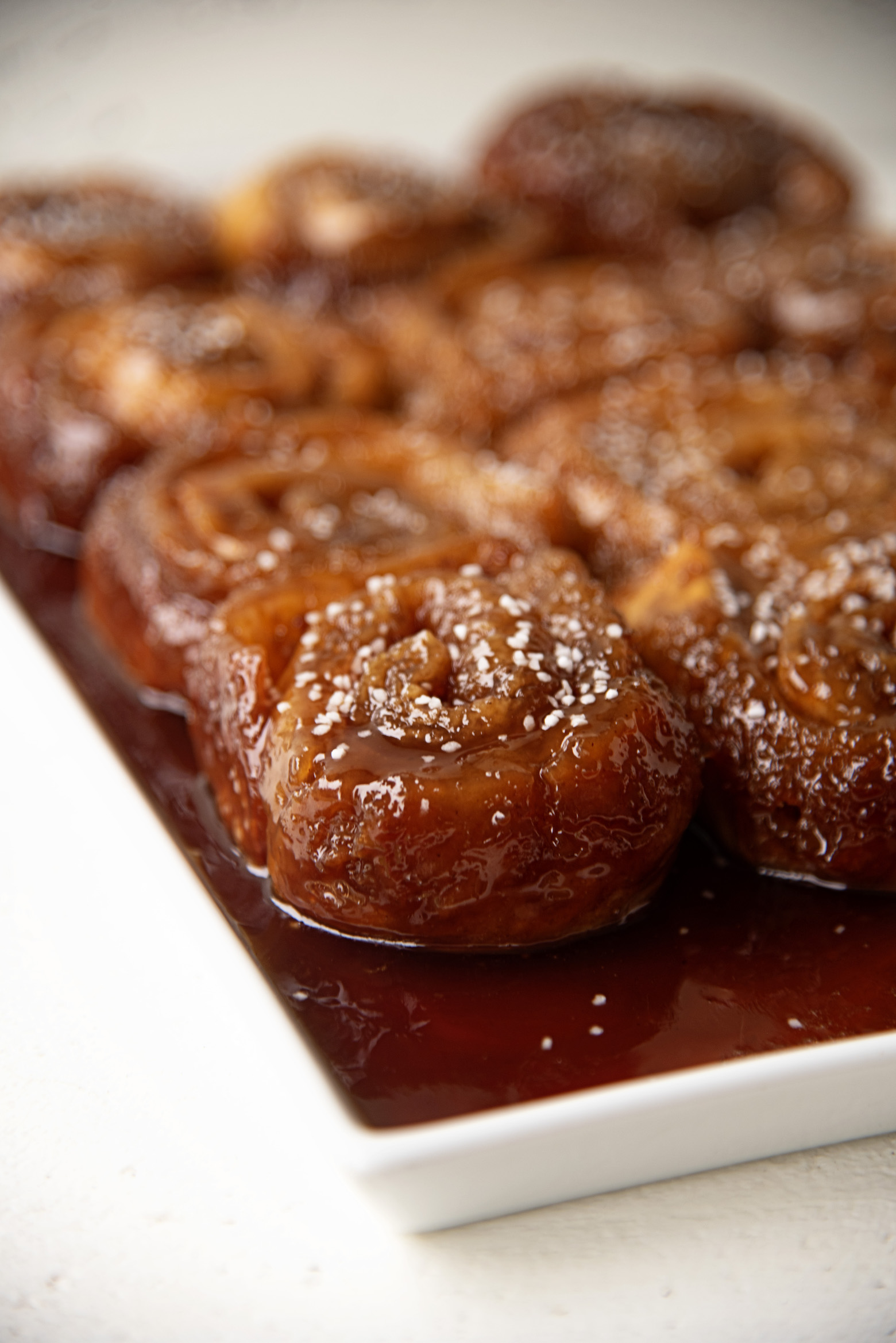 I definitely think you need to boil them.
These sticky buns have that pretzel texture that I was looking for.
If you don't boil them I do not think you will get the texture or taste of a pretzel.
Same goes for using pretzel salt.
Some say kosher salt or a large coarse salt is fine but I am going to not insist but heavily suggest you use pretzel salt.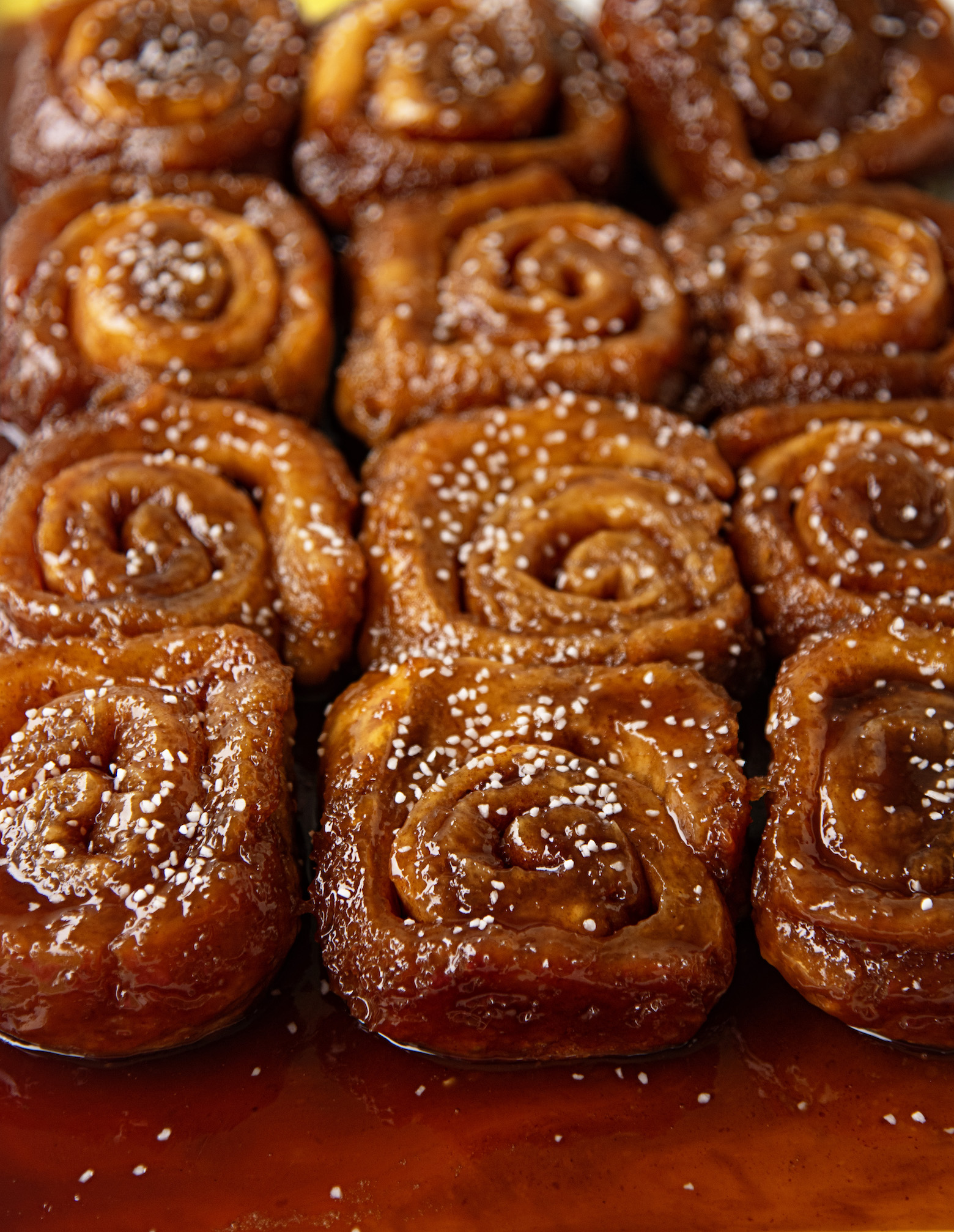 For about two seconds I thought about adding pecans to these.
But I think it would have taken away the flavor and texture that I was going for.
My husband still can't take food from home to work.
And we don't have hockey.
So we had this giant platter of these Salted Pretzel Sticky Buns.
My husband was insistent that someone else experience these.
Because people needed to realize how good they were.
He took some over to our neighbors, the ones that eat carbs (I am surrounded by low carbers…I'm sure they think I'm evil).
What did they think?
Well, here is the text my husband got back.
"WOW! Tell Peabody these sticky buns are amazing. Best sticky buns we've ever had. These would be huge sellers at any coffee shop or bakery. Delicious!!"
So yeah, make these.
And oh yeah, it's a great day to buy my cookbook.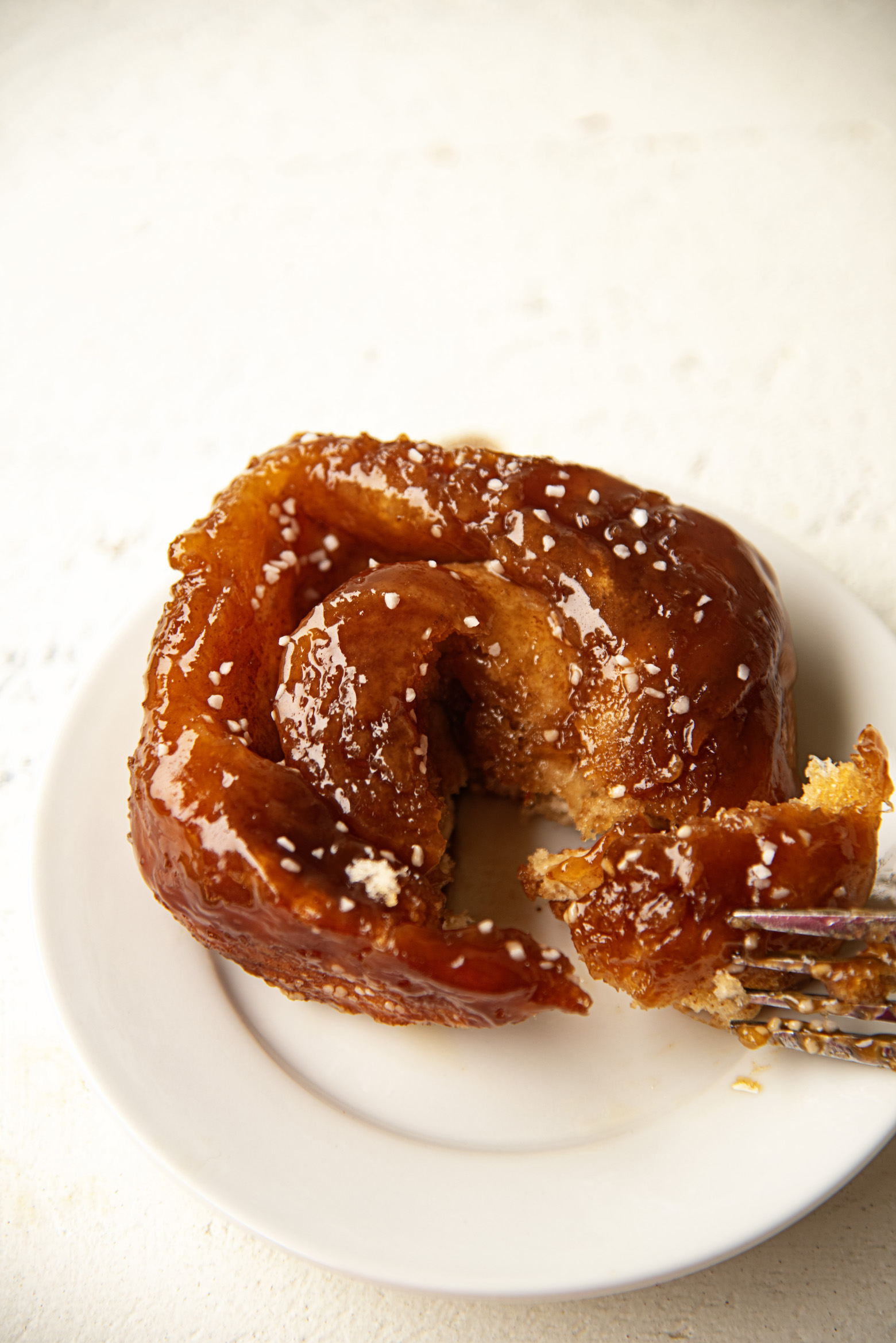 Want More Sweet Roll Recipes?
Fireball Whiskey Pumpkin Cinnamon Rolls
Bourbon Butterscotch Sweet Rolls
Chocolate Clementine Sweet Rolls
Bourbon Brown Sugar Caramel Peach Sweet Rolls
Pineapple Upside Down Sticky Buns
Ingredients
For the Pretzel Dough:
3 ½ cups bread flour 
2 TBSP rye flour 
2 ¼ tsp instant yeast
1 ¼ cups water 
2 TBSP canola oil 
2  TBSP dark brown sugar
1 tsp kosher salt
1 egg
1 TBSP water
8 cups water 
¼ cup baking soda
4 TBSP milk
Pretzel salt
For the Filling:
6 TBSP unsalted butter, super soft but not quite melted
1 cup packed brown sugar
2 TBSP cinnamon
For the Sticky Bun Sauce:
1 1/2 cups (3 sticks) unsalted butter
2 1/2 cups brown sugar, tightly packed
2/3 cup light corn syrup
Pinch of salt
Instructions
For the Pretzel Dough:
Coat a bowl with nonstick spray.
Whisk together flours and yeast in the bowl of a stand mixer.
Combine 1 1/4 cups water, oil, brown sugar, and salt and add it to flour mixture.
Mix dough on medium speed with a dough hook until combined and dough pulls away from sides of bowl, about 4 minutes.
Turn dough out onto a lightly floured surface and knead until smooth (and not sticky), adding flour if necessary.
Place dough in prepared bowl, cover with plastic wrap, and let rest until doubled in size, about 1 hour (or refrigerate overnight).
With 20 minutes left in the rise start to make the sticky bun sauce.
In a large saucepan melt the butter.
Add the brown sugar, light corn syrup and salt and bring to a low boil.
Pour sauce into a 9-x-13-inch pan.
You can let the sauce sit. It will start to get hard but that is fine as once baked it will get gooey again.
Once dough has risen punch down the dough.
Divide dough in half.
Mix together the filling of butter, brown sugar, and cinnamon until full combined.
Roll out half of dough into a rectangle, about 10″x15″. Spread half of the cinnamon brown sugar mixture over the dough, leaving a 1″ border on all sides. Brush egg wash along edges of dough.
Begin to jellyroll the dough, starting from the shortest side. Pinch seams together along length and ends to seal the roll completely. This is a super important step – take the time to ensure that all edges are sealed.
After the seams have been pinched, gently roll back and forth a couple of times to reinforce the seams. Gently roll the dough onto the center of a piece of parchment paper that's wide enough to hold the roll entirely and about 14″ long (about 30″ x 15″).
Bring a roasting pan with the 8 cups of water and baking soda up to a rolling boil. Gently lift the parchment paper by bringing together its edges, creating a little "purse" with the dough roll inside, and lower into the roasting pan. Pull the parchment from under the roll until the roll is sitting on the edge of the parchment (don't completely remove the roll from the top of the parchment). The parchment tends to want to float in the water, so use a spoon to poke the parchment down and expose the dough to the water. Poach for 30 seconds. Using the parchment paper as a guide, gently tug the end of the parchment where the roll is toward you, using the parchment to guide the flipping of the roll over onto its other side.
Poach for an additional 30 seconds. This is tricky and takes care and patience, since the roll is a bit fragile.
Remove the roll from the baking soda water. Brush entire roll with milk and sprinkle with pretzel salt.
Gently roll the Cut roll into 2″ sections – you should have 6 rolls from the first half of the dough. Place each cut roll, cut side up, into half of the sticky bun sauce filled baking pan.
Repeat the with the second half of the dough.
Cover the rolls in the pan with plastic wrap and let rise another 25-30 minutes.
Bake at 350F for 30-35 minutes.
Let sit for about 10 minutes and carefully flip out onto a platter that is larger than the pan you are using. 
Notes
Pretzel boil technique from FMITK