These Salted Caramel Frosted Pumpkin Cupcakes are pumpkin spice cupcakes topped with salted caramel buttercream and topped with pumpkin candies.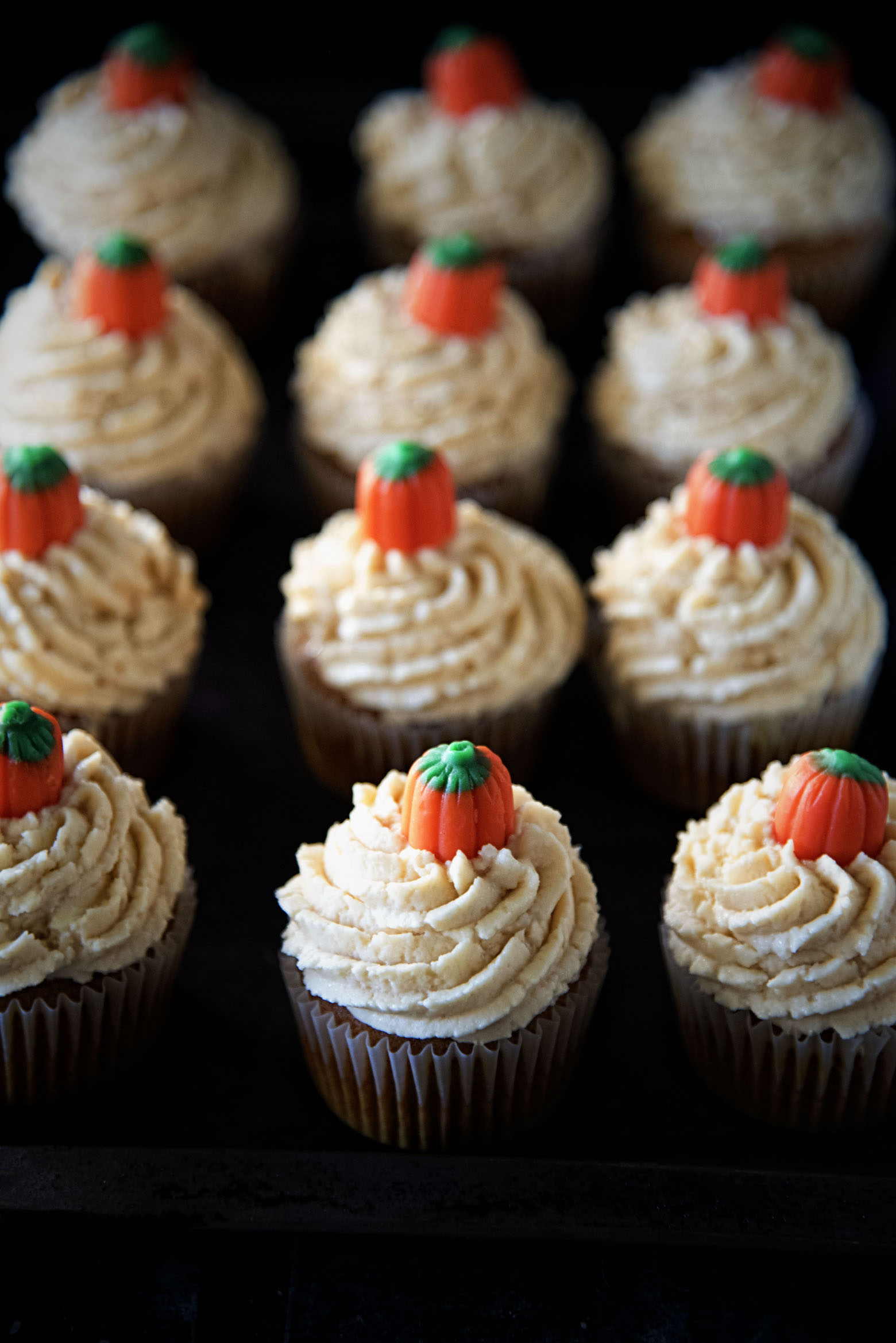 Don't look at my frosting.
I mean you can because there are photos of it but you know that your frosting won't look like that.
While making my buttercream our dog Daisy decided she needed to have an ER visit to the vet.
She is fine now.
Daisy thought it would be cool to get a 6-inch long blade of grass up into her sinus cavity which was making it hard for her to breath.
So they went in and got it.
But because I had no idea what was going on I had to stick my just finished frosting in the fridge while I was at the vet with the dog.
Which don't do.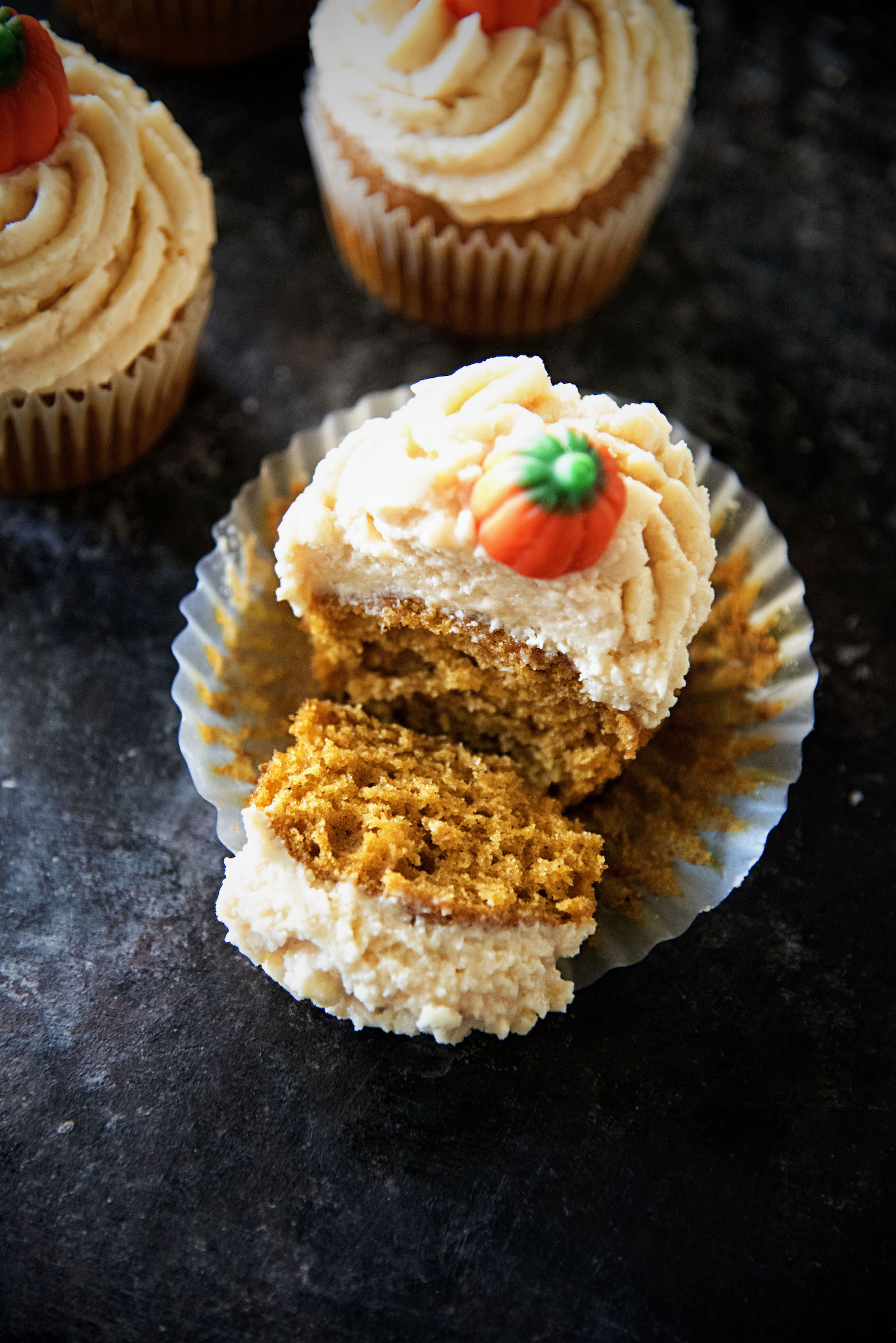 When it's first made you will get a lovely silky frosting.
Which is how it is supposed to look.
And how yours will look.
However, if it gets stuck in the fridge for hours and you have to re-whip it then it will look like mine.
The good news is that it taste great either way.
Which is why I still used it for the Salted Caramel Frosted Pumpkin Cupcakes.
That and I'm not wasting a recipe that uses that many eggs and that much butter. 😀
Make sure that you are using pumpkin puree and not pumpkin spice mix when you make these.
If you don't have the caramel sauce or don't want it, these will be just as tasty with just a white chocolate frosting.
Last but not least…it's a great time to order my cookbook. 😀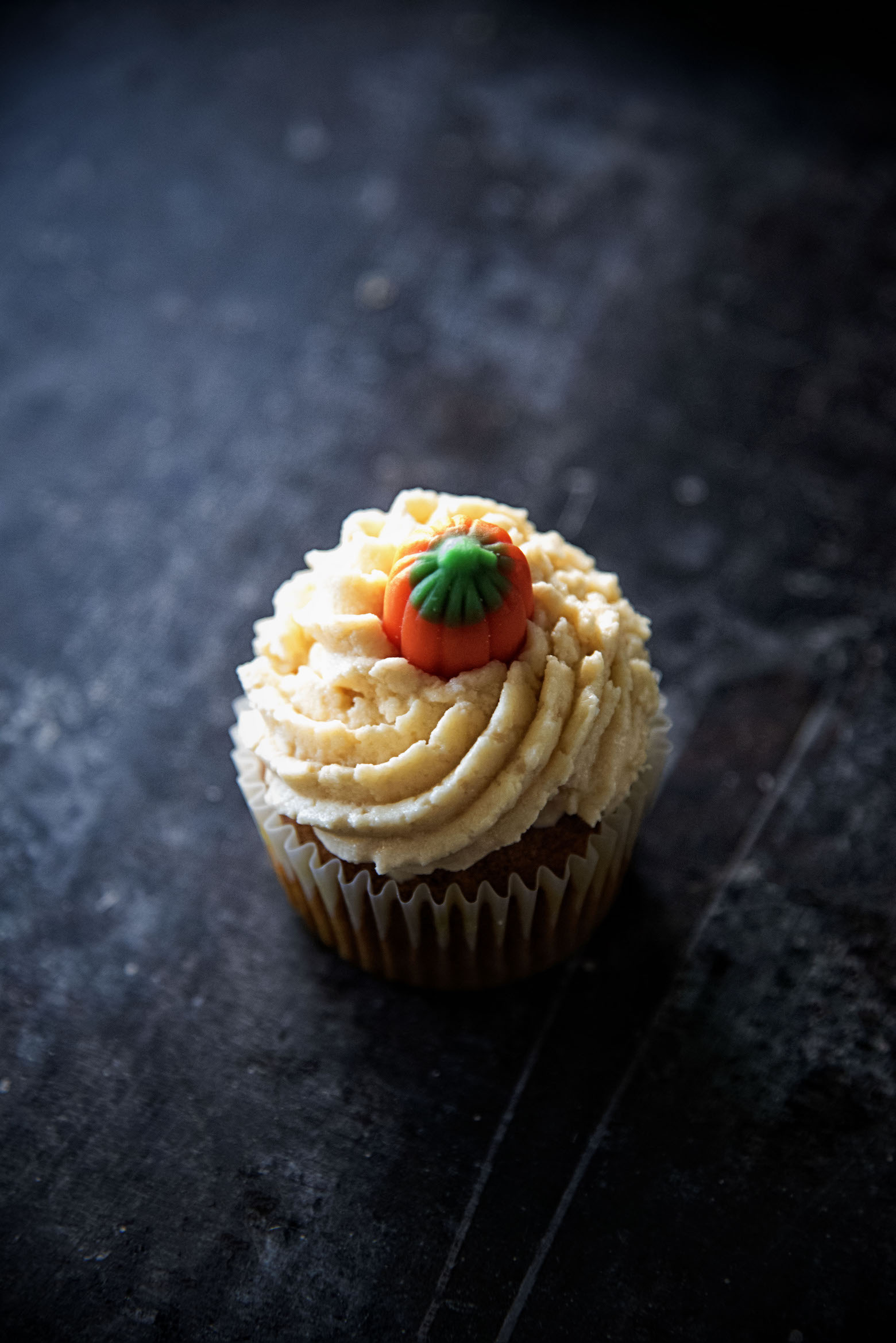 Want More Pumpkin Recipes?
Pumpkin Spice Latte Russian Tea Cake Cookies
Chocolate Cinnamon Frosted Pumpkin Cupcakes
Mini Pumpkin Toffee Bundt Cake
Ingredients
For the cupcakes:
1 1/2 cups pumpkin puree
1 cup granulated sugar
1 cup brown sugar
1 1/4 cups grapeseed or canola oil
1 tsp. Vanilla extract
2 cups all-purpose flour
1 tsp. Baking powder
1 tsp. Baking soda
1 tsp. Salt
1 1/2 tsp. Pumpkin pie spice
4 large eggs, slightly beaten
For the frosting:
1 cup (about 7-9) egg whites
2 cups granulated sugar
3 cups unsalted butter, cubed and at room temperature
1/3 cup salted caramel sauce
6 oz. white chocolate melted and cooled slightly
Instructions
For the Cupcakes:
Preheat oven to 350F. 
Line cupcake pans with 24 baking cups.
Using a stand mixer with a paddle attachment beat together the pumpkin and sugars until well combined. 
With the mixer on low add the oil and vanilla. 
Scrape the side and bottom of bowl and then mix until fully combined.
Add the flour, baking powder, baking soda, salt, and pumpkin spice and mix until just combined. 
Add the eggs and continue mixing until the batter is smooth.
Scoop the batter into a the prepared baking cups, filling them 2/3 of the way full. 
Bake for 20-25 minutes, rotating the pans halfway through. 
Remove from oven and let cool on a wire rack. 
For the frosting:
Place the egg whites and sugar in the metal bowl of a stand mixer and set over a small pot of simmering water (the bowl should not touch the water).
Heat, stirring occasionally, until mixture is 160F or hot to the touch.
Transfer bowl to stand mixer and beat on high speed with a whisk attachment to medium stiff peaks, about 8 minutes.
Reduce mixer speed to medium low and add butter a tablespoon at a time, letting it incorporate into the meringue for few moments before adding more.
Add caramel, melted white chocolate, and beat on high for 1-2 minutes until smooth and creamy.
Frost the cupcakes.
Top with pumpkin candy if desired.