This Root Beer Float Texas Sheet Cake is a twist on a classic using root beer and ice cream and is covered in a fudgy frosting.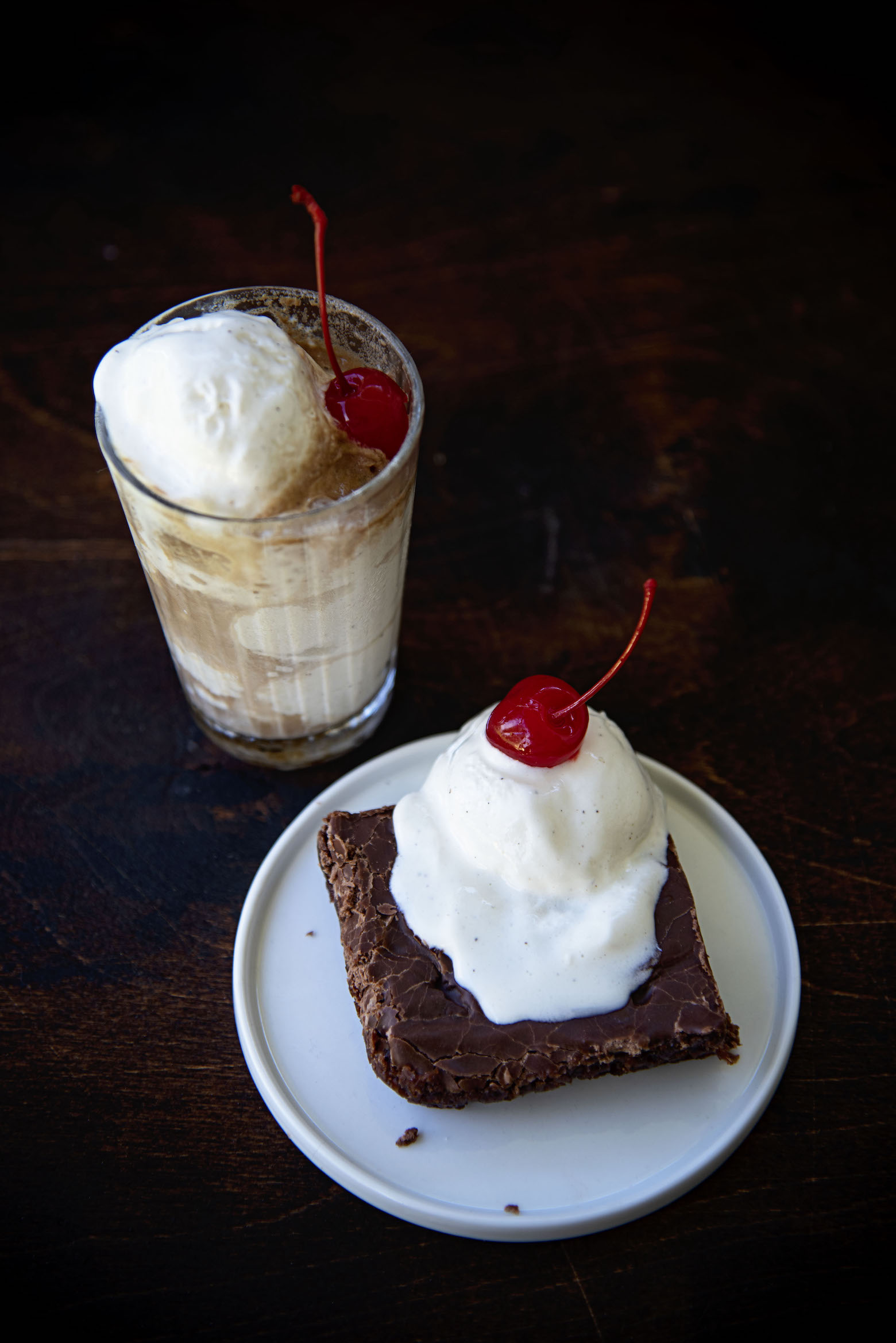 Texas Sheet Cake.
It's a classic.
Or at least it used to be.
I remember growing up that there was a lot of Texas Sheet Cake.
Partially because it usually feeds a lot of people.
It's super yummy.
And easy to make.
But at some point, as with all food trends, it went away.
That's a shame.
I figured since BBQ season is coming up and with vaccinations hopefully those BBQ's will include people I would roll out a Texas Sheet Cake.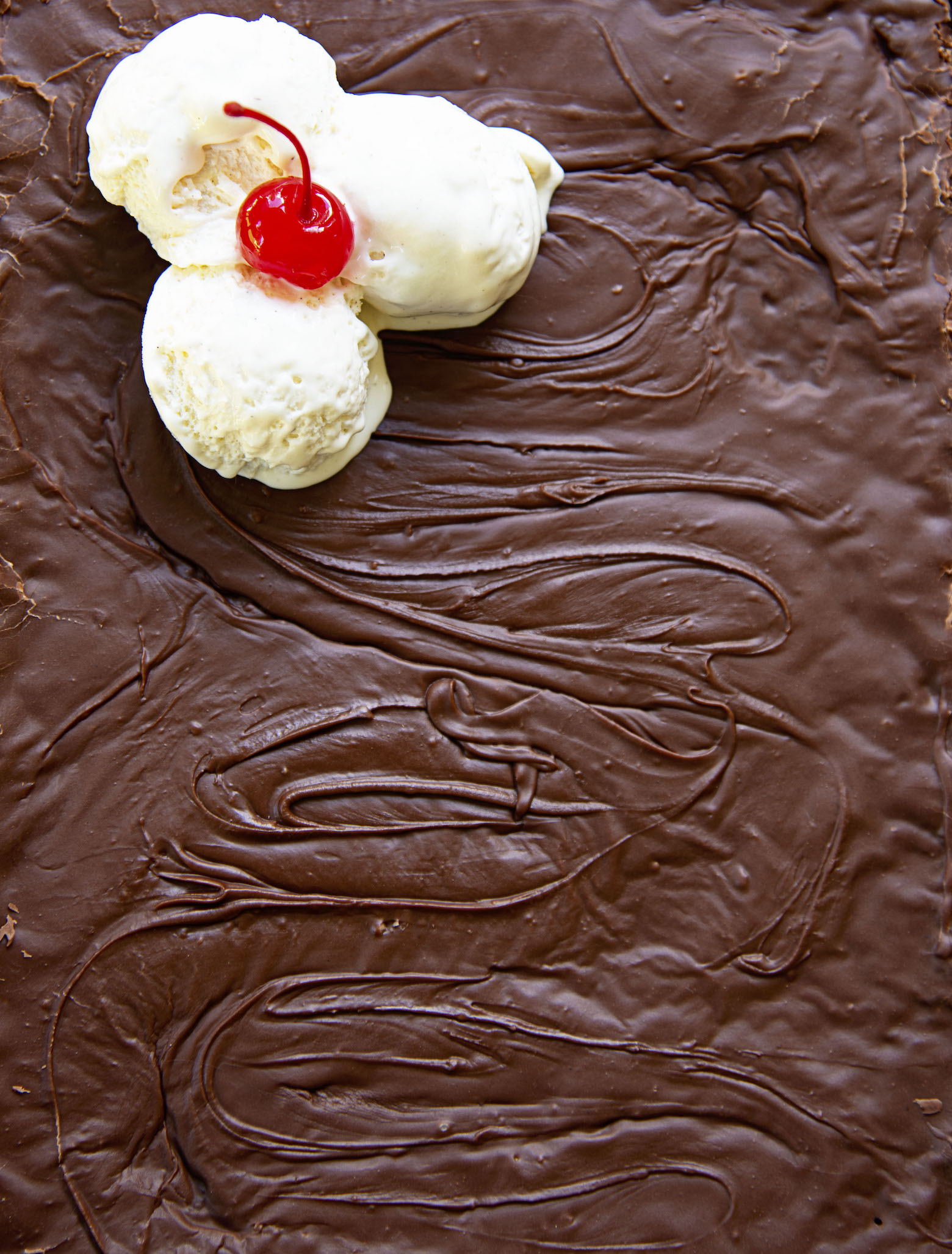 A Root Beer Float Texas Sheet Cake.
Which I actually made for Mother's Day.
While I didn't get to see her I still made a cake in her honor.
My mom loves root beer.
Not as much as Erin of the Spiffy Cookie does.
But she tends to order one when eating out.
And when she comes to visit I always make sure to have some at the house.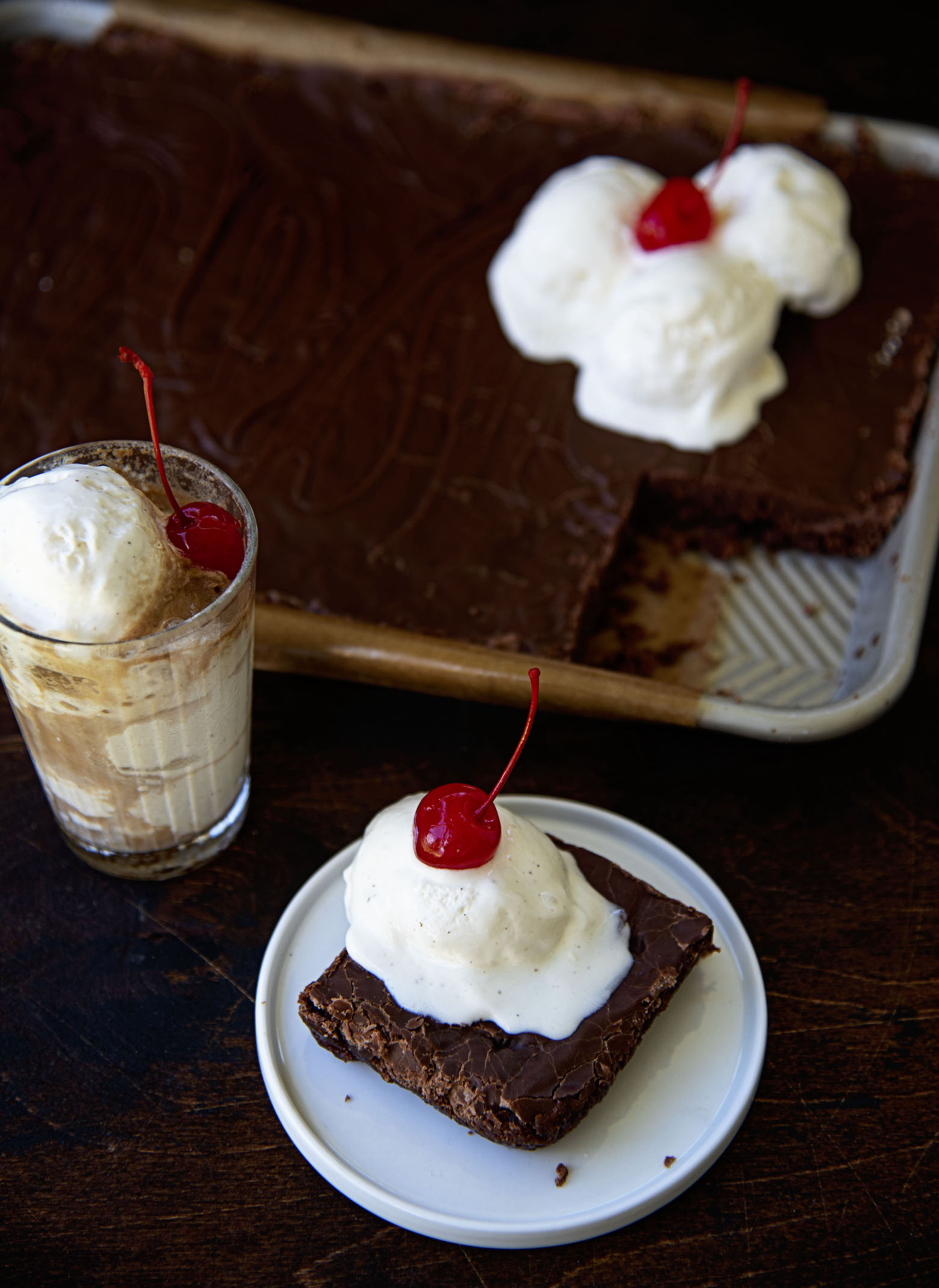 Just like all root beer lovers, she also loves her a root beer float.
This cake uses both root beer and vanilla soft serve mix.
The soft serve mix is a speciality item and I do have to order it off of Amazon.
But if you are a long time reader of this blog you know that I use that mix a lot.
So there are plenty of recipes on here for you to use it.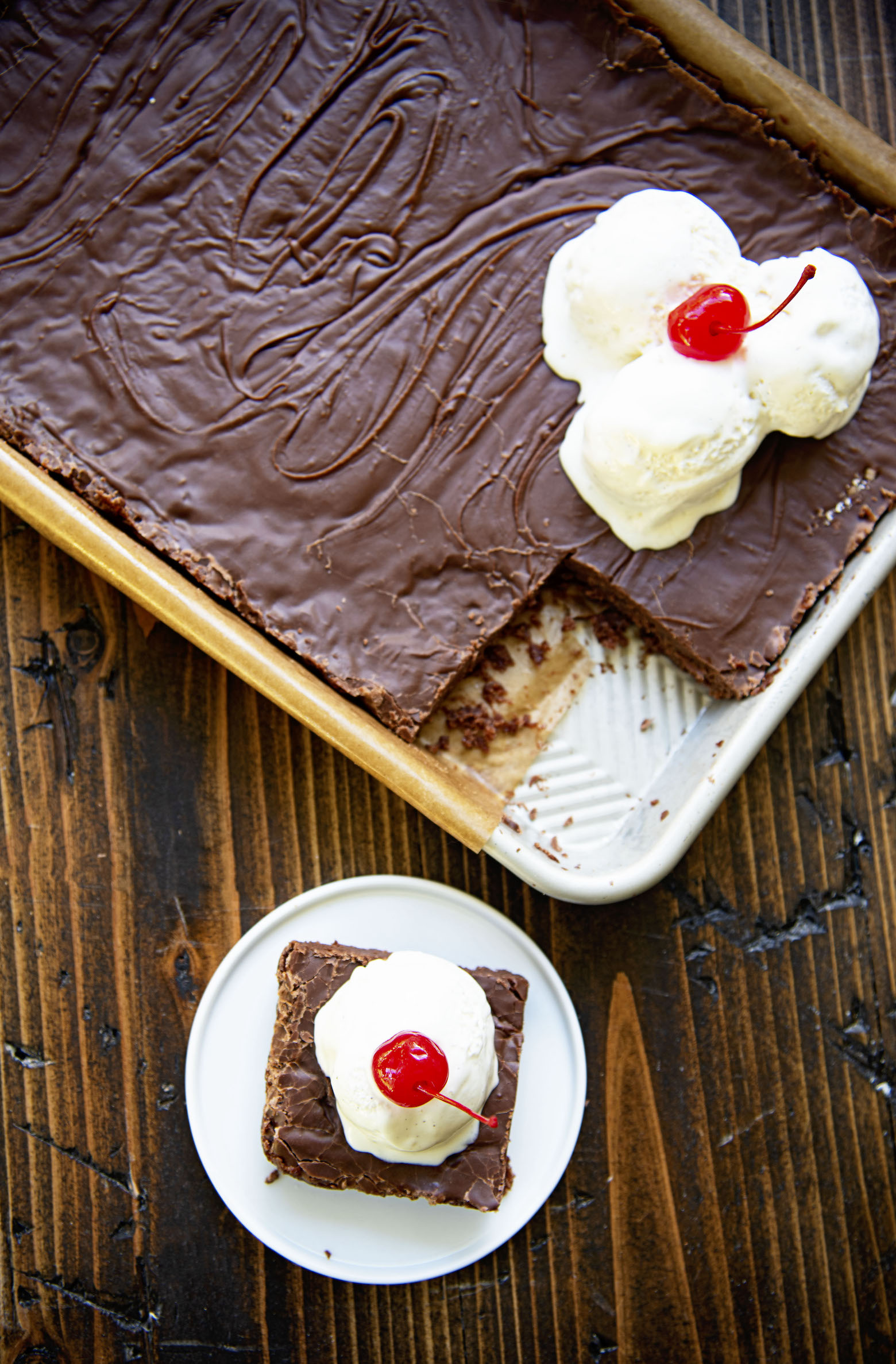 The only thing I don't like about this cake is photographing it.
In my cookbook, Holy Sweet, there is a Texas Sheet Cake in there.
And I really wanted it in the book. But man, oh, man that cake would not photograph well.
Luckily for me with this cake I could top it with ice cream and cherries for color contrast.
P.S. It's a great day to buy my cookbook Holy Sweet!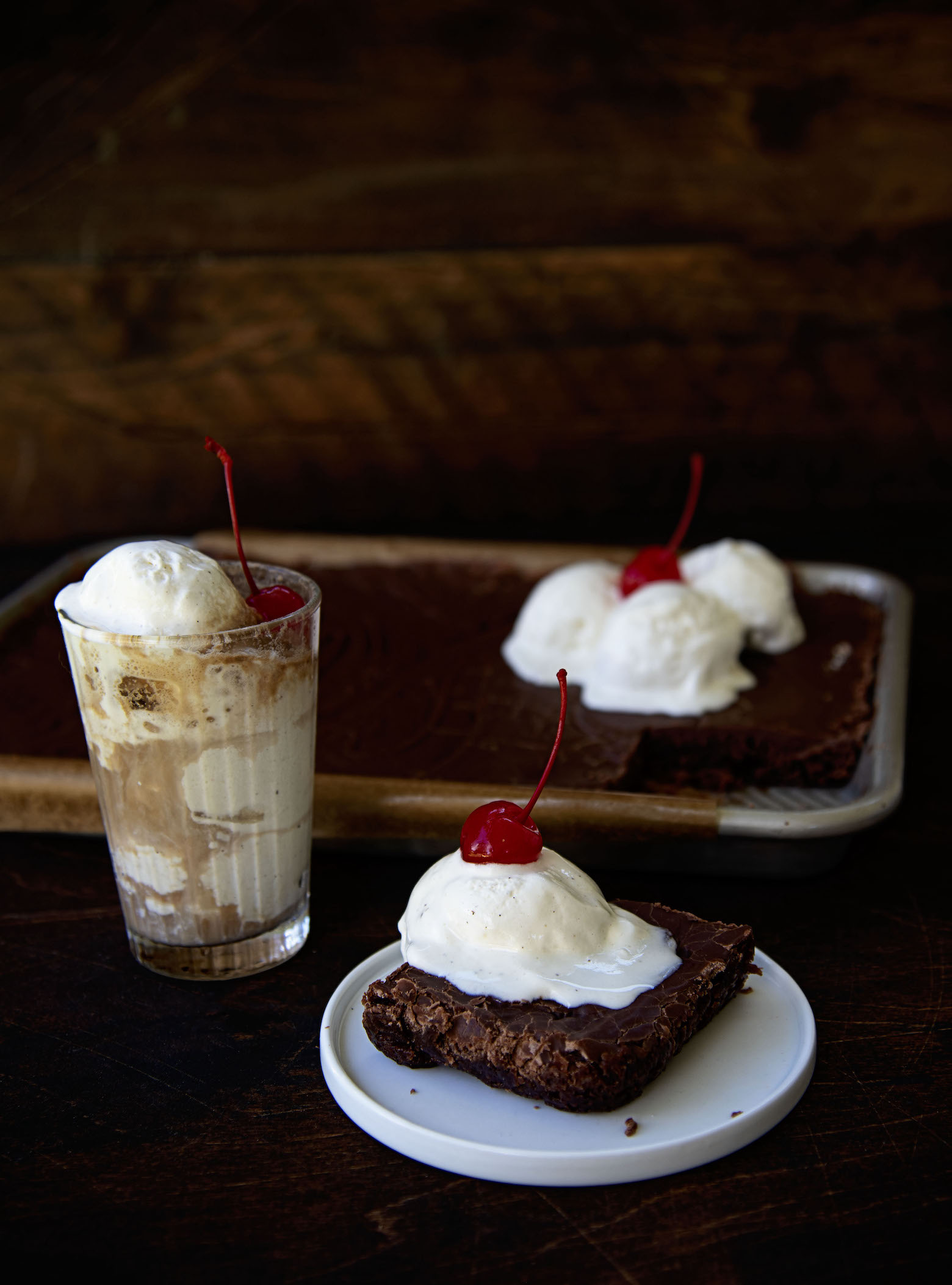 Want More Cake Recipes?
Chocolate Salted Caramel Popcorn Cake
Chocolate Peanut Butter Stout Layer Cake
Vanilla Cheesecake Funfetti Pink Ombre Layer Cake
Chocolate Root Beer Float Bundt Cake
Ingredients
For the Cake:
1 cup unsalted butter, cube
1 cup Root Beer (or any regular cola, not diet)
1/4 cup baking cocoa
2 cups all-purpose flour
2 cups granulated sugar
1 tsp.baking soda
1/2 tsp. salt
1/2 cup full fat buttermilk or sour cream
For the Icing:
1/2 cup unsalted butter, cubed
1/4 cup Root Beer
3 TBSP baking cocoa
3-3/4 cups powdered sugar
1/8 tsp. salt
3 TBSP Root Beer Schnapps (optional)
Instructions
In a large saucepan, bring the butter, root beer, and cocoa to a boil.
Remove from the heat.
Combine the vanilla soft serve mix, flour, sugar, baking soda and salt; add to cocoa mixture.
Stir in the buttermilk until smooth.
Add in the root beer extract and mix until fully incorporated.
Pour into a greased 15x10x1-in. baking pan.
Bake at 350° for 20-25 minutes or until a toothpick inserted in the center comes out clean.
For the Icing:
In a small saucepan, melt butter; add root beer and cocoa.
Bring to a boil.
Remove from the heat.
Whisk in , vanilla soft serve mix, powdered sugar, and salt until smooth.
Add the Root Beer Schnapps and whisk until smooth.
Pour over warm cake.
Cool completely on a wire rack.