These Root Beer Float Caramel Bars have vanilla bean shortbread covered in root beer float caramel and topped with white chocolate coating.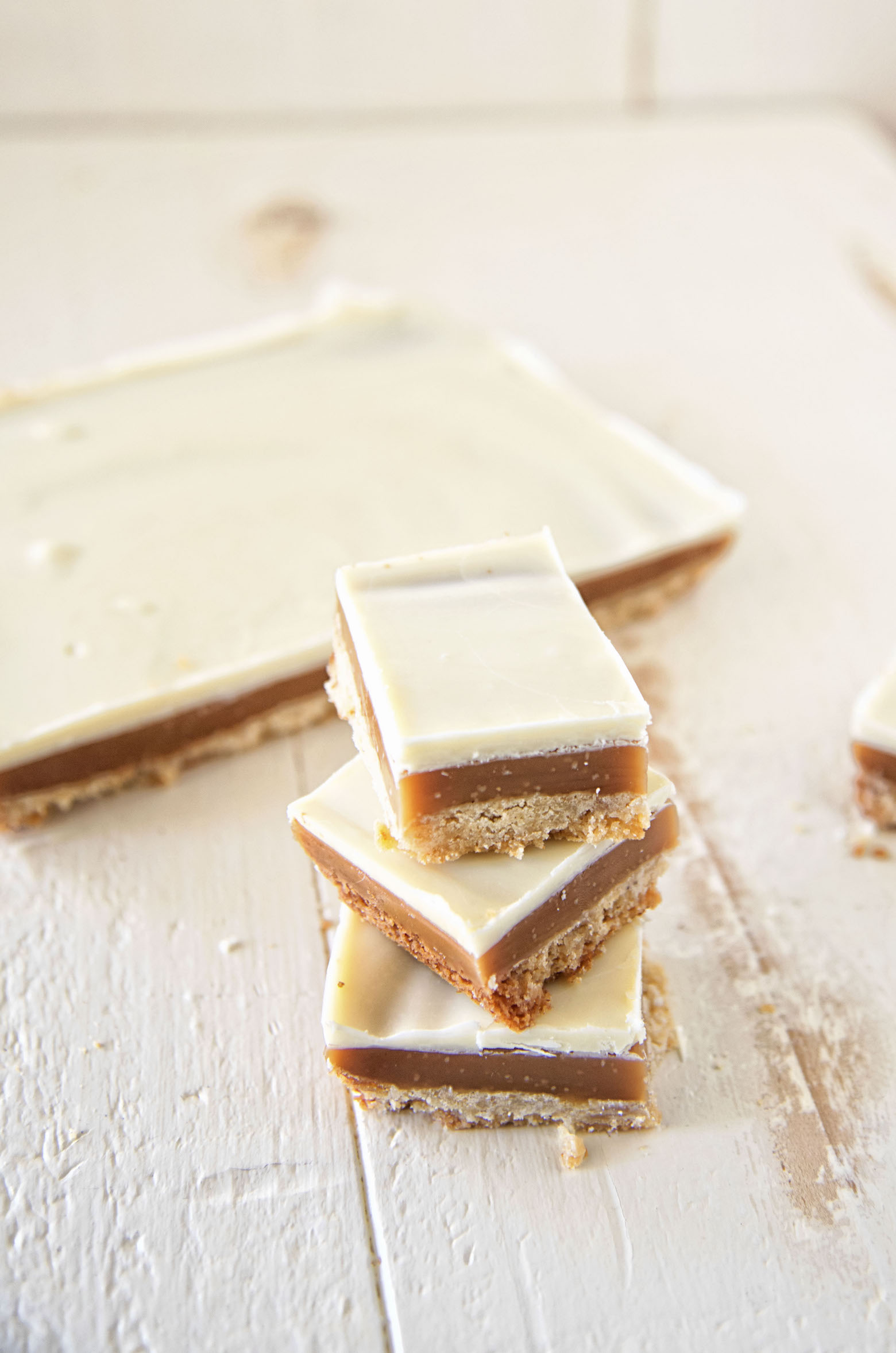 A few years ago you may recall that Kita of Pass the Sushi and Erin of The Spiffy Cookie came and stayed at my house for a foodie weekend.
It all started because Erin saw that my town had a root beer store and wanted to go.
She's beyond obsessed with root beer and has amassed an amazing collection.
Whenever I think of root beer I think of her.
Doesn't matter what it's in or where it's at I just always think, oh Erin would love this. 🙂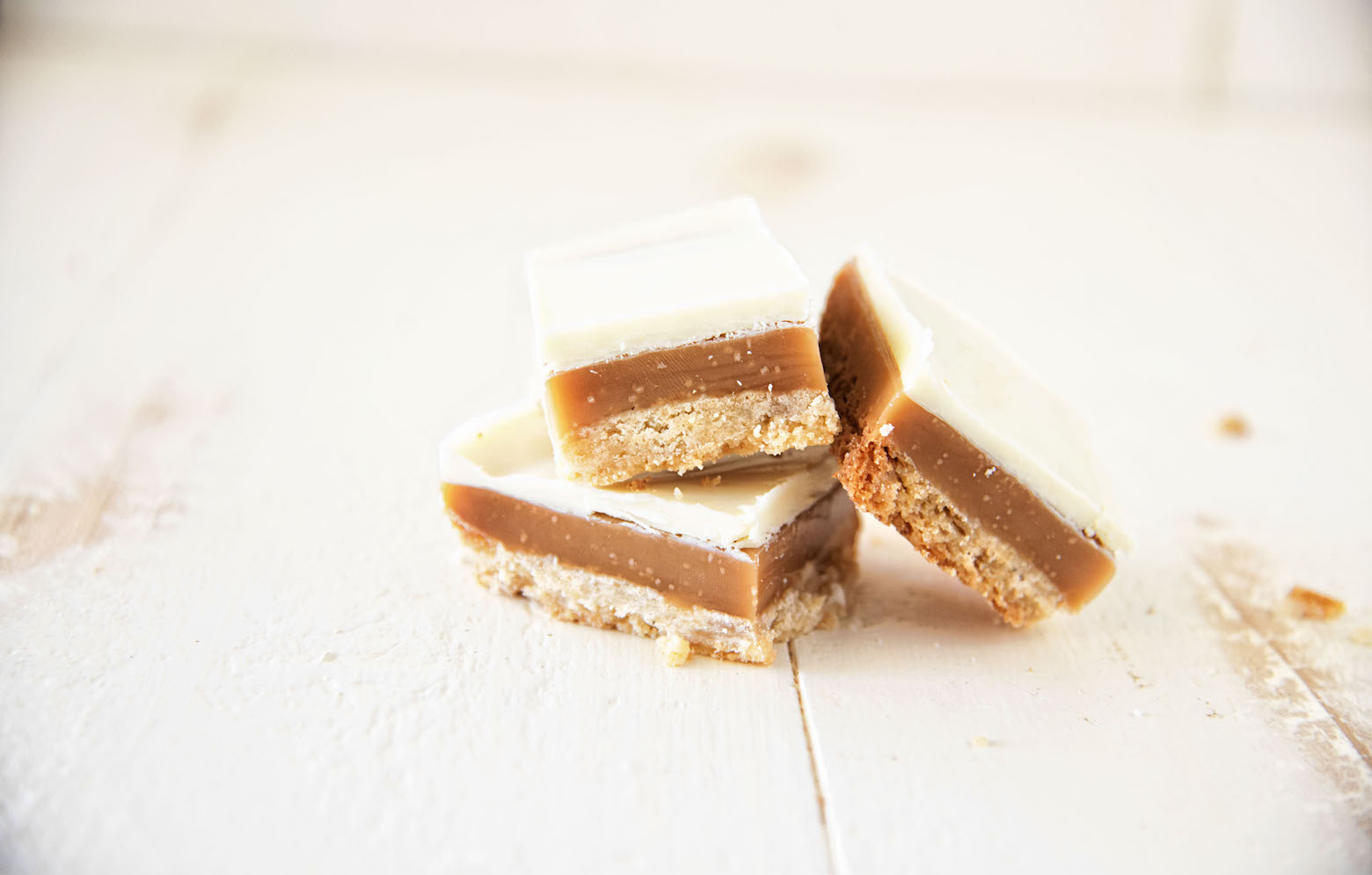 This weekend she gets married which of course got me thinking about root beer.
I had wanted for quite some time now to make root beer float caramels.
That is what I thought I was going to make.
Right up until I went to make it and at the last minute I thought about making them into a Root Beer Float Caramel Bars.
Why?
My guess is the idea of having to wrap all the caramels was not that appealing and just cutting out a few bars from a pan sounded way easier. 🙂
If you don't own a candy thermometer yet you need to (I use this one).
Fall is coming and that means more and more caramel recipes will be on there that you need to make.
Best wishes to Erin and Bob…here are to many happy years together and lots of root beer floats together.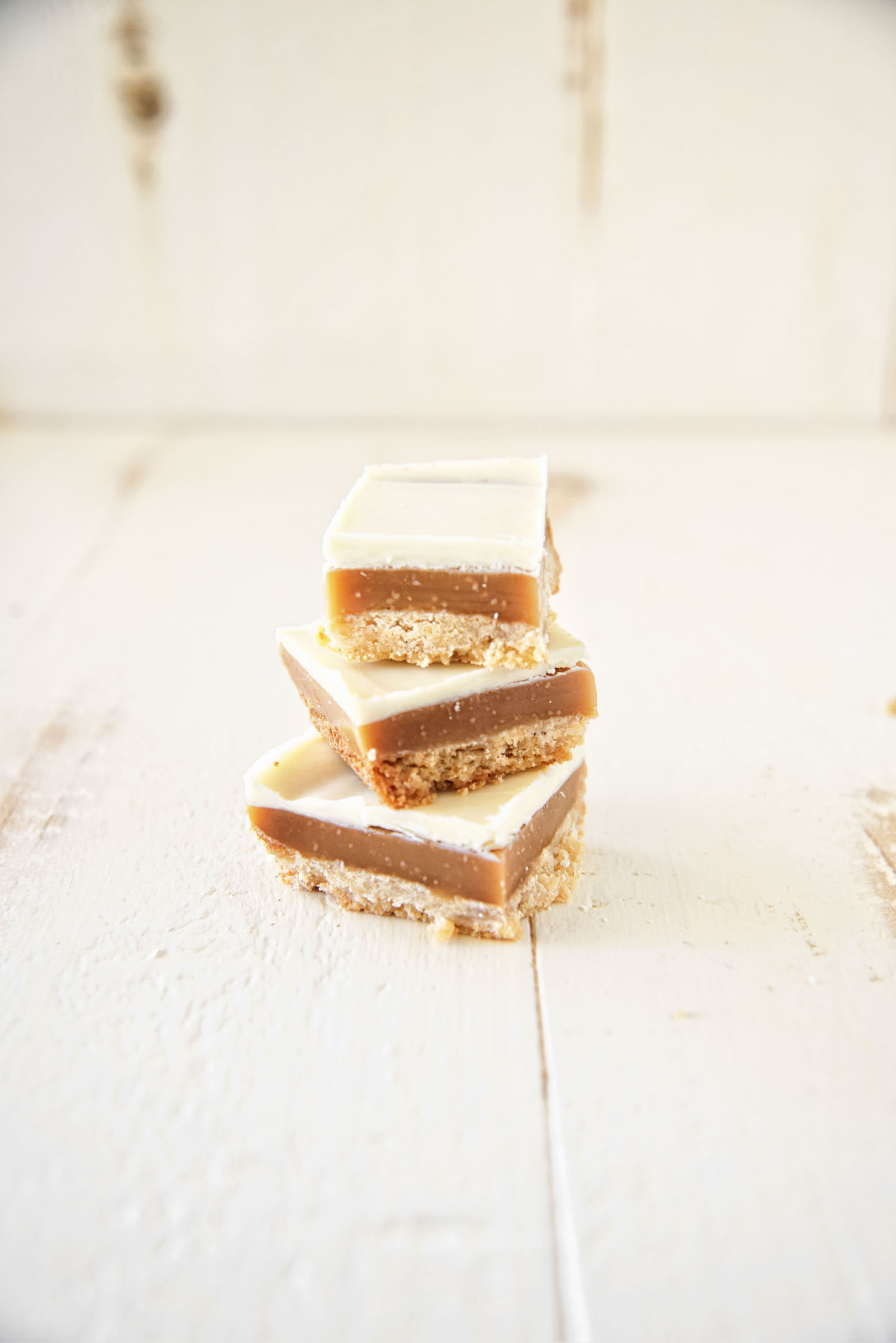 Want more recipes like this? Try these:
Chocolate Root Beer Float Bundt Cake
Caramelized Root Beer Short Ribs
Ingredients
For the Shortbread Base:
1 cup unsalted butter, at room temperature
1/4 tsp. salt
1 cup powdered sugar
2 cups all-purpose flour
1 tsp. vanilla bean paste
Rootbeer Float Caramel:
¼ cup root beer soda
1½ cups granulated sugar
¼ cup light corn syrup
1 cup heavy cream
5 TBSP unsalted butter, cut into 5 pieces
1 tsp. Root beer extract
1/2 tsp. Vanilla bean paste
White Chocolate Topping:
12 oz. white chocolate chips
3 TBSP vegetable oil
Instructions
For the shortbread:
Preheat oven to 300F.
Prepare a 9×13″ baking dish by lining with parchment paper so as able to lift the bars out when done.
Cream together the butter, powdered sugar, salt, and vanilla until smooth.
Add the flour and beat on medium speed until crumbly dough is formed.
Press dough evenly into the bottom of your prepared baking dish.
Poke several holes in dough with a fork, covering the entire surface.
Bake for 35-45 minutes until top is golden brown. Set aside to cool.
Root Beer Float Caramel:
Combine root beer, sugar and corn syrup in a deep saucepan and bring to a boil over medium high heat.
Normally with caramel you would be heating until it formed a golden brown color but the root beer is already brown.
So allow the ingredients to turn to liquid, stirring occasionally. Just make sure there are no clumps of sugar.
In a microwave safe bowl heat butter, cream, and salt for about 30 seconds, or until butter has melted.
Slowly add cream mixture to pan.
It will bubble up so stand back.
Stir in the vanilla and root beer extract with a wooden spoon and return the caramel to medium low heat.
Stirring occasionally, cook for about 10 minutes until a candy thermometer reads 248F.
Once desired temperature is reached, remove from heat and carefully pour caramel over your cooled shortbread.
Do not scrape sides of saucepan, this caramel will be slightly overdone and can be discarded.
Let cool at room temperature until the caramel is set. You can place in fridge but it will make the chocolate harder to spread as the cold caramel will cause it to seize.
For the white chocolate layer:
Melt white chocolate chips and oil in a microwave safe bowl.
Stir until it gives it a shiny smooth appearance.
With an offset spatula apply a thin layer of the chocolate on top of the caramel layer.
Once chocolate has set cut bars with a knife to desired size.