This Roasted Carrot Cinnamon Raisin Yeast Bread is a fun twist to regular cinnamon raisin bread and perfect for carrot cake fans.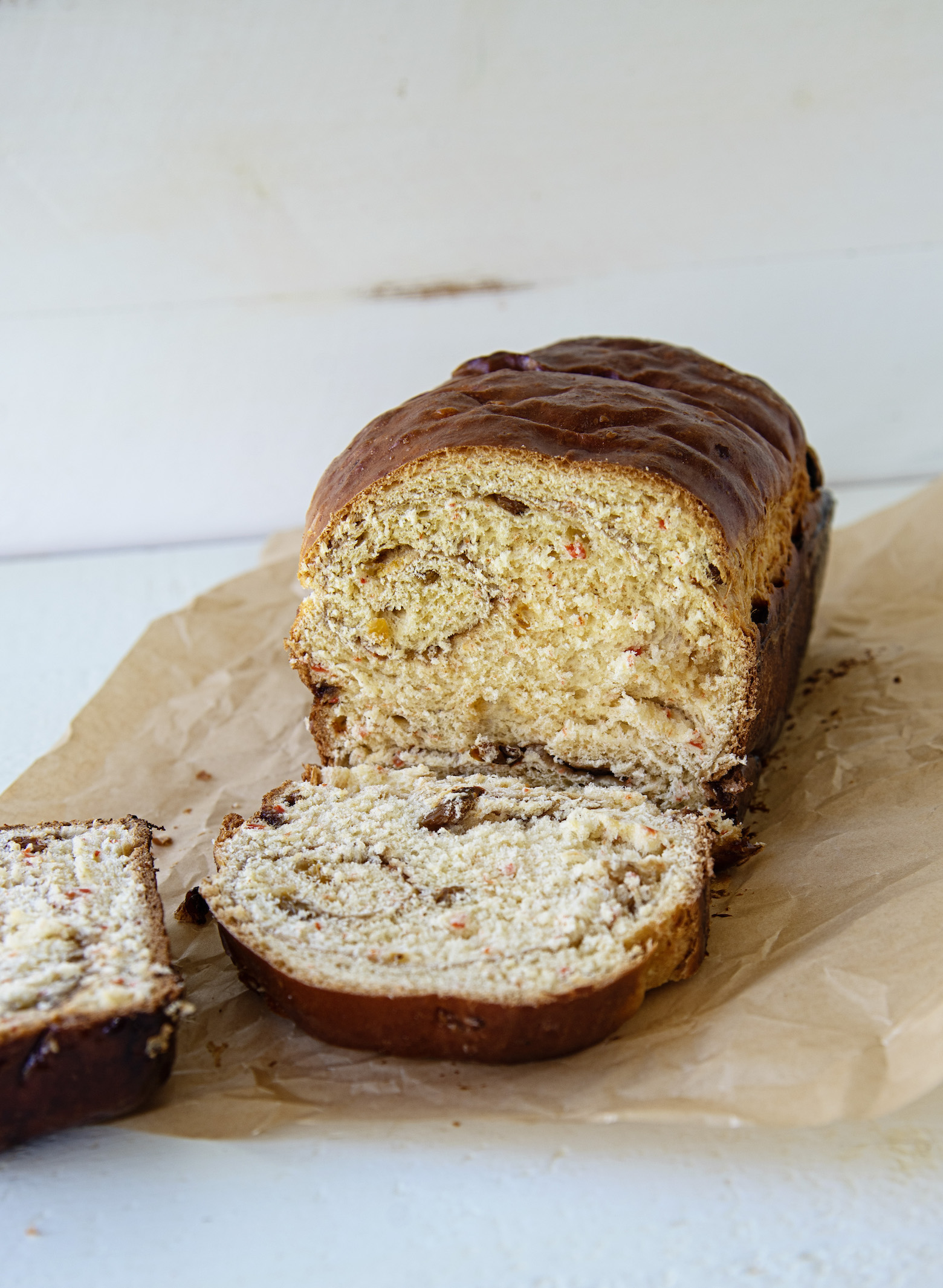 Sometimes when I am baking a bunch of things I forget that I made them.
This Roasted Carrot Cinnamon Raisin Yeast Bread is a prime example.
And really, I can't believe I forgot to post about it.
I was so excited when I found the recipe.
The idea of the roasted carrots was fascinating to me.
And FYI I made this almost a year ago.
I found the photos by accident when looking up another recipe.
It was kind of like finding $20 in your coat pocket. 🙂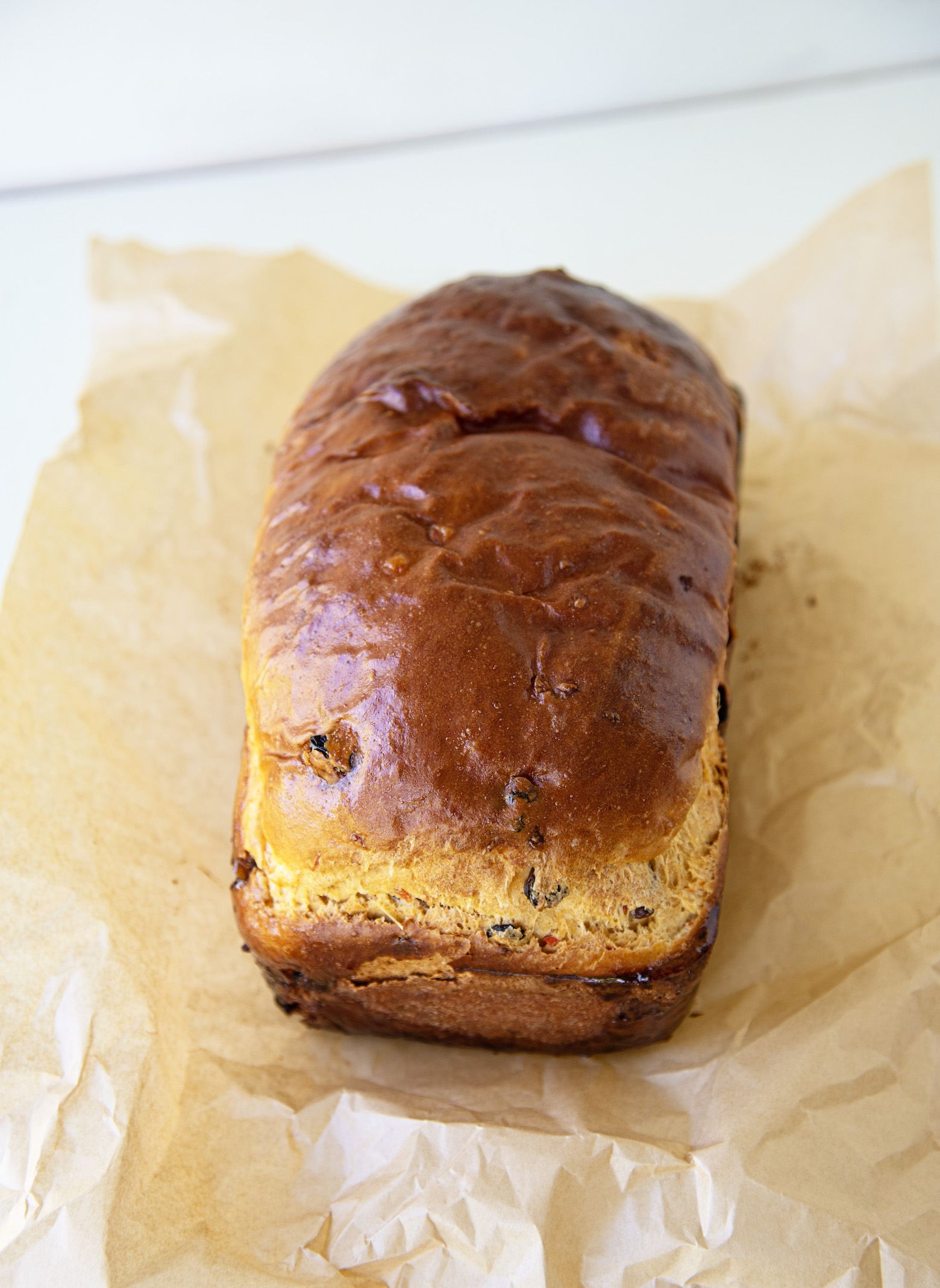 So sometimes me losing my mind works out. 😀
What was even better was that the photos were already edited.
All I had to do was remember where the recipe was.
Which amazingly I found it right away.
A miracle, trust me.
I have several items I have photographed that I haven't posted because I can't find the recipe. 😀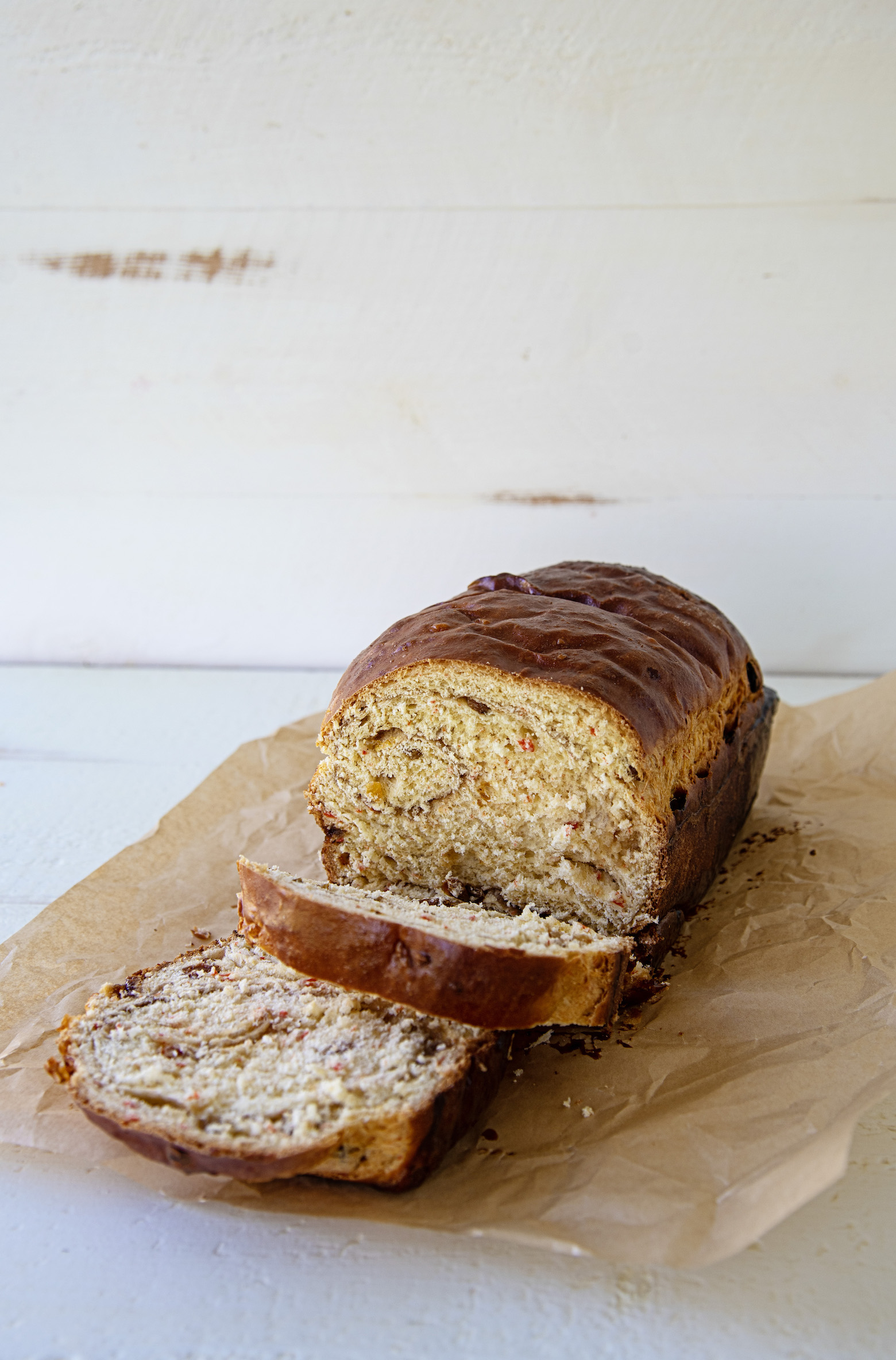 This bread starts with roasting the carrots which gives them a very nice, sweet flavor.
But overall this is not a sweet bread.
You might see cinnamon raisin and think cinnamon roll.
No. Nothing like that.
Well, I mean it does have a cinnamon flavor.
It is great toasted and amazing as French toast.
P.S. It's a great day to buy my cookbook Holy Sweet!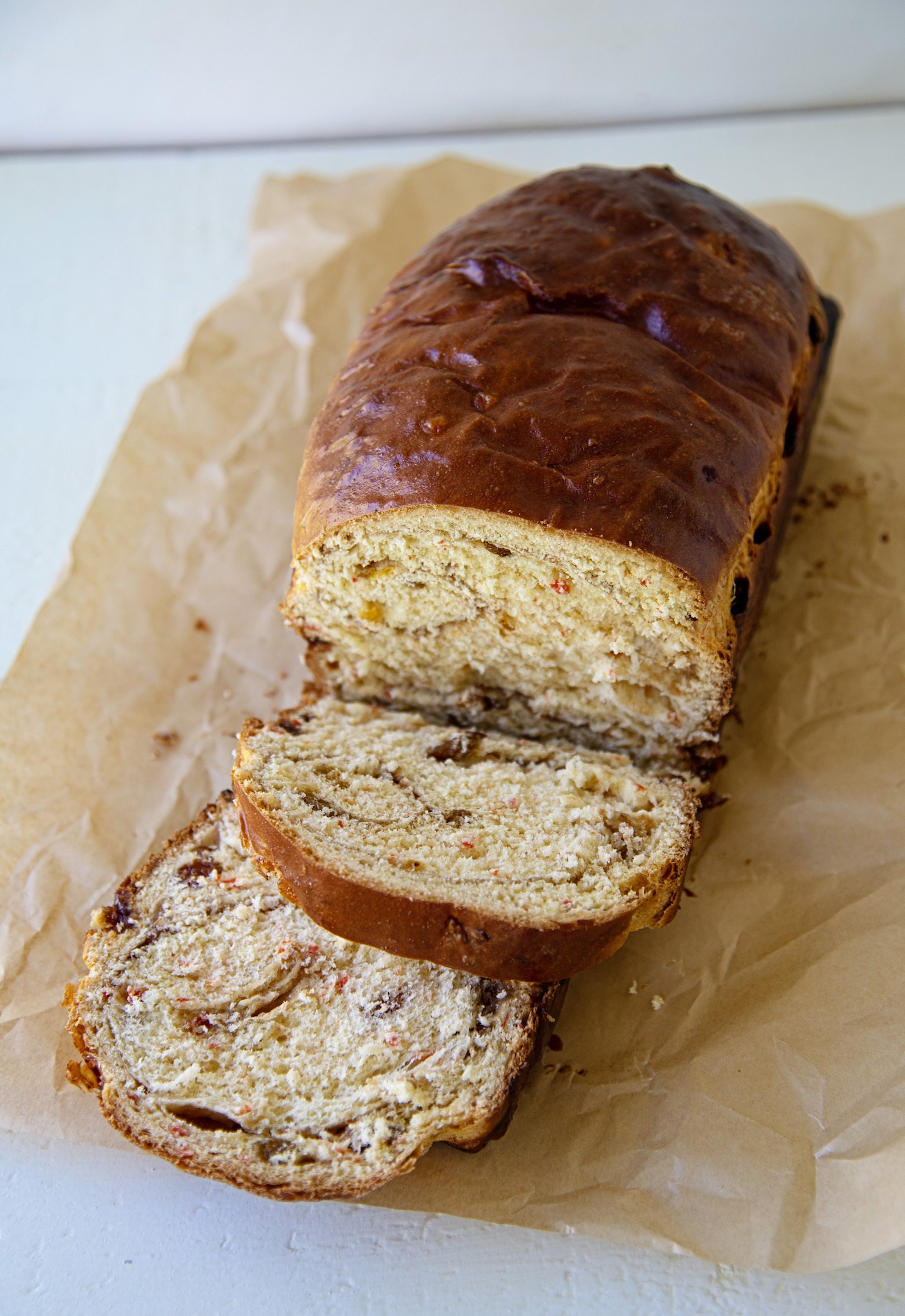 Want More Bread Recipes?
Orange Blossom Chocolate Challah Bread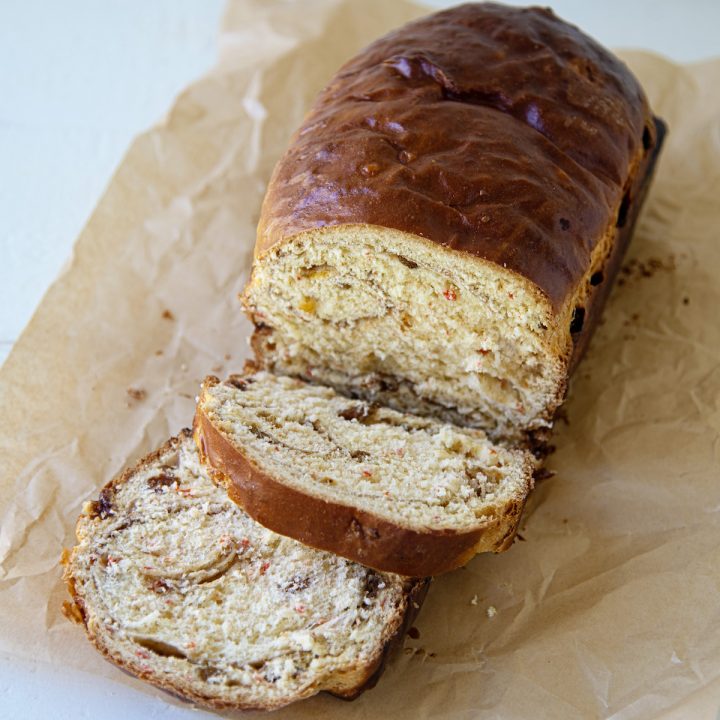 Yield:
one 9×5 or 10×5-inch loaf
Ingredients
4 carrots, peeled, trimmed and cut into 3-inch chunks
1-2 tsp unsalted melted butter, plus more (about 1 TBSP for roasting the carrots)
1 ¼ tsp salt, plus a pinch for the carrots
¼ cup granulated sugar
⅓ cup lukewarm water (105-110ºF)
2 ¼ tsp active dry yeast (I used Red Star Yeast Platinum)
⅔ cup lukewarm milk (105-110ºF)
1 egg yolk
3 cups unbleached, all-purpose flour
2 TBSP unsalted butter, softened
1 cup raisins (golden or regular)
⅓ cup light brown sugar, packed
½ tsp cinnamon
1 egg beaten with 1 TBSP water for glaze
Instructions
Preheat oven to 400ºF.
Tear off a strip of aluminum foil and stack the carrots on top of it.
Drizzle with a little melted butter and a pinch of salt. Seal the package well and place on a baking sheet to catch any drips (don't skip this—I learned the hard way).
Roast for 45 minutes, until carrots are tender.
Remove and open the pouch.
Allow the carrots to cool.
When carrots are cooled, cut them into smaller pieces and measure out about ¾ cup (you will definitely have leftovers).
Place the ¾ cup of carrots and ¼ cup sugar in a food processor and pulse until finely chopped but not puréed. Set aside.
Pour the lukewarm water into a small bowl and sprinkle on the yeast. Let sit for 5 minutes to dissolve.
Using a stand mixer fitted with the whisk attachment, whisk together milk and egg yolk.
Stir in the salt, yeast and carrot mixture.
Switch to the dough hook.
Add in 1 ½ cups of flour and stir well. Stir in the softened butter and raisins. Let the dough rest for 5 minutes.
Add about ½ cup of the remaining 1 ½ cups flour and mix until combined.
Then continue to add in flour by the ¼ cupfuls until you have a kneadable dough that pulls away from the sides of the bowl (you may or may not use the entire 1 1/2 cups).
Knead for 8-10 minutes, until the dough is supple and elastic, not sticky.
Lightly coat the inside of a ceramic or glass bowl with a teaspoon or so of the oil.
Add the dough and turn to coat well with the oil. Cover the bowl tightly with plastic wrap and place it in a warm spot in the kitchen until it has doubled in bulk, about 1 ½ hours.
Gently punch down the dough into a ball and turn out onto a lightly floured surface. Knead for about a minute and then shape into a ball. Cover loosely with the plastic wrap and let rest for 5-10 minutes.
Meanwhile, mix the brown sugar and cinnamon together in a small bowl—it's easiest if you just use your fingers to do it.
Now butter your loaf pan and set it aside.
Lightly flour your board again and roll the dough into a roughly 10×4-inch oblong.
Use a pastry brush to lightly brush the entire surface with a little water and then spread the cinnamon mixture all across the dough, leaving about a ½ inch border all around.
Starting at the narrower end closest to you, roll up the dough into a snug log.
Pinch it at the seam to seal it and tuck the ends under.
Place in the pan, seam side down.
Cover loosely with the plastic wrap and place in a warm spot for about 40 minutes, until it is almost doubled in size. Adjust the oven rack so it is one rung below the middle and preheat oven to 400ºF.
When dough is fully doubled (this should take about 15 minutes more) brush the egg glaze gently across the top.
Bake for 15 minutes and then lower the heat to 375ºF and bake for an additional 35-45 minutes. The loaf should be a rich golden brown and should sound hollow when you tap it with your finger.
Turn the loaf out onto a cooling rack and let it cool completely.
Bread will keep well wrapped at room temperature for several days or chill in the fridge. We use it to make French toast.
Notes
Recipe slightly adapted from The Harvest Baker by Ken Haedrich