These Banana Apple Butterscotch Pecan Muffins are made with banana and shredded apple and are filled with butterscotch chips and pecans.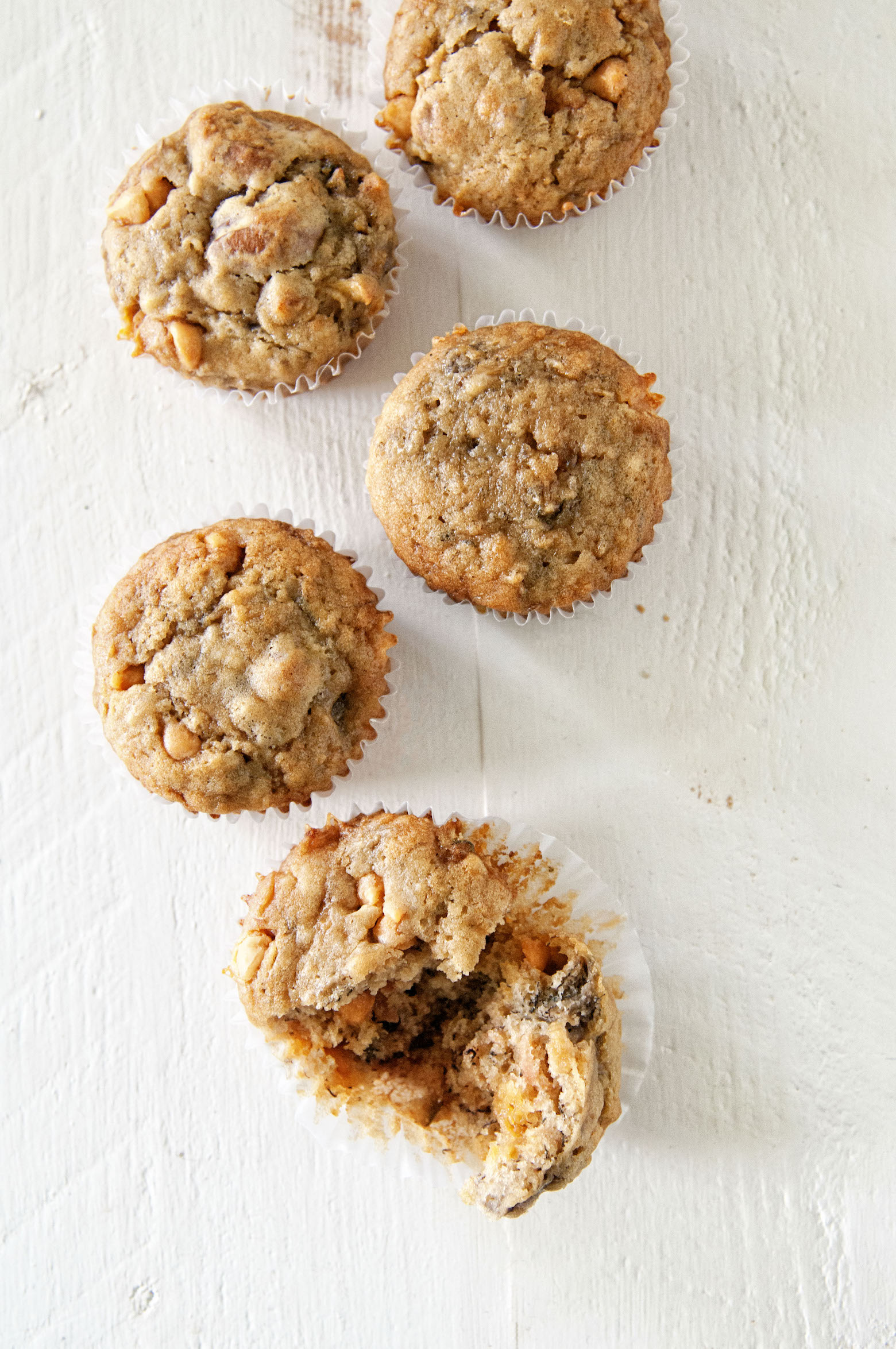 I was looking back at my early days of blogging the other day and boy did I make some complicated things.
Cool and fun things but definitely desserts that took hours and several steps.
Those kind of desserts are still fun to make and from time to time I really have the desire to make them.
But most days we are just trying to use the bananas that are going bad on our counter. 🙂
Enter these muffins.
In the old days of blogging (my blog turns 13 in June…13!) I would have never put these muffins up.
They aren't much to look at and they have no wow factor.
Certainly not something that would catch your eye on Pinterest.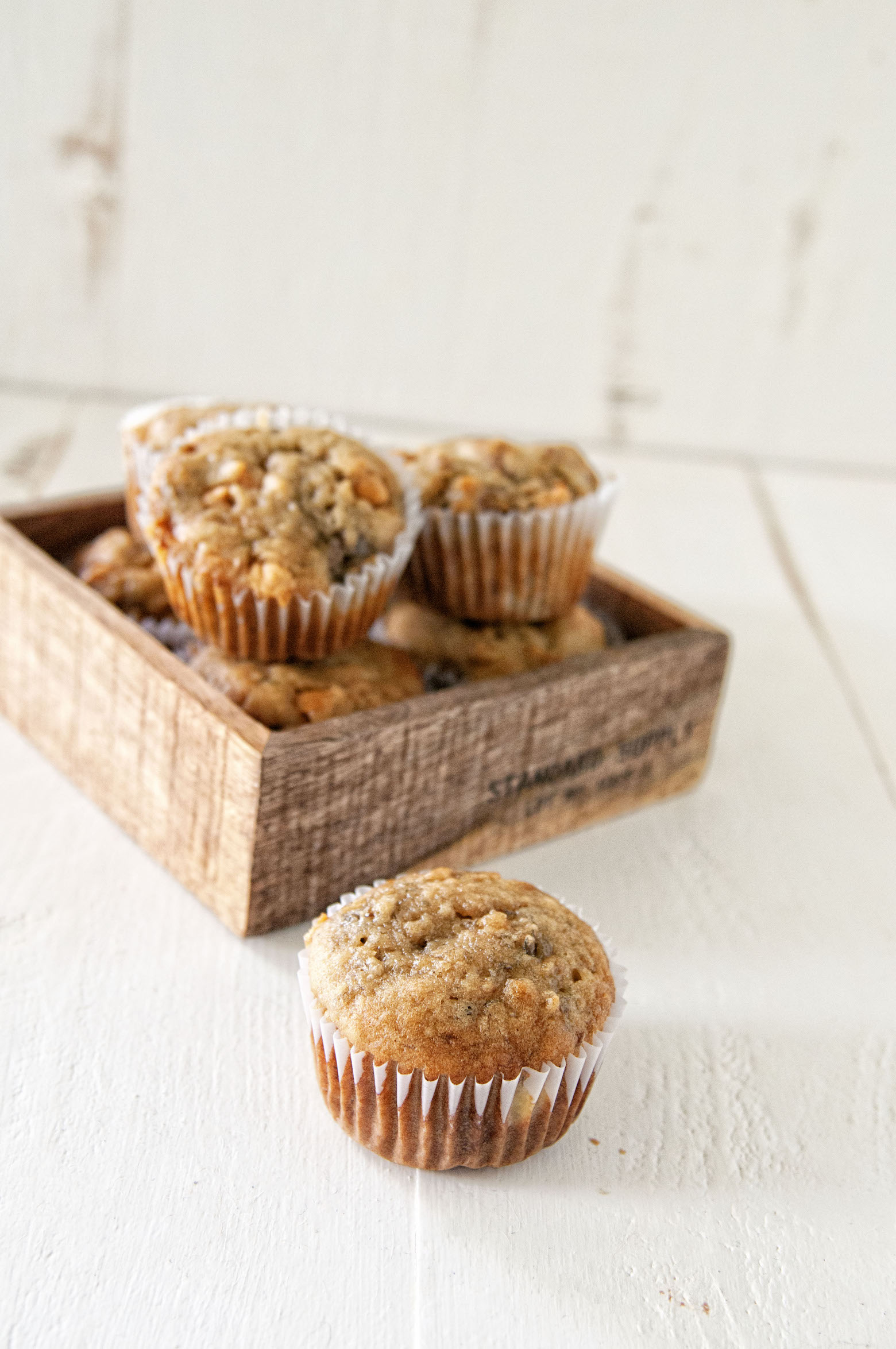 Yet, these Banana Apple Butterscotch Pecan Muffins are reality.
Reality that the recipe I wanted to make called for three bananas and I only had two.
So then these became Banana Apple muffins because Stemilt had sent me a shipment of Piñata apples and I still had a one left.
The reality that these smelled incredible baking up, so much so my husband commented on them and he usually doesn't comment on my baking.
And the reality that these muffins were seriously good.
Seriously.
I normally take a bite or two of whatever I bake and send it on.
As of 9am this morning I have had three muffins in less than 12 hours. Which may not sound like a lot but for me it is. 🙂
So reality was that only having two bananas turned out to be a good thing.
A very good thing.
P.S. It's a great day to buy my cookbook.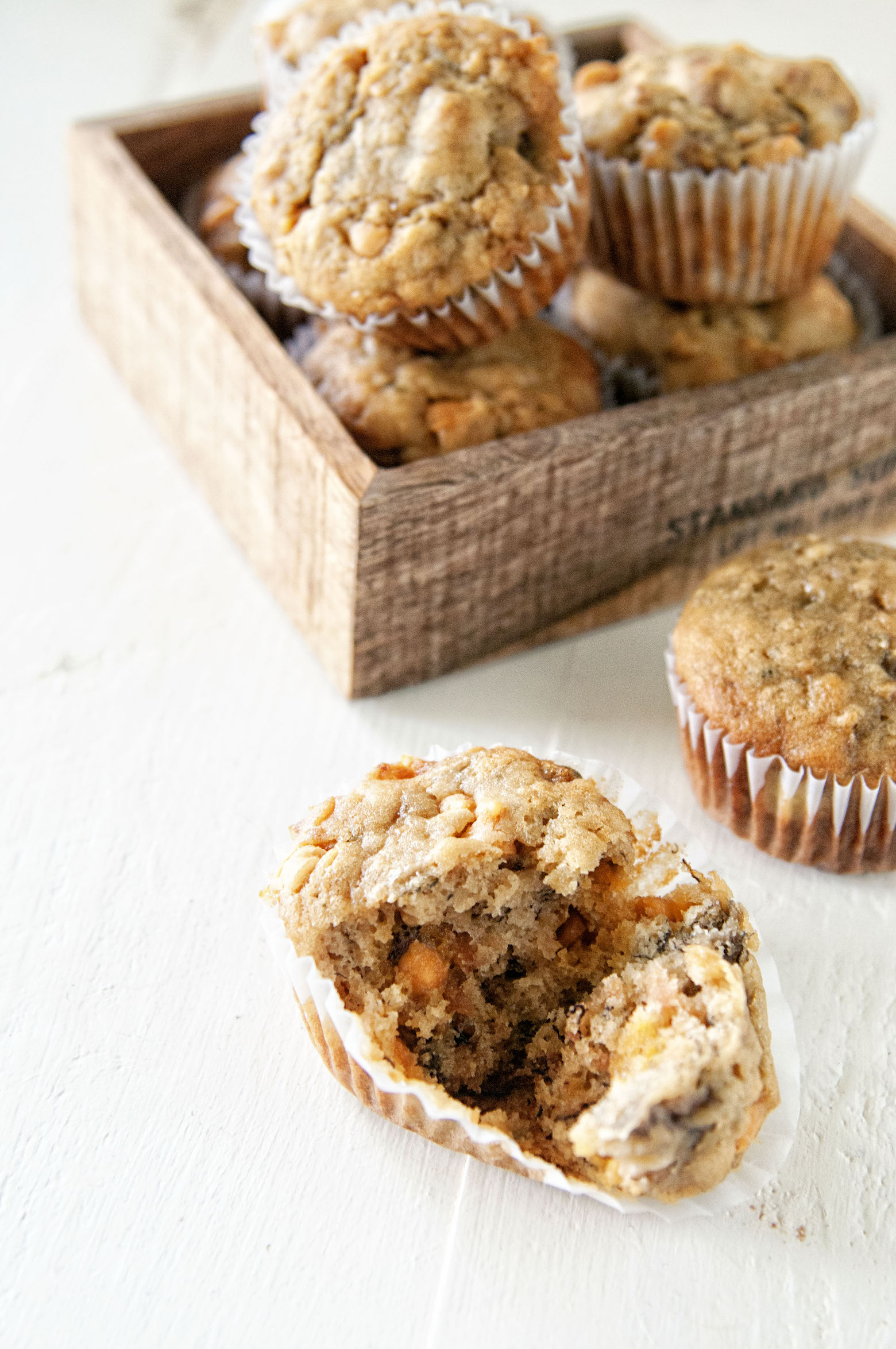 Want More Muffin Recipes?
Glazed Butter Pecan Banana Muffins
Cider Glazed Apple Fritter Muffins
Ingredients
1 2/3 cups all-purpose flour
1 tsp. baking soda
½ tsp. salt
¾ cup light brown sugar, tightly packed
1/3 cup granulated sugar
2 eggs
1/2 cup vegetable oil
2 bananas, very ripe, mashed
1 apple, grated with skin on (I used a Stemilt Piñata Apple)
¼ cup full fat buttermilk or full fat Greek yogurt
1 tsp. vanilla extract
½ cup butterscotch chips
1/2 cup pecans, chopped (or not…I was lazy and didn't)
Instructions
Set oven to 350 degrees F.
Spray muffin tins with baking spray (you will need two pans) or using baking liners.
Sift together the flour, baking soda, and salt; set aside.Using a stand mixer with the paddle attachment, beat sugars and eggs on medium speed until light and fluffy, about 3 minutes.
Add in oil.
Beat on low until incorporated.
Add mashed bananas, apple, buttermilk, and vanilla.
Beat on low for 30 seconds.
Add dry ingredients and mix until just incorporated.
Fold in chips and pecan pieces.
Pour into prepared muffin tins about 2/3 of the way full and bake for 20-22 minutes.
I got 17 muffins.