Raspberry Lemon Elderflower Pavlovas are infused with freeze dried raspberries topped with lemon curd elderflower cream and fresh raspberries.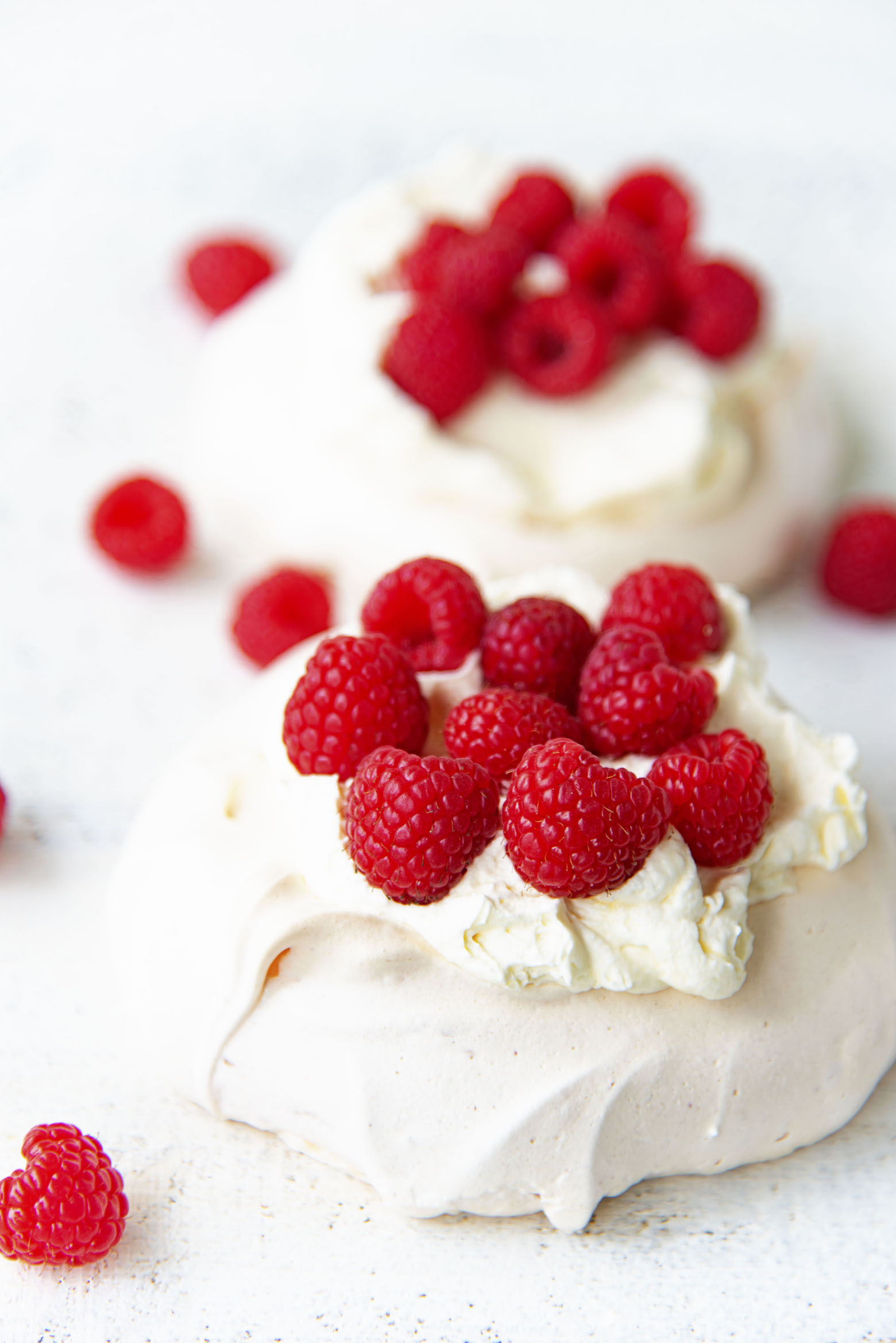 I made these Raspberry Lemon Elderflower Pavlovas for my husband.
He had never had a pavlova before.
A lot of people haven't.
They aren't very popular here in the states.
Though they should be.
The originated in Australia and New Zealand in honor of a ballerina from Russian named Anna Pavlova.
The dessert was made in her honor while touring.
And while they are similar to a meringue, they are so much better.
Crispy shell on the outside with a soft marshmallow like center.
They are then topped with whipped cream and fresh fruit.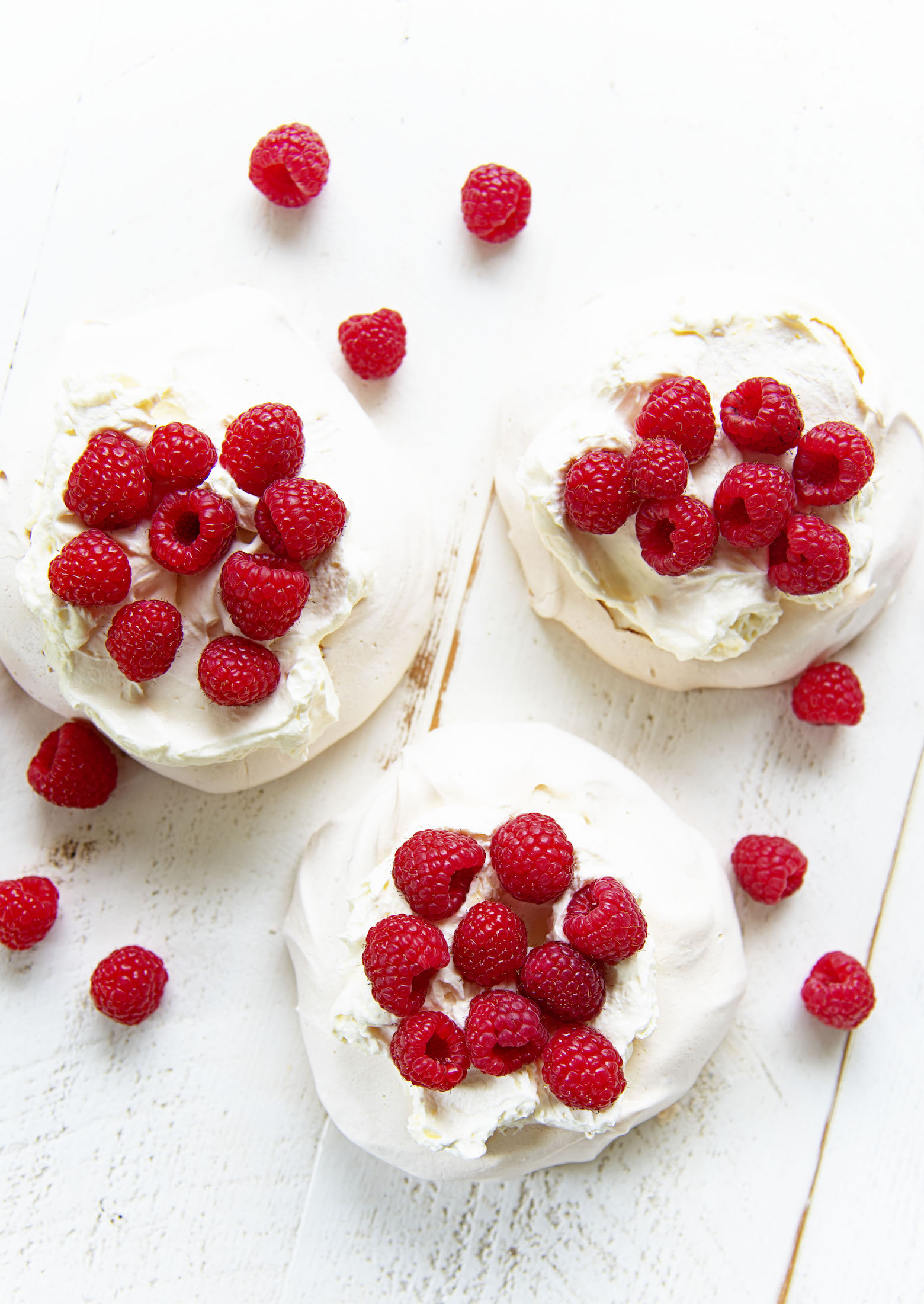 My husband learned about pavlovas from British Bake Off.
I watch it a lot.
Which means he has to watch it a lot. 😀
Don't get me started on how Netflix isn't carrying all the seasons now.
I'm still mourning that.
In one of the episodes they had them making pavlovas.
He commented how good they looked.
So I decided to make them.
Now, meringues and pavlovas can be tricky in the Pacific Northwest.
Because we have a lot of humidity which is not a friend of meringues.
Humidity causes the meringue to go soft.
They are a delicate dessert.
It's why you have to let them cool in the oven with the temperature off.
Because they will crack if there is a temperature swing.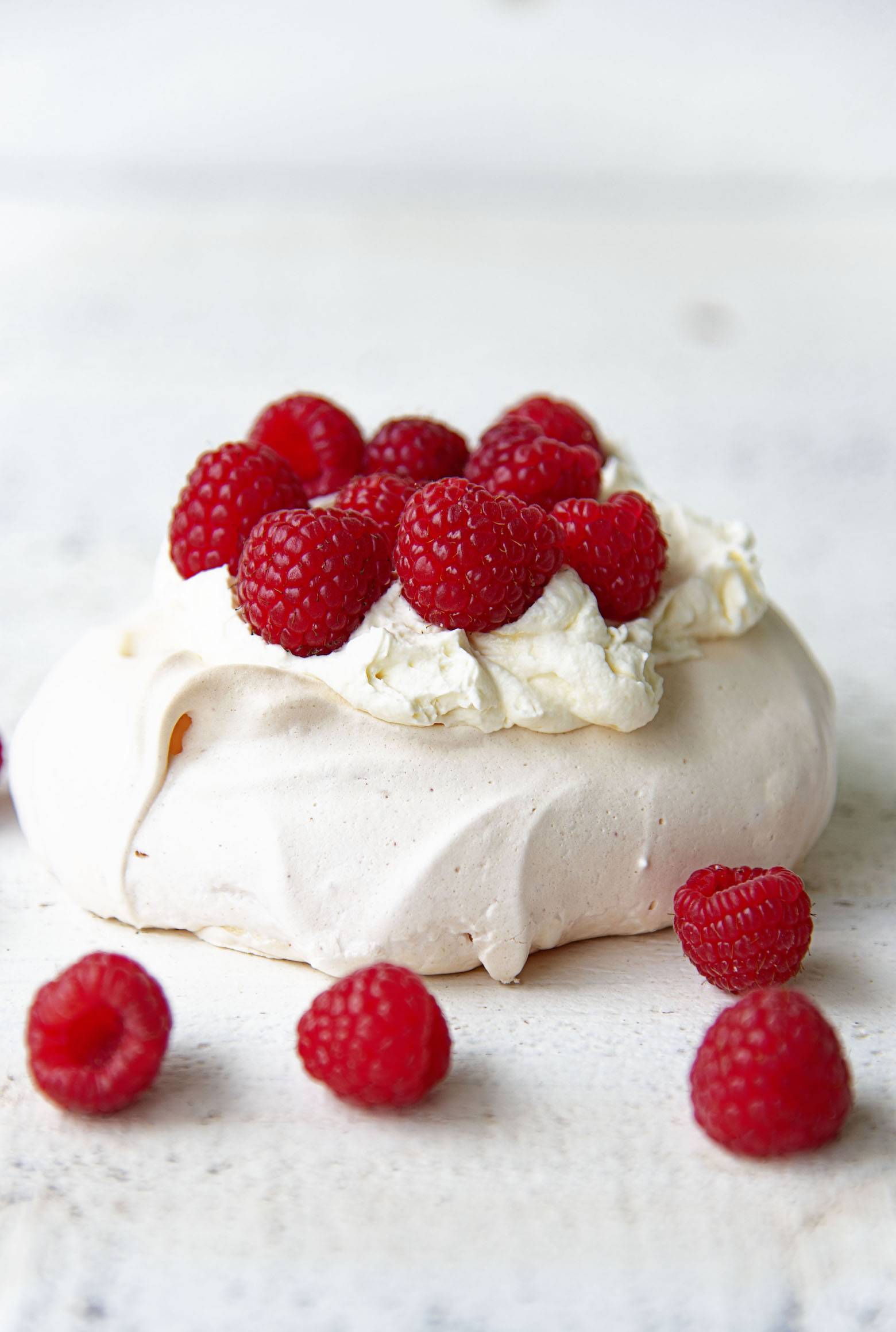 With meringues you just whip the egg whites and sugar with a pinch of cream of tartar and bake them up.
But with pavlovas you are trying to get a marshmallowy middle.
Which is why the addition of water, vinegar, and cornstarch are added.
Some pavlovas only use just vinegar.
I learned how to make them with all those elements.
And so when I went looking for a recipe for them I used Zoe Bakes because she uses what I'm used to.
I added freeze dried raspberry powder to the pavlovas themselves to infuse a little more flavor into them.
If you skip the raspberry powder the pavlovas will still turn out.
You can also use any other freeze dried fruit powder you prefer.
But I like the combo of lemon and raspberry together.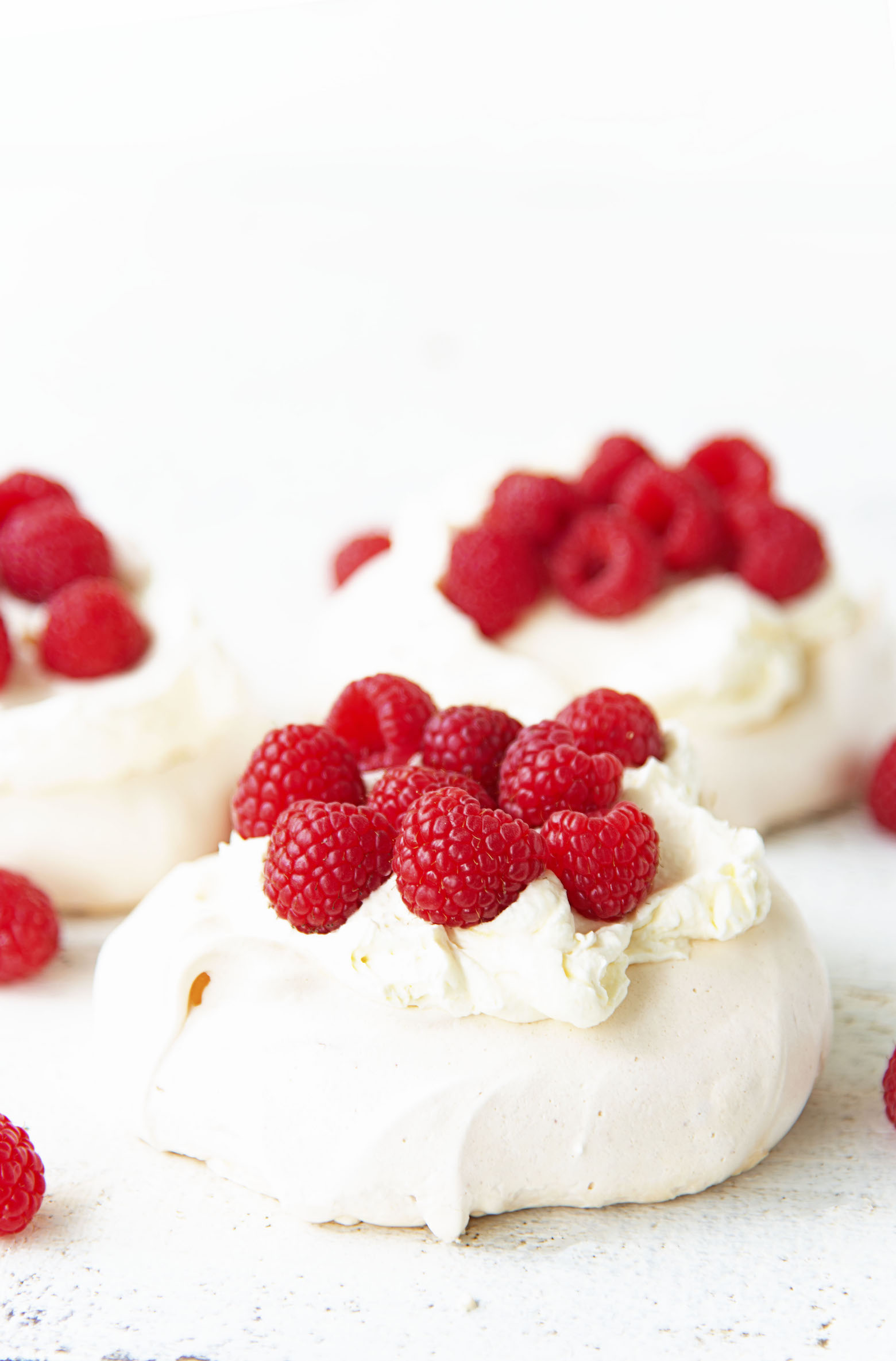 Often pavlovas are filled with cream and lemon curd.
But I chose to mix them together.
The lemon curd is really needed to cut the sweetness.
As the pavlova itself is sweet.
I also added elderflower liqueur.
You can skip the liqueur if you want.
But I feel it adds something.
I added it to the cream because my husband had never tried elderflower and wondered what it tasted like.
Don't forget to top with fresh fruit.
What fruit you want is up to you.
I chose raspberries since that was what was in the pavlova itself.
It's a great day to buy my cookbook Holy Sweet!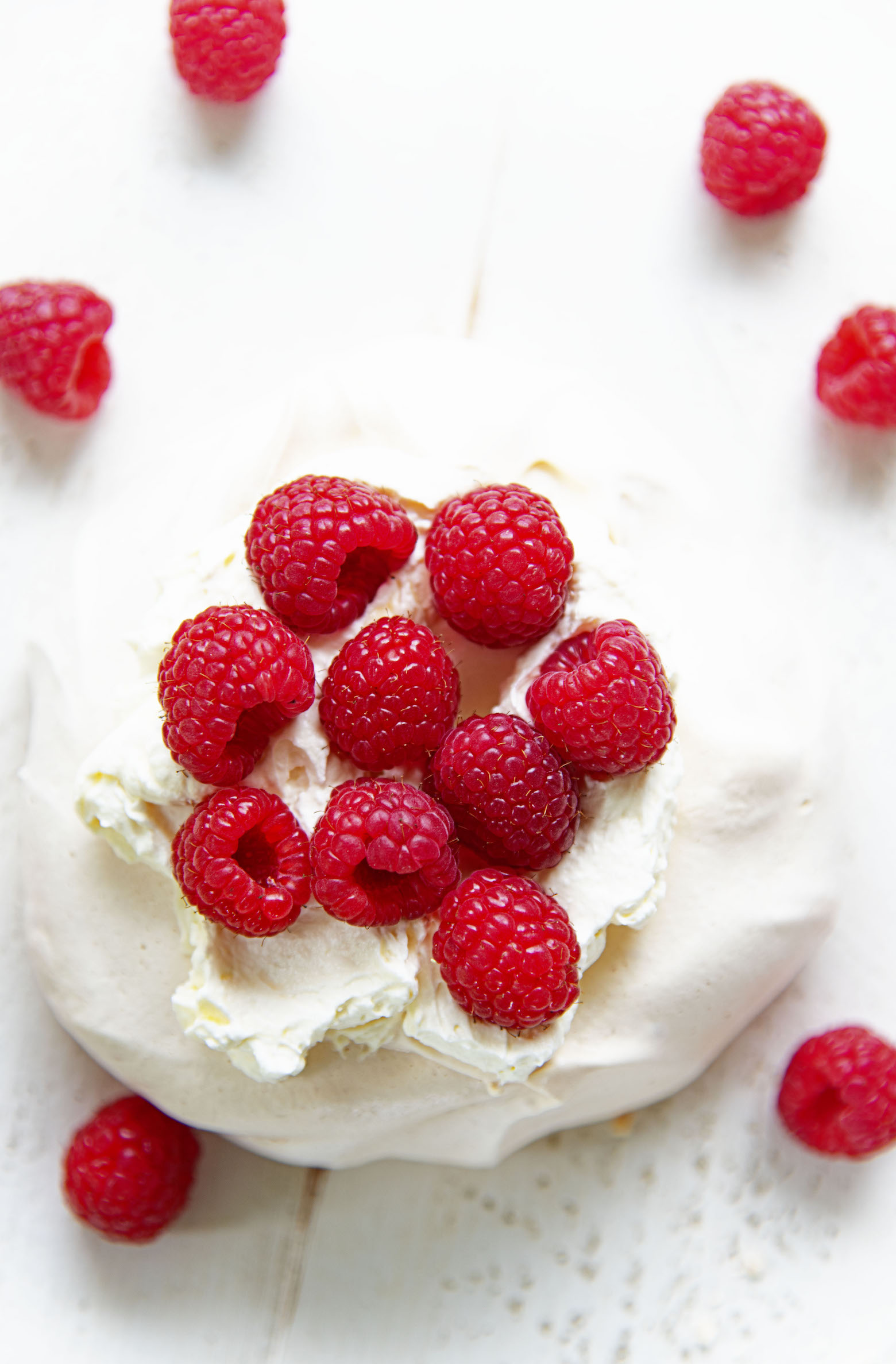 Want More Desserts with Raspberries?
Sweet Corn and Raspberry Layer Cake
Ingredients
For the Pavlova:
150 g egg whites, about 5 egg whites at room temperature
1 pinch of kosher salt
1/8 tsp cream of tartar
3 TBSP cold water
1 1/4 cups superfine sugar
1 tsp vinegar white wine, cider or distilled
1 tsp vanilla extract
1 TBSP plus 1 tsp cornstarch
3 TBSP freeze dried raspberry powder
For the Filling:
2 cups heavy whipping cream 1/3 cup powdered sugar
3/4 cup lemon curd (homemade or store bought)
2 TBSP Elderflower liqueur
fresh raspberries for garnish
Instructions
Preheat oven to 275°F. Trace eight 3-inch circles on a piece of parchment and set it in a baking sheet.

Whip the egg whites, cream of tartar and salt together until medium-stiff peaks.

Add the water slowly while whipping the whites on low speed. Drizzle in the sugar, then turn up the speed and whip until stiff peaks.

Fold in the vanilla, vinegar, cornstarch, and freeze dried raspberry powder.

Mound the meringue evenly into the circles on the parchment. Using a spoon the meringues so that they are even on top.

Bake at 275°F for 15 minutes or until the meringue starts to turn a very pale tan color, then reduce the heat to 225°F and continue to bake for 30 minutes.
Turn off the oven (don't open the door) and let the meringue sit in the cooling oven for a couple hours, or even overnight. I personally always do overnight.
For the Filling:
Using a stand mixer with a whisk attachment whip the cream to soft peaks.
Add in the lemon curd and elderflower liqueur and whip until fully combined and the filling is light and fluffy.
Divide the cream among the pavlovas.
Top each on with fresh raspberries. How many is up to you.
Notes
Pavlova recipe adapted from Zoe Bakes