White Chocolate Candy Cane Cracker Toffee has butter brown sugar mixture, white chocolate, toffee pieces, and candy cane pieces.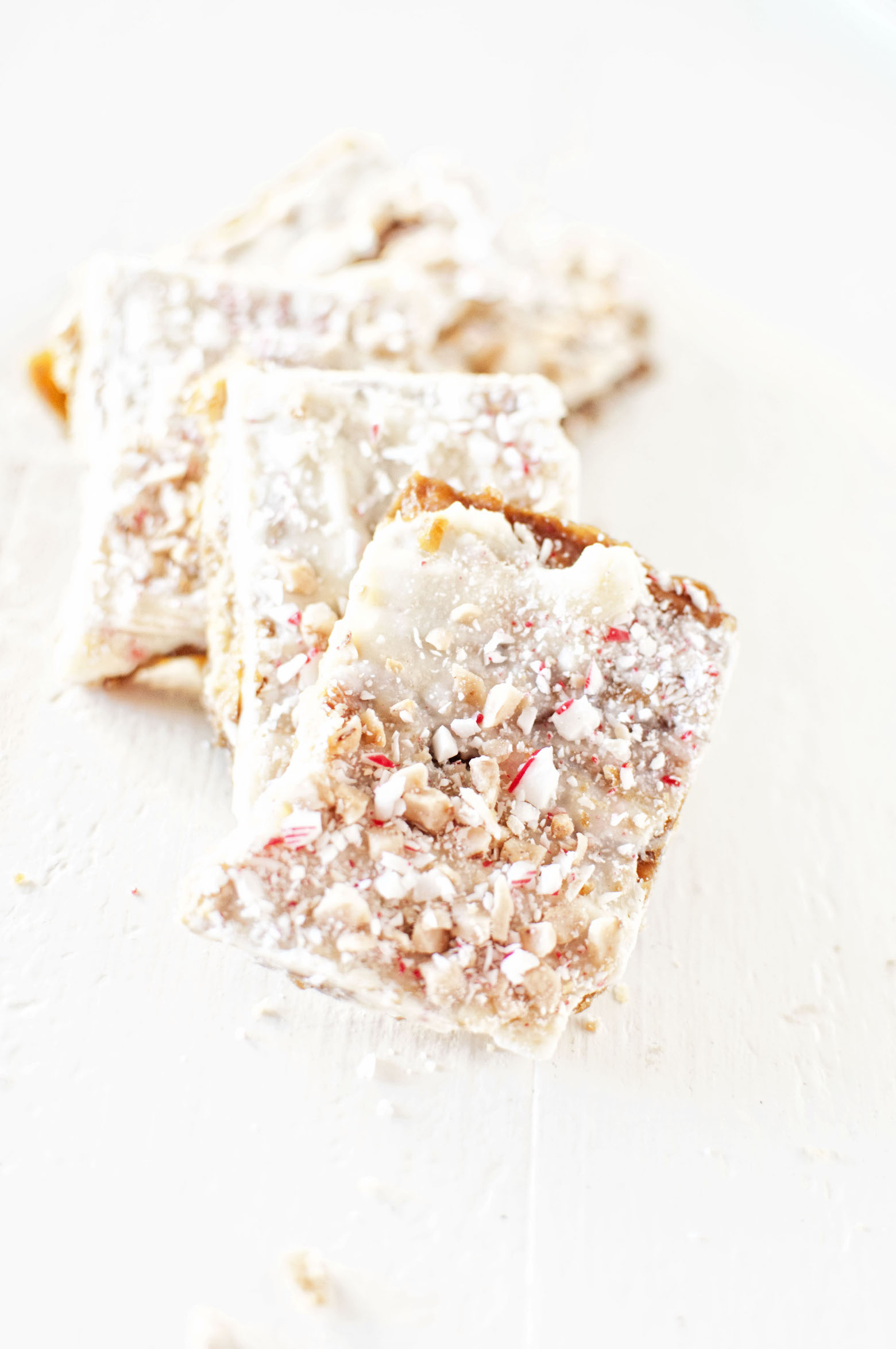 This has been one of those weeks.
My dogs decided we needed to clean all the floors and everything in between by discovering a large bag (Costco size) of powdered sugar that was on the dining room table.
They climbed up and got it and then opened it.
Then they dragged it across the floor up to the couch.
I can only suspect what happened next but based on the fact that powdered sugar was found in all but two rooms (those doors were closed) that they dogs paraded around the house in what I can only assume was a victory lap.
Powdered sugar.
Everywhere.
Every. Where.
Including three of the five dogs were caked in it.
Caked.
One even had it on their eyeballs.
You can see their poor choice making here…scroll through the four photos. 
So three dogs got a bath and a note to Santa letting him know they were naughty.
They did this while we were out doing some holiday errand running.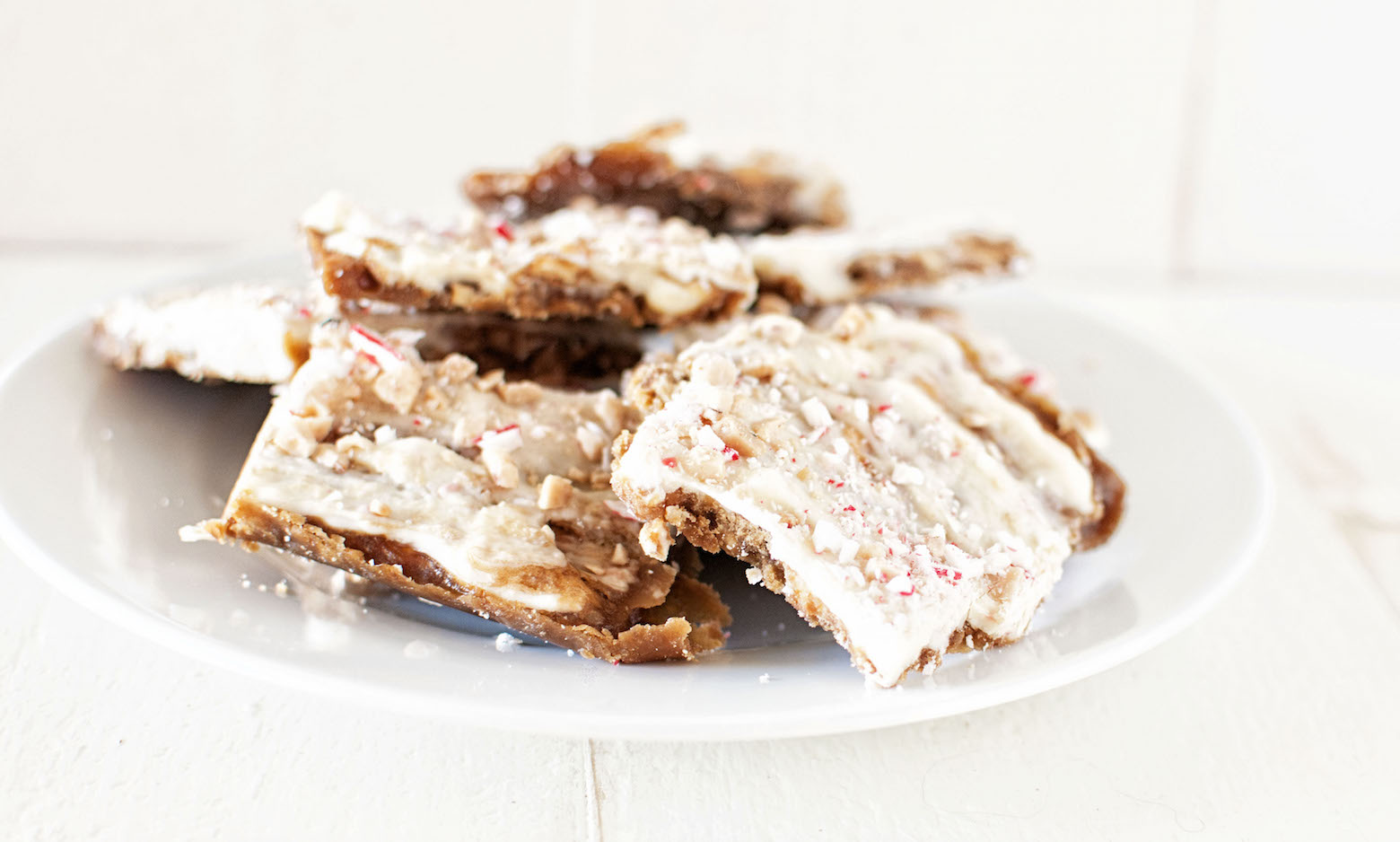 One thing that I was picking up is my favorite Christmas time toffee.
It's made locally and I don't know what they do to their toffee to make it so insanely good but it's amazing.
I buy it year round which is usually with dark chocolate and nuts but at Christmas they make it with white chocolate and candy cane pieces.
This year I was like hey, I make cracker toffee all the time (it's so easy and so good) that why don't I make the white chocolate candy cane version of it.
So I did.
And it's so very addictive.
It was probably a bad idea for me to do that.
Well, bad for my waistline.
If you have never made cracker toffee it is the way to go.
Everyone loves it and it only takes a few minutes and a few ingredients.
I've made several flavors over the years.
It's a great day to buy my cookbook for others.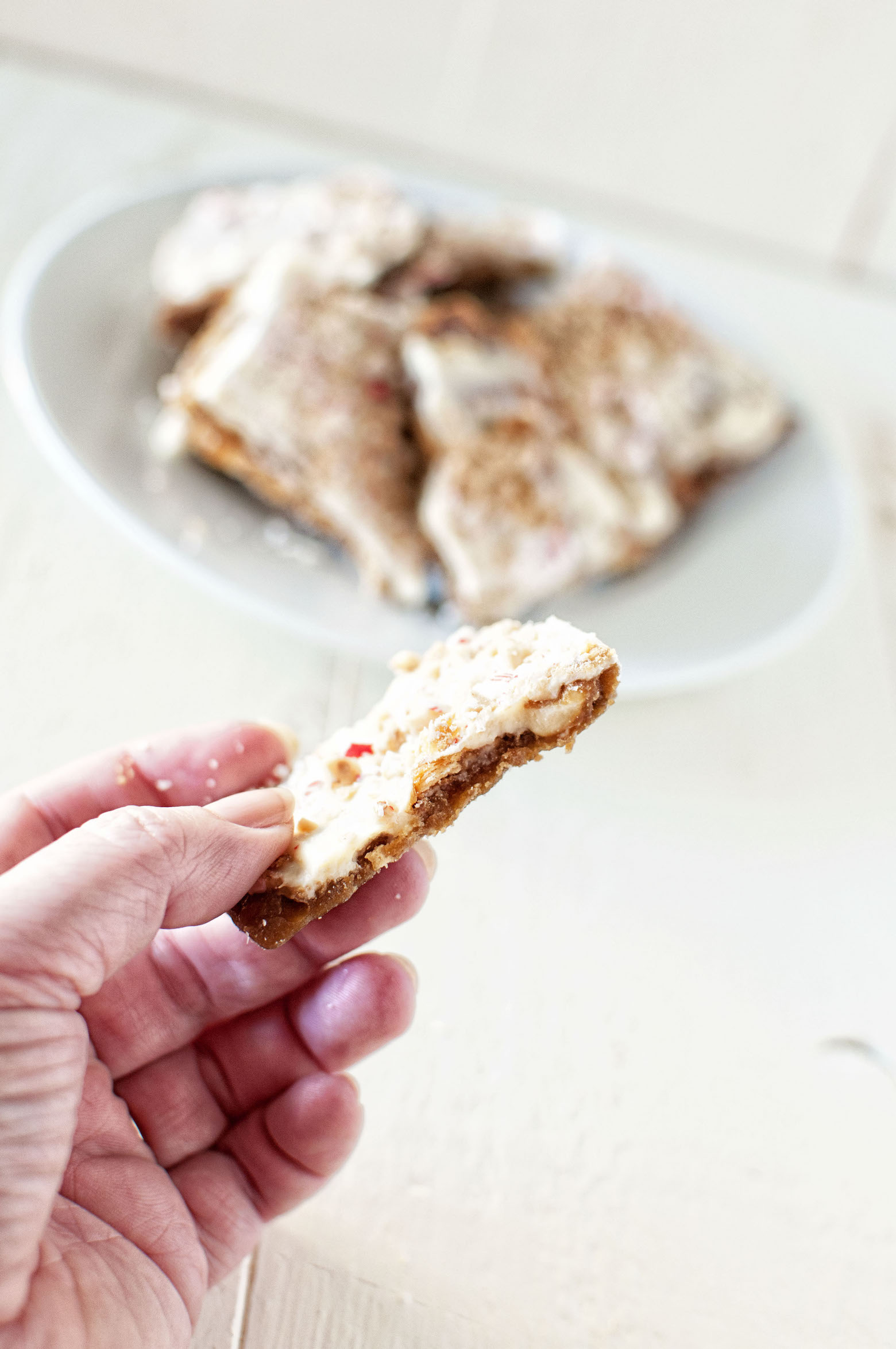 Want More Recipes? Try these:
Cranberry Bliss Cracker Toffee
Peanut Butter Oreo Caramel Cracker Toffee
Peanut Butter Cup Cracker Toffee
Ingredients
1 cup salted butter
1 cup dark brown sugar
Club House Crackers (enough crackers to make a layer on a cookie sheet about 1 1/2 sleeves)
12 oz. white chocolate chips
4oz. peppermint chips
1/2 12 ounce bag of toffee chips
1/2 cup crushed candy cane piecesLine a cookie sheet with foil (this is a must).
Instructions
Bring the butter and brown sugar to a boil in a saucepan and simmer it for about 5 minutes.
Put a layer of crackers on the cookie sheet, close together.
Pour the brown sugar mixture over the crackers and bake for about 6-10 minutes (I do the 10) at 350F. 
Remove and immediately pour the white chocolate chips and peppermint chips over the crackers, evenly distributing them.
Put back in oven for 1 minute.
Remove from oven and let it sit for about 30 seconds.
Then with the back of a spatula I move the white chocolate and peppermint chips just a little bit. I wait another 30 seconds and repeat.
I start to slowly move the chocolate around being careful not to move the crackers.
I let is sit for another 30 seconds and at this point it pretty much spreads like frosting.
Then I top with toffee bits and candy cane pieces.
Let it set up in freezer for about and hour and then break into pieces.