These Pink Vanilla-Vanilla Cupcakes are an adaptation of a local bakeries vanilla cupcake that they happen to frost with pink buttercream.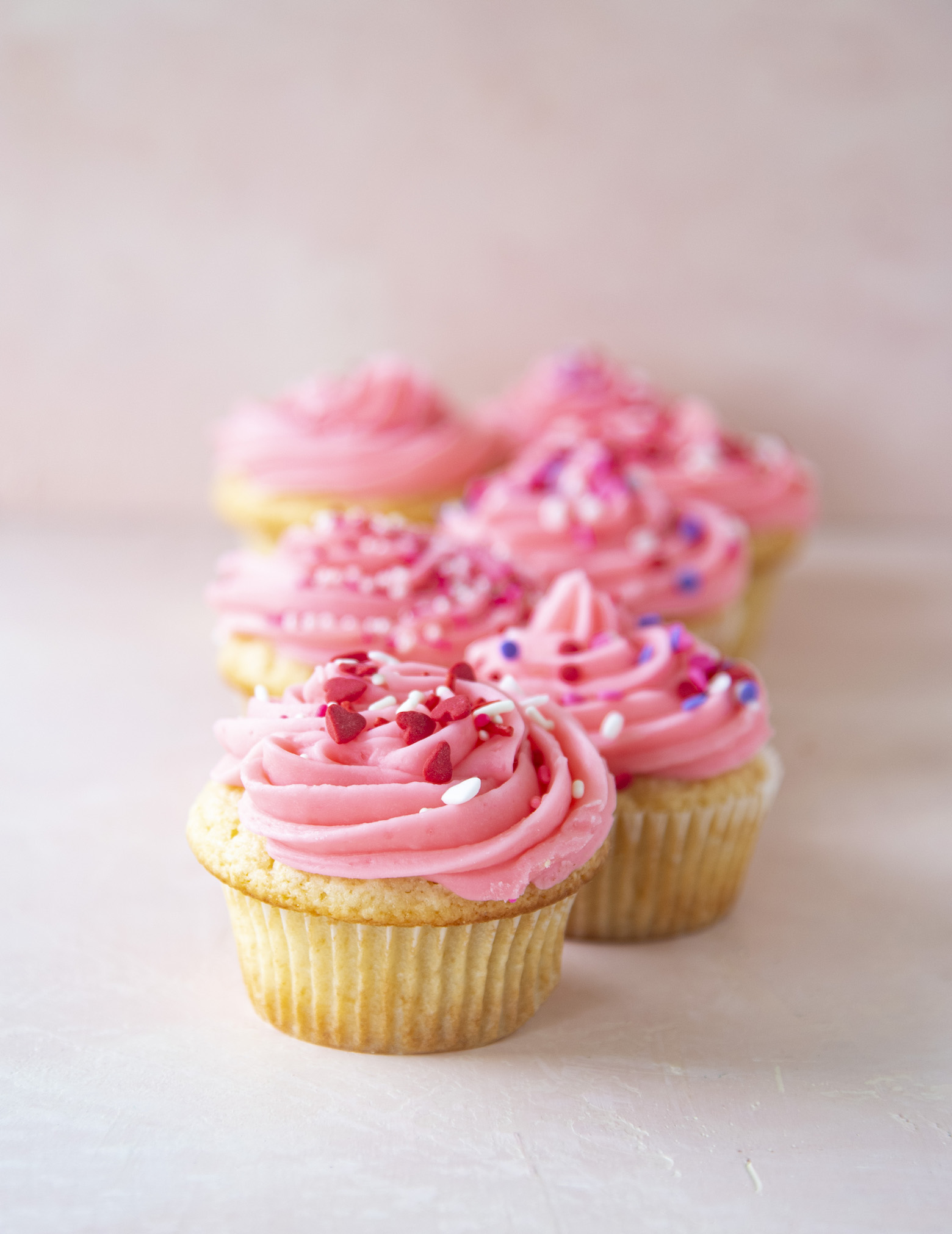 I'll admit that my desire to bake while writing the cookbook isn't gone but is definitely worn down.
Mostly because I'm testing the same recipes over and over again.
That by the time it comes to making dinner (my poor husband) or something for the blog I just don't really have the energy to do so.
But the other day I was reminded that the whole reason I bake is to make people happy.
The whole reason of even writing a cookbook is to help inspire others to bake for people…to make them happy.
By writing a book I have a greater chance of reaching people that don't read the blog.
And so I made these Pink Vanilla-Vanilla Cupcakes in hopes of making someone happy.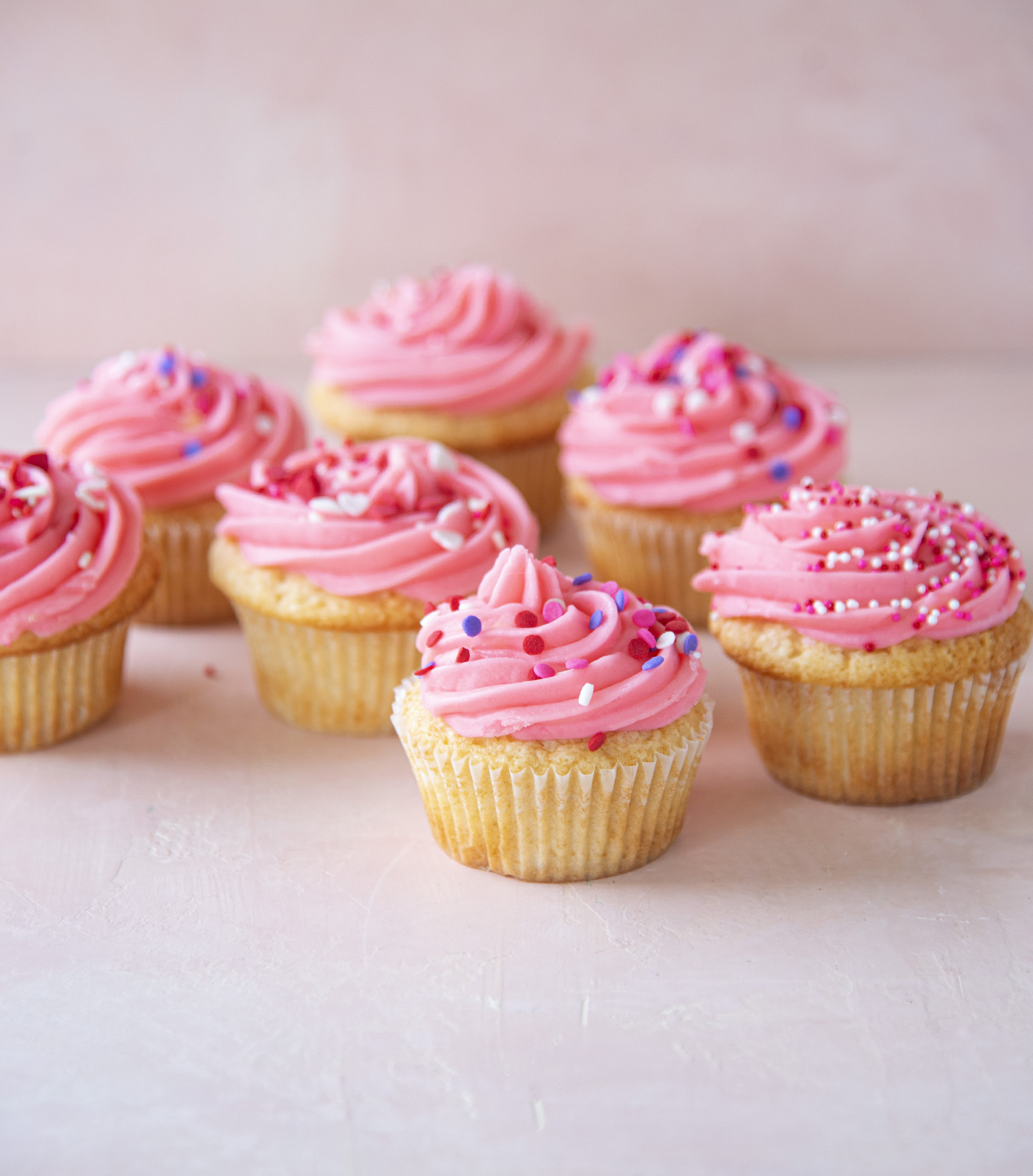 About once a month my husband and I visit our friend Karen.
She has metastatic breast cancer.
She started with breast cancer at age 33.
Which then two years later came back and had spread.
The five year survival rate for metastatic breast cancer is 22% with the median survival rate at three years.
It's a disease that no one quite gets.
And by no one I mean the average person.
Karen and I have bonded over our love of cavaliers and our chronic illnesses.
We are comfortable with hanging out in pj's around each other and she lets me bring ALL 7 of my dogs over to her house.
While I do not have cancer I do have a chronic illness and the chronic part is what people don't get.
Chronic illnesses are not something you get over or get better from.
When someone gets cancer everyone tells them you've got this that they will kick cancers ass.
But when you have MBC you aren't going to do that.
There is no cure.
I think Karen's Twitter handle says it best "Living with and dying from Metastatic Breast Cancer".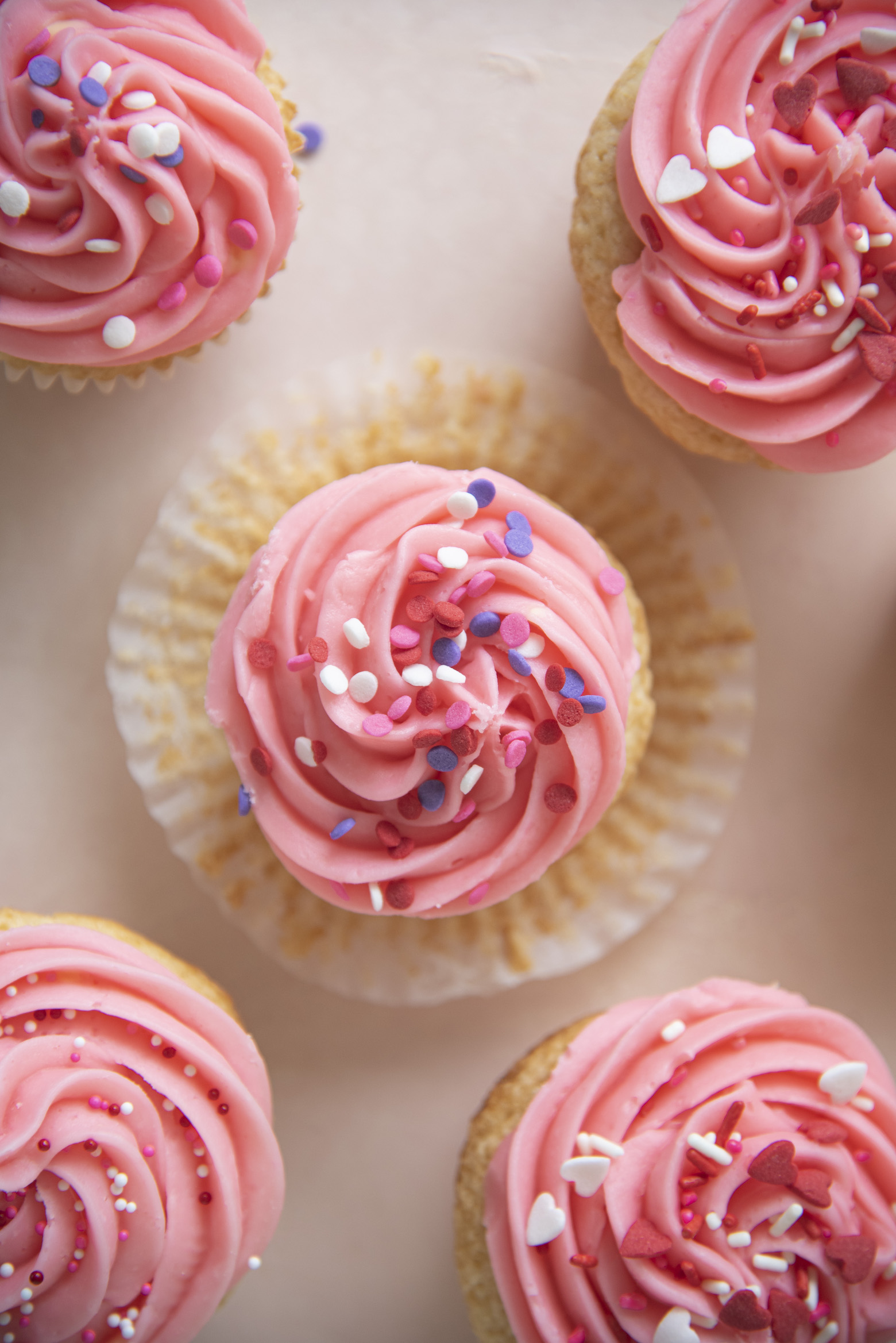 She has been having treatment and will continue to until she dies.
Which also seems to freak people out.
People yell at me all the time not to say that Karen is going to die.
Newsflash…we all are.
Karen knows this and openly talks about it…I mean look at her Twitter handle.
That doesn't mean she is doom and gloom.
You can talk realistically about your condition, it's healthy to do that.
They don't really know totally what to do with Karen anymore.
See, while the median survival rate is 3 years, Karen is rolling into year 10 of MBC.
So she has been through a lot of medications.
A lot.
I'm hoping all that medication at some point will give her super powers.
Like getting insurance people to have hearts and for pharmaceutical companies not to be a-holes.
I wish that was someone's super power.
Right now she is trying to get on Ibrance.
Which is a drug that her insurance won't pay for.
If you are wondering why not just pay that out of pocket?
It's because the good old pharmaceutical company that makes it, Pfizer, charges $13,000 a MONTH for the national average.
Yes, a month.
So she and her oncologist are trying to get Pfizer to be nice and actually just give her the drug.
They of course have not heard anything back.
And it pisses me off to no end.
She already pays, with good insurance, $600 co-pay for one of her meds.
This is why people want universal health care FYI.
If you can afford $13,000 plus $600 a month…good for you.
But most people cannot.
With all that she has going on Karen is one of the most generous people you will ever meet.
She is usually thinking about others.
The one who asks me the most about how I'm feeling.
Sponsors our dog Banjo through Old Dog Haven.
Helps raise money for our ODH team.
Gets my pups and me little presents.
She's smart and caring and it's super not fair.
Life rarely is.
On Twitter earlier this week she found out that her favorite cupcake place delivered now.
But it was midnight and they weren't delivering then. 🙂
We discovered that we both shared the same favorite cupcake from there…the classic white (vanilla) with pink frosting (also vanilla).
We were going over to her house on MLK day to have a doggie playdate and have lunch.
Sunday night I just decided I needed to make cupcakes.
The bakery has a cookbook Trophy Cupcakes & Parties!: Deliciously Fun Party Ideas and Recipes from Seattle's Prize-Winning Cupcake Baker which I own so I figured I would make her some.
It was so nice just to bake something to make someone happy.
BTW- these cupcakes are NOT pink because of breast cancer awareness.
Most breast cancer patients especially those with MBC can't stand the pink campaign.
It does nothing for actual cancer patients.
If you want to help actual cancer patients there is a great organization called the Pink Daisy Project.
UPDATE: Karen passed January 14, 2023.
I greatly miss my friend.
Generous to the end, donating her body to UW Medicine research so that we can hopefully find a cure for this dreadful disease.
And FYI- life is short…eat the Pink Vanilla-Vanilla Cupcakes and buy a copy of my cookbook.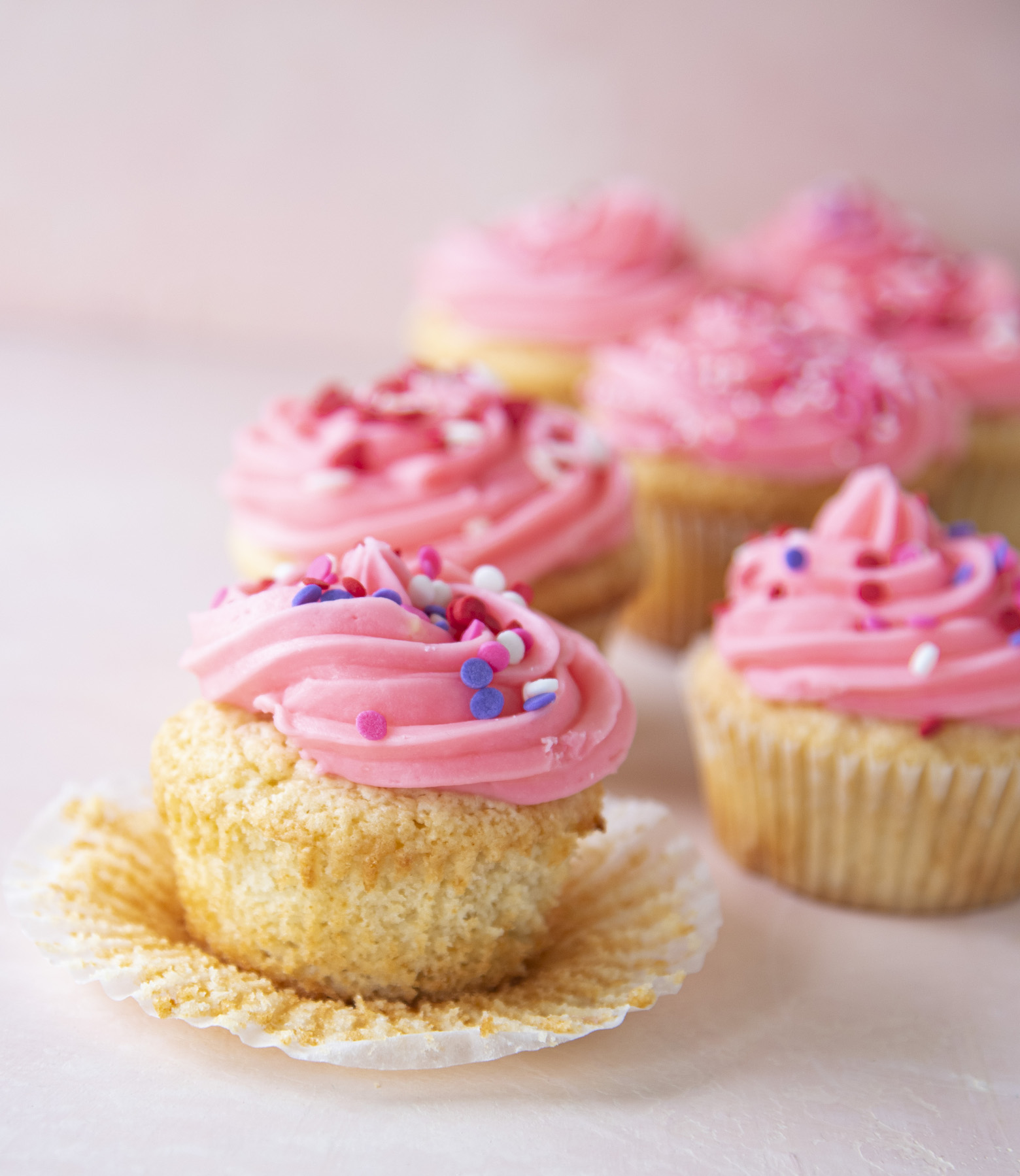 Want More Cupcake Recipes?
Dark Chocolate Butterfinger Cupcakes
Strawberry Buttercream Neapolitan Cupcakes
Key Lime Toasted Coconut Cupcakes
Strawberry Malted Milk Cupcakes
Chocolate Glazed Rocky Road Cupcakes
Ingredients
For the Cupcakes:
2 1/2 cups flour
1 cup cake flour
2 tsp baking powder
1 1/4 tsp salt
1 cup whole milk
1/2 cup plus 3 TBSP heavy cream
1 TBSP plus 1 tsp vanilla (I used Rodelle)
1 cup unsalted butter, room temperature
2 3/4 cups sugar
3 eggs
For the Buttercream:
3 cups (6 sticks) unsalted butter, room temperature
6 cups powdered sugar, sifted
2 tsp vanilla extract
1/4 tsp salt
Instructions
In a large bowl sift together flour, cake flour, baking powder, and salt. Set aside.
In a pitcher, whisk together milk, heavy cream, and vanilla. Set aside.
Cream together butter and sugar in the bowl of a stand mixer until light and fluffy, about 1 minute.
Add eggs one at time, mixing well and scraping the bowl after you add each egg.
Add 1/3 of the flour mixture.
Add 1/2 of the milk. You add the dry ingredients in 3 parts, and the liquid in 2.
When everything has been added scrape the bowl one more time. Let the batter rest for 15 minutes. Preheat the oven to 350 degrees and line two muffin tins with paper liners.
Fill the paper liners three quarters of the way full. Bake for 20 minutes, or until a toothpick comes out clean.
The cupcakes will be pale in color. Let cool for 5 minutes in the pan, then transfer to a rack to cool completely.
For the Frosting:
Add the butter to the bowl of a stand mixer. Beat until the butter is pale, very smooth, and makes a slapping sound as it hits the sides of the bowl. This takes about 30 seconds if you butter is really soft, a bit longer if the butter is cooler.
Add the sugar one cup at a time. Mix until it is incorporated before you add the next cup.
When all of the sugar has been added, scrape the paddle and the sides of the bowl. Add the vanilla and salt, beat on low speed for 15 seconds.
Increase the speed to high (or just high enough so that it doesn't make a mess). Beat until whipped, light, and perfectly smooth, about 5 minutes. Scrape the bowl once or twice. The frosting will look like it is getting really soft, but it will stiffen and increase in volume.
Add the frosting to a piping bag fitted with a large star tip.
Add sprinkles.