This Pink Lemon Poppyseed Cake is a take on traditional lemon poppyseed cake using pink lemons and freeze dried raspberries.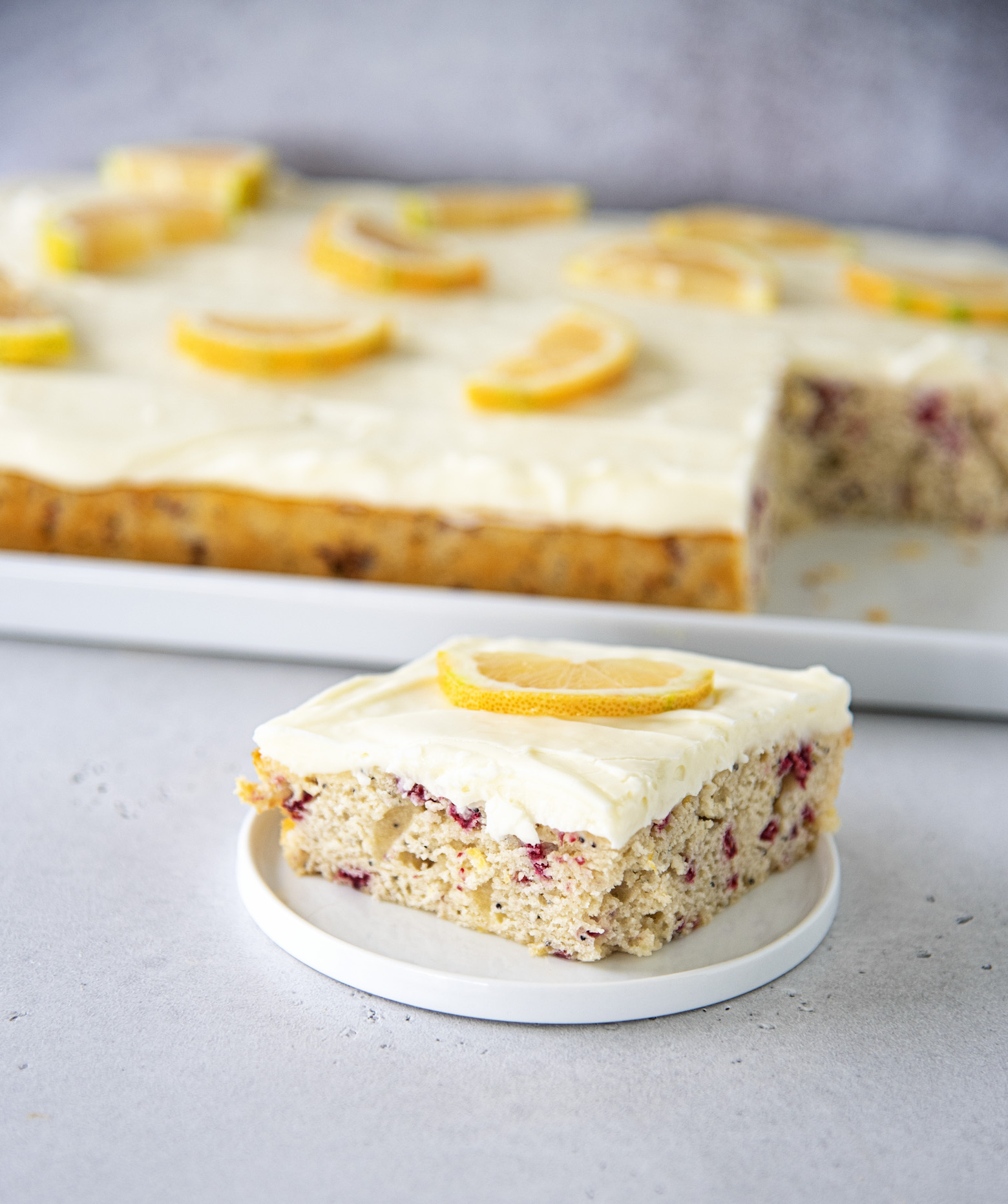 Not in shocking news but Seattle has been gray as of late.
You may have heard that about the Seattle area…oh and we have rain too. 😛
This time of year my friends Facebook feeds are filled with photos of them in Mexico and tropical sunny places.
We have special needs dogs so all our travel money goes to them so my only vacation comes in Pink Lemon Poppyseed Cake form.
Well, and booze but that's for another day. 😀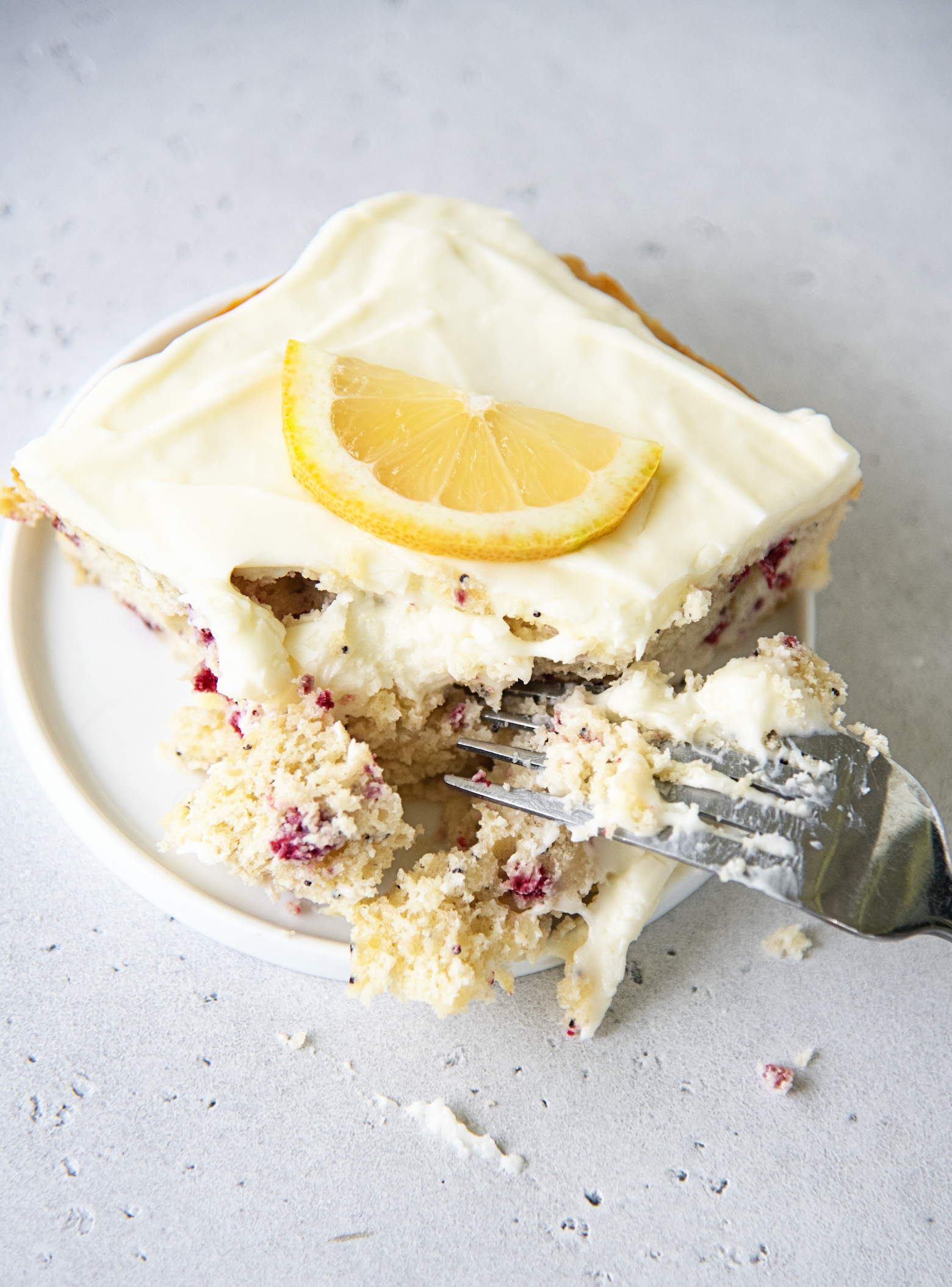 In case you didn't see on the news, we here in Washington are dealing with the coronavirus.
In a big way.
9 dead so far and I'm sure more to come.
People have become crazed hoarders standing in lines to get toilet paper and hand sanitizer.
Frozen food is wiped out.
And many of the groceries are gone too.
I braved our grocery store yesterday because we needed food for right now.
Luckily the regular store was not quite the madhouse as the Costco and Walmarts.
Though all hand sanitizer and antibacterial soap was gone.
In the words of Taylor Swift…you need to calm down.
With my slim picking options I saw quite a few bags of pink lemons.
I think people were avoiding them because they had a weird outer look with green stripes.
I knew about pink lemons, and that they are a real thing, originally considered a mutant fruit.
A mutant fruit that now people seek out. 🙂
Mine were not very pink inside this time.
And no matter if they are super pink or not in the middle the juices all run clear.
I figured I would be nice and make my husband a lemon poppyseed cake but with the pink lemons and with some freeze dried raspberries as well.
Since the label the lemons came in claimed they had a hint of berry.
Didn't say what kind of berry so I guessed raspberry.
This cake uses lemon juice powder.
Which I love using because it is VERY strong and gives you a very lemon flavor.
If you are not wanting a super lemon flavor then you can either use less of the powder or substitute lemon juice for it.
I may not have a vacation or toilet paper in the future but I at least have cake.
P.S. It's a great day to buy my cookbook.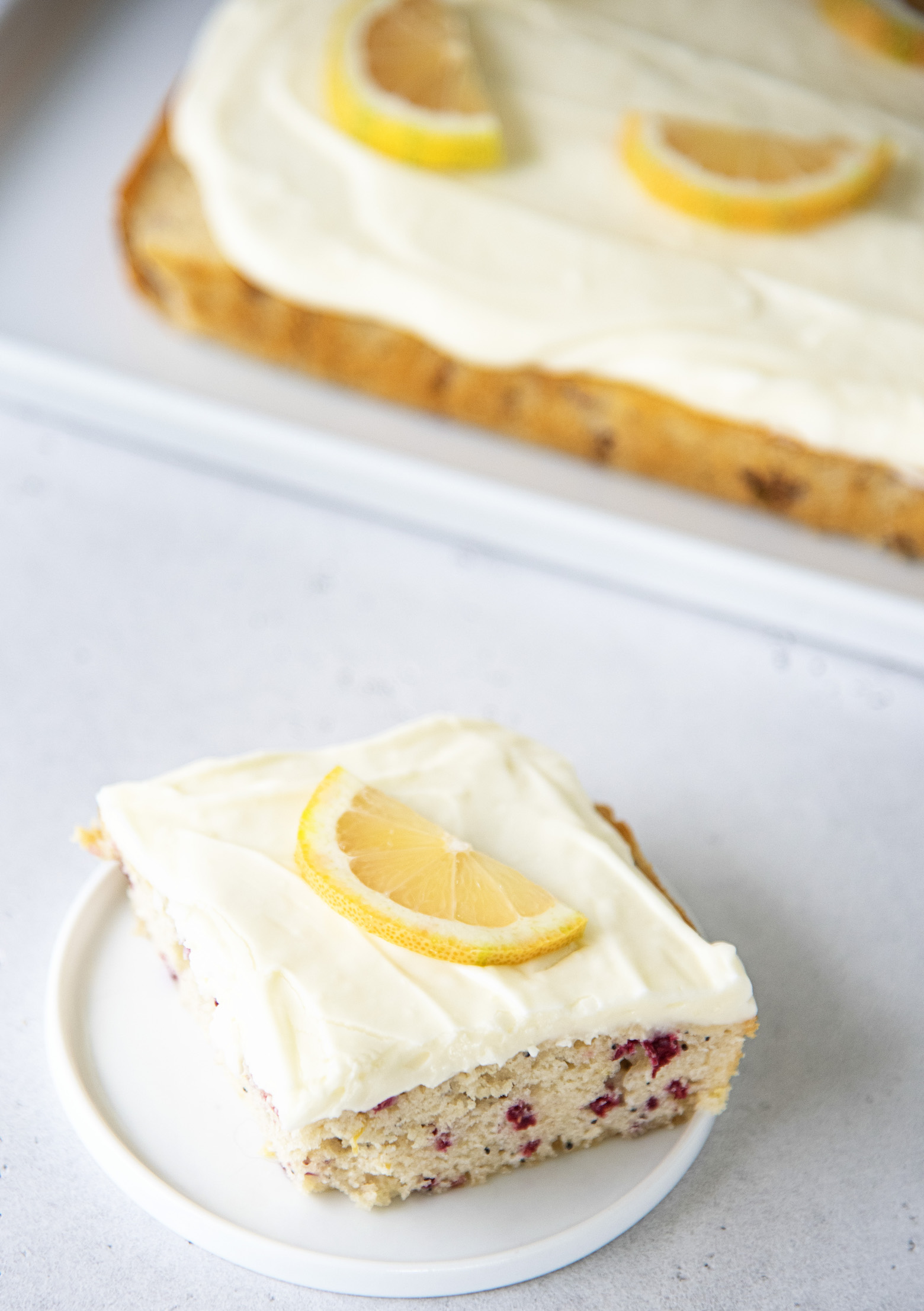 Want More Lemon Recipes?
Cranberry Lemon Poppyseed Cake
Zucchini Lemon Pistachio Cinnamon Rolls
Lemon Meringue Pie Jell-O Mold
Ingredients
For the Pink Lemon Poppyseed Cake:
3/4 cup unsalted butter, at room temperature
1 1/2 cup granulated sugar
3 large eggs room temperature
1/2 tsp. vanilla extract
2 cups all purpose flour
1 1/2 tsp baking powder
1/2 tsp baking soda
1/4 tsp salt
3/4 cup full fat buttermilk
zest of two pink lemons
1/4 cup freshly squeezed pink lemon juice
5 TBSP poppyseeds
1 cup freeze dried raspberries
For the Cream Cheese Frosting
1 cup cream cheese, at room temperature
1/4 cup unsalted butter, at room temperature
3-4 cups powdered sugar
Instructions
For the Pink Lemon Poppy Seed Cake:
Preheat the oven to 350F. Grease and flour a 9×13 inch baking pan.
Using a stand mixer with the paddle attachment beat together the butter and sugar until light and fluffy, about 3 minutes.
Add the eggs and vanilla and mix until fully combined.
In a separate bowl whisk together the flour, rice flour, baking powder, baking soda and salt.
Add one third of the flour mixture to the butter/egg mixture and mix on low until just combined.
Add one half of the buttermilk and then mix until combined.
Add another 1/3 flour mixture, then remaining buttermilk, and finally the last of the flour mixture.
Mix until fully combined.
Ad the lemon zest, lemon juice powder, lemon juice, poppy seeds, and freeze dried raspberries and mix on low fully combined.
Pour the batter into the prepared pan and bake for 25-30 minutes, or until an inserted toothpick comes out clean
For the Cream Cheese Frosting:
Using a stand mixer with the paddle attachment beat together the butter and cream cheese for about two minutes.
Add 1 cup of powdered sugar and the lemon juice powder and mix until combined.
Add 2 more cups of powdered sugar and mix until smooth. At this point if it is too thin you can add more powdered sugar. If it is too thick you can either thin with a little milk or some fresh lemon juice.