These Peppermint Mocha Latte Sweet Rolls are made with a chocolate brioche, cocoa sugar and peppermint bark, and topped with peppermint icing.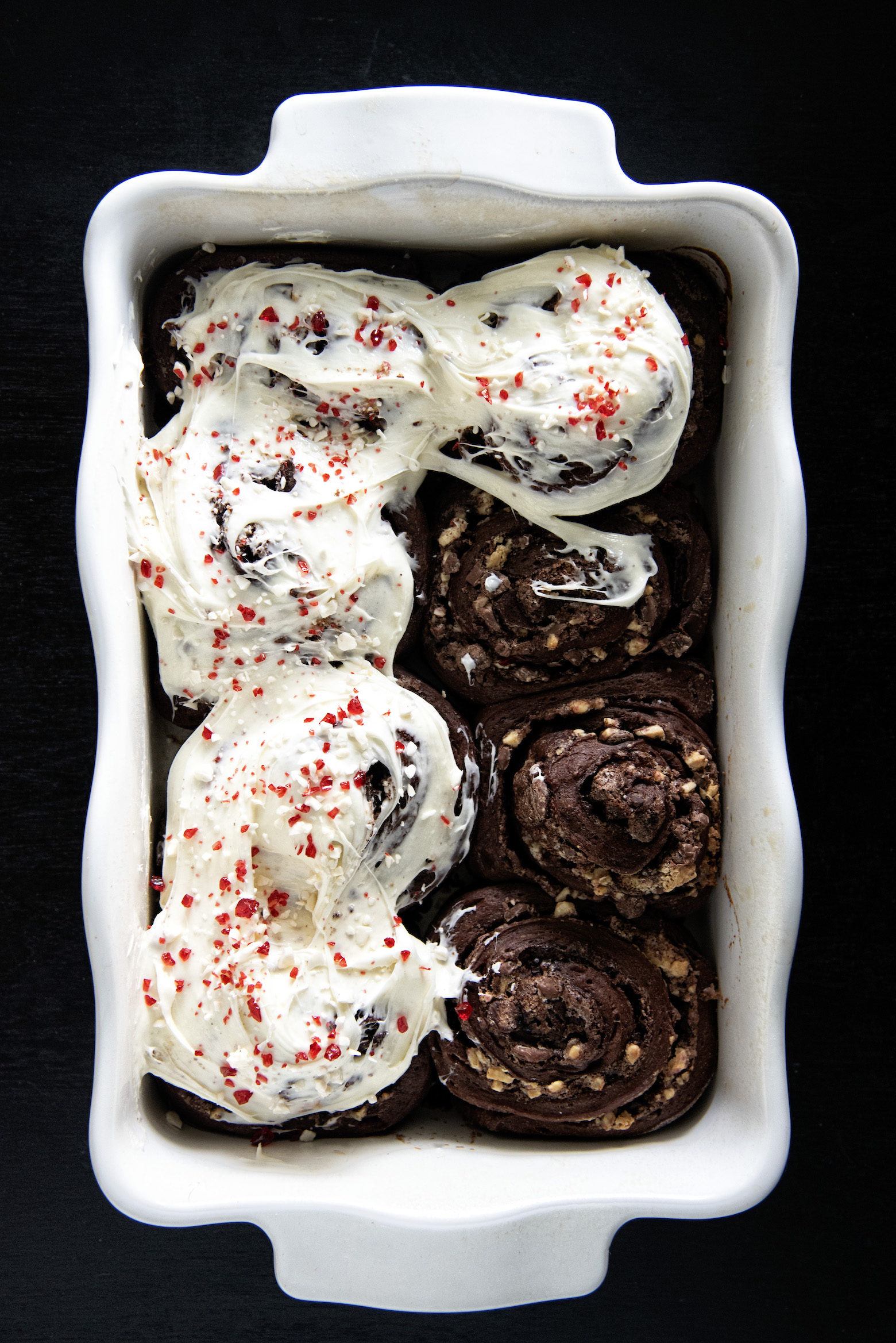 Warning, this could be a little long so if you are just here for the recipe keep going.
But those that are long time readers might be interested in this.
When I started this blog back in 2005 it was to connect with other food lovers.
Especially those that loved baking and desserts.
Those who read cookbooks like they were real books (technically they are real books but you know what I mean).
The ones who found comfort and solitude in a Sunday afternoon spent making bread.
Who loved to create food but could also admit that they love themselves a Double Stuffed Oreo as well.
And over the years I found those people.
The first few years of blogging I had wanted to write a cookbook.
Blogging was not considered legitimate in any way shape or form yet and having a cookbook meant that you were an authority.
Publisher after Publisher told me that they weren't really taking a risk with bloggers that they were interested in real chefs not home cooks.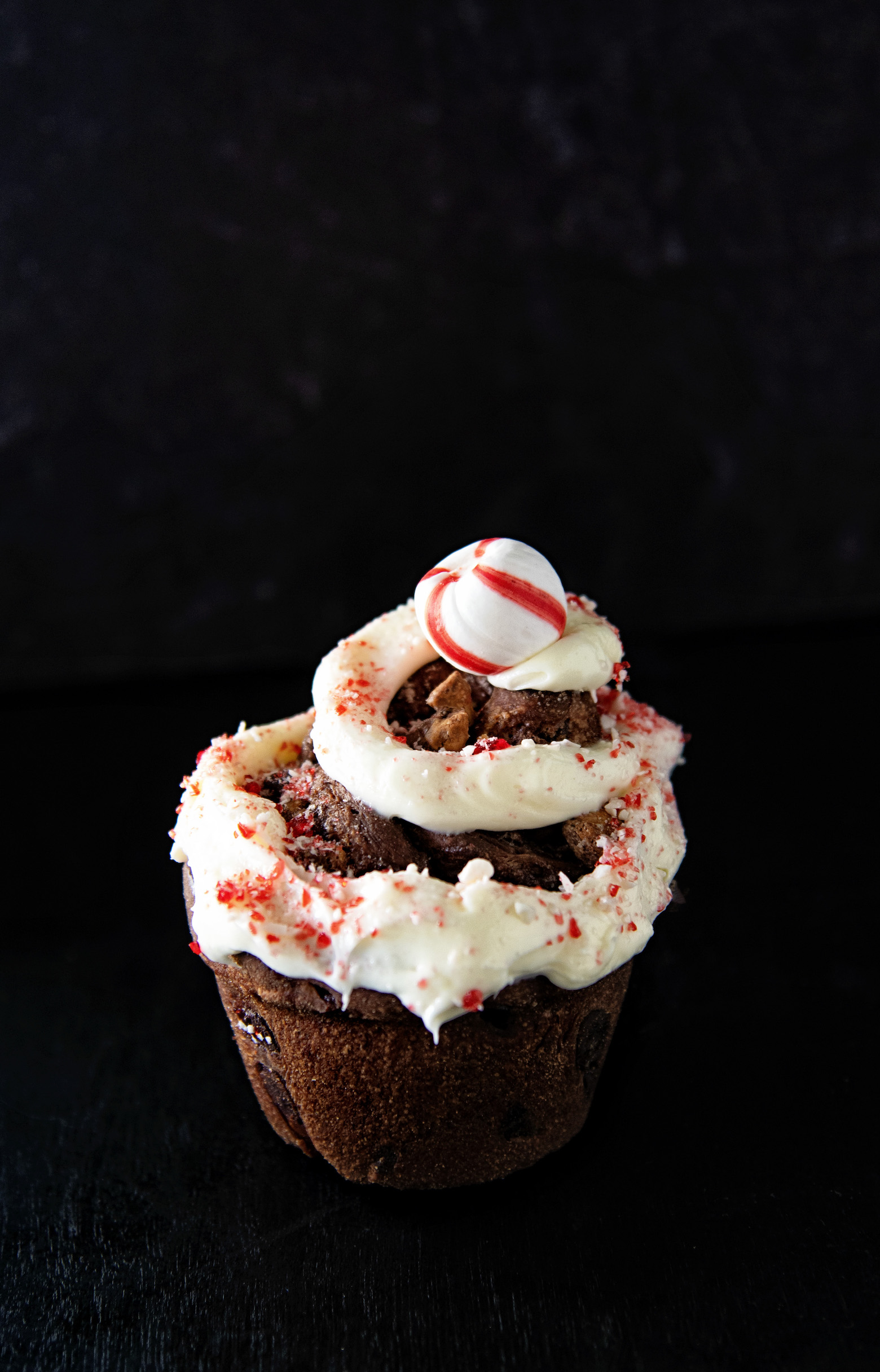 Around 2008 I finally found a publisher who showed interest.
Enough that I gathered all my recipe ideas and wrote a table of contents.
Then she got pregnant and someone else took over my account and he was less than enthused with my idea.
While I do think they would have ended up publishing it I think it would have been like pulling teeth and them dragging their feet at my ideas.
With them trying to change the feel of the book.
And so it didn't happen.
Over the years many a publisher has contacted me.
Always saying they would love to do a book with me.
Only to find out they do want me to do a book but not on anything I want to do.
One publisher wanted me to write a…wait for it…sugar free dessert book.
I was like have you read my blog?
That was a no.
There was the publisher who wanted me to write a candy cookbook.
Granted that was getting close to my area but they wanted 100 recipes and I really only knew how to make caramels, marshmallow, and fudge.
When I told them I didn't know how to make 75% of the items on the list they wanted me to make (who is making homemade gummy bears?) they told me not to worry about it that I could learn as I went along.
Ummm. No.
Not comfortable with that.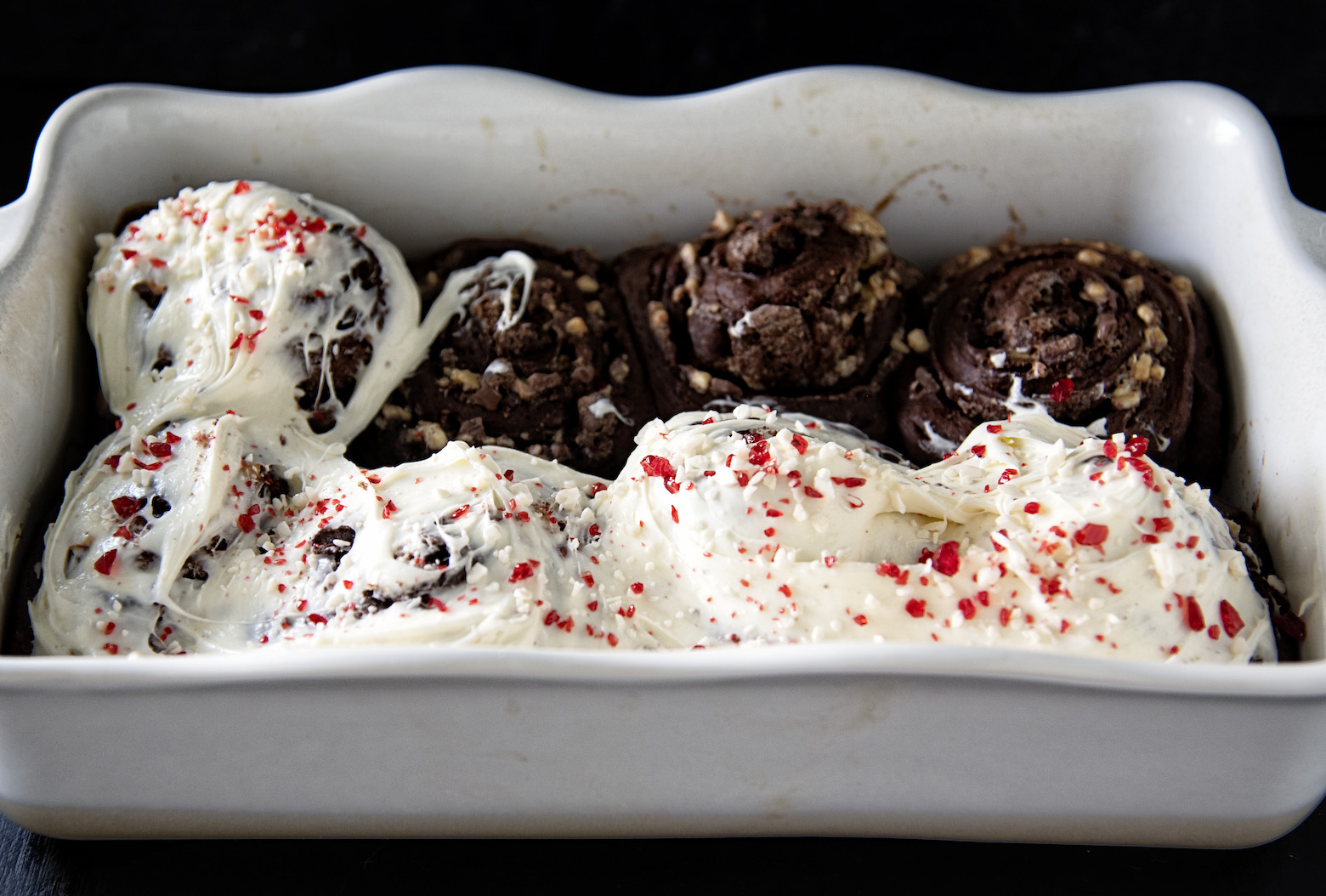 There was the push for me to write an Instant Pot cookbook even though I didn't own one.
The push for a book about Keto Fat Bombs (which again FYI is sugar free).
I pretty much gave up on the idea.
For most of my friends who did publish a cookbook said it was a daunting task and you make no money at it.
So I put it out of my mind and had it set that I did not need a cookbook.
Then this fall I had a publisher reach out to me.
I was ready for the same song and dance and I let her know that I've been through this a bunch and while I would certainly talk with her I was in no big hurry to do a cookbook.
But then something happened.
I met the publisher who loved my quirky recipes.
My ramblings and random stories.
My turning cereal flavors into baked goods.
So I sent off all the things they asked for including a table of contents and I waited for them to come back and say no, that's just a tad too weird.
But they didn't.
Instead they said yep, more of that.
More of your quirkiness.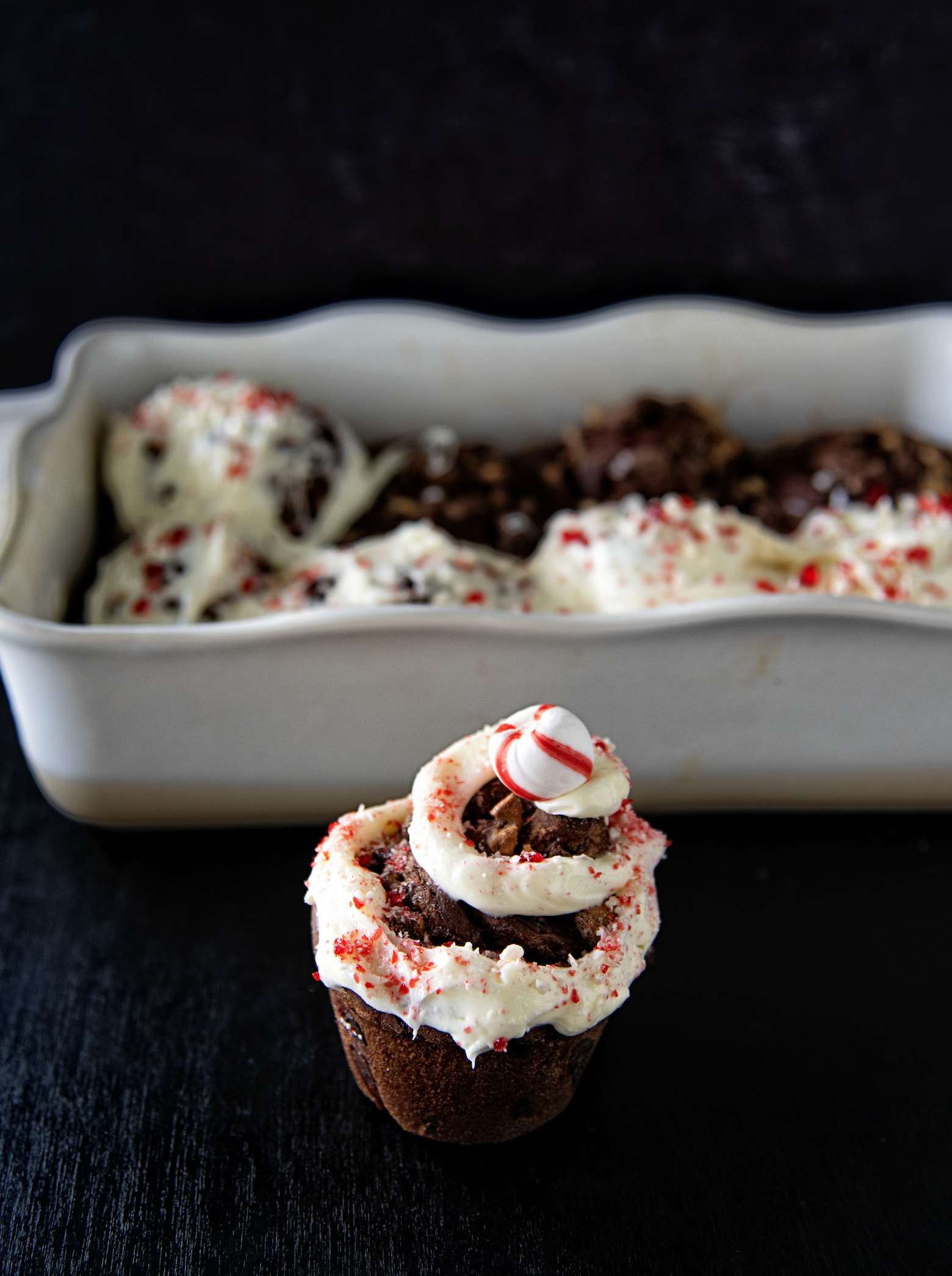 And so in Fall of 2020 if all goes according to plan I will have my first cookbook released.
It is desserts.
They are all new recipes.
With all of that comes deadlines and so you will not be seeing as many blog recipes as there has been lately.
I do plan through the month of December to keep up with it but once January hits there might not be much on here.
Long time readers who have asked repeatedly over the years for me to come out with a cookbook I hope you are as excited as I am.
Because you guys were my inspiration and my main reason to even really decide to do one.
Well, that and for my mom.
My mom who still calls what I do the "food Internet thingy" as bless her she never goes on a computer…ever.
Now she can just say that her daughter is a cookbook author…something she understands.
I'll keep you all posted as things progress and now on to these rolls.
These Peppermint Mocha Latte Sweet Rolls are made with chocolate brioche.
You actually make a chocolate butter to go into the dough. So yeah, these are a little rich. 🙂 Sherry Yard rarely steers you wrong.
Then they are filled with a cocoa, espresso powder, and sugar mixture and chopped up peppermint bark.
And then slathered in a Peppermint Mascarpone Cheese Frosting.
My cookbook is out now and you can get it HERE.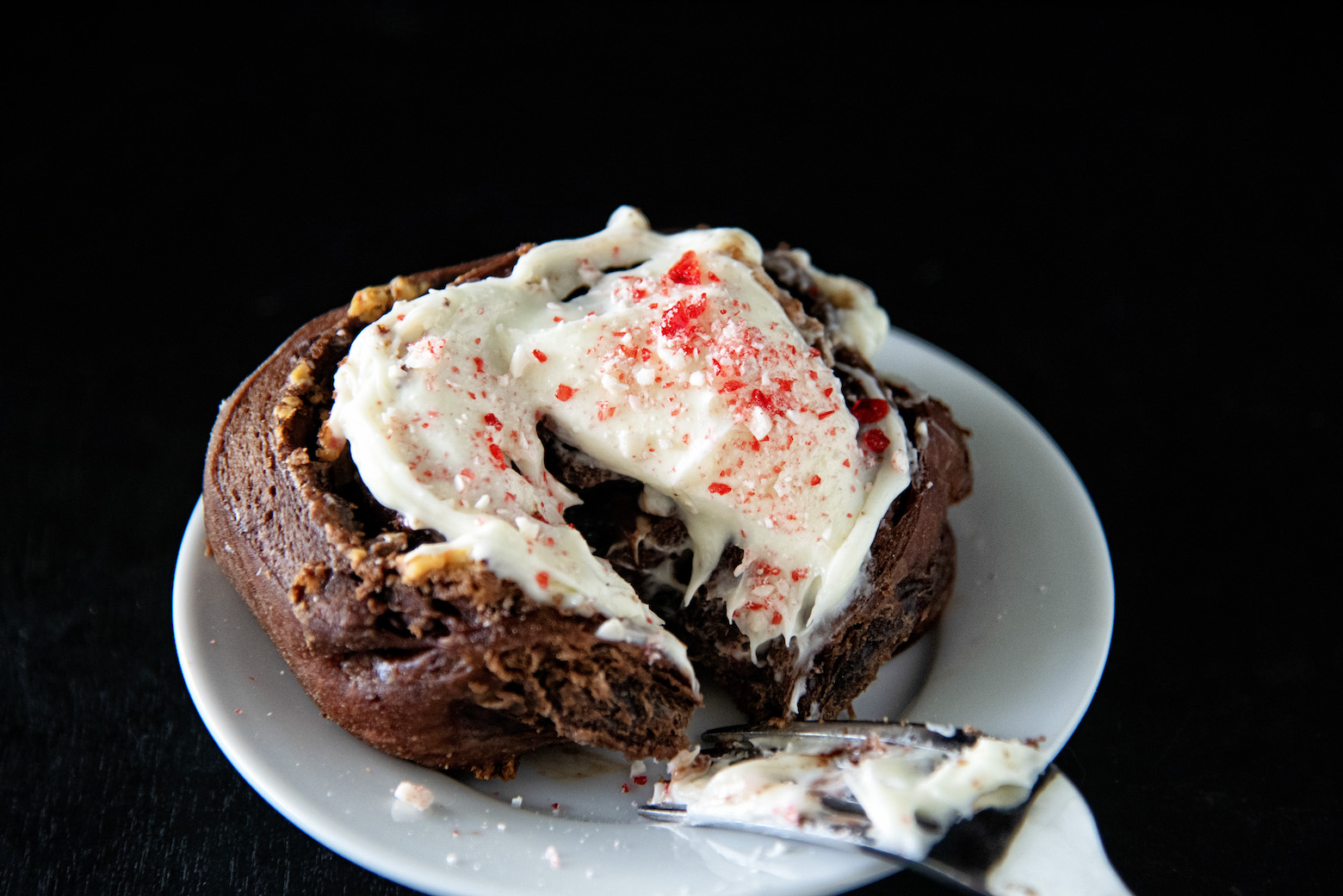 Want More Peppermint recipes?
Peppermint Bark Red Velvet Cupcakes
Milk Chocolate Peppermint Fudge
Chocolate Dipped Chocolate Peppermint Cupcakes
Peppermint Mocha Blossom Cookies
Ingredients
For the Chocolate Butter:
2 ounces semisweet chocolate, finely chopped
1 stick (4 ounces) unsalted butter, at room temperature
¼ cup unsweetened cocoa powder
For the Sponge:
2 ½ tsp. active dry yeast
¼ cup warm water
¾ cup lukewarm coffee
½ cup all-purpose flour
1/3 cup sugar
For the Dough:
3 cups all-purpose flour
1 ¾ tsp. salt
4 egg yolks, lightly beaten
4 ounces semisweet chocolate, finely chopped
For the Filling:
5 TBSP unsalted butter, at room temperature
1 cup granulated sugar
2 TBSP cocoa powder
1 TBSP espresso powder
1 cup peppermint bark, finely chopped
For the Frosting:
8 oz. Mascarpone cheese, at room temperature
1/2 cup unsalted butter, at room temperature
3 cups powdered sugar
1 tsp. peppermint extract
1/8 tsp. of salt
Instructions
For the Chocolate Butter:
Melt the chocolate using a double boiler.
Once melted set aside and keep at room temperature.Using a stand mixer fitted with the paddle attachment, beat butter until smooth; add cocoa powder and chocolate beat until well incorporated. Set aside at room temperature.
For the Sponge:
Combine yeast and water in the bowl of a standing mixer fitted with the paddle attachment and whisk until he yeast is dissolved.
Let stand for 5 minutes.
Add remaining ingredients, forming a thin batter.
Cover with plastic wrap and let rest at room temperature for 30 minutes until bubbles form.
For the Dough:
Sift flour and salt into sponge.
Add yolks, and mix with paddle attachment on low speed for 2 minutes, until yolks are absorbed.
Increase to medium speed; knead for 5 minutes or until smooth and satiny.
On medium low speed, add chocolate butter one TBSP at a time.
Switch to dough hook; knead until very well developed, smooth and shiny.
Add chopped chocolate and mix on low until incorporated.
Cover with plastic wrap and let rise for 2 hours until double.
Punch down and rise again until double, about 45 to 60 minutes (or refrigerator for 4hours or overnight).
For the filling:
In a medium sized bowl whisk together the sugar, cocoa powder, and the espresso powder.
Set aside while you roll out the dough.
For the rolls:
After the last rise roll out the dough into a 18-x-12-inch rectangle.
Spread the butter all over the surface of the dough leaving a 1-inch strip bare along the long side of the rectangle.
Spread the cocoa, espresso, and sugar mixture on top of the butter and rub it in with your hands.
Sprinkle the peppermint bark over the mixture.
Beginning on an 18-inch side, tightly roll dough into a cylinder.
Pinch the seam to seal (brushing a little egg white underneath helps if needed or I just use a toothpick).
Cut into 12 equal portions using a large sharp knife (they should be 1 1/2-inch each).
Cover with plastic wrap loosely.
Let rise in a warm place until doubled in volume, about 1 1/2 hours.
Preheat oven to 350F near the last 20 minutes of rolls rising.
Bake rolls in preheated oven until centers are no longer doughy, about 30-35 minutes.
While rolls are cooling make the frosting.
For the Frosting:
In a large bowl using a handheld or stand mixer fitted with a paddle or whisk attachment, beat the Mascarpone cheese and butter together on high speed until smooth and creamy.
Add 3 cups powdered sugar, peppermint extract, and salt.
Beat on low speed for 30 seconds, then switch to high speed and beat for 2 minutes. If you want the frosting a little thicker, add the extra 1/4 cup of powdered sugar (I add it).
Frost the rolls and sprinkle with either candy cane pieces or peppermint bark.
Notes
Chocolate Brioche Recipe adapted from Secrets of Baking by Sherry Yard