Peppermint Bark Red Velvet Cupcakes: Red velvet cupcakes mixed with peppermint bark pieces with cream cheese frosting all dipped into peppermint bark coating.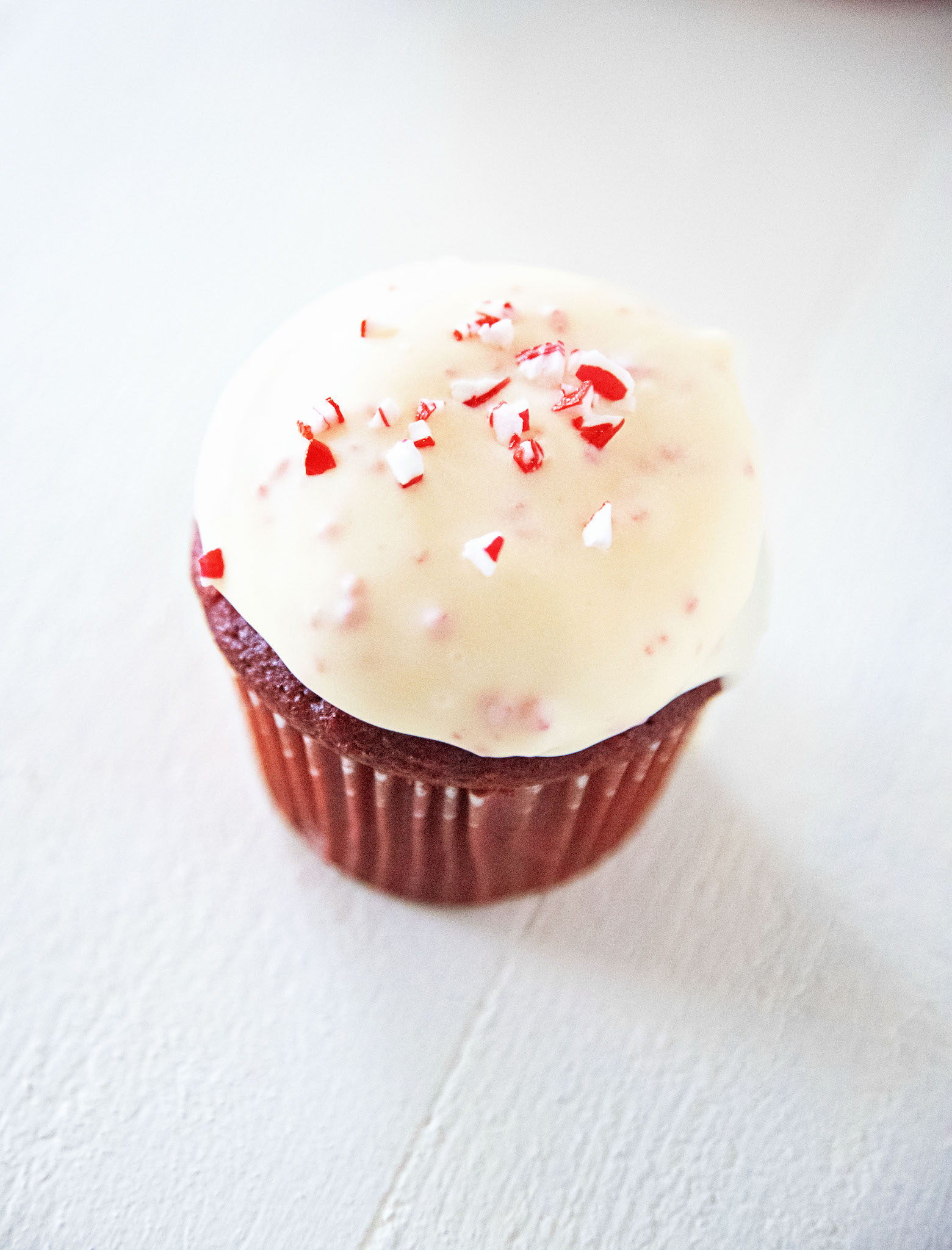 With six dogs, all special needs, I go to the veterinarian a lot.
Two of my dogs have a neurologist.
Three of my dogs have a cardiologists.
We see him the most out of the specialist.
Two have an internist.
One has an ophthalmologist.
And, of course, they have their primary veterinarian that I have gone to for 11 years.
So every year when I'm making extra treats for the blog, I send them to my vets.
They have a pretty hard job in my opinion.
Veterinarians go into the profession wanting to help dogs and cats (and rabbits, and horses, etc) and they do.
But they also have to deal with tremendous amounts of grief…especially those that work in an ER session.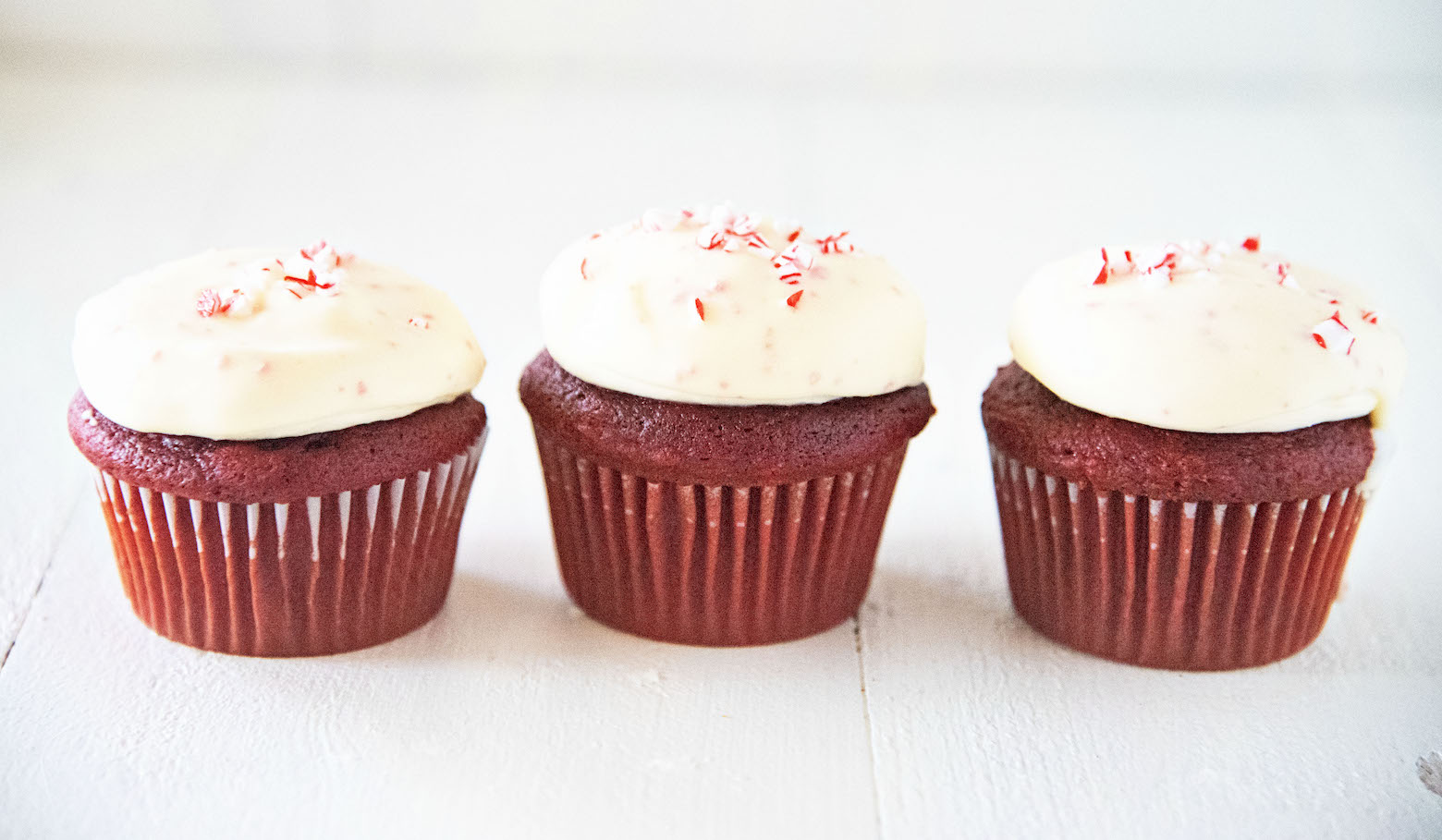 Just yesterday while at the cardiologist they had a ICU patient.
Our cardiologist is at a 24 hour ER clinic.
Normally we go back and see the result of the echocardiogram but not this time.
This time he simply said there is a situation back there you don't want to see (and he didn't want to see).
And that made me incredibly sad and you could tell that made him sad and it wasn't even his patient.
But luckily I did bring them these cupcakes and some fudge.
So they can at least stress eat. 🙂
These are a basic red velvet cupcake with some peppermint bark pieces folded in.
Then topped with the standard cream cheese frosting.
But taken up a notch by dipping them into a white chocolate peppermint bark coating and sprinkled with candy cane pieces.
Be sure to order my cookbook.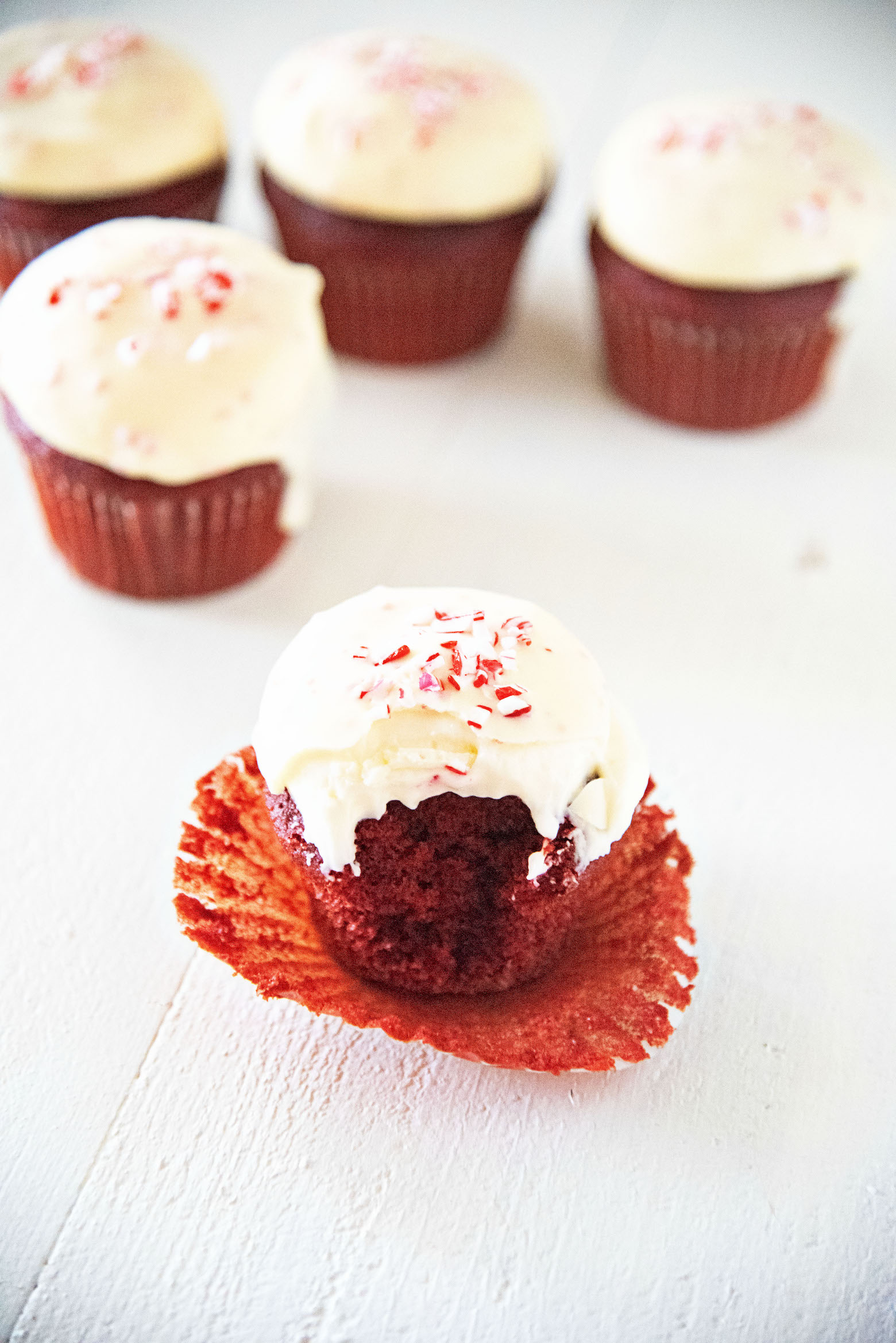 Want more Red Velvet Recipes?
Kalimotxo Chocolate Red Velvet Cupcakes
Yummy Red Velvet Cherry Dump Cake
Red Velvet Marble Cake with Red Velvet Oreo Cream Cheese Bavarian Filling
Fun Red Velvet Thumbprint Cookies
Ingredients
For the Cupcakes:
2 1/4 cups all-purpose flour
1 cup granulated sugar
1 tsp. baking soda
1 tsp. salt
1/4 cup unsweetened cocoa powder (I used Rodelle)
2 eggs
1 cup buttermilk
1 tsp. distilled white vinegar
1 cup vegetable oil
2 TBSP red food coloring
1 tsp. vanilla extract (I used Rodelle)
1 cup peppermint bark, chopped into small pieces (think chocolate chip size)
For the Frosting:
1/2 cup unsalted butter
8 oz. cream cheese, at room temperature
4 cups powdered sugar
milk to thin
For the Peppermint Bark Coating:
6 oz white chocolate peppermint bark, chopped finely
6 oz white chocolate chips
3 TBSP vegetable oil
candy cane pieces for garnish
Instructions
For the cupcakes:
Position a rack in the center of the oven and preheat the oven to 350 degrees F.
Line a 12-cup muffin pan with paper liners and set aside.
In a bowl of an electric mixer set on medium speed, lightly beat the eggs.
Add the buttermilk, vinegar, oil, food coloring and vanilla, beating until well-combined.
Slowly add the dry ingredients, mixing until combined.
Fold in the peppermint bark pieces
Pour the batter into the prepared muffin cups, filling each cup about 2/3 full.
Bake for 25 to 35 minutes, or until a wooden skewer inserted near the center of a cupcake comes out clean.
Remove the muffin pan from the oven and cool on a wire rack for 10 minutes.
Turn the cupcakes out of the tin, and place them on the wire rack to cool completely. Frost when cool.
For the Frosting:
Using a stand mixer with the paddle attachment beat together the cream cheese and butter until fully incorporated and smooth. 
Add the powdered sugar 1 cup at a time. 
When all powdered sugar has been added assess if you want your frosting thinner or thicker. 
If you want thin use milk
If you want thicker add more powdered sugar.
For the Coating:
Combine white chocolate, peppermint bark, and oil in a medium heat-proof bowl set over a medium saucepan of barely simmering water; stir until melted and smooth.
Transfer to a small bowl, and let cool about 15 minutes.
Holding each cupcake by its bottom, dip cupcake in the white chocolate to coat frosting, allowing excess to drip off.
Sprinkle with candy cane pieces.
Transfer to a baking sheet fitted with a wire rack.