These Peanut Butter and Jelly Sugared Buns have peanut butter and grape jelly, rolled in sugar mix, covered in grape jelly glaze.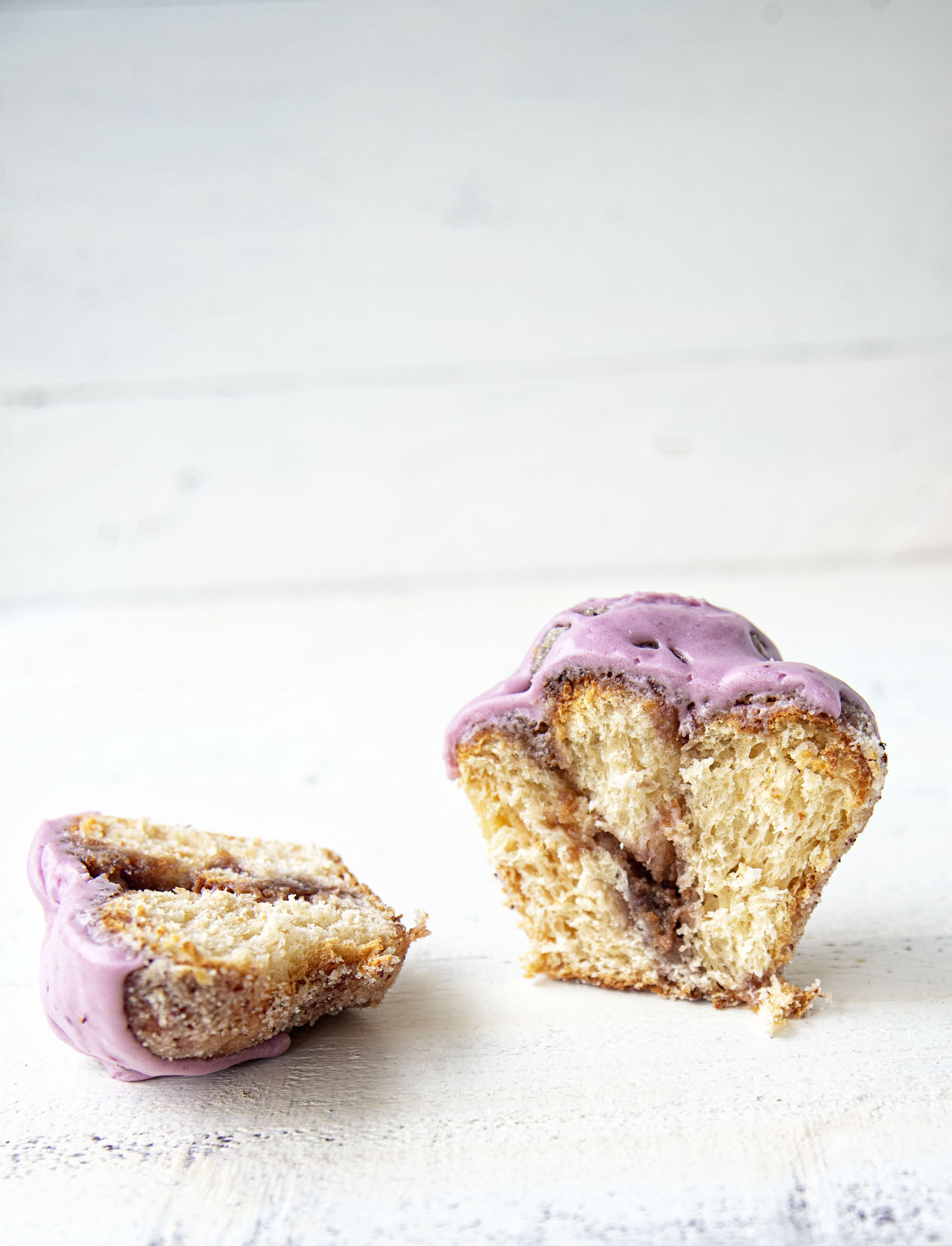 Were you starting to panic a little?
That I was only doing savory food.
Where is the baking with sugar?
No worries, there will always be baking. 🙂
It's just that there are a lot of people who keep asking me about what my husband and I eat.
So I figured I would post more of those recipes as well.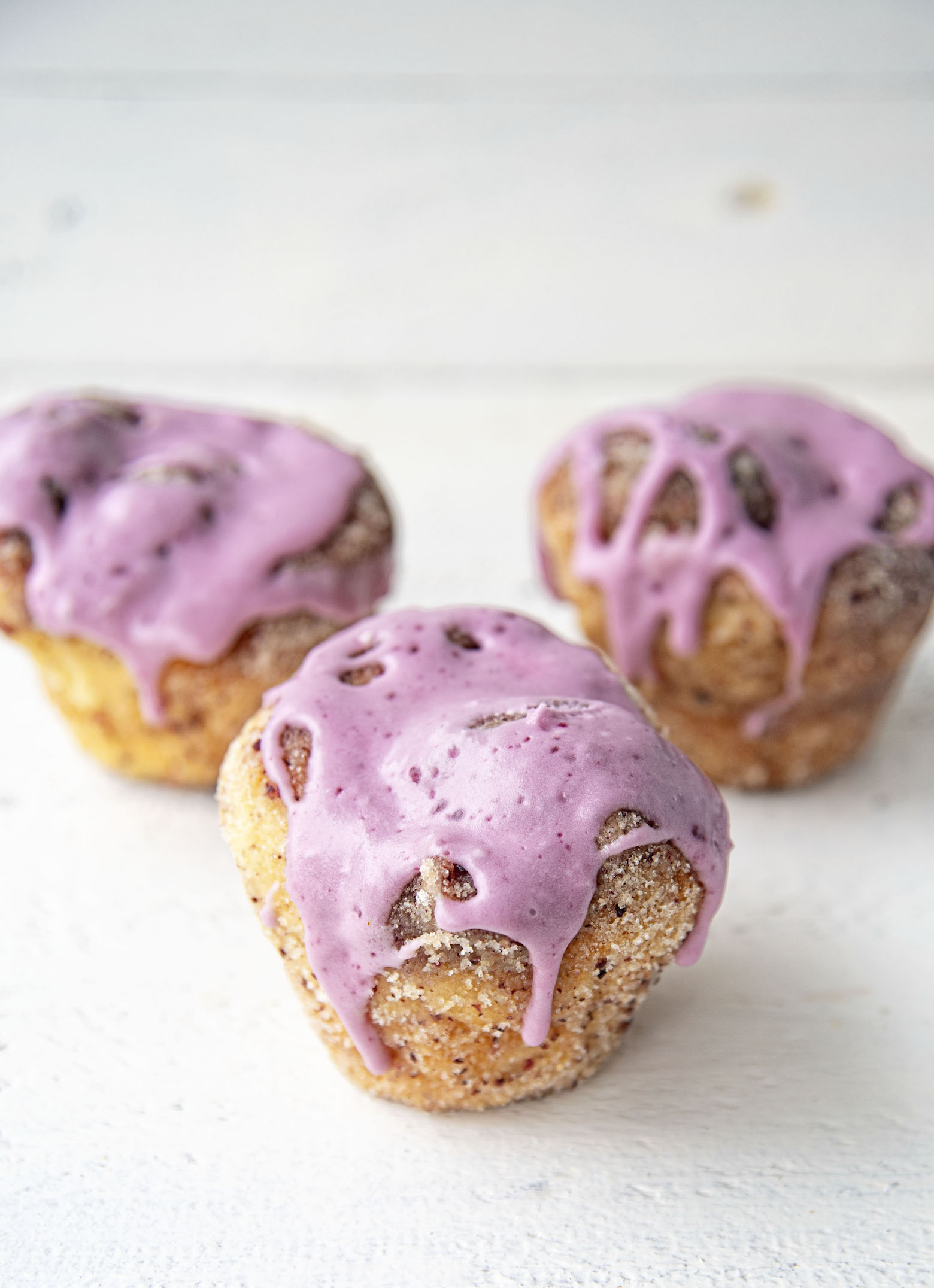 I made for New Years.
And the technique is kind of my new obsession.
So brace yourselves for quite a few sugared bun recipes coming your way.
But today's buns are Peanut Butter and Jelly Sugared Buns.
In honor of back to school.
Me.
Going back to school.
Just for one semester.
And then, like my other degrees, I will do nothing with it. 😀
See, back in the day I used to be a perpetual student.
I LOVED taking classes. LOVED.
And I took a TON of them.
Partially because I was just really good at being a student.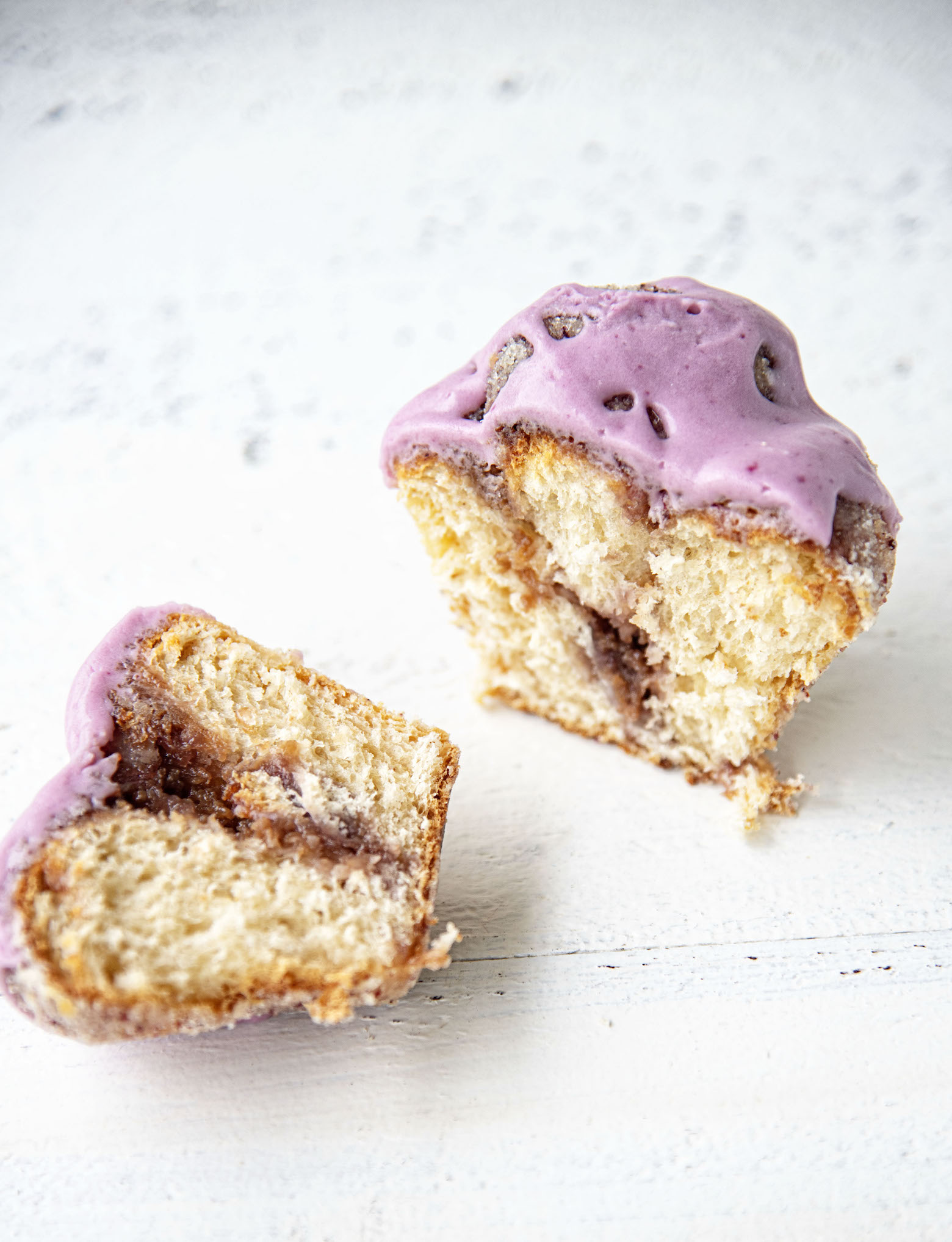 I want to say 7-ish years ago I got a letter from my undergraduate college saying hey, you are just a few credits shy from finishing your degree.
Keep in mind I already have two undergrad degrees from them.
Told you I liked school a lot.
So I looked into what it would cost to finish it out.
But it was pretty expensive just for a whim.
And also, both classes needed could not be done online.
Which was an issue since it was in another state.
So that was that.
Enter COVID.
I kept seeing many classes that were only offered on campus now being offered online.
Low and behold they were being offered online.
But I didn't want to pay for it.
So I went looking for the grants and scholarships I got back when I was originally an undergrad.
Which interestingly enough I qualified for.
Except I had to be enrolled as a full time student.
And the classes I need don't put me as a full time student.
With that I had to add another emphasis.
So come Monday I go back to school full time.
I'm already off to a good start as I read everything on the list the professors sent.
Thinking it was reading to do before the classes started.
Nope.
It was reading for the whole semester. 🙂
I forgot how much easier undergraduate school is compared to grad school. 😀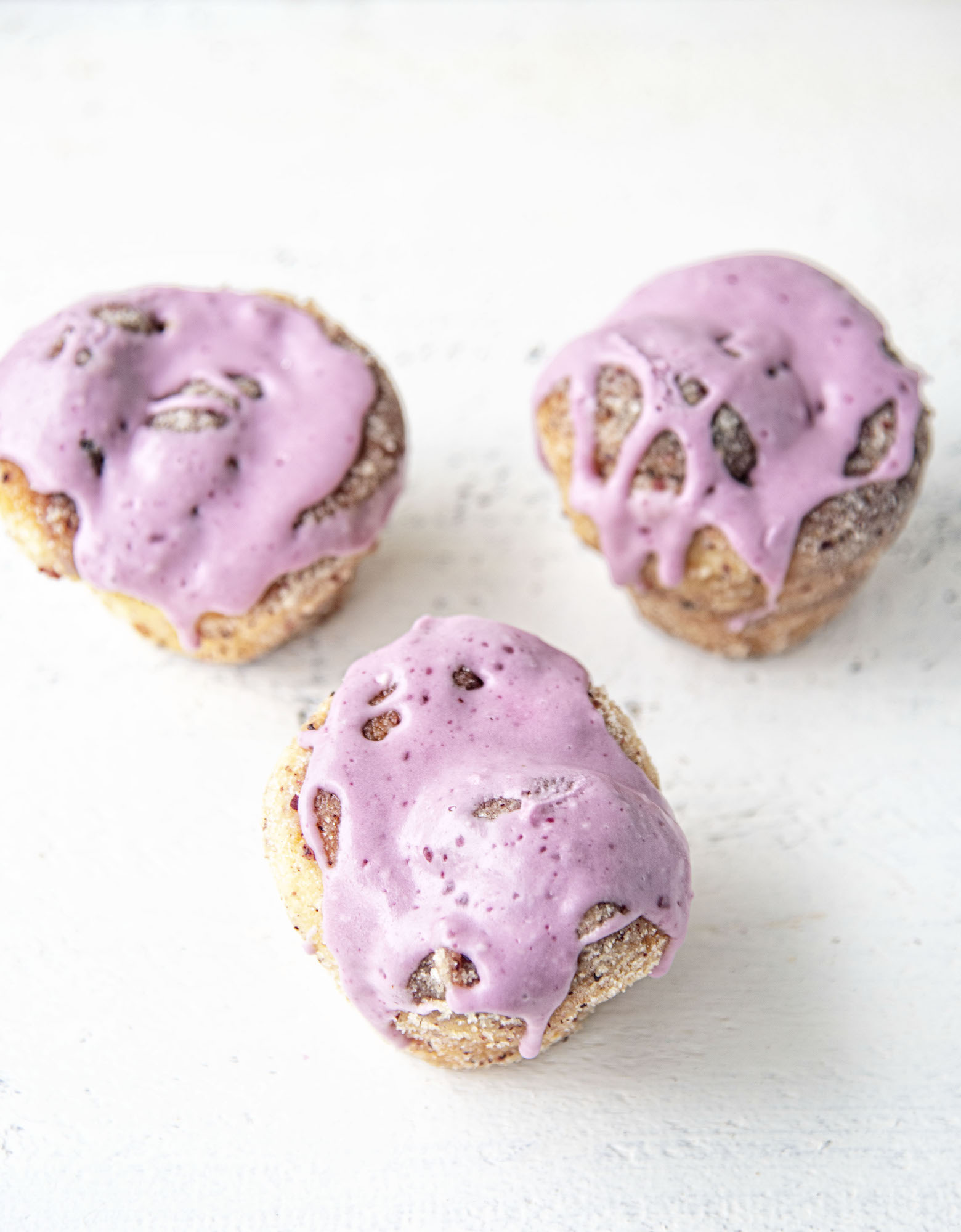 These Peanut Butter and Jelly Sugared Buns are so much better than having a PB and J sandwich.
I used grape jelly because that is the only jelly I used to eat as a kid.
If you watch British Bake Off and you know Ugne you know that peanut butter and grape jelly is a great combo.
Even if it gets you kicked off the show. 😀
But just like with ice cream the grapes do affect the outcome of the glaze.
This glaze will not fully set thanks to the grape jelly.
So keep that in mind when you are making these.
P.S. It's a great day to buy my cookbook Holy Sweet!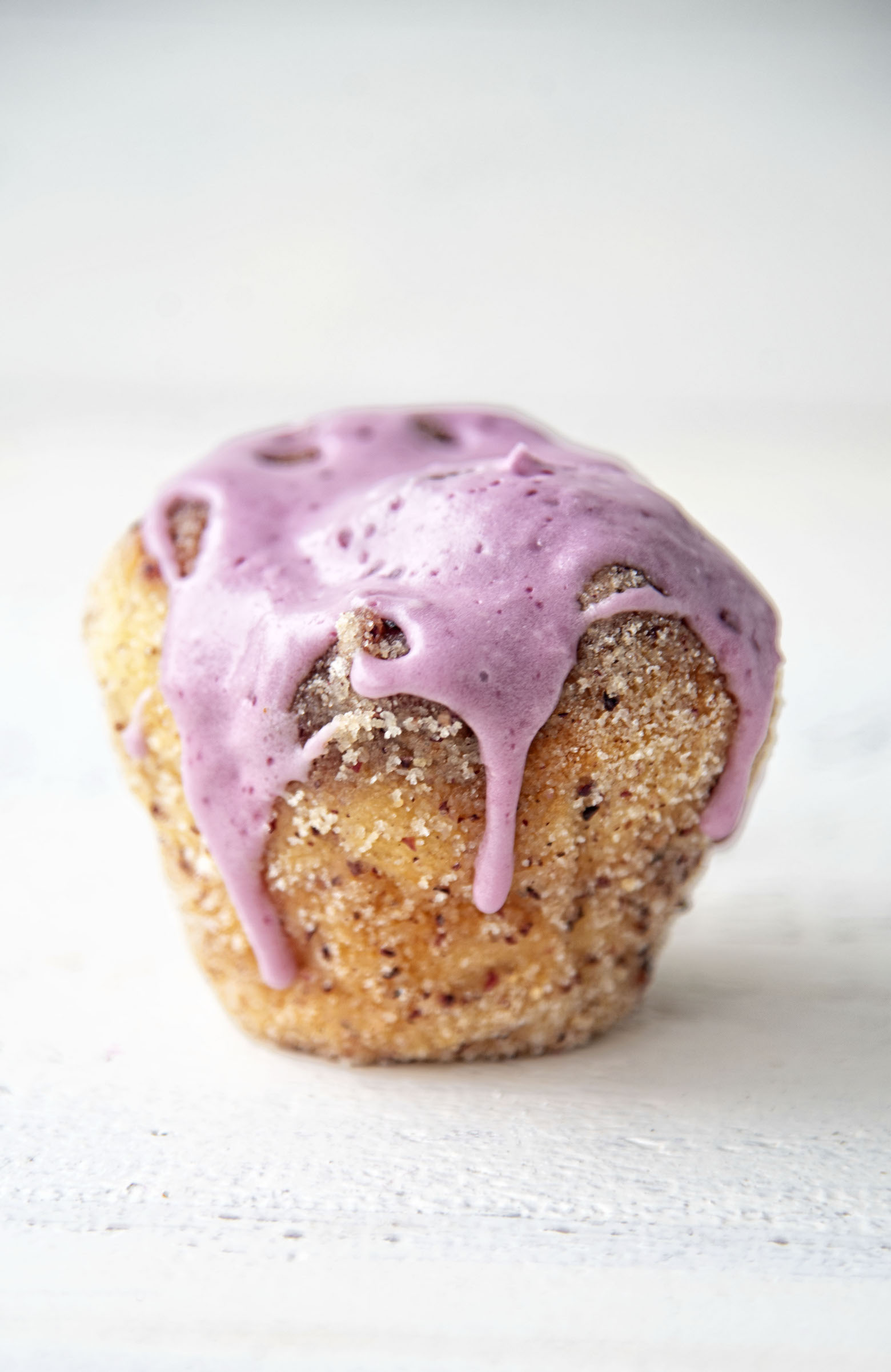 Want More Sweet Roll Recipes?
Bourbon Brown Sugar Caramel Peach Sweet Rolls
Salted Caramel Apple Sweet Rolls
Cinnamon Sugar Apple Babka Buns
Coconut Cream Pie Breakfast Buns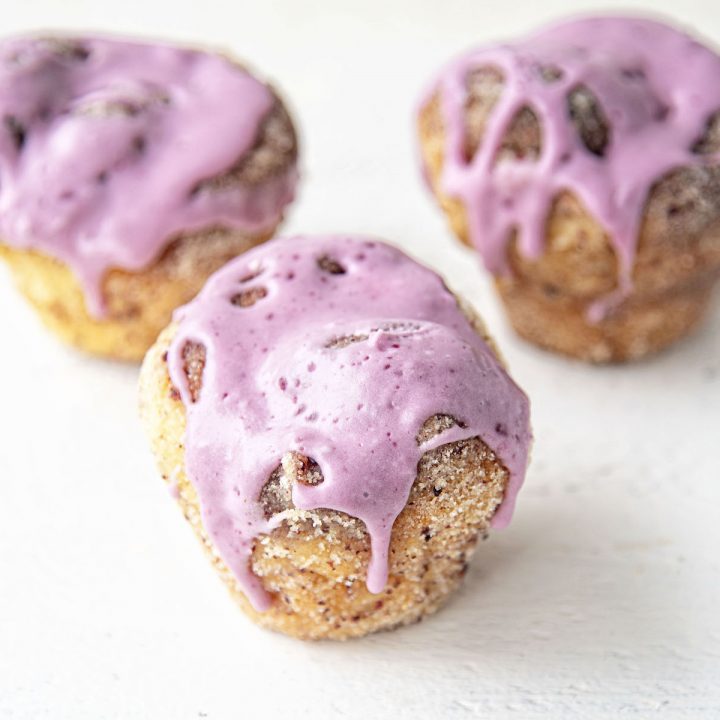 Instructions
Using a stand mixer with the paddle attachment add the yeast, warm milk, and 1/2 tsp. granulated sugar.
Let rest for 5-10 minutes to proof…the batter will puff up. If it does not then your yeast is bad and rolls won't rise so best to throw out and start again with different yeast.
Add in the 1/2 cup buttermilk, eggs, 1/2 cup granulated sugar, salt, vanilla, and melted butter and mix until fully combined.
Add in powdered peanut butter and 2 1/2 cups of the flour and mix until fully combined.
Switch to a hook attachment then add another 1 cup flour. Knead mixture until combined.
Continue to knead on low speed about 5 – 6 minutes while adding a little more flour as needed to reach a soft and moist dough (Dough shouldn't stick to the sides of the bowl but does stick to the bottom).
Transfer dough to an oiled bowl, cover with plastic wrap (I find press and seal works best)  and let rise in a warm place until doubled in volume, about 1 1/2 hours.
Punch dough down.
Dust a working surface lightly with flour and turn dough out onto surface.
Sprinkle top of dough with a little flour then roll dough out into an 20 by 18-inch rectangle.
Spread the peanut butter evenly over entire surface using an offset spatula (works the best).
Then spread the jelly on top of the peanut butter.
Beginning on an 18-inch side tightly roll dough into a cylinder. Pinch the seam to seal (brushing a little egg white underneath helps if needed or I just use a toothpick).
Cut into 12 equal portions using a large sharp knife (they should be 1 1/2-inch each).
Transfer the log to a baking sheet, cover with plastic wrap and freeze for 10 minutes.
This will make cutting the buns clean and even.
Remove from freezer, cut buns into 1 ½-inch pieces, you should get around 12.
Place them into a standard muffin pan with cupcake liners. I use THESE because they help the bun rise up not out.
Wrap with plastic wrap and let rise at room temperature for 1 ½ to 2 hours. The cooler your house is the longer it will take.
Bake at 350F for 25-30 minutes.
Remove from oven and cool slightly on wire rack.
Remove buns from muffin tins (and liners). The buns will be very soft. Let them cool on a baking sheet and they will get a little more firm.
Mix together the remaining 1 cup granulated sugar and 1/4 cup powdered freeze dried red grapes and powdered peanut butter.
Brush the buns liberally with melted butter and gently roll in sugar/peanut butter/red grape mixture.
While buns are cooling make glaze.
Simply whisk together the butter, powdered sugar, and grape jelly in a medium bowl.
Thin with milk.
When buns are cool pour glaze over the top of them.
Let it firm up, which will take about 30 minutes.